So we returned from our "quick" break way to kruger. It was lovely, but not too much sightings though. The bush in the south is very dense and with all the rain , animals stay deep in the bush because water is everywhere. But up north, from Satara sightings were more seeing as it is more dry there, animals frequent watering holes.
So here goes
Day 1
We entered at Malelaan at about 8 am. It being saturday i thought that there was going to be a que, but only a few cars in front of us.
After entering this was our first official impala for 2010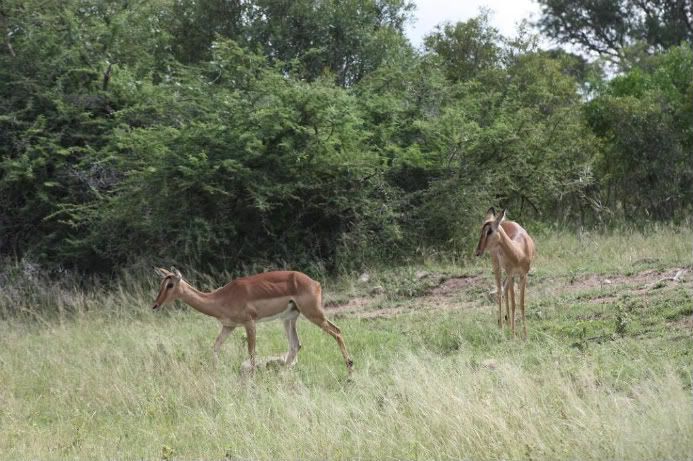 Then this guy showed up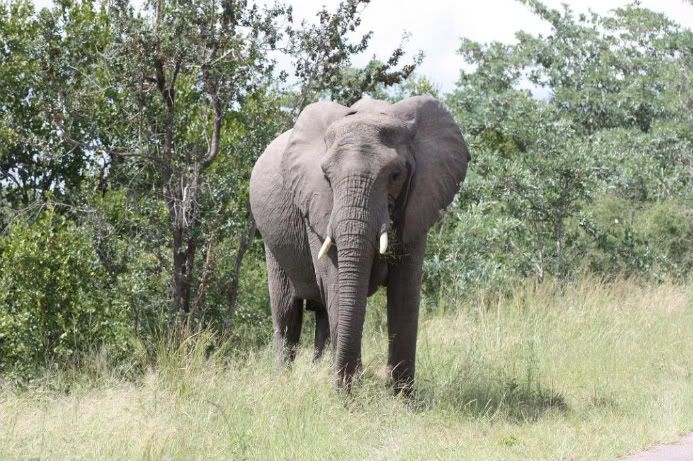 Then after moving up towards afsaal we spotted this "little" guy, the biggest one i have seen so far, looking for something to eat in the grass
Then my eye caught
something
in the road, and we stopped and waited for him to cross the road, before he turns into roadkill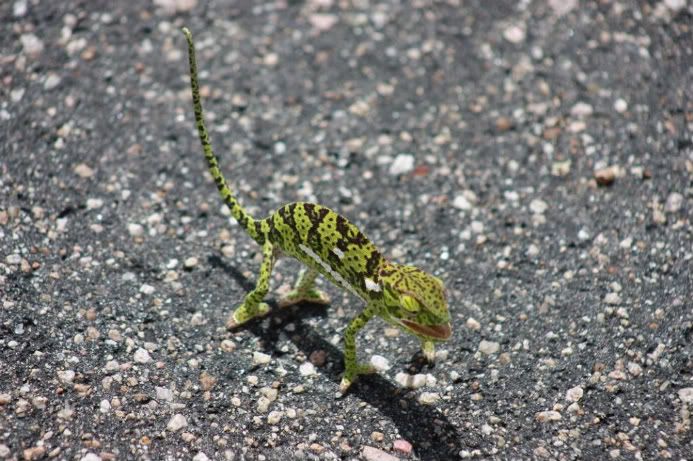 We continued to afsaal and just before , about 600m from afsaal, we saw our first rhino
Then after our stop at afsaal, about 13km's later we were stopped by this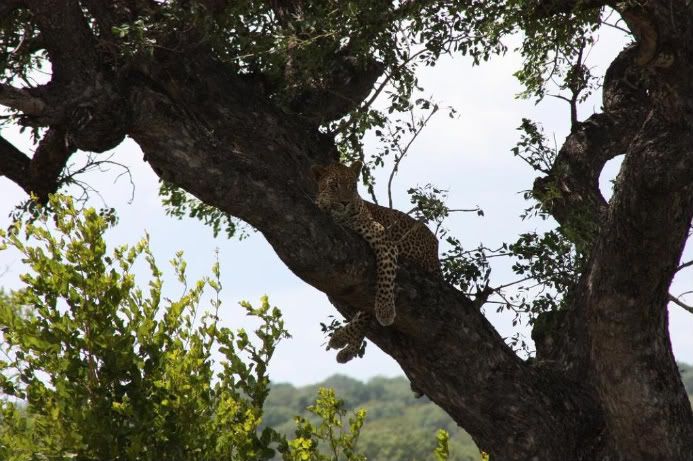 WOW !!! he was lying in the tree, about 40m from the road, for about 30 minutes before getting out, marking his "crib" and then dissapeared into the bush.
We then arrived at Skukuza, and after waiting up to exactley 12:00
, we could book in to our unit. My wifes foot was quit sore by now, seeing as it was only 2 weeks after her operation and having to sit and wait 1 hour to check in, even though the unit as ready when we arrived there at 11:00
and explaining to them that my wife had an operation and wants to go and rest.
The unit is the one" for the people that find it difficult to walk" as i teased my wife. We stayed in 88, one of the luxury units, which i must say is nice to stay in , but the support rainlings in the bathroom where disabled persons is supposed to use for support, where all loose or pulling out of the wall! PATHETIC!!! i think it's safer not to use them; rather manage on your own. This was the 1st dissapointing thing to us.
Here is a view of our unit
We stayed in camp for the rest of the day so that my wife could get rested after our long trip to knp.
We had this guy for a "neighbour"
The other thing that made me angry was the cars moving outside the camp after the gates closed. You could hear them breaking the silence of the bush, and by listening to the way they drive, they weren't doing 40km/h!!!
This was a problem, to follow, we experienced everyday, but not by tourists, but by KNP staff
(the ones that is suppose to set the example!)
Day 2 to follow
---
Day 2
Nice view we had of the train bridge in the morning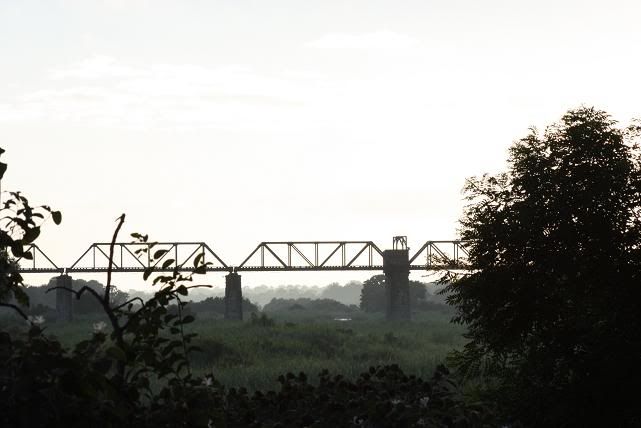 We planned on going to Lower Sabie for breakfast
We saw these baby babboons playing in the road and watched them for a while, they are quite silly when they are so small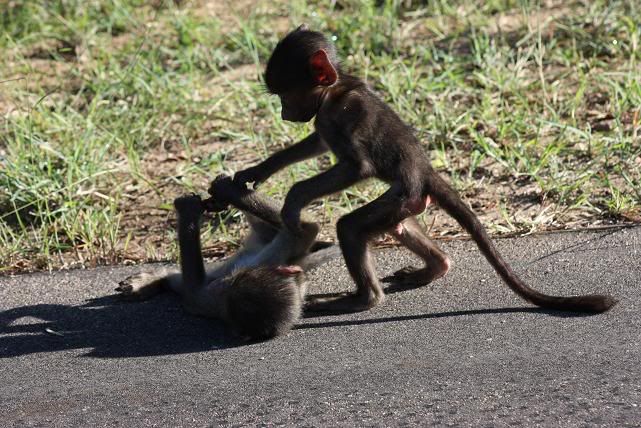 This one seemed to "like the road"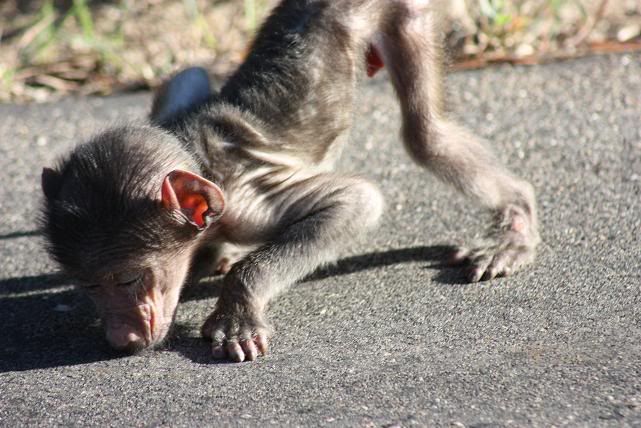 And then this guy made his appearance with a sort of quick pose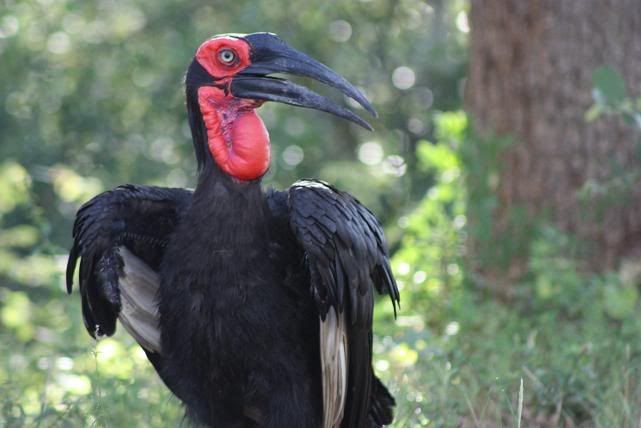 Sightings were not too much on our way to sabie, but we did get a few
Warthogs
Elephants
We had breakfast at sabie and then headed back to Skukuza, with only a few impalas on the way back
On our afternoon drive we first did the S3 but with no luck. On our way back on the S1 we saw this guy catching baby barbels.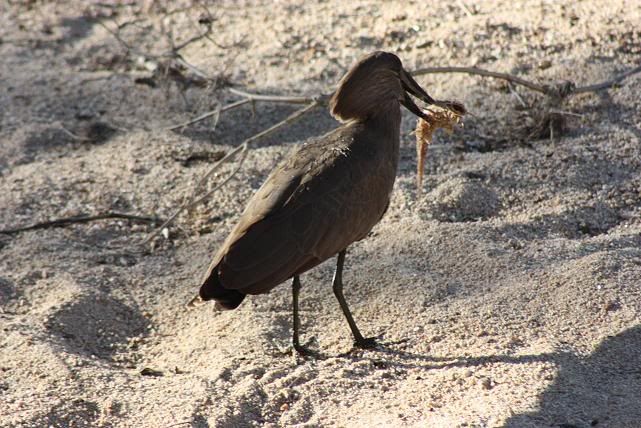 Then we decided to go on the H1-2 , and at the lower water bridge near the S83, i spotted something in the road as i was driving downhill towards the bridge.
We were "blessed" with this!!!!!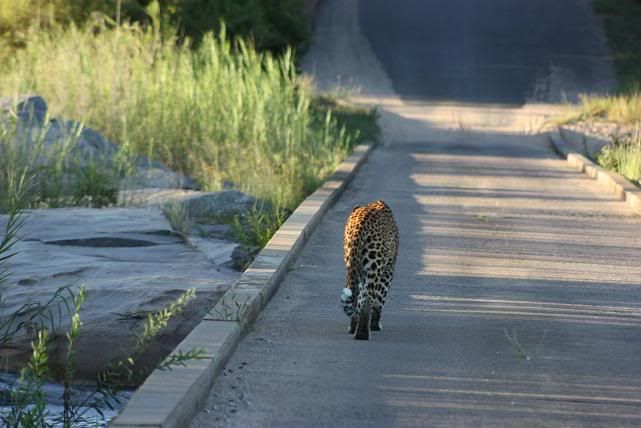 This leopard wanted to cross to the other side , and on its time it walked over the bridge right in front of us. Unfortunately we couldn't get too much pictures as it was difficult to take them in front of the bakkie.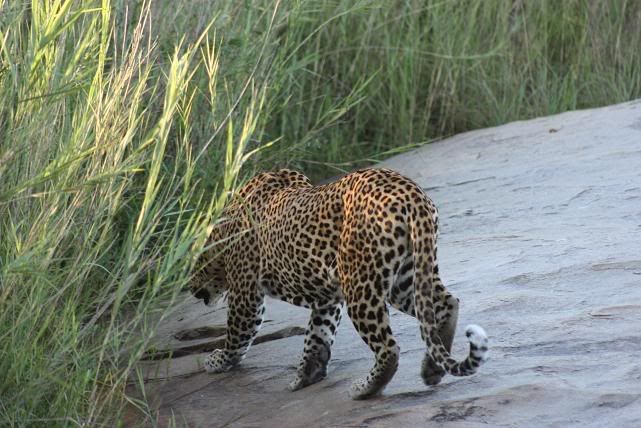 He then dissapeared into the reeds.
Then we headed back to camp, and be barely just made it in time
Day 3 to follow
---
Pumbaa, we that leopard on the 21st February. My cousin saw, problably the same one, 3 days after, also crossing that bridge.
Day 3
We left skukuza today, heading to Lower Sabie. We decided to go and have breakfast at Tshokwane. We did the H1-2 route again, and just before the bridge, about 400m from where we saw the leopard the previous day, we found these in the road. We were only 3 cars there, all 3 of us left when the gate opened.
Still asleep. .... not for long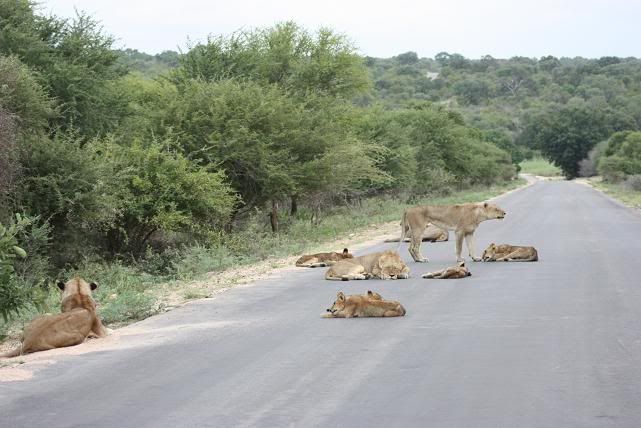 They got up and they looked very thin, maybe TB because the little ones also were very thin.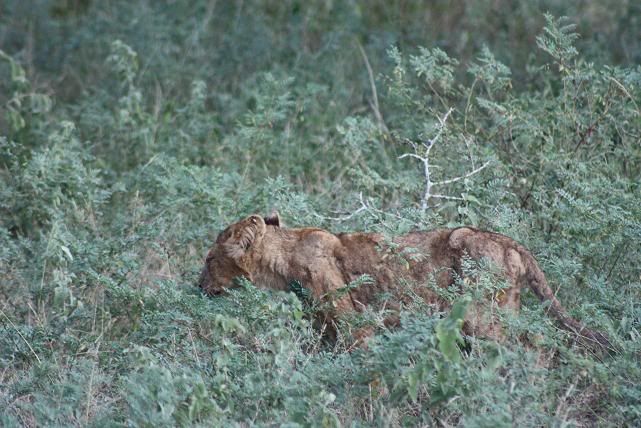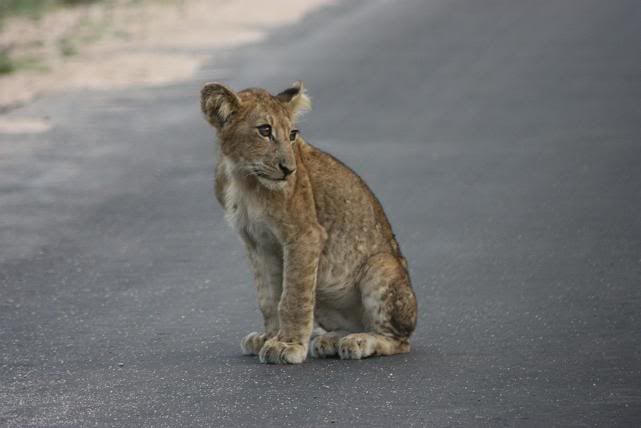 The one pick , at the angle taken looked like the lionesss wanted to take a bite out of the other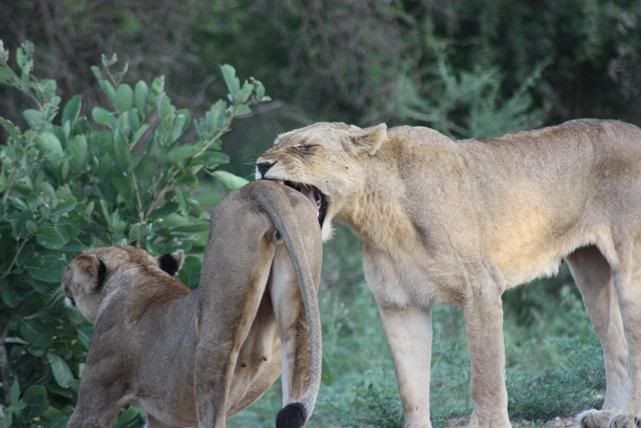 Then one of the Tinga vehicles arrived with his CB radio on so hard that i think you could hear it a km away. He then radio'd other vehicles and then it was all spoiled.
This guy went off the road to the right hand side
, through the bush and then scared away the lions.
He just couldn't wait his turn.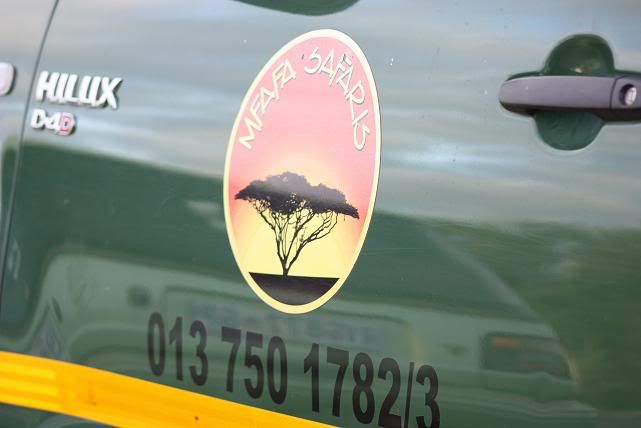 As the lions walked into the bush, this taxi, operated by SANPARKS, i guess taking people to work, HOOTED so that the cars would make way for him and then , thanks to him , NO MORE LIONS !!! Thank you Sanparks for spoiling everything by employing people like this . Afterwards we caught him speeding on 4 different occasions on the same road again.
Took this photo after he HAD to wait on the low level bridge 400m down the road, while revving his engine.
Mr Big Pain himself: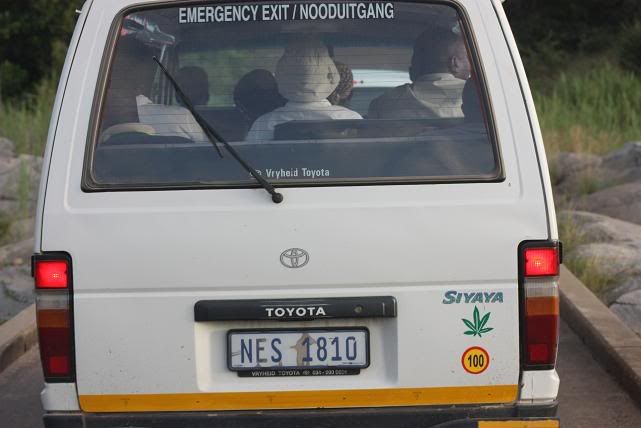 We then proceeded and at the junction where the big bridge road joins this road, we saw these, but only just as the grass was long: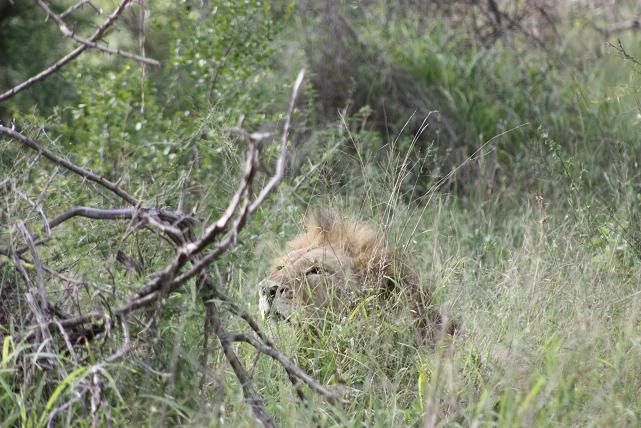 Couldn't get a pic of the other one.
And then Mr pain in behind number 2 came along and with his vehicle that was making a lot of noise, i think his exhaust system is broken, and then scared them away,ALSO by trying to go closer by means of leaving the road. I got the photo as he then left.
and the 2 mails dissapeared into the bush
. Thanks again.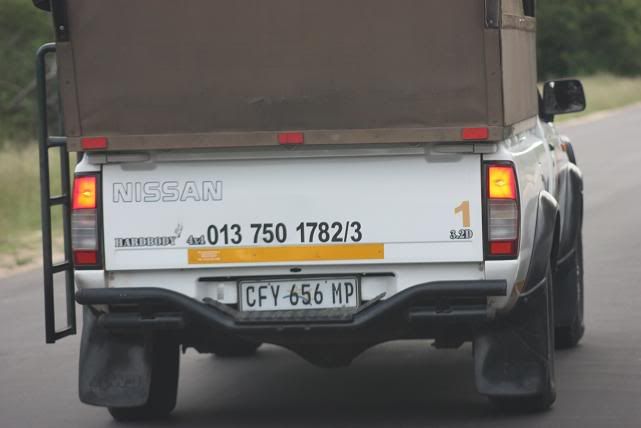 On our way to tshokwane we saw alot of general game.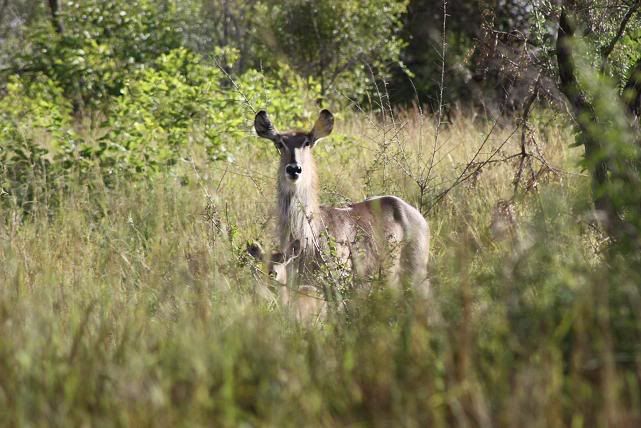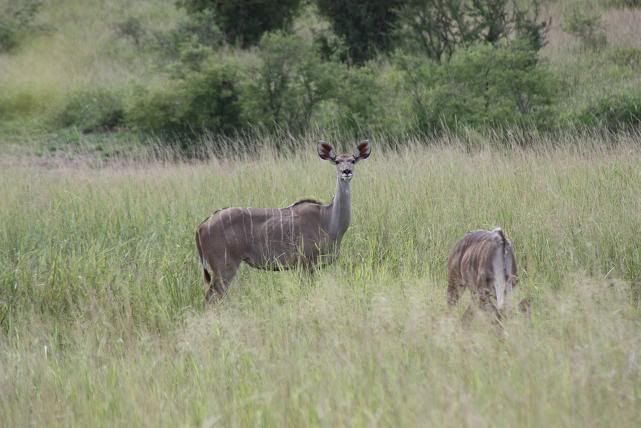 After a lovely 15 out of 10 breakfast we headed to Lower Sabie via Nkumbe.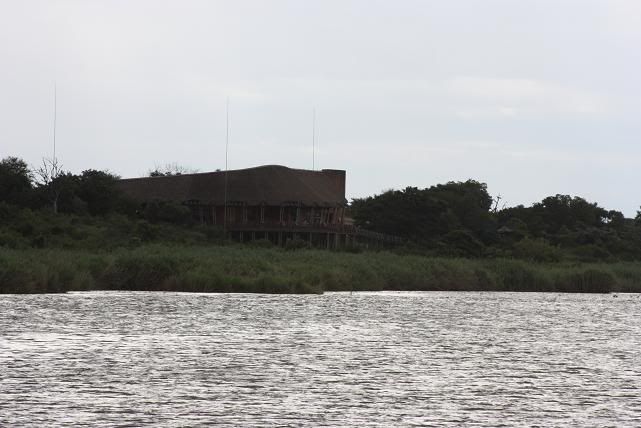 Saw these at Sunset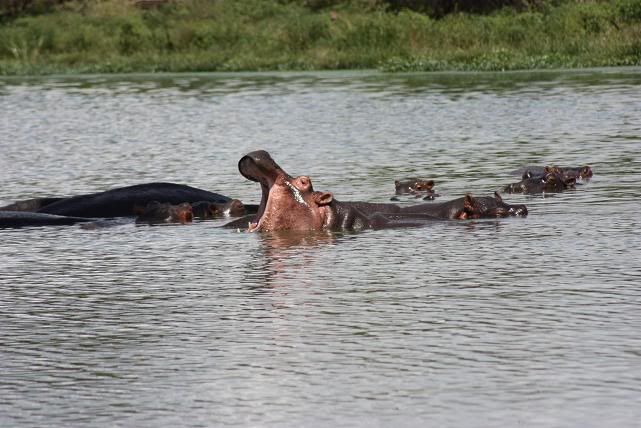 We then stayed in camp until our afternoon drive
This big hippo was next to the road, gave me a scare when i saw him, as he was on a mission to cross the road.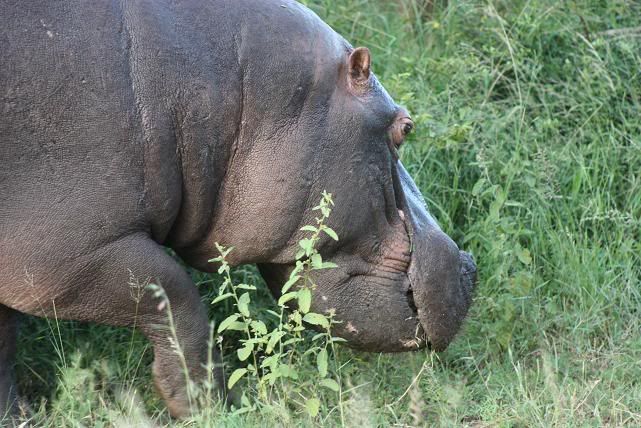 A giraffe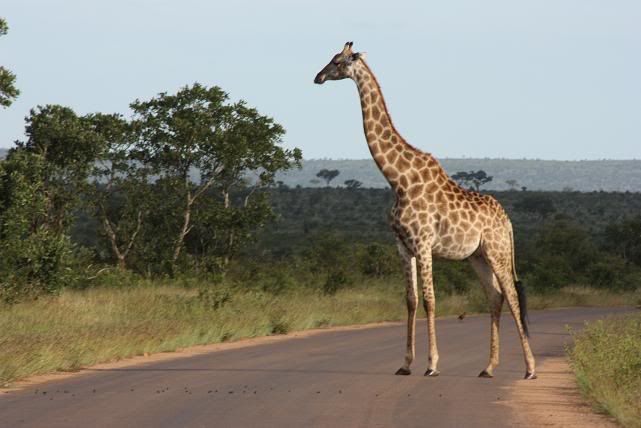 these guys called it a day (maybe too much maroelas?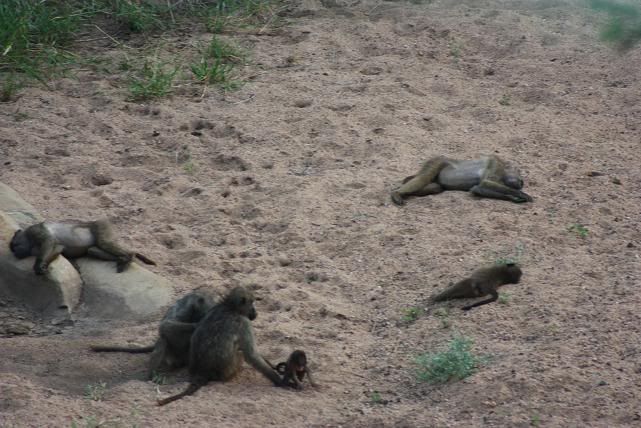 Then we went back to camp to get the braaier ready.
I was so dissapointed in the people driving those vehicles, they don't follow any rules at all. But what about the Taxi driving the people, he does it veryday, and why didn't one of the people he was driving tell him that what he was doing is unacceptable?
Maybe because not one of them care
Day 4 to follow
---
---
Who is online
Users browsing this forum: barryels and 5 guests