Posts: 4478
Joined: Mon Jun 19, 2006 6:13 pm
Location: Centurion, ZA
31 December 2009 - Nossob
We saw a Brownie at the Nossob hide at 05h00. We decided to go south again and found a Mummy Spotted Eagle owl with baby peeping over the branch WOW
And then saw Daddy on another branch WOW
At Kasper se Draai we found these 3 lads who were not going to move for anything or anybody.
I had a nap after lunch and when I awoke Sharifa was nowhere to be found. There were a few people under the tree opposite our chalet and they were looking at a Pearl Spotted Owlet. Bear in mind that this little owlet is about 15 cm in length so in the photos it looks deceptively large.
As I tried to get the best shot of the owlet it tried to get the best look at me – it was a hoot
. This little guy could really move that neck in all directions.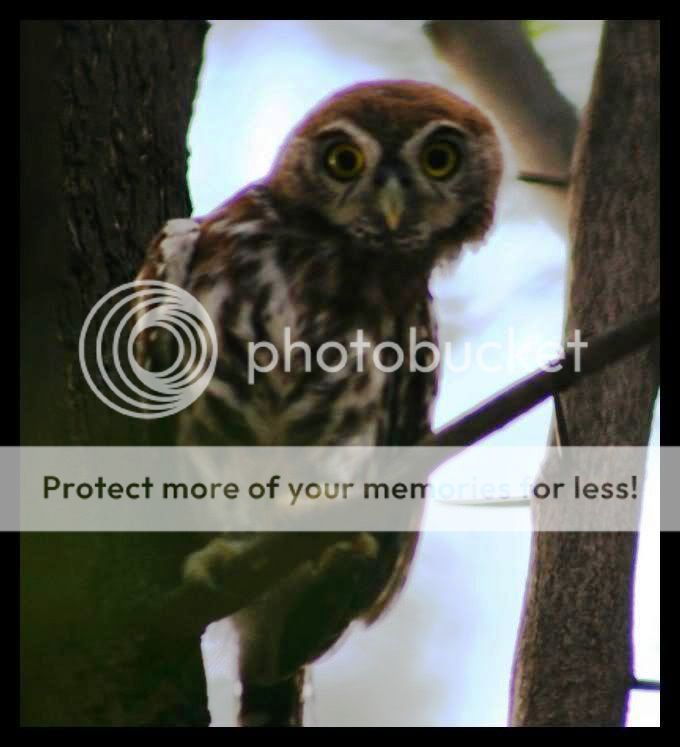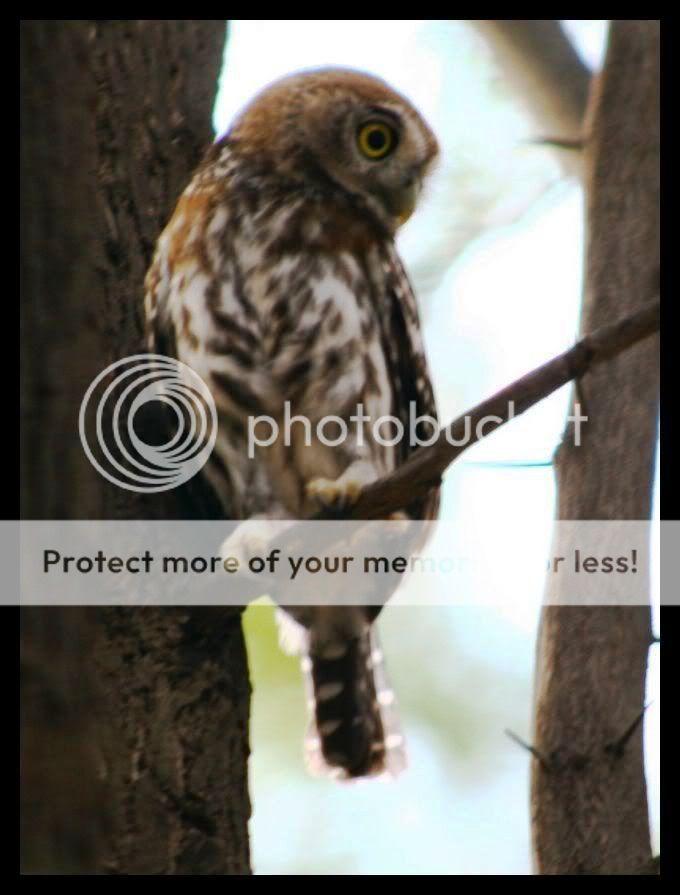 ---
Posts: 4478
Joined: Mon Jun 19, 2006 6:13 pm
Location: Centurion, ZA
Thank you all for the comments.
Hey Pumbaa, only a few days for KNP
While I was having fun with the pearl spotted owlet Sharifa was in the hide having fun with a juvenile lanner???? We think
And a secretary bird
and a CBS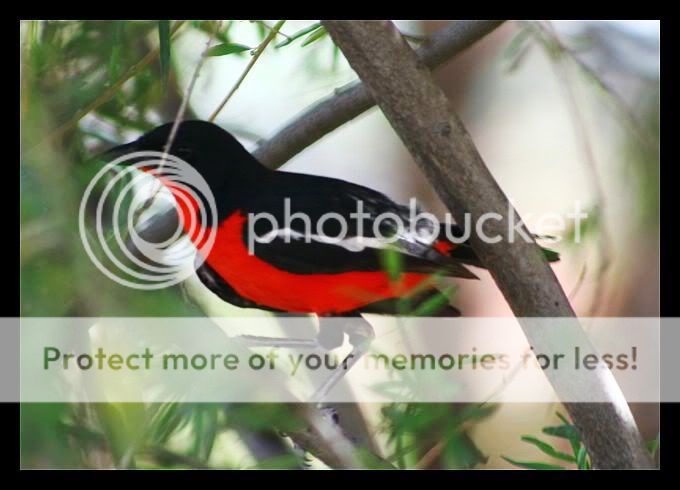 On the evening drive at Kwang we found the Kwang couple and
At Qubitje Quap there were 2 lionesses.
When we returned to Nossob the resident mongoose was very accommodating , posing for us
Getting junior out and even "smiling"
And finally a family portrait
Tomorrow we leave for Bitterpan but Nossob did have a parting gift for us
---
Posts: 4478
Joined: Mon Jun 19, 2006 6:13 pm
Location: Centurion, ZA
Thank you again for all the comments
01 January 2010 – Bitterpan.
Happy New Year!
Today we were leaving Nossob for Bitterpan. But you cannot leave before 09h00. This is to allow the tourist attendant at Bitterpan enough time to get your chalet ready for you.
We did Marie se Draai again and got another Brownie but it was a distance from the road. We also saw a red necked falcon in the distance.
It was only 07h00 when we got back to Nossob so we decided to go to Qubitje Quap. We did not get very far as we met the Nossob threesome walking in the riverbed about 3 km from Nossob.
View My Video
View My Video
Looked like they had been eating something (porcupine ???)
Having had some experience with the Rooikop #2 we soon had the trio on to the road and took them back to Nossob.
View My Video
The threesome walked the 3km to Nossob with us following.
They had a long drink
It was a very quiet morning so everybody was happy that we brought them along.
View My Video
The trio then returned to whence they had come from
Can see them challenging the Rooikop #1 and #2 shortly, now that would be a sight.
Last edited by
Duke Ellieton
on Wed Jan 27, 2010 10:51 am, edited 1 time in total.
---
Senior Virtual Ranger

Posts: 17362
Joined: Fri Jul 24, 2009 9:51 am
Location: Germany, busy planning next trip
What a wonderful sighting again with fantastic photos and videos.
Melph68 and haileyidaho captured them on the cams
Looking forward to your next episode
Katja
____________
Only two things are infinite, the universe and human stupidity, and I'm not sure about the former.

Einstein
Kamadejo returns to KNP after 7 years
Balm for the Soul
---
Posts: 4478
Joined: Mon Jun 19, 2006 6:13 pm
Location: Centurion, ZA
Kamadejo wrote:What a wonderful sighting again with fantastic photos and videos.

Melph68 and haileyidaho captured them on the cams

Looking forward to your next episode
Hi Katja, glad somebody got the photo on the cam. Below is the match of the cam photo.
---
Posts: 4478
Joined: Mon Jun 19, 2006 6:13 pm
Location: Centurion, ZA
Mads wrote:Hi Sharifa and Duke,

I cannot recall that I have ever seen a Yellow mongoose baby!! That is SOOOOO special!!!

I am wondering when I can book for KTP after this TR!!!!

Keep up the good work
Hi Mads, The yellow mongooses were very special and entertained us quite a bit during our stay at Nossob. There were TWO babies
I know of at least 4 forumites who will be in KTP end of this year, join us
---
Posts: 4478
Joined: Mon Jun 19, 2006 6:13 pm
Location: Centurion, ZA
GavinW, roll on May01………………..hope you see plenty
Lp, lion overload all right. Nossob was a focal point for them
KFT hooked, glad you enjoying
Pumbaa, thank you
RichardJ - 6 working days
. Hope you have great sightings and waiting for your TR
Anne-Marie, the video should be working
. I hate it when technology goes wrong
A lot has been written about the road to Bitterpan and we were apprehensive but we did not find it to be too bad. Truth be told, being a 4x4 trail enthusiast, I enjoyed the drive. Deflate your tyres to 1.2 bars and get into 4WD and it will be fine. There are stretches where you are tossed around and this is where people have lost traction and spun tyres. You may also need a seed net at certain times of the year but we did not as there was no "middle mannetjie" to speak off. IMHO you don't even have to go into low range just engage full 4WD.
Some of the dunes.
All we saw is gemsbok and ostrich, but the drive is beautiful
Bitterpan.
The bedrooms are tiny
the braai area overlooking the pan
The bathroom is not en suite.
There is a communal kitchen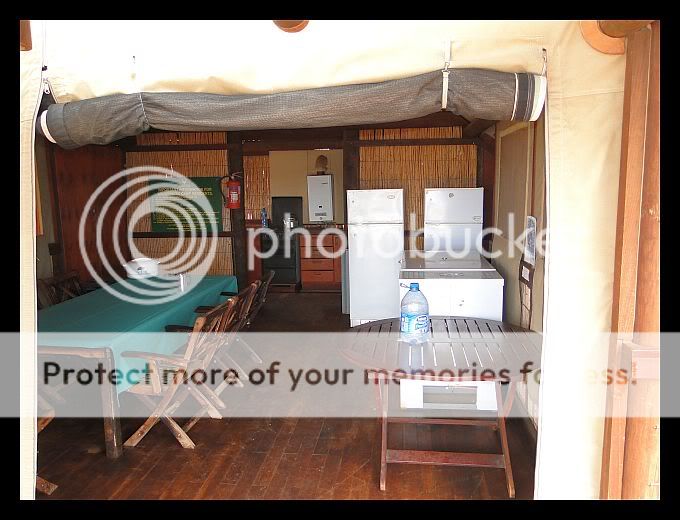 Now looks like a good time to share some tips you may find useful
1. If you staying at Bitterpan, do so towards the end of your trip as you can see there are only two fridges (the chest freezer does not work) to be shared between 4 couples so fridge/freezer space is limited
2. The wilderness camps have solar power for lights/fans and gas for cooking. You will not be able to charge camera/video batteries at these camps. You will be taking plenty of photos at KTP so invest in an inverter (costs about R150) and plugs into the cigarette lighter socket in your car. It converts 12V DC to 240V AC power and you can charge batteries while driving.
3. If you not carrying your laptop with you to download photos then make sure you have sufficient capacity on your camera memory stick.
4. Carry plenty of drinking water and charcoal/firewood if staying at the wilderness camps.
5. You may need a seed net to protect your radiator from clogging if staying at Bitterpan.
6. Deflate tyres to 1.2 bars and engage full 4wd when doing the Bitterpan road
7. Avoid chalet 5b and 3 when staying at Nossob. The bedroom in these chalets does not have windows.
8. If hiring a car check everything carefully. Check for jack and fire extinguisher
9. If staying at Grootkolk and you are a tall person check height of wall
10. Expect anything at anytime. The only predictability about animals is their unpredictability.
11. The KTP looks deceptively small when looking at the one page map (when looking at a KNP map you know you are in a HUGE park). We did a total of 2720km in the park.
---
Posts: 4478
Joined: Mon Jun 19, 2006 6:13 pm
Location: Centurion, ZA
Thank you Jock, RichardJ and Lionspoon
KFT hooked, a seed net fits over the grill at the front of the car. If the grass is long, you will get grass seeds clogging the radiator and the car will overheat.
Lp
Anne-Marie I think it is possible to go on your own and the rental company should provide a seed net.
We seemed to be 2 days late at Bitterpan. In the two days before we got there a Brownie came to the waterhole, so did a HONEY BADGER CARRYING A BABY IN HER MOUTH
, and also the resident pride of lions.
What we got was one mighty sandstorm with the wind howling at great force and so we all had braai seasoned with sand. It then rained and continued raining well into the next day.
The only visitor we had was
Having experienced sunrises/sunsets in the
Mgadigadi Pans
, we know how beautiful they can be over salt pans so we were disappointed we did not get to see this.
This however did make a pretty picture.
Will we return to Bitterpan – most definitely.
2 January 2010 – Twee Rivieren
The trip from Bitterpan to Craig Lockhart produced rain all the way, some Gemsbok, also a greater Kestrel
A tsama melon next to a porcupine den (could tell by the presence of quills). This melon is 95% water and a source of moisture for many of the animals in the KTP.
And a giraffe that had strayed quite far into the dunes.
We got a spotted hyena at 13th Borehole.
On the evening drive from TR we saw ostrich and a gemsbok. The Samevloeiing leopard eluded us again.
Highlights.
There were so many on this trip it is difficult to single out a few. So if we had to choose a top 3:
Duke
1. Brownie
2. Caracal
3. Grootkolk
Sharifa
1. Bat eared Foxes near Kieliekrankie
2. Caracal
3. Brownie
Disappointments.
It was always going to be a long shot to find an aardwolf so not disappointed at all about that. In fact we are very lucky to get the Brownie and Caracal. We were really surprised that we did not get a single cape fox on this trip. We would have liked to see a puffie and cape cobra – again surprised that we did not. A honey badger and pygmy falcon would have been nice. Thought we might get to see Eland but it was not to be. There really are no disappointments. We take what we get (and we got plenty) enjoy it and move on till the next trip.
last installment tomorrow
---
Posts: 4478
Joined: Mon Jun 19, 2006 6:13 pm
Location: Centurion, ZA
Thank you KFT hooked, Katja and Pumbaa
3 January 2010 – The long drive Home
Conclusion.
A National park par excellence and a wildlife experience that you have to experience. A pristine area for the most part that has not yet fallen to development. We hope the Wilderness camps will not be enlarged and thereby lose their appeal and attraction.
I leave you with the words of James Stevenson Hamilton on his retirement from the KNP.
"I had at least brought up Cinderella and launched her on her career. I loved her best when she was a pathetic and dust covered little wench, derided and abused; always I felt that, given her chance , and her attractions recognized, unlimited possibilities lay before her. Now that she had become a Great Lady it was fitting she should be provided with custodians perhaps better suited to provide her new requirements.
Might her success and the gifts increasingly showered upon her, not at last permanently affect her character, and transform her into a dame so bedecked by human art that her natural loveliness would be hidden, and her simple nature spoiled. Might those holding her future in their hands, realize the true nature of that Trust, and not by estimating her worth at artificial values only, cause her to languish, and ultimately perhaps to perish."
Thank you for joining us on this trip of discovery and also for your encouraging comments and appreciation.
We were ready early again and got a beautiful sunrise at Twee Rivieren.
The "Twee Rivieren Morning Chorus" was on song and bid us farewell.
View My Video
Warm Regards
Sharifa and Duke
---
Distinguished Virtual Ranger

Award: Sighting of the Year - Predator - Honeybadger Award (2016)
Posts: 2654
Joined: Thu Oct 05, 2006 10:44 pm
Location: Cape Town-but dreaming of KTP
Thanks very much Sharifa and Duke for a wonderful trip report..I enjoyed your photos and narration very much...still
of your caracal but then we saw the Samevloeing leopard
Pity about the weather at Bitterpan..but as you say ..still an awesome camp. I would love to go back there again.
Again it was great meeting you in Nossob and our brief meeting on the last morning in TR was quite special......at least when we left the park I knew we were not alone in our misery.
Yes forumites..we followed Sharifa and Duke out of the park. Hopefully we will get to meet again in Dec ....maybe at an Aardwolf sighting
---
---
Who is online
Users browsing this forum: No registered users and 2 guests