Virtual Ranger

Posts: 979
Joined: Thu Jun 19, 2008 12:53 pm
Location: Port Elizabeth
Hi Everyone Pantera Leo & Nkumbe here!
Got so hooked on everyones Trip reports we decided to do our own will start typing and uploading tonight!!!
Please be patient as we are working/studying!
---
Virtual Ranger

Posts: 979
Joined: Thu Jun 19, 2008 12:53 pm
Location: Port Elizabeth
Day 1 (21/06/2008)
Route: Phalaborwa Gate; H-9; S51; H14; H1-6; Mopani Road
It was a lovely sunny wintersday when we arrived for our long awaited Kruger experience!!
We hastily checked in at Phalaborwa Gate at around 13:00!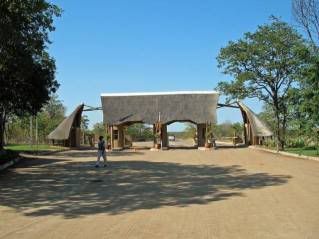 First up as usual with Kruger was the magnificent Impala's we are all so use to seeing! Not to long afterwards a beautiful little Duiker followed, such a gracious little antelope!
We then decided to turn right at the crossing unto the S51, Sable Dam road, suddenly we were halted by four magnificent Elephant still wet with mud. Our first Ellies! Just before we reached the Dam a Giraffe and a mating pair of Kori Bustard appeared.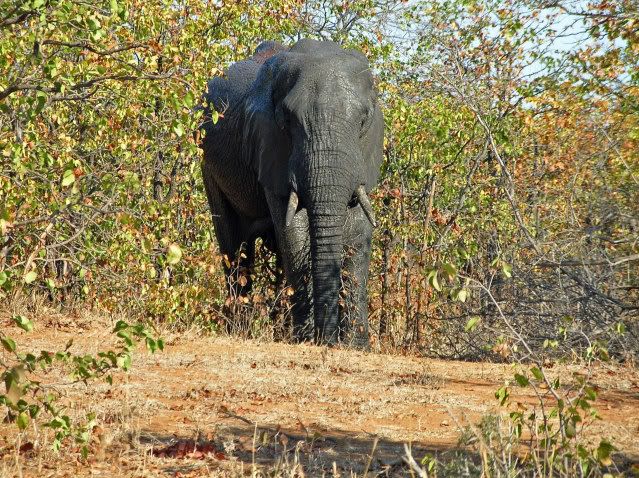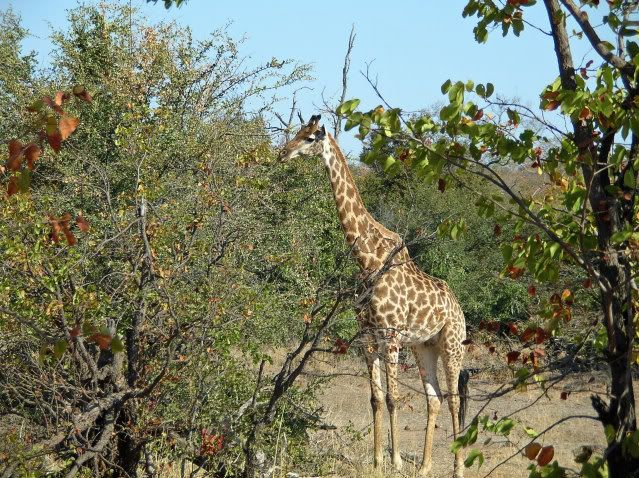 Arriving at Sable Hide we stumbled upon some more Elephant and Giraffe as well as a lone Warthog.
The usual crocodiles were around and some Bateleur came circling down to the waters edge to quench their thirst!
We literaly had to pull ourselves away as we needed to get to Mopani and book in, it is such a lovely place.
We came across some dancing Ostriches at the side of the road!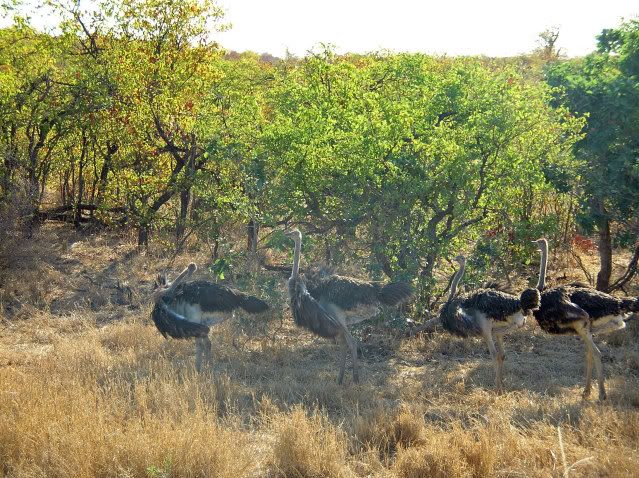 Something interesting drew our attention next to the road, it was some Elephant dung playing host to some mushrooms!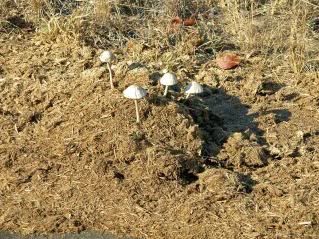 We continued quite along way before we actualy saw some animals again. As we dropped down the steep slope into the Letaba river we saw a beautiful breeding herd of Elephants to the left and a whole lot of Hippo's to our right. As we came around the bend a few kilometres further we came across a mother Hyena and her two "cubs". Mom was lying gnawing on a bone while the youngsters were messing about all over the road, one without a foot
(The rangers at Mopani said that they knew about it but was probably a natural fault, no poaching that deep in the park). Luckily it looked as if the clan was looking after it quite well!
Saw some Zebra, Kudu, Nyala and Waterbuck the rest of the road up to the T-Junction with the H1-6. As you can see on the photo of the Waterbuck it was starting to get rather late and we had to get to camp which was still quite a long way to go.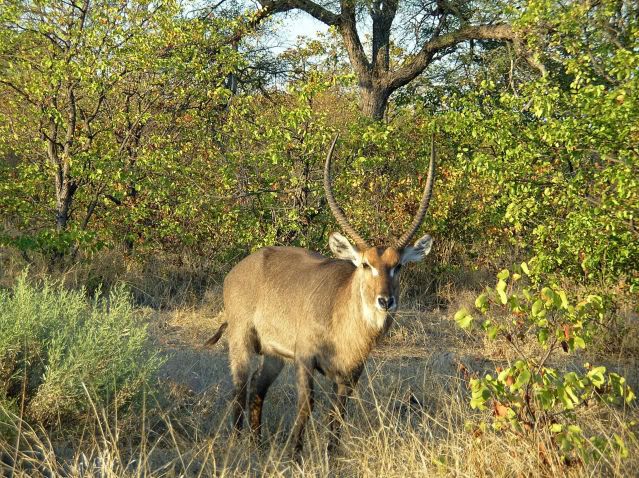 Now on the H1-6 we saw a whole lot of bachelor Elephants one of which we suspected was the late Alexander, but no photos as he was to far in the dense mopane thicket.
Up the road to the camp even more Elephants so if you love Elephants this is the way to go!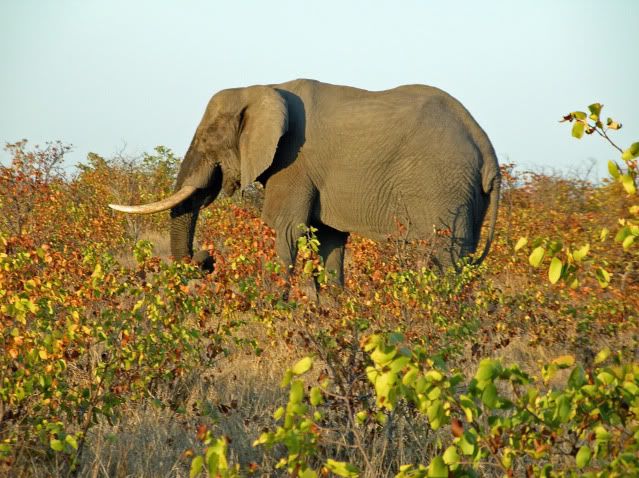 We made it to camp just in time and quickly got booked and settled in for some much needed rest after leaving Pretoria early the morning.
The list of all species seen on day 1
Elephant 35
Helmeted Guineafowl 5
Burchell's Coucal 1
Kudu 7
Waterbuck 1
Lilacbreasted Roller 2
Nyala 1
Zebra 7
Hyena 3
Redcrested Korhaan 1
Steenbok 1
Giant Kingfisher 1
Hippo's 4 or more
Common Ostrich 4
Lappetfaced Vulture 2
Grey Heron 1
Crocodile 3
Giraffe 6
Bateleur 2
Warthog 1
Kori Bustard 2
Duiker 1
End of day 1
Hope you enjoyed it as much as we did reliving all the old memories!
Last edited by
pantera leo
on Fri Sep 24, 2010 11:28 pm, edited 1 time in total.
---
Day 2 (22/06/2008)
Morning Route: Mopani Road; H1-6; S94; S46; S94; H1-6; Mopani RoadLate Afternoon Route: Mopani Road; H1-6; Mopani Road
It was still dark outside, and we arose for our first full day in Kruger even before the Francolin's could greet us! As the gates started opening we were on our way, we drove down to the T-Junction with the H1-6 and decided to turn left for a glimpse of the Lion they saw at Bowkerkop Waterhole the previous day! But to no avail we then headed back the other way towards Letaba.
It was not long before we bumped into our first animal for the day, guess what? A grumpy old Elephant returning from his morning bath in the Tsendze. He kept us from passing for at least 15 minutes and then strolled off into the rising sun!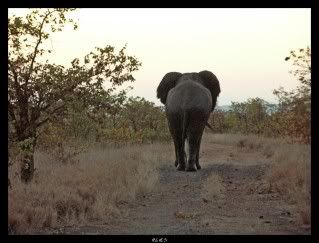 With the adrenaline still pumping we drove on not seeing another living thing for another half-hour, then another Elephant this time a little more docile leaving as in peace! By now we should have realised that this was going to be the day of the Elephant.
Around the next bend we came across three Longtailed Shrike sunning themselves on a dead Leadwood! After them some Kori Bustard, six Southern Ground Hornbill, a Burchell's Coucal and a Lilacbreasted Roller.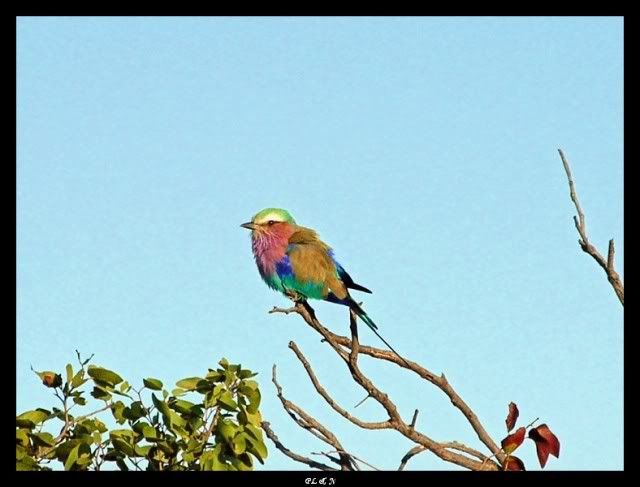 Some Giraffe followed for a change and then a White-Backed Vulture, grooming itself on a Mopane!
We now crossed the Letaba river and suddenly there was an explosion of Impala everywhere. A lone Secretarybird greeted us from his nest perching on a Knobthorn, far back in the distance!
Just before the Letaba Gate we saw three Hooded Vulture's chasing after eight Egyptian Geese in the riverbed.
We arrived at Letaba and decided to visit the Elephant Hall, after being stunned by all those magnificent beasts of the past we went for a quick stop at the restaurant to have brunch.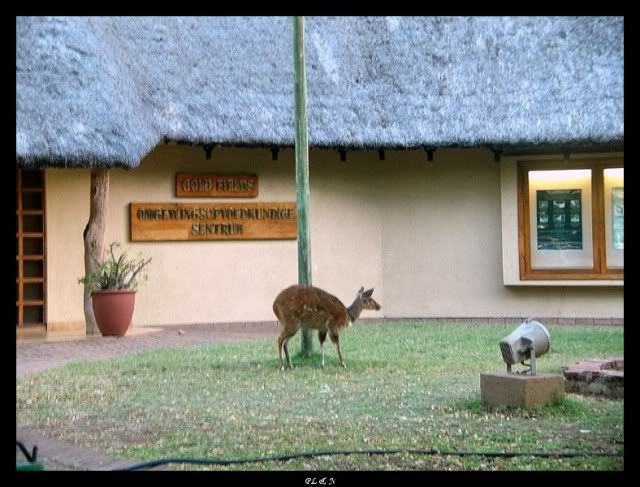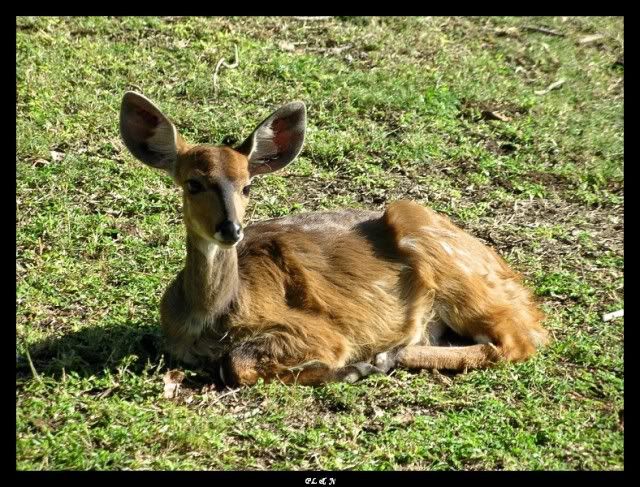 After spending two hours at this charming camp and seeing around eighteen Bushbuck, we drove to Engelhard-dam. We only saw some Elephants and Hippo's lazing about in the river!
We then drove back to Mopani, and came across four Zebra and a lone Blue Wildebeest on their way down to the river. Along the river we found numerous Egyptian Geese, Waterbuck, Elephant, Vervet Monkeys, Crocodiles and Hippo's. After a while of no animals we stumbled across this beautiful male Giraffe ambling across the Savannah.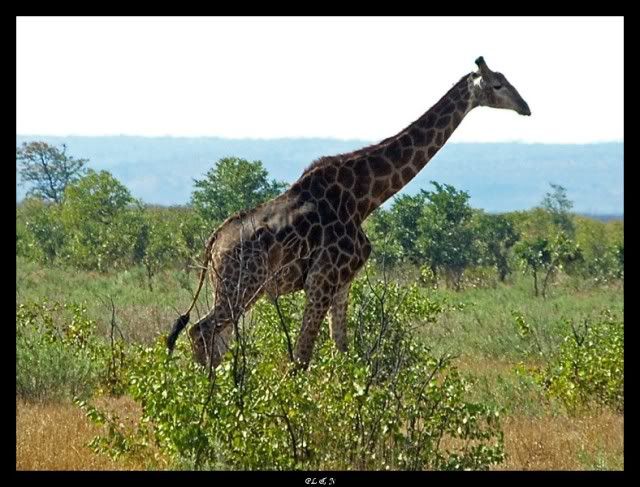 It had hot up quite a bit by now and the animals where getting lazier by the minute seeking the shade of trees or bushes to lie beneath. All except two male Ostriches which where chasing each other about the place. At Middelvei Waterhole there was some more activity with some fifty or so Blue Wildebeest coming for a drink. They quickly chased off the family of five Warthog but they too where soon chased of when an Elephant came down to drink. To the right of the waterhole five "Daggaboys"(Buffalo Males) lay down in the shade of the Mopane bushes.
As we got closer to the Tsendze river some more animals popped up, with two different sets of Kudu close to one another. A little while later we stopped next to the river to see whether there was any activity, a lone bull elephant was quenching his thirst. Then something moved on the opposite bank and two beautiful Nyala males walked out of the bush to come for a drink! A Redcrested Korhaan made his appearance next to the road as a Elephant flushed him out of the bushes. He had quite an impressive right tusk, the left was broken in half.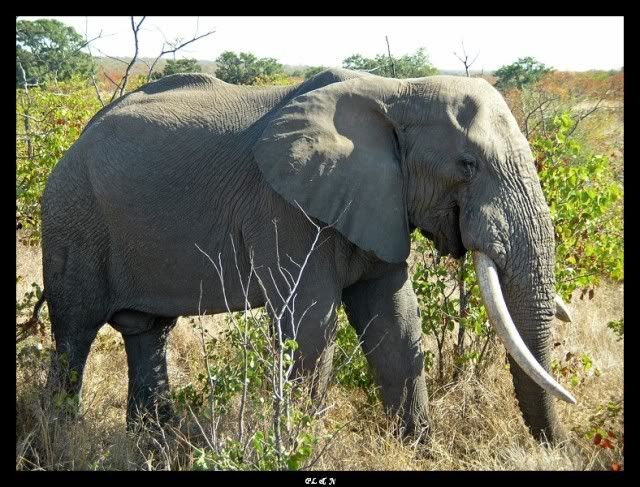 Nothing further to the camp, we went to check out the Pionierdam which is situated at the foot of the camp. Saw some more Waterbuck, Elephants, Crocodiles and a Black-headed Heron. We decided to also seek the shelter of our cool Rondawel just as the rest of the animals.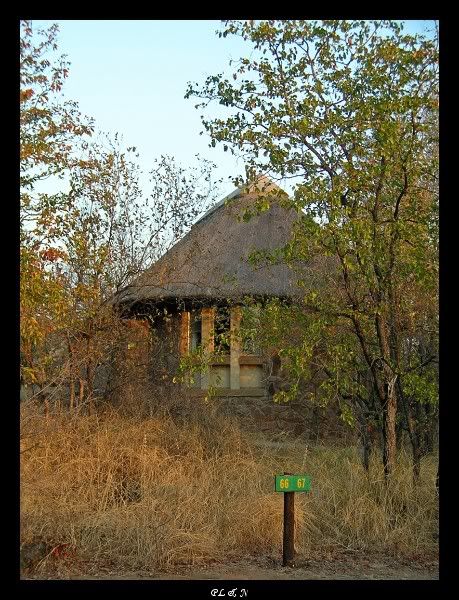 At around 16:15 we left camp again for a late afternoon drive. Barely out of the gates a breeding herd of Elephant awaited us. This young male wanted to mess about a bit. After quite a while sitting with them a male joined them from the other side of the road!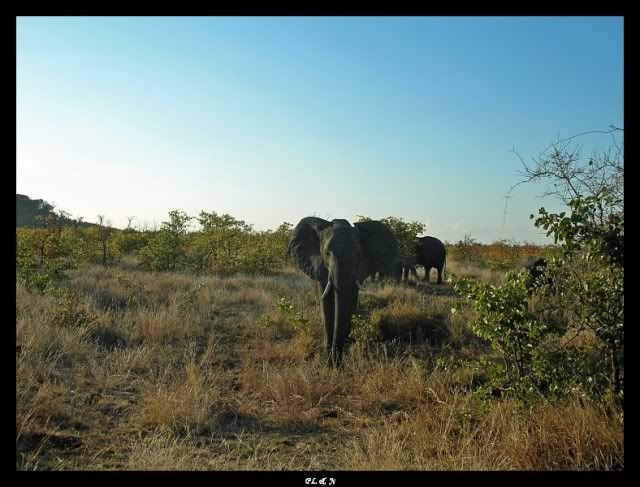 At Bowkerkop five Southern Ground Hornbill walked around looking for a snack before settling down for the night and then four Elephant's came down for a drink. Heading back to camp we came across a herd of approximately fifty Buffalo and our last animal of the day was once again an Elephant. At the end of this wonderful Elephant day we were greeted by a beautiful setting sun!
Last edited by
Nkumbe
on Sat Sep 25, 2010 10:02 am, edited 1 time in total.
---
Virtual Ranger

Posts: 979
Joined: Thu Jun 19, 2008 12:53 pm
Location: Port Elizabeth
Animals seen on Day 2

Elephant 34
Longtailed Shrike 3
Southern Ground Hornbill 9
Burchell's Coucal 1
Lilacbreasted Roller 1
Giraffe 3
White-Backed Vulture 1
Secretarybird 1
Impala Plenty
Egyptian Geese 42
Hooded Vulture 3
Bushbuck 18
Hippo's 28
Zebra 4
Blue Wildebeest +/- 51
Waterbuck 28
Vervet Monkey 7
Crocodile 32
Common Ostrich 2
Buffalo +/- 56
Warthog 5
Kudu 13
Nyala 2
Redcrested Korhaan 1
Black-headed Heron 1
---
Virtual Ranger

Posts: 979
Joined: Thu Jun 19, 2008 12:53 pm
Location: Port Elizabeth
Day 3 (23/06/2008)
Route: Mopani Road; H1-6; Confluence; H1-6; Mopani RoadSunset Drive Route: Mopani Road; H1-6; S144; S143; S50; S49; H1-6; Mopani Road
Today we had a special day ahead of us as we would be going on our first ever sunset drive in Kruger! We did not wake as early as the previous morning as today the Francolin's chorus kicked us out of bed, although I have to say it is much better than any alarm on your watch or cellphone!
Our first sighting as with Mopani was of course an Elephant but it was a happy old guy browsing next to the road. Next to him was yet another Longtailed Shrike but this time only one and still puffed up from the chilly morning air. The sun was not out and every animal seemed to be hiding away, maybe to also sleep a little late. It was an overcast day and miles before we saw anything again! Eventually we came across seven Buffalo, so glad to finally see some animals. Four beautiful Kudu bulls followed, and around the next bend we came across the other sight Mopani is so famous for, their enormous herds of Buffalo roaming in the area!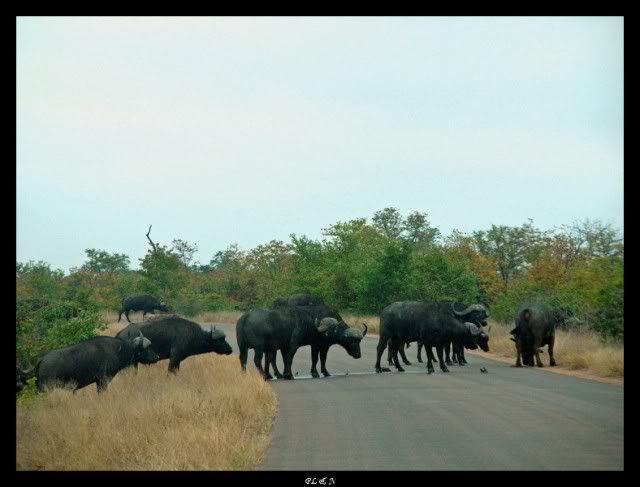 It was one magnificent sight seeing them stream out of the bushes into the road and disappearing in the Mopane thicket on the other side. We drove through the herd for about 1.6 kilometres. They were making their way to the Tsendze for their morning "cup of coffee"!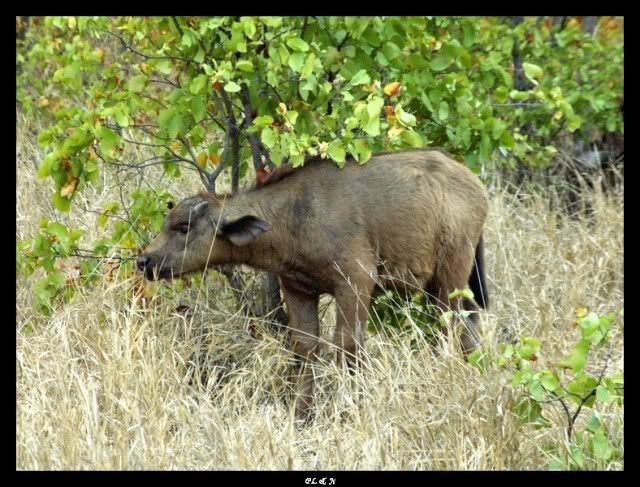 We then decided to go down to Confluence, what a wonderful surprise awaited us! It must be one of the seven wonders of nature such a beautiful and tranquil place. We saw our first Saddlebilled Stork's for the trip four of them on the far side of the bank busy grooming. Three Hamerkop's were fishing at the waters edge, while three Pied Kingfishers where bombarding the fish from the air! After a few minutes of sitting in silence watching these wonderful birds, it was suddenly broken as two Fish Eagle's started calling to one another! What a beautiful sound they make so true to Africa.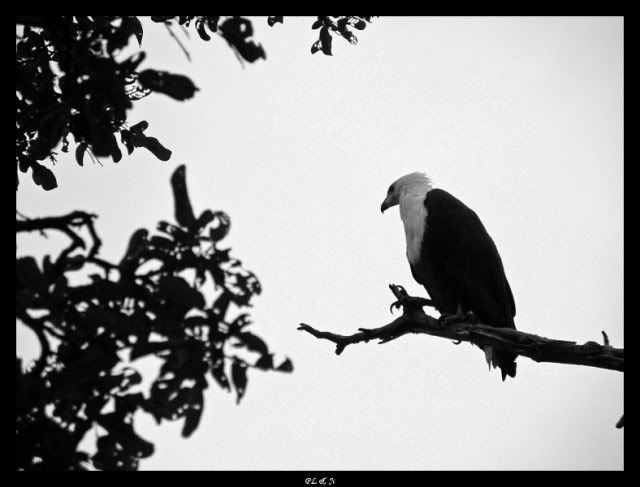 And then it started raining, not from the sky but from the tree we where standing beneath. It was an Apple Leaf also called a Raintree, due to Spittle bugs which sucks the moisture from the tree. They then filter out all the nutrients and discard a sticky substance out of their abdomen, we quickly got out underneath that tree!
Back on H1-6 again we came across some beautiful Giraffe's and yet another herd of Buffalo this time only about 200 metres wide! At a clearing in the Mopane a troop of our first Baboons crossed far back in the distance in quite a hurry but we were able to count about twenty-three of them. An Owl sat in a tree to their left but it was unfortunately to far to ID it.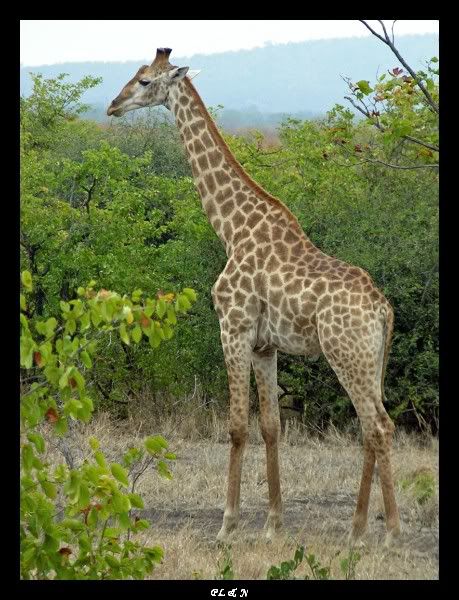 Down at Klein Nshawu Waterhole an Elephant was quenching his thirst and a Steenbok stood still hoping we would not see him! Just before the Mooiplaas turnoff six Kudu were browsing next to the road. At Mooiplaas we just stopped briefly because of the chilly wind, there was actually quite allot of water here for the winter. Some movement between the bushes on the opposite side of the river revealed four Waterbuck.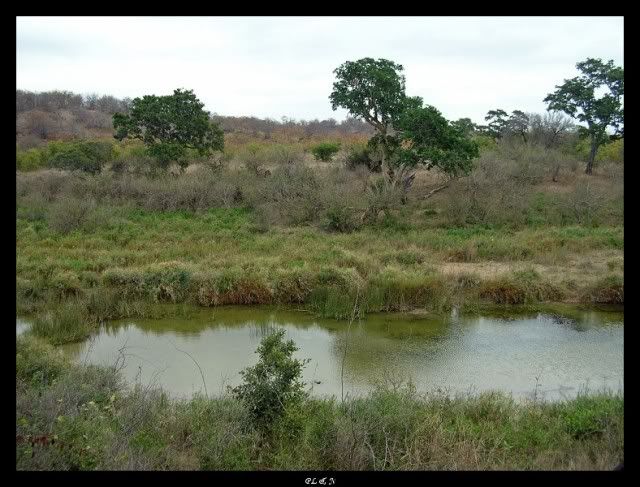 Back on the road again and we found the last three buffalo of that huge herd of this morning bringing up the rear three hours later! Evidence was scattered all over the place and it was simply impossible to even try and dodge the dung as it cover the whole road. Just before the turnoff to Mopani we found some playful Zebra chasing the Impala's around and just before we got back to camp the same elephant of this morning was still strolling around near the gate.
Sitting on the deck back at Mopani we counted another forty or so Buffalo at Pionier Dam. The clouds had started to disappear and about thirty-four Crocodiles tried to soak up the suns rays on the banks. Another brilliant site was an African Spoonbill moving up and down in the shallow water searching for his brunch. We returned to our Rondavel to rest out a bit for this afternoons Sunset Drive. Sitting outside drinking some coffee and eating some cookies we where soon discovered by the Starlings and Hornbills, of which all three species made their appearance simultaneously.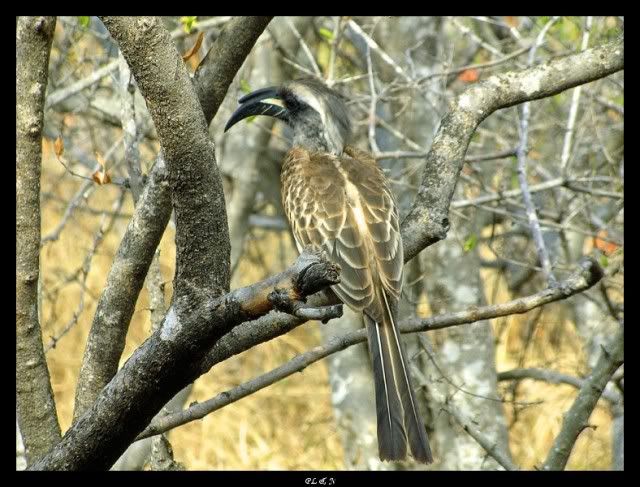 This one was begging his heart out, just could not understand why we would not feed him. LET THIS BE A LESSON TO ALL PEOPLE FEEDING THE ANIMALS/BIRDS, PLEASE DON'T!!!
At last we where on the Drive very exited about what the afternoon/night might hold. Unfortunately we where disappointed by the guide which just sped past almost everything we saw. He must have had something planned at home because we where back a half-hour early.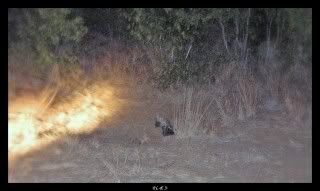 This is the list of animals seen on the Drive:
Waterbuck
Impala
Zebra
Elephant
Giraffe
Blue Wildebeest
Steenbok
African Wildcat
African Civet
Tsessebe
Hyena
Black-backed Jackal
Vultures
Kori Bustard
Hares
Thanks for sharing THE DAY OF THE BUFFALO with us!!!
List of species seen on Day 3
Elephant 8
Longtailed Shrike 1
Buffalo 3 Herds
Kudu 10
Saddlebilled Stork 4
Hamerkop 3
Pied Kingfisher 3
Fish Eagle 2
Giraffe 12
Slender Mongoose 1
Baboons 23
Owl (No ID) 1
Steenbok 6
Waterbuck 9
Zebra +/- 50
Impala +/- 40
Crocodile 34
African Spoonbill
Blue Wildebeest 15
African Wildcat 1
African Civet 1
Tsessebe 1
Hyena 3
Black-backed Jackal 2
Vulture 14
Kori Bustard 1
Hare 4
Last edited by
pantera leo
on Sat Sep 25, 2010 12:16 pm, edited 1 time in total.
---
Virtual Ranger

Posts: 979
Joined: Thu Jun 19, 2008 12:53 pm
Location: Port Elizabeth
Day 4 (24/06/2008)
Route: Mopani Road; H1-6; S52; H1-6; S50; H1-6; Confluence; H1-6; Mopani Road
This morning we once again got up before the Francolin's and an eerie silence was in the air. When we got outside the mist was so thick you could barely see a few metres in front of you. It was this morning that Nkumbe got the fright of her life. . .
She was making coffee when something rustled behind her in the bush, she swung around and knocked a whole bottle of olive oil off the cupboard! One Huge mess, for just a Francolin popping in to say hi!
As the gates opened we were on our way but could not see a thing. At Bowkerkop Waterhole we spotted our first animal, a Hyena gnawing on the Elephant carcass! Dragging it around, enjoying the whole experience and laughing in between (hopefully not at Nkumbe!). We drove off finding yet another Hyena about 1.7km away possibly from the same clan. By now we should have known that today would be the day of the Hyena! Two kilometres further and four Hyena's were playing in the road. Unfortunately the mist was still to thick for photo's. After all those predators this morning we were glad to see some Giraffe and Zebra for a change. Just before Eendrag Waterhole we found a lone Saddlebilled Stork fishing for his breakfast. After thirty kilometres we found our first Elephant for the day and of course the Buffalo followed, only nine though! Three Ostriches made their appearance just as the mist started lifting. At Nkokodzi Waterhole we were surprised to find a medium sized herd of Buffalo, milling around creating clouds of dust! Then we came to a sudden halt thinking we saw a Sharpe's Grysbok, but soon confirmed that it was another favourite little antelope called a (Grey) Duiker!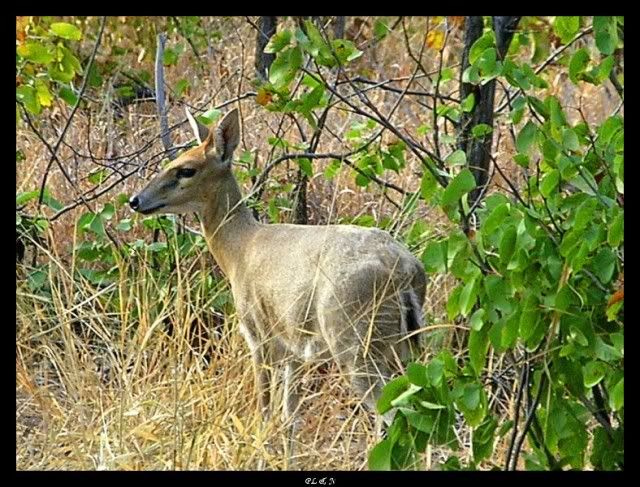 After a while we turned off unto the Red Rocks Road to see far in front of us three Nyala ewe's crossing the road, but when we got there they had disappeared. We continued on to Red Rocks probably the most beautiful geological sight in Kruger.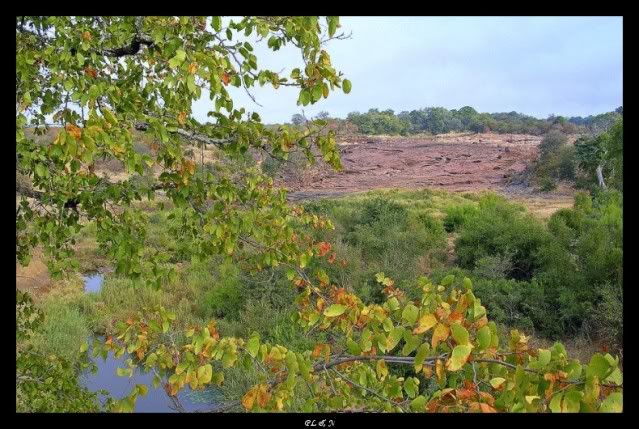 Back on the way to Shingwedzi we found 3 Crocodiles on the riverbank, next to some nervous Giraffe. Close to the Shipirivirhi turnoff a beautiful juvenile Bateleur! Then we turned right to Shingwedzi, on that little stretch of road, some Elephant and a Blackshouldered Kite. Just a quick stop at Shingwedzi and we were out the back gate and on the Kanniedood Dam Road, this road was going to be our Tragelaphus Road! (Tragelaphus means spiral twisted horns) We had not even seen the dam yet when an enormous beautiful Nyala bull (Tragelaphus angasii) made his appearance it was an awe inspiring sight! He then disappeared just as quickly. Not long after the Nyala we came across some graceful little Bushbuck (Tragelaphus scriptus) foraging for fallen fruit of the Sycomore Fig. We went down one of the little loops leading down almost to the dams edge, we stopped for a while. Then we heard a tapping sound, it was a Goldentailed Woodpecker busy pecking a hole in one of the branches! And then the sweet melody of the Emerald-spotted Wood-dove filled the air. Everything was absolutely perfect and it could have been the closest to heaven-on-earth one could possibly get!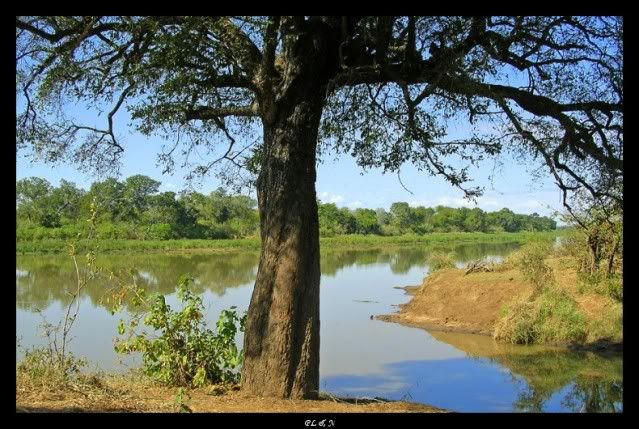 Even more Nyala's and Bushbuck followed not even to mention all the Crocodiles and Hippo's. At the Kanniedood Hide it was rather quiet and we decided to head back to Shingwedzi. On the way back we came across two beautiful Pied Kingfishers and this Darter drying himself in the sun!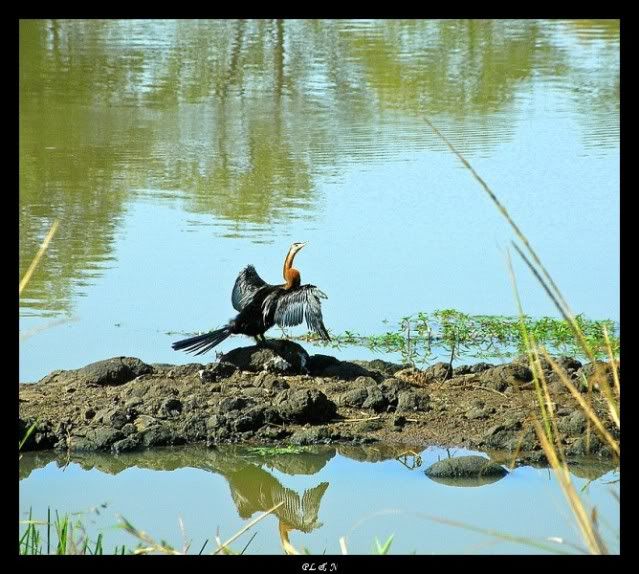 A little further along the road and some Elephants had come down for a drink on the opposite bank!
This beautiful Shrub Hare was out in broad daylight!
Just before we got back to Shingwedzi we found eleven fabulous Kudu (Tragelaphus strepsiceros) also making their way down to the river for a drink! We had now seen all three the Tragelaphus species in the park in a short while and was very excited.
(They have recently changed the name of the Eland to Tragelaphus oryx, thus it is no longer Taurotragus oryx)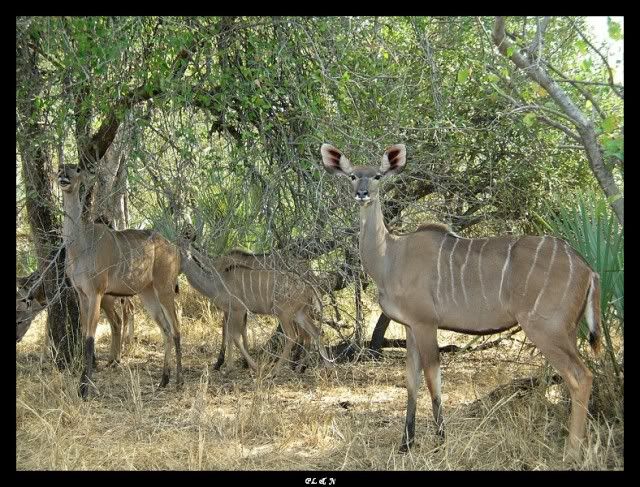 We quickly turned right to go down onto the low water bridge but we could not see the Kudu's. But far of in the distance some Waterbuck lay down in the shade of the trees. Two Saddlebilled Stork's, a few Hadeda and a Hamerkop were fishing in the pool to the left of the bridge. In the pool to the right a Grey Heron was occupied and an African Marsh Harrier was sitting on the sand! On the bridge lay two Water Monitor's basking in the sun. The next moment a Giant Kingfisher came darting down from the tree into the water and caught himself a fish. He then sat on the bridge and whacked the fish silly, probably to kill it. He then swallowed it and returned to the tree. After a few minutes he made another attempt but failed! Just as we were about to leave a Threebanded Plover made his appearance!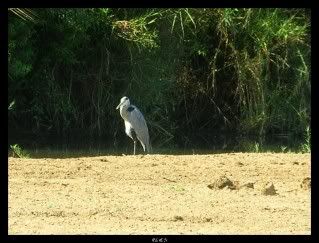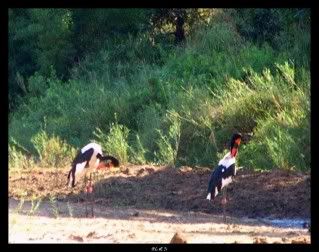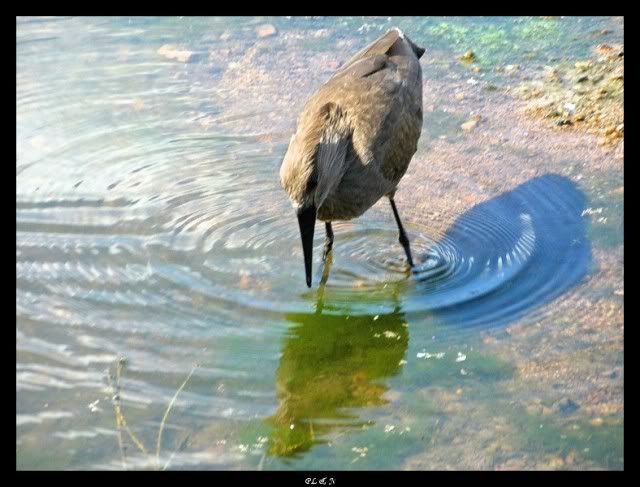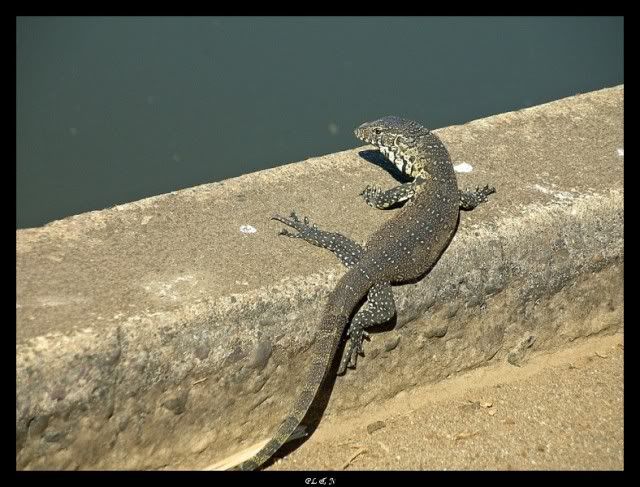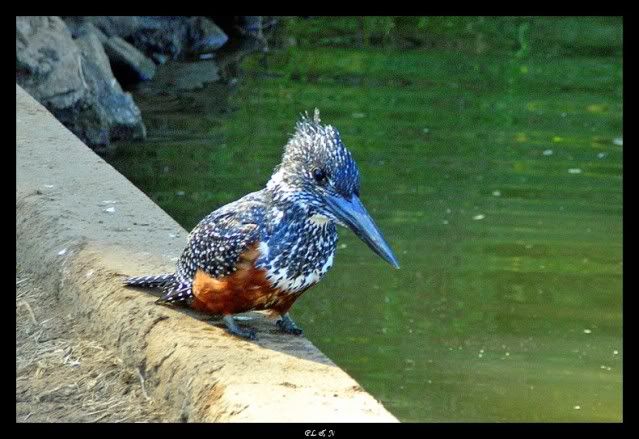 We had a lovely lunch under the largest single thatched roof in the Southern Hemisphere! We then left Shingwedzi behind and headed back towards Mopani. A rather large Tusker greeted us in the riverbed but other than that it was quit quite, as it was rather hot by now! At the T-Junction we quickly turned right for a view of the Shingwedzi river from the high water bridge!
Back the other way 15 Kudu's awaited us at the Mphongolo-Shingwedzi Confluence. We drove down there just to try our luck and found a Giraffe and large troop of Baboons laying in the middle of the road, very lazy because of the heat! Above them a Whitecrowned Shrike was calling his heart out, breaking the eerie heat silence!
After a long drive we spotted some Elephant down in the river splashing about in the water, and a little further down the road a large bachelor herd of Kudu's.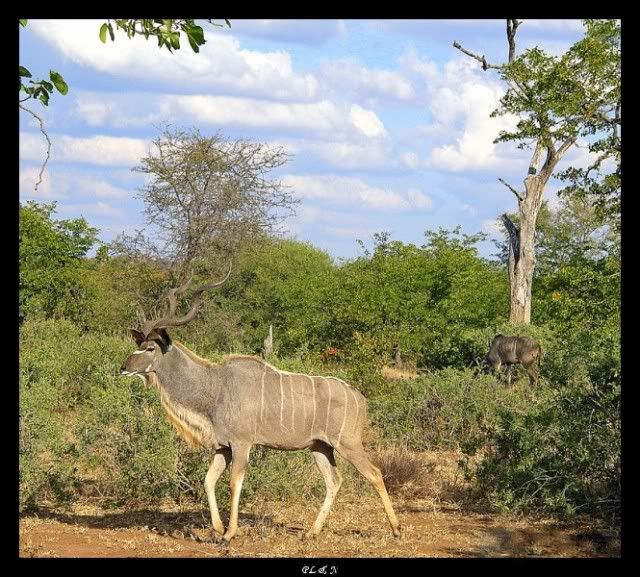 On the way back a few Ostriches, Zebra, Blue Wildebeest, Elephant and Steenbok showed up as well as another little Duiker.
Close to Mopani opposite the road to the Bowkerkop Waterhole is the 'koppie' Bowkerkop, known for its magnificent Baobab's.
This was the end of our Hyena/ Tragelaphus/Birding Day!
List of Species seen on Day 4
Hyena 6
Giraffe 12
Zebra 7
Saddlebilled Stork 4
Elephant 46
Buffalo Medium Herd + 9
Ostrich 6
Hoopoe 1
(Grey) Duiker 2
Nyala 11
Crocodile Lots
Bateleur 1
Blackshouldered Kite 1
Bushbuck 12
Hippo's Lots
Goldentailed Woodpecker 1
Emerald-spotted Wood-dove 1
Dwarf Mongoose 1
Pied Kingfisher 2
Darter 1
Waterbuck 4
Kudu 33
Grey Heron 1
Giant Kingfisher 1
Hamerkop 1
African Marsh Harrier 1
Threebanded Plover 1
Baboon Large Troop
Whitecrowned Shrike 1
Steenbok 2
Blue Wildebeest 12
Impala Plenty
Last edited by
pantera leo
on Sat Sep 25, 2010 12:34 pm, edited 3 times in total.
---
Virtual Ranger

Posts: 979
Joined: Thu Jun 19, 2008 12:53 pm
Location: Port Elizabeth
Day 5 (25/06/2008)
Morning Route: Mopani Road; H1-6; S49; S50; H1-6; Confluence; H1-6; S142; H1-6; Mopani RoadAfternoon Route: Mopani Road; H1-6; S49; S50; H14; H1-6; Confluence; H1-6; Mopani Road
After yesterdays long drive we decided to go slow today. We got up as soon as the Francolin's started calling and was heading towards Bowkerkop Waterhole to find the Lions they have seen there everyday, but with no luck! We turned around and headed towards Letaba. We could not even get going again before we stopped, two beautiful Black-backed Jackal were trotting into the rising sun up one of the ranger paths. And then we noticed the local Southern Ground Hornbill's already on their breakfast run! Sitting watching them we scanned the surrounding with the binoculars, a Burchell's Coucal was echoing his duh-duh-duh sound over the Lowveld and a little Scops Owl looked at us over his shoulder! What a perfect morning already! Unfortunately everything happened into the sun and good photos was impossible. After almost a half-hour of seeing nothing except a few Cape Turtle Doves and being half way on the S49 we stumbled across some loony Blue Wildebeest dancing and prancing all over the road! With them a few Impala and very lively Zebra's!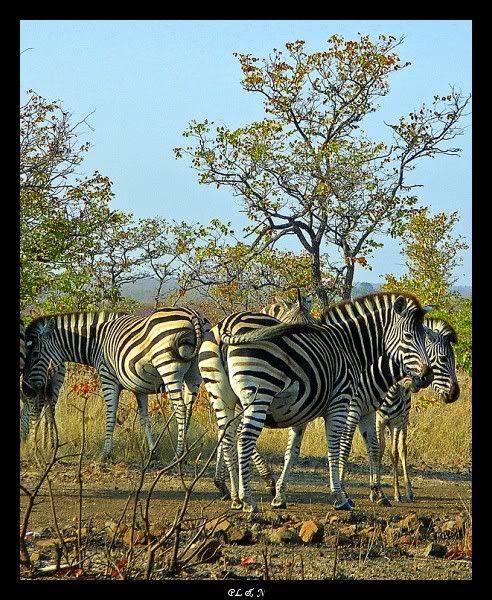 At Nshawu 1 a very dark Giraffe posed for his picture but he did not consider the lighting. On the way to Confluence we found six more Giraffe and a medium sized herd of Impala! As usual Confluence was full of activity! Two Saddlebilled Storks were busy grooming, as was a Marabou Stork which really needed it! There were also twelve Woollynecked Stork's, two Grey Heron's and a Hamerkop. As for mammals four Giraffe were browsing on the other side of the river!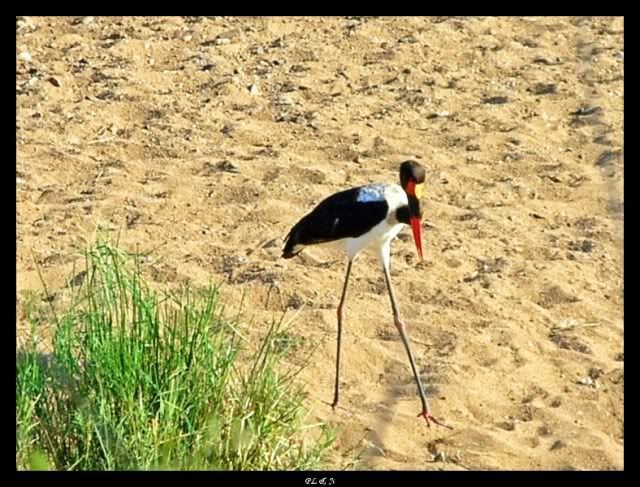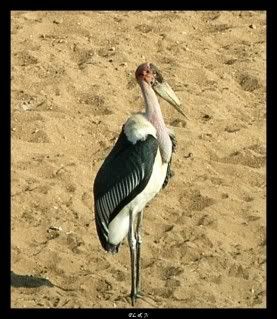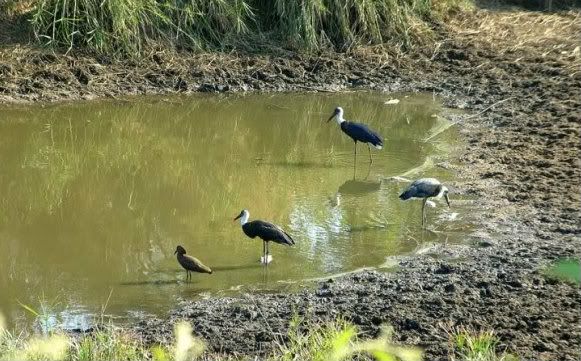 We eventually left after a hour and came across a small herd of Buffalo close to where we found them on day 2, also some Kudu's and a large herd of Impala! We decided to go and check out the two hides in the vicinity. First up was Shipandani, which together with Sable are the only two overnight hides in Kruger. Some Hippo in front of the hide were relaxing after a long night of grazing!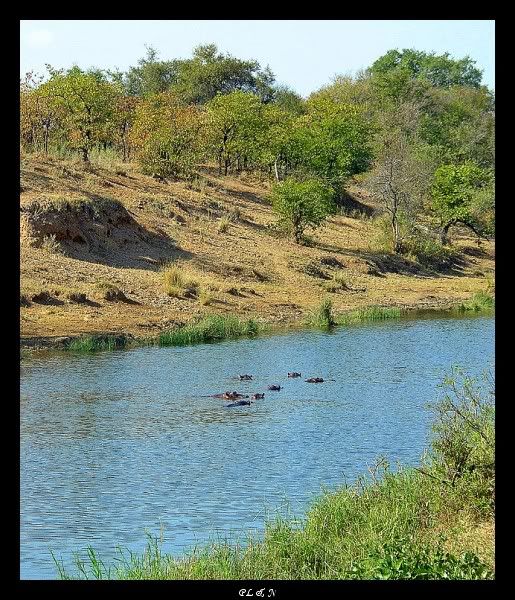 At Pionier Hide all was quiet with a Pied Kingfisher hanging on for dear live with the reeds swaying in the wind! We returned to Bowkerkop Waterhole and found two Elephant drinking water and then went for a bit of a munch!
The Elephant Skeleton the Hyena was gnawing on in the background!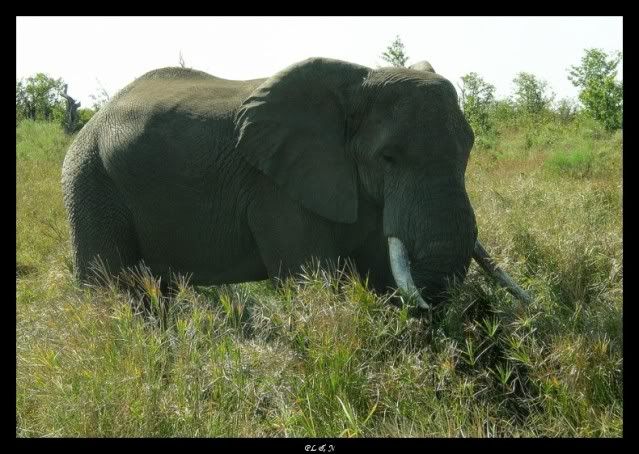 As we headed back to camp only a small herd of Impala and a lone Blue Wildebeest! Back at camp a Lilacbreasted Roller guarded the Rondavel but was just to shy for a photo!
On the afternoon drive we came across two separate groups of Elephant and an African Wildcat in broad daylight in the same place we saw the Jackal this morning, unfortunately he was gone in a few seconds! But thanks to the cat we saw a Pearlspotted Owl on the opposite side of the road!
Now we once again took the road to the Mooiplaas Waterhole because the last two days delivered Cheetah sightings there and a kilometre or two down the H14! We sat there for a half-hour scanning the surroundings only to find four Elephant in the distance and three of the Cheetahs favourite prey Ostrich! Up the road we came across two lone Zebra which was very strange as they are herd animals!
At Nshawu 3 a herd of Zebra and Blue Wildebeest were grazing and an Elephant drank water! On the H14 we could not find the Cheetah and turned back after five kilometres, in the search for the Cheetah we somehow missed the four Giraffe, one Kudu and sixteen Waterbuck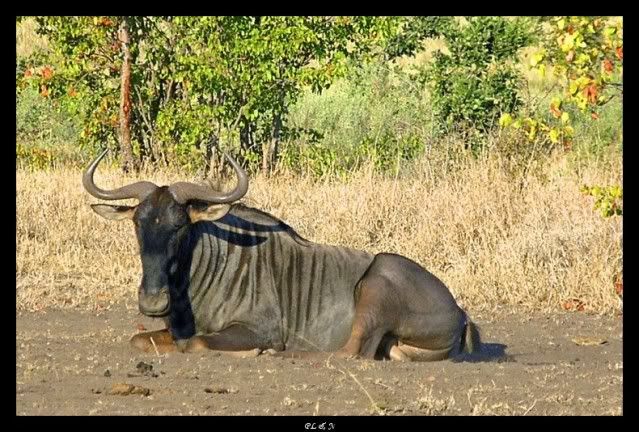 At Confluence four Buffalo had a drink higher up in the riverbed, a juvenile Fish Eagle kept watch over us! Five of the Woollynecked Stork's were still fishing as were the Saddlebilled Stork's and one Grey Heron! Three Pied Kingfisher's had a quick fly-by and a Bateleur was sitting in the shade of the tree on the opposite bank!
On the way back to camp a little Bushbuck ewe made her appearance and later a little Steenbok ram. Just before camp five Zebra's pitched and a lone Elephant bull said goodbye!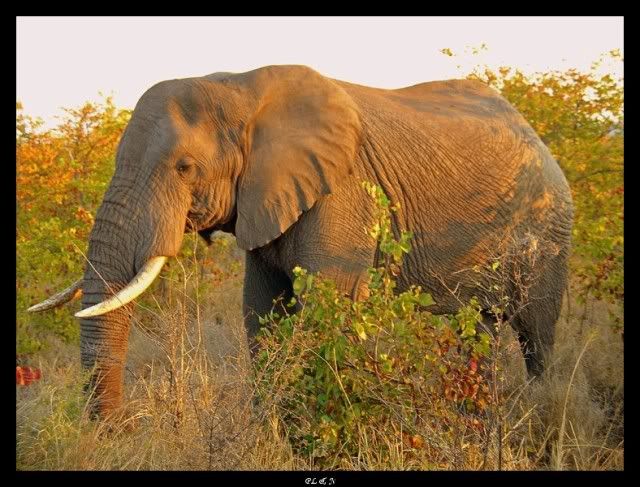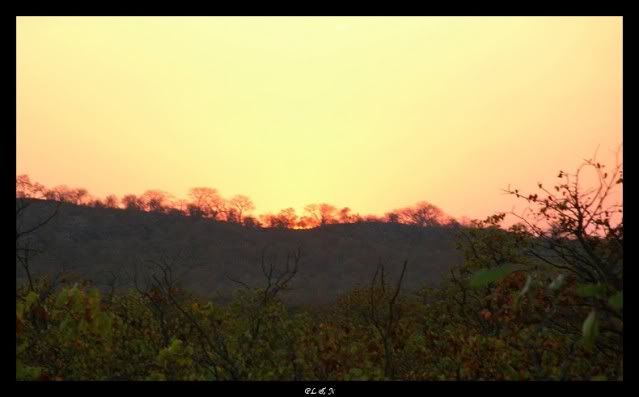 And with another Lowveld sunset the day waved goodbye!
List of Species seen on Day 5
Southern Ground Hornbill 5
Black-backed Jackal 2
Burchell's Coucal 1
Scops Owl 1
Blue Wildebeest 1 Medium; 1Small Herd + 1
Zebra 1 Medium; 1Small Herd + 7
Impala 1Large; 2Medium; 1Small Herd
Giraffe 15
Saddlebilled Stork 4
Woollynecked Stork 17
Grey Heron 3
Hamerkop 1
Marabou Stork 1
Buffalo 1Small Herd + 4
Kudu 4
Hippo's 8
Pied Kingfisher 4
Crocodile +/- 30
Redcrested Korhaan 1
Elephant 16
Lilacbreasted Roller 1
African Wildcat 1
Pearlspotted Owl 1
Ostrich 3
Waterbuck 16
Fish Eagle 1
Bateleur 1
Bushbuck 1
Steenbok 1
Last edited by
pantera leo
on Sat Sep 25, 2010 1:13 pm, edited 1 time in total.
---
Virtual Ranger

Posts: 979
Joined: Thu Jun 19, 2008 12:53 pm
Location: Port Elizabeth
Day 6 (26/06/2008)
Morning Route: Mopani Road; H1-6; H15; H1-6; Confluence; H1-6; Mopani RoadAfternoon Route: Mopani Road; H1-6; Mopani Road
Today we were up bright and early, probably due to the Lion that roared from just after 4am! This morning we packed ourselves a proper picnic basket to go and enjoy at the Makhadzi Picnic Site!
Just as we turned on the H1-6 an Elephant to greet us peacefully browsing on the Mopane's. Not to long after that as we got close to the Tsedze we could hear a Fish Eagle calling and after quite a search with our binoculars we finally spotted him in one of the trees down by the river! By 07:30 the sun had risen enough to bring out all the characters of the bush such as this cute little baby Elephant and his breeding herd!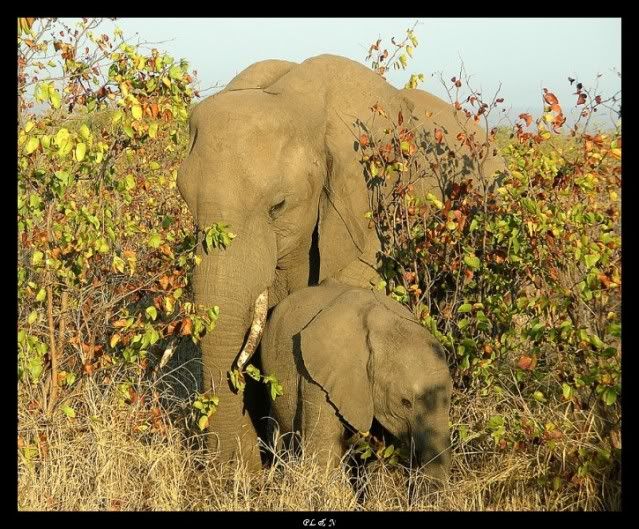 A few hundred metres from the Ellies we found this beautiful Steenbok ram on a patch of burnt veld!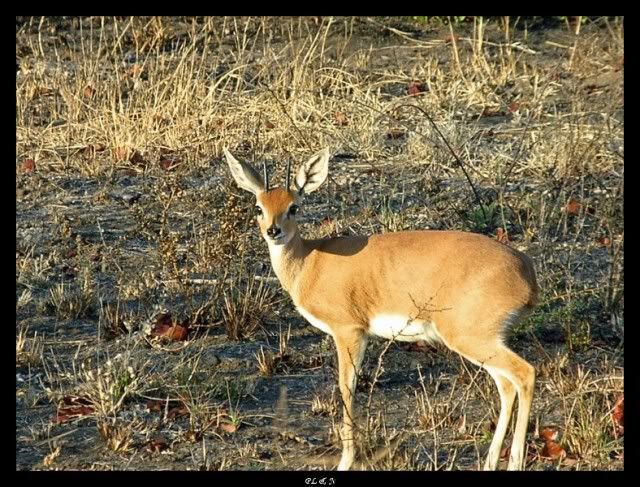 At Middelvlei Waterhole two precious little Temminck's Courser's were scurrying around for quite some time before they flew off. Then followed another Steenbok and just as we turned of unto the H15 two Tsessebe came down to drink at the waterhole, just a quick stop though and then they left again!
Not to long after these we found a herd of ten Tsessebe with a few Zebra. Another Steenbok showed up and then as we neared Makadzi we saw a Grey Heron perched on a dead Leadwood.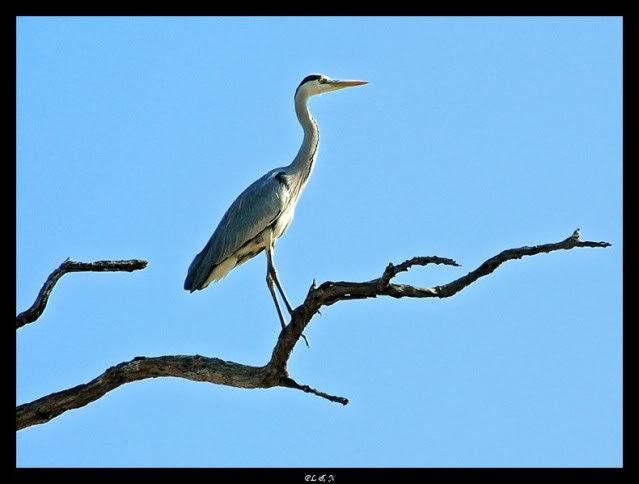 We had a lovely Brunch at this beautiful picnic site. We drove back and found some more Zebra and Steenbok. In the Nshawu marsh a Kori Bustard was walking in and out of sight looking for his brunch. At Middelvlei a herd of Zebra and Blue Wildebeest was enjoying a drink.
At Confluence a Crocodile lay next to the waters edge sunning himself leaving the seven Woollynecked Stork's, two Saddlebilled Stork's, Grey Heron and Hamerkop in peace to catch some fish! The Marabou Stork was sunning himself as well with his wings opened wide, at three metres being one of the biggest wingspans in the world!
Some more Zebra and Elephant on the way back to camp, and a beautiful Marsh Owl! We had noticed that on the hill next to Camp a Baobab grew horizontally!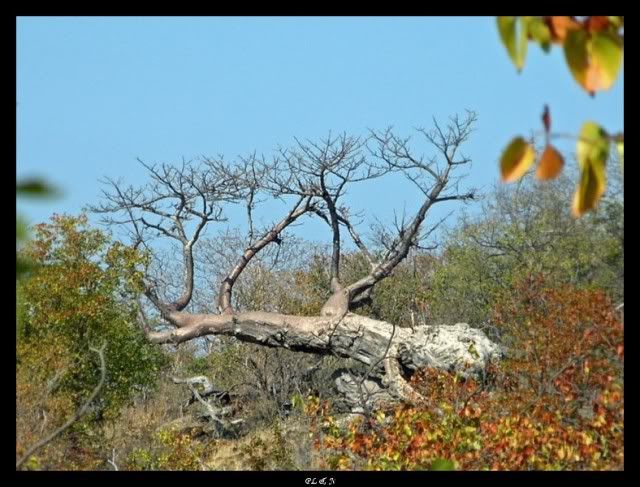 At Camp we quickly stopped to photograph the Baobab which the Camp is known for!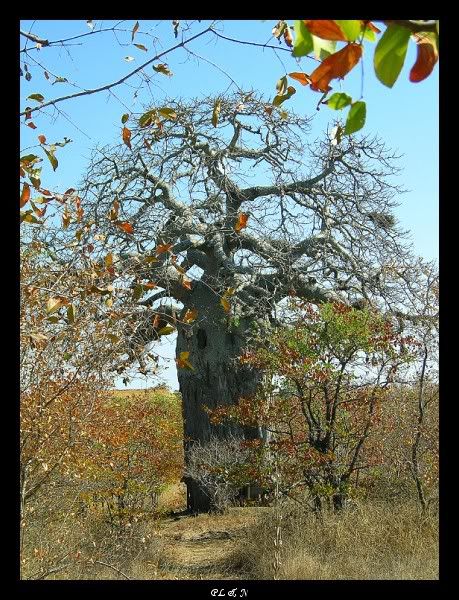 On the afternoon drive we found a breeding herd of Elephant right by the gate on their way to the Pionier Dam! On the way to Bowkerkop some Zebra were lazing about together with three Impala rams. Just before Bowkerkop three Ostrich's were chasing one another!
At the waterhole some Zebra and a Hoopoe was drinking water until an Elephant with a huge attitude came and chased them off! Just after five we slowly headed back to Camp. The Pearlspotted Owl was out on his branch again awaiting the midnight feast of mice that awaited him and today a family of seven Waterbuck came to say goodbye before the end of the day!
List of Species seen on Day 6
Elephant 25
Fish Eagle 1
Steenbok 4
Temminck's Courser's 2
Tsessebe 12
Zebra 4 Small Herds + 21
Grey Heron 2
Kori Bustard 1
Blue Wildebeest 1 Small Herd
Redcrested Korhaan 1
Crocodile 1
Saddlebilled Stork 2
Woollynecked Stork 7
Hamerkop 1
Marabou Stork 1
Marsh Owl 1
Ostrich 3
Impala 3
Hoopoe 1
Pearlspotted Owl 1
Waterbuck 7
Last edited by
pantera leo
on Sat Sep 25, 2010 1:18 pm, edited 1 time in total.
---
Virtual Ranger

Posts: 979
Joined: Thu Jun 19, 2008 12:53 pm
Location: Port Elizabeth
Day 7 (27/06/2008)
Route: Mopani Road; H1-6; Shingwedzi Road; S135; H1-7; S55; H1-7; S135; Shingwedzi Road; H1-6; Mopani RoadNight Drive Route: Mopani Road; H1-6; S49; S50; H1-6; Mopani Road
After yet another night of Lions roaring we were at the gate even before it opened, now really starting to go crazy because of not seeing them!
The Waterbuck that greeted us yesterday afternoon slept close to the gate and this morning they greeted us along with a beautiful sunrise over the Lebombo Mountains!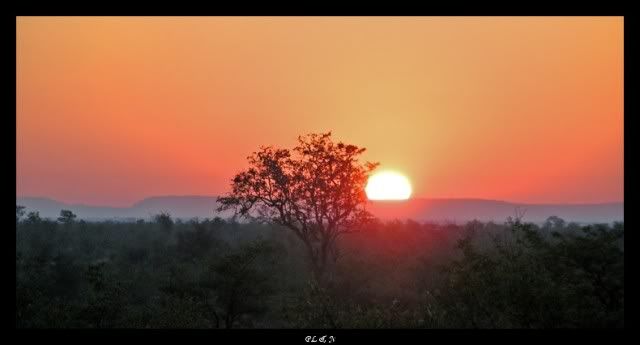 On the way down to the H1-6 we found an Elephant and 15 Zebra standing close to one-another. The road now turned rather quiet, we did find a breeding herd of Elephant after 4km, this baby was playing hide-and-seek between his mothers legs. We quickly took a snap of him when he got a bit more in the open!
Then all else died down after about 10km someone stopped us to hear whats down the road, he then told us of some special birds about 1.4km back in the Shingwedzi direction. And there they were 4 of the most beautiful parrots I have ever seen, and they are endemic so no pet shop version!!! It took a bit of scanning the books but eventually we made a positive ID, they were Brownheaded Parrots!
Our first Parrots in Kruger! Unfortunately they were a bit to far and in bad light.
At Eendrag Waterhole some Impala pitched with a few Ostrich. And then we hit hard on the brakes again hoping that this one was the elusive Sharpe's Grysbok. And goodness me it was!!! Such a sweet little thing but my, how difficult to take a photo of this elusive little thing!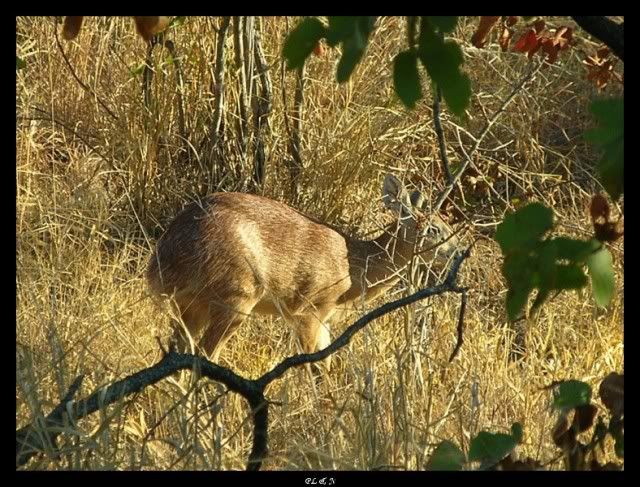 A while later four Kudu joined the sightings for the day! A little Steenbok also made her appearance. Then we came across our first predators for the day three Hyena pups and their mom resting near their den next to the road! This pup just awoke to say hi while his sibling was still fast asleep!
The rest of the road to Shingwedzi delivered a bull Elephant and two troops of Baboons!
After a quick stop and saying hi to the Bushbuck ewes in the riverbed we were of to Babalala, passing a troop of Vervet Monkeys at the back gate! Down in the riverbed the two Saddlebilled Stork's and Hamerkop was still busy fishing! Just up the bank on the other side and around the corner we almost collided with a breeding herd of Ellies!!! On the H1-7 as soon as the Mopane thicket opened up to grassland savannah again two Southern Ground Hornbill's was walking a way into the veld. In the riverbed of the Nkulumbeni three Nyala's glanced at us from between the reeds. On the rest of the road up to Babalala another breeding herd of Elephants, some Ostrich's, a Redcrested Korhaan and numerous herds of Zebra! We now arrived at Babalala picnic site, situated under giant Sycomore Figs and overlooking a waterhole to the right!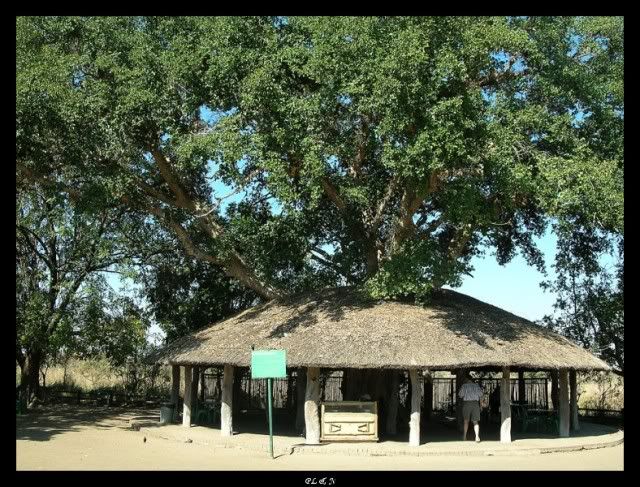 Just outside Babalala on the way back to Shingwedzi we came across three little Coqui Francolin's next to the road. Next up was some Zebra which posed so nicely we just had to take their photo's!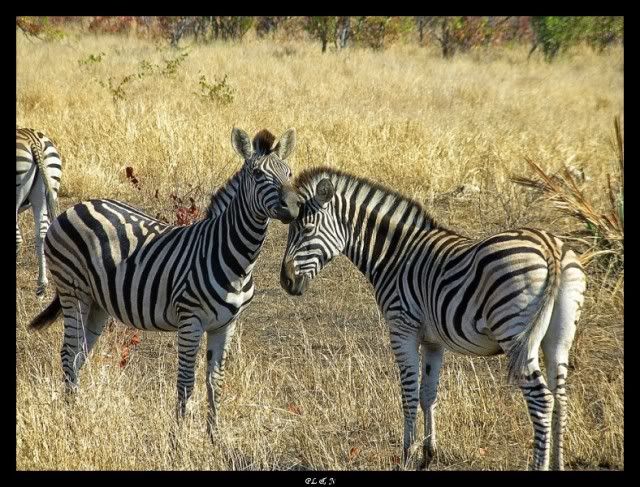 Then all the birds wanted to be photographed as well and we went happy snapping! First up a Lilacbreasted Roller then an Ostrich and last but certainly not least a Blackshouldered Kite!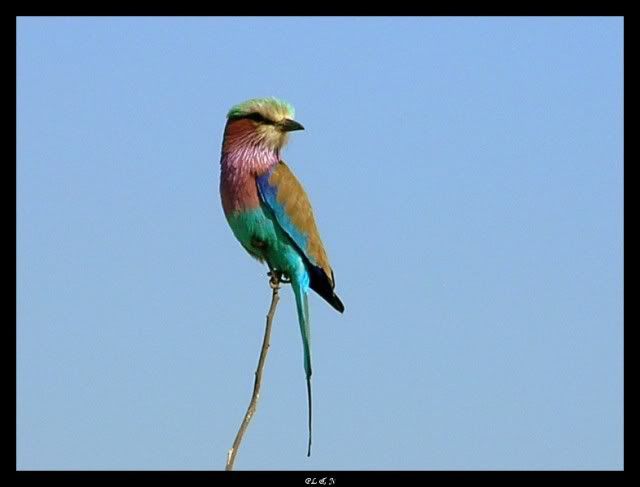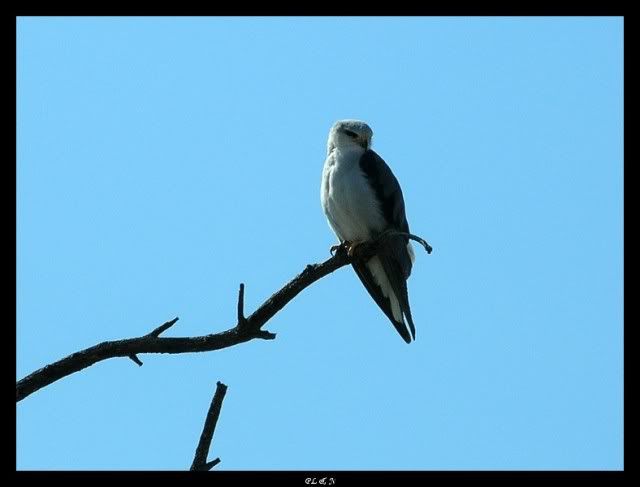 Some more Zebra's followed as well as a lone Elephant and another Blackshouldered Kite! We now turned off unto the S55 to Lamont Waterhole were we saw some Zebra, a little further down the road a troop of Vervet Monkeys played in the magnificent Mopane Trees!
On the S135 a few more Elephant and Kudu. We then got back to Shingwedzi for a delicious lunch!
We now returned to Mopani, we came across an Elephant in the riverbed and then all was quiet, so much for the Lion and Leopard they saw in the time we went up to Babalala in search of Cheetah! Then we met up with the bachelor herd of Kudu we had seen on our previous Shingwedzi trip! It all happened when a strange sound made us stop, we could not see what caused it but eventually the Kudu's started appearing out of the bush and crossed the road. The herd consisted of young and old alike, some with pretty impressive horns!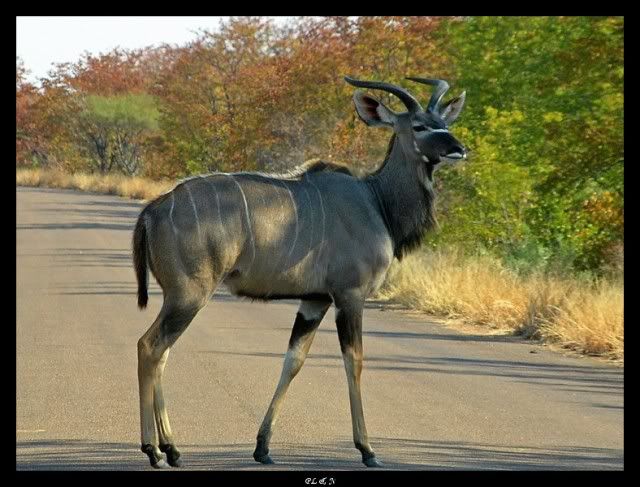 Two separate herds of Zebra followed as well as a lone old female Southern Ground Hornbill! Then we came across two beautiful Steppe Buzzard's, we were on a roll again! We made a brief stop at the Tropic of the Capricorn for a few photo's.
Down at Eendrag Waterhole five Zebra had made themselves right at home. A little further on at the unnamed lookout-point of one of the rivers two Saddlebilled Stork's were moving about in the cool shaded water! Nothing further until we got to Bowkerkop Waterhole and found three Tsessebe, the one looking heavily pregnant! We sat and watched them for quite a while, they were very uneasy and we new something must have spooked them. But later on they relaxed and the pregnant one even lay down in the shade!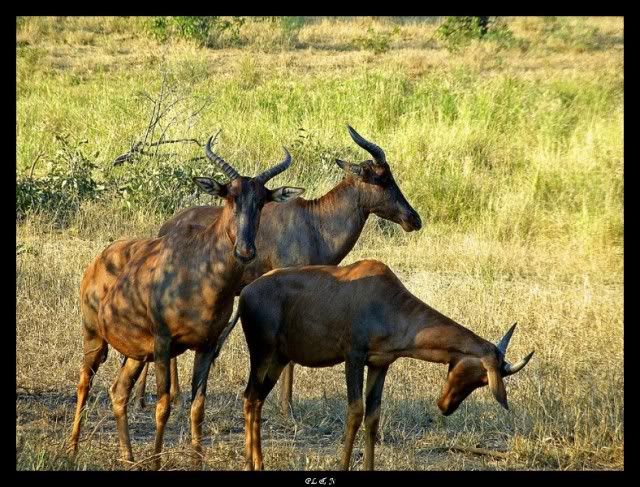 We once again met up with the local Southern Ground Hornbill's and then we were back to Camp!
A while later Nkumbe and the rest of the family dropped me off for my Sunset Drive and then went for their afternoon cruise. They saw all the animals I am about to mention up to Bowkerkop in my report on the Drive!
The Drive started wonderful our guide quickly introduced himself as Michael and checked that every indemnity form was signed and checked in. He asked a few people to please go and get dressed a little warmer and we waited for them.
Our drive kicked off especially well because as soon as we got on the H1-6 we found "Ore" 'Ears' one of only a handful of White Rhino in the area, we were over the moon as no one had seen any White Rhino on their trip! He then stopped at some foxglove that grew next to the side of the road, he picked some of it and gave everyone a piece with some water. We had veld-soap, it cleans really good and masks your human smell perfectly with its own bushy smell! Not like any of your typical soaps!!! Next up he stopped at some Zebra walking in a straight line to the water.
At Bowkerkop we unfortunately did not see the Lions we had hoped for but he gave us an extremely good explanation of the musky type of smell we always found near waterholes and marshes. It was the "Katpisbos" directly translated as 'Catweebush' I do not know the English name. We turned around and headed back the other way. Found a Steenbok and some Ostrich up to the S49.
Barely around the corner of the S49 and we found a Pearlspotted Owl looking intensely into a patch of grass next to the road. The next moment a mouse burst out from it trying to cross the road but before it could even reach the other side the Owl had snatched it up! It sat next to the road in one of the Mopane bushes and made quick work of it!
We now set off again towards the Mooiplaas waterhole for a quick break. Our Guide allowed us to get off the vehicle but advised us to stay within a few metres on the one side of the truck. We enjoyed some sun-downers while watching some of the animals in the last rays of sunlight. At the waterhole a bull Elephant quenched his thirst with two other Elephants approaching from different directions. Next to the waterhole in the marshy grasses a Tsessebe was peacefully grazing and at the cement dam stood one of the rarest antelope in Kruger, the Roan!!! I was out of my skin by now and tried desperately to take some photo's but unfortunately he was too far and light was bad.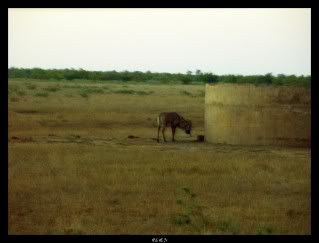 After a while we left and continued with the S49 past the Scientific Veld Burning patches. At each he gave us a brief description, very exciting. There was quite allot of Scrub Hare for the rest of the road.
Joining up with the H1-6 again and we came across a Bushbuck ewe. After a while we found two Steenbok, male & female huddling together to keep warm. Water Thick-knee's were all along the road with their wings spread wide, beautiful with black, white and shades of brown!
We then stopped at a Apple-Leaf and our guide got us a few leaves, the name Apple-leaf is derived from the sound the leaves make when you crumple them. It sounds like someone biting into an apple.
We quickly stopped and turned off all the lights and the engine, we sat quietly listening to the sounds of the night. As soon as our eyes were adjusted to the low light conditions we did some star-gazing!
We passed a few grey giants no one even noticing, then Michael stopped and reversed just to show us how easy it is to miss them at night barely seven metres into the veld. Just past the turnoff to Mopani we came across four "Daggaboys" which was rather irritated so we passed them by. We were on our way to try our luck at Bowkerkop.
As we approached it we could see a Black-backed Jackal, and then a fantastic sight. . . A male Lion drank some water!!! Suddenly a Lion started roaring back the way to Letaba, this male then stopped drinking and he returned the chorus. The earth, trees and truck shuddered as he roared. It's these moments one can never forget, a spine-chilling roar of a beautiful male Lion only forty metres away!
He then got silent, Michael wanted to know whether we wanted to go back or wait a while longer. The obvious answer came unanimously we wanted to stay, he quickly made arrangement that we would be a little late! The Lion walked around for another fifteen minutes or so and then returned to his female companion in the bushes. The other Lion started roaring again and the two got up and sat off towards the other Lion. We tried to follow but they quickly disappeared so we went back to Camp. At the Junction with the Mopani Road we found a Side-striped Jackal, we took a fleeing glimpse of him and then our drive was over. We arrived back at Camp highly satisfied clients.
Thank you Michael for this awesome drive, we would never be able to forget it!!!
List of Species seen on Day 7 including Night Drive
Waterbuck 7
Elephant 49
Zebra 1 Medium & 2 Small Herds + 47
Brownheaded Parrot 4
Impala 10
Ostrich 22
Sharpe's Grysbok 1
Kudu 19
Steenbok 4
Egyptian Goose 1
Hyena 4
Baboon 2 Troops
Bushbuck 3
Vervet Monkey 2 Troops
Saddlebilled Stork 4
Southern Ground Hornbill 8
Nyala 3
Redcrested Korhaan 1
Coqui Francolin 3
Carmine Bee-eater 1
Blackshouldered Kite 3
Steppe Buzzard 2
Tsessebe 4
White Rhino 1
Buffalo 4
Black-backed Jackal 1
Side-striped Jackal 1
Shrub Hare 4
Water Thick-knee 3
Roan Antelope 1
Pearlspotted Owl + Mouse 1
Lion 2
Last edited by
pantera leo
on Sat Sep 25, 2010 1:29 pm, edited 2 times in total.
---
Virtual Ranger

Posts: 979
Joined: Thu Jun 19, 2008 12:53 pm
Location: Port Elizabeth
Day 8 (28/06/2008)
Route: Mopani Road; H1-6; S49; H1-6; Confluence; H1-6; Mopani Road
Today we did a bit of a sleep in and only got up with the sun. We quickly popped in at Bowkerkop Waterhole as was the habit by now, two Ostrich's was deciding whether they should cross through the marsh grass or do the long way round. Eventually they decided that neither would do and walked of into the bush. We now headed for Mooiplaas Waterhole to see whether the Roan was still around but to no avail. We decided to sit a while and see what would come for a drink. A Steenbok just passed by and then another two Ostrich's came down for a drink. They were a bit on the shy side and just made a quick pass by.
After the Ostrich left twenty four Zebra came down for a drink. We left them in peace and drove back to the H1-6. We encountered another large herd of buffalo close to Tsendze. On the road to Confluence an Elephant was making quite a mess of one of the trees and we gave him a wide birth!
At the Lookout sixteen Giraffe were enjoying the trees, one was drinking water and seemed very curious of the car. The resident Crocodile once again lay on the edge of the water basking in the sun. Two Grey Heron's sat in the tree on the bank. The Saddle-billed Storks and Hamerkop were nowhere to be seen.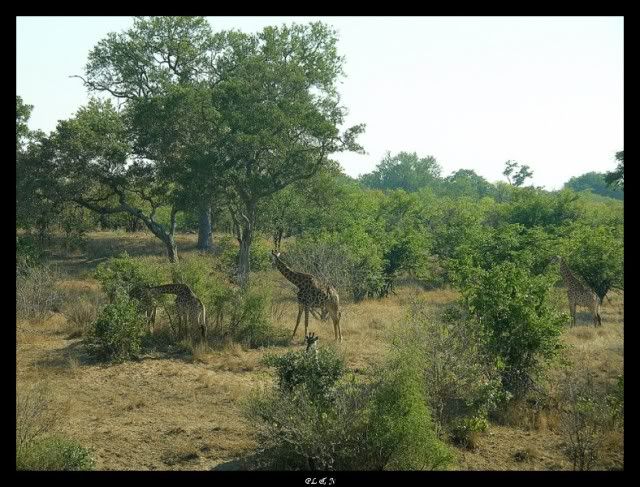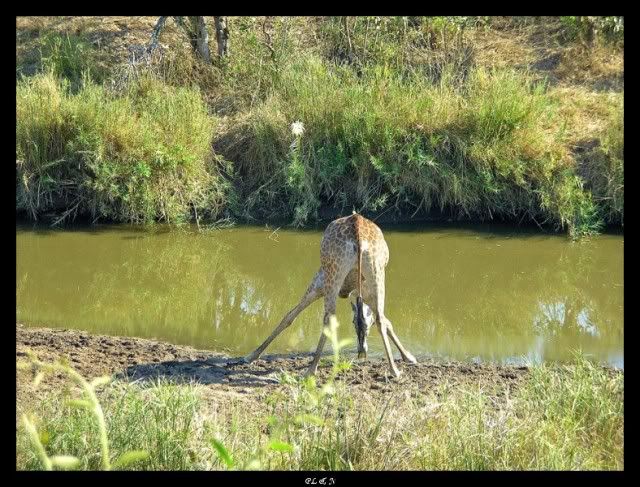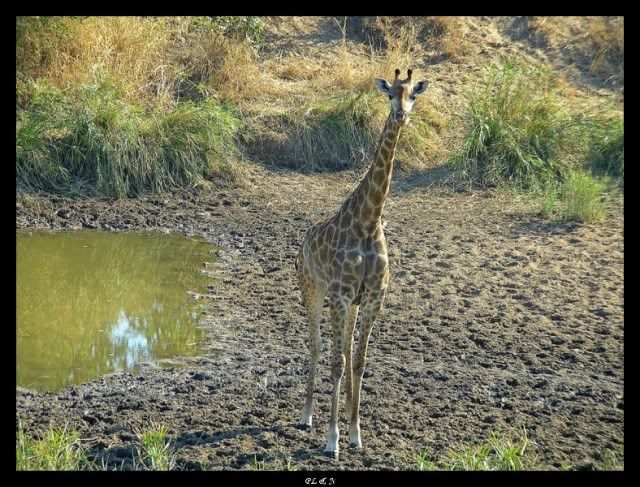 I must say I love this Giraffe's white socks! Back on the H1-6 we saw five very wary Dwarf mongoose's, and it did not take long to see why. In one of the trees to the other side of the road sat a Brown Snake Eagle! At the river where we saw the two Nyala's on a previous occasion we found a Emerald-spotted Wood-dove. And just before Middelvlei a single Impala, the only one for the day!
At Middelvlei Waterhole two Ostrich's, some Warthogs and a mixed herd of Zebra and Blue Wildebeest! The way back to Mopani was extremely hot and animals were scarce seeking shade, only two Elephant and two Zebra. We found the herd of Buffalo at the same spot as the morning almost all of them laying down. Close to the Junction some eight Tsessebe in the distance, luckily they lifted our spirits again!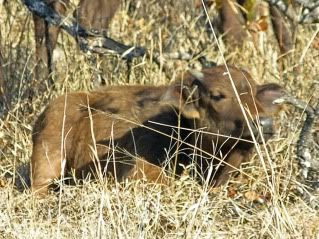 At Bowkerkop Waterhole a bit more activity but photos were out of the question because of the stench of the carcass, the heat, the flies and the Katpisbos!!! One Elephant, two Warthog's, two Ostrich's, a few Zebra and Buffalo endured it!
After a little lay down in the cool rondavel back at Camp we wanted to see some Lion but the only place was at Eendrag. We decided to go for it but we had to drive at 40km/h just to make it. Because of the speed we could not see much in the thick Mopane shrub-veld! At Grysbok a breeding herd of thirty Elephants crossed the road it was quite a sight first two females came into the road forming a corridor in between them. Then the other animals and calves followed at burst speed, these two then also walked over to the other side with the matriarch taking up the rear, her head held high and with lots of attitude!
They were very thirsty and headed straight for the cement dam which was the first place of water. Some of the calves could not reach and tried desperately. Mom realised this after two trunk-fulls and then move with them to the trough. As soon as they came they disappeared again!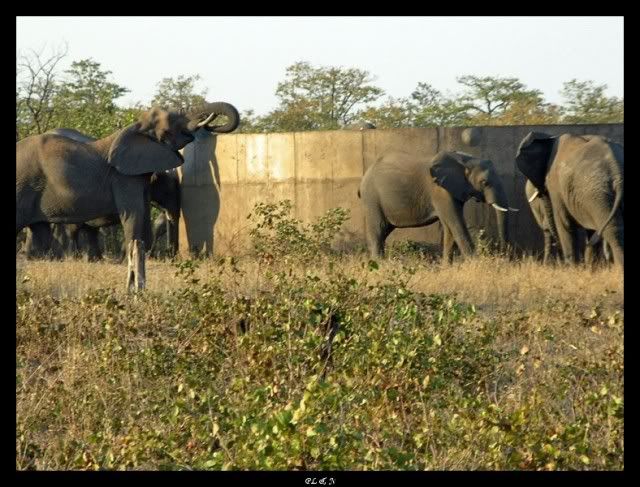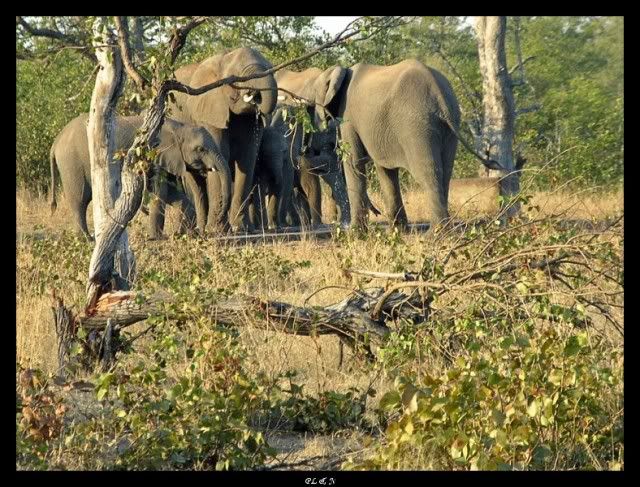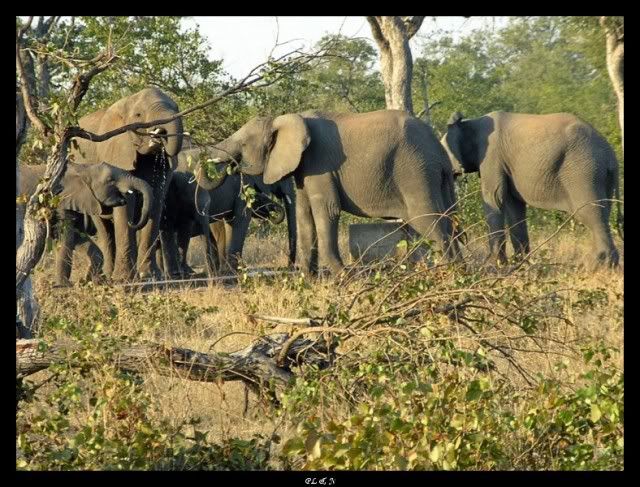 We reached Eendrag an with a brief check came to the conclusion that there was nothing to be seen and we headed back. On one of the straight bits of road far in front of us we saw something move across the road but only saw the backside walking deeper into the bush, think it was a Duiker! Back at Grysbok Waterhole eleven other Elephant were now quenching their thirst but no time to stop. A Steenbok deserved a quick hi and bye and at Bowkerkop the Zebra and Ellies were still there but we passed. At the T-Junction with the Mopani Road there was chaos a large bunch of cars. When we got there we had missed a Leopard yes Leopard cross the road
!!!! We saw only a Steenbok close to where he would have gone in. The Steenbok disappeared and after a while me and my Sister on the backseats had the few centimetre advantage to spot his spotted coat through the opening in the bushes. Then there was a bleat and we assumed that the Steenbok did not make it but we had to leave because the gates where about to close! Some Elephant were standing staring at the row of cars not even stopping to have a look at them. We made it just in time and that was the ending to day 8!!!
List of Species seen on Day 8
Ostrich 8
Steenbok 4
Zebra 2 Small Herds + 37
Buffalo 1 Large Herd + 2
Elephant 58
Giraffe 16
Crocodile 1
Grey Heron 2
Brown Snake Eagle 1
Dwarf Mongoose 5
Impala 1
Emerald-spotted Wood-dove 1
Warthog 3
Blue Wildebeest 1 Small Herd
Tsessebe 8
Leopard 1
Last edited by
pantera leo
on Sat Sep 25, 2010 1:43 pm, edited 1 time in total.
---
Virtual Ranger

Posts: 979
Joined: Thu Jun 19, 2008 12:53 pm
Location: Port Elizabeth
Day 9 (29/06/2008)
Route: Mopani Road; H1-6;S95;H1-6; H1-5; H8;H1-5; H1-6; S50; H1-6; Mopani Road
Today we were up early to see if we could find than elusive Leopard, as usual getting over excited and working on each others nerves! The gates opened and we were out, meeting up with a little Steenbok a few metres from the gate! At the Junction we were all on high alert scanning under and in every bush and tree but with no luck, the Leopard had disappeared! We did find a Giant Eagle Owl trying to dose off after a long night of hunting. That is one of the remarkable things of the Mopani area all the rodents attract masses of owls!
Then the road got so quiet we almost turned back, for 20km not a single movement not even bird life. Then we came across a small mixed herd of Zebra and Blue Wildebeest. A Redcrested Korhaan in between possibly looking for something to eat when it gets spooked up by the animals moving. Down at Middelvlei Waterhole the lone Warthog was still around on his knees digging up some bulbs and tubers!
Close to the turnoff to Makadzi and Giriyondo Border post sightings started to increase again. Nineteen Blue Wildebeest and another Warthog was busy drinking water at Malopenyana Waterhole and not to far from them five Ostrich's were dancing their hearts out to impress one another, this is due to their breeding behaviour! In a clearing a few kilometres down the road a mother Giraffe and her calf had a game of tag running and it was quite amusing to watch this. Not to long after this we encountered a massive Kruger roadblock, yes it was a Buffalo herd of probably a thousand or more. We could at least see the one part of them due to the fact that there was a clearing on the right-hand side of the road. The area was all flattened out probably due to the herd sleeping there during the night. Just before the Letaba bridge herd of Zebra and two Ostrich's were on their way for a drink, walking beautifully in single file.
On the bridge we came to a halt and got out for a bit of a leg stretch. Some foolish people were out of their car before the Yellow Line, don't know whether they cannot read but they soon drove off. There were quite allot of people all looking in the one direction, binoculars in tow. Then someone told us what they were looking at. It was a pride of Lions!!!! We were beyond excitement and craved this sighting all week! There were one extremely large male, two females and two cubs. They were very far off and we decided to drive around unto the S95 to see whether we could find them. Yes we found the place were they were but we could not see them due to a rise of the bank of the river. Just 15m so close but yet so far.
We returned to the H1-6 and drove down to Letaba as the drive was by now getting a bit long. On the 4km stretch only two Waterbuck and a medium sized troop of baboons. At camp we just made a quick pit stop and as we left the camp a Bushbuck greeted us at the gate. As we crossed the dry riverbed of the Nhlanganini we came across a Martial eagle perched in a tree. Not long after the eagle we found a Steenbok and then we saw a very large Tusker on one of the hills but too far to make a positive ID, think it was Hlanganini.
The rest of the road up to Nwamanzi Lookout did not deliver much else than a few Buffalo and another Steenbok. At Nwamanzi the view was as spectacular as we could remember from the previous year. Seven Vervet's were on hand as local entertainment and I tried to photograph some of them.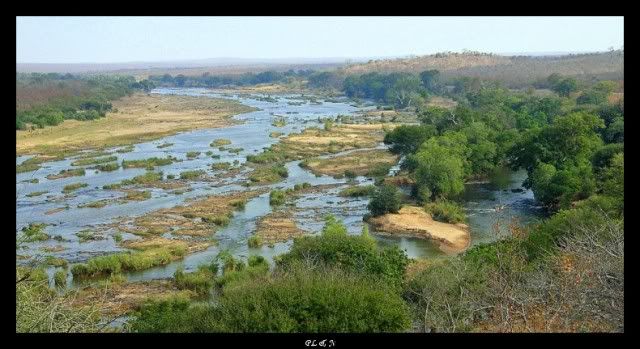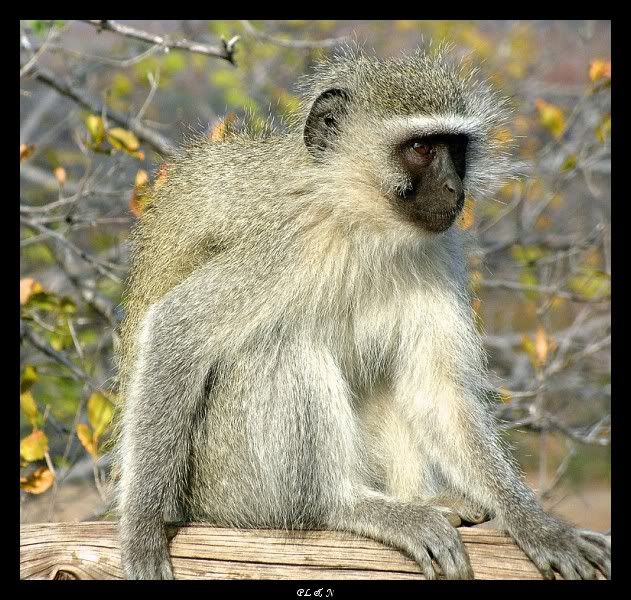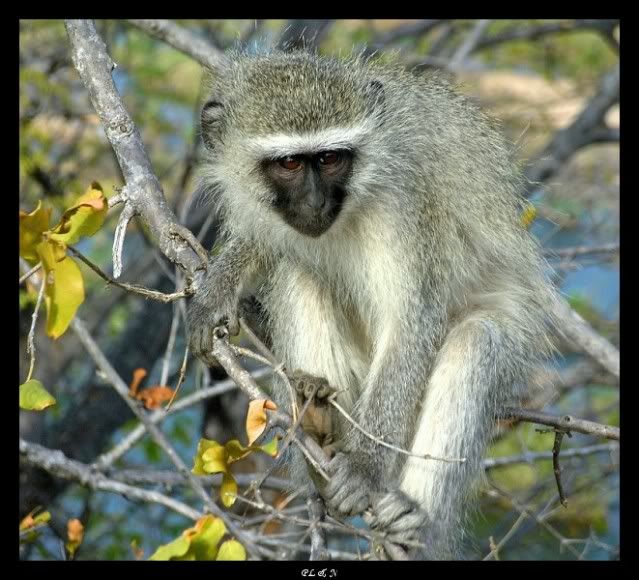 We left the Vervet's behind and decided to drive down to the Olifants Bridge. Just as we left Nwamanzi two Hooded Vulture's pitched up. At the Olifants River another Redcrested Korhaan made his appearance. We saw plenty of Hippo and Crocodiles in the riverbed. Far in the distance a breeding herd of Elephant crossed the river. The Hippo's seemed to enjoy the warmth of the sun as it was a very chilly and windy day, today!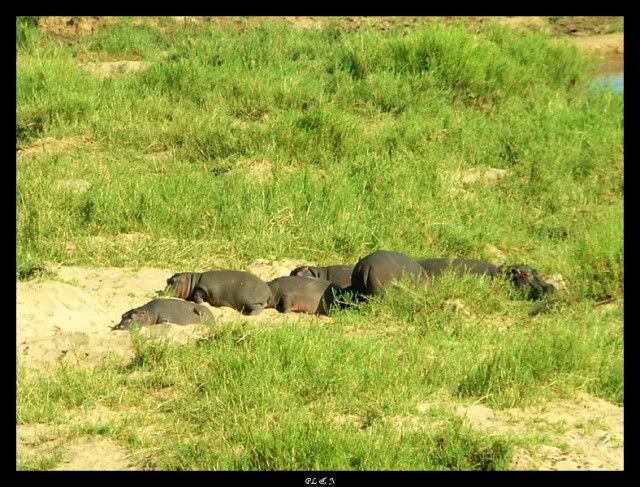 These Crocs were also enjoying the sun, we were amazed at this gigantic one!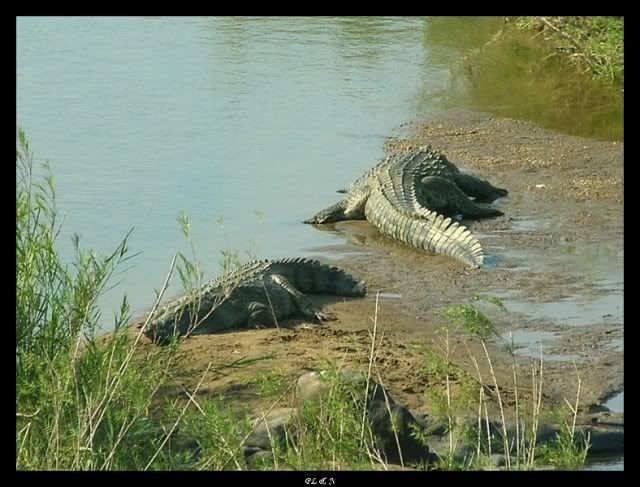 The wind was so bad we quickly got back in the car and set off for Olifants. We found nothing until we turned off unto the H8 leading up to Olifants. A herd of fourteen Giraffe were browsing what was left on the trees.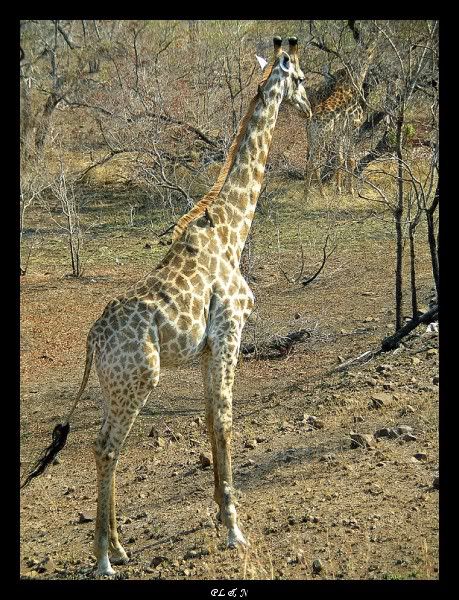 We reached the Camp and had a quick stop to absorb some of the wonderful view. Not much except a few Hippo's down in the riverbed.
I must say this is the camp with probably the best view in Kruger.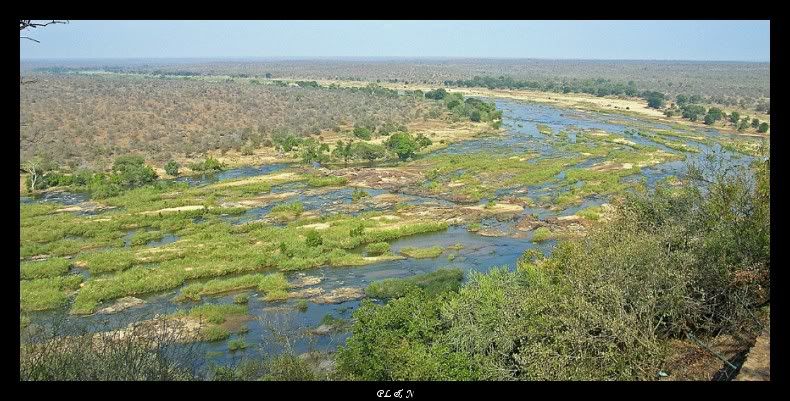 We left Olifants and came across a troop of baboons rolling over stones, guessing they were after some scorpions and spiders. A few far off Zebra were rolling in the dust and created quite a cloud. The road proved deprived of animals until we reached the Nhlanganini again. Here three bull Elephants awaited us. One had a good pair of tusks and was still relatively young, his older askari was well equipped with a pair of really good looking tusks. He rested his tired head against a tree. (Wonder whether the old fellow is still alive?)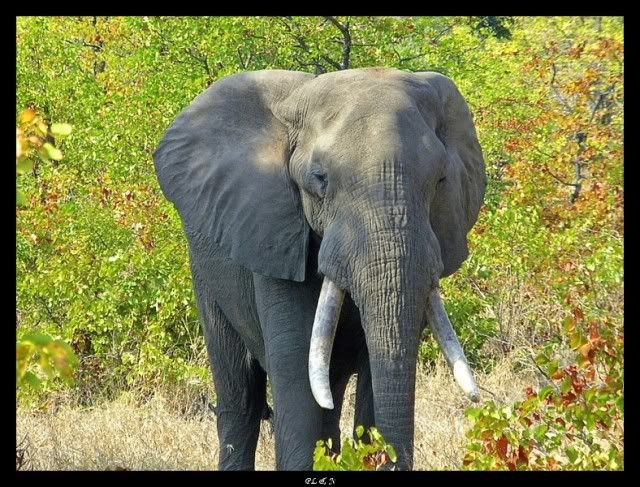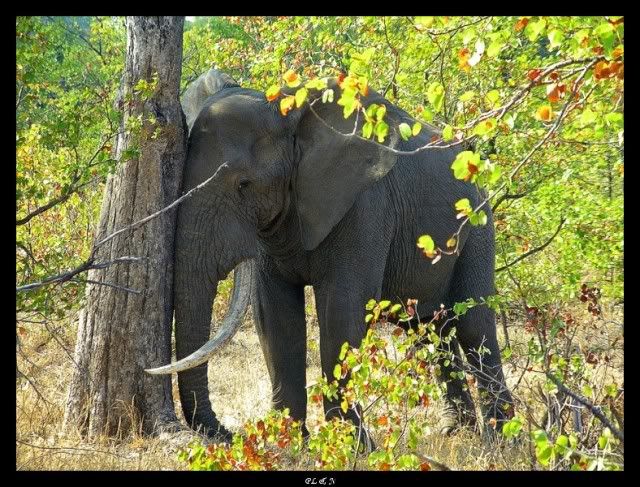 We stopped at Letaba for a quick lunch and then returned to Mopani. Some Vervet's in the trees among the river showed off their antics and then saw a herd of fourteen Waterbuck in the river. A lone Blue Wildebeest and Steenbok was the sightings up to the Letaba Bridge, needless to say hundreds of Hippo's all along the Olifants and Letaba all day long.
The wind died down and the day heated up extremely quickly and the animals started to feel it as we only found two small herds of Zebra and three Warthog up to the H15.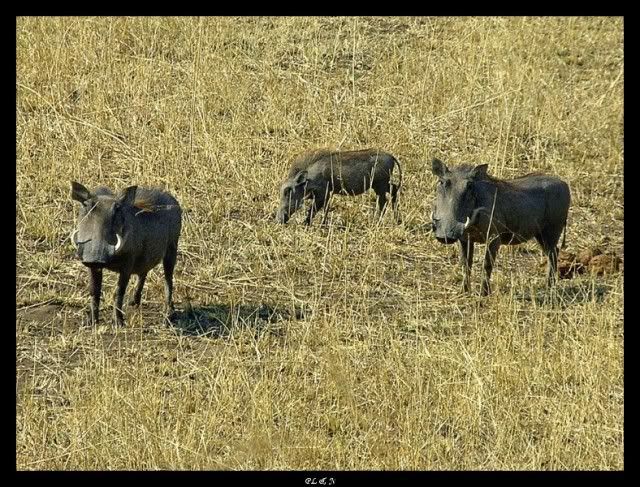 In the stretch between the H15 and Middelvlei a few Elephant, Blue Wildebeest and some more Warthog's. Middelvlei Waterhole had a bit more life as the cool refreshing water tempts the animals out of the shade. Two Elephant were browsing to the side, a small herd of Zebra quenched their thirst and a Kori Bustard made his/her appearance. Later on a Steenbok joined the others at the Waterhole
After about 3km we came to a bunch of cars all watching a particular spot in the Mopane. The guy then said that they were looking at some Cheetah, wow we thought the day could not get any better Lion and Cheetah. We unfortunately could not see them we moved all over the place and later all the cars had moved away and we were still trying to see them but to no avail. Then this other guy shows up to ask whether we had seen the Lions just before Middelvlei, NO we did not. Their camouflage was so excellent we passed them by twice today as these people had seen them earlier the day as well. We got to the place he told us but could not find them and drove back to our Cheetah spot, the guy was still there and said that he would go and show us. Eventually we did see them about sixty metres off the road sleeping close to some Mopane bushes. After watching them for a while the one male then lifted his head had a look around and then went back to sleep. We called him "Kuifie" 'tufty'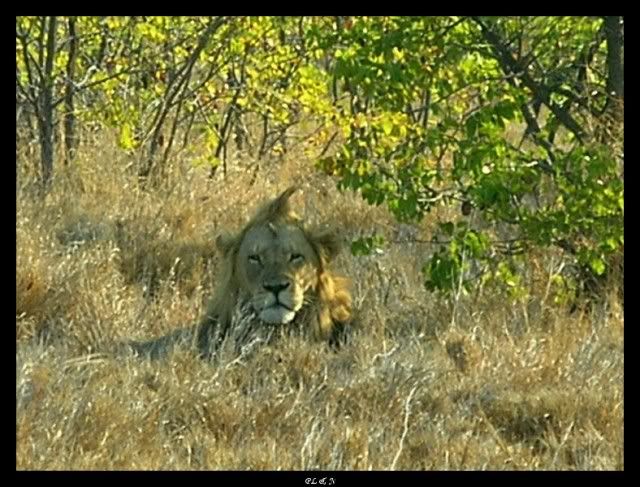 This man then told us of Lions at Nshawu one that had made a Buffalo kill and we were off. On the way there we saw a Steenbok and the massive herd of Buffalo we came across this morning.
Arriving at Nshawu it was chaos with all the cars and making it worse was it was a road with a dead end. It was two male Lions, we only caught partial glimpses of them were they lay behind a bed of reeds. The Buffalo carcass was eaten quite a bit and we thought there had to be some more Lions around but unfortunately could not see hem. We left them in peace after things got a little crammed.
All the way back to Mopani only four Elephants showed up and we found our local Southern Ground Hornbill's down at Bowkerkop Waterhole.
At Camp I decided to take a few photo's as it was our last full day in Kruger. This is one of the Francolin's which kept us company.
Here are some of the views of Pionier Dam from the Camp.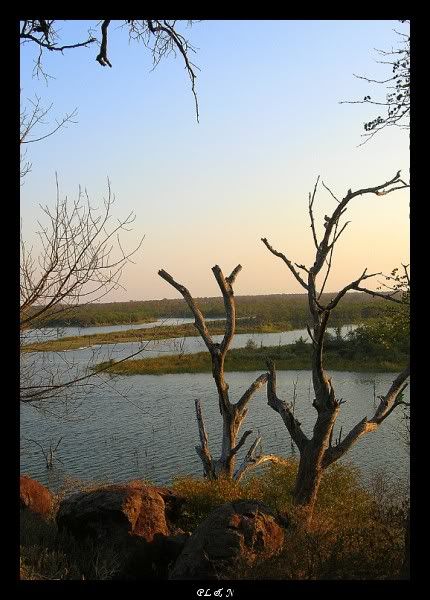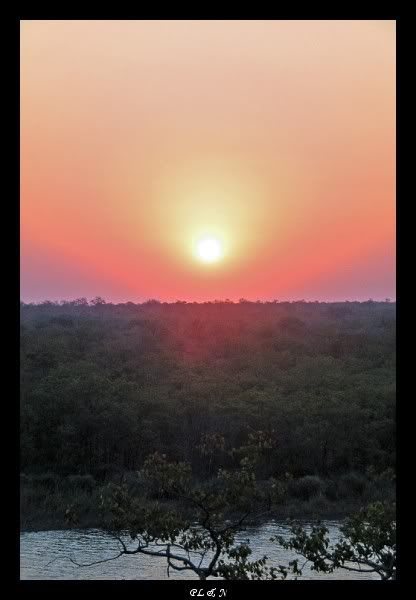 This was the end of our Lion Day!!!
List of Species seen on Day 9
Steenbok 5
Giant Eagle Owl 1
Blue Wildebeest 1 Small Herd +1
Zebra 1 Small Herd + 5
Redcrested Korhaan 2
Warthog 13
Giraffe 16
Ostrich 7
Buffalo 1 Huge Herd seen twice + 2
Lion 9
Waterbuck 16
Baboon 1 Large and 1 Medium Troop
Bushbuck 4
Martial Eagle 1
Elephant 31
Kori Bustard 1
Southern Ground Hornbill 4
Vervet Monkey 1 Medium Troop + 7
Hippo Plenty
Crocodile Plenty
Hooded Vulture 2
Last edited by
pantera leo
on Sat Sep 25, 2010 1:53 pm, edited 1 time in total.
---
Virtual Ranger

Posts: 979
Joined: Thu Jun 19, 2008 12:53 pm
Location: Port Elizabeth
Day 10 (30/06/2008)
Route: Mopani Road; H1-6; S50; H14; H9
Today we got up rather late due to the fact that it was overcast, and probably to lengthen our day too. We found a lone Waterbuck bull just outside the gate and then it was quiet. 10km further a Giraffe showed up and that was it for the H1-6. We turned to Nshawu to see if we could find the Lion and yes we did find one of them but he was in pretty bad light. The vulture's also started to congregate, unfortunately we were in such a hurry there was no time to count them. They were all busy grooming themselves.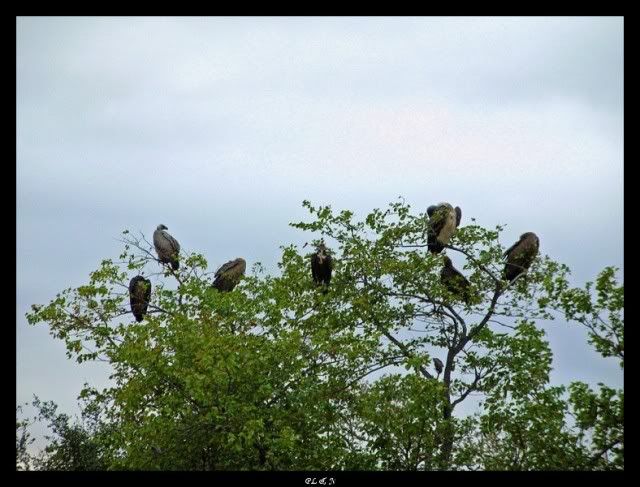 On the H14 we found another Giraffe and ten Waterbuck. A breeding herd of Elephants at the Tsale Waterhole caused quite a stir with their trumpeting, for what reason we do not know. We saw a Steenbok but he was lying down which looked very odd. Then we caught up with a sub adult Hyena, who lived in one of the drainage pipes under the road. He loved the photo action but did not consider the grass obscuring him.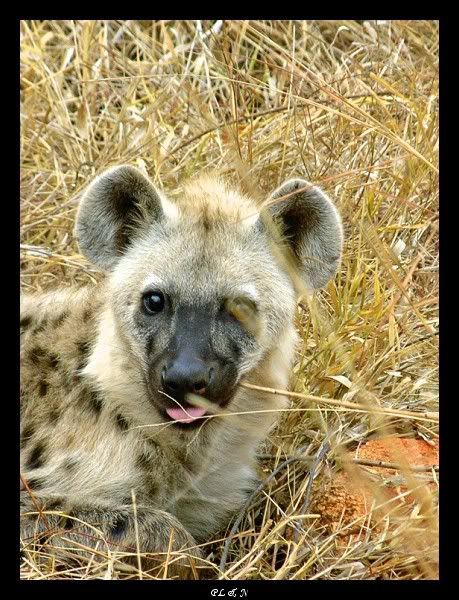 He looked so fluffy and cuddly, but he would have been the last Hyena you would cuddle if you tried.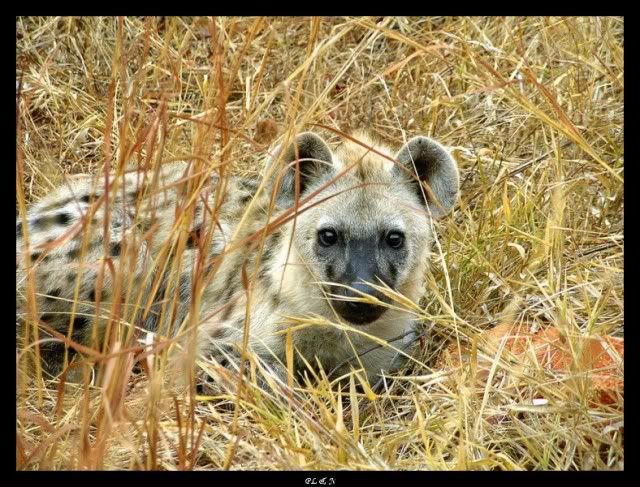 [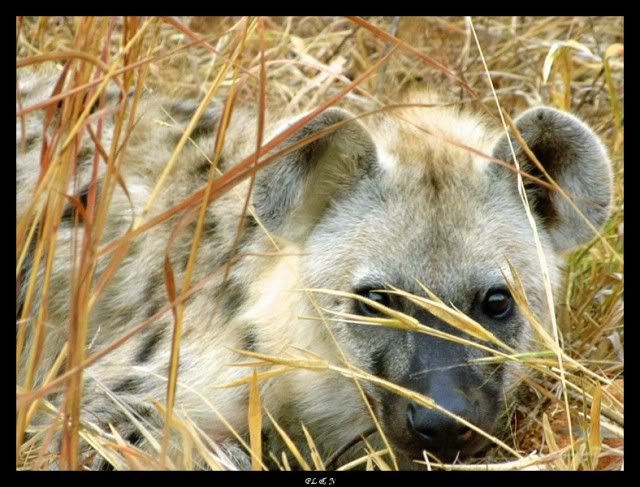 After this little one we saw five Giraffe down in one of the dried up streams, in one of the trees a beautiful Fish Eagle was calling as if to say goodbye! Another gracious little Steenbok and then two not so gracious "Daggaboys". They gave us a stare as if we are no longer welcome.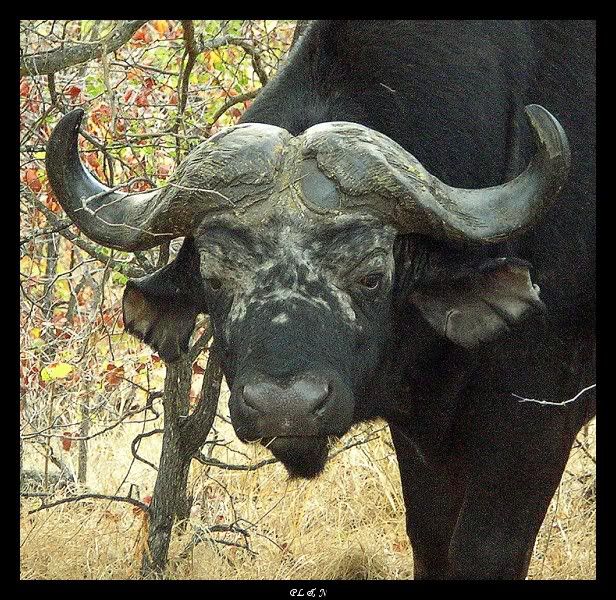 Another while later our last new-by for the trip showed itself, it was a little Doublebanded Sandgrouse! I was also very fond of a hill along this road and decided to photograph it, it is called Shikumbu!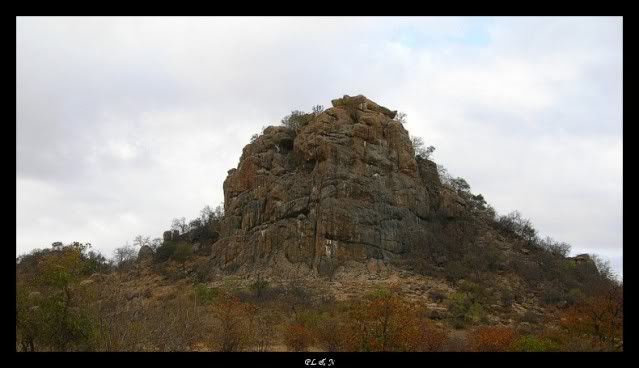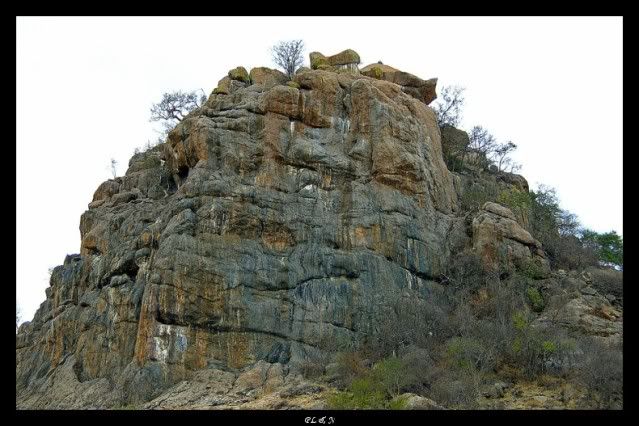 And then we ended our sweet solitude with a greeting of this boy! Thanks Kruger for such a memorable experience!
List of Species seen on Day 10
Waterbuck 11
Giraffe 7
Lion 1
Vulture Plenty
Elephant 5
Steenbok 2
Hyena 1
Buffalo 2
Fish Eagle 1
Doublebanded Sandgrouse 1
THE END!!!
---
---
Who is online
Users browsing this forum: MarijeNL and 4 guests