I hope you enjoy reading my trip report, this was my third visit to Kruger and my first stay in the southern region. You may notice that I am a bit of a novice when naming birds so please feel free to i.d. or correct my picture descriptions!
Day One - Monday 15th June 2009
We stayed overnight at Marloth Park and got up early for the short drive to Croc Bridge, Unfortunately we spent nearly 2 hours queuing at Croc Bridge, didn't realise it was a holiday
Took the S25 but was hoping to get on here earlier than planned after being informed this was a good road in early morning or late evening.
Not a lot of game on this road, saw Baboon, Waterbuck and Giraffe but had a few good bird sightings, a nice Goshawk in a tree. Please can someone help with this id please? It looks like a Southern Pale Chanting Goshawk to me, but apparently they are not resident to this area?
Then we took the S114 to get to the H3 and eventually S110 on the way to Ber-en-Dal. Had a nice Buffalo Herd grazing close to the camp and this LBR
It was our first visit to Berg en Dal and I was surprised how nice the camp looks and feels in the flesh. We had a nice breakfast and went to see the hippo pool before setting off on the S110 before taking the rough S120 road which my 2 wheel drive rental X-Trail did not cope very well with
4 wheel drive next time! From there we took the H3 to Afsaal.
Along these roads we spotted Impala, Helmeted Guinea Fowl, warthog, yellow-billed hornbill, zebra,
Afsaal – H3 – S113 – S26 – S108 – H5 – H4-2 – CROC bridge
Game was generally quiet along these roads as has been all day but spotted a red crested korhaan, Wildebeest, Giraffe families and more zebra.
Day 2 to follow….
---
Thanks for the comments so far.
Day 2 – Tuesday 16th June 2009
This was officially the start of our Kruger expedition as we were on our way to Skukuza to stay for 3 nights
We took the straightest route from Croc Bridge on the H 4-2 and H4-1 stopping in Lower Sabie for a rest on the way.
Game sightings were quiet until we got near Lower Sabie, close to the Lower Sabie dam bridge road. It was a Kruger traffic Jam! There were about 7 cars stopped all scanning the other side of the river bed, we could not see anything until I also scanned the other side of the river with my binoculars. It was a Lioness stalking Impala! What unfolded was an awesome sight, she was hidden lower down the river bank looking at 4 impala that were grazing in the shade not aware of the Lionesses presence. You can see her in the bottom right of the picture below with the impala further up to the left!
Zoomed in
The lioness eventually made her move and run for the impala but they scattered in all directions and it was 1-nil to the impala on this occasion! I have a short QuickTime video (15mb)
The link is below:
Lion Chase
Further along the road to Lower Sabie, we saw this fish eagle and then this buff
In Lower Sabie camp we had magnificent sightings of Hippos with young and crocs basking and the sun from the deck. I would love to stay at this camp on my next visit to Kruger.
Onto the H4-1 we came across another traffic jam. Lions surely? Yes it was, it was a pride of about 9 but we could only manage a shot of these two
Also on this road we spotted Waterbuck, this bird with road kill. Any help on the bird id's please?
We also spotted these vervets grooming next to the road, I thought this sight was very amusing!! Those monkeys are very comical to watch…
Yet another traffic jam on the bridge over the Lubyelubye River, this time a Leopard!! He was sitting in the shade alone in the dry riverbed with no care for his keen onlookers from the bridge above! Other game we spotted on this road was many giraffes and some Wildebeest
Skukuza Sunset Drive
The sunset drive started very well with a lone Male Lion crossing the road in front of us on the distance, the driver drove away from the sighting which seemed strange at first but then we realised he had a cunning plan! There was a dirt track off the tarmac road which was heading exactly to where the Lion was walking. We followed right behind him until he sat down and started making his presence aware! He gave the most magnificent of roars, it almost felt as if the truck was vibrating!
Unfortunately the light was too bad for decent pics but this was the best I could do.
Other notable sightings on the drive were Genet, Elephant and Hippo.
After returning to out bungalow we had our first braai in Africa on this trip, my favourite! Washed down with a few cold castles listening to the Hyena's, bush babies and other close visitors to the camp! Wish I was back there now!
3rd day to follow...
Last edited by
WELSH_ASH
on Mon Jul 13, 2009 10:18 pm, edited 3 times in total.
---
Junior Virtual Ranger

Posts: 55
Joined: Sun Sep 30, 2007 11:30 pm
Location: Rottingdean,near,Brighton.-UK
Contact:
Great start to your tale of adventure!!!! like your lion in the bush---
mike
Akulanga lashona lingendaba
---
Day 3 – Wednesday 17th June 2009
Skukuza Sunrise Drive
Not far driving out from Skukuza we were treated to another sighting of Genet, but further along we stopped sharply to see a pair of Leopards walking close to the road!!!
Again the light was very bad for pics but this was the best I could manage
Further along the drive we were treated to more Male Lion! This time a pair walking alone
Other highlights of this drive were a herd of Elephant, Scrub Hare and this Wildebeest posing for the camera
One I will recommend winter visitors of Kruger who do night and morning drives, wrap up warm because it gets very very cold! We were especially cold on the sunrise drive, I would dress as if you are expecting sub zero temperatures. But it is worth it, especially when you get to see sunrises like this
We spent most of the afternoon relaxing in camp before heading out for a late afternoon drive before the gates closed. We followed pretty much the same route as our sunrise drive did taking the H1-1 before turning around and following the S65 to the H1-1 back to Skukuza.
Our sightings on this route included Impala, Zebra, Giraffe, Common Duiker and this African Hawk Harrier? Please correct me if I am wrong.
We stopped at N'waswitshaka waterhole where we watched this herd of elephants drinking.
And even the Giraffes were posing for us
They gave us some great silhouette shots with the sunset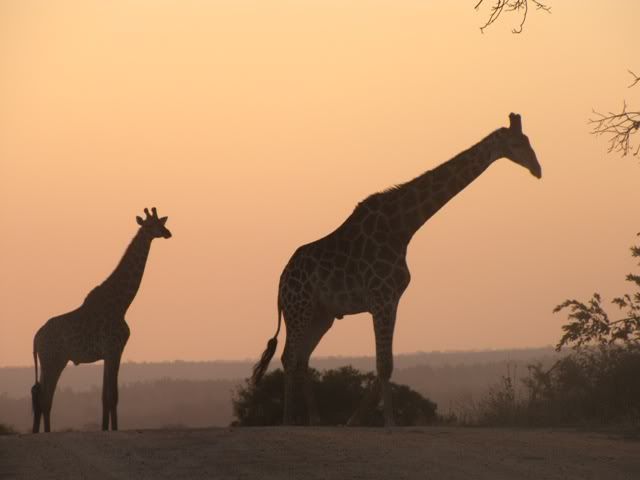 Day 4 to follow....
---
Day 4 – Thursday 18th June 2009
We were up bright early this morning and were one of the first to leave camp for the opening of the gate at 6am. We started our journey on a very misty morning towards Pretoriuskop taking the H1-1, S1, S7 and S3 route.
We must have driven for nearly 2 hours without seeing a single animal, not even an Impala! I knew our luck would come soon and as the mist started to lift on the S1 we spotted a huge male Leopard trying to cross the road in front of us. He disappeared very quickly back into the bush when he spotted us and we sat eyes peeled expecting to see him…until he darted in front of our car to cross the road! It was an awesome sight, the biggest Leopard I have ever seen and he moved so quickly I couldn't get a pic.
Further along the S1 we were also treated to this great Rhino. The only other sightings on this route was Zebra and Warthog
On the S3, I was driving to the speed limit on a gravel road when approaching a corner I had the strange feeling that there was something waiting for us! My gut feeling was right and a White Rhino was running along the road right in front of us! Obviously my initial reaction was to slam on the brakes, our car locked up and scared the living daylights out of the Rhino and he run even faster to cross the road in front of our car and disappeared into the bush! I'm sure if the Rhino knew it was only a Nissan X-Trail he was up against, he wouldn't have been so scared
Further along the S-3 we were treated to another Rhino sighting but this time in the distance and not too close for comfort!
Pretoriuskop was very quiet when we arrived there and we had a nice breakfast there alone before heading out to take the Voortrekker road (H2-2). At the start of this road we begun to see what looked like some game capture trucks parked at the side of the road, we carried on further and then I noticed a convoy of game capture teams in my mirror. I pulled over to let the full convoy pass and follow their dust. Firstly I thought this huge convoy would spoil our chances of seeing any game on this road but I wasn't to know what lay ahead
It was further along the Voortrekker road that I noticed that the convoy had stopped in the road ahead and wait for it….one of the Kruger Park's game capture helicopters hovering in the air above!
The way the helicopter was flying appeared that it had just darted an animal and then it landed nearby.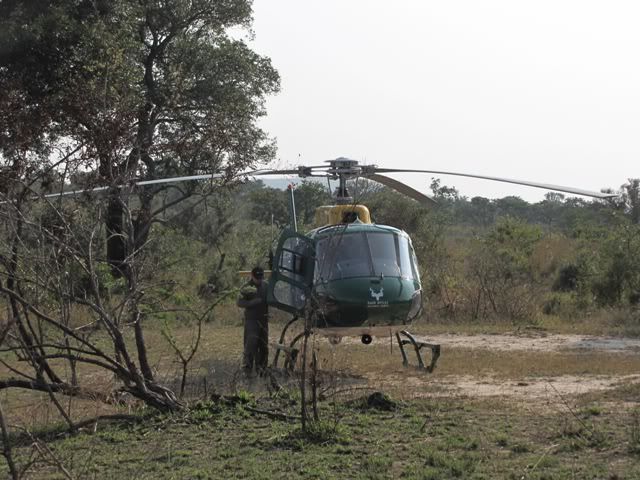 We right amongst the convoy and we could even see the feet of appeared to be Rhino or elephant in one of the crates on the back of a flatbed game capture lorry. A ranger was stood next to this and we asked him what was going on, he told us that they were relocating Rhino to another game reserve in Pietersburg. As you can imagine we wondered if we were OK to stay in the area and watch this? So we parked up far away not to get in their way but close enough to watch them bring the Rhino that they had just darted to one of the empty crated that had just been taken off a flatbed.
So we sat waiting until we saw some activity in the bush where it seemed obvious that the Rhino was. The next thing to our amazement, one of the Ranger's was calling us to get out of the car and walk towards the empty crate! We looked at each other in awe first feeling like that we should pinch ourselves, but this was real and we got out of our car to walk over to where they would bring the Rhino to the crate.
The helicopter pilot told us what was happening and where to safely stand before watching the game capture team walk towards us!
As if this amazing experience could not get any better, the guy at the front of the Rhino with the yellow stun gun who appeared to be the head ranger here shouted at us to come over and touch the Rhino! Again, we were in total awe and I apprehensively walked over to the Rhino to touch its side! We had spent all morning looking for Rhino's and then we almost run out X-Trail into one and now I was going to touch one. I did not expect this! It felt like for what I can only describe as hard, dry and slightly hairy mud!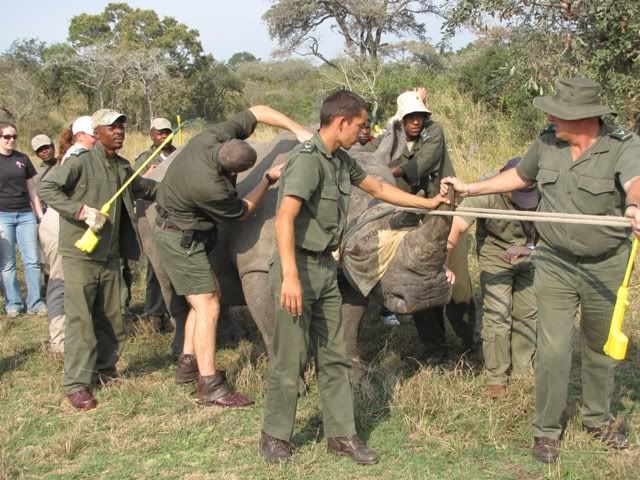 Onwards for the rest of our long journey back to Skukuza to then stop at Afsaal for some deserved refreshment. We then took the H3, S112, S22, S114 and back onto the H3 to get back to camp. Sightings included Warthog, Banded Mongoose, Dwarf Mongoose
For the drive we took in the evening, we had an objective; To complete the big 5 in one day. So we needed to see elephant, Buffalo and Lions on our late afternoon drive before the camp gates shut. No problem
We travelled out on the H11, to take the H4-1 where we came across these two buffs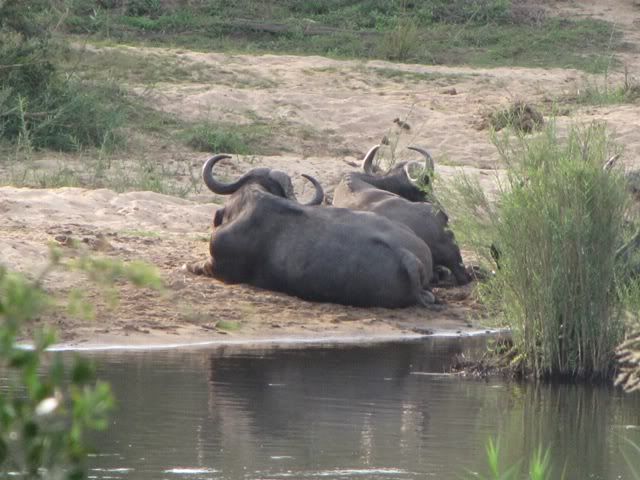 One down and two to go, so it was a good job we spotted this Elephant across the riverbed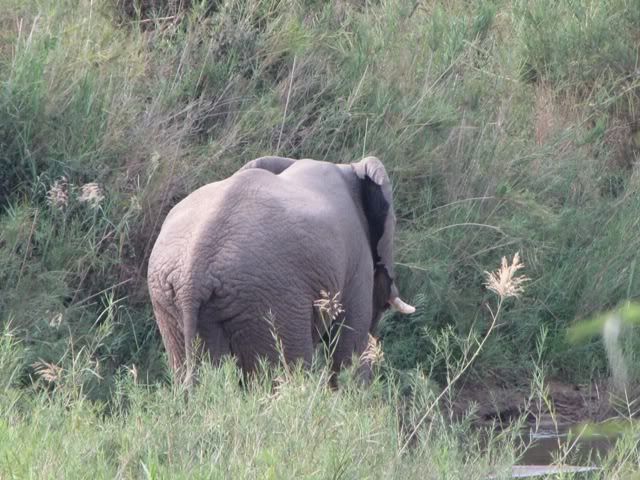 We travelled about another kilometre down the H4-1 and hit a traffic jam. This was to be our missing link for the big 5 in one day. We spent about half hour with a pride of 9 lions that were lying close to the road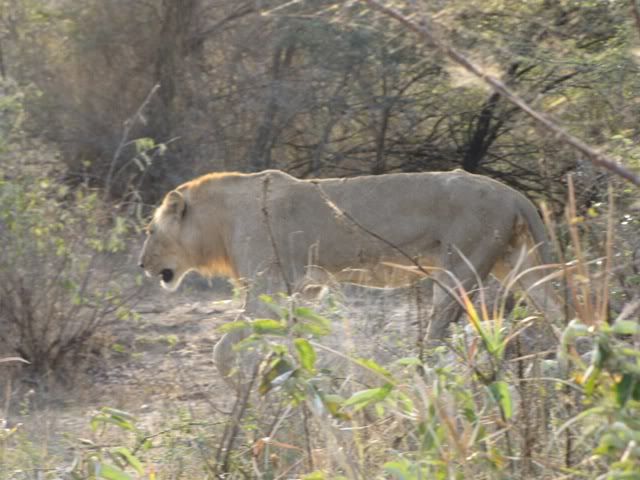 Some of them started to get up as they probably got fed up of the growing number of admirers blocking the road nearby.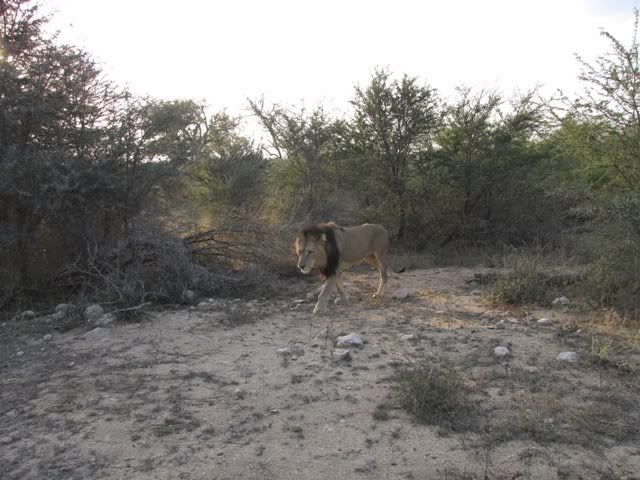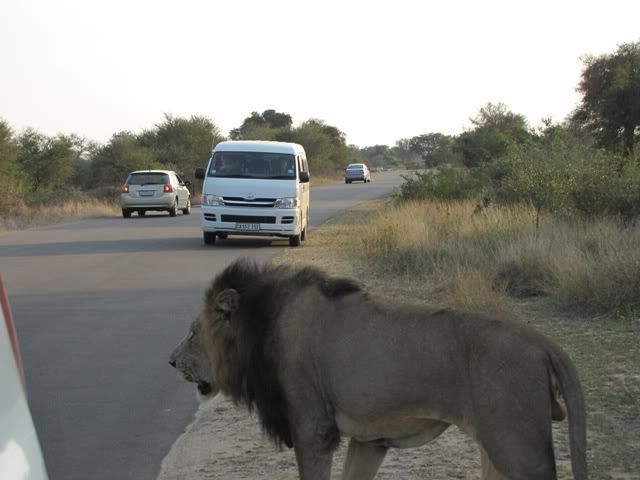 He even found time to stop and pose for the camera
After the remainder of the pride moved away from the road, we made our way further down the H4-1 to take the H12 and loop back round on the H1-2 to get back to Skukuza. We spotted more elephant, vervet monkeys and giraffe. Also this giant kingfisher on the H12 bridge over the Sabie
And not forgetting another nice Giraffe pic
More to follow…
---
Day 5 Friday 14th June 2009
This was our last day in the park and it was a short drive to Paul Kruger gate from Skukuza as we had to make it back to Joberg for the flight to Durban. (we were on our way to see the Lions lose against SA
)
We had some great memories of this visit and I can't wait to be back there, sooner rather than later! I hope you enjoyed my trip report too.
---
---
Who is online
Users browsing this forum: No registered users and 4 guests