Virtual Ranger

Posts: 1260
Joined: Thu Mar 02, 2006 12:11 pm
Location: Back on earth.....
Contact:
Hi all
Altough most of you know that I have just started my trip report of Nothern Kruger, I'm also visiting the South the coming days
SO, I will have to do 2 trip reports at the same time, and luckily I do have holiday etc.
This time, I'll be visiting Lower-Sabie and possibly Skukuza. I will try to find Duke, which I missed in July and I really hope I find him
So, next week or so, keep a look out.
Keep well
Kruger Selfdrive under review: click
HERE
to join the discussion and influence the future of Kruger's selfdrive options
Contribute to a viable solution and participate in the discussion!
---
Virtual Ranger

Posts: 1260
Joined: Thu Mar 02, 2006 12:11 pm
Location: Back on earth.....
Contact:
Hiya again
Seeing that I did post a report under the Northern report, I will now start my Southern one, and try allocate each report it's equal share… Before I start, the Southern camps are quite well known, so I will still comment on the camps, roads etc, but not as extensively as I did with the Northern camps. IF any of you reading this have special questions regarding the camps I visited, and its facilities, please ask me and I will try to answer it in my report.
The first day wasn't a day where I had plenty of time for gameviewing, as I was in Kruger for a paid 'video-trip' so I actually had to do some 'work' aswell.
It's more tiring…altough I had nothing to complain about, as Mgoddard did provide me with more than I could bargain for and their hospitality was simply great! Thank you again, Mgoddard!
Well, maybe I will have to add the part driving to Kruger, as it maks up quite a story……
Day 1: 8 jan 2009
I woke up at 3:30, and eventually my dad and I (he was coming with) drove off. I was driving at the time. We proceeded nicely, untill we got close to Belfast…… There were roadwork signs and for the first part they were working along the N4. A bit further, not much roadworks going on, but it was still a 80 zone, AND this truck was driving in front of me, doing 65-70. A bad habit of me, but I got impatient, and when a straight piece of road emerged, I overtook the coal truck, and failed to obey the barrier line. So I got hammered for that, as a traffic official was witnessing this, and stopped me.
NO argumenting, but just a straight R750 fine. What can I say, I was wrong..! EISH!
Will tell you later about the final outcome though
So, 2 hours later or so, we stopped at Numbi gate. Had to be in Lower-Sabie by 11, so we unfortunetly had to push, driving 50 and not stopping but for the bigger game..
The grass was VERY high along the tar, and I could clearly see that southern Kruger has had much more rain than the area around Shingwedzi. It was lush and green, and I have not see the veld this good in a long time! Talking about weather patterns…
Anyway, first 'special' sighting were 2 SANPark employees cleaning the side of the road along the Napi road, armed with guns aswell
We spotted a few giraffe's in the distance, but not worthy of a shot though. I guess we missed a lot, as the grass was quite long next to the road, but after a quiet 20 minutes, 2 cars drawed our attention, and so we stopped. A bit difficult to see nice, but a whole herd of ellies were bathing in a mudpool, big and small, all of them were looking for some relief to protect themselves from all the insects, flies and the heat.
And to think up a week earlier, the biggest concentration of ellies we have seen were 4 together!
It was very hot that day, and it must have been aound 35 degree celcius around 9:30 already…Pffff.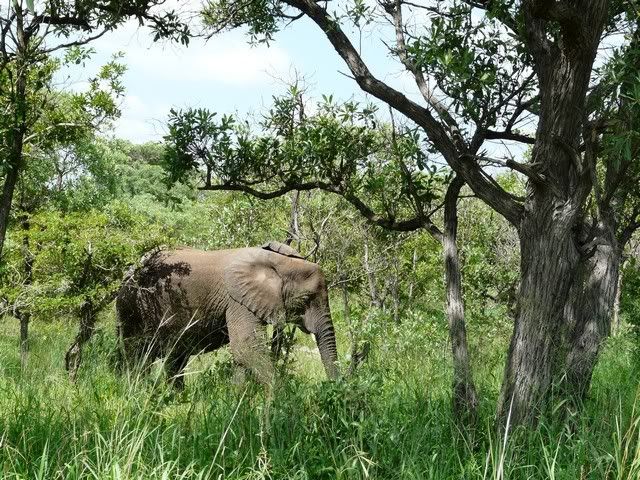 We skipped Skukuza, and went on directly on the tarroad towards Skukuza. This road, nicknamed the 'N1' used to be an exellent road for big game in particular, but I personally find it less and less rewarding recently.
And not only this trip, but our 6 day trip in July aswell, some small loops even provide better sightings lately. Just a personal observation…Passing a dry riverbed, we noticed a few saddle billied storks. These amazing birds are getting quite common for me by now, as I have not failed to see them for years, even close. They really have amazing beaks and colours.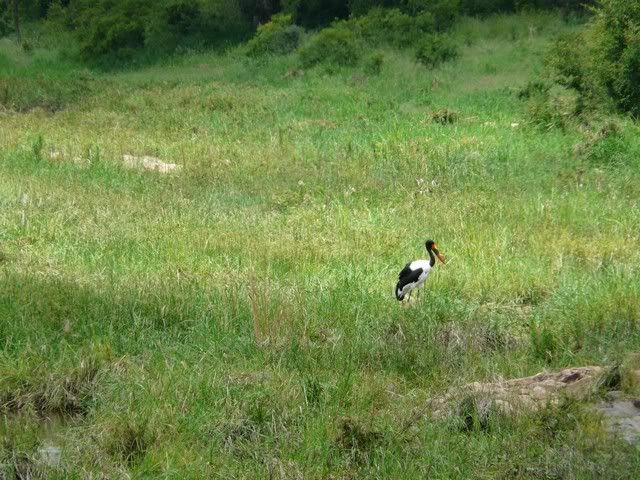 Close to the N'watamiri bridge, a lone ellie was standing in the shade, peacefully destroying the surrounding smaller bushes. As we took a few shots, he started moving, crossing the road and giving a nice show. We only spotted impalas further south to camp, as well as one of the green microlight airoplanes working in Kruger. 5 km's or so from Lower-Sabie, we managed to spot a couple of buffalo lying partly on the 'beach' and partly in the river.
I guess they have heared about the song "The best of both worlds" hehe. A bit far, but luckily I did manage to get a nice shot of our first buffalo. Buffalo are PLENTY around Lower-Sabie, especially big herds who enjoy the luxury of numerous dams and rivers in the south-eastern region of the park.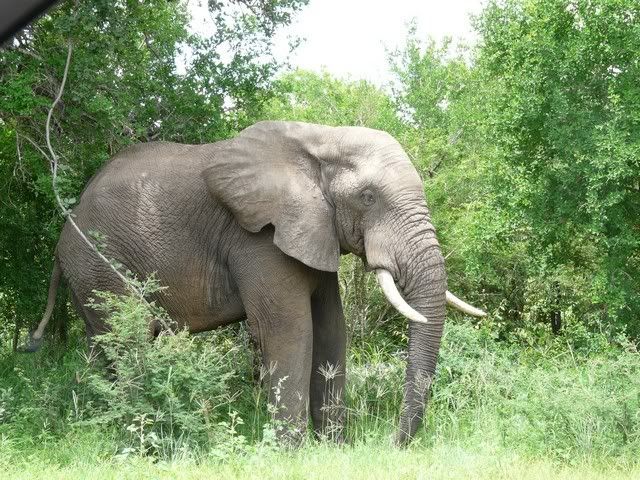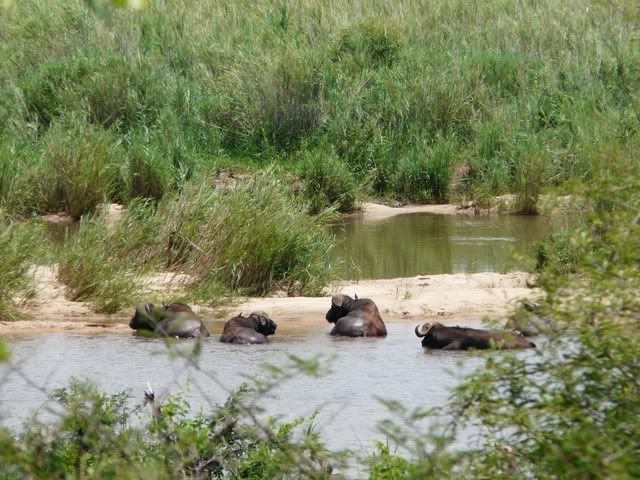 Close to camp yet another elephant stood next to the road, this time doing it's best to hide from us
Grandpa warthog also told us he had a refreshing mudbath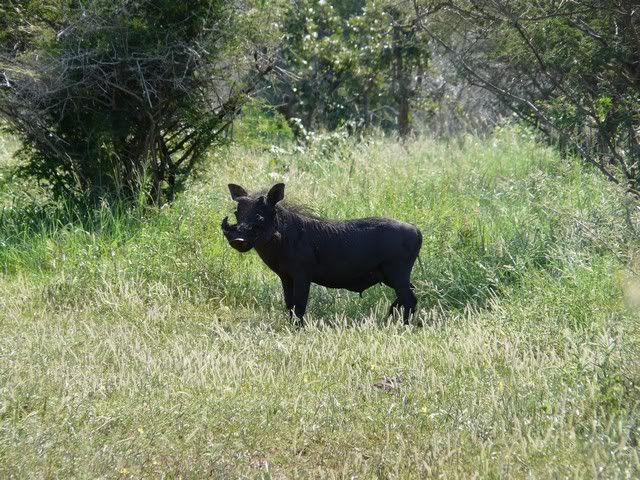 That afternoon was really hot, with tempratures soaring up to a unpleasant 40 degrees.
Luckily, I could just stay in my hut, and had to film the incoming guests from time to time, my working part of this 'holiday'. It's here when Sawubona called me, sooo jealous. Better work on that bro…hehe.
All guests I had to video only arrived around 5 o'clock or so, thus I had just more than an hour to do some gameviewing….which I obviously did! I really wanted to see Duke's waterhole in summertime, filled with water so I decided to go south. Took the H4-2 all along the river.
This part has never ben really special to me, but there is always SOMEthing, and in this case a beautiful pair of fisheagles were waiting to get famous. And so they did.
The piggies were present as always, I always find warthog's facinating especially the young fellas. Comic animals, those piggies! The first 3 km's of the s130 looked TOTALLY different than in July, and I have to admit I prefer summer time. Yes, it's warmer, but the bush is awesome, the birds are back and the colours are brilliant. Viva la summer!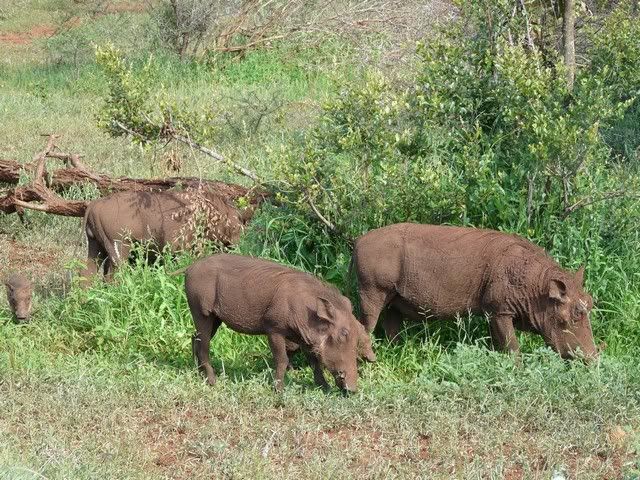 The 'vlei' along this part proved to be a magnet for a variety of animals, as you will read later on, and this time again the saddle billed stork allowed us to admire is beauty and gracious pace. So did this eagle, of which I cannot identify the eye colour, but it looks like a Brown snake eagle.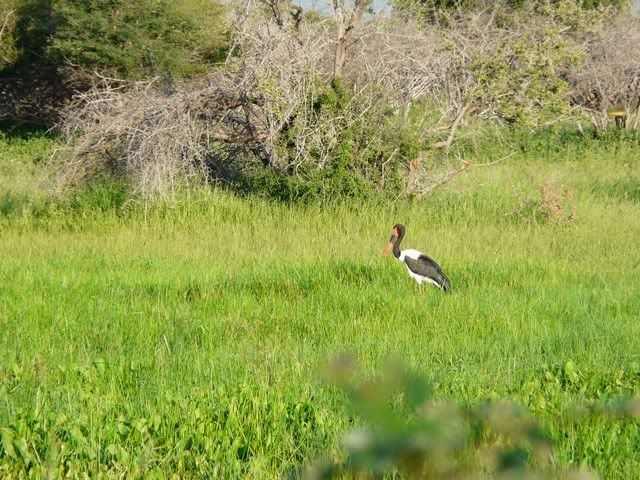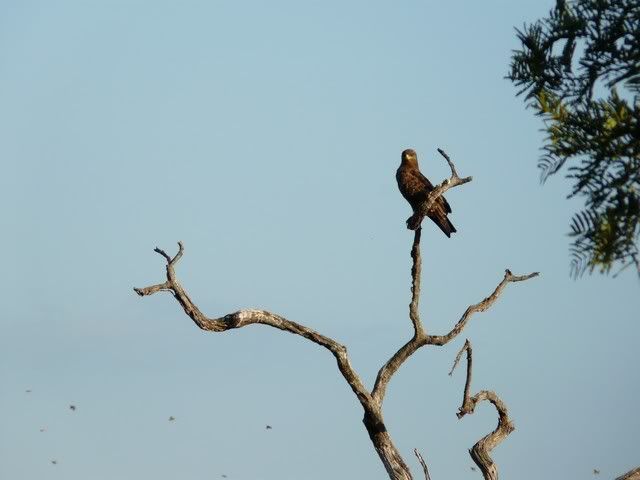 The s137 also looked better in summer, although the raod has quite a few 'potholes' which one has to dodge. Certainly not a lekker road for a speedy visitor….Which is good.
With high expectations I closed in on Duke's waterhole, quite curious what it would look like.. The waterhole is very close to the road, and must be the exellent phtography spot when the right time of the day is chosen.
A few zebra's were stading close to the waterhole, but with time ticking against me, I HAD to leave. The upper part of the s28 is IMHO the bad part of that raod, and as always, I did not see anything else than a few impala.
Bad picture of Duke's waterhole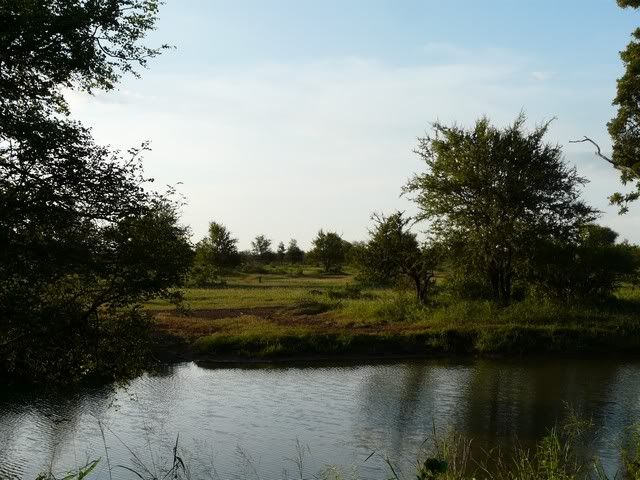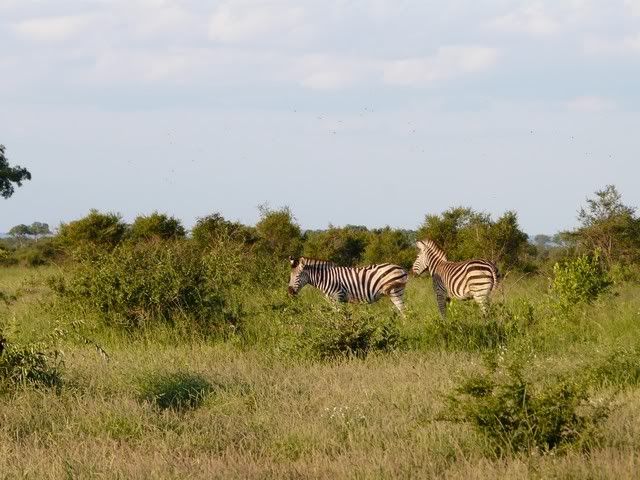 The nice thing about Lower-Sabie is Sunsetdam. Whether you intend to leave or enter camp, you can always quickly drive up there and see a few animals. This time, 7 or 8 warthogs were running on the road, with the cute little small ones! As I got closer, they started to run like I was a leopard, and I bet you they could receive 'Laeveld radio' with their aerials.
Amuzing creatures indeed!
The hippos were close to the carside of the dam, snorting and grunting from time to time, waiting for the sun to dissapear before they will go out to feed. The sun was clearly setting, and being such a hot day, the combination of the setting sun, a nice waterhole and surfacing hippos could not result in something else than memorial moments and nice pictures.
My favorite time of the day….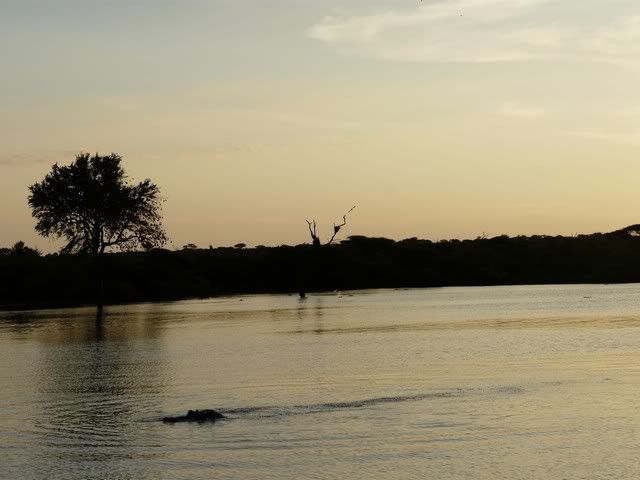 As the time came that I had to get into camp, I quickly took a shot of the well known campgate, just to remind you formites what it looks like.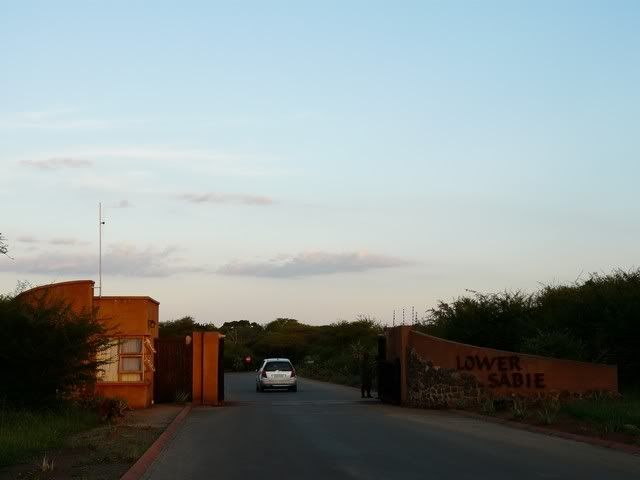 And so my first day in the south did come to an end.
To be continued......
Last edited by
G@mespotter
on Wed Jan 14, 2009 7:09 pm, edited 1 time in total.
Kruger Selfdrive under review: click
HERE
to join the discussion and influence the future of Kruger's selfdrive options
Contribute to a viable solution and participate in the discussion!
---
Virtual Ranger

Posts: 1260
Joined: Thu Mar 02, 2006 12:11 pm
Location: Back on earth.....
Contact:
Hiya everyone
I'm glad to see that a lot of you guys do enjoy the trip reports, especially when it's quite detailed…
Well, unlike the previous post I will have to split the second day's sightings in 2 parts due to the numbers of excellent sightings and pictures, and otherwise it will get too lengthy to read anyway. Enjoy!
Day 2: 9 January 2009 (Part 1)
Having the opportunity to do some game viewing before I had to film at Nkulu at 10:00, I decided to wake up early again. Not THAT early though but we were up and driving by 5:30…. Having watched the sightings board and spoken to the people driving in the area for a few days, and noticed that the tar and dust roads towards Crocodile Bridge are the drives to go. So, we did our first Lower-Sabie ritual
, checking in on Sunset Dam, waiting for the miracle like the one Mgoddards' daughter had that afternoon on the very same spot… Will tell you later
Anyway, Sunset dam as relatively quiet AS FAR A WE COULD SEE, and no wild dogs chasing an impala so it can get caught by a croc, like Sawubona once saw. MAN…! One day.
Between camp and Sunset, on the riverside, again we spotted a few buffs lying in the sand, to cool off. It looked VERY similar to yesterday, although it was considerably closer. Not very active, so we went on southwards. The reason I skip
the H10 and the whole other side, is just because up to this moment it did not provide me (personally) with exceptional sightings, other than ellies, rhino and buffs. The first 3km or so along the H4-2 is often quiet, but this time we stopped, as we drove past a few bushes but did not spot anything.. However, branches we breaking, so we reversed and suddenly 3 ellies popped out of the bush!
I don't know who had the biggest fright, the ellies or me. Just shows you how well ANY animals is able to camouflage itself! They were wild and shaking their heads, obviously the young and restless
Those who have been in the area before will have little difficulty to imagine the far riverbank on the left, and the thick bush to the right. Indeed a very relaxing and scenic drive. And how easy to miss some amazing animals closer to the river!
As always, the resident pair of fish eagles was scanning the surrounding area with their sharp eye, I guess not missing the smallest detail. Although the sit so close, the sun was against me resulting in a few average shots, a real pity.
A km or so onwards, the local family dwarf mongooses we showing theirselfs.
Most of the time it's extremely difficult to photograph them, but we stood from quite distance and zoomed in on them. Before we could take a few shots, they decided to go for breakfast and disappeared into the grass.
Approximately 8 or 9km south of Lower-Sabie, along the tar road, one cannot miss the hundered-thousands of birds flying in exceptional large groups all over the place.
It's stunning to see such great flocks of birds, and it took me a while to have a closer look at them. I could not get a individual shot of one of them (did try hard enough) but it did look like some sort of finch, had a red head, and a white body covered withback/brown spots… Maybe Martie from Lower-Sabie camp can help me with this…? I'll ask her.
Well, I'm not exaggerating but it must have been hundred of thousands of them flying over a stretch of 3 km. The sights and sounds of these exceptional large flocks is very interesting actually. I attempted to take a picture of it, just of a single flock of birds!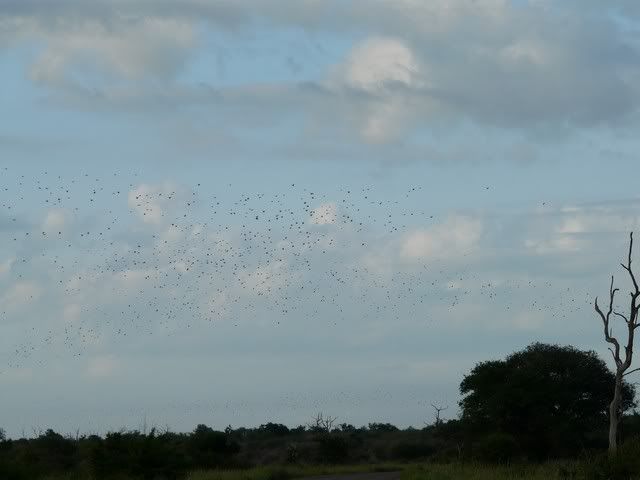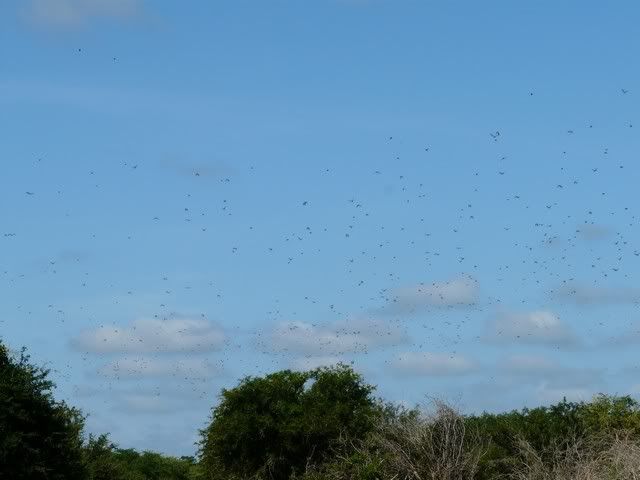 A little bit further I spotted this African green pigeon (Papegaai duif)! I identified it later on, thanks to our new Sasol bird guide! Don't know if it is an unusual sighting in Kruger, but we reversed to take a picture of it. Unluckily the light wasn't too friendly, and all pics turned out like this one…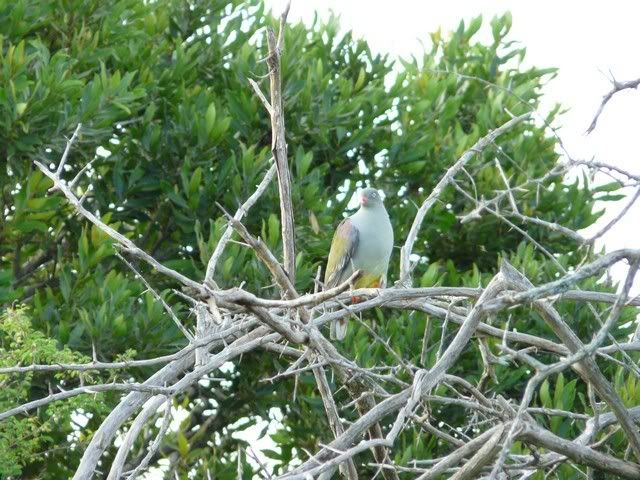 It's also on this road where we spotted 2 humans in Kruger! Luckily for them, they were there for a purpose. Their names were AMOS and Amon. Both gave us a nice pose..hehe. The one was there to bust the speeding tourists, while the other was there to bust the local lion pride…..
Have to admit, they both didn't seem to be scared at all! After a quick chat, we continued. Maybe Amos and Amon should have been scared, because not much further we came around the corner and…..found a few ellies on the road! I love this factor of surprise, it's what keeps Kruger so special. It appeared to be a big herd, calves, mothers, bull: The lot.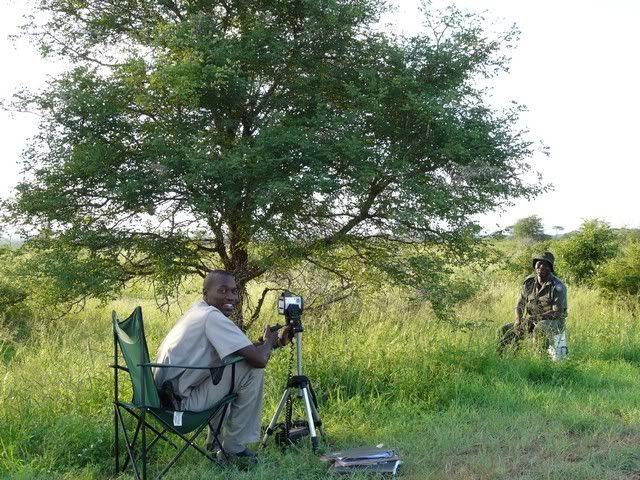 It was right on the corner of the s130 where we intended to turn off. The ellies in front of us, next to us and behind us! Luckily they were not too aggressive, but I can't say they were very relaxed as well. This is when I really hate driving a Diesel… So I decide to switch off the engine, and wait for them to gently cross. Luckily we had no other cars in sight! It took 5 min or so, but our waiting was rewarded and so we witnessed this young calf crossing the road right in front of us!
Nice. The calf was a bit nervous, but the others just pushed it from time to time. Awesome stuff. I thought every ellie crossed, and started driving, but missed this one young elephant. Not too impressed, he ran parallel with our car, and crossed in front of us. For a few moments he stood there, shaking its head while reminding us who we are. Privileged visitors.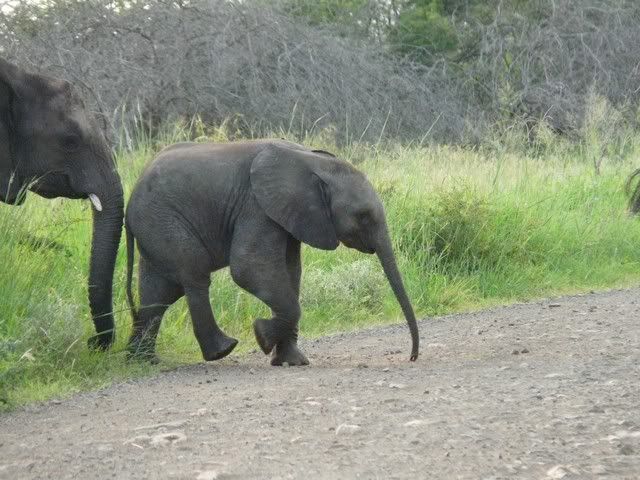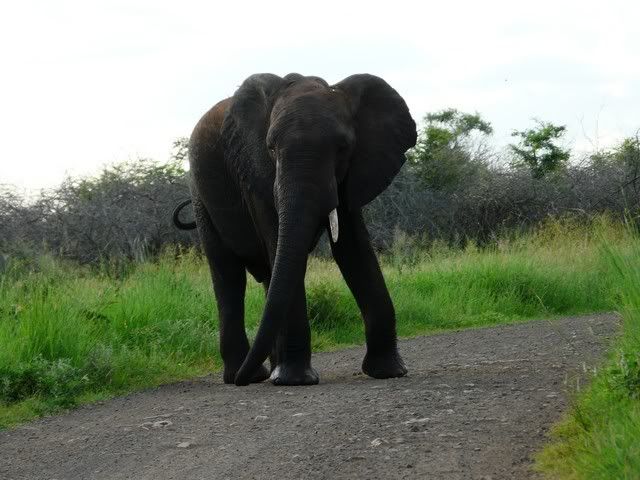 For those interested in the surrounding area along the s130, I can tell you generally the vegetation along the s130 is very dense. REALLY dense sometimes. I was here in July 2008 as well, and have to admit I can hardly recognize the area! All thorn tickets had leaves, the dry pans turned into beautiful 'vlei's' providing a constant magnet for animals. DON'T miss this road in summer!
Just as we thought we had out share of elephants that morning, this BIG tusker walked on the road. He was all relaxed, and as far as I could see he was missing 1 tusk! The other one was quite big! I don't know whether this is the big tusker roaming in this area (Name is very long, starts with an N, will check later) but he was big..
But he decided to show his bump only and bashed into the dense bushes. Gone was this big ellie, gone in 30 seconds maybe 10m from the road. Talking about camouflage..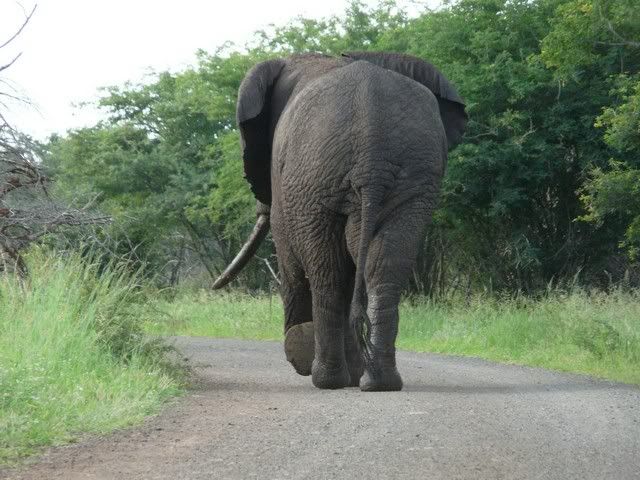 Having these pics of Black Rhino's which Bush Andy posted a while ago. I hoped to see these elusive and aggressive animals! The s130 IS IDEAL to find them, and don't be put of due to the vegetation, the vlei's along the road really make it worth a try or 2. Zebra's were enjoying all the mud, and we saw numerous bateleurs and other raptors. No good shots though, I'm sorry!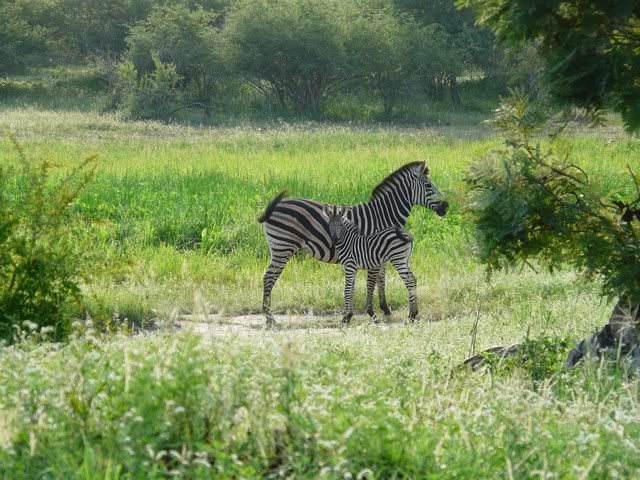 Right at the southern end of the s130, again we came across some buff, this time a whole herd, maybe 200-300 strong. Because of the good rains, mudpans formed everywhere. They were close to the road, and when the engine was switched off, we could clearly hear the soaking sound of mud, as well as the mooo-ing from time to time. Good memories: D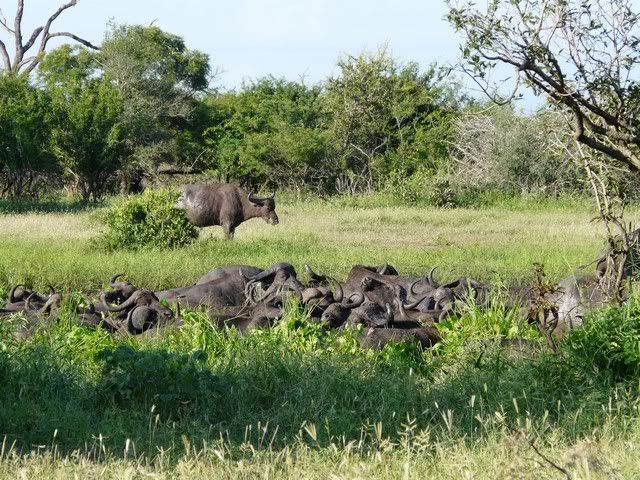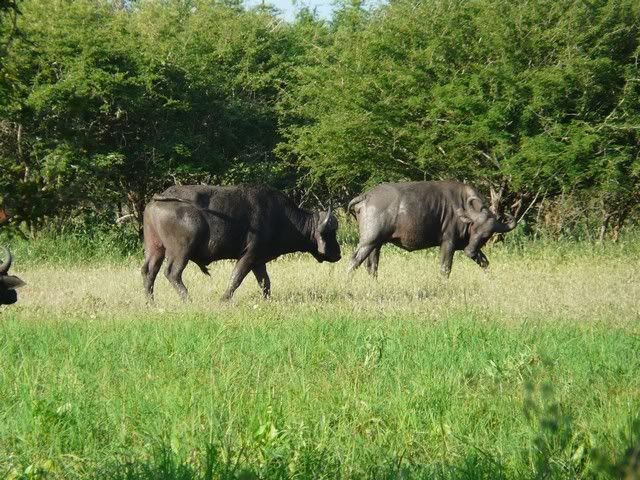 We saw quite a few animals like giraffe, zebras, buffalo's impala etc, but the bad thing was that the clock didn't stop. We wanted to do the s25 for a few km's, but time wasn't on our side, so the decided to go onto the s28, and head back to camp. Close to Gezantfombidam, it was evident that the Croc-Bridge area is stuffed with animals. We spotted our first rhinos, but they were faaar off and not worth a shot. I'm not gonna name all the general game, but altogether it would make up quite a long list. And ain't we loving it!
Close to Crocodile-Bridge, there where the s28 starts the area opens up dramatically. I personally love the combination of both tar and dust roads, and by using both breaking the sometime monotonous rhythm.. The s28 is a long stretch of dust road, leading all the way up to a few clicks from Lower-Sabie. It started nicely, as we saw our first wildebeests (gnu's), and numerous giraffe's and zebras.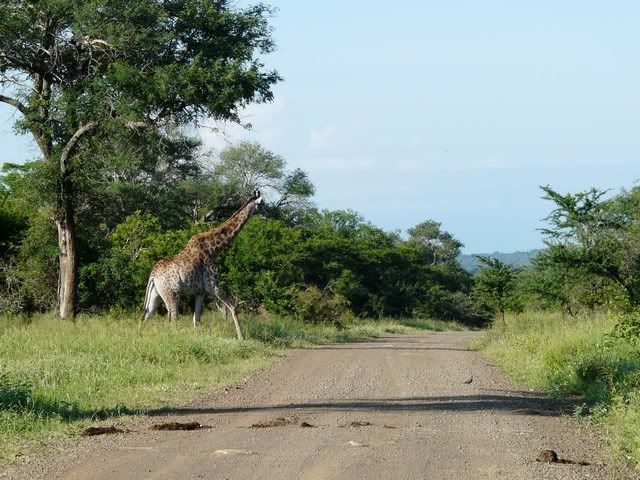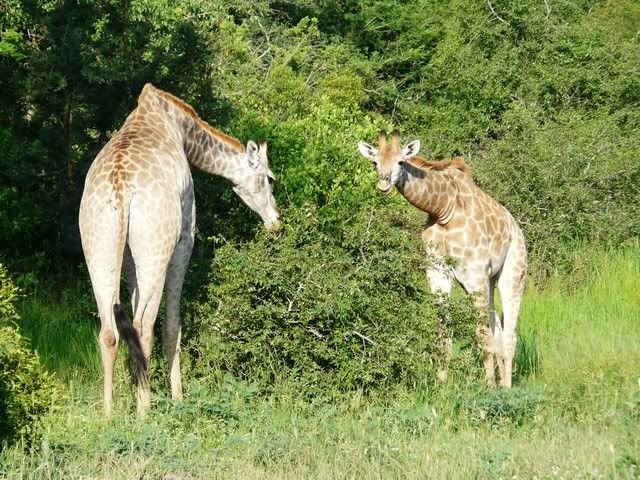 I suppose it's because the underlying rich basalt, resulting in favorable grazing plains, but really there were animals everywhere!
Kudu's in the distance, here and there a warthog etc etc.. After 8km or so, we again crossed a group of zebra's, but this time they were WILD! Running around, jumping and hi-oh-ing all the time. Not only the zebra's were happy, but so were we
A bit further, a huge rhino bull tried to avoid my camera lens, but after a few driving and spotting challenges, he gave up and rested, and I took my shot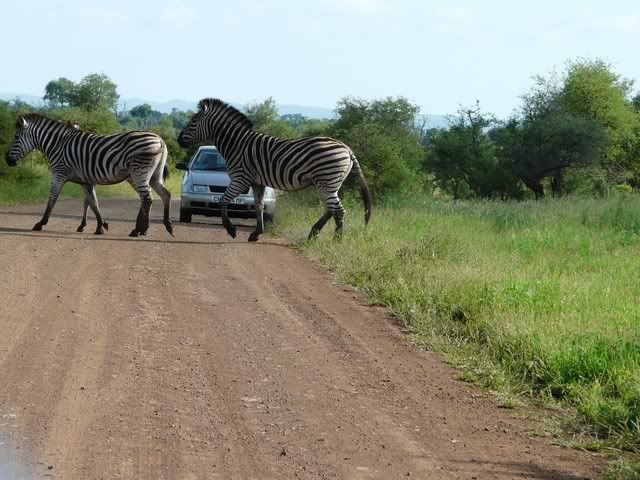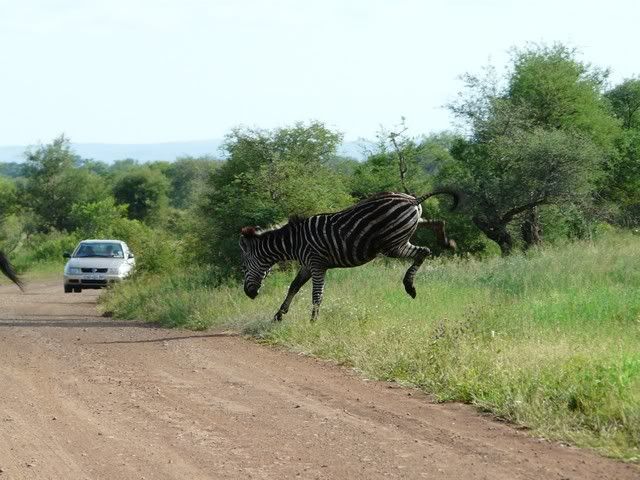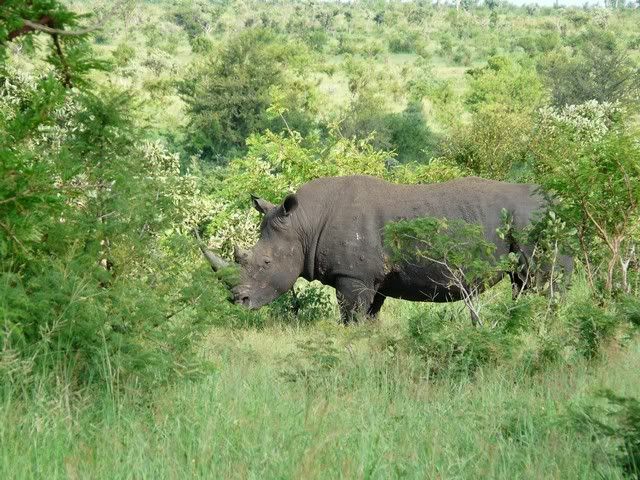 After the rhino, another herd of buffies crossed the road, gently walking to the east. It was nice to see so many animals, and although I didn't see the cheetah's (that why I was doing the s28) we saw HEAPS of animals. Unbelievable!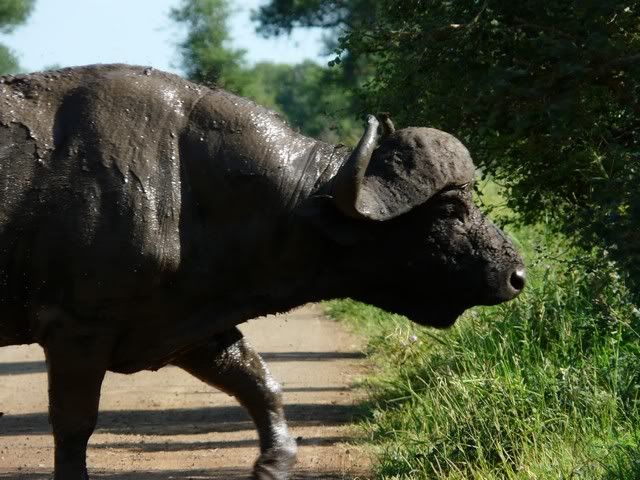 Closer to Duke waterhole, we decided to take the s137, as I don't like the northern part of the s28. Dunno why, but it's been quiet for me too often. We came across this bird of prey, but I cannot identify it! Maybe others can help me…..
I have to tell you, the s137 has quite a few 'potholes' making it incredible difficult to drive AND spot game!
UNKNOWN RAPTOR (?)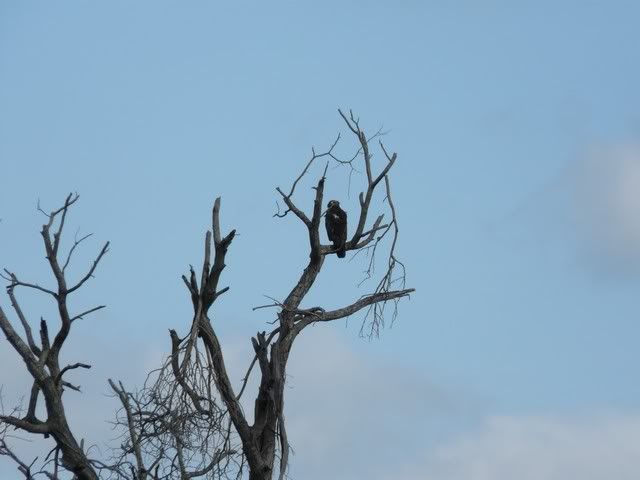 Apart form a few zebra's, 4 ostriches revealed their beauty. There was one baby....
It made me wonder where the others were. Maybe they didn't survive this killing ground of predators!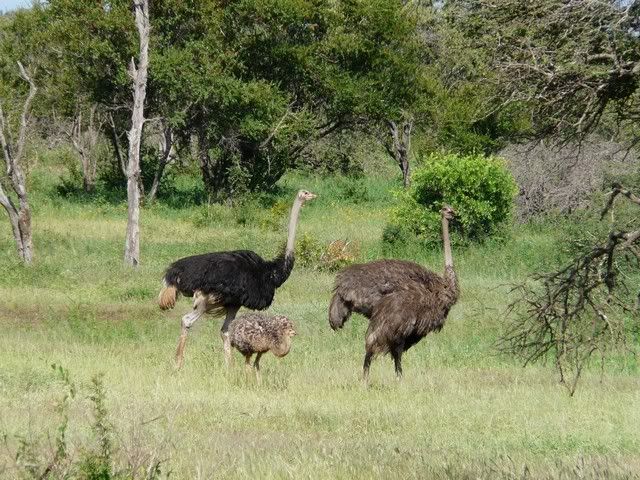 Time was closing up on us, we had to be at Nkulu at 10:00, and were going to be late already! So, we drove towards camp as quick as possible, only to be greeted my a few Cape vultures in a beautiful dead leadwood tree and a lone warthog.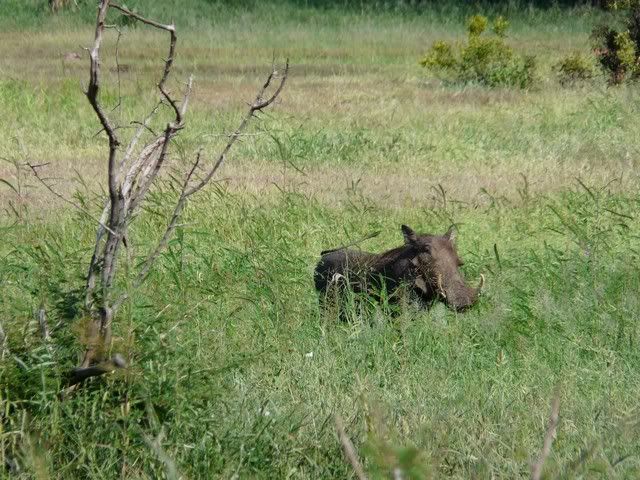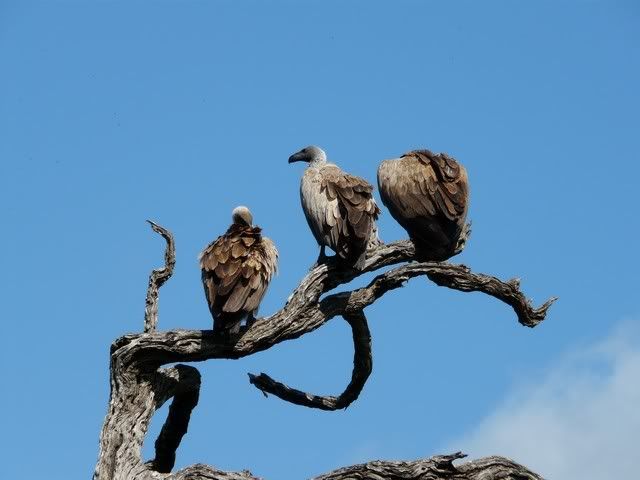 Running into 3 written pages, I'll just stop here, as there is much more to come!
To be continued……
Kruger Selfdrive under review: click
HERE
to join the discussion and influence the future of Kruger's selfdrive options
Contribute to a viable solution and participate in the discussion!
---
Virtual Ranger

Posts: 1260
Joined: Thu Mar 02, 2006 12:11 pm
Location: Back on earth.....
Contact:
Hi all
I'm sorry again, I uploaded the pics on Monday, but got stuck after that! Most of my forum time goes to my Trip report lately.
Well, last time we stopped at Nkulu picnic site, so let's take it from there. Due to the 'work' I had to do at Nkulu, I stayed there for 2 – 2,5 hours! There was no breeze that day, and it was very hot (39 degrees).
The thing about Nkulu is the setting, it has a lovely setting and although I expected it to be crowded, there were faaaar less people than I actually expected!
The vervet monkeys are still a tiny problem, but Wacktazz and his crew are trying their best with 'ketties' and 'knopkieries'. I still managed to take a nice pic of this baby hanging on for life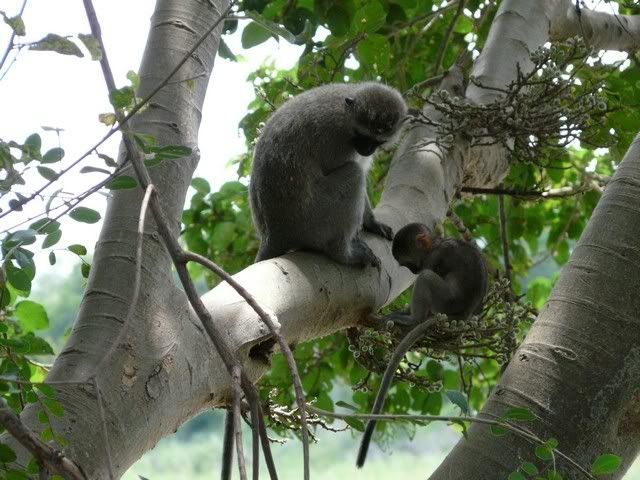 The river was flowing quite nicely, with here and there a small croc passing in silence. We did spot quite a few birds, including the woodland kingfisher and the giant kingfisher.
The woodland kingfishers were very happy, and sang all day long! Awesome stuff. After a splendid meal, we left towards Skukuza…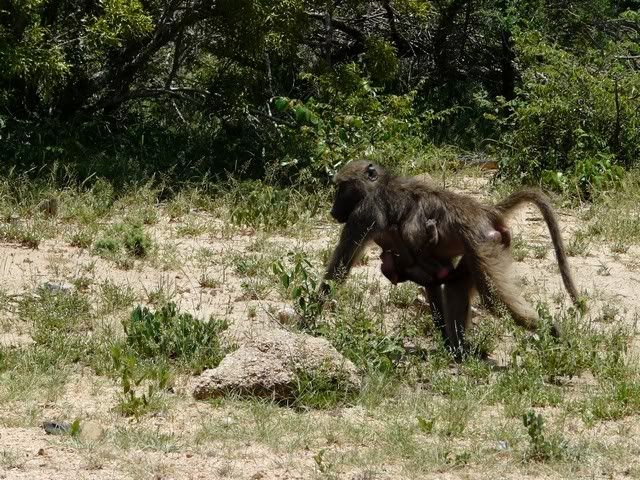 It was rather quiet, and like the 'N1' often is, it's a hit or miss road. That afternoon we hit the 'missed' part, or should I say we missed the 'hit' part. Just kidding, but what I meant to say is that we didn't see much else than distant fisheagles, impala, and a troop baboons on the Sabie bridge.
I suspect the driving in the heat made no sense at all, as all animals were hiding from us along the Salitjie road. Apart from a 'spotted' giraffe, not much was roaming within eyesight. Out of nowhere did this Martial eagle appear, sitting dead quiet in the top of a tree. The light for a picture wasn't too ideal though..
We decided to take the s129, go up the s128, and so wind ourselves southwards towards Lower-Sabie. It must have been the quietest 60km of all recent trips, although we did spot a (very) distant rhino, lying under a tree enjoying the shade which provided little protection against the excessive heat. A lone kudu was nibbling on the leaves close to the s128/129 joint.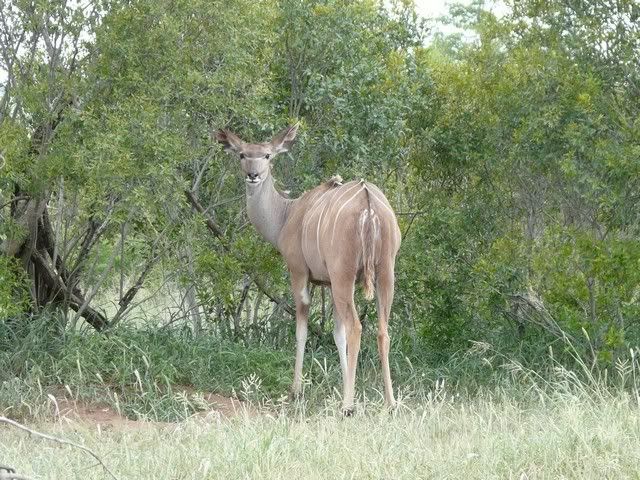 It was no wonder that we almost missed 2 beautiful kudu bulls, who stood motionless under a big tree, perfectly blending into their environment. They did give us some chance to take a few pictures, before they slowly headed towards the thicker bushes..
Their gracious movements and unique appearance give them a somewhat royal appearance.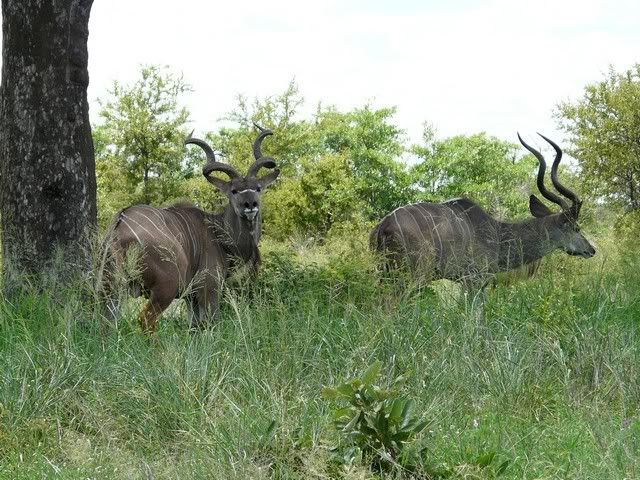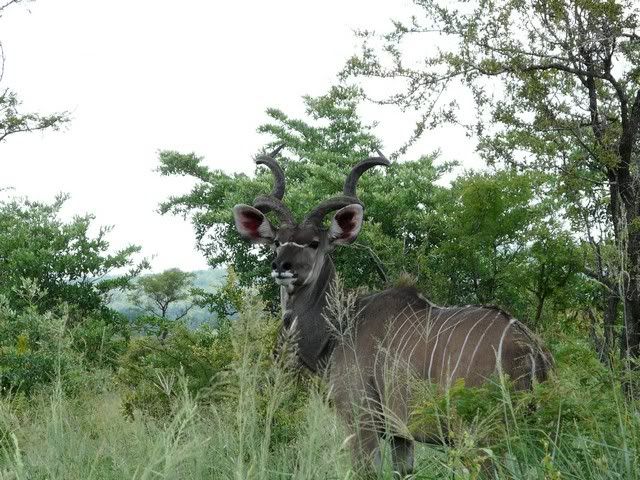 The temperature was soaring, and we decided to cut our trip short, as animals were simply GONE. Even this giraffe was pretty exhausted and lied down for a little 'nap'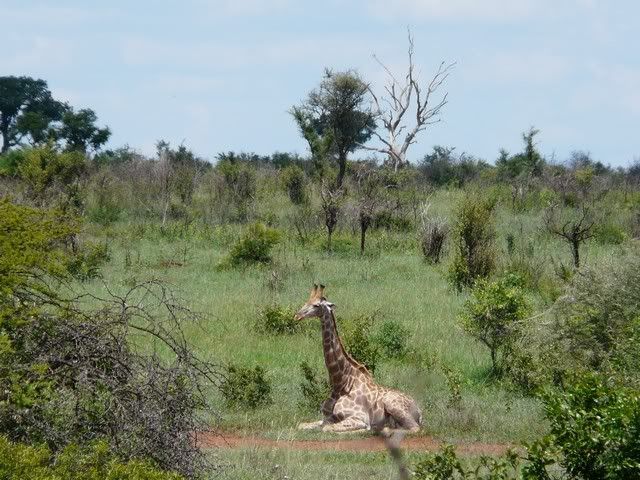 It wasn't only the temperature, but also the absence of a breeze that made the heat almost unbearable….
As if the air was 'loading' itself with moisture.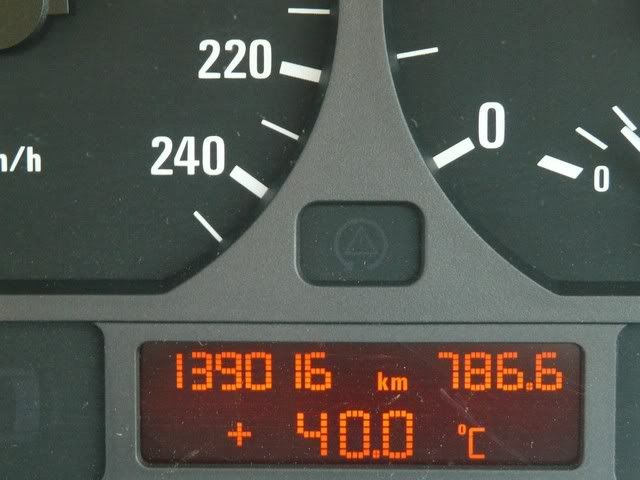 Not far from camp we spotted another rhino mother and calf, both standing close to a mud pool, not moving an inch. I hoped for a miracle in the form of cheetah, as a lot of cheetah sightings were reported on the southern part of the H10. Unfortunately, not this time.
Back at camp, we decided to have a siesta! And boy and girls, what a nice feeling was it to lie under the fan with the aircon cooling things down, staring at the thatched roof........
It did not take 5min to get me dreaming of leopard cubs crawling around the car. There is no better time for such a nap than a hot afternoon in Kruger…."sigh"
Well, as BB always says, Crocodile Bridge and the s25 area cooks and I agree, must be one of the best area's in Kruger to see game!
After 2 hours of snoozing, we took the H4-2 south. We spotted a few impies, and after 5km or so a big herd of ellies on the other bank on the Sabie river. Too far and too well camouflaged for some nice pictures. We greeted the resident fish eagle, but didn't see it mate as there are normally two. A questions pops in my mind, how does one establish the gender of a fisheagle??
It was clear that summer was at it's peak, the amount of birds is just unbelievable.
We spotted numerous 'brown' eagles, but as far as I could ID them, most of them we juvenile bateleurs. Here is one of 'em.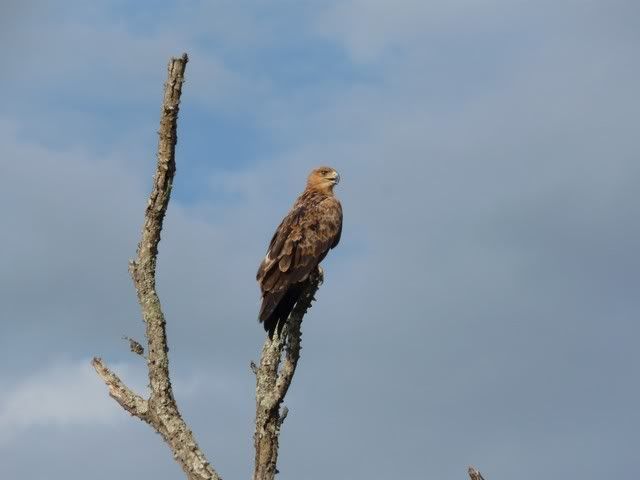 Close to Croc bridge, a lady stopped us, telling that there are 2 males lions and a few females along the s25! It was just what I needed after the looong and quiet trip from Nkulu, so on we went! On the corner of the H3-2 and the s25, two young white rhino's were grazing peacefully..
NICE start.
Man, I love this road. On our way to Hippo pools, the first wildebeests crossed our path. I have seen them on the same spot numerous times, often in big groups. If there is one place in Kruger where the destruction of ellies is visible, its along the road towards Hippo pools. It looks similar to the area close to the Pafuri picnic spot!
I was amazed to find out that Daniel wasn't at the Hippo pools! Last time in August 2008 he still was there. Wonder if he was ill that day? Back on track, we had high expectations of the s25.
Apart from the abundance of animals, the scenery is simply awesome. So we arrived at the spot where the lions we 'camping' on a nice open spot, with almost no obstructions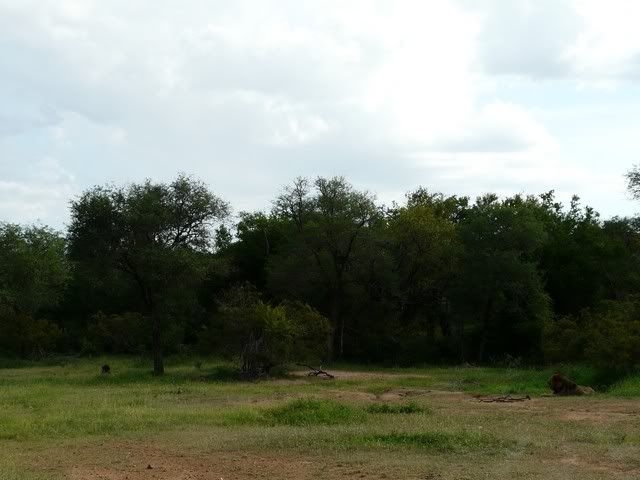 There were 2 BEAUTIFUL male lions, and I have to admit it's been a long time since I have seen them like this, very relaxed on an open spot, providing us with a BIG show.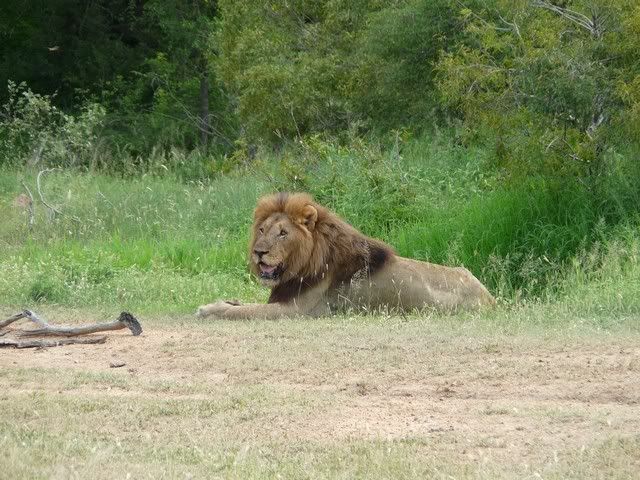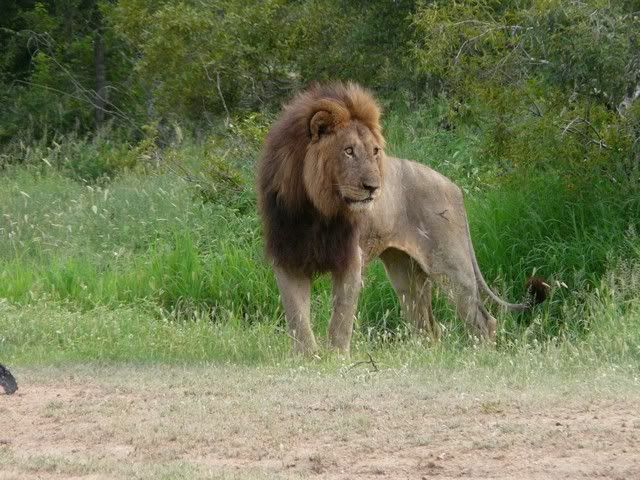 Walking, sniffing, smelling and being lazy is all they did. Sometimes one cannot imagine who these beautiful beasts become such savages. As we wanted to leave, a female popped out of the bush, walking towards the male.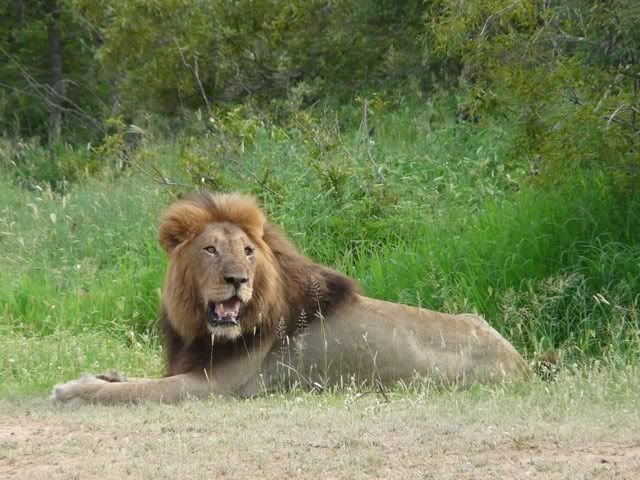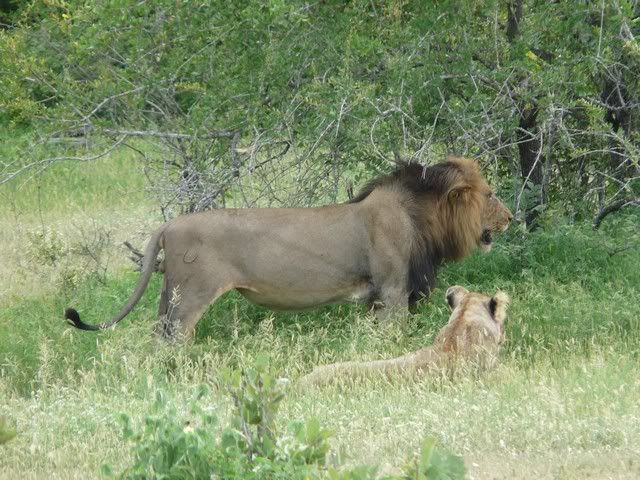 However, time was ticking and I wanted to see the beauty of the s102, probably the shortest and MOST beautiful loop in southern Kruger, where you most of the time have the whole area and scenery for yourself!
Will post some pictures of the area when I report about the next day…..(You guys love to wait hehe
) Clouds were forming in the distance, and again caught my eye, as it provided me with a unique photographic opportunity.. Judge yourself.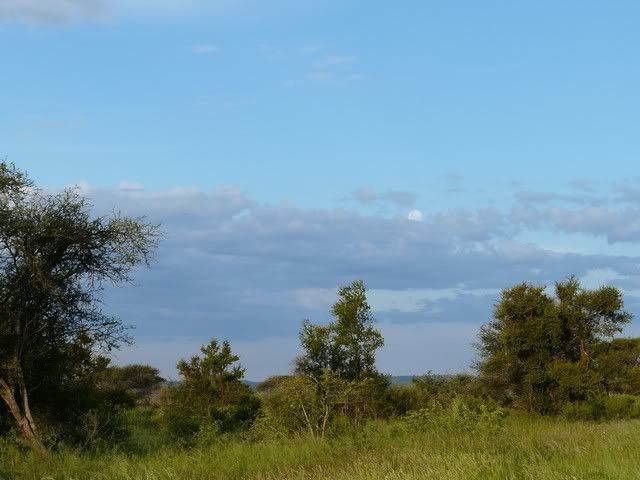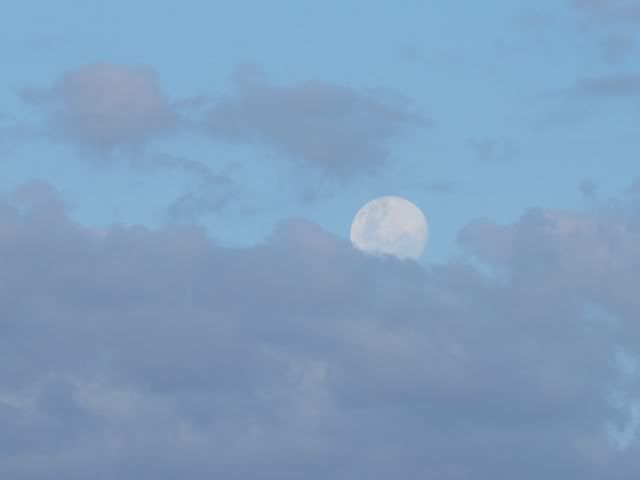 The s26 reveal a group of giraffes, which were quite white, as they can be in Pilanesberg. They are that white because of the combination on unique genes I was told..
TIME, as always, was catching up on us so we had to drive around 50km/h on the tar road towards Lower-Sabie. Somehow my eye was caught by this korhaan…! It was standing on an anthill, observing the surrounding area like a teacher does in class. Masterfully. I guess it's the first time I have seen a korhaan like this one..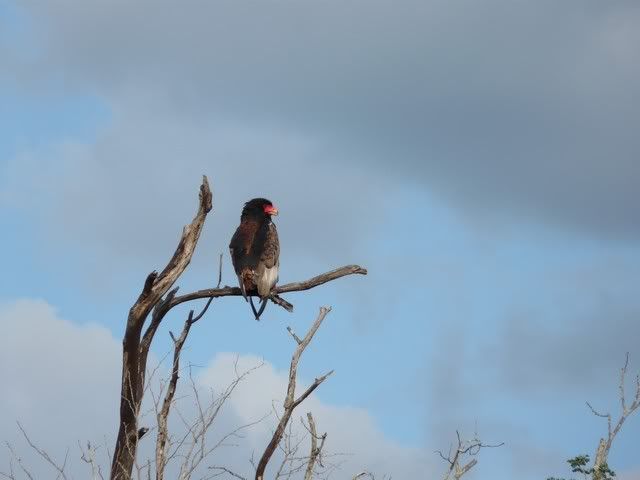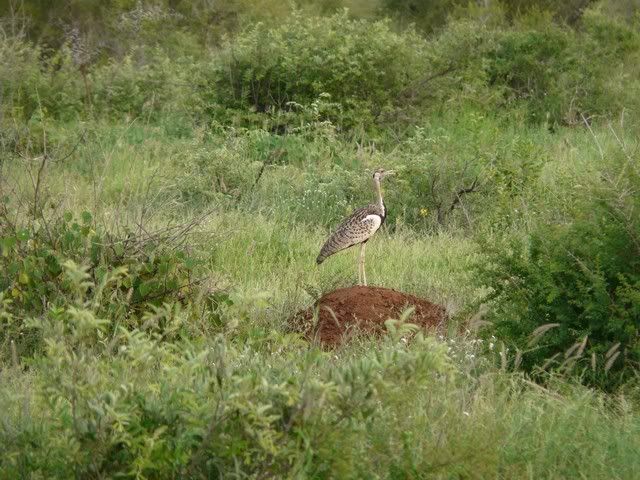 Two cars we standing next to the road, normally where the fish eagles are, close to the weir build in the Sabie river. I spotted a buffalo in the distance, but there was a animal MUCH rarer standing close to it!
My dad saw it first, and although it looked like an impala at first glance, it was a leopard!
For our Big 5 enthusiasts, Big 5 in 3 hours… The leopard was quite relaxed, and it's a pity that it was quite far from us. But I'm NOT complaining, we had just seen one of the most elusive animals in Kruger. And I have to admit, I struggled the last few trip to see them, whereas 5 years back we saw plenty!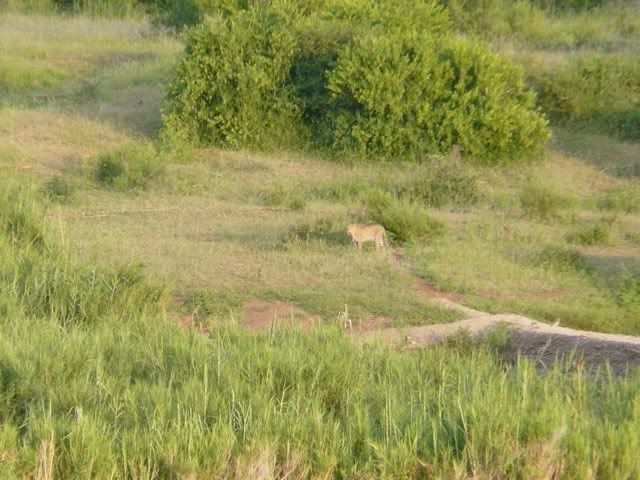 After 5 mins, we headed back to camp with a satisfied feeling. All in all a hot but still a successful day, with even a few cat sightings. Whohow
I'm not a big 5 hunter like I was before, but it's still nice to see the cats from time to time! Just to make you guys home sick, I decided to included a nice 'farewell' picture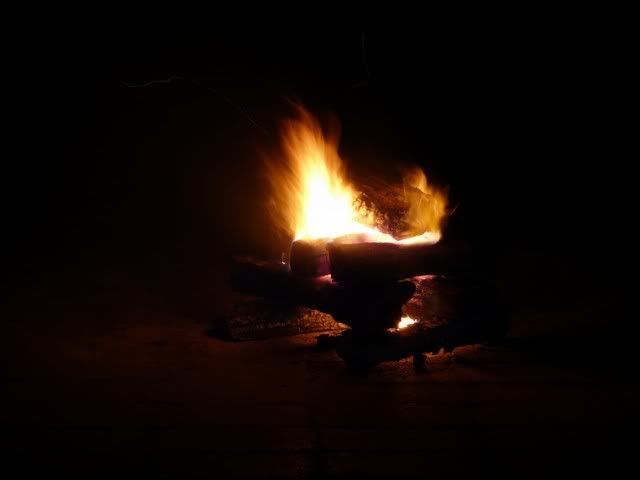 To be continued…….
Last edited by
G@mespotter
on Thu Feb 19, 2009 11:18 pm, edited 1 time in total.
Kruger Selfdrive under review: click
HERE
to join the discussion and influence the future of Kruger's selfdrive options
Contribute to a viable solution and participate in the discussion!
---
Virtual Ranger

Posts: 1260
Joined: Thu Mar 02, 2006 12:11 pm
Location: Back on earth.....
Contact:
Hi everyone
Been very busy, so sorry for the delay, but it looks like I'm past the worst part for this term...tests finish and 1and a half week before I leave for Kruger!!
Therefore, I'd like to finish as soon as possible, it's going be a lot, so enjoy
Will have to split day 3 in two parts again, however, we didn't drive THAT much on the last two days, so it seems like I can then do 1 part a day!
Day 3: 10 January 2009
As a true 'G@mespotter' I woke up early so that I could leave the gate at opening time, which I indeed did. Again, I decided to go south towards Crocodile-Bridge, maybe because in July I've been up north so many times, or maybe because of the luck we had the previous day....!
Well, it looked like it was the right choice, as I had an unforgettable trip that morning! As it was still dark when I left camp, & used a spotlight and so I had my own moring drive! Spotted 2 duikers, and also bumped into a hippo family. They were crossing the road right in front of me, scared to be trapped between early visitors and the water...
Well, the temperature early morning was rather nice and it LOVELY to drive around in the morning...! First, spotted some giraffe's a bit further from the road, shaping the landscape in a typical African way. Just 2 km's or so before the s130 turnoff, a lone young ellie bull was quietly making his way through the bush. Have to admit; every time I thought "now it's getting quiet" I saw animals. As I came past a bend, I spotted 2 unusual animals on the road!!
They looked like doggies, but on a closer inspection the appeared to be the 'uglier' type, hyenas. It's a long time since I have seen them this nice, close and relaxed. They ran across the road, and once I drove 30km/h or so, they jogged along the car
Quite an unusual 'race' for me
After a while they gave up, and walked off into the bush, and we were only 2 cars who enjoyed the sighting
(Poor pic due to poor light....)
Close to the s130 turnoff, I spotted a lone brummie (Grounded Hornbill)walking lonely through the veldt, which was still wet because of the early morning dew. Apparently they are getting scarce, but I have to admit, have seen plenty in northern and southern Kruger
The sun was rising , and gave a perfect flurry of orange colours. The amazing thing is: every morning it looks different. But I personally think in summer it's much more dramatic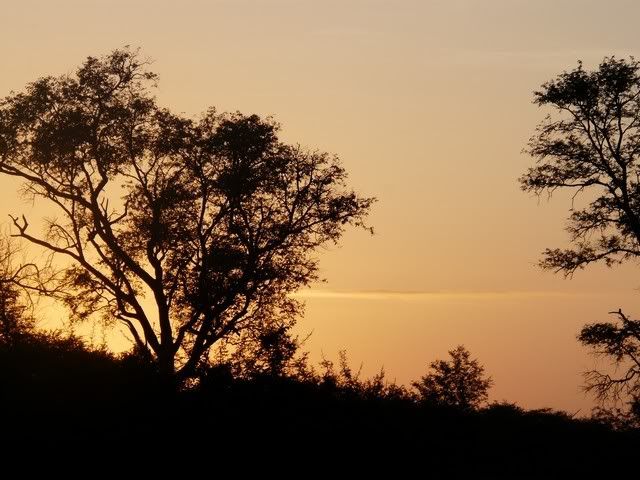 Hoping for my favourite animals, the wild doggies, I decided to take the H5.
As usual, the H5 has always provided me with something special. Although I do not regard the environment as giraffe friendly, I have often managed to find the on the first few km's of this road. So did I found the 'langneks' that morning as well
Not much further, I noticed a BIG rhino bull lying on the side of the road! I checked him out for a while, and when I started the engine, he got such a fright, and ran straight in front of me, dribbling like a dancer with sore feet. This fella was big
(Bad light, and the rhino was running, so no time to look at the sun and settings
)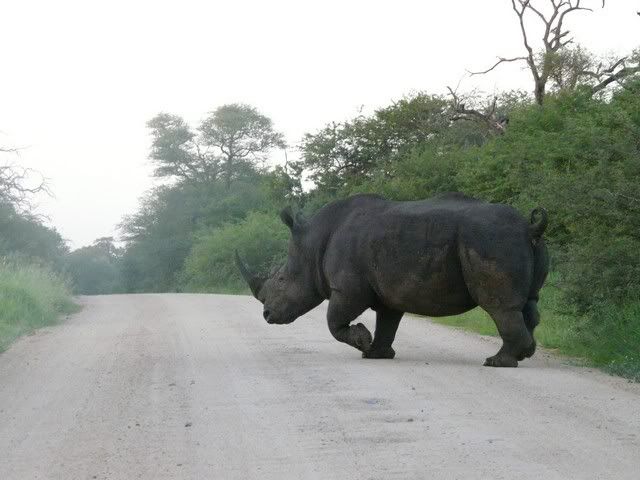 Along all the bigger animals, the slow tortoise crept in front of me, made me slam the brakes
Animals have the right of way, so I waited for his/her crossing. Sloooooowwwwllyy
Anyway, the next following 45 mins were not frequented by excellent sightings, but I had plenty, ABSOLUTELY STUNNING SCENES to absorb along the s108 and s102. I might sound repetitive, but I would not mind driving this road so often. The surroundings, with all the water, rocks, big trees, and valleys si simply breathtaking. No wonder I stopped at Gayisenga, switched off the engine, and enjoy every second of my privileged time
Now, how wants to go back??
Anyway, took the s25 to Crocodile Bridge. The road was pretty quiet for a change, except for this family of zebbies having fun in the balmy rays of the morning sun.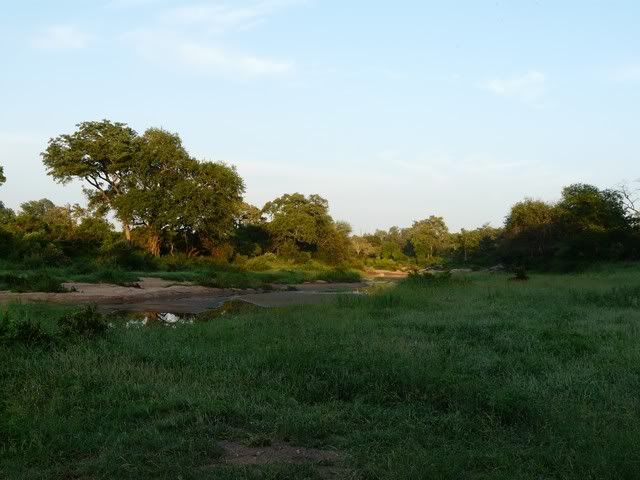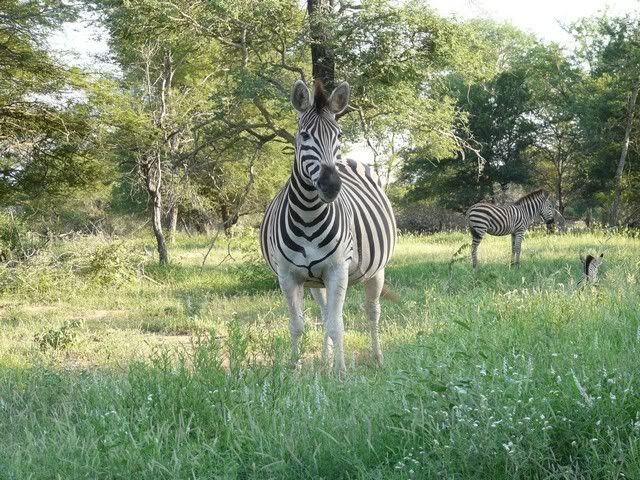 It must have been 6 or 7 km, where I came across a single car standing next to the road. They told me there were lions! Well, and there they were, 3 young cubs, and the mother hiding behind the cover of a dense bush. The one was very observant, and made for a nice pic. I love lions, but they are a bit lazy sometimes, so after a short while I drove off.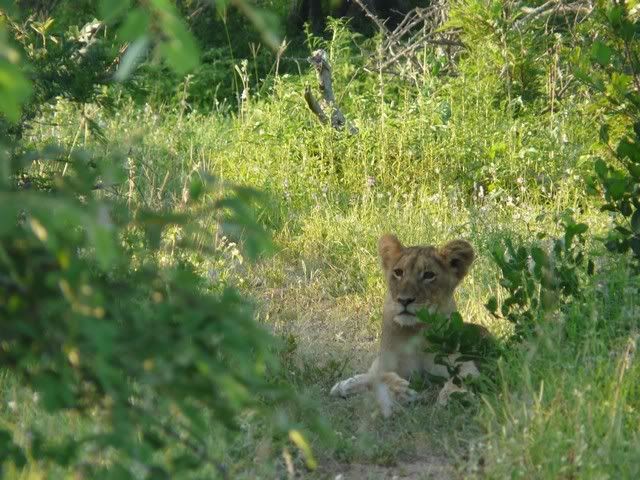 Spotted a lone buffalo crossing the road, and the fella looked like he had a nice mud bath
I spotted a few birds here and there, but was just too relaxed to look up their names and tick them
Hey, it's holiday after all! A few km/s before Croc Bridge, I came across a carcass! I could not believe this, as we have not seen it the previous day, so we missed some big-time action...! It seems like it was a (young) giraffe carcass, and heaps of cape and lappet-faced vultures were feasting on the silent remains of another unfortunate victim of the harsh African life.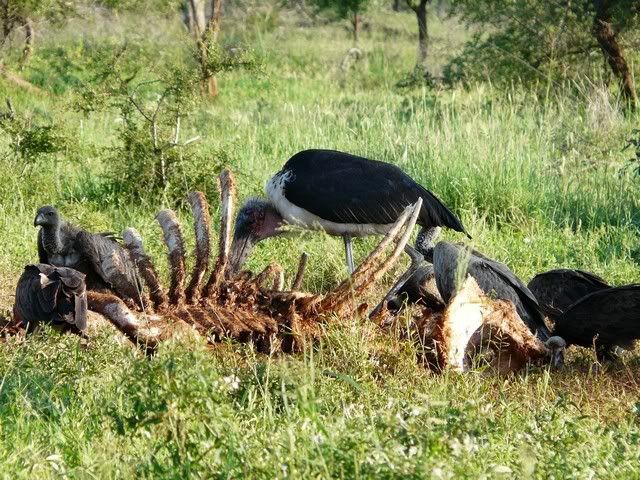 After a few bad smelling minutes, me, I and myself hit the road again. Gezantfombi Dam was the gather place of a few ellies and loads of zebra, but there were too many cars, and I dashed off towards the s28.
Right before the bridge, still on the tar road, I found my second couple of hyena's! Again, they were walking on the road, enjoying themselves and were very active... I suppose they just left the kill before I arrived there, as it wasn't far at all.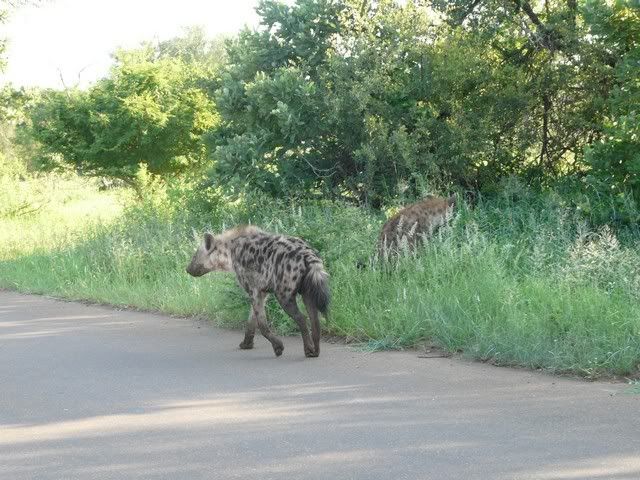 As I previously said, I left Gezantfombi Dam as I wanted to avoid all the cars…. Well, as I proceeded on the s28 I immediately spotted giraffe, zebra's and wildebeests within the first 500m! THIS ROAD IS RED HOT!! Coming around the first bend, I saw 3 car standing to the left of the road…looking at a CAT
It turned out to be a lioness stalking the zebbies and giraffe!!!
(Note the zebra in this pic)
The others made a nice space for me, so GS could enjoy PRIMESPOT viewing as well. The lion was 20 from the road, and impalas, zebras, and giraffe's passed us on the left by 50 or so. The lioness kept an extreme low profile, now and then crouching very low to the ground, only lifting her head from time to time. It seemed like a few striped horses would come our way! They came extremely close, but I guess not close enough for the lion, and I can promise you, the zebra's were VERY relaxed. I didn't know if there were more lions around, but was very excited and kept filming all the time. One never knows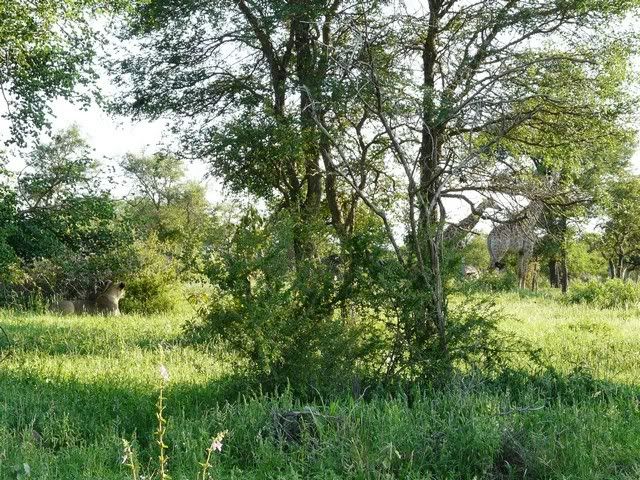 However, the lioness had more time than I had, and after 40 minutes I decided to leave, as I still had a long way to Lower-Sabie, and had to be at Mlondozi at 10 o'clock……. But, it's the second time I see (a) lions(s) stalk it's prey.. Next time is the 3rd time, and then I have to become lucky
I was just about 1km from the lioness, when I came across my 3rd hyena sighting of the morning. The hyena just quick crossed the road and disappeared! This trip along the s28 proved to be one of the extremes; I spotted a few distant rhino's, lots of kudu, wildebeests and zebra's. Didn't take too many pics though, as I had to get to camp quick. As luck would have it, I crossed my paths with a big group of buffalo of about 150-200 strong. They were full of mud, and were gently strolling across the eastern plains of Kruger.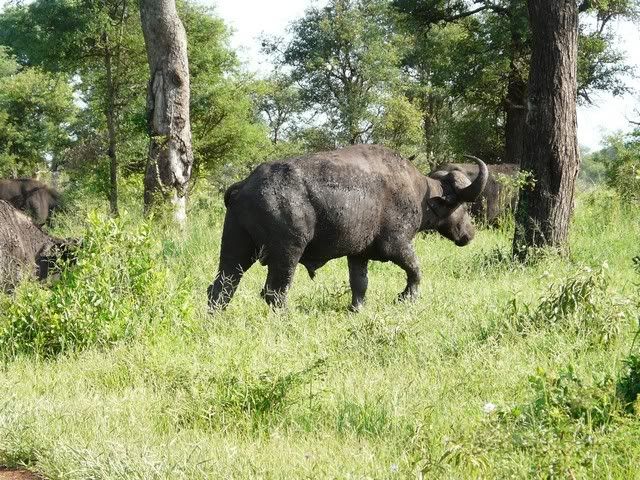 Closer to Ntandanyati waterhole, this rhino and it's calf were watching the passing cars carefully, providing we with some excellent pics! I took the 'upper' part of the s28, it's NOT one of my favourite, but time was pressing. As to now I have never seen anything special on this stretch of road. Just before the camp, I spotted a few ellies on the riverside of the road. This means, that morning I have seen 3x hyena, the big 4 twice (no leopards), the remains of a kill and NUMEROUS other wonderful creature we encounter in Kruger. It was an unforgettable trip!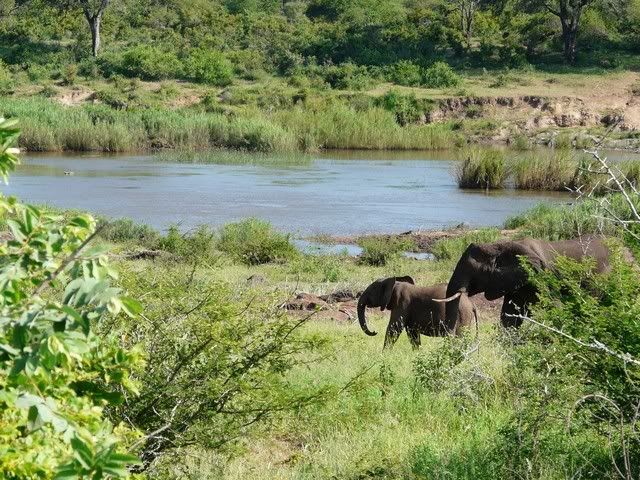 I quickly packed my stuff, and went off to Mlondozi. Didn't see much on my way there, and have to admit, the area has never been that good as far as it comes to sightings, unlike some other formites that have seen PLENTY special sightings. Shows you how different it can be
Mlondozi was breathtaking, and I stayed there for 2,5 hours to video MG's wedding anniversary.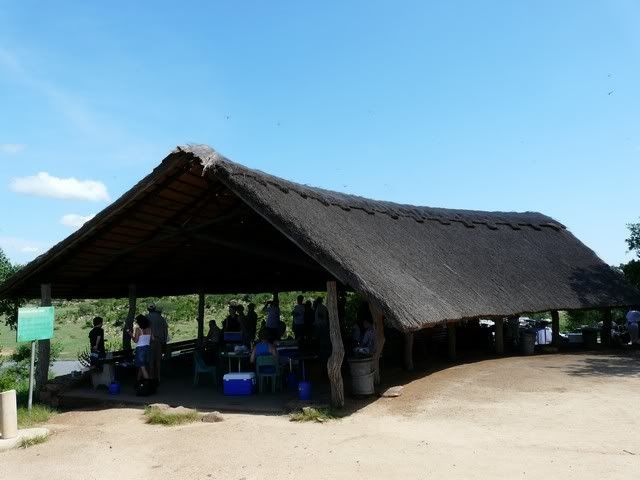 It was very nice, and well organised!
She even spotted a male lion just before I arrived…Ironic…While I was there, my dad headed to Nkumbe, hence the few pics I included of Nkumbe. I had to wait for another extra hour before me dad fetched me, so I simply sat at Mlondozi, and as more people left, I could silently absorb the wonderful surroundings, checking the warthogs, waterbuck impalas and ellies from the 'Roof of Kruger" Maybe the Archer I had around midday helped me become relaxed, but as I sit here writing this and thinking back, those are only good moments gone by … ... After my job we headed back to Lower-Sabie. Again, the heat didn't make it worth to drive around IMHO.
Nkumbe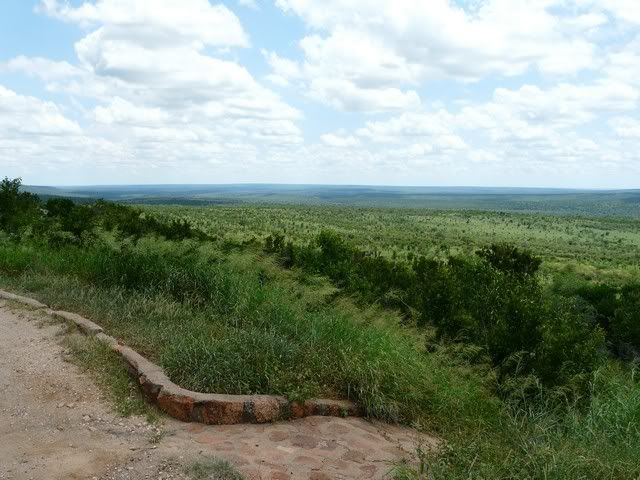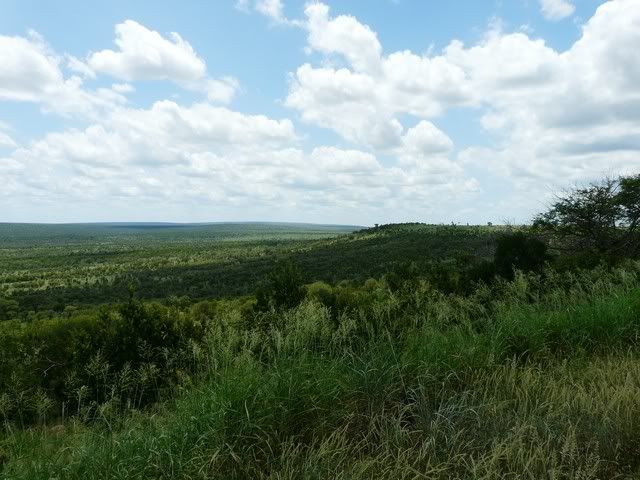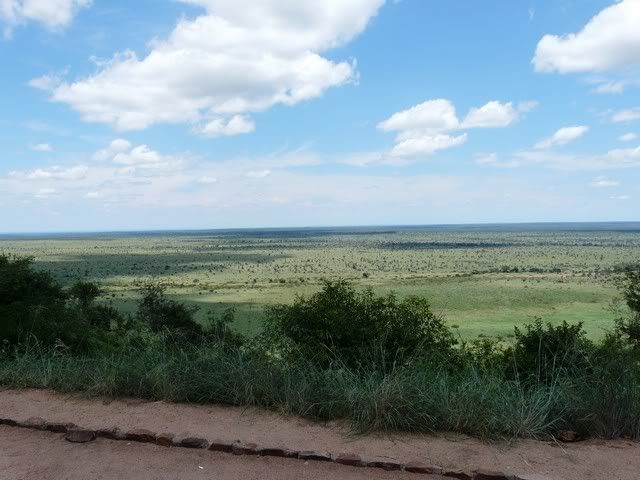 Despite that, we still managed to see 3 rhino's on 2 occasions, close to the road! That means before midday, I have already seen 6 or 7 rhino's, and little I knew about the stunning trip we would have that afternoon. Back at camp, I bought the little we needed, and enjoyed out last midday nap in Lower-Sabie.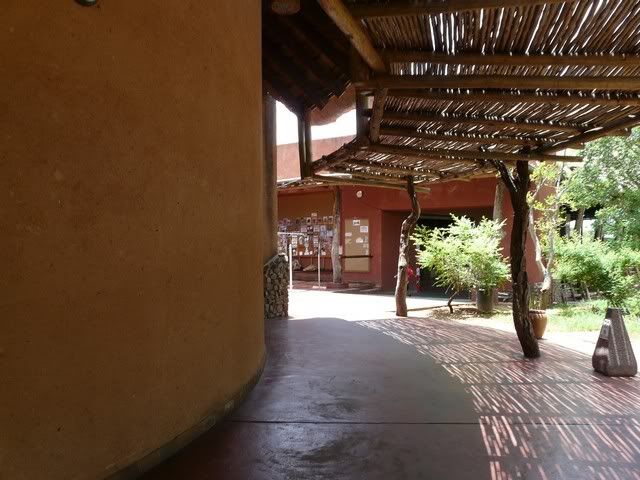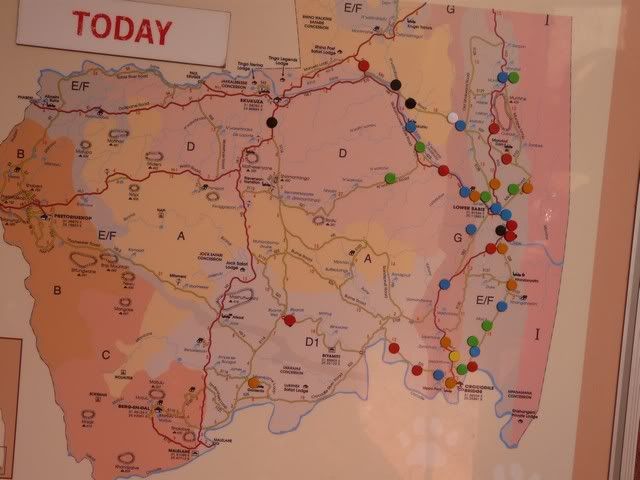 The aircon was a relief as to the EXTREME HEAT of the day. Something was brewing, high up in the sky……
To be continued…….
Last edited by
G@mespotter
on Thu Mar 19, 2009 8:56 am, edited 2 times in total.
Kruger Selfdrive under review: click
HERE
to join the discussion and influence the future of Kruger's selfdrive options
Contribute to a viable solution and participate in the discussion!
---
Virtual Ranger

Posts: 1260
Joined: Thu Mar 02, 2006 12:11 pm
Location: Back on earth.....
Contact:
Hi all
Lets continue with the last part of this remarkable saturday. The morning has been fabulous with numerous sightings of special animals
However, the afternoon was also filled with special sightings, and it's a fact: the Crocodile Bridge is cooking, and the s28 was RED HOT, not always but most of the time!
So, the mugs are filled, the brownies close. Climb in the car, think of the rustic surrounding of Lower-Sabie and enjoy. Let's start!
Day 3: 10 January 2009 (part 2)
The afternoon, we had 2 choices, whe could go south, or we could thry the area north of Lower-Sabie. However, being in the area for the last day, we would head towards Skukuza and Pretoriuskop the next day anyway, so we decided to explore the s130, s28 and s25 for the last time....
The heat was still exhausting, but with the trip planned all the way down to Croc Bridge we would need our time, so we hit the raod just after 2 o'clock.
The bridge crossing the river just south of the camp was quiet as always. I have not seen much here other than the occasional crocodile and a few hippos. The day before the H10 & surroundings were rather quiet, so once again I opted for the s137 and s28 loop. Down the H4-2, the ever present fish eagles were present, it was as if they were standing there to wave us a final good bye…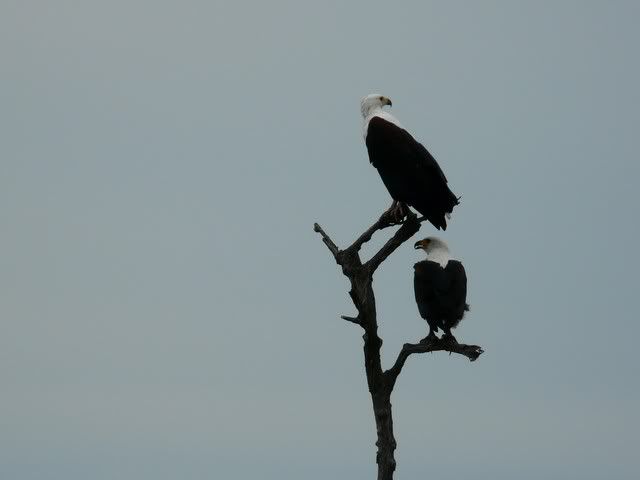 The area was lush and green, and every 500m a few impalas were standing close to the road. Although no exceptional sightings next to the tar raod this time, there is soo much to marvel at, so many nice trees, views and skies to admire. When I think back, those are pleasant memories.
As we hit the s130, it was clear from the start that again this road was cooking! Within 1km we had seen wildebeests, a few eagles, saddle billed storks and zebras. Not much further, on our right-hand side, a small pan appeared. It was nice to see it so green, as I had been there in July 2008, back then it was dry! However, now it was filled with life, surrounded by many impala rams, and a rhino + calf! The were posing like they knew all of Hollywood, gently observing the scenery before them. We greeted them with a few flashes, before we continued…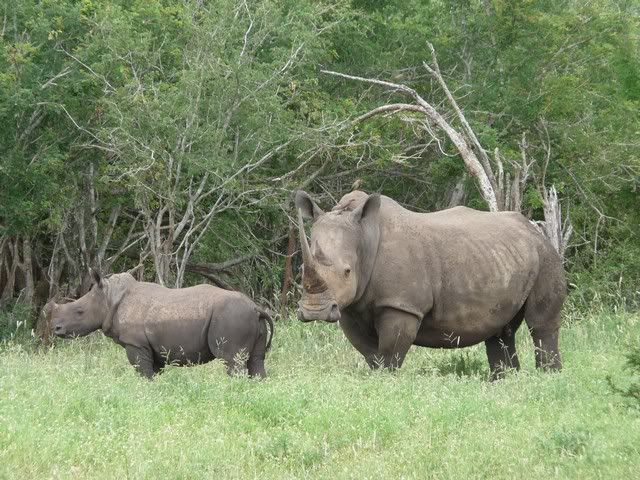 Not even 200m further,on our left we noticed a few warthogs searching the swamps that had formed.. But this wasn't what amazed me, but the strange sight of another SEVEN (YES SEVEN)
white rhino grazing between the warthogs!! I have seen groups of up to 5 strong, but this time there were 7 grazing together, and another 2 standing 200m across the road a bit back! I tried to put all on one picture, which didn't work, but atleat I got 6 in one frame, and the one rhino who was 'hiding' on the right didn't want to cooperate. For a moment, the though came to me: maybe I must climb out and 'push' the hippo in the frame. However, the idea of being surrounded by a few long horns made me opt for Plan B!
After this record, we turned a lefty onto the 137, or also called the 'Duke road' The road has a few potholes, but other than that is pleasant to drive on. I hoped for cheetah, but instead we were rewarded by 2 distant white rhinos (again!), zebra's and wildebeests… They Kori bustards were hiding….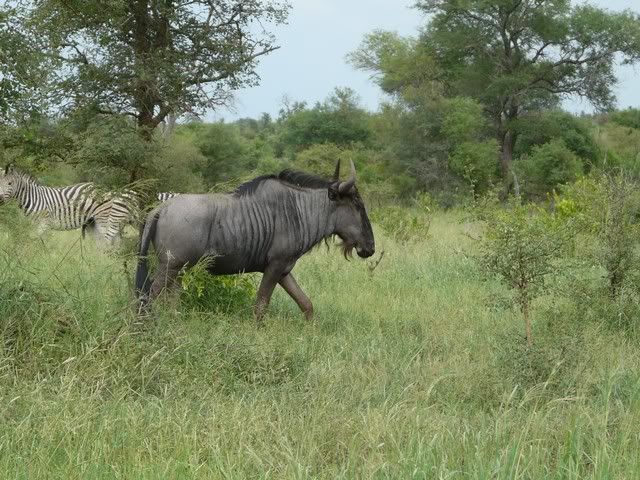 Duke's waterhole was peaceful, only a few impies and warthogs standing close to the water, enjoying the absence of predators for the moment. Lucky them, unlucky us. As I thought it's going to quiet down, we spotted a small white object in the distance.. It turned out to be a Martial eagle, the EAGLE of all eagles. He was sitting in the grass, quietly scanning the surroundings with his exceptional sharp eyes. I wonder what he was doing down there? Wonder if they do that often?
Anyway, after 10km of the Duke road, we turned south onto the s28, and obviously: with high expectations.
Those expectations weren't too high in the hindsight……
The s28 had animals all over it. From time to time we would see zabras grazing, a group of distant widebeasts, and a lot of kudu's on the 'riverbed side' Warthogs too, were abudant.. Most of the animals were quite far off, but the short grass and lack of bushes makes it a bit easier to spot them. A lone rhino quickly crossed the road, and I had no time to capture him, the only one I couldn't get as evidence to prove the amount of rhino's we saw
Just gotta believe me
Despite the numerous 'potholes' and the spilled coke
we had a excellent drive. Just before the last bend on the raod, we encountered a number of cars. 'Must be a cat' flashed through my mind, and for a change I was right! A lioness was lying deep into the bushes, almost invisible. As we had seen some excellent lion sightings, we were a bit spoiled and made our way forward.. Doesn't happen often that we just drive off from a catsighting like it's impala.
Well, as luck decided we weren't poiled enough, our 'path' crossed that of 8 or 9 lion cubs lying under a big tree. They were very playful, and I don't know who enjoyed it more, the cubs or us! They jumped onto each other, dashed of into bushes, and a one stage even climed a smallish tree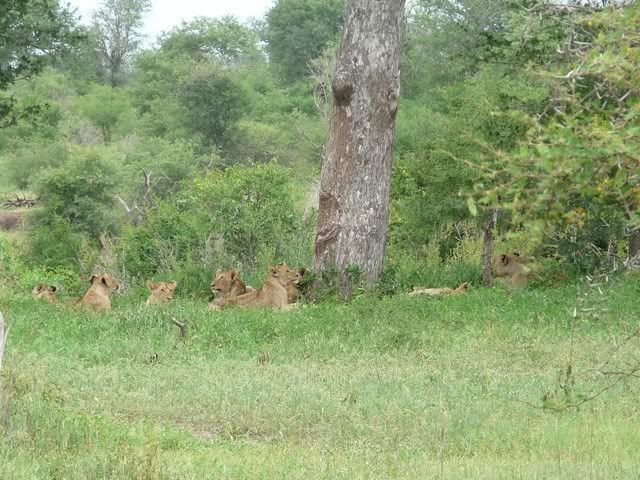 Some were a bit older than others, and I couldn't help to think how big the actual pride must be
I suspect the lionesses were somewhere we couldn't see them, but still very close
Still, it was a lovely sight, and throughout the playing, my camera was doing overtime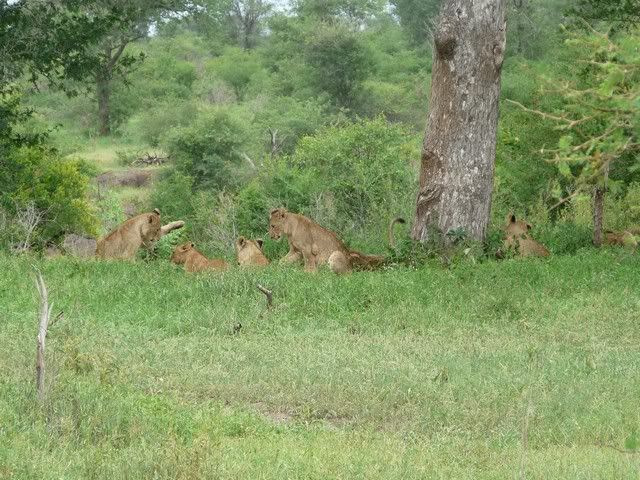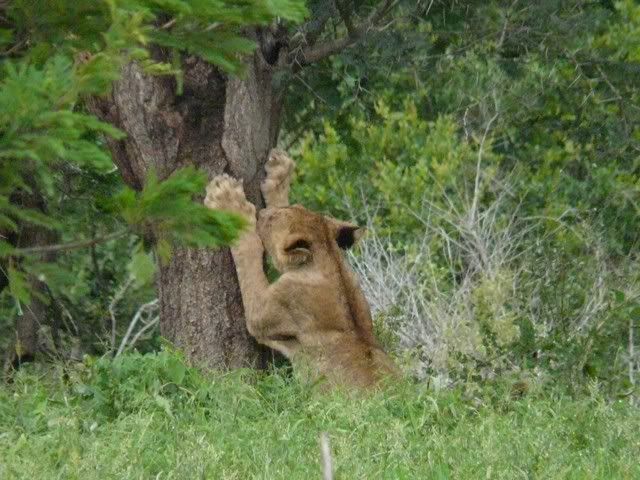 We stayed here for 20 min or so, before we had to move on as we still wanted to go to the Hippo pools
The tarroad to Croc-Bridge was quiet for a change, with only 3 warthogs crossing the road.
BE - LIEVE it or not, just as we turned onto the s25, just as the previous time, 2 white rhino's parked on the corner
This meant only on this single afternoon trip we had seen 12 rhino's!!!
Must be a record for me, and the 7 rhino's all together is also a personal record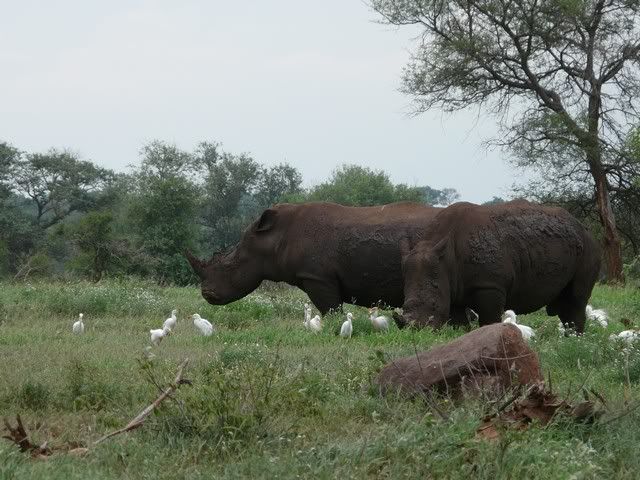 This pair was nice dark and muddy, and it looks like they had a health mudbath
Meandering along the s25 was great, I love the scenery *sigh* I think it's stunning.... I have to admit, we didn't see much else than zebras and wildebeasts, and a lone giraffe. This 18km was rather quiet. But we had nothing to complain in any way. Just grateful to the there
When driving to Hippo pools, clouds were gathering and the wind started to pick up a little. It soon turned out that we would not be able to outrun the oncoming storm..... If there is one place one can see the destruction of ellies in the south, it's around the corner of the Hippo pools route and the s25. I was there in August last year, and I was amazed how the bush actually recovered. But the hidden damage is still visible to the eye of a thoughful visitor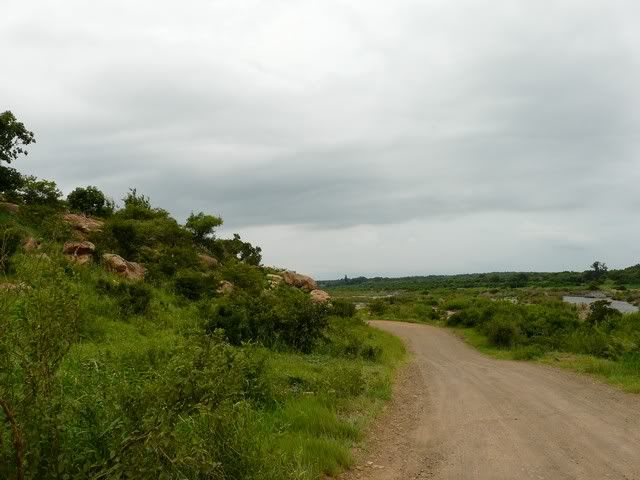 So, there we were, a last visit to one of my favorite places in southern Kruger, called Giyasenga next to the Bume river along the s108... The clouds and silence, together with the absence of human presence made it the ultimate place to switch off the engine, enjoy the sounds of the bush such as the flowing water, numerous birds and the soft winds gently rustling through the trees. AWESOME!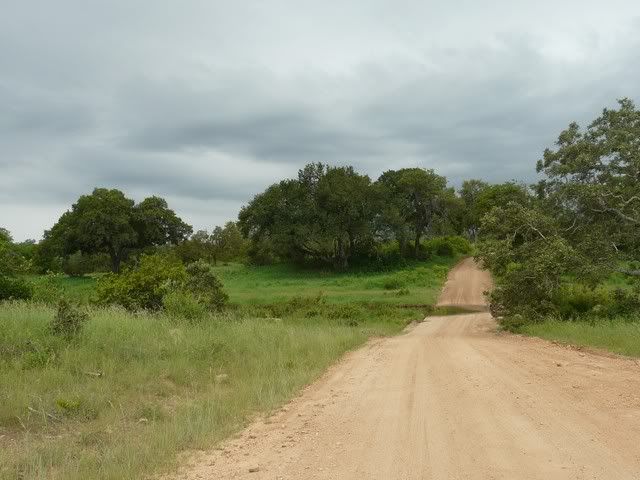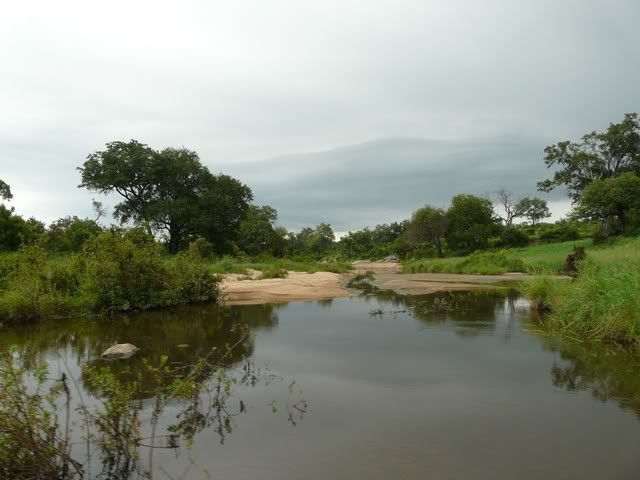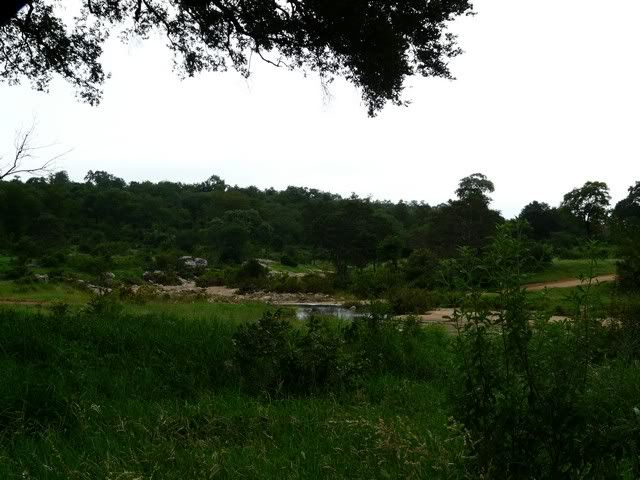 The storm was coming, and it was coming quick. Thats why we left in a hurry, as we still had 9km to do, and din't want to be caught with a low sedan on a dustroad in the middle of a huge storm
The clouds and light both played an vital role in the breathtaking scenery which was revealed to us. Along the H5, I could not resist but to stop and take a few pictures! The picture is only a frameshot of a beutiful horizon, and can never depict the true beauty of nature back then. Just before the H5 turnoff, a lone daggaboy (old buffalo) was grazing on his own, in the company of a few 'sergants' searching his muscled body for flees and other creepers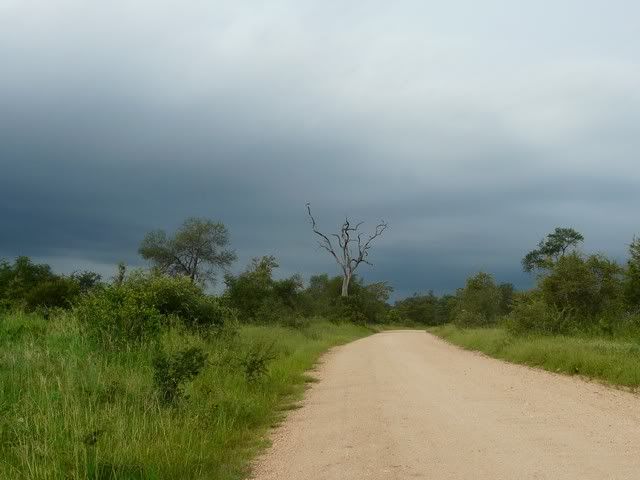 The trip home became more of a rush, as the thunder rolled through the lowveld and the wind started picking up. After a few kilometers, the first LARGE drops came down, and within a few seconds it started raining heavy. I still remember the smell of dust and the rushing sounds preceeding the rain!
Its been long since I experienced a proper thunderstorm in Kruger. Staying on the slope of a hill here in Johburg, we are used to the sounds of heavy thunder. However, again as in January 2008, this storm was heavier than normal. We could see much and could drive faster than 40km/h! The road was flooded at some places, and this in maybe 20 minutes of rain! Simply awesome to see and hear the force of nature in the safety of our car. Not much further, we almost bumped into a crossing hippo (literally)
My dad was driving, and didn't see it, as our wipers struggled with the amount of water on the windscreen. Luckily, he saw us and ran across. The hippo then stood for a while, maybe becuase of the fright he had. This pic resulted in a wet G@mespotter, but t's worth it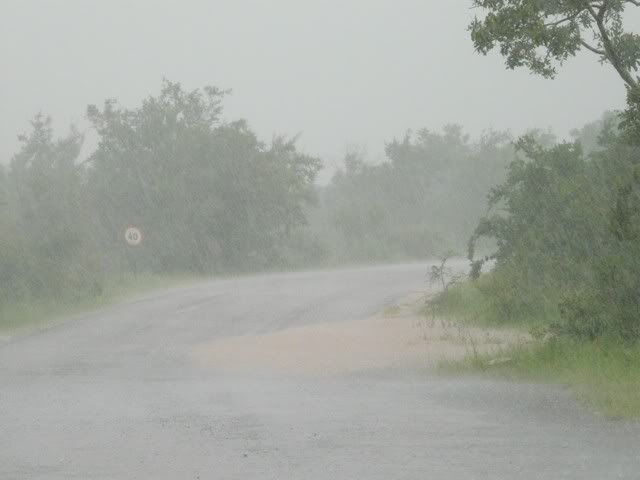 The rain was so heavy, and I suppose this trees roots were mainly close to the surface, so the tree decided it had enough and collapsed under the force of nature. A strange sight in Kruger I believe...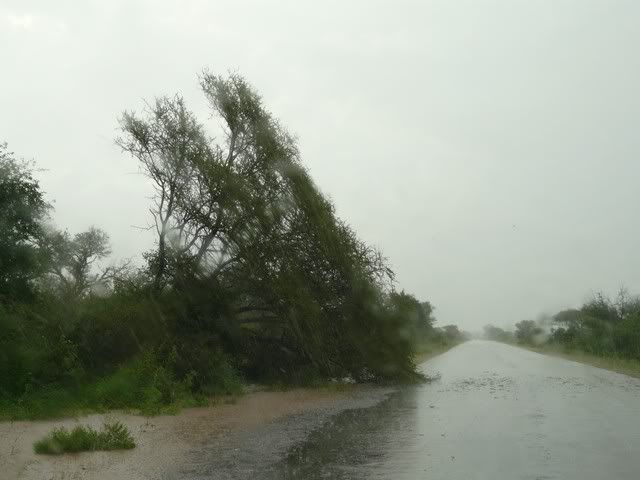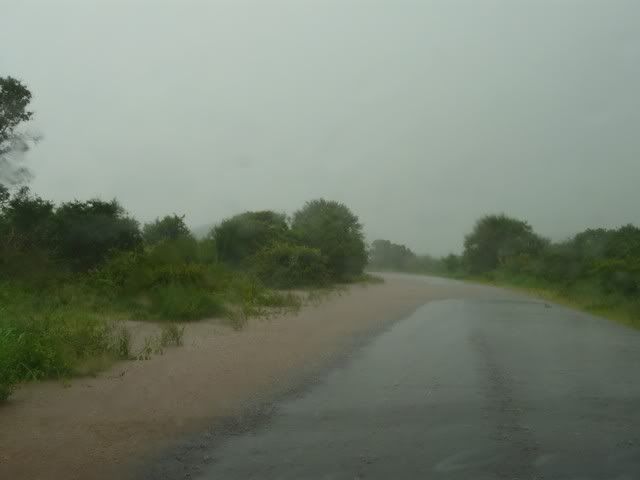 The rain cancelled out any prospects of sightings for most of the trip back. It was only closer to Lower-Sabie when things started to get less intense and heavy! Two warthogs were standing in the middle of the road, and looked so sad as the rain poured down on them. I suppose they could need a shower
We went to the bridge close to camp, and it was flowing strongly already! We then went to Sunset dam, but not much was going on, except for the black crowned heron next to our car, and a semi-adult yellow billed stork close to the dam.
Again, all in all and extraordnary and remarkable day filled with numerous sightings, probably the best in years. Unfortunately, the pics are limited as I cannot post 50 of them
Fortunately, the excessive heat was gone and this had cooled down to 22 degrees celcius, which we experienced as cold(ish) as we were used to the heat
Yet again, a unbelieveble day has passed, and we were blessed with a few good things in life. The only thing that remained is one word: gratefulness
Being in Kruger is not a right, but a mere privilege..
To be continued........
Last edited by
G@mespotter
on Thu Mar 26, 2009 6:06 pm, edited 1 time in total.
Kruger Selfdrive under review: click
HERE
to join the discussion and influence the future of Kruger's selfdrive options
Contribute to a viable solution and participate in the discussion!
---
Virtual Ranger

Posts: 1260
Joined: Thu Mar 02, 2006 12:11 pm
Location: Back on earth.....
Contact:
Hiya again all formites
Come, let's continue with the next part of this report. The next day we took things very relaxed, no stress, no waking up early, lots of driving etc.
Day 4: 11 Jan 2009
I have to admit, all the (early) game drives of the last 3 days, the lack of sleep and the lots of video-ing and video editing slowly took it's toll. That's why I decided to sleep till 8.
We actually wanted to stay in Lower-Sabie, but there was no suitable accommodation, so we were forced to stay over at Pretoriuskop for our last night.
It was totally overcast, and compared to the previous days, pretty cold. After packing all our stuff, we turned right onto the H4-1, or also called the 'N1 of Kruger' This road actually is a 'hit or miss road' as you often see a lot or almost nothing. Obviously Sunset Dam had lots of activity, with numerous birds flying around like usual, like the yellow billed stork, and a distant fisheagle.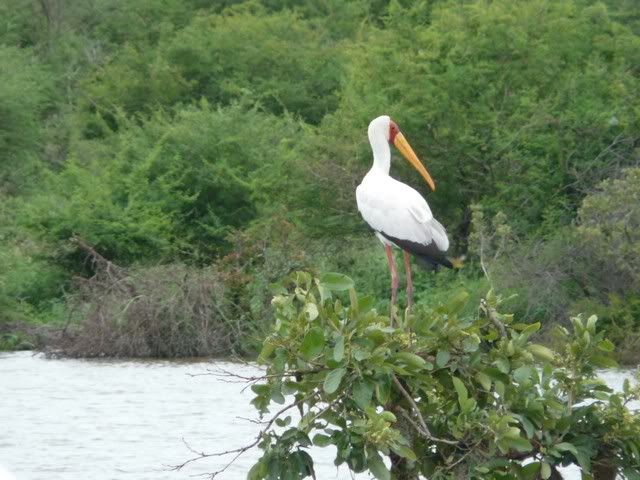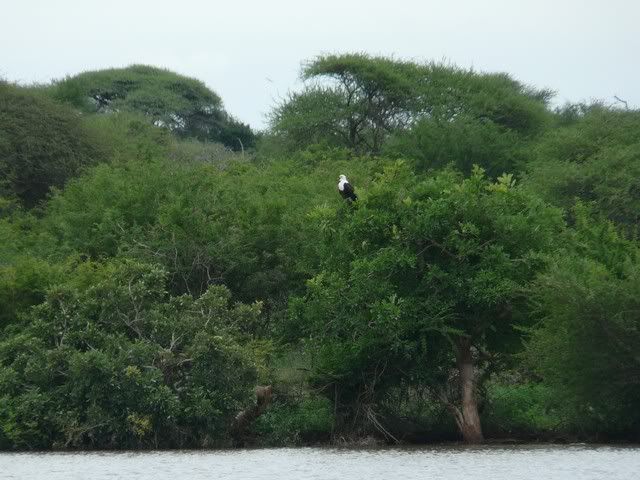 For us, that morning was the morning of raptors. We came across a lot of eagles, from Martial Eagle to Bateleur, all sort and sizes. Have to admit, I was a bit lazy and didn't take a lot of pics… However, what puzzles me is this eagle: I wonder what type of eagle it is? Tawny eagle maybe?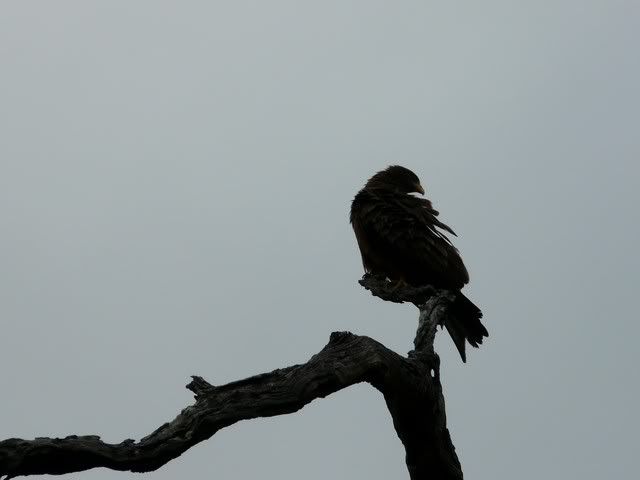 Except for the usual kudu, impala and birds, we almost didn't see a single animal!! I really don't know why, but all the way up to the Sabie bridge, things were very quiet. Even the s79, which proved to be a good road as far as it concerned sightings of the bigger animals. Maybe it was because of the storm of the previous night, or the fact that it was still drizzling, I don't know….
The Sabie river was flowing strongly, as most of the islands disappeared was well as the 'reed fields'
Around Skukuza, life was returning to the roads! Just off the bridge a big group of baboons were entertaining quite a audience… Amidst all the havoc, one baboon was quietly observing the joyful youngsters.
I guess he was the 'brandwag' (look out).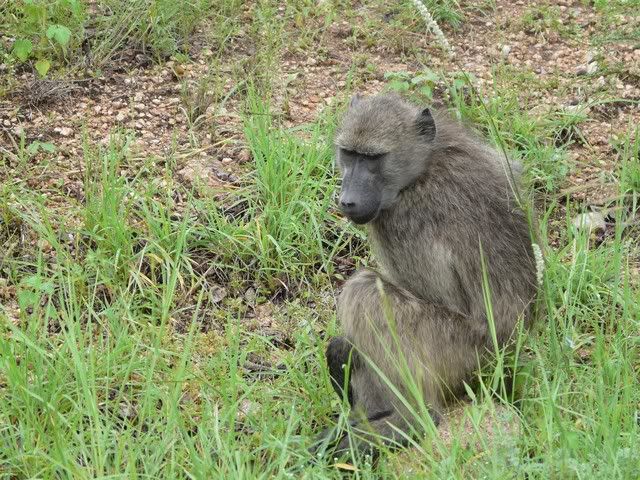 A lone steenbokkie was carefully walking in the wet grass, as if he was afraid of getting wet.
Close to the Sand low-level bridge, we were in for a surprise, and the road was closed! I later learned that this was due to the fact that the bridge was flooded. So, we had to return in our tracks….
Back on the bridge, while taking a picture of this fisheagle, I almost lost my temper to a guy who was crushing through the traffic, signing to almost everybody as if he had some sort of special rights. I gave him a few serious gestures back, which seemed to help…. Just CANT take behaviour like that, especially in Kruger. Luckily my dad calmed me down, and the arrogant with his Conqueror caravan slipped through my fingers……
The fact that I approached the s114 and Renosterkoppies, was enough to make me forget about the incident quickly. The s114 is one of my favourites, especially in summer! So too, I simply cannot skip Renosterkoppies Dam! And, as always this road had something special. As we turned on it, we saw another steenbokkie close to the road. Not much further, a filed of beautiful flowers
grew close to the road. Wonder what flower they are? It was nice driving with this cool temperature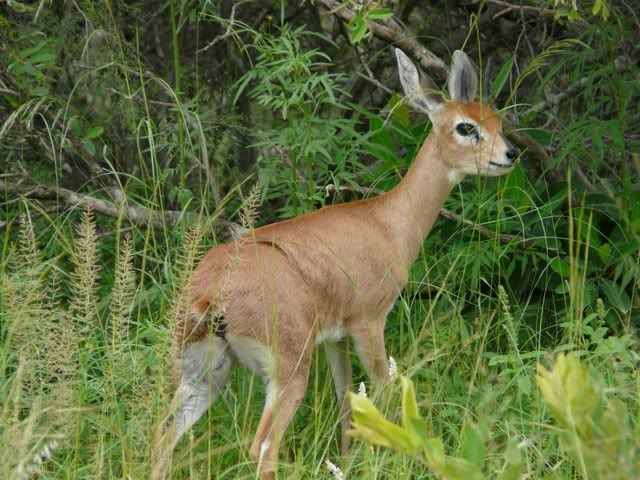 Almost at the end, a km from the s114 / H3 junction, we encountered the strangest sighting I ever had. I heard impala snorting, and obviously we stopped! Something wasn't right…..
On a previous visit in 2005, close to Tshokwane we also heard impala snorting, waited and saw a leopard running!
So, this time something must be cooking as well! They were all looking at a specific point, under a bush some 5m close to the road. One impala male was running around like he was mad..
I then saw impala legs kicking in the air!!
The impala was snorting and struggling, but simply could not get up! Up to today, I still don't know what was the cause of the impala's struggle…..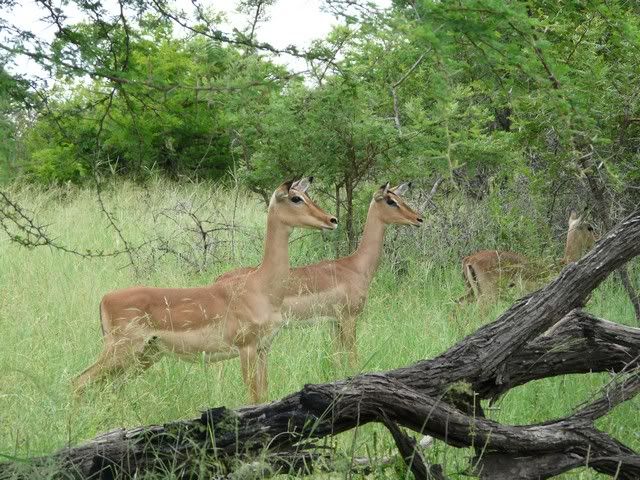 But I wasn't allowed to climb out, and wouldn't do it aswell, it might have been a snake, leopard or who knows. The bushes and long grass were covering the incident perfectly…..Still a magnificent experience, to see the others snorting running & super nervous!
Just before the H3, a herd of ellies crossed the road! Told you this road is good
However, as I took out my camera, the turned around so that most of my pictures we bumb shots…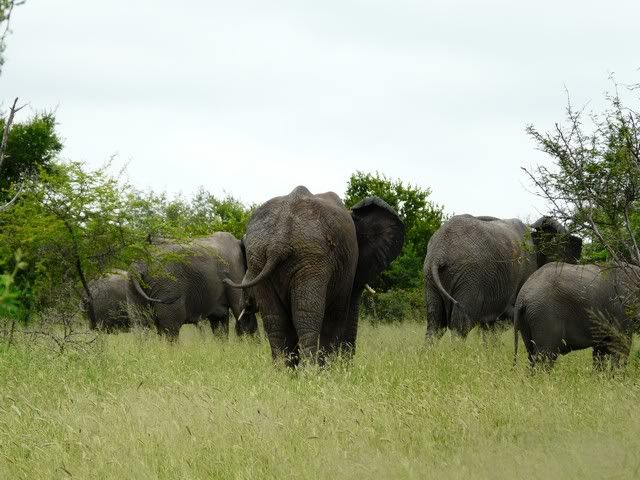 We check out Transport Dam, but this world famous place was extremely quiet. So too the road to Pretoriuskop… only a few impalas and kudus. The grass was extremely tall, which made game driving very very difficult. Good old Pretoriuskop rest camp was neat as always. It was good to see the camp was very clean. We enjoyed lunch from our skottlebraai. As we finished, it started raining a bit, and that's where I decided to go for a siesta. Nothing better than a nice siesta when one is tired…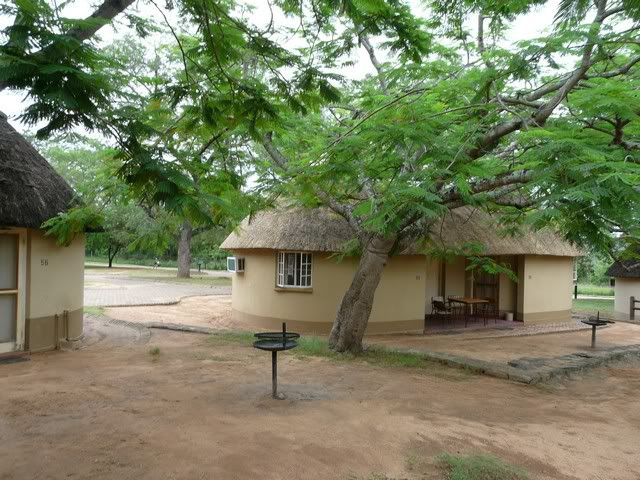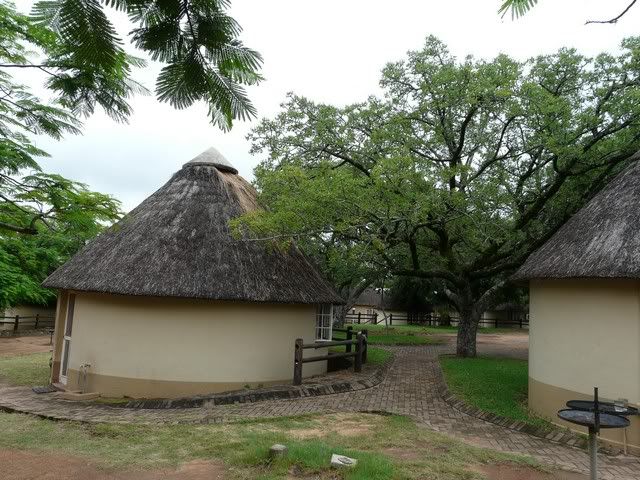 The 'short' siesta finally became a long sleep!! I fell asleep and only woke up 16:30! That means I only had a short 2 hours to drive around a little… Because it was wet, I decided to stay on the tar roads, and thus headed towards Transport dam. Doing the wet dirt roads with a low sedan would be taking chances. Close to Shitlhave a single buffalo mom with her young offspring crossed the road.. No other buffies in sight, which was quite strange. The calf look VERY young, and I suspect the mother went separate from the her to give birth to her belated calf.
The rest of the trip was yet again very quiet. Closer to transport Dam, I came across a distant herd of elephants,a big group this time. Sorry , but they were just too far for suitable pictures. Transport dam was too quiet, and I had a strange feeling that I should drive towards the spot where the impala incident was that morning.
Just past Transport, a bole elephant bul was breaking some thin branches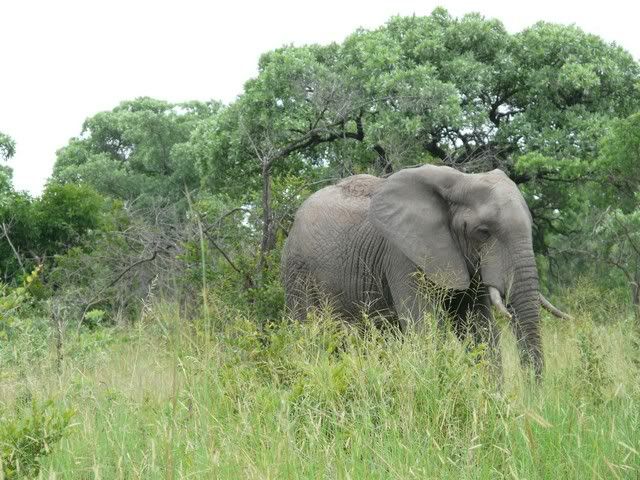 A lone giraffe greeted me at the corner of the s114/H3 again.
I hoped for hyena's and vultures, but I couldn't see anything which was quite strange. I though maybe the impala disappeared, but little did I know…… Just a bit further down the H3, I spotted lions!
They lied in front of a bush, flat in the grass, and wasn't it for their paws I wouldn't have seen anything! Unfortunately, that was all I did see, lion legs and paws.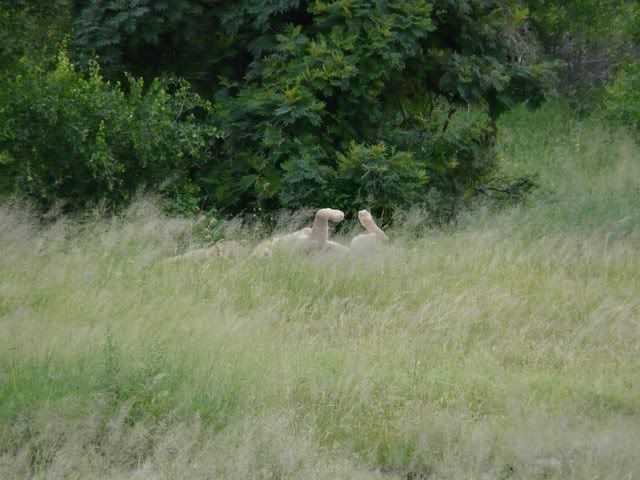 They were VERY lazy, and didn't want to show some skin
TIME was against me, and I had to head back. On my way back, I still didn't see much. The occasional kudu, and a lone grounded hornbill trying to 'chop' a piece of wood from a dead branch! Maybe Imberbe could help me out here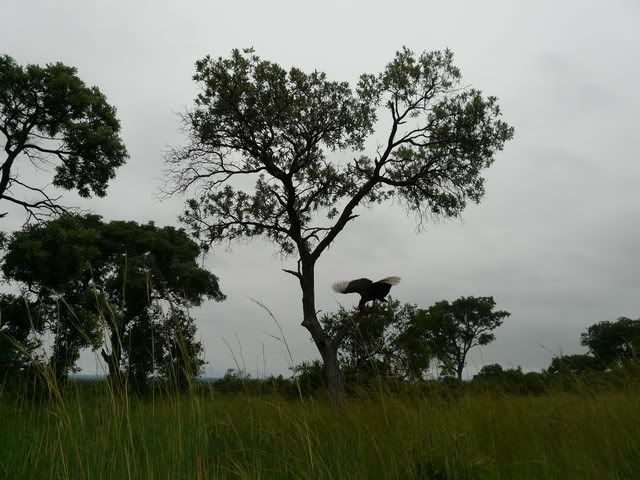 Just before camp, 2 rhinos crossed the road! But too quick for a nice picture though
So, even sightings were a bit less that day, I still managed to see 4 of the Big 5.. Not that I'm a Big 5 'hunter' at all, but it's still nice seeing them. However, I missed the wild dogs, the primary reason I decided to take the H1-1 and H3 over and over…. Maybe next time, on another day.
Tomorrow, I'll post the last and final post, a short one as we left Kruger quite early.
To be continued……..
Kruger Selfdrive under review: click
HERE
to join the discussion and influence the future of Kruger's selfdrive options
Contribute to a viable solution and participate in the discussion!
---
Virtual Ranger

Posts: 1260
Joined: Thu Mar 02, 2006 12:11 pm
Location: Back on earth.....
Contact:
Hi there
I promised to finish this trip report before we leave for the Olifants Backpack Trail, and we are leaving tomorrow at 2:30, so lets continue!
I have to warn you, the report of the last day will be short, as we didn't wake up that early, and left Kruger before 12h00.....
So, for the last time dream of southern Kruger, imagine the lush green bush, the fresh smell of wet, tall grasses and numerous Silver Terminalia trees...Yes you guess right, we're still stuck in Pretoriuskop camp.
Day 5: 12 January 2009
The camp was very quiet and rustic that morning, a different experience than the normally busy Pretoriuskop. The weather was still cool, and it was overcast, and the clouds were everywhere...
Everytime I went inside, I heard this Eupopean common) Cuckoo (piet-my-vrou) calling and as soon as I tried to take a picture, it disappeared. Therefore I decided to sit and wait for it to come
It took a while, but eventually he camp back calling all the time. A pity for me though, I did not have the tripod as it was packed already, and obviously the shot wasn't of the best quality. But at least I now know what a Cuckoo looks like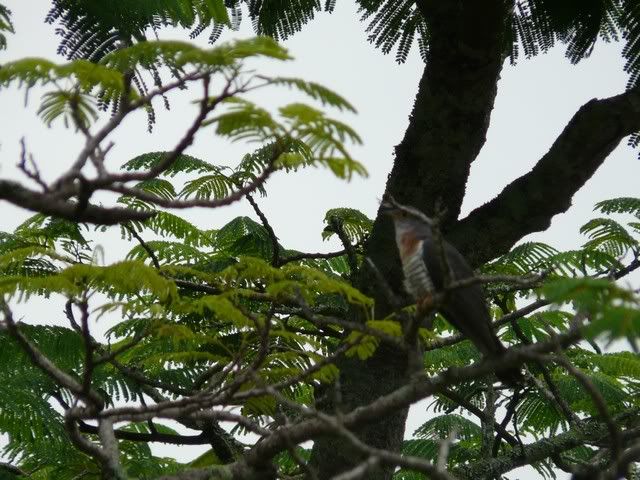 There were loads or birds, including lots of these black ones like this one....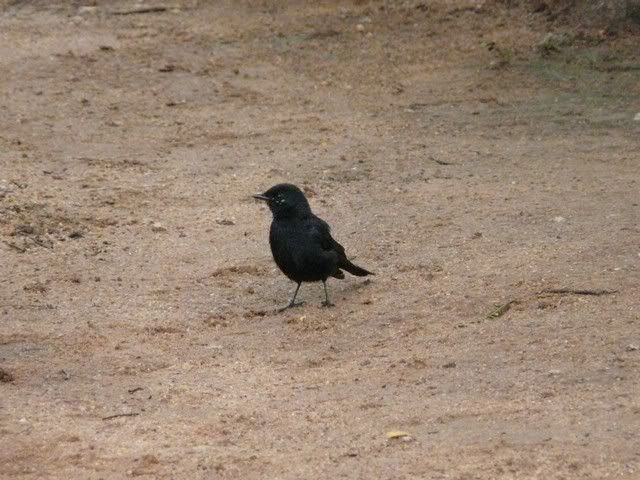 At 8 o'clock, we hit the Napi road again (H1-1) heading towards Renosterkoppies, and intnding to leave the park through Malelane gate. We did see a few distant elephants, a few impoes and kudu's, but that was it... Again, the Napi road was quiet, and the long grass did prevent us to see animals from our low vehicle.... Mostly no pictures of this part, as the grass obstructed me....
Just before Transport dam, a few car were waiting next to the road. apparently, 3 hyena's just crossed the road, disappearing into a drainage pipe. We did have the time to wait, and had to leave
Bloody hyenas! (I mean figuratuvely!)
On the corner of the Transport Dam road, a pair of Zebra's were standing monionless on the road. They created a beautiful picture, standing close to the sign in the perfect light. Transport Dam itself was quiet, with a few waterbuck and egiptian gooses disturbing the quite peacefulness of the already late morning. It was rather chilly, and no cars in sight.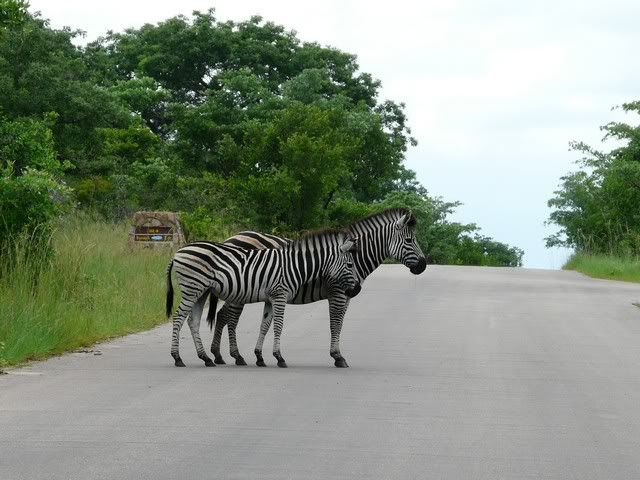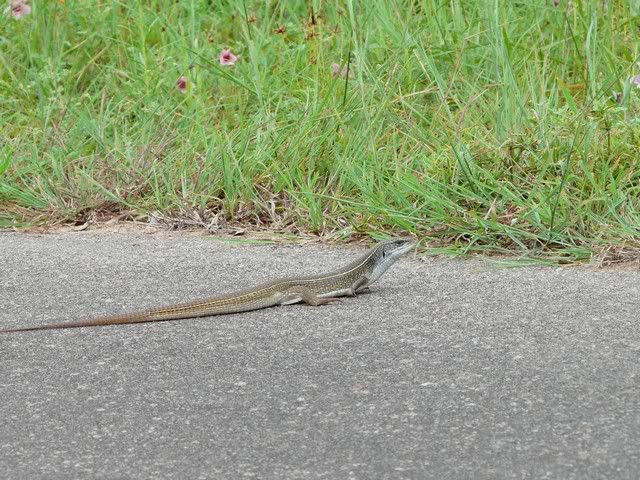 I actually wanted to take the H3 past De Laporte, but my dad was driving and he turned right
So, I thats why I missed my lil favourite waterhole!! But, I decided to turn the favour and made him drive on the s114 towards Renosterkoppies.... hehe
Luckily we did drive this small stretch, because after 1km or so we arrived at the 'mysterious impala scene' of the previous day.... And guess what, we were right!! We DID see something die, and only now had the vultures discovered the dead impala. The road was FULL of vultures, together more than 40, a more still hoovering in the air.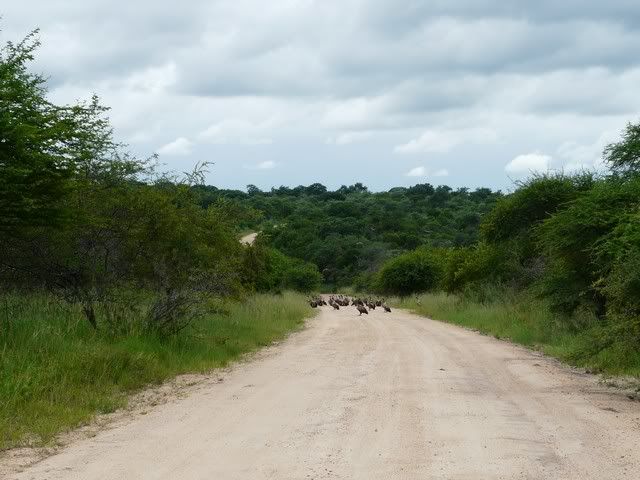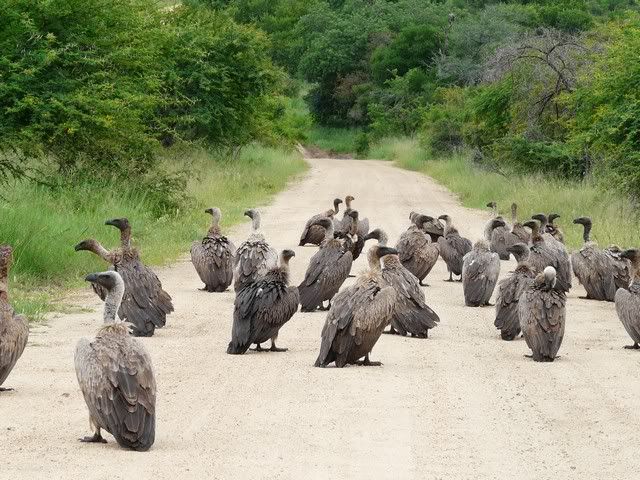 When we came close, only a few decided to fly off, the rest just sticked to the road without showing some respect
It was an extraordinary sight: so many vultures so close, the closest I ever got. They are ugly, but actually special animals.. Their huge wings and sharp beaks make them great aviators and 'predators' at the same time. As we took excellent video shots, and a few
pictures, 15 minutes passed by. Time was against us, so we decided to slowly press through the mass of birds. It was amazing, half of the just walked to the side, while the others took of in front of us, and we could clearly hear the sounds their huge wings made.
This is what I love about Kruger. It's not always the Big5 or cats etc. Special sightings like these are never to be forgotten. The s114 was in a good shape, but there was plenty water all over the veldt, resulting in the fact that the animals didn't move far....So we did see few except a few zebra's and giraffes.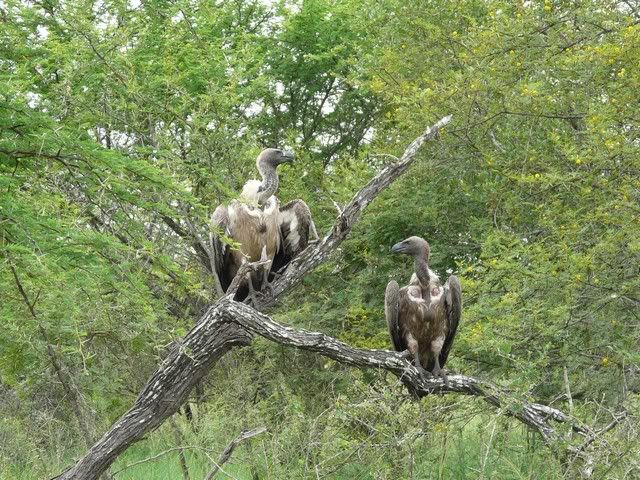 On the H3, a nice Kudu bull just turned away and headed for the tall grass as I wanted to 'make him famous'
I though, stuff this, he's still going on the forum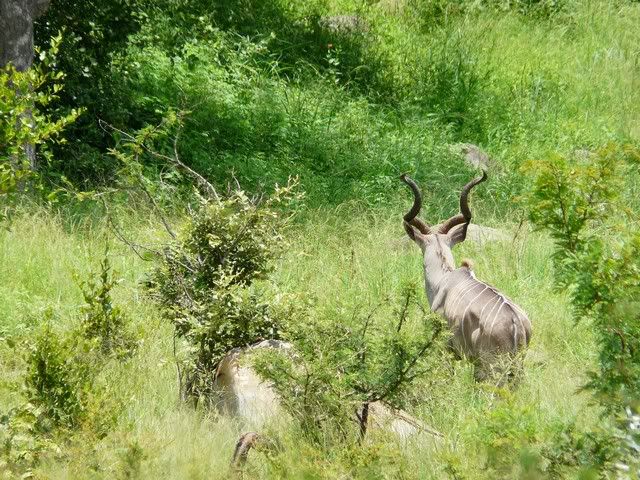 On the Byamiti river bridge, we found buffalo again! A medium group of buffs were lying close to the river. In fact, this bridge must be one of the best in southern kruger to find Buffaloes. I have seen them there so often.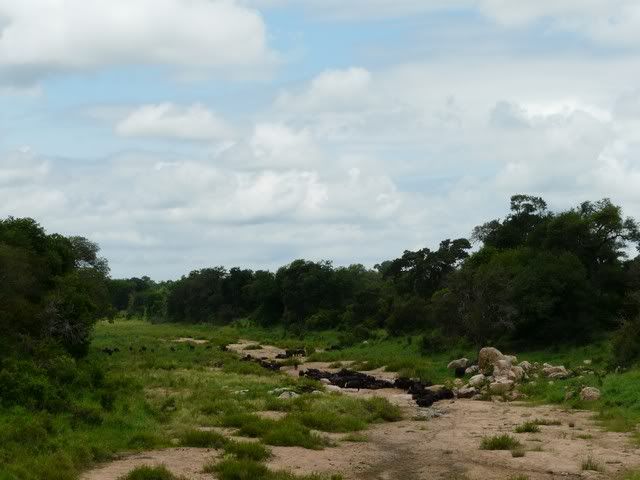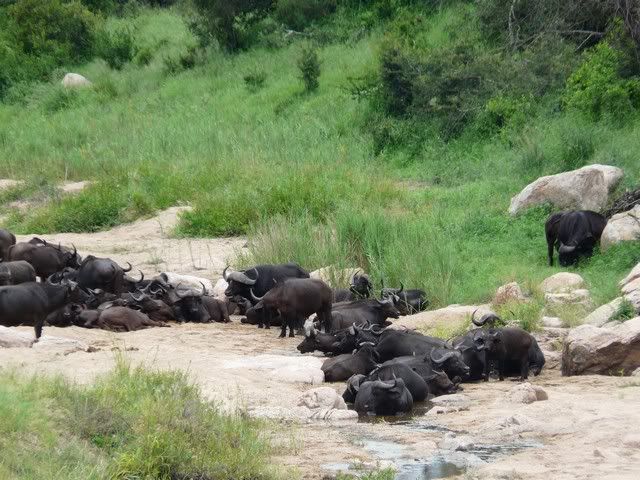 We had to leave Kruger early, as we unfortunately drove max speed on the tar... Had a quick pit stop at Afsaal. I was pretty quiet, with only a few people on the picnic site! However, the sounds of the bush were once again (just like at Pafuri) disturbed by the harsh sound of a diesel driven generator!!
So, I decided to talk to the 'boss' of Afsaal about this matter. Most of regular formites will know the big bearded man... We had a nice chat, and he explained to me that he would love to build a 'isolation box' for the generator but that funds were lacking. He had repeated problems with the loo pipes system, and the water stand at Afsaal. Furthermore, he told me to be patient as Afsaal fell under a concessions rights and that proper management was often in dispute. This is how I found out: not everything is at it seems
Not much later, we left Malelane rather early. TOO EARLY
Unfortunately, all good things came to an end, and I was actually very lucky to return to Kruger for the second time of 2009
This trip was a bit hectic with all the 'working and video-ing' I had to do, but it also was a once-in-a-lifetime opportunity for me. once again, a big THANKS to Mgoddard for her efforts
I hoped that you enjoyed this trip report, and can do some planning when reading it as well. It should be clear: after this trip, I'm shouting with Bush Baptist
"THE CROCODILE BRIDGE AREA COOKS"!!!!
THE END!
Kruger Selfdrive under review: click
HERE
to join the discussion and influence the future of Kruger's selfdrive options
Contribute to a viable solution and participate in the discussion!
---
---