Hi all just resizing some of the photo's, unfortunatley i dont have much to report on
but will post my sightings and pics during the week.
---
Hi All, sorry for the delay.. Been very busy!!
OK hopefully i can remember well enough to give you something
DAY1
14/03/2008
We left joburg around 5:00am and we were on our way towards
polokwane...and then Kruger
SO felt that she needed sleep so she passed out for a good 2 hours, and only woke up when we stopped for breakfast
Eventually after 5 hours we hit phalaborwa, and i was quite facinated by the fact the gate is in the main road of the town...Lucky people!!!
Anyway got our formallities behind us and we were in heaven at around 11:30 am.
Weather was very pleasant and very hot, but we didnt mind.
Bush was very dry around this area and we saw numerous bush fires along the road.
We visited the ruins and caught the ranger of guard as he was sleeping, he didnt look to chuffed that we arrived
Back on the road and our first sighting was some ellies, 2 bulls, a young boytjie and a very big bul, we could get a nice photo of the old man but the youngster was eager
Young boy
Futher on we came across another massive bull ellie, big tusks and must def be an emerging tusker, found him halfway between gate and letaba camp. Couldn't get nice photo's as he moved off when we got closer... very shy.
Some general game including zebra, ostrich, warthog, impies and very dry bush was all we saw on the road leading to Letaba.
Dry bush
We arrived at Letaba around 1:00pm and very tired at this point, booked ourselfs in and we got handed bungalow number 65....
OMG what an amazing view from this bungalow..all of a sudden tiredness was gone, and we spent 2 hours just appreciating the view...Lots of game inlcuding buffs in water, ellies, impies waterbuck, croc etc all from the view of the camp!!
I fell in love with Letaba within 1 hour, awesome museum, shop, view, great staff at reception, evil monkeys stealing stuff
BTW watch out for the local monkey clan, i was busy unloading the car and when i came back outside they were already in my car lying on my pillow and eating my biltong...
Evil
All in all not much game today.. but fell in love with this beauty of a camp... Had some braaivleis and was sleeping at 9Pm already
Will continue tommorow...
---
---
Day 2
15/03/2008
We got up nice and early this morning, and we were the first car out the gate. I decided to do the engelhard dam route this morning (with the hopes of finding a leopard), The drive next to the riverine bush is very scenic and we saw some baboons sleeping in the tree, and hippo outside the water grazing.
Stopped at the bridge and i must say that this is a must stop for anyone as there is so many things that you get to see..
We turned of onto the S62 gravel road and we saw a jackal in the middle of the road, he ran off when he saw us..
We turned into every lookout point and it was very scenic... Perfect habitat for leopard
Sun was busy rising and everything felt so peacefull and looked so beautiful.. I def recommend this road to anyone staying in Letaba
lots of general game on this road. We saw giraffe, impies, zebra, 1 big ellie bull..( Letaba has got some big ellies), baboons.
When we reached the top of the hill I was so amazed with the view that I thought it really give's Olifants view a good run for it's money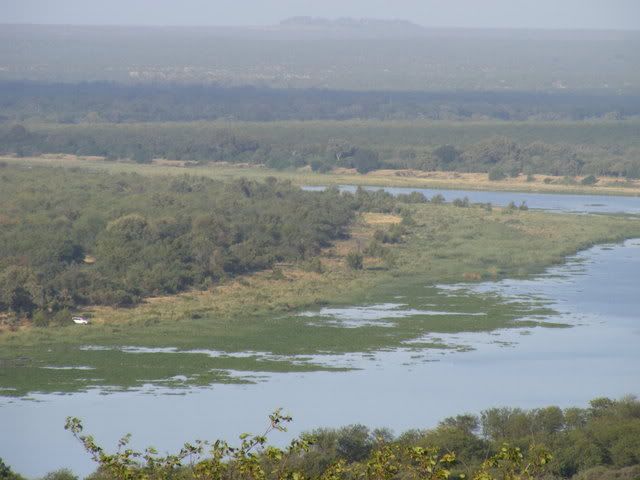 On the way back I got a nice close up of this guy posing on top of a tree
We had to back to camp first as there was no more petrol left
Grabbed some stuff from the shop and off went towards Olifants...
---
Day 2 Continued
Once we got the juice for the car we were back on the road.
I decided to do the gravel road between Letaba and Olifants that run along the river, Sightings board showed lions and cheetah on this road.
I can once again say that this is a very scenic drive, and altough we didn't see much big game, the little things made it worthwhile.
we came across this big buff herd, and we stood there for about 30 min waiting for them to all cross the road on the way to the river.The big bulls didn't like us being there as they had plenty calfs in the mix.Sitting there just listening to them was awesome.
The last 10 km before Olifants delivered more game, inlcuding giraffe, zebra, impies, hippo, crocs.
The Olifants lookout(not the camp one) was truly amaing, and there was some Hippo lazing in the river.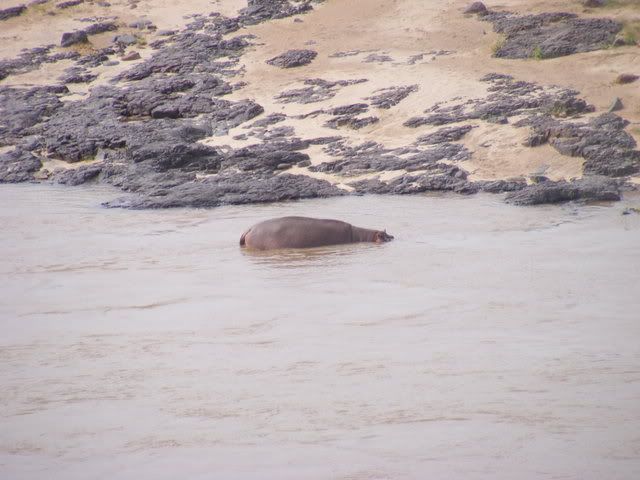 Had a nice lunch at Olifants where we looked at ellies and giraffe and buffs in the distance.
The drive back to Letaba didn't produce much except for another big bull ellie (this area is rich in big ellies)
We decided that we would rather opt for a night drive that night and spent the rest of the afternoon just looking out on the river were we saw ellie, waterbuck, bushbuck, Fish eagles, impies etc.
Unfortunatley the night drive was horrible because the guide brought 2 friends along and didn't give a damn about the rest of us.
---
Day 3
We got up this morning to find that overnight the weather freakishly made a huge u-turn. It was very cold, rainy, and very windy. We were out first again at the gate and we were off to Satara hoping to at least see one cat!!
We drove for about an hour without seeing anything, the rain made if very difficult.
Eventually we drove over the olifants bridge and about 2 km from the bridge we came across a hyeana den
There was another car already and the hyeana's was busy taking a liking to the poor bloke's wheel caps, Eventually one of them ripped the wheel cap of and ran into the bush
(Pics not too great as the rain and overcast made it difficult)
The other hyeana's joined him ad they chased each other with the wheel cap...very funny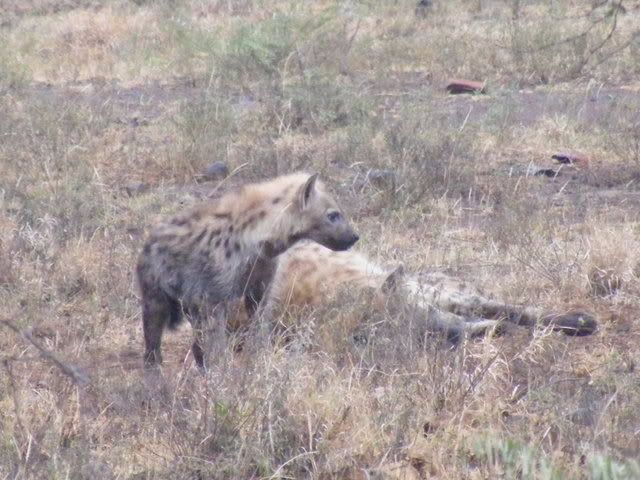 After about 30 min they started settling down for a nap with some nervous looking giraffe across the street.
We continued on and there was plenty general game on this road but they all were lying down or behind trees for protection.
We saw another jackal in the distance, and this guy also trying to get out of the rain
Ellie crossing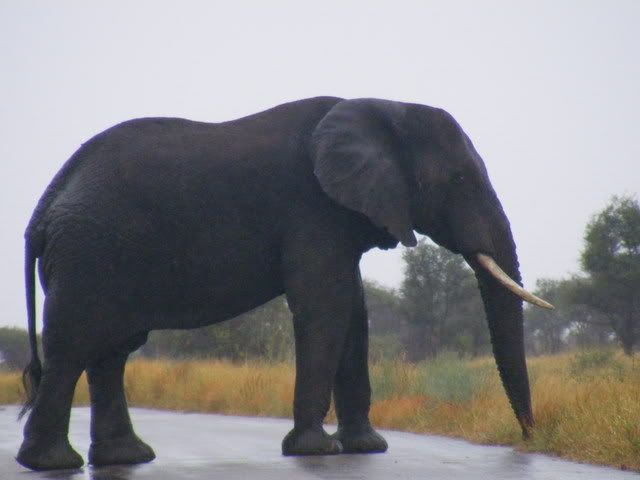 We arrived at Satara and we spoke to the couple that lost their wheelcap to the hyeana's, and they asked us.."wow did you see those wild dog run away with the wheel cap"
As the weather was crap, we decided we could rather spend the day on the road than in camp, and off we went to the S100
The S100 was teaming with life, and we saw Zebra, giraffe, wildebeest, ellie, buffalo. Also had a close encouter with what looks like another emerging tusker, that started chasing us,he was def in must.
.
Shame very wet
We reached the t-juntion and turned right, didnt see anything on this road except impies. Turned back on the tar road back to Satara, and also just saw wildebeest in the distance on this road.....
We got back to camp and made some coffee, but still the weather was horrible. We checked out the sightings board and saw lion and cheetah sightings on the orpen road.
Back out we went, but once again we didn't see anything untill we reached the timbavati gravel road....
Went up this road and saw some ground hornbills, and some zebra. Although it was very nice driving around, the weather unfortunatley just made game viewing very limited..
Got back to camp and we went shopping at the shop for warm clothes for that nights game drive...
The sunset drive was fully booked and everybody was dressed from head to toe.
(This was an extremly cold drive)
The driver headed up the s90 and we saw some buffs, ellie drinking at waterhole, and general game. Came across a jackal that posed for a pic before running off
One girl screamed stop and she said she saw a leopard 2 km into the bush....
We waited and waited trying to see something, but ja nothing.
By now the tourists at the back got very bored and started chatting so loudly that it p***** every body off. An american lady stood up and shouted at them.... All of a sudden they were screaming at each other in the middle of the bush...
The poor driver was shocked and didn't know what to do...
I almost got up to sort this thing out with the only way I know how
, but SO calmed me down and we told the driver to just go back to camp...That basically ruined the whole night for us all. On the way back we saw some white rhino and this guy looking for something to eat...
We came back and i asked the driver if he was ok, he was still shocked. After this ordeal we decided that we would just go home the next morning as the weather report was even worse for the next day, and by now I had this real bad taste in my mouth!!!!
Next morning and weather was still bad, we took a leisurly drive towards Orpen but unfortunatley no good sithings.
Will mis you Kruger
Conclussion
Letaba is a beautiful place, although big, it keeps that peacefull and tranquil feeling, the real bush feeling.
Staff was friendly all round and the museum was great, there is also some great game viewing roads around this camp.
The night drive was crap, and they might have to take a look at this!!!
Personally I will stay away from Satara for awhile as it just feels too crowded and the whole reason for coming to Kruger is for the peace and quiet. The more people flock to this camp the more I get pushed away from it, everytime I am in Kruger we stay atleast 2-3 nights in Satara, but I will def skip it next time round, and not just because of the people, but the staff at reception and shop was not friendly at all, cleaning staff were very friendly though. Maybe they can be promoted to reception staff (were you would want a friendly face!!!).
Alot of game in the area though and we were unfortunate to not see any cats, but I think the weather played a big role.
Next time I will rather go for a B&D visit, maybe Lourens can regain my belief in game drives!!!!
---
---
Who is online
Users browsing this forum: Valkoog and 3 guests