We are 6 French and we went in Kruger from the 7 to January 15, here address Internet of my notebook of voyage:
www.janvier2008.fr
There are 9 photographs per day which ravel in diaporama, to wait a few minutes so that they are downloaded.
Outstanding facts:Tamboti on January 7, safari tents number 38 39 40, during a electric cut whereas the cloture was not éléctrifié any more we heard the lion on several occasions, we had full with shiver!
Leopard for us only, January 9 on S114.
Lion on January 10 on S36.
Nshawu Guesthouse in Olifant 11 and on January 12
Babies hyenes on H4-1 on January 13, and enormous herd of élephants!
Reserve private Tshukudu on January 14!
Unforgettable memories!
---
Legendary Virtual Ranger

Posts: 6526
Joined: Sat Feb 18, 2006 10:36 pm
Location: Lausanne (Switzerland)
Quelle chance d'avoir pu carresser un guépard
(what a chance to touch a cheetah)
Je parts le 11 février... pour 5 semaines dans Kruger...
(I'll leave on 11.2 for 5 weeks in Kruger)
Merci d'avoir partagé ces belles photos
(thank to share this nice pictures)
It is only with the heart that one can see rightly, what is essential is invisible to the eye
Le Petit Prince
back home...
---
7 January:
Today in the area Blyde River to admire its splendid landscapes "Three rondavels strolls" and "Bourkes Lukes", one also benefits from it to make our purchases of African curios, it makes meadows of 40 degrees and the air is very heavy!¶In middle of aprés midday we move towards the Kruger Park where we will pass our first night in safari tent in Tamboti, there is 19h, it is not more electricity since more 2h, the night has just fallen and whereas we take glass in terrace with the gleam of our frontal, a lion started to howl to a few hundred meters of us, it continued several times all while approaching, until he crosses the river drained which is opposite us, for finally moving away, and yes we are well in Africa!
---
---
9Th January:
The Kruger's what you can ride for 2 hours as this morning and see nothing or almost, we must never lose hope and suddenly, "a Leopard, a ....!! Leopard", lying on a branch within 10m, we heard, we looked, it was strafed photos and suddenly he got up, he went down the tree with elegance and agility that characterizes it posed her 4-legged on a small branch, and we looked at one last time before disappearing into the jungle, there was only us to see it, exceptionally rare, or simply magic!
Night safari tent by the river sabie with the sound of hippos to delude us, or those monkeys who live on the tree in front of us!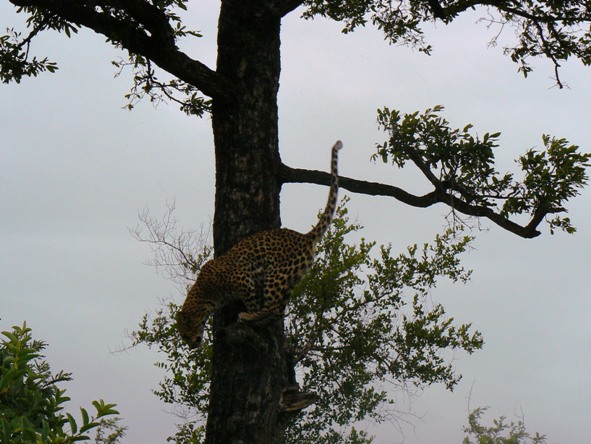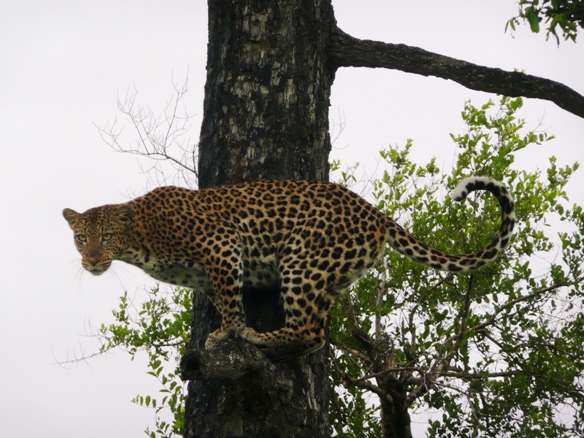 ---
---
Who is online
Users browsing this forum: harrys and 4 guests