Junior Virtual Ranger

Posts: 261
Joined: Wed Apr 05, 2006 6:59 am
We have tried in vain to get accommodation in Kruger for the past long week-end. Eventually decided to stay at Hazy view and take day visits . We had our grandson with us and decided before hand to order as much as possible game species and off course birds.
Day one.
On Saturday at 05H30 we stopped at Phabeni Gate. To our surprise their were already 10 vehicles in front of us. When the gates opened their were chaos as people ran to the reception office to ensure that the get a gate permit. Quit soon there were a long Que of people in front of the reception office. Then the fun and games started. People telling you that they are with a person in front of you, ending up forcing their way to the counter and demand to be helped immediately. Not one but several of them. The staff as usual kept calm and helped every body as quick as possible.
We travelled to wards Skukuza and speculated which animal we will see first. Impala as usual ? no; Buffalo and by 08H45 we have seen the big 5 Vast areas's has been burned. Yet the majority of the sightings we had were in the burned field.
Rhino with calf
Leopard that tried to cross road.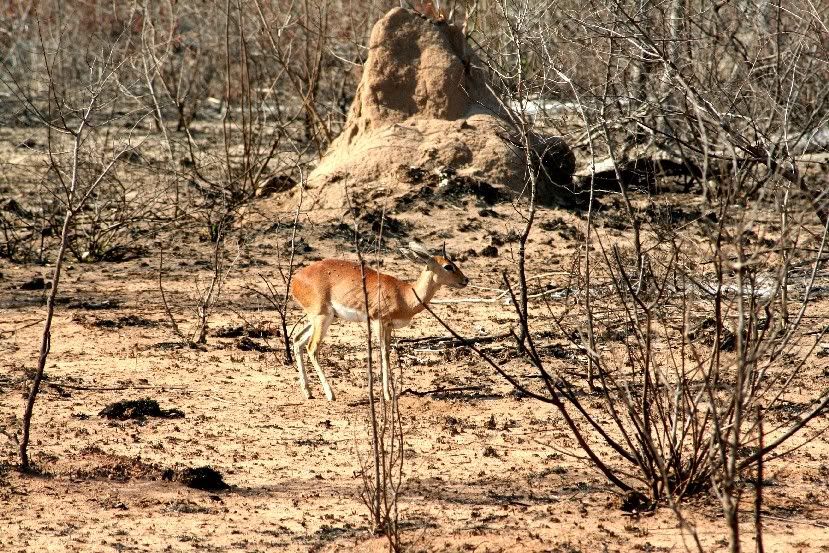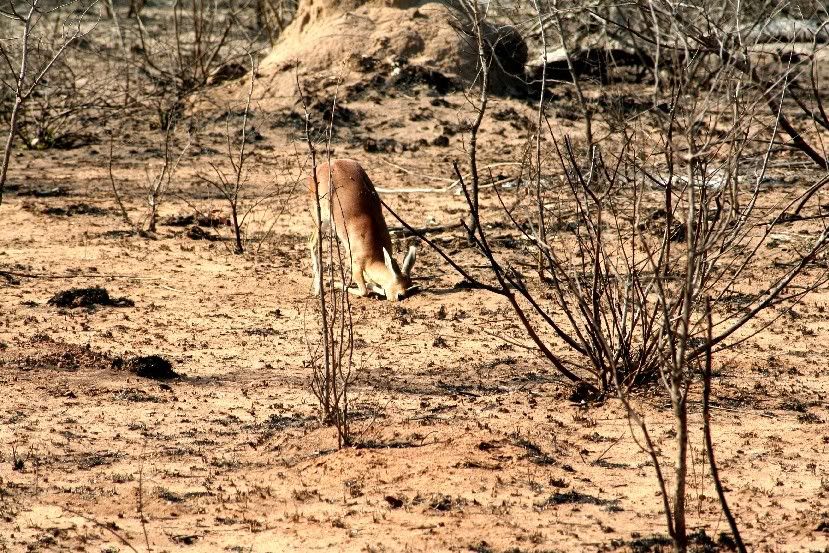 Steenbok digging for food. Perhaps it played hide and seek. If I don't see you, you don't see me.
On the S30 we saw this white-headed vulture. Whilst watching It we heard lions feeding. The lady in the vehicle next to us, told us that they were watching a Impala on the river bed and the next moment a lioness caught it. A male lion took it away from her and dragged it behind a bush. She was very upset and still pale after witnessing the kill.
We came across buffaloes resting, as far as the eye could see there were Buffalo's. Whilst taking photo's of them I heard a whirl wind coming closer.through the grass and tree tops. As it reached the Buffalo's they scattered in panic in all directions.
At lower Sabi we saw Jose, on our way out. She was very excited about their sightings.
We have seen quite a number of Hippo laying on the river banks in the middle of the day. I believe that they can get sun burn, why would the be outside the water?
On the S22 we saw this swainson's francolin taking a rhino dung bath.
At the end of the day we seen 21 species of game and 41 bird species.
Day two
We entered through Numbi gate and was quit shocked to see the damage that the fires have caused to the field. One can't help to wander how long it will take for the insects return.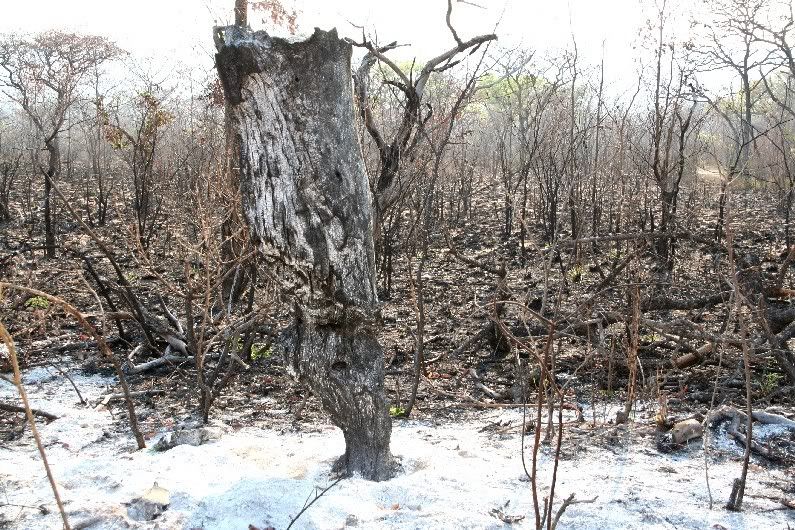 Tree that has reached the end of it's days.
Rhino relaxing in the early morning sun light.
Two young brothers properly just ousted from the pride. Will they be distant to become masters of their own pride.
Rietbok
On our way to Malalaan gate we saw a leopard in a tree that looked as if he was smiling at as. A reel good bay present.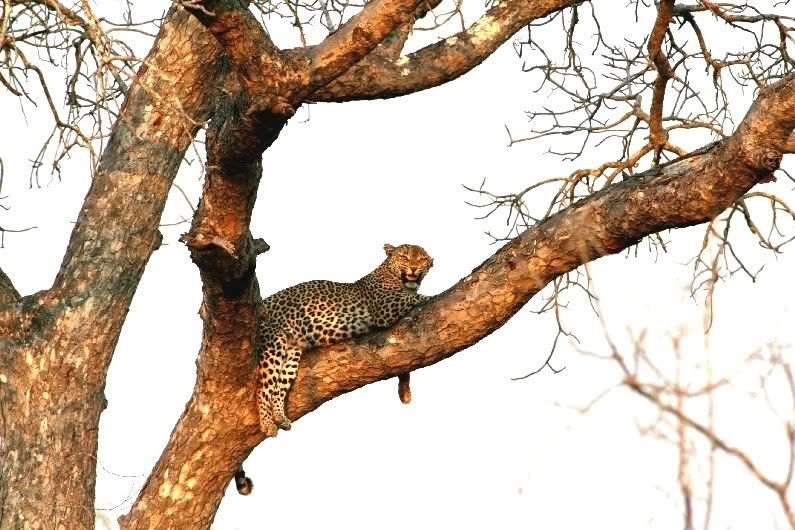 Once again Mpumalanga was burning. All the way home we saw felt fires and plantations fires. What a sad sight to see.
We are looking forwards to our next visit in December.
---
Junior Virtual Ranger

Posts: 261
Joined: Wed Apr 05, 2006 6:59 am
Yes, we were very lucky with the sightings.Thank you.

Although very excited when you see a kill, it is still sad to see an animal loos it's life.

Can some one please explain the Buffalo and Steenbok's behaviour?
---
The steenbok was probably after minerals/salts or roots or a bulb or some other edible item. I will check my books but some small antelope do sometimes eat other small animals such as termites, ants etc.

I think the buffalo were just spooked by the whirl wind, not being sure what it was.

One can only speculate...
Dec '11 - Storms River
June '12 - Berg-en-Dal
---
Junior Virtual Ranger

Posts: 261
Joined: Wed Apr 05, 2006 6:59 am
bert wrote:Saw lost of steenbokkies and grijsbokkies in the burnt area in august. Observed them and mostly went for roots and bulbs and other eatable greens
Bert
You properly are right, we watched him digging the hole in the ground and then put his head in the hole. However we could not see weather he was eating something.
Received amazing bit of info from KNP Spokesman. When felt fires ac-cure, steenbokkies would often run until he find an open space and then wait until the fire has burned out around him. They must have a tremendous heat resistance to be able to do it.
It is possible that the Buffalo do not like the dust raised by a whirlwind in their faces. Still a unusable sighting.
Last edited by
Pieter Steyn
on Wed Oct 03, 2007 12:24 pm, edited 1 time in total.
---
Legendary Virtual Ranger

Award: Forumite of the year - Eagle Award (2016)
Award: Angel of the Year (2015)
Posts: 17547
Joined: Tue Jun 07, 2005 8:47 pm
Location: meandering between senility and menopause
I have read that the steenbokkies metabolism is so high that they do need an extra source of protein. I have just never seen a photo like this that captures a little buck digging in the ground like a dog searching for a bone.
The bird doesn't sing because it has answers, it sings because it has a song.
---
A confirmation from the literature - Richard Estes' book - "The Behavior Guide to African Mammals : Including Hoofed Mammals, Carnivores, Primates" states that steenbok do dig for roots and tubers and during dry periods obtain water in this way, particularly in the Kalahari.
Dec '11 - Storms River
June '12 - Berg-en-Dal
---
Junior Virtual Ranger

Posts: 261
Joined: Wed Apr 05, 2006 6:59 am
---
---
Who is online
Users browsing this forum: No registered users and 2 guests