The day has arrived it is the 12th of September 2007 4:30, we set out on our 8 day trip to Kruger it has been awhile since we last visited this stunning park and our expectations rose with each passing kilometer.
This time we decided to be different and give the north a chance to show us what it has to offer. We entered at the Punda Maria gate at 13:00 and checked in.
After all the rituals at the gate was done we got into the car and the usual banter about what animals will be seen first started. I said rooibok "Impala" or Warthogs but mom and dad just kept quiet.
We weren't even 3km away from the gate when my mom called out Kudu on the left hand side of the road. They were standing on top of a hill underneath a tree so not a chance of a decent picture. But the first sighting was in the bag with one of the shyer bucks that we know. We call them the "Ghosts of the Bushveld" because they are so hard to spot normally.
We took the S58 – Dzundzwini Loop and lo and behold we saw more Kudu it seems that this trip was going to be the trip for spotting Kudu, something that we haven't seen allot of in Kruger in the past once again they were a bit obscured by branches and the light was a bit harsh but I did manage to take this picture of the two bulls.
A little bit further down the road we saw this female Njala and as we drove on about 500 meters down the road we saw this Njala Male and he was with a couple of females. Most likely a family group.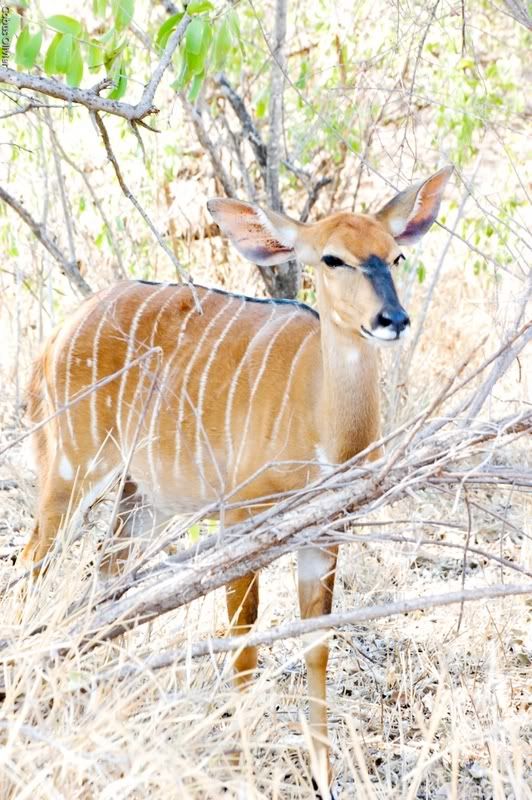 Nothing more exiting happened on that loop and we got back on to the H1-7 to continue our Journey to Shingwedzi. Mom identified this stump as some sort of bird and we all had a good laugh about it.
Come to think about it, it does kinda look like a bird.
Then we saw our first Elephants and we knew Kruger was going to deliver for us this trip even if it is really dry and yellow in the park… this looked like a breeding herd as they where all different sizes.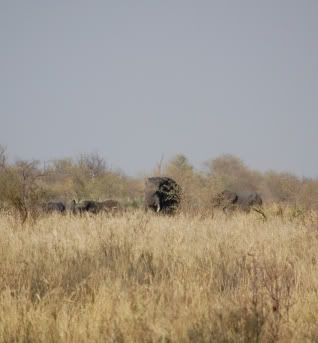 More to follow of the first day...
KNP - 11 August 2009 - 26 August 2009
---
We saw some giraffe on the way down to Shingwedzi,
And then in the river stood this herd of Elephant they were digging in the riverbed for water something I have always wanted to experience and now have a pictures of as well.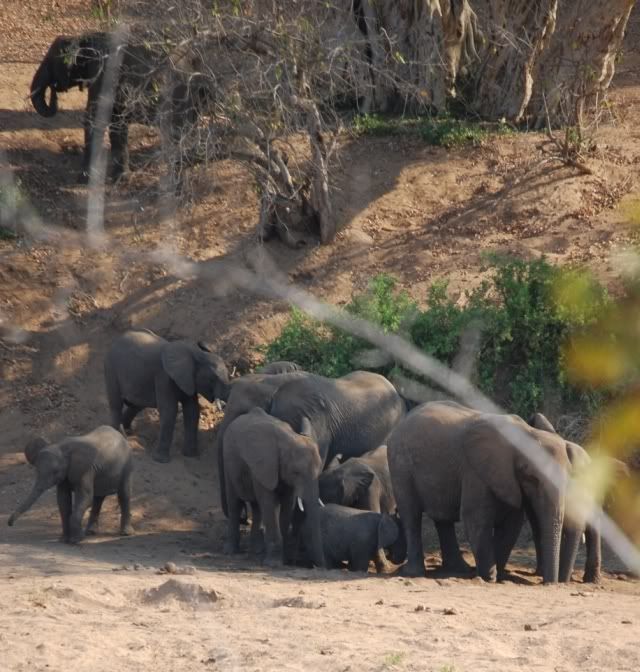 We continued onwards with our Journey and decided to use the causeway instead of the main gate to go into Shingwedzi. And bakeing in the sun was this little guy can someone please tell me if it is a tortoise or a turtle I am never sure…
We unpacked and started setting up the camp before a quick drive out again, that is when the warning of other forumites hit home the earth is as hard as rock in the camp and we had to use the special tent pens dad made for us to anchor the tent. We tried one of the normal tent pens just to see if you can get it in to the ground and it came out bent with in the first three shots.
After the tent was pitched and everything was unpacked we headed out on the S50 towards the Kanniedood Dam in hope of seeing more Elephants and maybe something more special.
We saw our first Impala of the trip and he was calm and offered me some great poses like this one.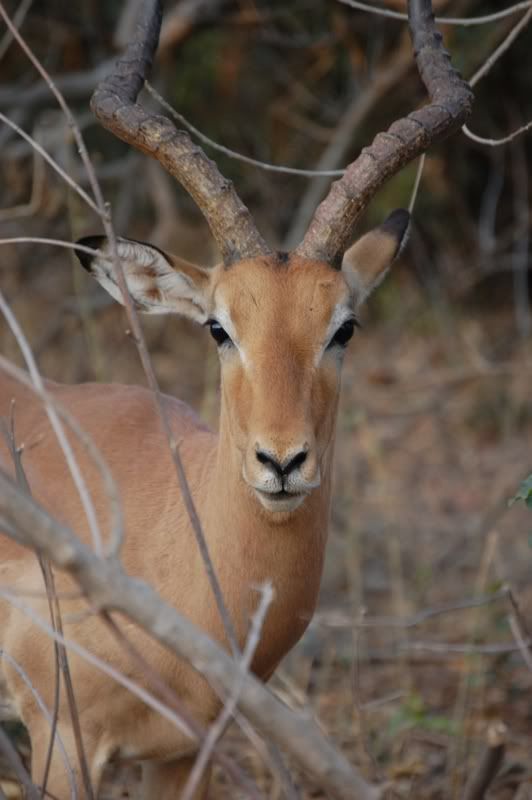 We got our Elephant and he was also very calm and relaxed about this whole photography thing and struck a pose for me as well  Must say I love the light and shadow interaction in this picture.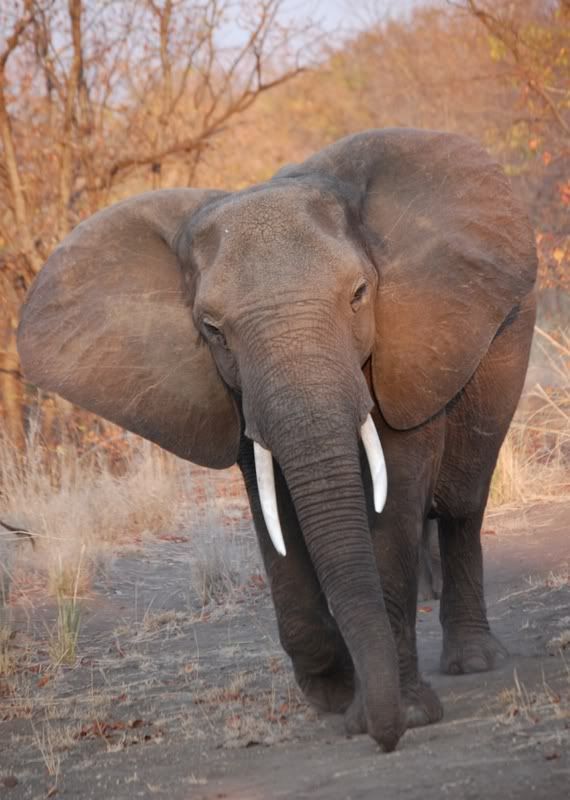 Also on this loop we got to see a Waterbuck and another Njala.
And so the first day draws to a close and we head back to camp for some rest and a good old braai.
KNP - 11 August 2009 - 26 August 2009
---
Day 2 started early in the morning as all days in the park should, we were up and about at 5:00 and ate Koffie en Beskuit "Coffee and Rusks" the rusks I baked myself for the trip and was great for the early mornings.
We were out of the gate at 6:05 and on our way to the S56 loop we didn't want to do the whole loop. And as we entered the loop in the first dip in the road I saw this Fever Tree in the best golden light possible so I had to stop my dad and take some pictures.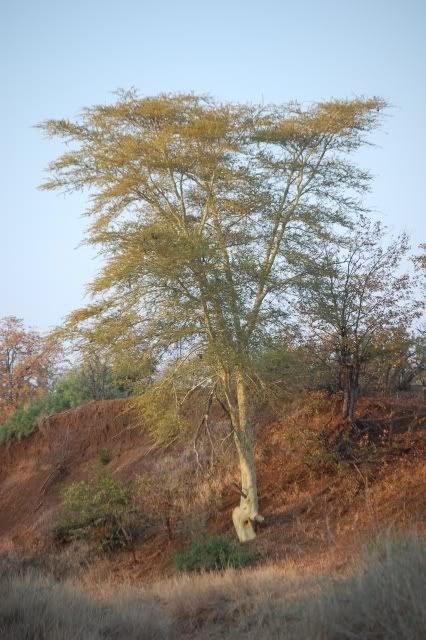 And then my dad's excited voice tells me to keep my eyes open on the left of the car he was looking to the right and saw it come around the front of the car… Can you guess what it was!!!!
I got chills when I saw it and it was the best light. Here he/she is crawling away from the car, the first big five sighting for the trip but we really weren't here for the big five we wanted to see the park and all the animals it have to offer.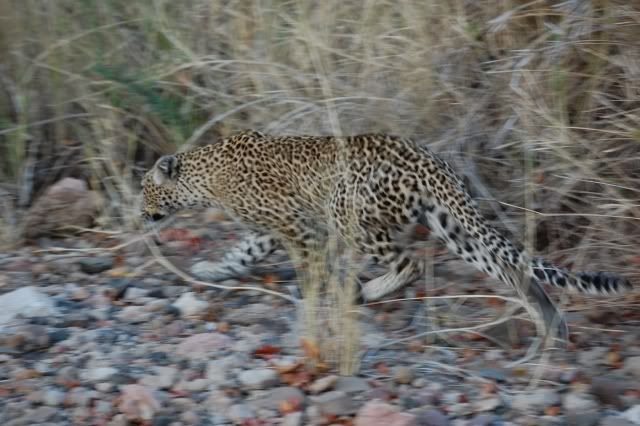 I judge that the leopard is about 15 to 24 months old as there was no sign of the mom around anymore. We sat looking at it till this was the last sign of it… Can you spot the tail in the picture?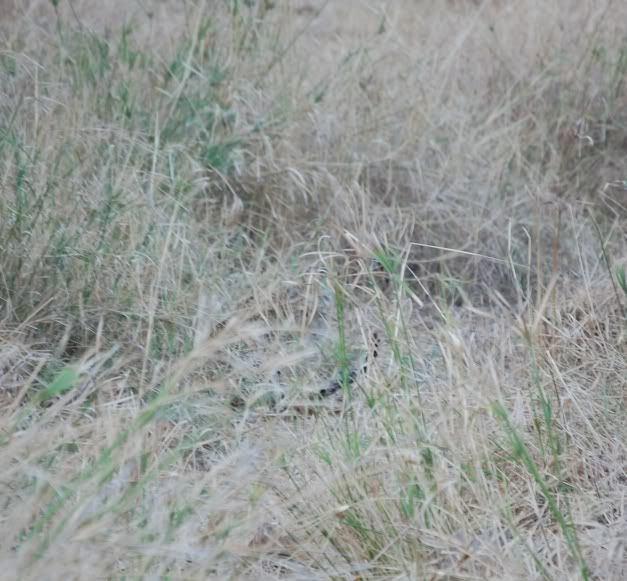 We continued on with the loop I was looking out for some birds I don't have the right lense for birding yet so they had to be close to the road. And this Yellowbilled Hornbill decided to pose a bit for me. I loved it cause here I had the chance to take some bird pictures with out it flying away the second we approached.
Total silence descended on the car as we listened to nature and all of the lovely sounds. Nothing brings home the feeling of peace and calm as the sounds in the bush with nothing else around you.
We drove on and then saw a Sharpe's Grysbok I was so excited it is one of my dreams to see the small five… this is the smallest five buck around, Duiker, Sharpe's Grysbok, Klipspringer, Steenbok and Suni. Those are the small five in my book some might not agree but it is my opinion...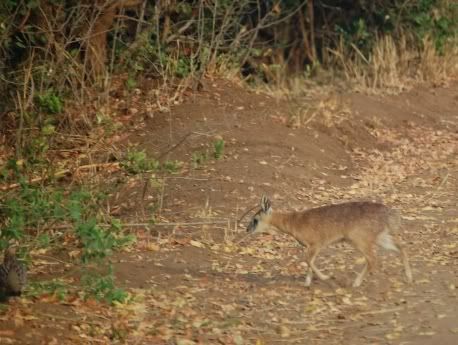 Not even ten meters further this Slender Mongoose runs out and started to pose wow were we lucky this morning we asked in the car and it was a great feeling seeing the small things as well as the bigger.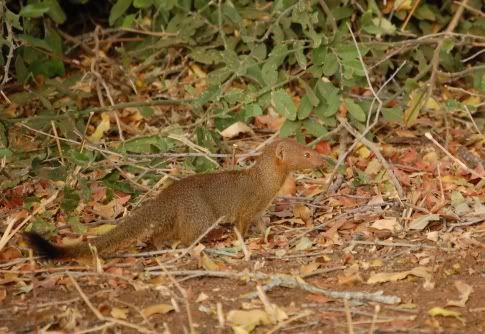 All this and it isn't even 7:30 yet what a start to the first real day in the park it was delivering on the previous days promise.
More to follow.
KNP - 11 August 2009 - 26 August 2009
---
Thank you aboon it is a pleasure to write them as well
Rest of day Day 2
We got off the loop 12km into it and decided to give the Redrocks loop (S52) a go to see what it will deliver for us. Nothing eventful happened on our travels down to it a couple of elephant and giraffe next to the road.
We arrived at the Redrocks loop (S52) nothing interesting till we reach the rocks where I see the opportunity for a nice panoramic shot. Alas I had to take multiple shots as my 18-55mm lens just isn't wide enough. I used Photoshop to merge the images into the panorama 

Something I have a huge gripe about and feel like I can kill people for is when they do this to information boards. Vandalism is so wrong and they destroy something that is informative to other people even if they don't want to read it.
This Impala decided that he wanted to have his picture taken and looked straight at me, I love it when animals does that it makes for stunning facial pictures.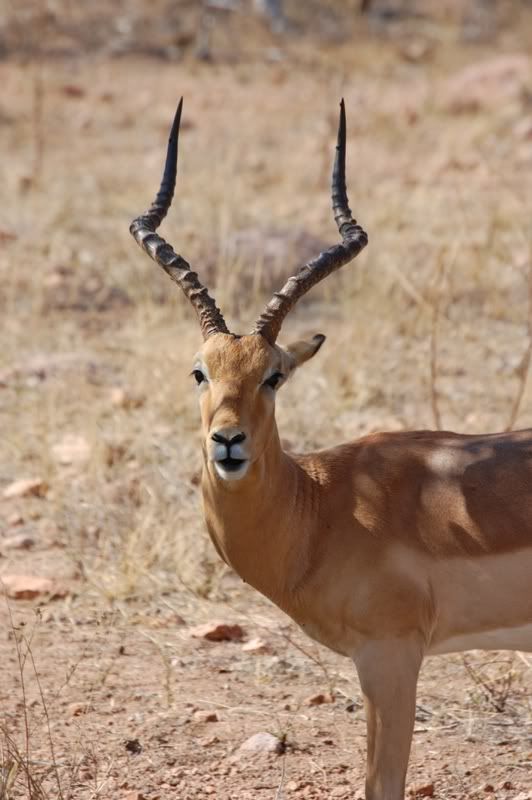 We took one of the mini loops around a tree and heard the tjieeek-tjiek-tjiek-tjiek noise of a Tree Squirrel and the tail was bobbing up and down up and down so he was really not happy at something we looked around but could see nothing.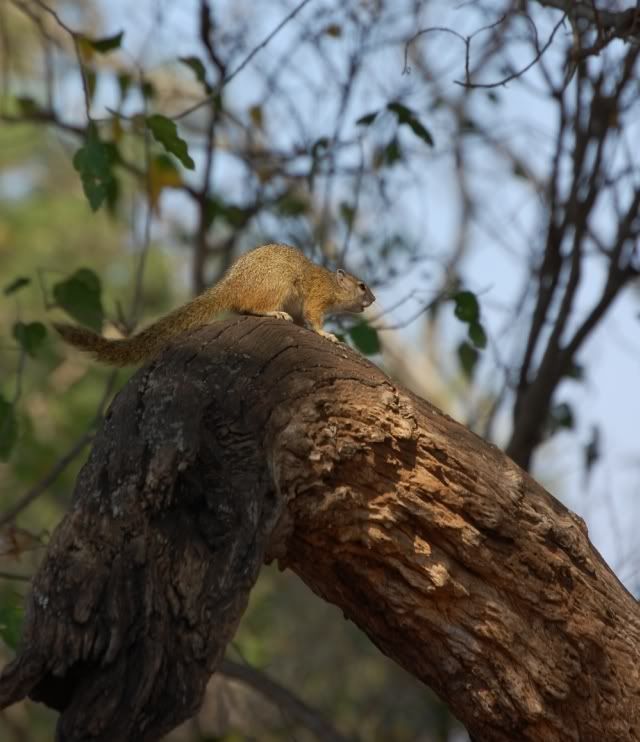 This magnificent Waterbuck was lying in the shade as it was a scorcher of a day as soon as the little bit of cloud cover that was around earlier in the morning was burned away. He lifted his head to look at us while we drove past and gave me the opportunity for a nice picture again.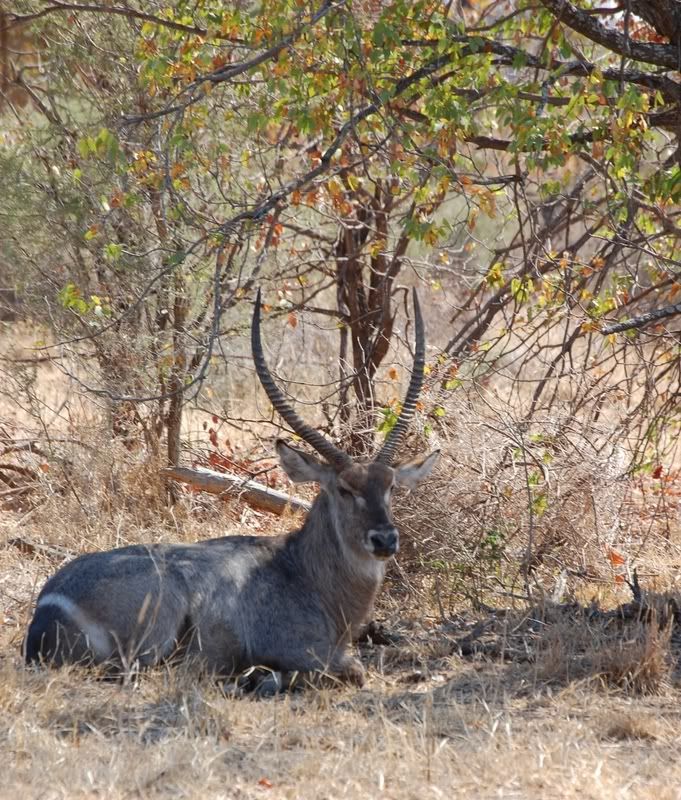 It was strange I told my mom that same morning that I have yet to see a LBR and that it was strange that I haven't seen one around yet this trip and then this one makes it appearance it was a bit far away but I still got a nice picture of it.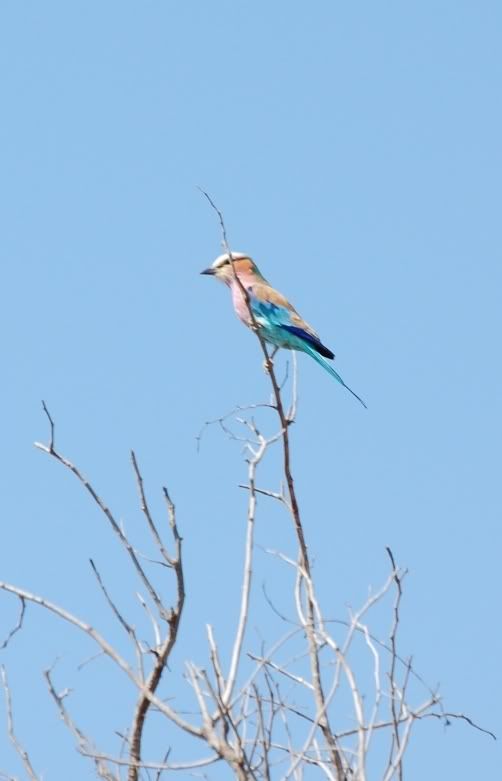 Isn't this picture just so pretty this vivid pink against the brown bush and rocks.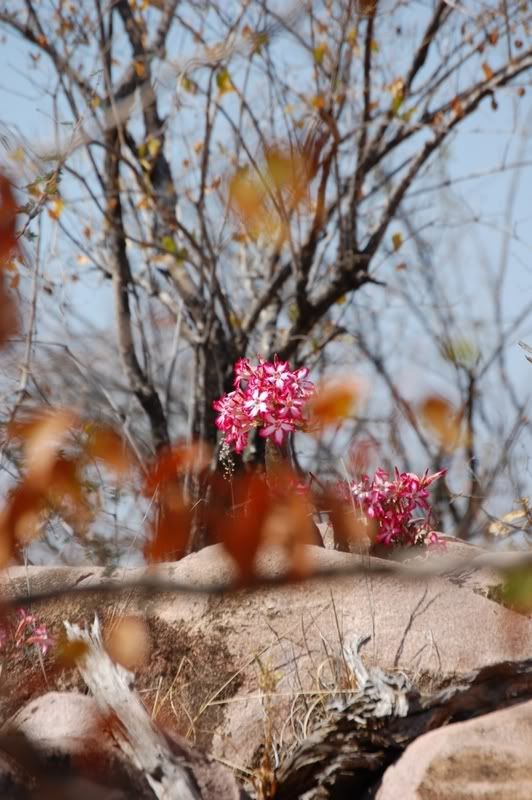 I think it is called the Elands Flower or Lilly can someone correct me if I am wrong please.
(It is called Impala Lilly - Thanks Zippy Zebra)
The rest of the loop was pretty uneventful except for this baby zebra nursing from mom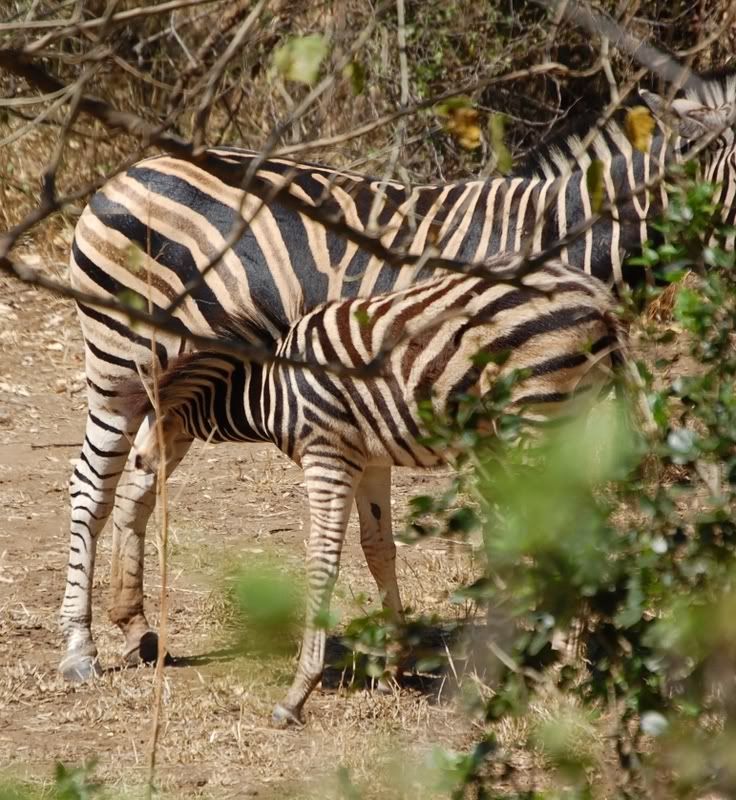 We went to the camp for the mid morning early afternoon period as it was just to hot to be in the car. The late after noon we did the Kanniedood dam route again and saw Crocodile basking in the sun baby elephants playing in the river and dam and a Woodland Kingfisher I couldn't get a picture of him because he flew away the second we got close enough. Also saw this guy taking a mud bath.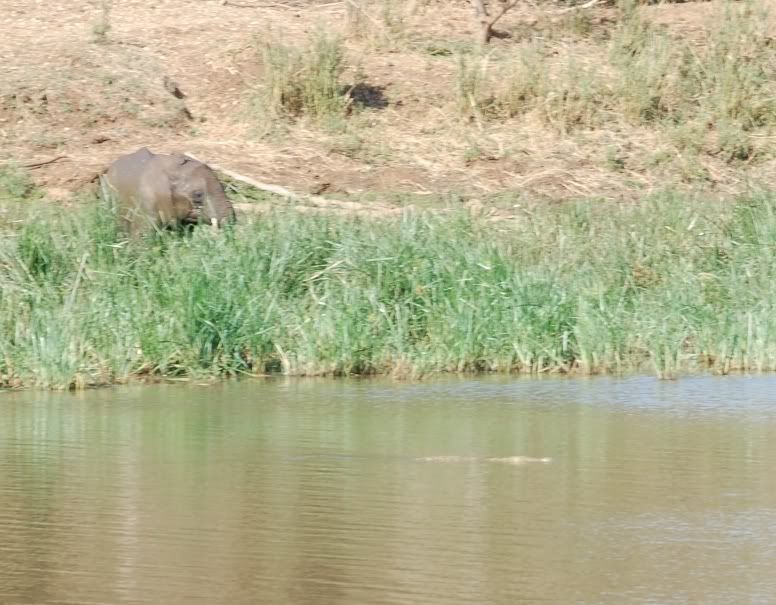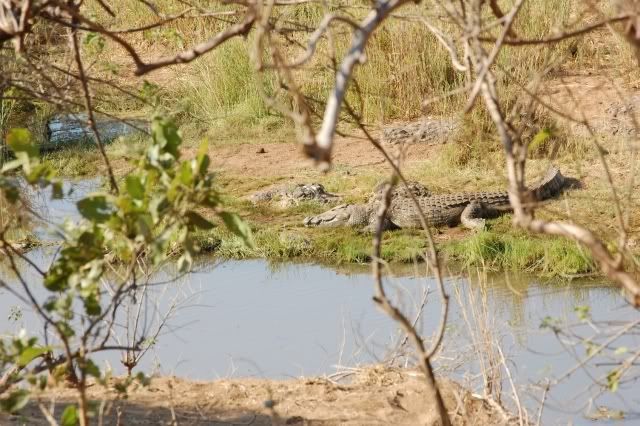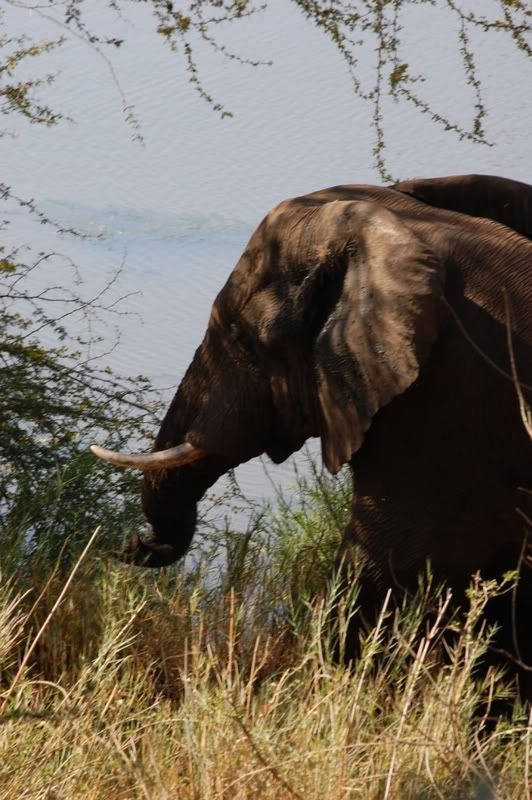 Then at the Mashagadzi dam we saw this tusker help in identifying him will be appreciated I will also post this on the forums under the big tuskers topic.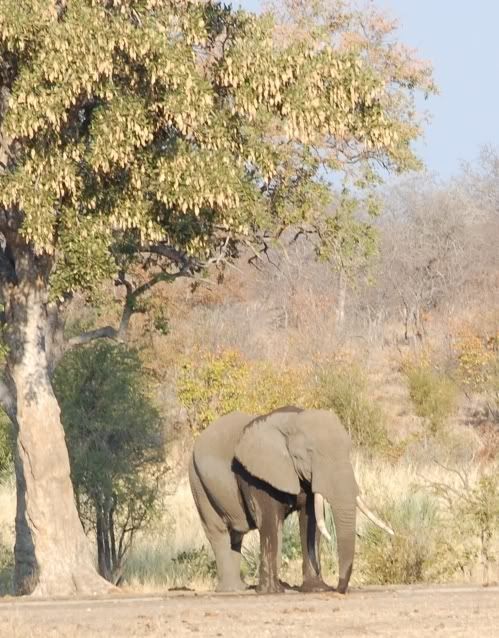 After this sighting we headed back to camp as we needed to start packing up everything so that we can move camp to Letaba the next morning. The normal evening braai took place and the decision was made that Shingwedzi will from now on always be on our list of camps to visit.
Last edited by
Scout
on Sat Sep 22, 2007 12:16 am, edited 1 time in total.
KNP - 11 August 2009 - 26 August 2009
---
@ Texasboer so true... Thanks for the nice comments guys I try and as I told Matthys earlier it is loads of fun to write these.
Day 3
Woke up at what seemed to be the normal time for the Park 05:00 and started packing up the tent the plan was to drink coffee and eat some rusks on the road. At about 06:15 we bid Shingwedzi farewell and set of to Letaba all exited about what the new rest camp may offer us.
We weren't even 5 Kilometers from Shingwedzi when this guy made his appearance next to the road so close to us and yet so calm. Nothing in the world could bother him while he was grazing.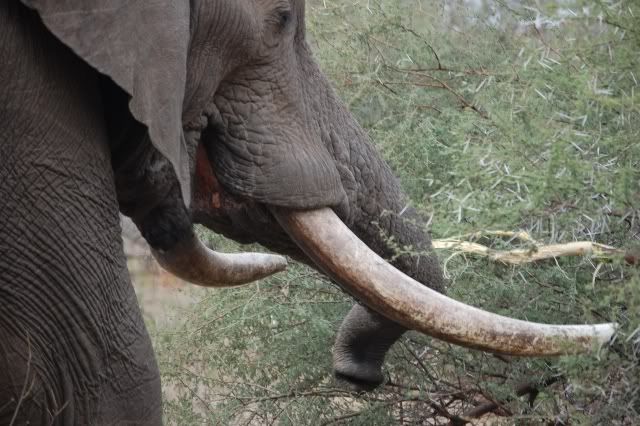 And a little further along the H1-6 mom spots a Hyena next to the road I spent sometime with it taking pictures and at one stage she moved into this position like she wanted to say enough pictures now please continue on your way.
So we travel further down and cross the Tropic of the Capricorn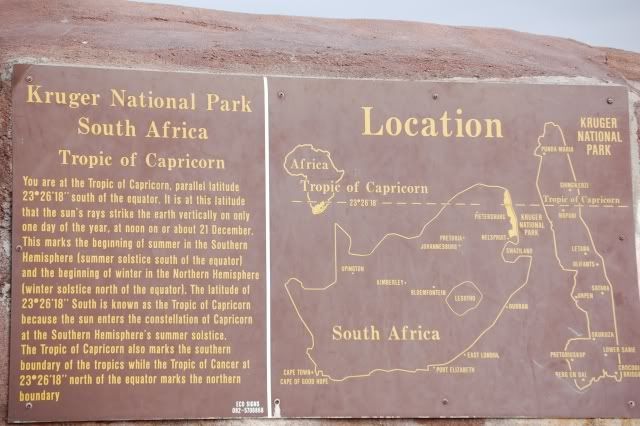 At one stage we decided that it was now light enough and that coffee would be in order, only to discover that we left the milk in one of the cooler boxes that was now stacked away deep at the back of the bakkie. So we looked at the map and decided that Mopani isn't to far away and that we will go and have a full brekkie there.
Thanks to the staff at the restaurant for your prompt and friendly service it made my morning and I enjoyed the breakfast immensely. As we drove out of Mopani I took this picture of the Kremetart tree.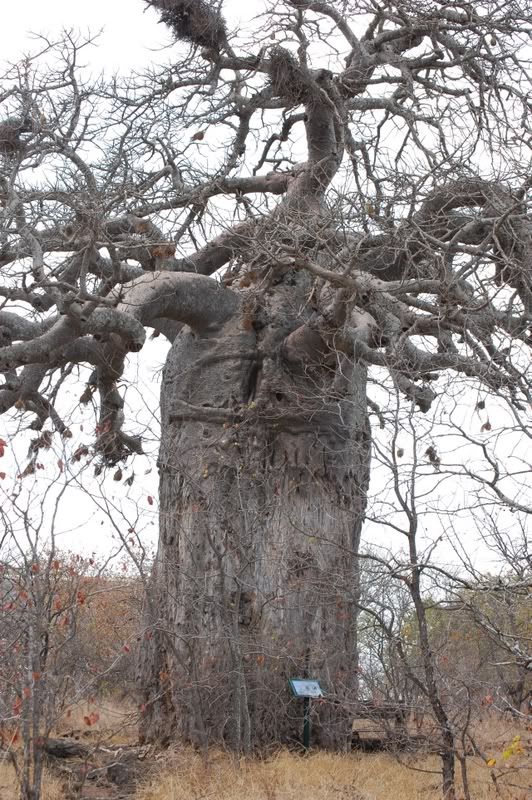 And so the journey continues all of us very thankful for the overcast weather and hoping that we might get some rain. We all agreed that the North is great and that we were silly not to explore it earlier in our Kruger lives already.
We drove down to Letaba and saw these sightings on the road.
Blue Wildebeest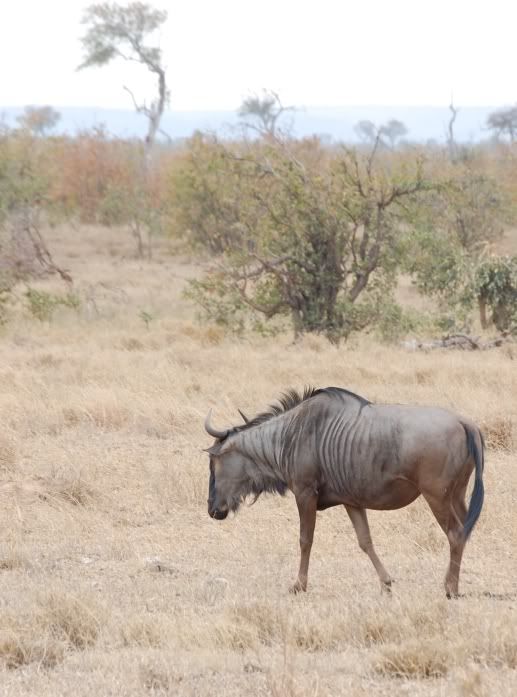 Steenbok scratch another one of the small five of the list!!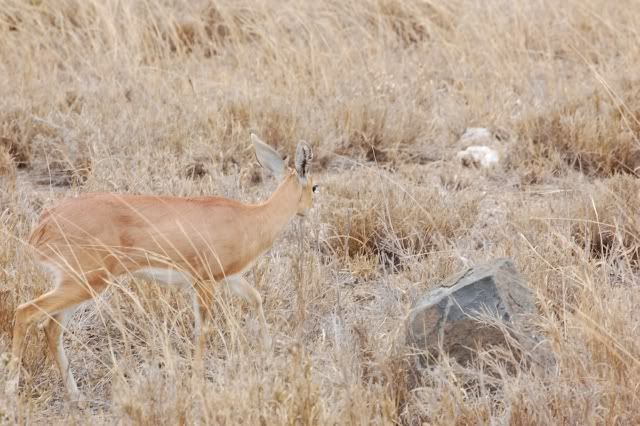 Then we see the first buffalo herd! I counted about 50 in the herd and was happy not to know what awaits us later in the day.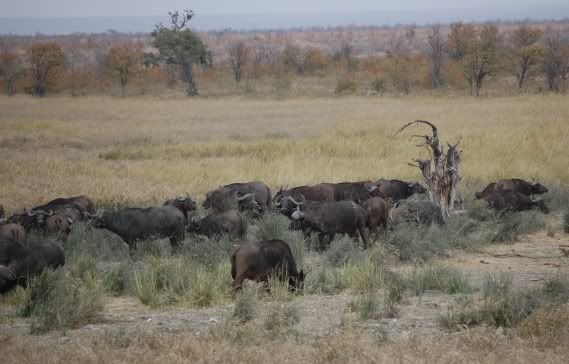 Crocodiles lie on the banks of the rivers baking in the sun. I read somewhere that they need to do that to start the digestive process, interesting that their body heat needs to be a certain temperature.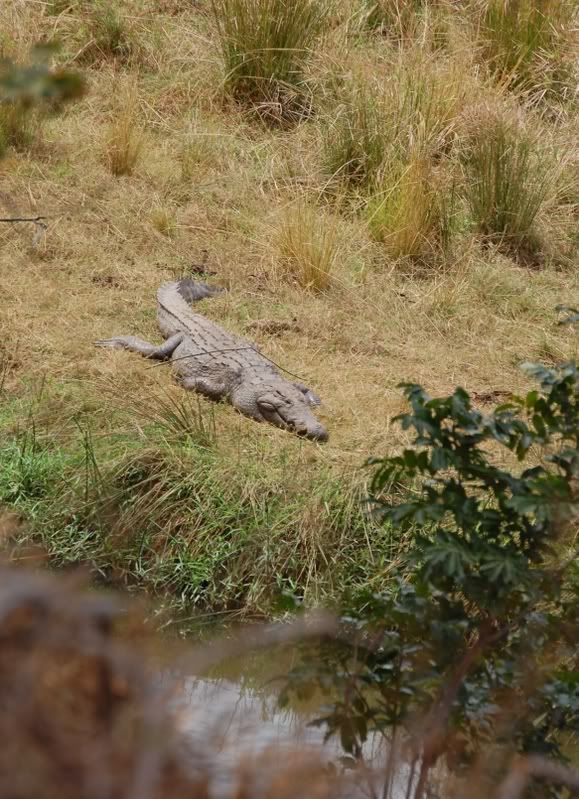 Then we take one of the small mini tree loops and at eye level this Giraffe is eating so I took the opportunity to take a nice close up.
Many other giraffe, elephant, Zebra, Wildebeest and Impala was spotted on the drive. And finally we arrive at Letaba.
Check in procedure went fast with friendly efficient service. Soon we arrive at a nice spot to pitch the tent and this time we don't need special tent pegs as the ground here is nice and soft.
Tent pitched and coffee made and drank we had this visitor  it is so much fun to see how tame these bushbuck are and that they will stand still for so long while you take their picture.
Rest of Day 3 to follow but it will be a short post sometime tommorow.
KNP - 11 August 2009 - 26 August 2009
---
Rest of Day 3
This is going to be a short entry well not to short but in anycase…
We drove down to Sable dam on the H9 the road there was dead quiet didn't even see impala for a long while and then saw a couple it was so weird to see no animals. Arrived at sable dam and saw the most amazing site possible. Buffalo's moving towards the water and I mean BUFFALO's

Count them if you like they are more than 200 I am sure :p
The drive back was slow going once again with not much in sightings, except for this dry skin and skull. Clearly there are lion around but they didn't reveal them to us this trip.
And then we were back at the camp for some rest the night did bring the patrolling Heyna with it's great stinky smell I must add that the day was very windy and that might have been what caused the lack of animals.
KNP - 11 August 2009 - 26 August 2009
---
Day 4
Pictures fixed birds still dark when viewed but that is due to resizing more than anything else.
The next morning we did the S94 and S46, the road delivered the usual Impala and nothing much else we took a drive next to the river as far as the Engelhard Dam and turned around on the trip back to the H9 we encountered Buffalo but the were so close I thought I might have to change lenses luckily this wasn't needed and I could start taking pictures immediately.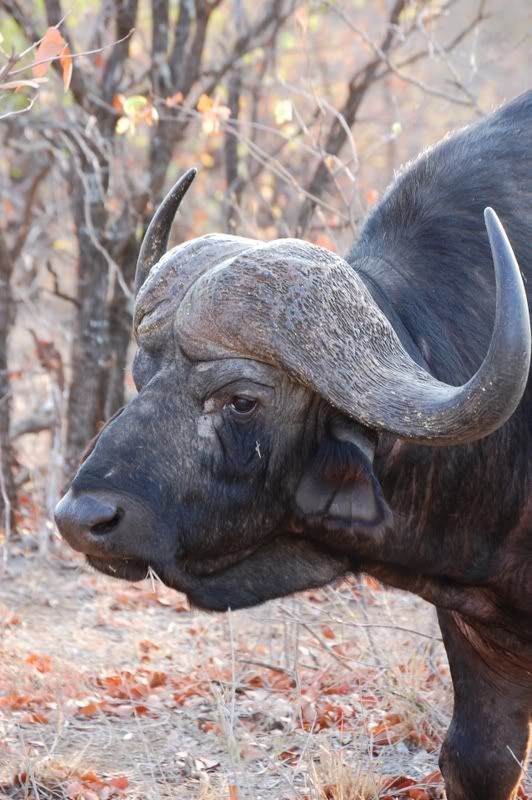 I could see the anger in the eyes this was absolutely amazing and what I was hoping for. These guys are a predator in their own rights they might not be carnivores like the Cats and Dogs but boy they are just as dangerous.
We continued on the H9 again and this morning it was full of wildlife like it wanted to make up for yesterdays lack. We ran into another herd of buffalo and this time there was a couple of young ones locking horns. Don't know if they were just trying to show off or if they were fighting for dominance but they were looking so mean.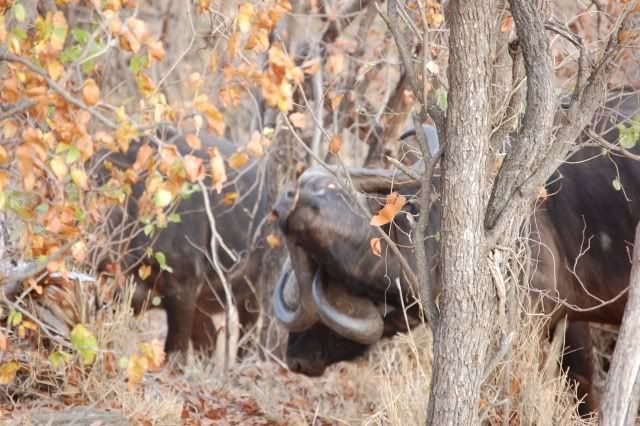 This Zebra was grazing and when we stopped it looked straight at the camera as if to ask now what do you think you are doing and why do you want to take my picture when my mouth is full.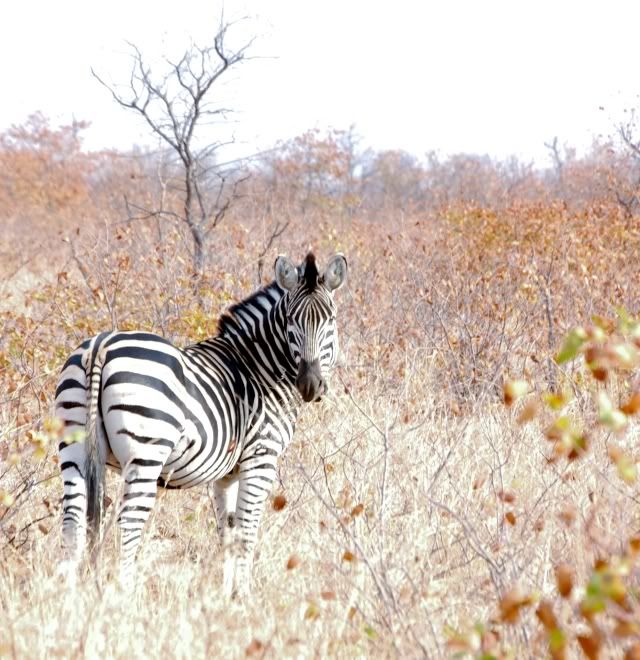 As we traveled further along the road we heard a trumpeting sound and knew this was a Elephant and not just any Elephant a angry one. Ears flapping and tail in the air, he was chasing something I am not sure what it was because it was in the long grass already when we saw the elephant luckily it wasn't charging at cars or us.
Once again we came across two members of the small 5 and this time they stood still and allowed me to take a couple of pictures of them. This picture being my favorite I decided to post it here 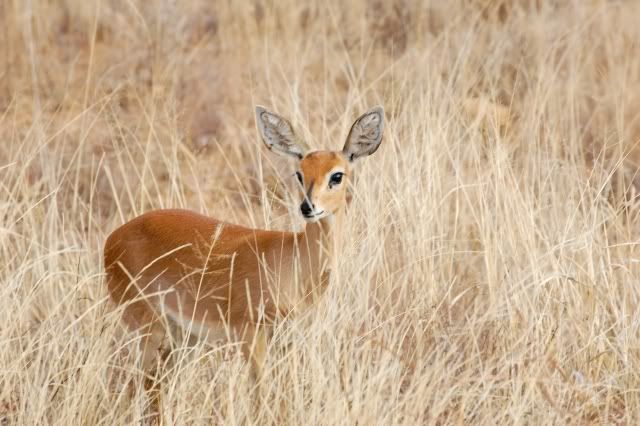 Also one of the Ram
We went out of the gate to Phalaborwa as there was some supplies we needed and in no time we were back in the park this time deciding that we will take the H9 back to Letaba. On the way we saw a Warthog Boar with massive tusks it was a big Wartie as well.
In this picture you can just about see his one tusk. He just didn't want to face us and pose for nice pictures that morning.
And then on a rocky out crop I spot it yes it is another of our small 5 so we got to tick of number 3 from the list you guessed it, it was a klipspringer he was also just a tad bit shy and didn't want to play nice and give me a nice shot at him.
About 5 Kilometers down the road they were sitting in a tree the ugliest but most useful bird in the world. Vultures I think if I look at the pictures that these are Cape Vultures but I might be wrong I am just venturing a guess 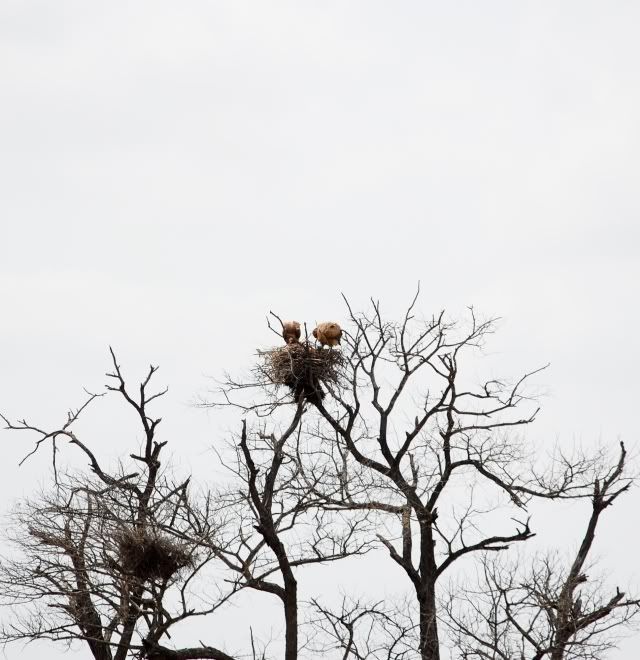 They were a bit far away and my lens didn't quiet have the reach but I think the picture is still extremely nice.
Like I said earlier this was to be the trip of Elephants we spotted this guy while we were traveling to Phalaborwa gate but he didn't offer me any nice photo opportunities. So I was happy to see him when we returned and he was out in the open.
Back in camp we decided a rest break was in order and it was just time to relax. This little one was sitting in one of the trees and I am taking a guess that it is a Cape Glassy Starling.
Later on while lying in the tent I heard the following noise in rapid succession tok tok tok tok and I knew there was a woodpecker around. After a very hard search involving a lot of the other campers I finally spotted it. I identified it as a Goldentailed Woodpecker, hope I am right if not can someone please help with the correct name.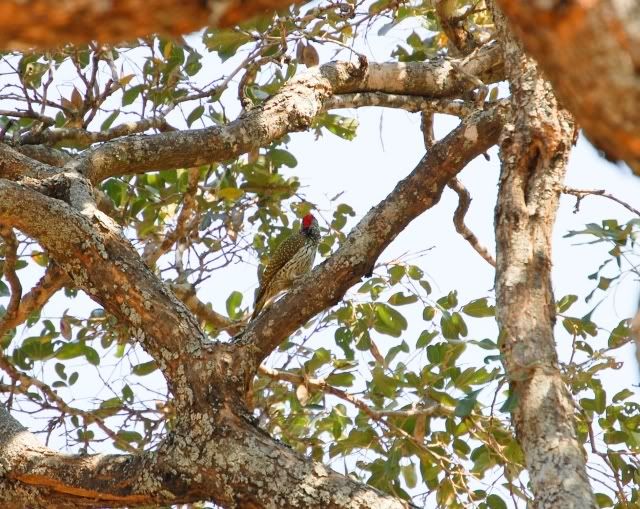 Well the rest of the day to follow a bit later
Last edited by
Scout
on Thu Sep 27, 2007 9:12 am, edited 3 times in total.
KNP - 11 August 2009 - 26 August 2009
---
Thanks, Scout - a very enjoyable report.

To answer a question you asked. The critter in one of your first postings was not a turtle or tortoise, but a terrapin.

Turtle = lives in the sea
Tortoise = lives on land
Terrapin = lives in fresh water (lakes, streams)
Only two things are infinite, the universe and human stupidity, and I'm not sure about the former. - Albert Einstein (1879-1955)
---
@Restio - Thank you for the answer learn something new everyday
@ZZ who says it is done?? lol
Rest of Day 4
The afternoon we decided to take the S62 towards the Engelhard Dam lookout point, we saw some elephants and at one stage landed between two on the one side of the car and one on the other side that became extremely agitated and took a swipe at the car with his trunk missing but it send our hearts beating.
After that we drove on slowly I decided to take some random pictures of the trees to see show how dry it was. I am so happy about the news that Kruger has got some much needed rain and this picture just serves to show, how much the rain was needed.
Well we continued up towards the lookout point seeing the usual small game as we went along.
We stopped off at the Matambeni Bird Hide, just to see what was in the water and also to see if I can get some bird shots not easy with the limited reach I had available on my lens but I gave it a shot and these came from the efforts. The hippo's where doing what, hippo's does best just floating around in the water.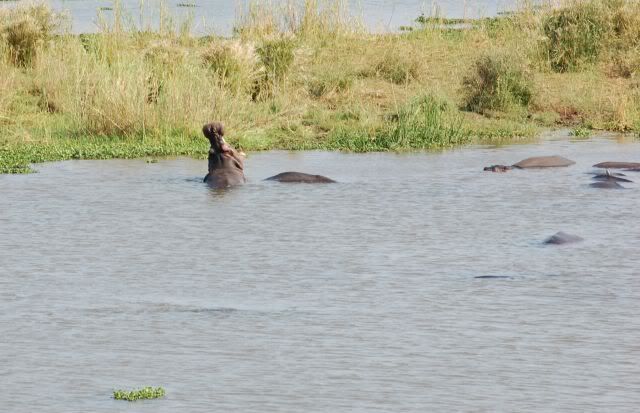 Once we reached the top of the lookout point I discovered an amazing site. I think that this place will look amazing if it rained a good bit so that the dam started pushing over the wall and also in the early morning because the sun would fall from behind you and give you perfect shooting light.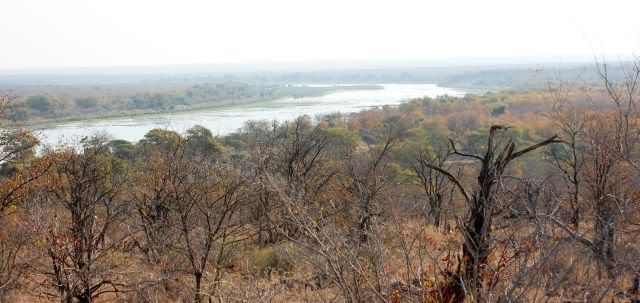 When we left there I took a picture of a Baobab not sure but I suspect that as it is indicated in the Park guide that it might be "Von Wielligh's Kremetart".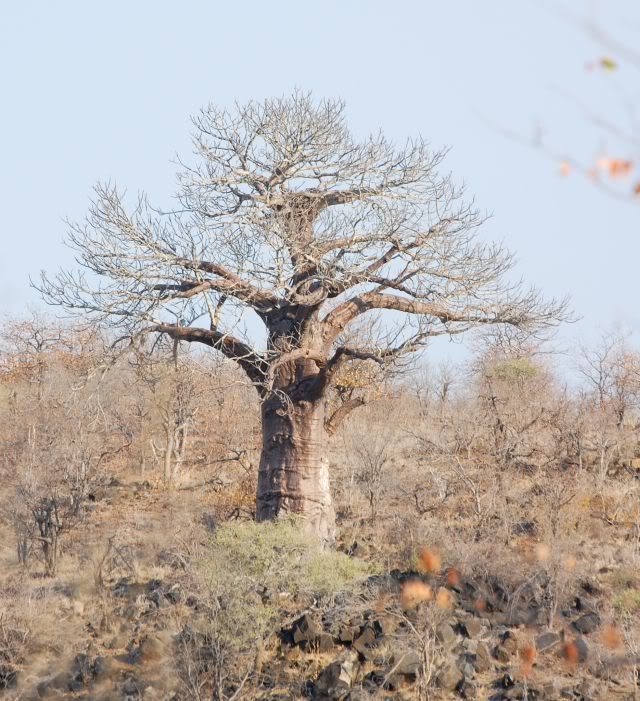 Also on the S62 is a memorial to Anna Ledeboer who was the wife of Ranger LH Ledeboer, we took a picture of the memorial plate this one wasn't as badly damaged as the one at Redrocks but I suspect that this is a road less traveled so that is the reason why.
As it was getting late in the afternoon we decided to return to Letaba and visit the elephant hall. Seeing the tusks and displays of the magnificent seven and some of the other information in the hall is awe inspiring and a must see… At least once in your life, I was kind of hoping that Dukes tusk might be ready and up but it was not to be, so will have to visit again to see it.
Tonight we decided to braai and make "pot brood" the bread came out stunningly and with a nice piece of steak about a thumb thick it was the perfect way to say farewell to Letaba.
But we didn't know that the animals had other ideas for us. Shortly after 9 we heard the breaking of branches and the rumbling of a elephants tummy, it is so weird that they can turn that sound on and off when they feel like it so out came the flashlights and the hunt was on to see how many there were. At first we only spotted one but then three more showed themselves like Ralph I was a bit scary about using my flash to take a picture of them so no pictures of the elephants.
This was amazing and the rumbling sound will be etched in my mind for the rest of my life.
KNP - 11 August 2009 - 26 August 2009
---
@ Ralph thanks I am moving it but your report is so amazing that I am giving everyone chance to get thru yours first :p and btw we are in for a special suprise later in Day 5
Day 5
We woke up at the normal park time and had our usual let's get everything packed and get going rush. It was decided the previous night that we will have brekkie at Timbavati. So in no time at all we got everything packed and we set off.
We encountered a vervet monkey that just wanted to walk away from the car the little bugger didn't want to give me any chance of getting a shot of his face... But then at long last he decided to sit still and ponder the deeper meanings of life.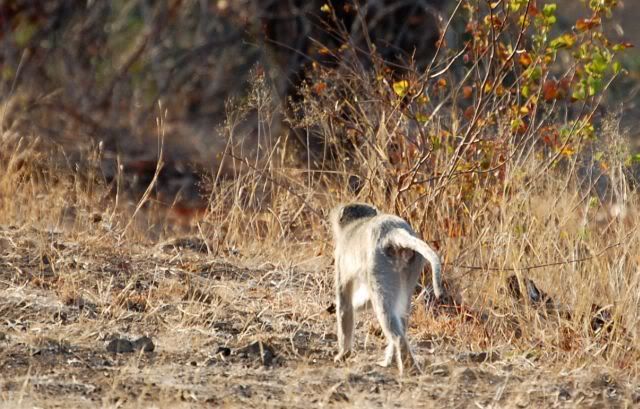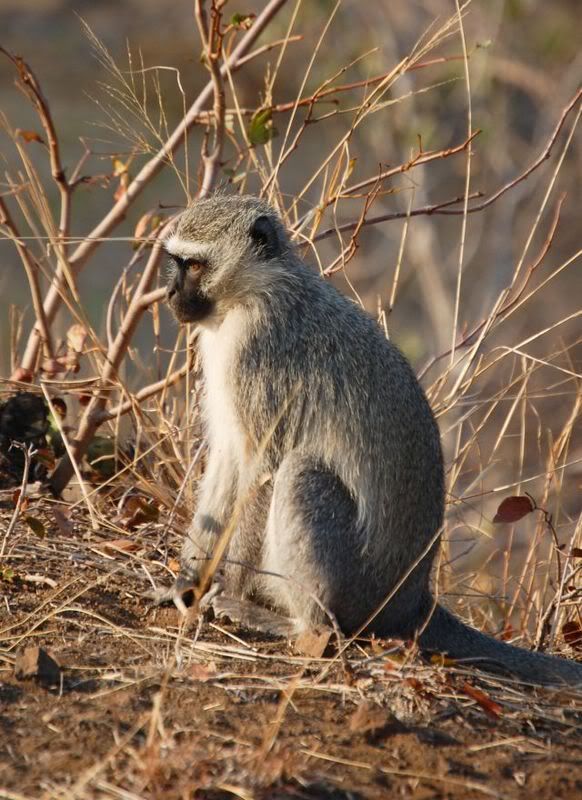 Just pass Olifants we saw Vultures in a tree relaxing and as we were almost on eye level with them because of a drop I decided to take some pictures can anyone ID them for me please I am taking a guess at Cape Vulture but my bird identifying skills aren't the best in the world yet.
We continued onwards with out journey down to the south of the park and at last reached the Timbavati – S39 turn off. The loop gave us some amazing animals in the form of Kudu and Impala's also some elephant and Baboon's. But they were seldom in a good position to be photographed so I just enjoyed the viewing experience. I however did get this shot of a baboon .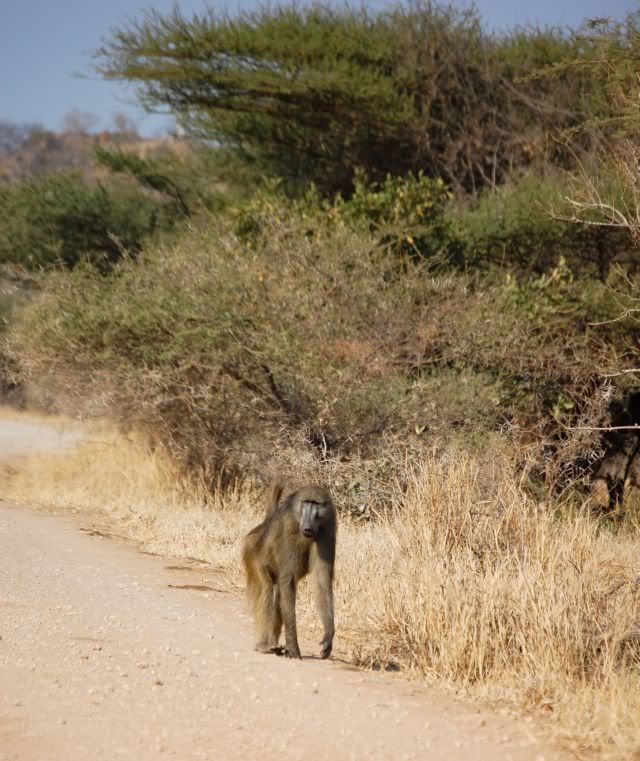 We got to the picnic spot and got all of our food stuff out, it was brekkie time and boy were we hungry. We made some bacon, egg and sausage and ate it all with the bread we made the previous evening. We spotted this bird in one of the trees once again can someone help with an id
I am thinking Gabar Goshawk but not sure.
Once we were all well fed we moved off deciding to take the S40 so that we can get on the H7 and then on the H1-3. On the S40 we saw loads of Zebra and Kudu but not all of them in the ideal position for photos. I think the animals became shy suddenly, or maybe it is just the amounts of traffic they have to contend with on a daily basis. We did however come across this very nice looking Kudu herd with a nice big male in with them.
We stopped at Satara for a break and then we set off again towards Skukuza, well we drove down towards the Trichard Memorial and spotted all the normal game Impala, zebra, giraffe and elephant. It was also on this drive that we were spotted by someone that wasn't showing a yellow ribbon I was standing still looking at a impala that showed signs that he narrowly escaped one of the predators in the park when a Land Rover? Sorry if I got the make/model wrong pulled up next to us and asked if we were forum members I responded yes I am Scout on the forums and introductions were made it was Peter Piper. It was good to meet someone that actually knew what the YR meant.
We saw loads of cars standing still at Mazithi Dam and so I pulled over to see what the commotion was all about and there was a herd of Elephant with young calves drinking and taking their mud baths. And this little one that just enjoyed playing in the mud.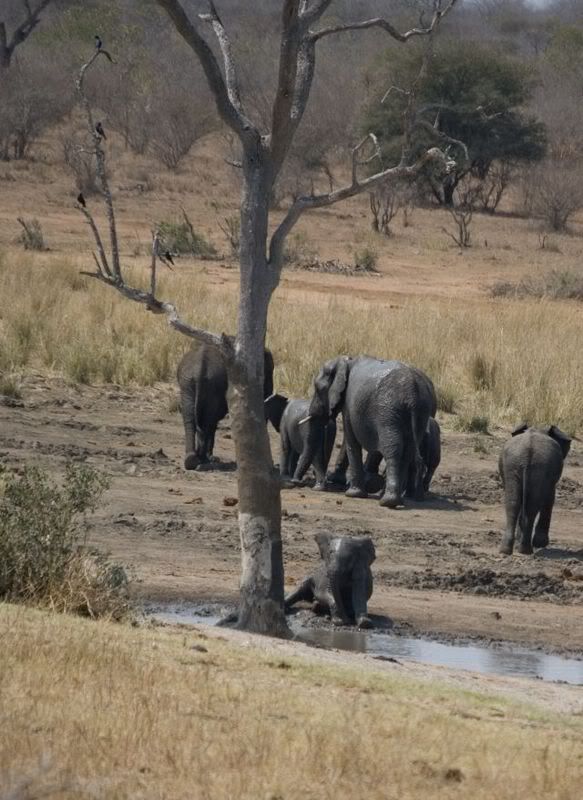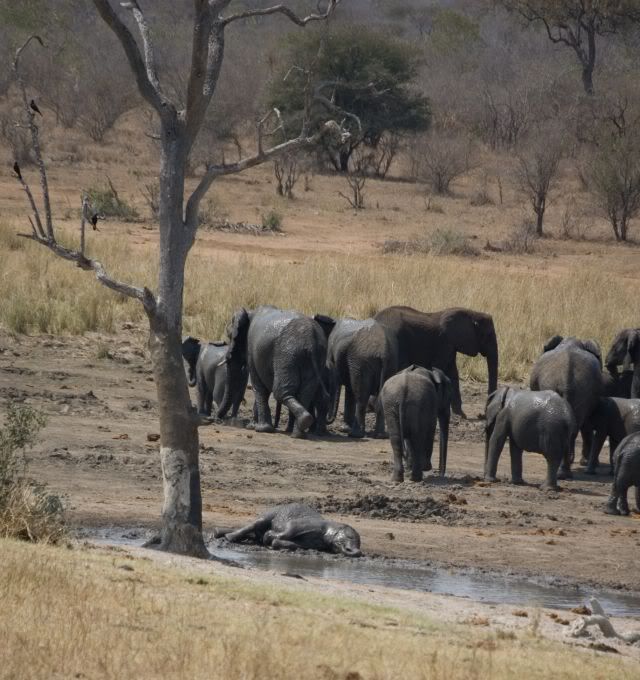 We spend some time there enjoying the antics of the little elephants and then we set off onwards to Skukuza. We stopped at Tshokwane for a leg stretch break and soon we were off again.
That is till we spotted something in the river bed and I was so amazed to see them……
KNP - 11 August 2009 - 26 August 2009
---
---