Distinguished Virtual Ranger

Posts: 1372
Joined: Thu Dec 09, 2004 6:51 am
Location: In a very busy place
So I entered at Kruger Gate and was met with the smoke from the fire set the previous day by a loco sub-human ...
Still watching the Sabie River I could not help to feel like I'm "home" ..
Started the day with some nice kudu sightings .. Most of the day was driving around looking at the damage the fire was causing ..
Stopped over at Lake Panic was treated to an almost croc kill on 2 nyala bulls. The 2 were very weary and as the croc came from a far distance, they both noticed him with about 10m to go .. Having not seen the kill
.. I refocused my attention to the Nyala as I've never seen them in the South as yet.
So after watching the hippo's play a bit more I set off toward P/Kop ... On my search for the Mythical Sable ..
Stopped over at Tranport Dam and besides the fire and 3 hippos found 2 Whiteback, Lappet face vulture and Juv Bateleur right next to the water ..
Took the little loop at Transport Dam to check out the fire .. the heat was intense and I had to make sure that I don't get caught with only 1 access road ..
Did the usual "Sable" roads with nothing at Napi Boulder and Shitlhave dam .. But on my way back saw 2 Reedbuck in the burned veld .. they stood out like sore thumbs and could not believe my luck .. Stayed and watched them for about 10 mins before the moved off ..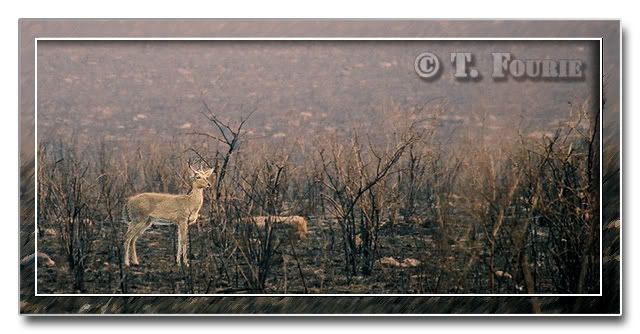 Got to camp .. Did not have a look at the burned down linen room
And after pitching the tent and having a bit of a nice break .. watching all the woodpeckers, and sunbirds went for my afternoon drive ..
It was a weird but gorgeous drive .. and could not resist taking a photo of the sunset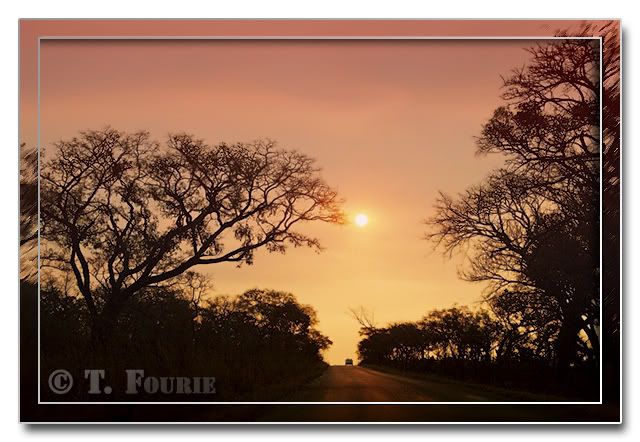 Took the 2 km dirt road to camp and drove very very very slowly with 40 mins still before gate close ...
What I saw nearly made me loose my lunch, beer, mind, car etc .. In the ashes a "Phoenix" rose .. something I have never seen before .. Serval .. Could not believe my luck .. Light was failing badly and could not get a decent shot of it .. this was the best attempt .. but I reversed with him as far as I could to see him .. a whole 3 mins with this beautiful cat ..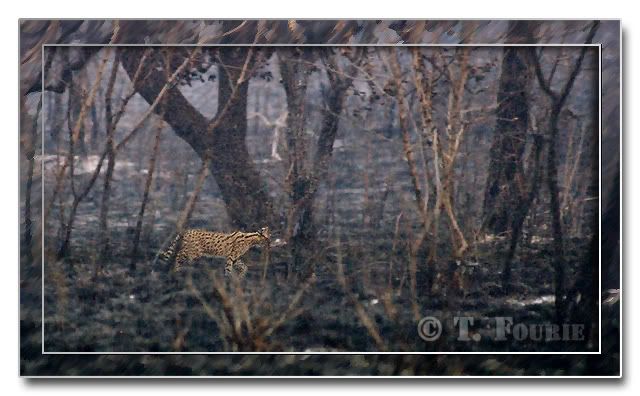 The lows of the day turned into a very high ending for me ...
NO TO HOTEL DEVELOPMENT IN KRUGER
---
Senior Virtual Ranger

Posts: 3862
Joined: Sun Mar 20, 2005 5:53 pm
Location: Cambridge, MA (and home from home in Darling, WC)
---
Distinguished Virtual Ranger

Posts: 1372
Joined: Thu Dec 09, 2004 6:51 am
Location: In a very busy place
Thanks for the kind words everyone .. I can only contribute the photo's to the forumites willing to share their knowledge on photography .. learned so much from them all ..
@ Arks .. Yip .. you are 110% correct .. I got it confused and had to go check up last night to make sure I had the right vulture .. I thought I might get away with it .. but in reality I did not have any hope no one would notice .. the forum is just to clever
Thanks for correcting it in the meantime
@ Restio .. I know what you and SO saw on Sunday .. Waterbuck can be commonly found there in that area .. The H2-2 as DB mentioned to me?
@ Duco .. Framing done in PhotoShop
Now let me get started with Day 2 & 3 (had to leave early day 3 so no report for that one unfortunately
See it as a "Bonus Feature"
NO TO HOTEL DEVELOPMENT IN KRUGER
---
Distinguished Virtual Ranger

Posts: 1372
Joined: Thu Dec 09, 2004 6:51 am
Location: In a very busy place
Okay .. so let's start with day 2 ..
Was up and ready and waiting 1st in the gate 20 mins before it opened .. (I contribute that to the eagerness and impatience of youth). So as the gate opened the cars were lined up .. and we set off .. The cars came by one by one by one untill after 1km when I was all alone
But this did not bother me as I knew they were all off to Skukuza and would take the H1-1 to get there .. NOT the road I'm taking today .. My journey was another path ..
Went to see if i could find some Wilddogs or Leopard (HORROR STORY .. I did not see one
) .. At the Shabeni Loop ..
After driving around seeing some Duiker and Impala
.. got onto the Albasini Road and had a nice sighting of a Mother and calf white rhino .. Could not take a photo coz they were directly in the sun .. But was treated to an awesome sunrise!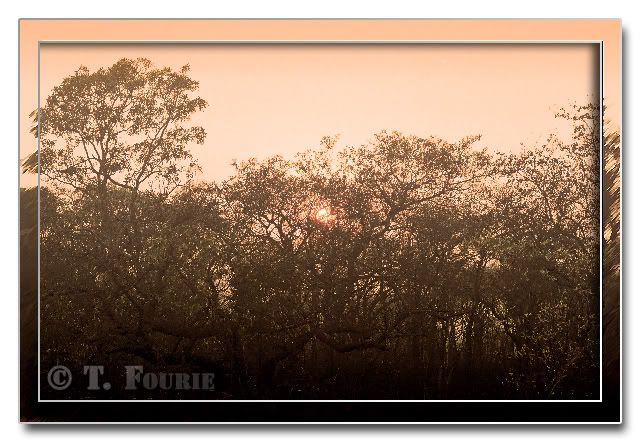 So I kept on driving .. and having not found any elephants yet I saw some very fresh dung and spoor along the road .. Which later was lost when the ellie seemed to have moved into the veld.
But was treated by another Rhino sighting of a big male grazing next to the road
Decided to have breakfast at Nyamundwa Dam (the perks of braaing too much meat the following evening) .. and see how far the fires went .. Got there and saw some fires still going .. But the storks were entertaining me while I had breakfast catching their own
..
The smoke got really thick at some place as you can see .. which gave it some "mystical yet eerie" feelings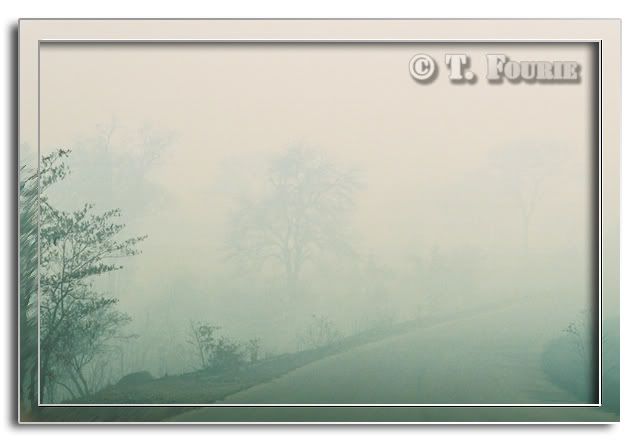 The birds were a real treat to watch .. this oke was catching all the insects next to the road .. but had the funniest walk .. Difficult to explain .. but I really had a good chuckle ..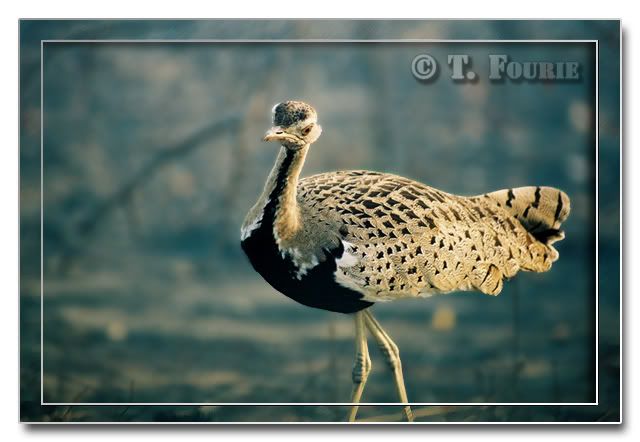 So I kept going on .. When all of a sudden I see cars galore .. hmmm .. I must be in the South coz this can only mean one thing .. Some predator .. And they did not dissappoint me .. Asked what they were looking at and the guy said 2x cheetahs .. WOW! .. Cheetah!!! Manouvered a bit and saw them in the ditch .. but could see these 2 were on a mission .. Checked they were going to leave and left myself .. Short while later they popped out next to my car and most of the cars now having left .. it was only me and 2 more cars .. as I said these guys were on a mission and I kept following them .. they moved off a bit deeper in the bush and that's when I saw the characteristic movement of a cat about to "pounce" ..
For the life of me I could not see what they were looking at but realised there was something .. the next moment one of them burst out in a speed I last saw exactly 3 years ago on the H1-1 .. this oke is going for it .. The next moment I see a small Duiker burst out of the taller grass and the race was on!
Had this been an Impala I would not have minded .. but this small one running for it's life I could not help but urge him on .. Fortunately it seems that this little one was feeling fresh and really gave them a hard time (the 2nd one had joined in now) .. After loosing them for a while I could only hope .. And it was with mixed emotions when I saw the 2 walking off .. Realising that the duiker got away .. but at the same time realising how much effort the 2 of them had to put in to try and get a meal .. Truly AWESOME! And what was even more satisfying was seeing the smiles on the faces of the other 2 cars ... (later I would find out that one of the cars were from oversea so they really had a treat) .. I knew there and then that these cars will keep on coming back to nature and kruger.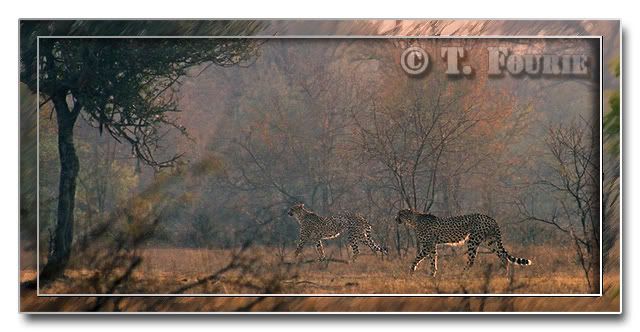 So having seen that very special moment I could not have asked for more and decided to take the S65 (the Wilddog road last year) .. And wow .. did I see a lot .... of Impala's
Which means you should find a lot of predators there as well .. So maybe take the road .. (@ the right place @ the right time)
So set off to see some Ellies .. and I reckoned the best place for that was along the Sabie River .. After seeing a snake dash into the grass I carried on straight .. Not to long along the H4-1 .. I came up to a lot of cars .. And seeing a helluva lot of Vultures in the tree .. I realised there must have been a kill .. Standing in a line we each waited to get to the front of the queue to see .. And found 3 lions feasting on a carcass probably not more then 10m away but well hidden in a bush .. Really really difficult to see .. After almost flipping my lid for a lady getting out to have a better look and telling her to get back in the car .. I decided to carry on and come back later (feeding lions tend to stay a long while)
.. 2km's down the road found 3 more lions .. on the opposite side of the river .. being a better view I stayed a bit .. but as the "traffic jam" got too much left again .. and a further km down I found my ellie .. still young but very calm he was enjoying some of the vegetation ..
Wanted to go to Nkuhlu but after 5km's decided I had to get on my way back to camp ..
Not far and I found this lovely kudu .. and being one of my favourite animals I had to take a photo which he posed for very nicely (kudu's tend to be difficult to photograph for me coz they don't let anything really bother them)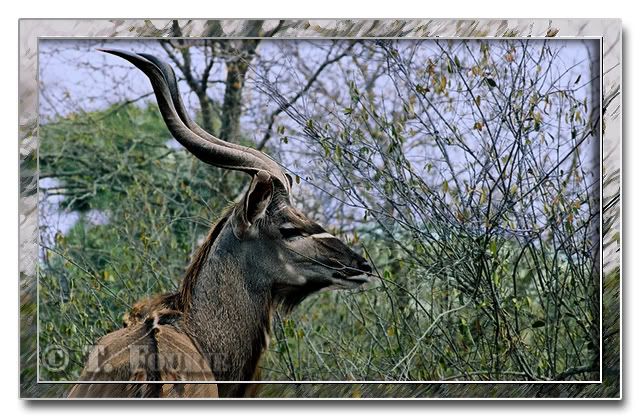 After watching him go off .. I drove back and saw the cars again .. But realising where the lions was sleeping .. I could not understand how they could all see behind the trees .. when I suddenly realised that they had moved across the river and found them right next to the road .. A photo opportunity I have not had for a long time on lions .. making sure I was not in anyones way I could happily snap away and video record them ..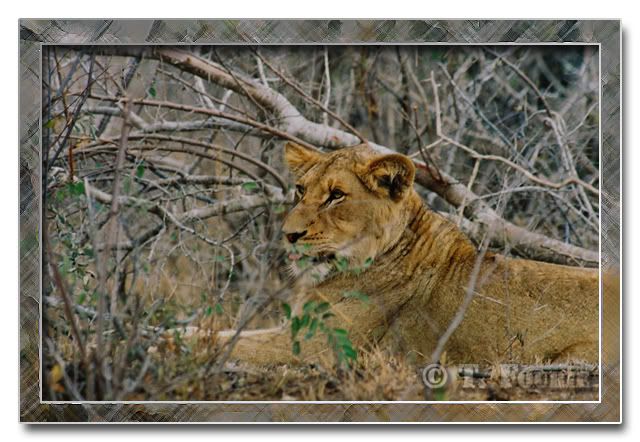 Still young but you could see the power that these 2 guys and girl had .. not to be messed with .. but REALLY lazy now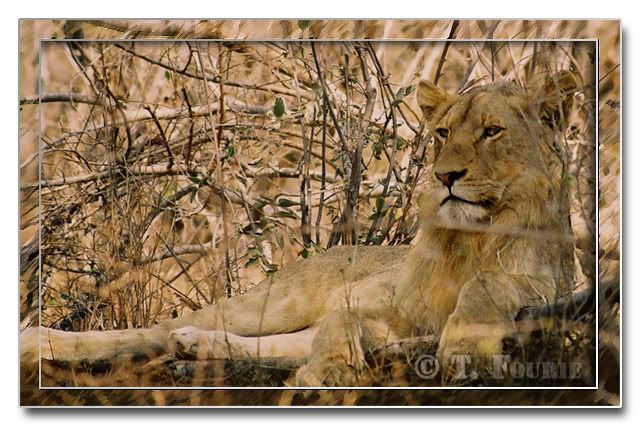 After all this I was treated to seeing 1 of the local breeding herds of ellies I always seem to run into and for the first time hearing ellephant trumpet and go crazy .. all because 1 young ellie lost a battle against another ..
Magnificent!!
So that was it .. I had a SUPER FANTASTIC day .. and I could not ask for anything else ...
Went to camp .. and was again treated to another Reedbuck (young) sighting at Shitlhave Dam .. and later to a small duiker (young) lying under a bush right infront of our camp site
So what more could a guy ask for after such a great day? Well .. having a mini-meet with DB, Hawk, Restio & SO, KNP Spokesman & SO and Jacov & SO does not sound too bad .. and I had a great time with them all .. And to end the day .. we were treated to a sighting of 2 bush babies in the tree right accross from us ..
I went to sleep with memories of a day of big high's and big low's (you can look at the gallery of shame topic for the lows). And had a peacefull sleep in the windy evening.
Day 3.
As I mentioned .. I had to leave early Sunday .. So on my way out was treated to another sighting of a DB, Hawk and another white rhino .. and as if to echo me leaving the park .. My last sighting of the day was this ellie walking a long road as if to say .. Farewell my friend .. I will see you someday again.
.... Stay tuned for some more photo's later on
NO TO HOTEL DEVELOPMENT IN KRUGER
---
Distinguished Virtual Ranger

Posts: 1372
Joined: Thu Dec 09, 2004 6:51 am
Location: In a very busy place
You guys and girls are really swell! Thanks for the nice compliments .. Ditto Jacov and Matt .. @ Pardus .. Yeah .. but more for a month should be okay too
.. Sigh .. if only ..
Jazil ... I hope those beer cans are full Castles
Richprins .. Every year it's counting down .. so far it has been 19/20 years (will have to go look) since I last saw a sable in the KNP
Glad everyone could find some value in the report .. Now to make sure I get you all back to KNP soon .. here some more
It's always nice to enter at Kruger Gate .. this year I continued the 3 musketeers tradition to have a Castle on the bridge at Kruger Gate
Watching this morning greet ..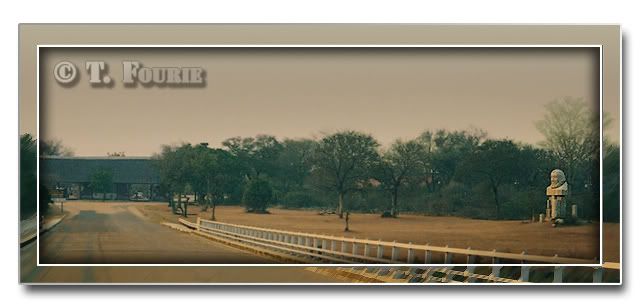 The Goliath Heron welcomed me back to KNP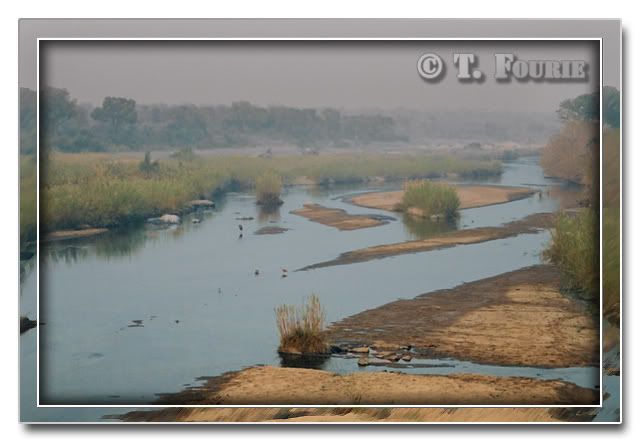 And what is a visit in the South without a stop over at Lake Panic .. Besides the croc and nyala .. the hippo's and their young were voicing their opinions of the smoke ... Clearly some had some good jokes as the young were in high spirits and there was a lot of grunting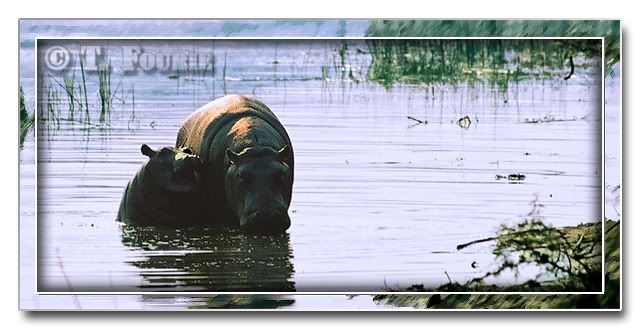 As usuall .. Lake Panic was teaming with birds .. but a lot of African Jacana's ..
And this Darter .. which apparently is a resident there for quite a few weeks now .. KNP Spokesman and myself had a similiar picture .. thou I have to admit .. his photo made me quite
.. The man is good!
I always enjoy the piggies .. but this was hillarious .. thou it's our secret what I'm about to tell you .. So I was on my way to P/Kop and in the distance on the road I can see 4 spots coming towards me .. And followed directly by 3 cars driving slowly .. Since we were in the "Skukuza 7" (Wild dogs) territory .. and I could not make out what the animals were .. I assumed it could be 4 of the wild dogs .. I got so excited .. grabbing camera to be ready when they pass .. As they got closer .. I suddenly realised that it was 4 piggies running infront of the cars down the road .. Really weird .. As I have never seen them done this .. but very funny .. and
for me .. but none the less .. I can never leave the park without a snap shot of them ..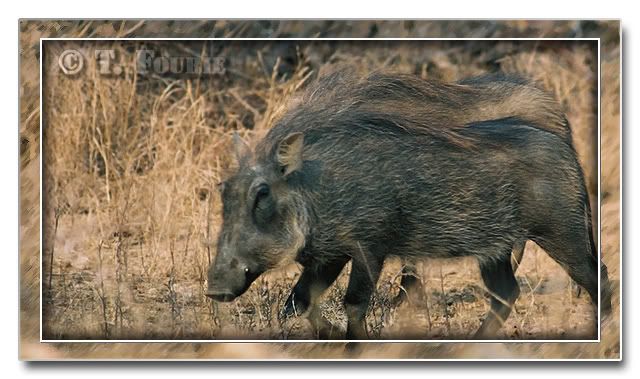 BTW .. Close to P/Kop I saw a "Monster" of a Piggy .. I'm sure his tusks can be entered for the "Emerging Tuskers" competition
So ja .. As I mentioned (or is that what other's have mentioned
) ... You can find Sable at Transport Dam .. Even thou I did not find them there .. it really gave some nice birds to watch .. I'm not sure if this is a sign of improvement .. but for the last 3 years .. I've been getting Ground Hornbill on every trip .. usually a group of 4 .. and seriously hoping that this could be a sign that their numbers are increasing ..
They always make me think of the Mafia ..
"Good fellas" with an attitude to match ..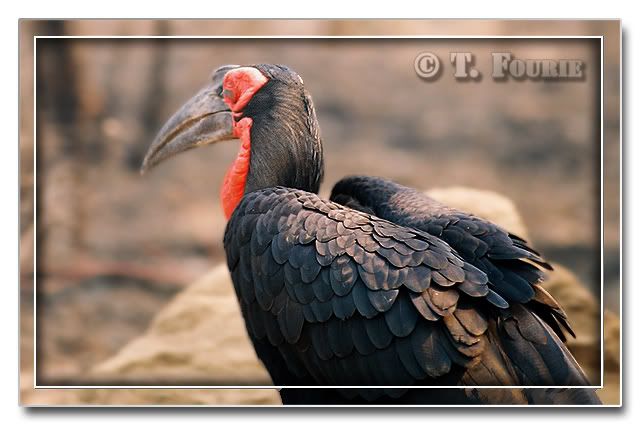 Here is another pic of the fire ..
And this was another monster of a croc .. I have to admit .. I think KNP has some of the biggest crocs in the world .. It's amazing how lazy they are .. but how powerfull as well .. Considering how long they have lived now without "evolving" too much .. I think the secret to life is being lazy and stuffing yourself as full as possible .. to avoid any strenious labour later ..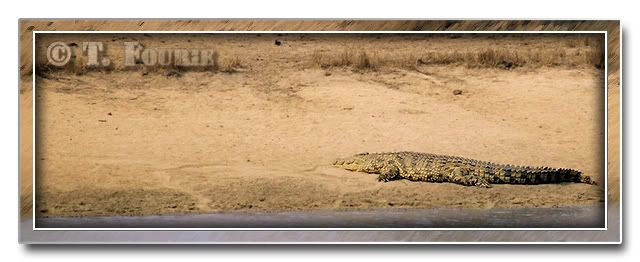 At Shitlhave dam there were some nice predator birds .. and found this Secretary Birds coming down for a drink .. man .. I think this bird resemble the dinosaurs the best .. he could easily have been a descendant of the Velociraptor.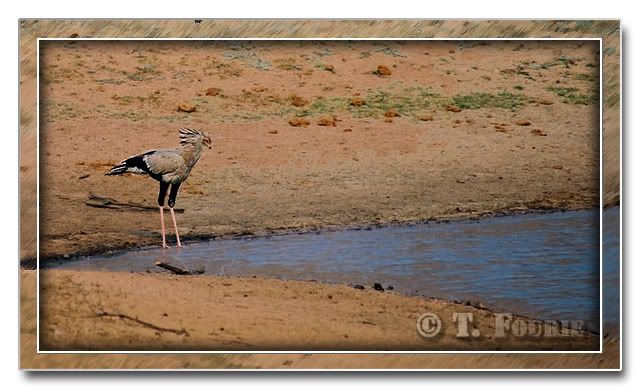 And finding the 2 species of Vulture and Bateleur (which I saw quite a lot of this trip) .. was a big treat for me ..
So counting the Fish Eagles .. there was a total of 7 Birds of Prey at the Dam .. and 4 different species of Prey birds ..
But the true highlight here was the Reedbuck .. Here is another pic of 1 of them .. the male .. (the female was deeper in and could not get a decent snap of her) .. Women .. pffft . go figure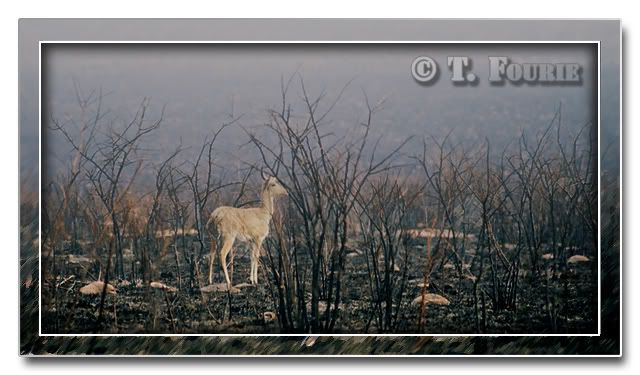 The late afternoon drive was special .. (as you might recall from my Day 1 report
) .. But there were several other things that really was like the icing on the cake ..
For 1 .. I have earned "more" respect for the "Dagga boys", of all the animals staying away from the fire .. I found 3 grazing at their own pace and leisure ..while the fire was sizzling close to their beee hinds
Is there anything that can intimidate these okes
So driving on .. I found this rhino .. chomping away at the grass not yet burned on the firebreak road .. He was very relaxed .. And while everyone was checking out some kudu in front I could at my own pace (more like his pace) watch him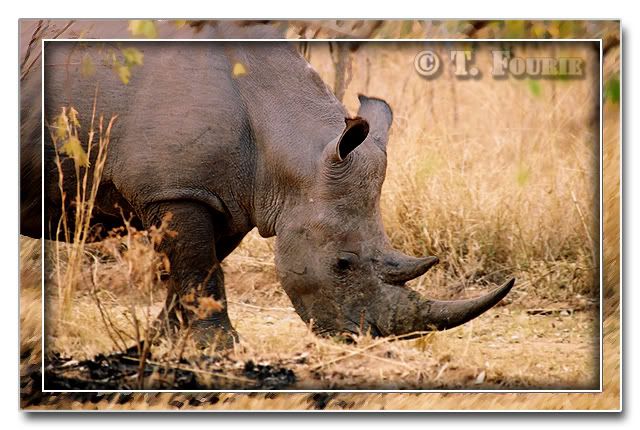 But Kruger is not just about the big guys .. the little ones are also very interesting (and dare i say "cute") to watch .. And getting an opportunity to snap them is always a special treat .. like this little "Field Mouse?" I found .. As he was not moving .. And there were cars coming .. I made sure that no one had the opportunity to drive over him .. because for 1 he was darn hard to see with the light failing .. and I don't think everyone looks for the smaller things .. thou I can be wrong ..
.. So ja . there you go .. Day 1 is now officially over and done .. On Friday I'll give some more on Day 2 .. (coz tomorrow is a Public Holiday
) ...
NO TO HOTEL DEVELOPMENT IN KRUGER
---
Distinguished Virtual Ranger

Posts: 1372
Joined: Thu Dec 09, 2004 6:51 am
Location: In a very busy place
pardus wrote:W@H - thanks again for great photos, just a question...how did you get to that mouse at that angle.....
Us "mouseketeers" have a code of decency amongst ourselves, we don't run away from our friends
It was actually really easy ... He was right next to the vehicle no less then 2 meters away from me .. That and a 200mm zoom lens made it easy .. so that it almost seems as if you are on ground level with him
But ja .. I was actually expecting him to run as soon as I started backing up .. but he was just sitting there .. (I hope the little bugger was okay
)
Right .. So here is the final instalment of my "Smoking Trip" *cough *cough
The S3 road really gave a beautiful sunrise .. mixed in with the smoke there were some spectacular colours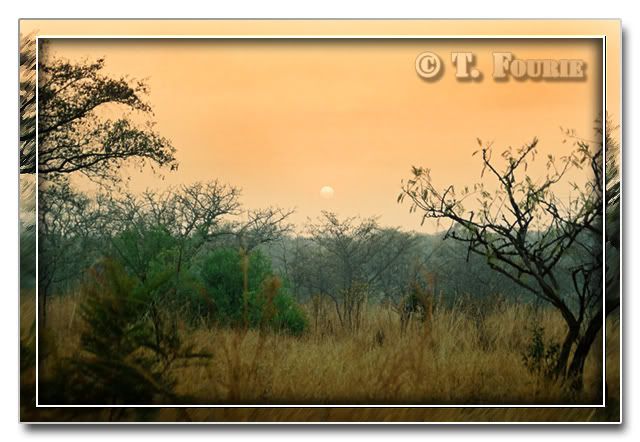 As I mentioned .. I saw a mother and calf white rhino .. I thought I did not take a photo of them .. but here she is .. inbetween the rest of the stuff .. so easy to miss a rhino
I figured this was a "grey rhino" since I could not see the lips, they were not eating and the baby was running next to the mother .. White Rhino babies run infront of the mother while Black rhino babies run behind the mother .. So I'm sending this to Scientific Services to classify the new Rhino specie
Had a stop over Nyamundwa dam to enjoy some of last nights leftovers and saw this fish eagle .. one of many .. He looked a bit "high" to me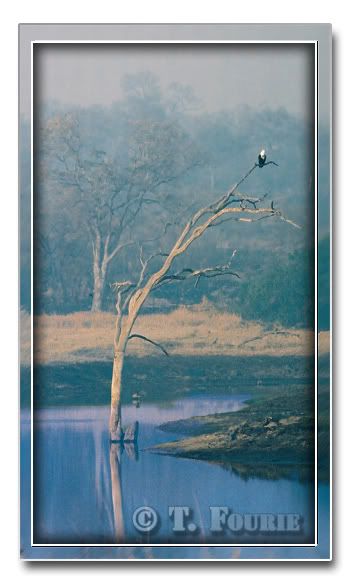 The cheetah sighting was spectacular .. but these okes just did not wanna play along .. I mean .. how many times can you say .. look into the camera and say cheese .. Never happened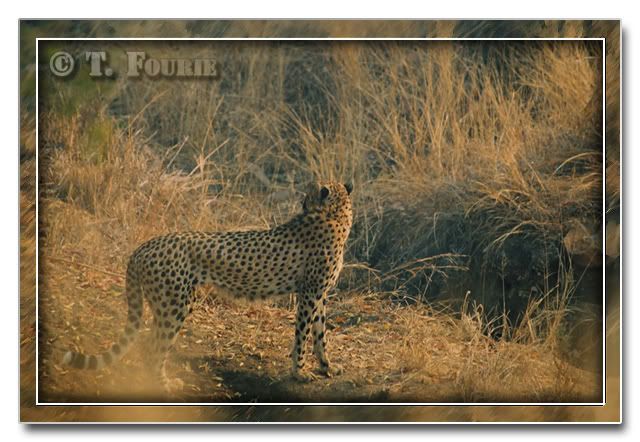 But none the less ... It was very special ..
I don't know about the others .. but this year was really a good year for spotting "Steenbokkies" for me .. This year I've seen them everywhere and even once or twice with their mates .. They make for excellent photo subjects .. That's if you are fast .. coz they freeze when they see you .. and if you back up then they make a sprint for it .. This one must have thought he was well camouflaged
Here is the vultures I mentioned that we found at the kill .. There were several different species .. and you could see them licking their lips .. but they were clearly not prepared to take on the lions for a meal .. so waited patiently for them to leave .. whenever that was going to happen
Here is some more photo's of the lions I found further on .. And I hope Bert gets this lucky ... I'm not sure, but I think I had some Pork Rashers Marinade around my mouth .. coz that second one was really looking intently at me licking his lips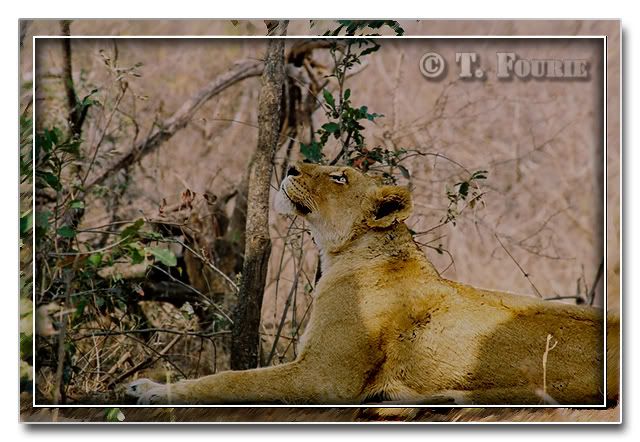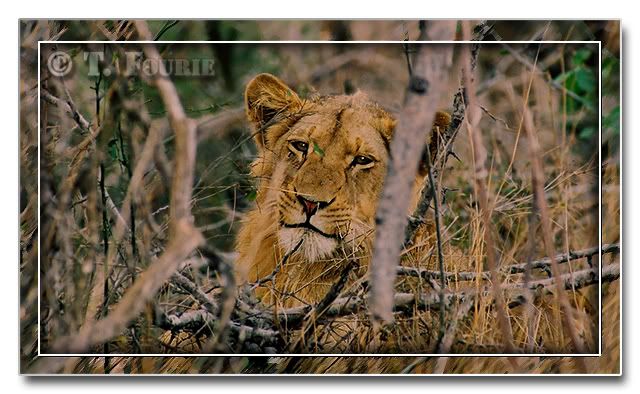 Finally after a day and a half .. I found my first Waterbuck .. Just needed to make sure they still there .. coz they seem to bring a lot of joy to people when they impersonate Sable
At Shitlhave dam .. for the 2nd day in a row I was fortunate to find Reedbuck .. this time a younger one ..
And found this Bushbuck close to P/Kop camp ..
And with that ... my weekend comes to an end .. I hope you all have enjoyed it as much as I have preping it .. Thank you for all the compliments and comments
Now .. let's go and book our next trip
NO TO HOTEL DEVELOPMENT IN KRUGER
---
---
Who is online
Users browsing this forum: jaxidean and 4 guests