Junior Virtual Ranger

Posts: 261
Joined: Wed Apr 05, 2006 6:59 am
I'm off to Kruger in a coupe of hours, were we will meet up with
Krokodil and her family, for the week-end..

Will talk to you again next week.
---
Junior Virtual Ranger

Posts: 261
Joined: Wed Apr 05, 2006 6:59 am
We arrived early the Friday morning and had to wait for the gates to open. This gave us the opportunity to check the photographic equipment and to load all the necessary books ext. into the bakkie. We waited with great expectation to enter Kruger. It also gave me the opportunity to phone Phil and make arrangements were to meet. We decided that we would get together at Nkulu for lunch.
Later the day as I turned into Nkulu picnic spot I noticed a big baboon male sitting with a loaf of bread still wrap in a plastic. As he torrid it open tourist were happily taking photo's of eating the bread.. Seconds later the game ranger stopped and had a whip with him. All the baboons fled. About 15 minutes they were back and as we sat down still discussing what we will order, a female baboon attack two other couples at a table opposite us and forcefully took there food away. As the one man got up to chase her away, a big male baboon also jumped onto the table showing his teeth to the man, almost daring to do anything and also helped him self to the food. We there and then decided that we would drive to Lower Sabie for lunch as we had young kids with us, and was not prepared to take any changes with the kids with us.
A very horrifying and also sad experience. You sir/madam has effectively signed the death warrant of the entire baboon troop. They have now learnt that it is easy to take food from humans. The baboons will seriously injure somebody and the Park will have no option but to shoot the entire troop. The people that feeds the animals normally have the most to say when the animals that have became problem animals are shot.
Had to get this off my chest.
Elephant dung
An enormous job lays ahead for these dung beetles to roll this enormous heap of dung away.
Black headed Oriole.
Yellow Pansy
It's spring and everywhere in the field you see these flowers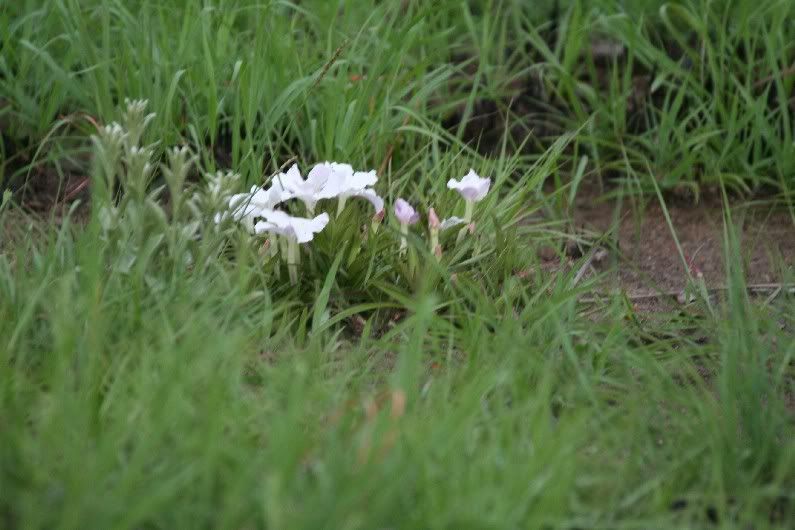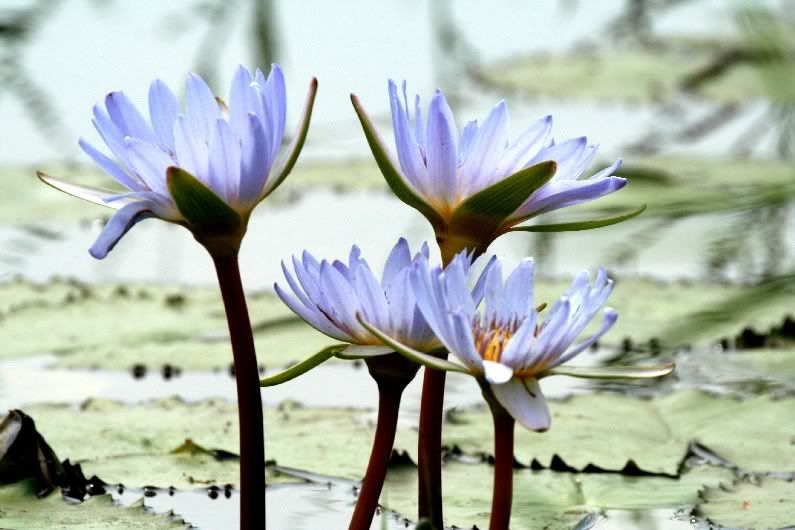 ---
Junior Virtual Ranger

Posts: 261
Joined: Wed Apr 05, 2006 6:59 am
Some of the animals that we have seen.
Lazy Rhino's at De Laporte Windmill
Reedbuck on Fayi Loop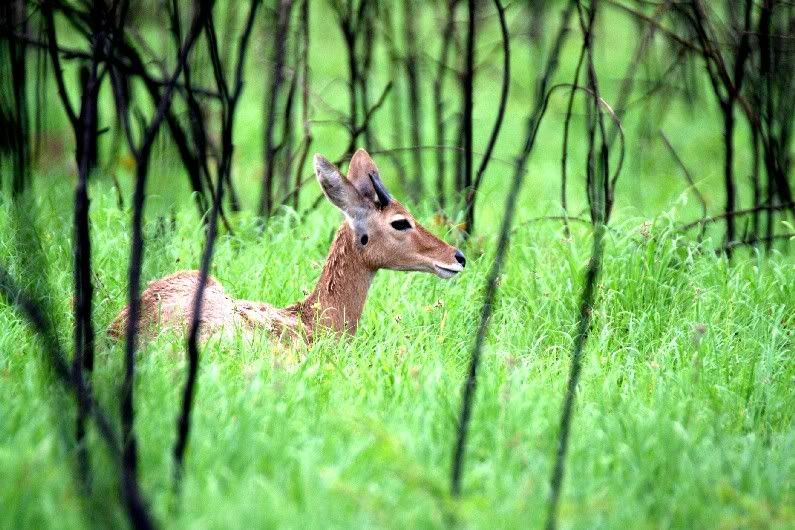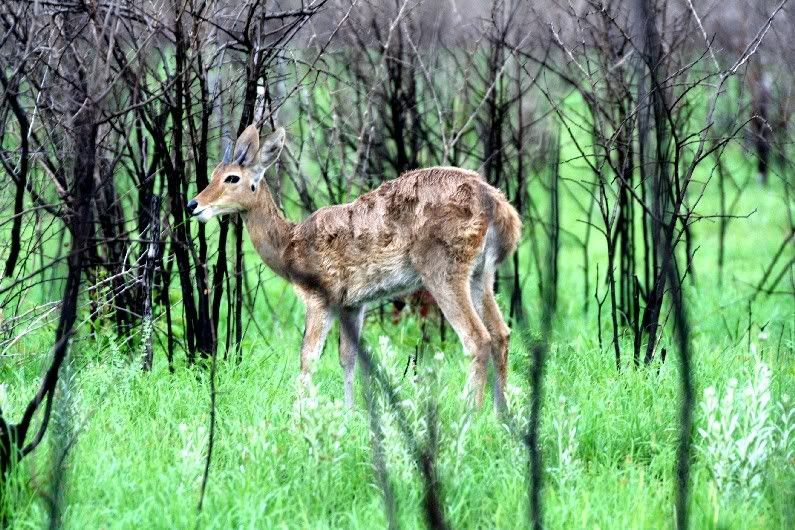 He properly forgot to come his hair we he got up this morning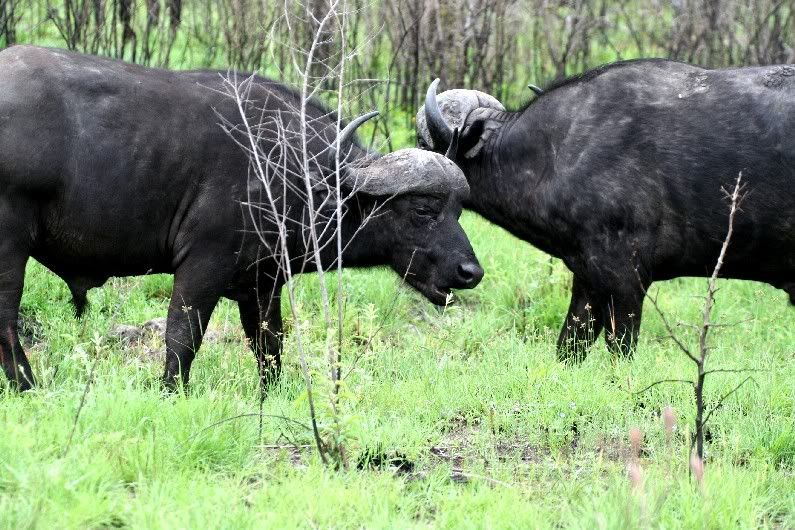 Some of the buffo low heard of approxcemently 200 strong.
Can this be a Juvenal African Hawk Eagle?
As he took off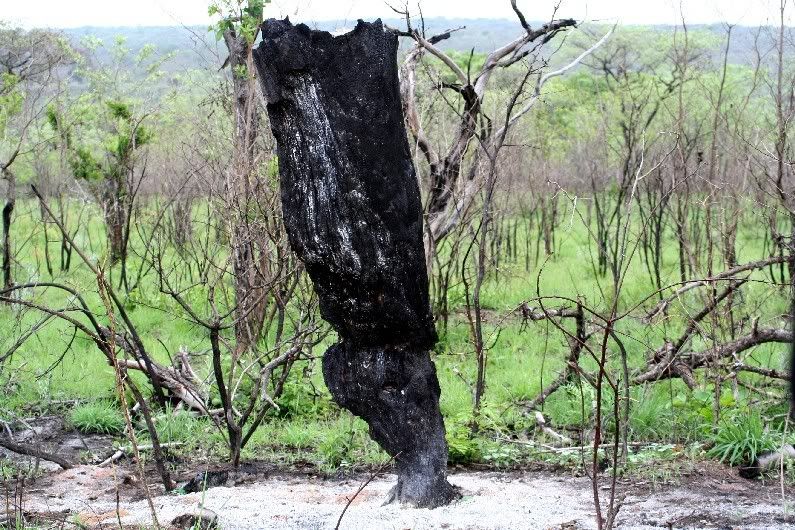 I have posted a photo of this tree in August. See how green the field are now.
Speeding: much has been said about speeding motorist in the Parks. On the Voortrekker road no less than 5 cars went past us and non of the saw 7 Lions crossing the road.
Note the flees on her back and the lump on her left fore leg.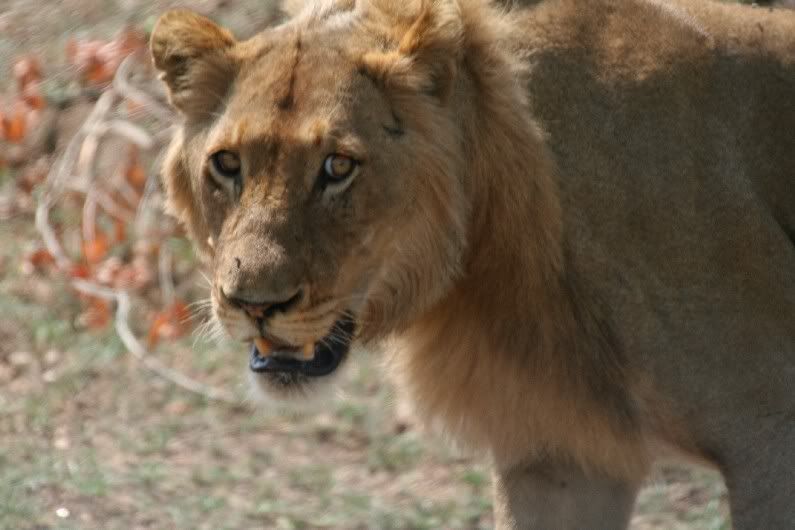 Beautiful Sub-adult male. Look deep into my brown eyes.
Green Pigeon at Afsaal Picnic Spot. See the fruit still in his beak.
Scops Owl at Afsaal Picnic Spot
Brown Headed Parrot at Afsaal Picnic Spot
This fellow has known better days
It looks as if this Leopard decided to close it eyes and stick out its tong just as I took the Picture
Klipspringer. It's hard to believe that they spend their entire lifetime on confined area.
Black Mamba. The only snake that we saw.
The highlight of the weekend was definitely the adventure trail that we drove on, on Sunday morning. What an experience. It's just you and Nature (Paradise) No other vehicles in sight, nobody getting out of their vehicles to take photo's of animals. This is how the early visitors must have experienced the park. We have seen sable as well as Reed Buck. I only realised how devastating the fire earlier the year was on this trail. It was also wonderful to note the green sprouts on trees, which is an indication that it still alive, even though it has burned. I am scared to say too much about the experience, as I fear that humans might also spoil this
---
Virtual Ranger

Posts: 1139
Joined: Wed Feb 22, 2006 6:04 pm
Location: Middle of England
such a shame if the baboons have to be removed! If only everyone took extra care or they may ruin the reason why most of us visit the park,to see wild behaviour in a wild setting.

Saying that baboons are scary,we had a small troop mob us at cape point....not something id like to have happen again.

lovely pics and honest report..thanks
john
NO to permanent tents erected in campsites of pretoriuskop and malelane
KNP April 2018.....bush and bugs
and KNP July 2018
---
Some great sightings and super photos Pieter.
It really is a terrible shame about the Baboons -- they weren't quite as bad as that when we were there earlier in the year but I can imagine how scarey they could be.. especially if you have young children with you. The ranger was there with a catapult chasing them off when we were there.
The 4x4 trail sounds really great an we would like to do that next year.. Lets hope the park restricts the number of cars per day.
Addo and Tsitsikamma in December
Cricket in Skukuza in March
---
Junior Virtual Ranger

Posts: 261
Joined: Wed Apr 05, 2006 6:59 am
I get very angry when I see people feeding the animals and point the do not feed the animal signs out to them. 9 out of 10 times they swear at you. The moment that I say excuse me what did you say, they back off, as I am fully prepared to give him a hiding of his life at that stage.

I sometimes think the only solution to the problem is to make them watch as the ranger shoot the animal. See how they like that.
---
---