This mini report/story is my first, so it's likely that I have made some mistakes. Mods. If this is not the place for this kind of post, please move it and let me know if there are any other issues eg. Pic. posting, that I need to sort out. This is a sort of dummy run for a proper trip report after our holiday this Aug. thanks.
Aug. 2003 PART 1
After a great week exploring the far north of the park we arrived at Oliphants, in my sons words,
"all safaried out".
We had cunningly booked a fantastic cottage with a great river view from the veranda so we could crash out without wasting good birding and game spotting time.
The plan was for once to skip the gate opening time and have a lazy day to prepare for the week to come. Now at this point, I bet the experienced Krugerites could have a good stab at writing the next bit of this story.
Yes, that's right, as I lay in bed my mind refused to shut out that picture of Olifants Bridge at dawn and errrr -------- son and I were second in the queue at the gate, and, yes, the SO did stay in bed.
The Bridge was indeed wonderful and worth getting up for, but surprisingly empty of game, so we headed south on the tar road. We were just approaching Ngotso Noord water hole and the sun was just peeping over the bush filling the air with that magic pinky golden light when the first rhino of the holiday walked across the road. He was very nervous but despite staying back, I only managed this one shot before he moved off.
[/img]
Full of excitement we moved the few meters to the waterhole and immediately noticed a herd? of Giraffe and WB making their way up for a drink. Giraffe are so beautiful, but with that light on them, they became almost magical. The sun was just catching their lower lips as they approached, hope you can see it on these tiny pics.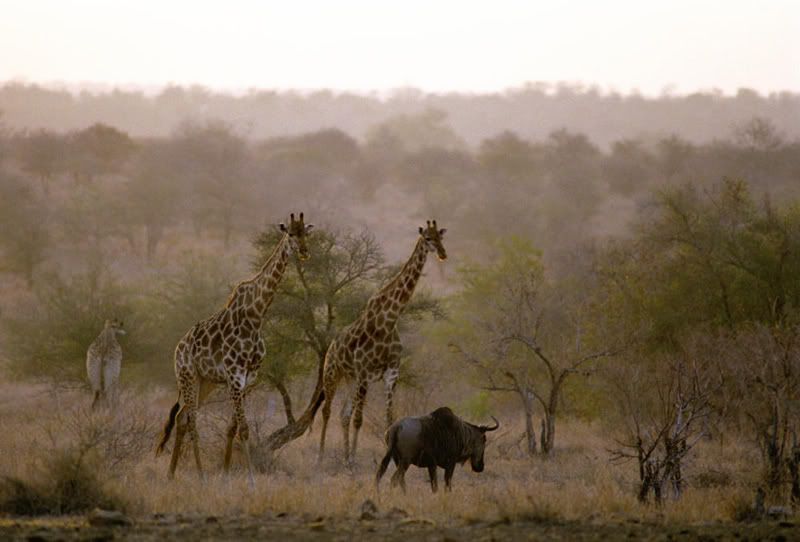 After the giraffe moved on so did we, very slowly south and just a few K. down the road came across this pride resting up after a long night.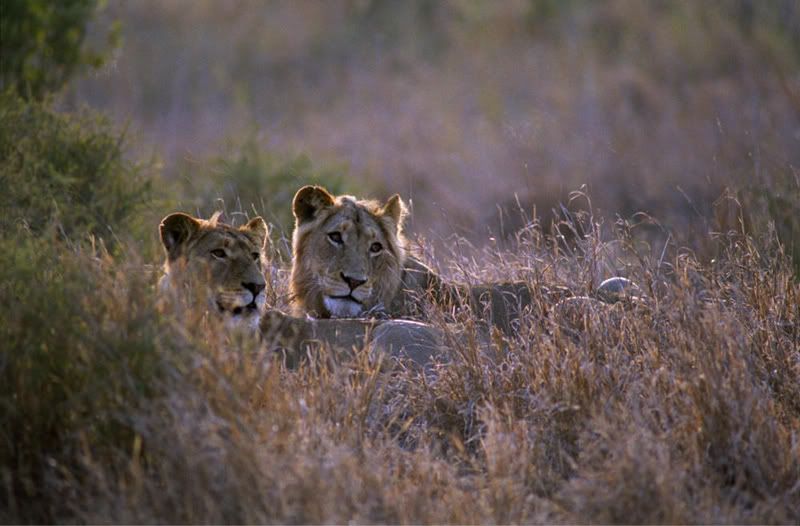 We were wondering just how much better it could get and how we were going to break it to the one still in bed. All too soon we were joined by a large group of cars, the lions moved off and so did we, being overtaken by the cavalcade on the way.
Again just a few K further down we saw a car and caravan parked facing us so we stopped 100m or so in front and waited to see what was up. In the meantime lots of cars slowed by us and by the caravan, had a quick look round then drove off. Eventually the occupants of the caravan/car waved us forward and as we slowly approached they pointed to the ditch right next to them, and you've guessed it again, there just visible in the long grass was our very first LEOPARD, a magnificent male. By the look on their faces our new friends were enjoying our reaction almost as much as the sighting itself!!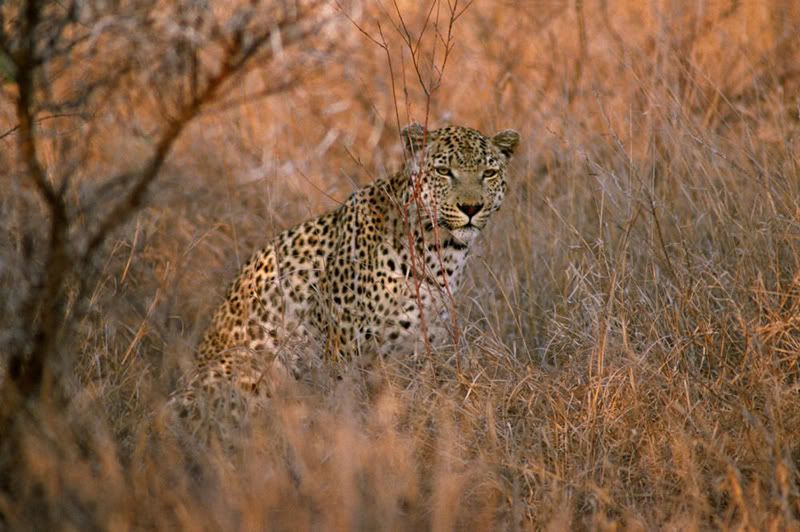 We stayed for about an hour taking some of my favourite photos ever, with the leopard crossing the road occasionally to spy out the surroundings and we only moved off when it got a bit too crowded.
We never found out who our caravanning friends were, but we will always remember those wonderful shared moments.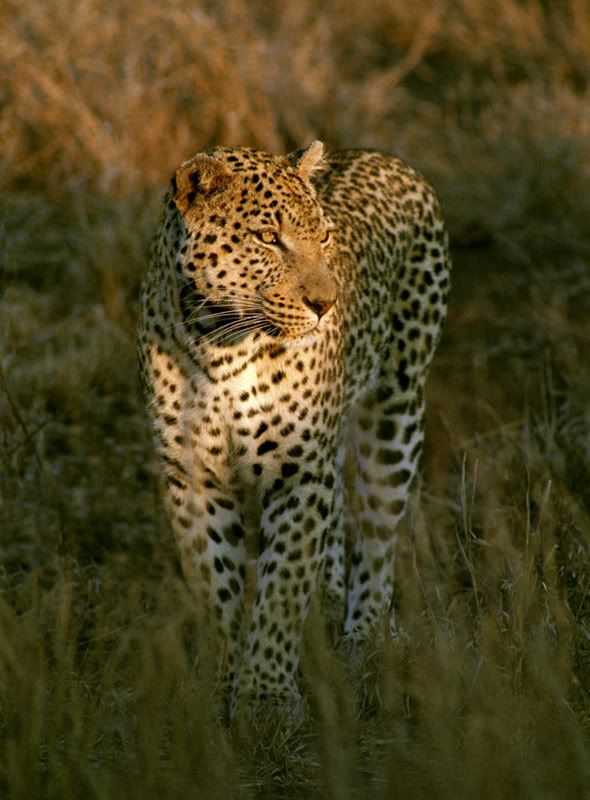 We went on down to Ngotso Dam for a short rest before heading back to camp, well that was the plan, but--------------- Part 2 to come later, He! He! He!
Last edited by
UKbadger
on Wed Jun 20, 2007 9:41 am, edited 1 time in total.
---
Thanks for your comments everyone.
Part 2 coming up.
So we went on down to Ngotso Dam for a short rest before heading back to camp, well that was the plan,
but--------------- er, no,
"What's that moving through the bushes by the water?" CHEETAH!!
We were stunned motionless, for a few seconds, then cameras swung into action.
He eventually walked in full view up onto the dam wall where he sat to look out for breakfast.
Is there breakfast about?
Aha! a small group of Impies back by the road and he's sure to see them soon.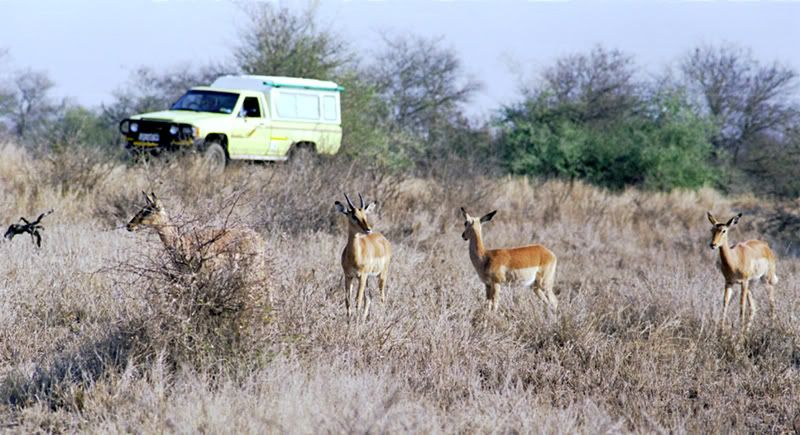 A quick move of the car to see him face on if he starts to stalk-------------
Yes, here he comes!!!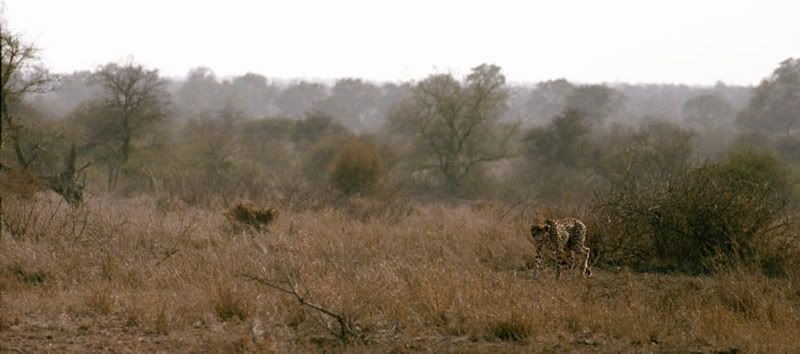 What's shaking the car? Oops it's my heart beating.
Oh those eyes!!
[The very observant among you and I expect there are many will have noticed that this Photo has been "flipped" for efect but is I promise the same animal!]
Despite not seeing him, the Impies moved as they grazed, staying just too far away for him to launch an attack and eventually he gave up, posing for a last photo or two before disappearing into the bush.
As our trusty Toyota made it's way back to Oliphants it felt more like a hovercraft, we were floating!!
When the camp gate finally came in sight, we looked round at each other.
"How are we going to tell Mum about this?????"
---
---