Distinguished Virtual Ranger

Posts: 1372
Joined: Thu Dec 09, 2004 6:51 am
Location: In a very busy place
Well .. We're off tomorrow to KNP early morning. Going to see if we can find the "mythical sable" ..
NO TO HOTEL DEVELOPMENT IN KRUGER
---
Distinguished Virtual Ranger

Posts: 1372
Joined: Thu Dec 09, 2004 6:51 am
Location: In a very busy place
Wild-doc wrote:Hope you find him/her.
Where will you be staying?, as SO and myself will be in BnD this weekend.
Hope you have a great one!
Thanks Matt ...
Wild-doc .. We'll be sleeping at Shipandani Hide tomorrow evening and then off to Olifants for Saturday evening.
Hope you have a great one as well ..
NO TO HOTEL DEVELOPMENT IN KRUGER
---
---
---
W@H wrote:Hide was 'really' cold. No major sightings - if you don't count rhino and big tusker

2 more pearlies, kori bustard and secretary bird.

The Park has changed dramatically snce last month. It's so dry

Could see the fish in Letaba. Huge croc and 2 ellies "humping" stone road signs.

Long drive tomorrow. G'night.
Does this man have luck with tuskers or not!!
- Dalene
---
---
Distinguished Virtual Ranger

Posts: 1372
Joined: Thu Dec 09, 2004 6:51 am
Location: In a very busy place
timbo wrote:What you talking about sable. Seen them twice around numbi gate. Try there. Pretoriuskop is a good place to look but it is far.
Morning all ..
Timbo .. I like you .. I really like you .. but don't say things like this to me
I won't have the reports this week .. still have to develop the photo's ... The LOG .. well yes .. General game .. almost got worried our luck ran out with Lions but saw a pride of 10 yesterday ..
And Pearl-Spotted owls every day .. Really cool .. and a Martial right next to the road in a tree .. BEEEEEG BOID!
Will give some more feedback on the hide and animoos we saw ..
Thanks for all the good wishes .. it really helped ...
NO TO HOTEL DEVELOPMENT IN KRUGER
---
Distinguished Virtual Ranger

Posts: 1372
Joined: Thu Dec 09, 2004 6:51 am
Location: In a very busy place
Okay .. so I've finally got some chance to quickly post a trip report ...
Day 1 started early .. about 3h00 am .. Left Jozie to enter at Phalaborwa gate via Polokwane (a.k.a Pietersburg) .. The drive was quite relaxing .. thou I never like driving in the dark ..
The view before Tzaneng (a.k.a Tzaneen) was one we had to stop for and admire ...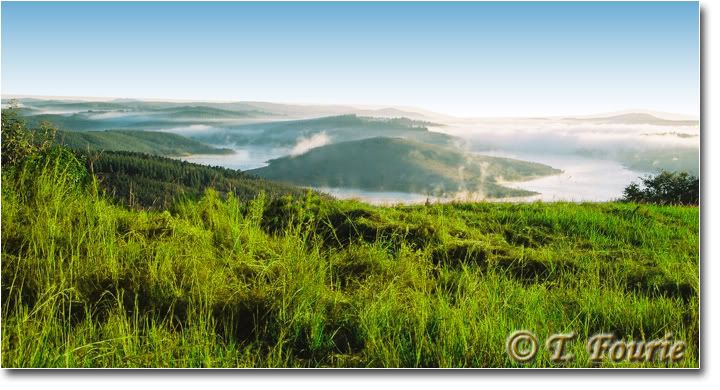 We arrived at Phalaborwa at about 8h00 and booked in .. It's gonna be nice once the building has been completed. No problem entering .. had our form filled in .. gave them everything and off we went ..
Not liking the Phalaborwa road I took the first left turn I could find ... And not far we saw the Mom/aunt with the little one next to the road.
As we arrived the mom/aunt took off and instead of running into the den .. the young one just stayed there and watch us .. falling around in on the ground .. lying in the shade and just generally ignoring us ..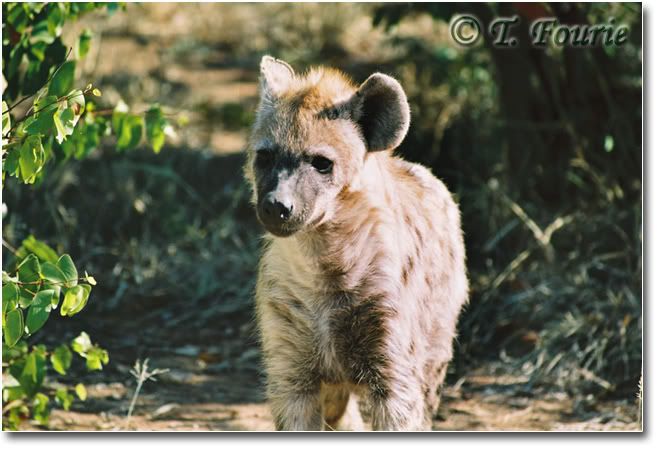 Was great fun to see the Hyaena .. and you guessed it .. Hyaena was very very pleased for the rest of the trip
Saw some other nice buffs, ellies etc .. and at a low water bridge found some hippos grazing and lying on the sand bank. Might be a good time to mention that KNP was cold .. Never experienced it this cold ..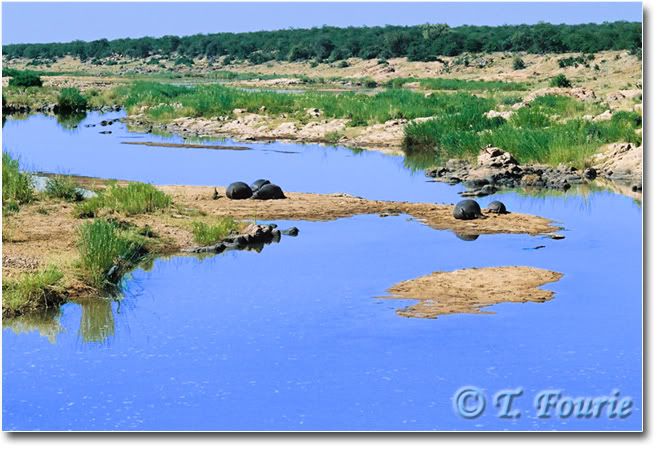 Rest of the day we saw more general game .. And a helluve lot of vulture circling at one spot .. 150m into the bush ..
So as we approached Mopani to book into Shipandani Hide we came across a huge amount of Buffalos .. there were some big "Menere" ("Mr's") in there .. and had to wait a while for the lot to cross ..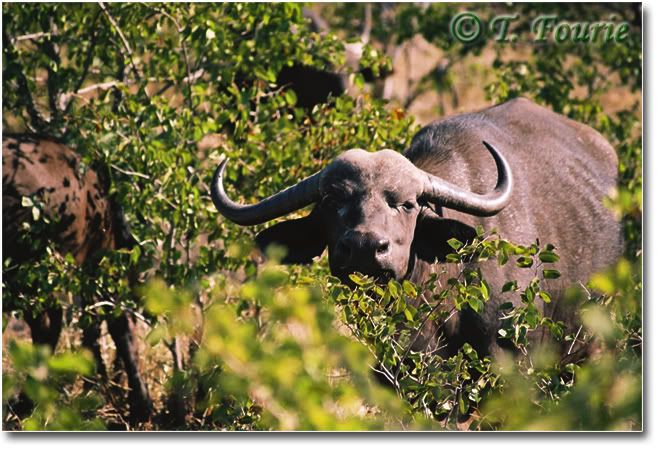 Booked in at camp .. and then off to the Hide .. Nice part is that we could take a bit of a drive that you would not be able to take were you in camp .. you would never make it back in time .. but our "camp" was closer .. so we still had more then enough time before official gate close ...
Had a nice close encounter with this African Jacana who seems to have forgotten there's a vehicle with him on the bridge
But I was not complaining with this little one's bravery.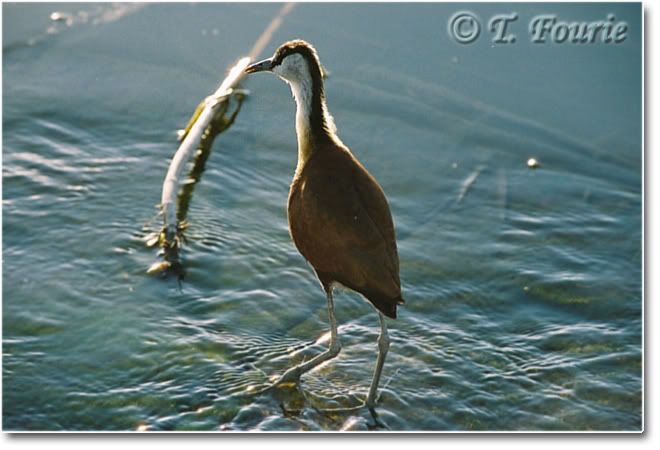 Again .. The Duke Team Spirit seems to have flowed again in me, because as we were on our way back to the hide with the sun seriously setting .. we came accross a LOG .. Unfortunately .. he was far away .. and the serious lack of light resulted in me not getting any decent photo .. all blurred .. But we got some good video cam footage.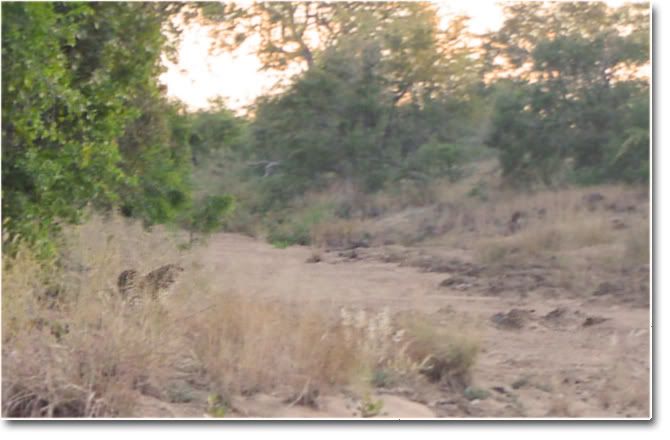 As the sun was setting we were treated to this beautiful sunset before arriving at the hide.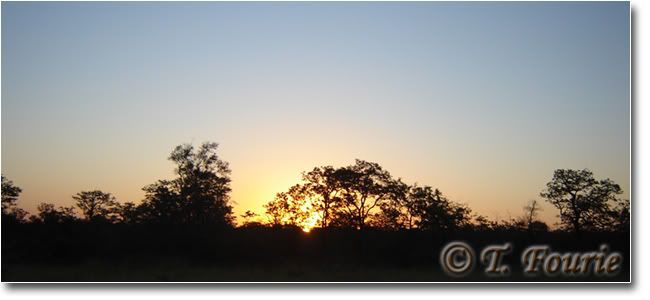 And so we got to the hide for a night of hippos, braai and cold.
The hide was a great experience that I would urge anyone to do .. We booked in at the camp. With the option for bedding, lights and jerry cans for water we opted not to take anything. We brought most of our stuff with so that we only needed to drop off the keys the following morning to get a head start on the day.
The hide was clean and we quickly unpacked everything ... The beds were made up quickly and we settled in for a night of relaxing by the campfire in the bush.
A few hippos entertained us the whole evening. They were grazing so close to the fence of the hide that you could actually hear the chomping of every blade of grass
.. Clearly they have not heard of manners yet
It was a clear evening but very very cold. We huddled around the campfire like ants around food. The very curious thing was that besides the hippos .. there was no other sound. Not even a chirp of a cricket or anything. I would imagine the cold might have had something to do with it ..
With no mosquito's in site we had a very restfull evening .. and woke up very early to hear for any sounds .. After making some coffee we packed up and were out by 6h00 the morning.
Leaving the hide we noticed the temp at -3.5 degrees celsius. From the extreme heat in Feb to this it was quite an experience.
I would do it again .. and again .. and again .. The atmosphere of the hide and knowing you are in the bush with only a small piece of wooden pole fence between you and the animals makes for an experience you will never forget ..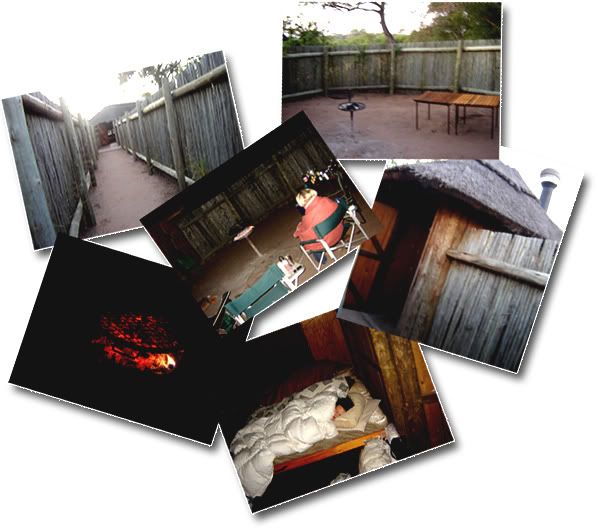 And so ends day 1
NO TO HOTEL DEVELOPMENT IN KRUGER
---
Distinguished Virtual Ranger

Posts: 1372
Joined: Thu Dec 09, 2004 6:51 am
Location: In a very busy place
As mentioned .. we dropped off the keys early in Mopani and got a nice head start of Day 2.
On our way to Olifants we decided we'll stop over at Letaba for a quick shower and clean up .. after which we'll have a skottel brekkie. It was also a perfect opportunity to go show my sister the Elephant Museum (giving me a perfect excuse to go and visit again)
The day was a nice crisp clear morning .. the one benefit I find when it's cold .. the sky and everything just seems more blue and clean. Which gave me a perfect opportunity to take a pic of this LBR.
We were again treated to some ellephants .. and on our way to Letaba met up with 2 secretary birds. Besides the Pearl spotted owl we saw the previous day .. we ran into another one today and was amazed by how many we saw on this trip.
Stopping at the Letaba bridge I was very worried to see the level of the Letaba River .. We could see right to the bottom ..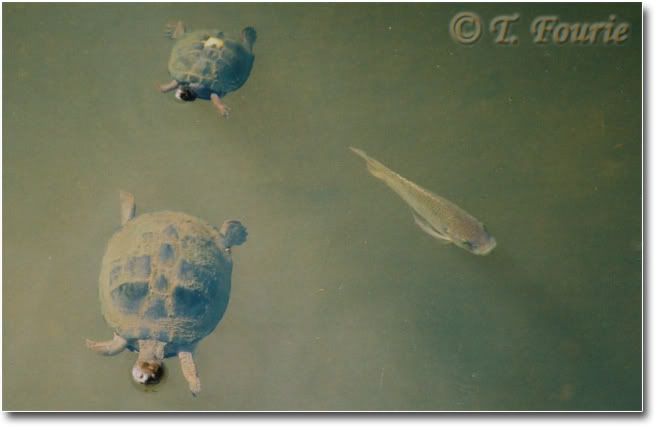 It was a sad sight .. but I'm sure the animals will survive this winter like they have so many dry winters before .. that is one of the things that I love about nature .. Survival will always bring solutions to the most desprate situations.
So we continued on ... I love the road just before Letaba as you drive along the river .. we saw some great things there from baboons, waterbuck etc. But what really caught my attention was this oke .. He was massive and I would hazard a guess to say that he is close to if not more then 4meters.
Driving a bit on we also found this ellie drinking some water .. and had a nice pose which we caugth on video cam.
We stopped at Letaba and had a magnificent breakfast .. Ready for the rest of the way we were geared and ready for some impala
.. Not far from camp we came upon a vehicle standing on an uphill .. Then driving off .. As we approached we saw on our right an elephant. My eyes nearly popped out of my head when I saw who it was .. I could not believe my luck and nearly lost my "cool" trying to get in a better position to see if my eyes weren't deceiving me .. Right there standing was old "Nhlanganini" ..
I was so chuffed and when he moved into the bush I had to reverse coz I was sure he would come out at the dry river bank .. And I was not dissappointed.
I soaked up every moment with this majestic beast .. and although I was no in a precarious spot .. with an uphill behind me and him infront of me .. I just decided to relax and let him decide the next move. Needless to say he was very calm and gentle and at no moment showed any agression. It was the moment of the whole trip for me and I was so blessed and honoured to have seen him .. as he walked off in the dry river bed untill I no longer could see him anymore.
The rest of the day was pretty much a blur for me after seeing him .. remembering only that we saw a White Rhino close to Olifants.
Later that afternoon we took a quickl drive to Olifants lookout and saw this beautiful Kudu.
And after a lekker braai .. our 2nd day ended .. leaving for home the following morning ....
NO TO HOTEL DEVELOPMENT IN KRUGER
---
Distinguished Virtual Ranger

Posts: 1372
Joined: Thu Dec 09, 2004 6:51 am
Location: In a very busy place
So then .. final chapter .. Day 3 and we decided we will enjoy the most of the Park and exit at Orpen before heading off home.
Another clear and sunny and .. cold .. day ..
.. I guess I'm not used to the cold in KNP after all the heat strokes I got there ..
So we left early the morning as the gates opened. Expecting a great day as always and we were not dissappointed .. yet again ..
Believing that the KNP is really a peacefull place that can give peace to your soul .. this baboon reflected my thoughts and I
almost felt like meditating with him
Driving on after feeling "refreshed" from my "meditation" session with him .. we drove on and suddenly found a whole lot of cars at
one of the dams ... So naturally we just drove on ...... NOT ....
..
Watching very far in the distance on the other side we noticed a large pride of lions .. Tantalising us by running on the far side.
Binoculars out .. Video Cam zoom to the max and 300mm lense of the camera to the max we tried to get a better view. We
counted 11 in total .. 5 female adults with 1 large black maned adult and 5 young ones .. What a day so far! Managed to get this
shot .. so tell me .. where is the lion
We watched them untill they dissappeared over the hill back into the bush .. We still had a way to go and wanted to make a stop
over at Satara ... Just before getting there we found this group of giraffes .. and had to take photo of it
Again being foiled by the cunningness and camouflage capabilities of the Scops at Satara .. I tucked my tail in and accepted
defeat from this little one ... Beginning to think that someone's playing the fool with me .. saying there is a Scops at Satara's
reception .. Must be the same people who say there are Sable in the Park ..
After looking for the resident leopard at it's usuall spot .. we turned to Orpen .. seriously considering making a quick detour on the
S100 .. but alas .. Time was not on our side ..
The rest of the trip basically belonged to the birds ...
Seeing both this Kori Bustard and Ground Hornbill .. we were quite happy with how the day has been going
And to add to our Pearlie count .. we found another one on day 3 .. making it 4 we've seen over the 3 days .. and this one was
the best of them all .. right next to the road ...
We then continued on and arrived at Orpen .. With a farewell like you can't believe .. animals everywhere .. Impala, Zebra, Buffalo,
Wildebeest .. all congregating around the Orpen Waterhole .. you know .. the one where the Orpen Webcam is .. It was dry ..
explaining the animals there ..
And so we said farewell to KNP .. To return some day again ...
NO TO HOTEL DEVELOPMENT IN KRUGER
---
---