Senior Virtual Ranger

Posts: 1347
Joined: Sun Jun 17, 2007 9:34 pm
Location: Heart - Grootkolk, Soul - KTP, Body - far too far south most of the time!
The forecast was RAIN! (for the afternoon) Cape Town weather is very unpredictable so it was with trepidation that I peeked out of the window in the morning. Cloudy - very cloudy,
but Bush Baptist had said "let's go", so off we went. Anyway, if the flowers were hiding away, we would still get to meet prings and the CT forumites. And, if it didn't rain, we would have a beach picnic and a good ole chinwag.
We got to the WCNP gate at 9.15am BUT....
did a U turn and went to see some buffalo my son had spotted on a private reserve 200m from the WCNP gate. (Yes, Mrs. BB, we weren't joking when we said that we had seen buffalo.) We finally made it through the gate at 9.25 and what a beautiful sight awaited us. Virtually empty roads - no cars gunning it to the Postberg entrance. The Capetonians must have been put off by the weather forecast. As we made our way through the park, the sun started to appear from behind the clouds and flowers along the road started to open. The bushes came alive before our eyes with sunbirds, canaries and LBJ's darting here and there, being very busy on a Sunday morning. We caught a few glimpses of black-shouldered kites and a few km's past the Geelbek turnoff, it was nice to have running legs as a substitute for car tires on the road.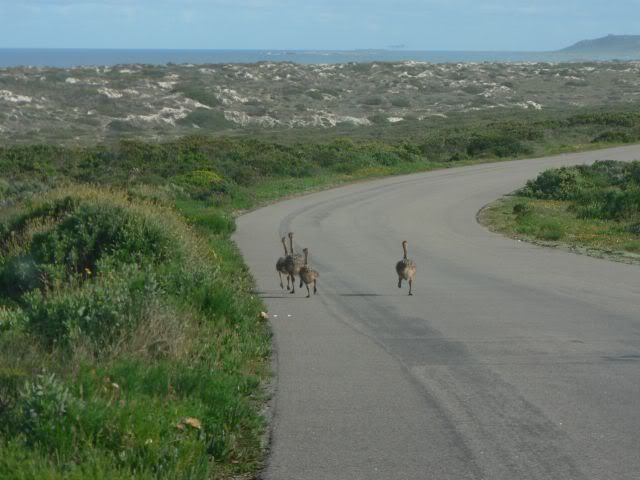 The ostrich chicks eventually decided to rejoin mom and we had the road to ourselves once more. Little carpets of orange daisies began to show themselves and just past the Churchaven turnoff, the daisies worked their magic on SO and he slowed down even more to enjoy the sight, when an excited voice called from the backseat, "Yes! slow down STOP! CARACAL! At that moment 3 cars caught up with us, overtook and whizzed past. The caracal was quite far off but he was in the open for a few seconds, so I managed a few pics. Yes, our FIRST caracal pics, albeit not great quality. And we were the only car! (So sorry BB!)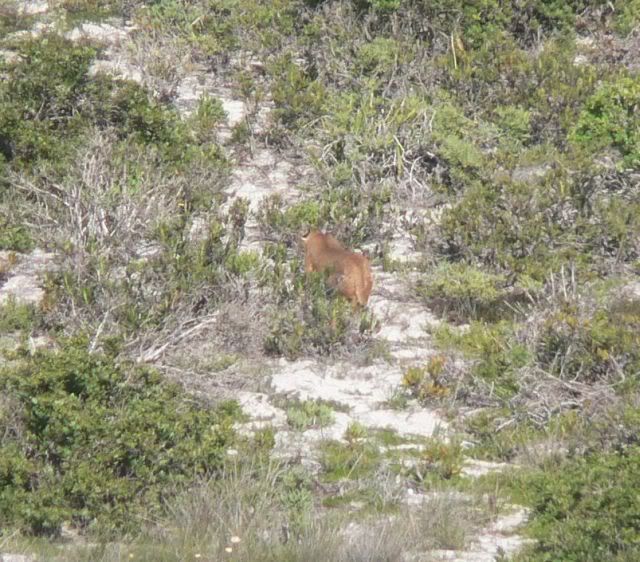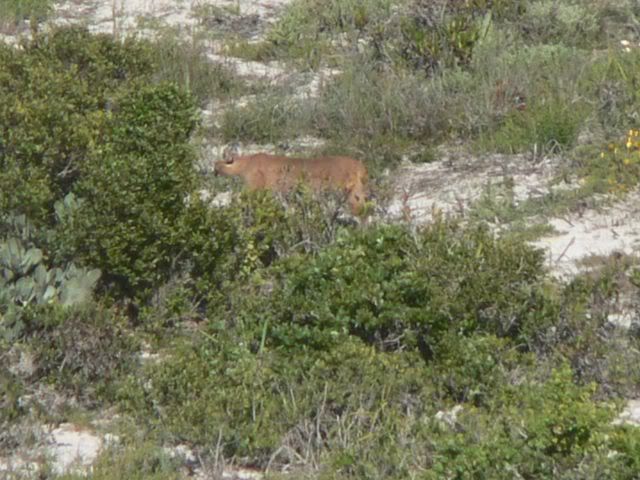 The caracal disappeared behind a big bush and that was that. We continued on elated that we had had such a good sighting and a minute later SO exclaimed "red Toyota behind us". Yep, it was Mr. And Mrs. BB. We both pulled off the road about 200m further on, next to a rock kestrel perched on a pole. We were busy taking pics when all of a sudden, the kestrel swooped down right in front of us and came up with a mouse in it's claws. What luck! We had witnessed a kill! Poor little mouse though!
Both yours truly and Mrs.BB failed to capture the swoop on camera. Oops!
I'm sure you all have seen a rock kestrel before, BUT, have you all
seen one with an itchy ear?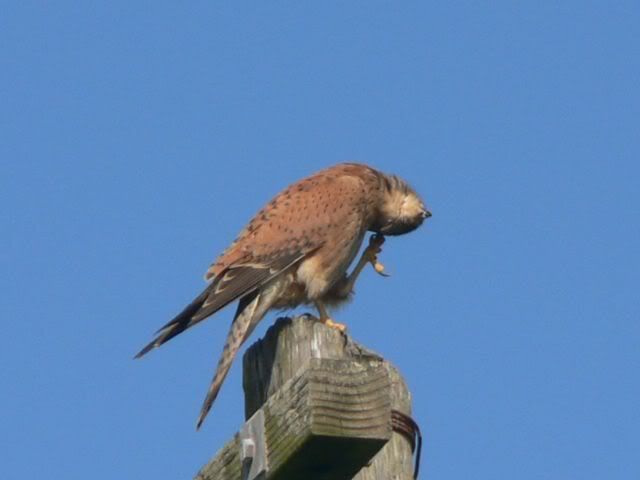 When we reached Postberg, the BB's continued directly to Plankiesbaai to book a place on the beach for the picnic, while we made a pass by the Eland meadow to see if we could spot any bat-eared fox. No luck with bat-eared fox, but if our luck with caracal was in, I wasn't complaining. We saw two black shouldered kites mating (too far and fast for pics) and of course the eland (big herd), wildebeest, springbok, zebra and bontebok.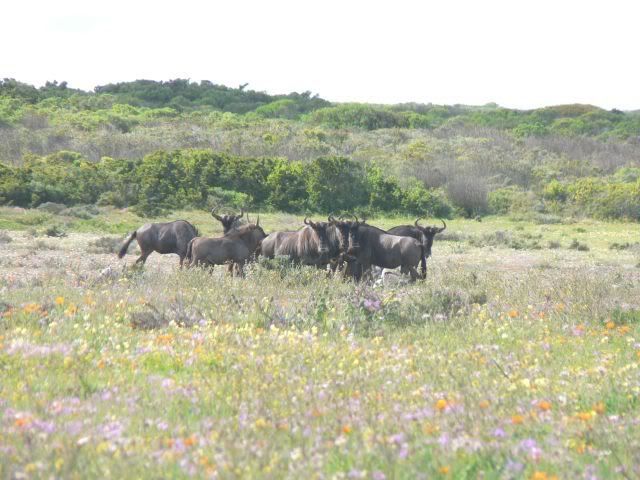 What can I say about the flowers? Their beauty left us dumbstruck. Thank goodness we took pics!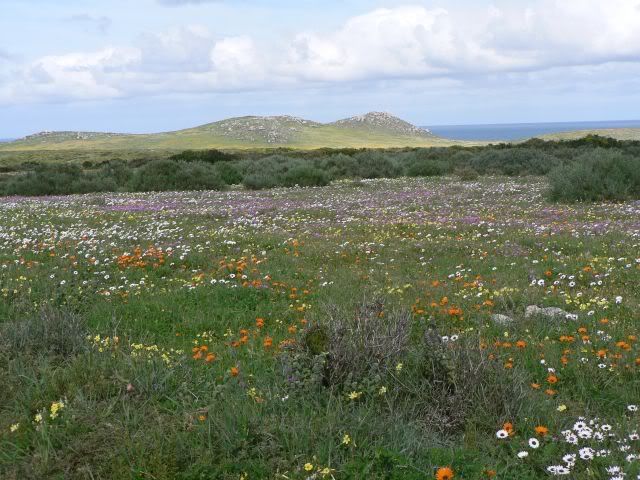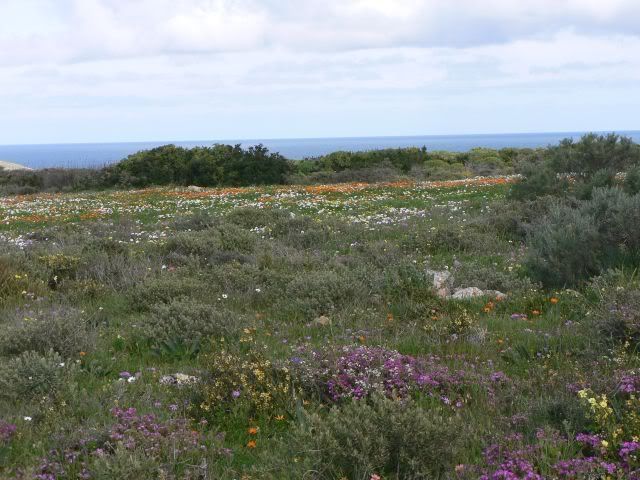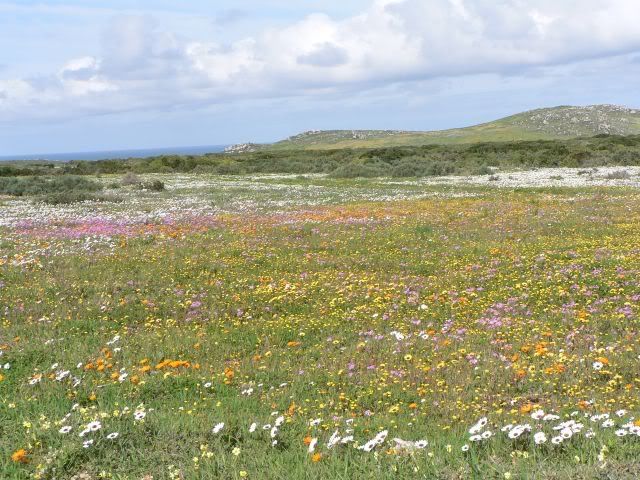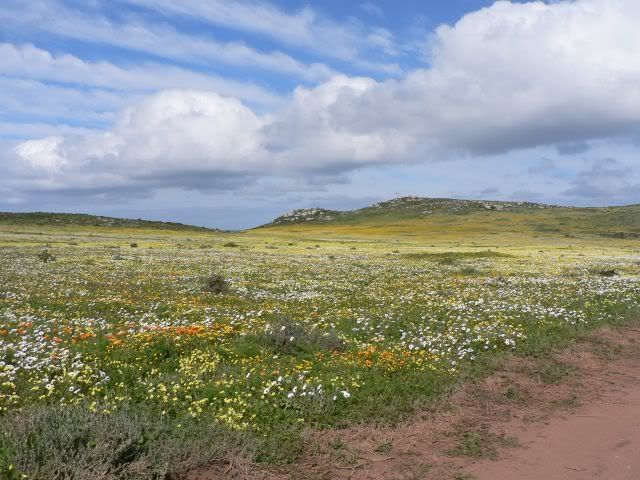 We finally reached Plankiesbaai and met:
Mr. & Mrs. prings, Mr.& Mrs. Nyala, Mr.& Mrs. Jay, p@m, CO'Dee, J.D.O , michele nel and Dreamer, and of course the BB's again.
The weather was perfect. The sun was shining, the flowers were showing off and these forumites were relaxing on a beautiful beach.
What more can you ask from life? While filling our tums, we soaked up park stories and gossip, and got lots of camera equipment advice, when we asked for it. (Thanx Mrs. prings, Jay and michele nel) We each received a small kangaroo/kaola and fridge magnets from prings (and the kids got pens and pencils).(Thanx prings!) Dreamer - hope our paths cross in KTP soon. We had a great time and look forward to more CT meets.( For more info and pics on the beach picnic and flowers, go to the Chit Chat thread - 'Calling all CT forumites again')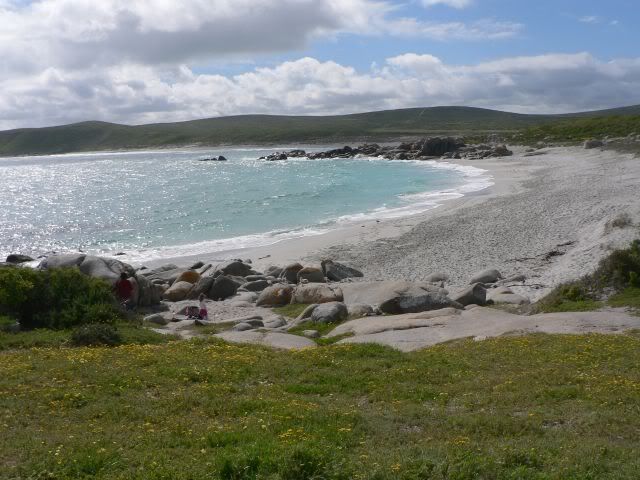 We wished Mr. & Mrs. prings a super trip(along with the distant whale in the bay), said our goodbyes and went on a last drive before heading home. Again we were not disappointed.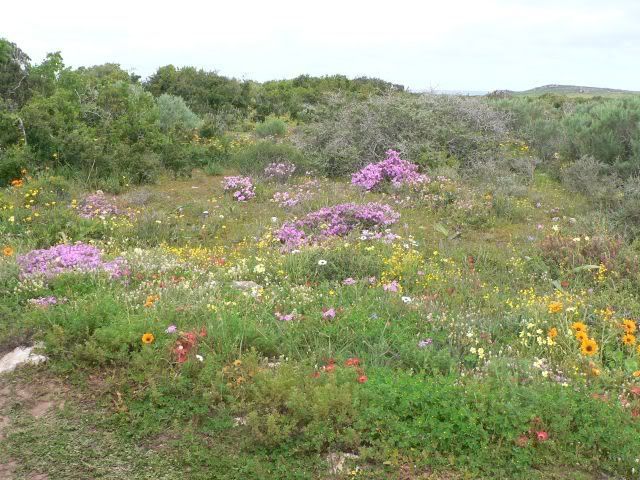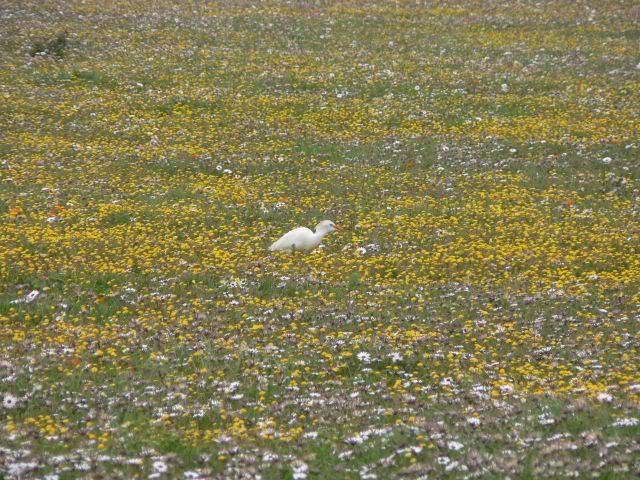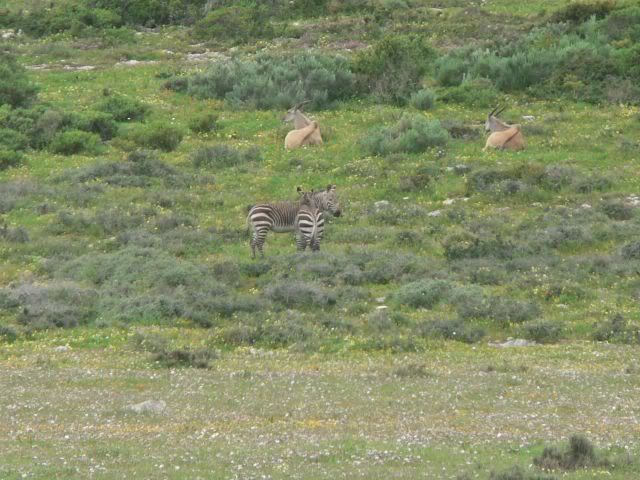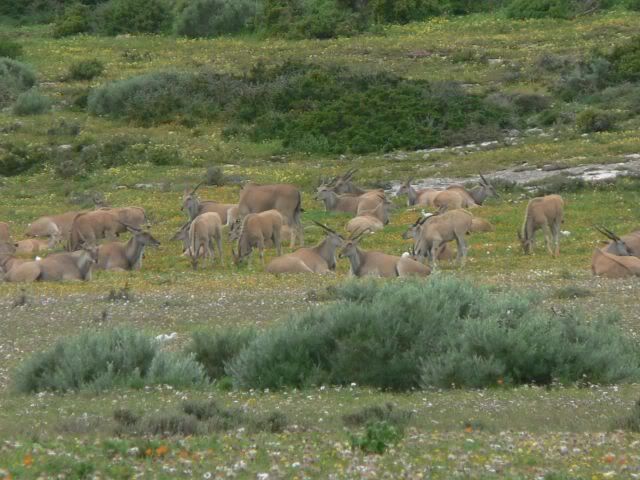 After seeing the usual animals and a lone gemsbok, we made it out of Postberg and the clouds started getting greyer and greyer. BUT - we still saw a pretty little steenbok: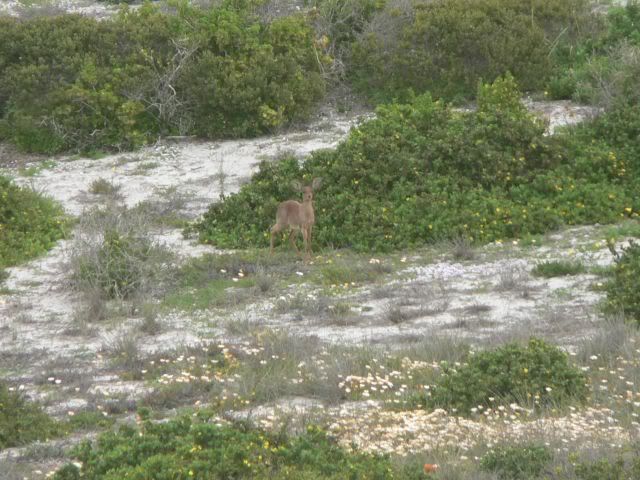 And a lovely sighting of a black harrier (caught us unaware - sorry, no pics). (The BB's had seen a black harrier in the morning). AND, just to say good bye, a caracal on a rise. He froze..., we froze.., we grappled for the camera.... and a white jeep cherokee came flying along the road in the other direction
- and the caracal took off! Aagh!!! But what a sighting! Sometimes it is best not to be behind a camera!
And then the rain came, and we headed for home.ABSOLUTELY SATISFIED!!!...........until the next time!
To the CT forumites we met, it was great meeting you guys and gals. To the ones we didn't manage to chat to, will catch up with you next time!
If any of you had special sightings or something to add to this report, please go ahead and post, BUT these posts will be no excuse for late instalments on certain reports.
---
Senior Virtual Ranger

Posts: 462
Joined: Thu Feb 23, 2006 9:01 am
Location: Canberra Australia
Let us not forget that the Kangas & Koalas are honorary forumites
---
Legendary Virtual Ranger

Posts: 6882
Joined: Wed Mar 16, 2005 12:38 pm
Location: In the shadow of Table Mountain
It was great meeting you & Mrs prings. Thank you for the generous gifts you showered on the gathered clan. I hope you achieved your goals at the meet, and have your best holiday yet. It is crazy though, a bunch of people meeting mostly for the first time and already good friends. That's the Cape forum family.
BTW, we saw our black harrier in a valley just before the Churchhaven (Gotit Jay!) turnoff, as it swooped to and fro, with my wife vainly trying to get an aerial pic.
Wanderw, we saw 3 giraffe in the other reserve on the way home.
Whatever (according to BB): "You are correct but I don't want to admit it".
In a world of grey, be
RED
---
Hey guys
Sorry it has taken so long to make an appearance but I have been very busy.
I would just like to say a big big thank you to Mr and Mrs Prings for the teddy and magnets. It was extremely nice of you guys. (loved the personal touch to the teddies, the yellow ribbons.) Thanks as well to all the forumites. It was really nice to meet you in person, and now that my mom knows who J.D.O is, I'm sure I'll be on the forum a lot more.
I was told that going on a meet or to a SAN park, means that I must do a bit of a report. Well there is no report coming out of me, I just thought that I'd add some of my favorite pics form Sunday. I really could not believe the amount of flowers that a saw. It was one of the most awesome sights I have ever seen.
Especially the ORANGE flowers. As C.O.Dee and Michele will know, orange is my favorite color.
Here are some of my pics.
Cheers guys. Nice meeting you guys
---
---
---
---