Distinguished Virtual Ranger

Posts: 1507
Joined: Sun Dec 05, 2004 7:01 am
Location: Marloth Park, South Africa
Contact:
We have been trying to get a place on this trail for years and at last we are on our way
This is our little outfit, the smallest 1.8 LWB Pajero and a carrier (we lovingly call Pandora) for all our camping equipment: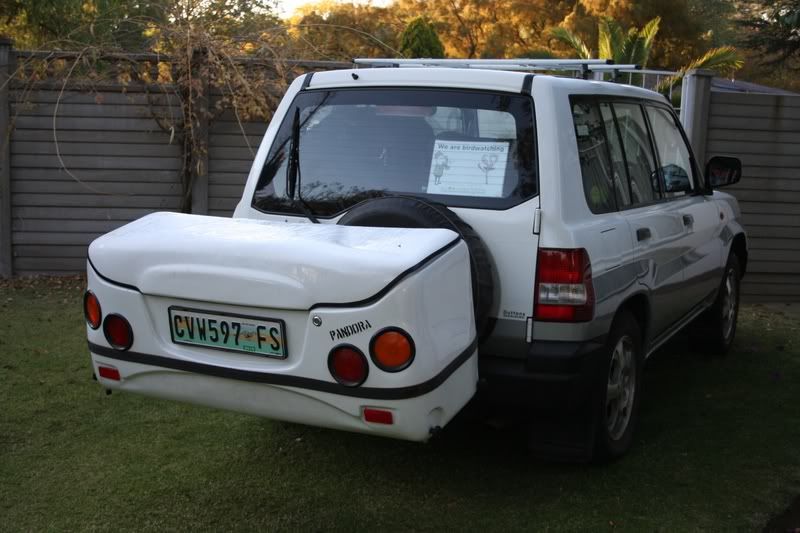 We are so eager and excited that we leave home on Friday and overnight in Nelspruit, Saturday we stock up at Woolies Food Department and the bottle store at the Riverside Mall (highly recommended) and attend to some business in Marloth Park then back track to Malelane Gate, where hubby tells me he is home
and we do the S25 to Croc Bridge.
Nothing out of the ordinary on this drive but it was great to be back in the park and just take a relaxing drive to Croc Bridge where we had booked a bungalow for the night.
Had a nice braai and a few sundowners to the sound of the hippos and dogs barking
Day 1
We all had to meet for the briefing for the trail at 9am but we were up at 4.30 and packed ready to go by 6am. We parked our little car next to all these big daddies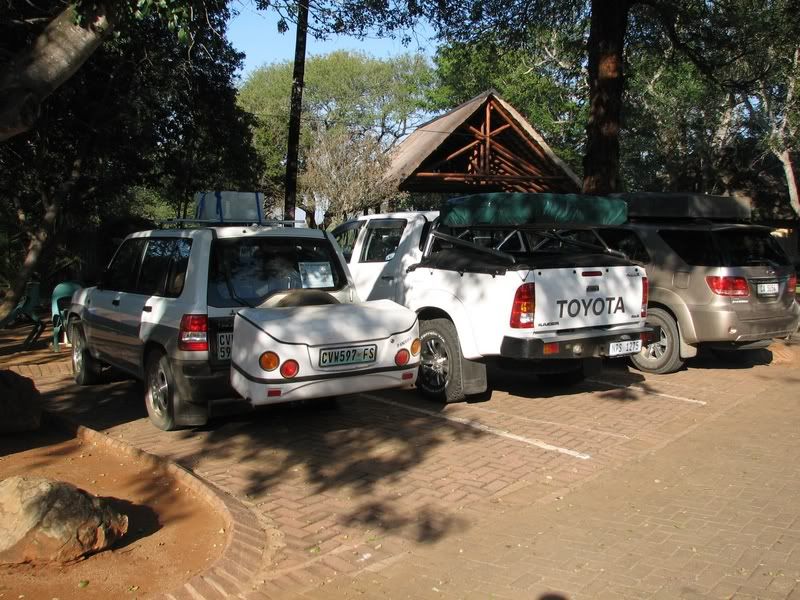 and joined some of the other eager participants for coffee, the waiting for 9am seemed like an age (think they must really start an hour earlier)
Our trail ranger joined us and said one of the participants was missing and we must give them another hour, they finally turned up at 9.45 even though they had overnighted at Croc Bridge
He handed out radios to us all and we set out and he told us we would get our briefing at the first stop overlooking Mozambique. We were all happy to be heading out on the trail.
Not far from Croc Bridge we turned right on a no-entry road, our excellent ranger, Jaco Bardenhorst, leads the way
and our late-comers have a puncture, Jaco went back to help and we are soon on our way again and arrive at the southernmost tip of Kruger where we had great views of Mozambique.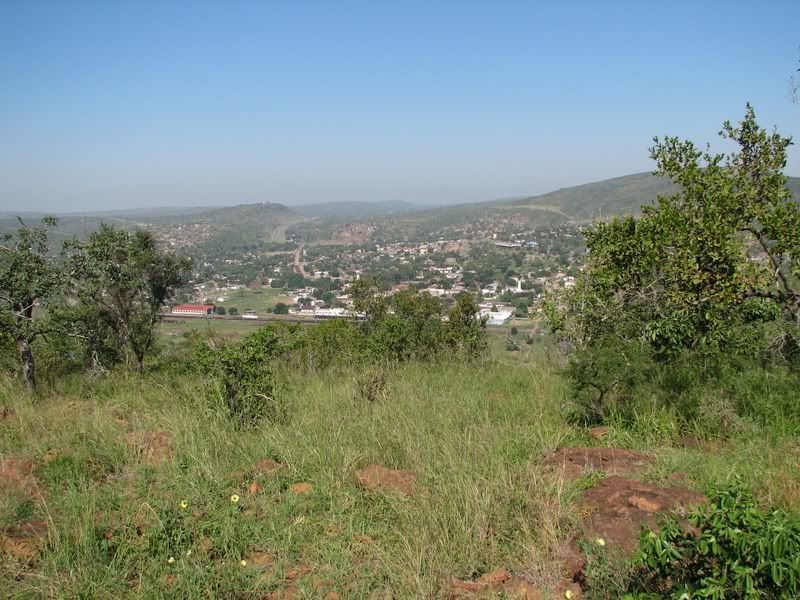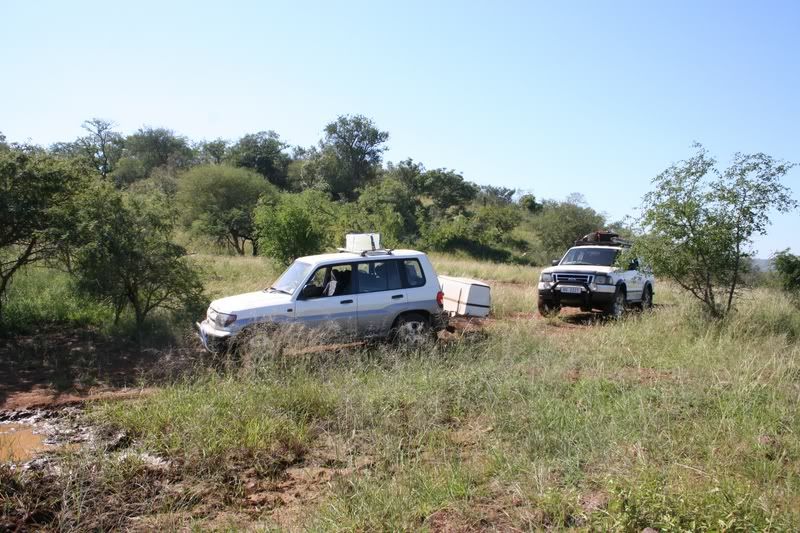 We had our briefing here, the most important thing was that if the convoy makes a turn off the road you must wait till the vehicle behind you can see where you turn before you continue, this makes a lot of sense as you could easily get lost out here
We continued along the Mozambique fence line:
see our first animal: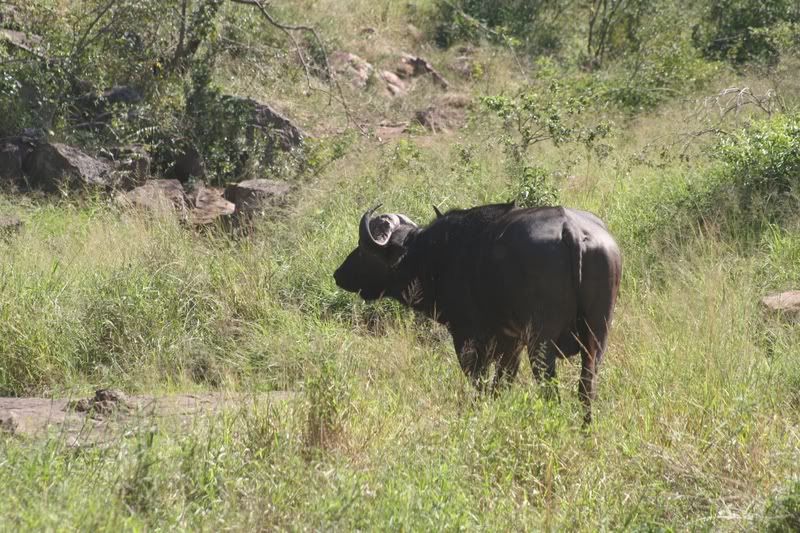 and a fantastic view of Kurumani Dam (never knew they had a dam this size in Moz)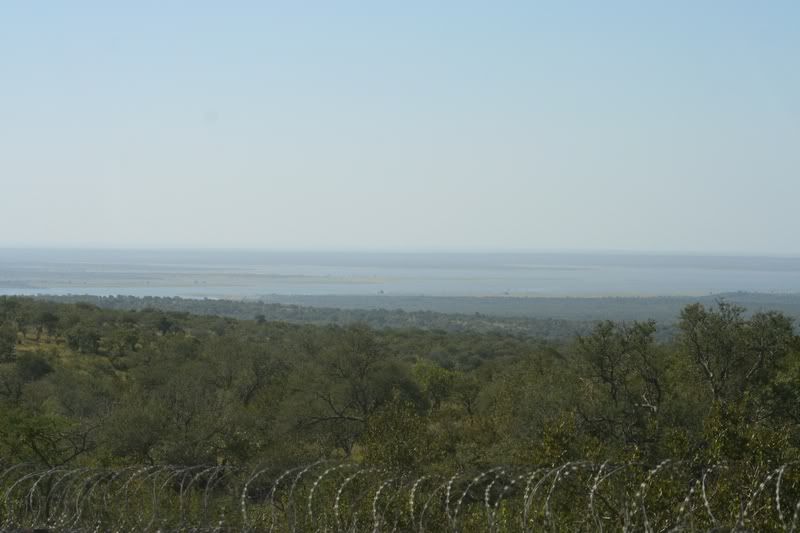 We then headed to our camp site, just east of Lower Sabie where we had our first night in the bush.
This is our little home with en suite loo: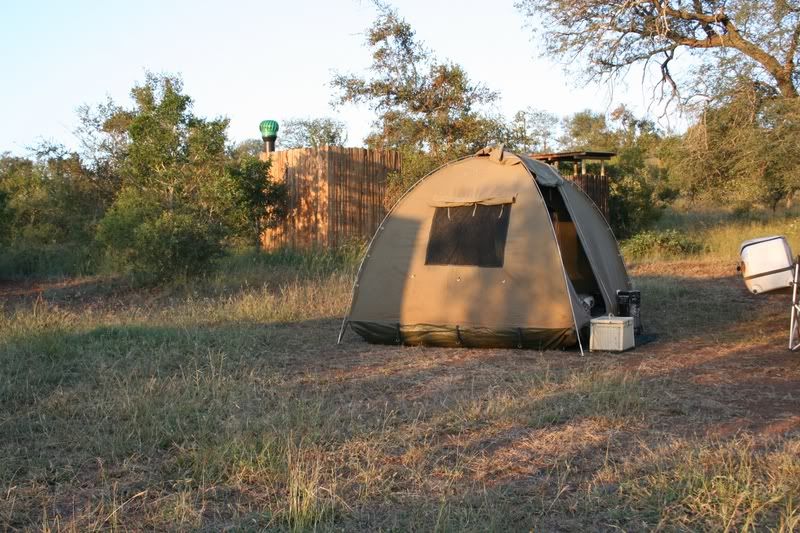 Had a lovely communal braai and fell asleep early to the sound of lions roaring, heaven!
---
Distinguished Virtual Ranger

Posts: 1507
Joined: Sun Dec 05, 2004 7:01 am
Location: Marloth Park, South Africa
Contact:
Day 2
At the briefing we are asked to be packed and ready to hit the road by 7am. Nothing must be left at the campsite except ash which is put in an old oil drum on site.
Hubby and I are waken ay 4.30, we light our gas stove and put the kettle on, made coffee and put the rest of the hot water in our shower hanging in a tree. We didn't take a shower cubicle, so we donned our swimming cozzies and showered in the dark before anyone else was about, worked a treat!
Thankfully no pics
We were easily packed and ready to go by 7am
We continued along the Moz border and our first get out was N"waswitsontso for bruch, what an amazingly peaceful place.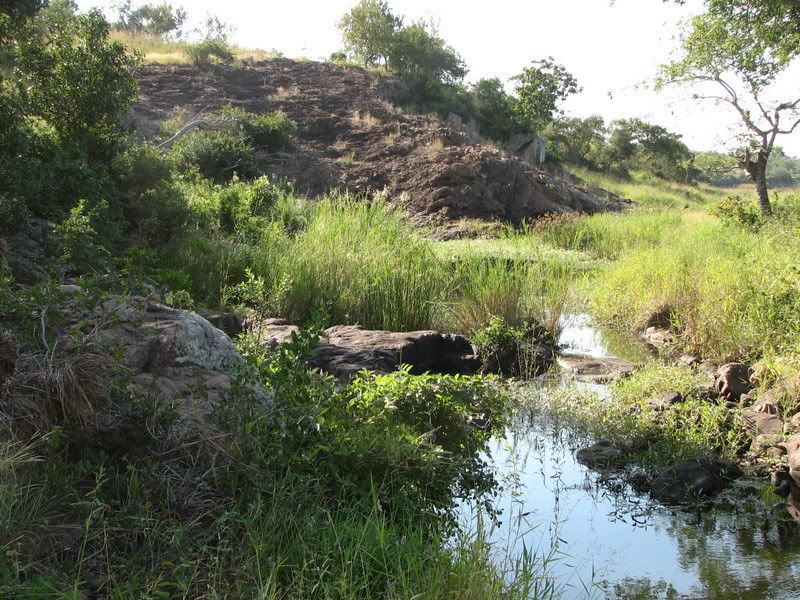 We did have a yellow ribbon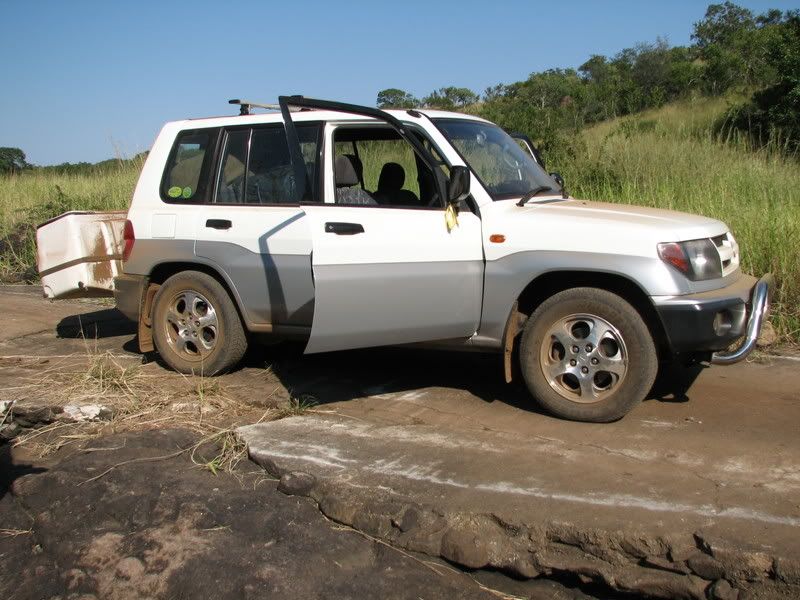 There were beautiful butterflies and dragonflies everywhere, I loved the one with black squares on it's wings.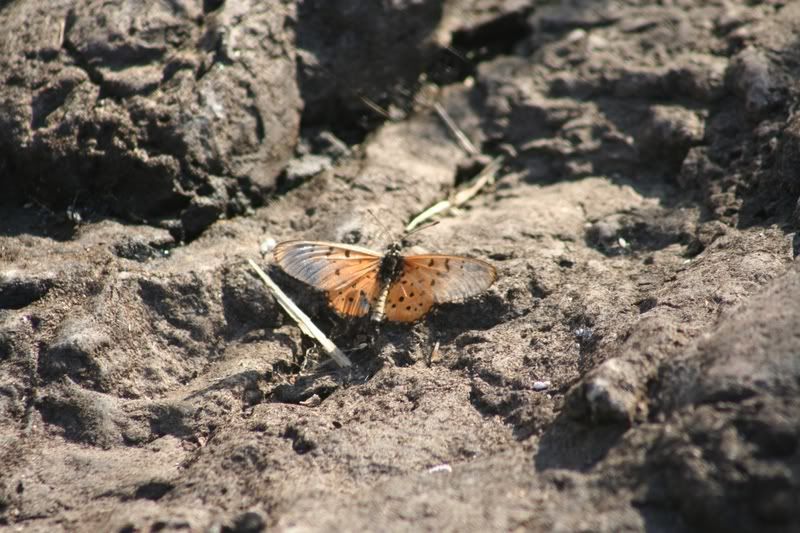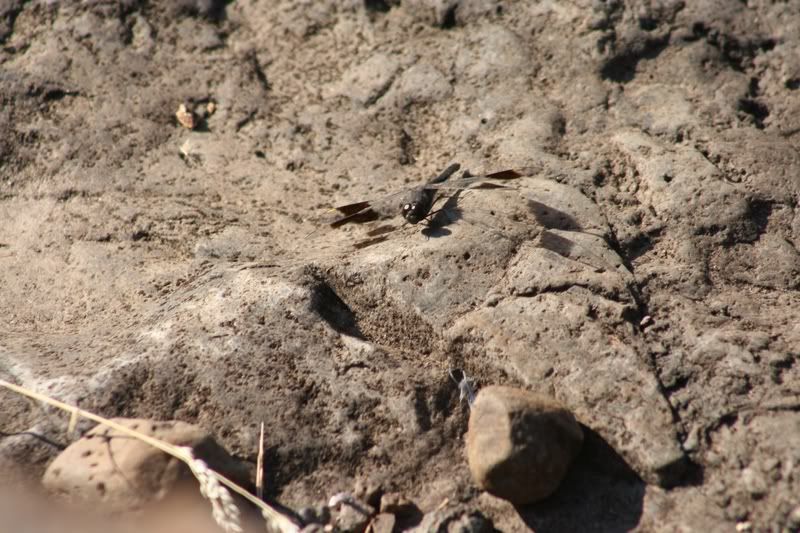 We also found this zebra millipede which Jaco picked up and showed us how it protected itself, he blew on it and it sprayed formic acid, these small creatures are amazing.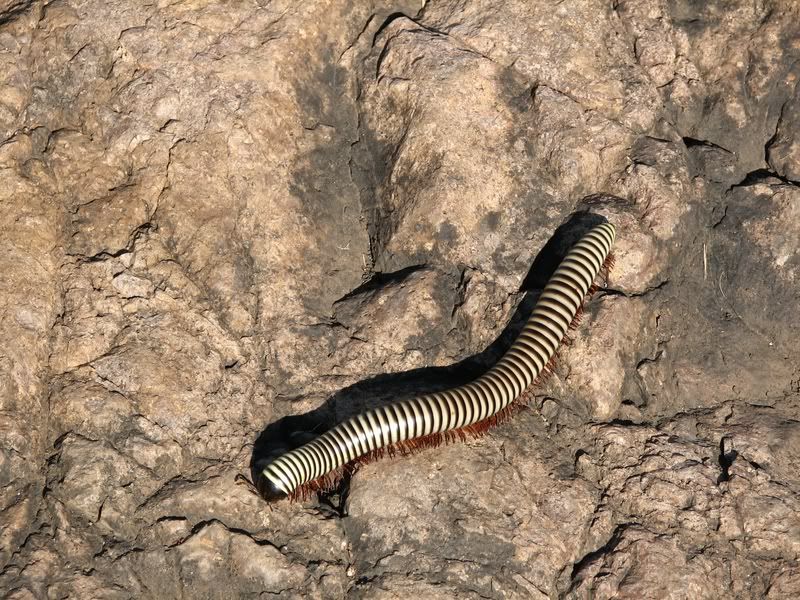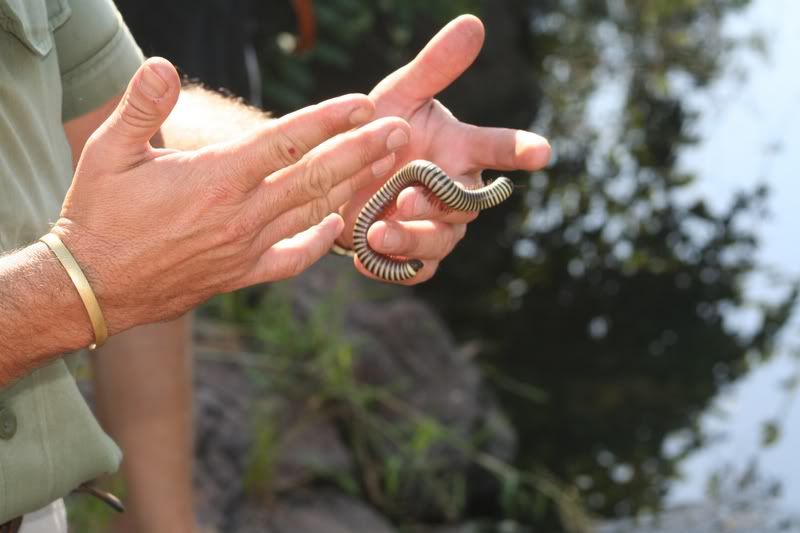 This trail is not about seeing the big 5, it is far more than that, it is about learning about the soil, grasses, trees etc, as you travel in convoy the trail ranger will point out animals and birds by radio but by the time you get to his position they have usually gone, but what you learn about other things more than compensates.
We then continued on our way, the road was a bit tricky in places, watch the hole Malcolm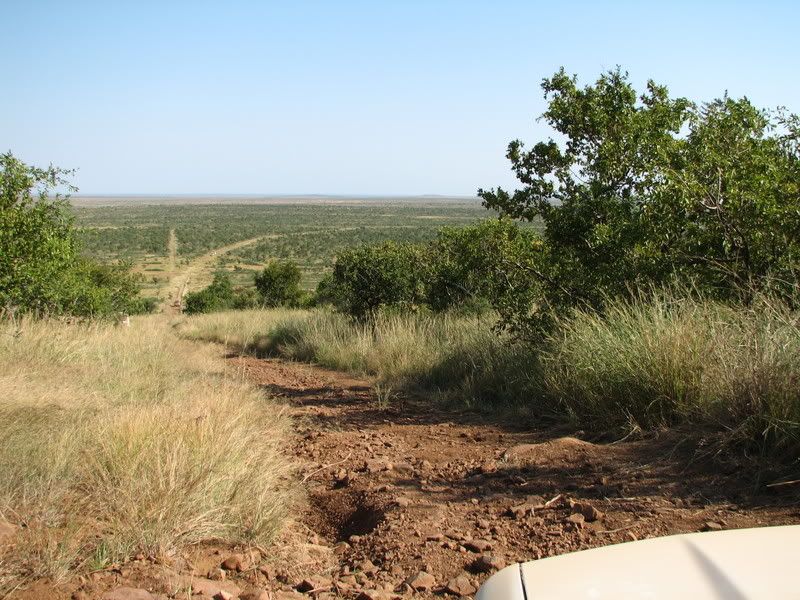 and we even had to have a tow up a very steep rocky bit, so after this excitement we all opened a castle at the top
This is an example of some of the scenery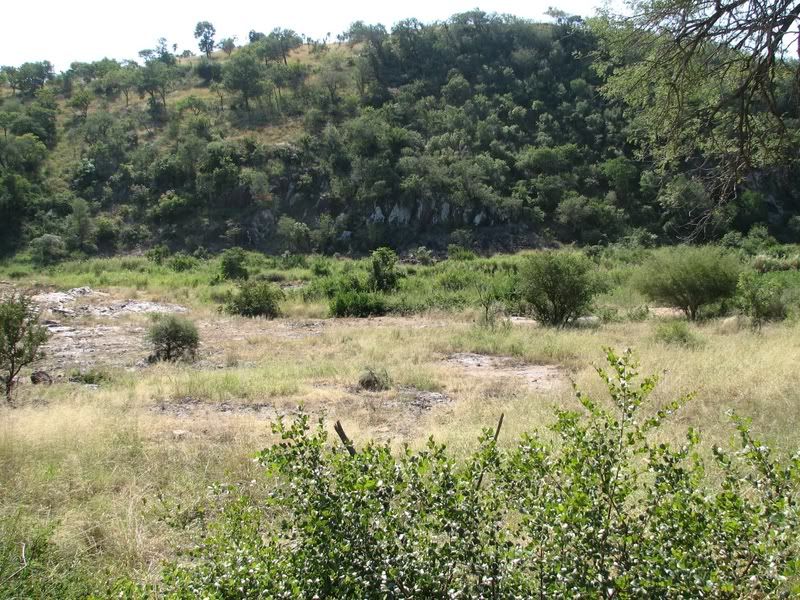 You could see for miles (or is that kilometers?)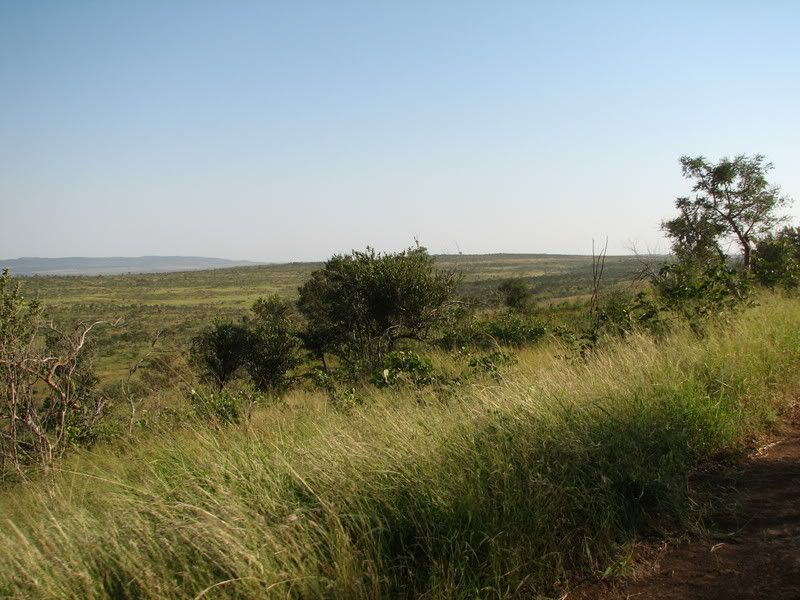 We see this giraffe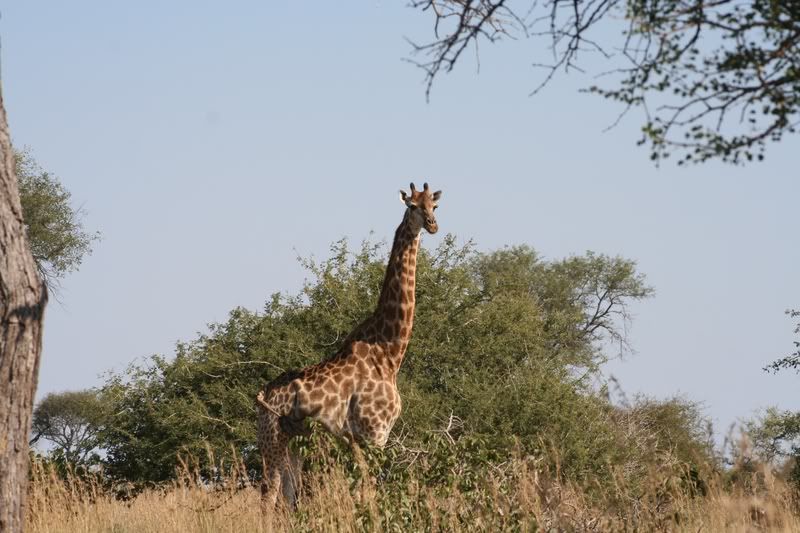 Our next stop was at N'wanetsi, another beautiful spot that most tourists don't get to see, we are so lucky to see these places.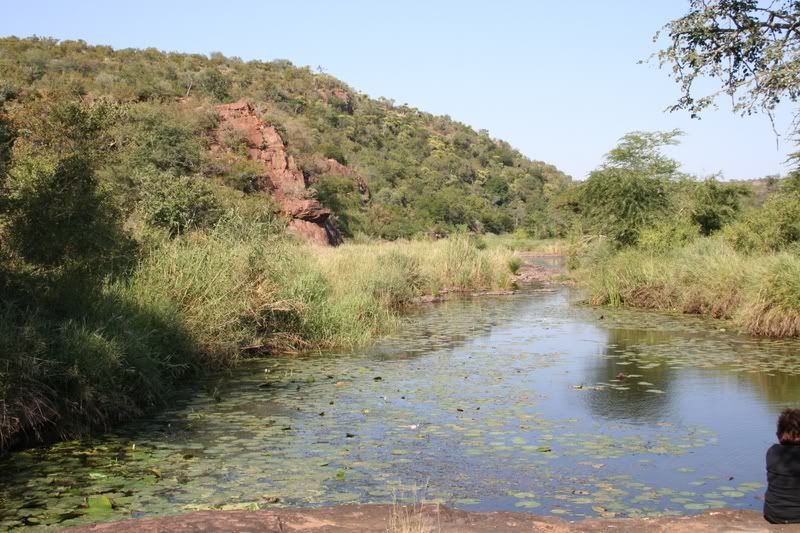 We arrive about 4pm at Pumeni (between Satara & Olifants) and set up camp, it has taken us 9 hours to travel 135kms.
We braai on our Cobb (no need to carry wood when space is a premium), sit and chat round the campfire and off to bed early again, exhausted but very happy.
---
Distinguished Virtual Ranger

Posts: 1507
Joined: Sun Dec 05, 2004 7:01 am
Location: Marloth Park, South Africa
Contact:
Day 3
Up before the birds again, why is it so easy to get up in the bush and not at home ?
No bush-shower this morning as we are calling at Olifants, just a catlick and clean the teeth.
All packed again and off we go. The roads are narrow and fairly steep but we make it to a round of applause when we reach the top of this hill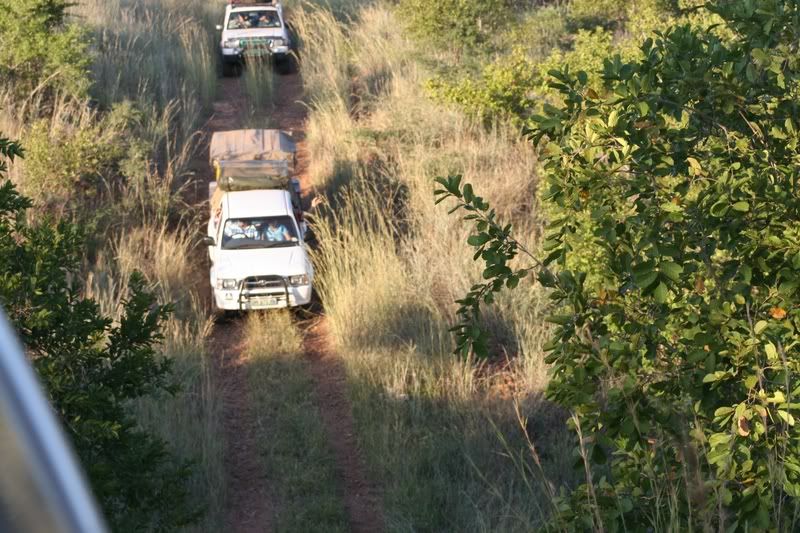 We pass this building which has a floodline mark on it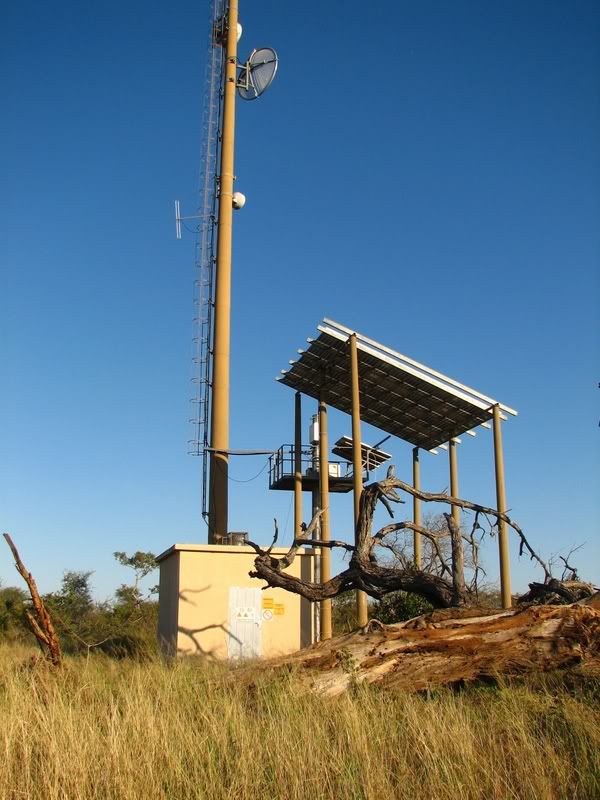 haven't a clue what it is as our radio decided it needed a rest, the charger wasn't working and I thought everyone was just quiet and enjoying the ride. Jaco swopped our radio later and we were fine
On our way to Olifants we saw a Kori Bustard, steenbok and a tree full of vultures sleeping.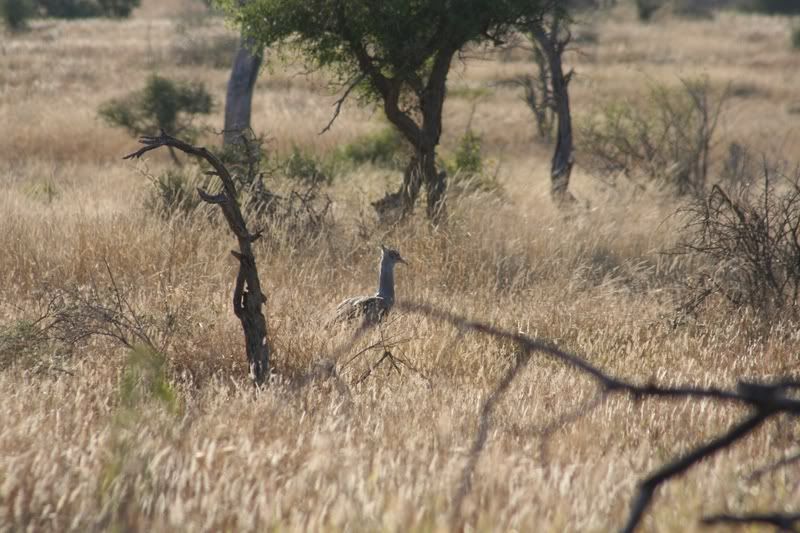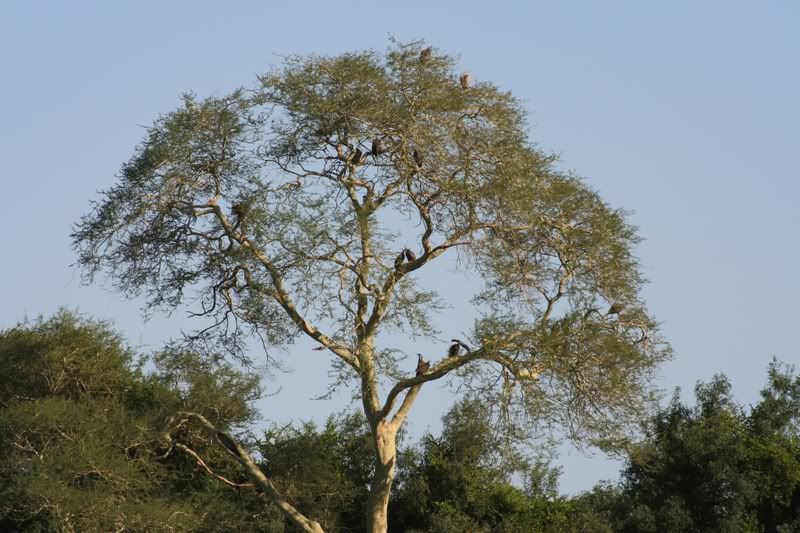 We arrive at Olifants and all take showers, there are no power points, so ladies taking this trip, it is best to have a wash and wear hairdo
We stock up with essentials – beer and ice – and regroup and hit the road again.
I know that we have to cross the Olifants river and am curious as to how we are going to do this
I needn't have worried, we took a non-tourist road and found a bridge where we stopped and had brekkie and explored the surroundings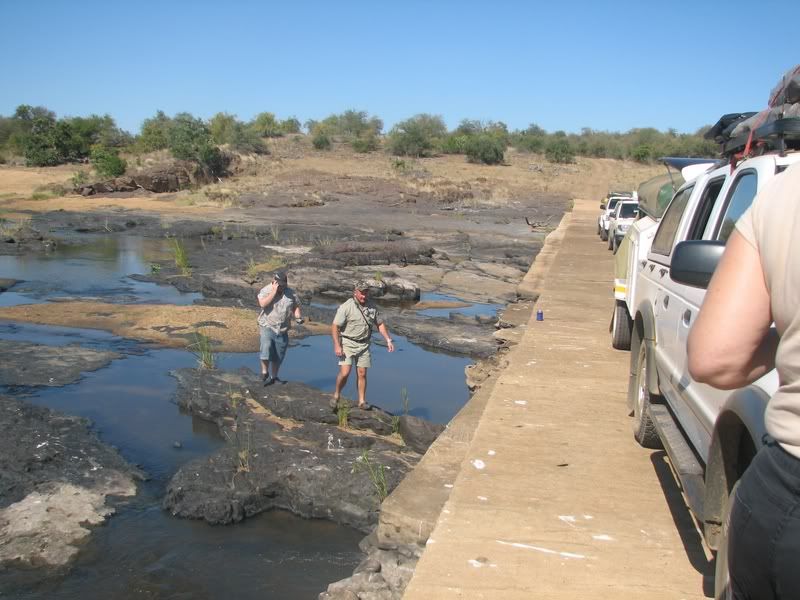 Some people even went looking for crocs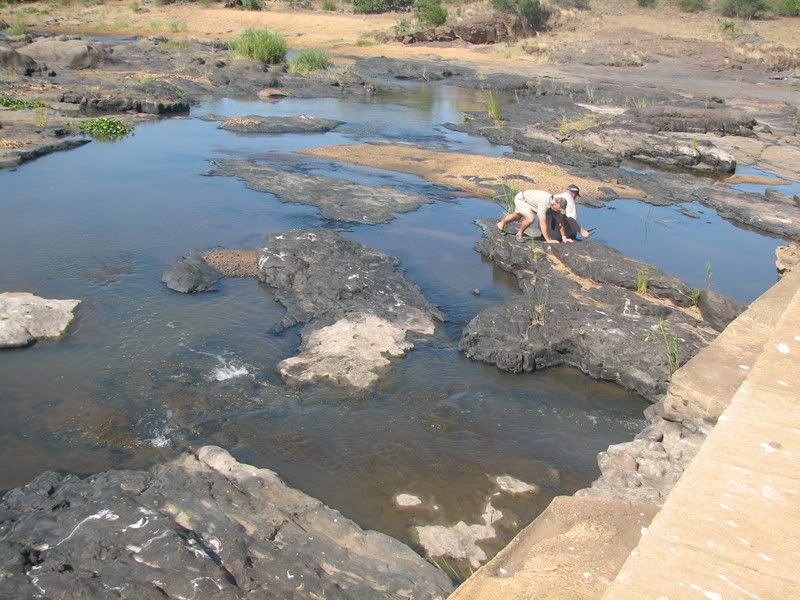 A mummy and baby hippo were on the banking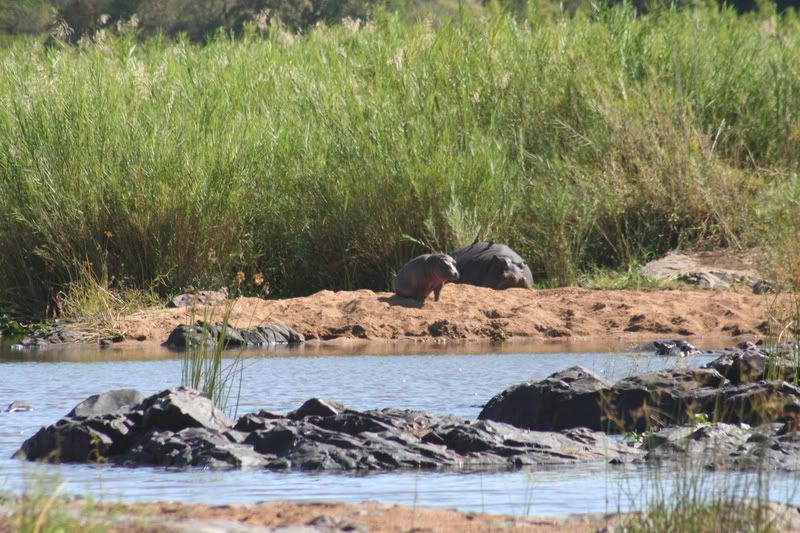 We then made our way to the fenceline again passing another buff
and up to Giriyondo Gate where we had a short stop and met these other tourists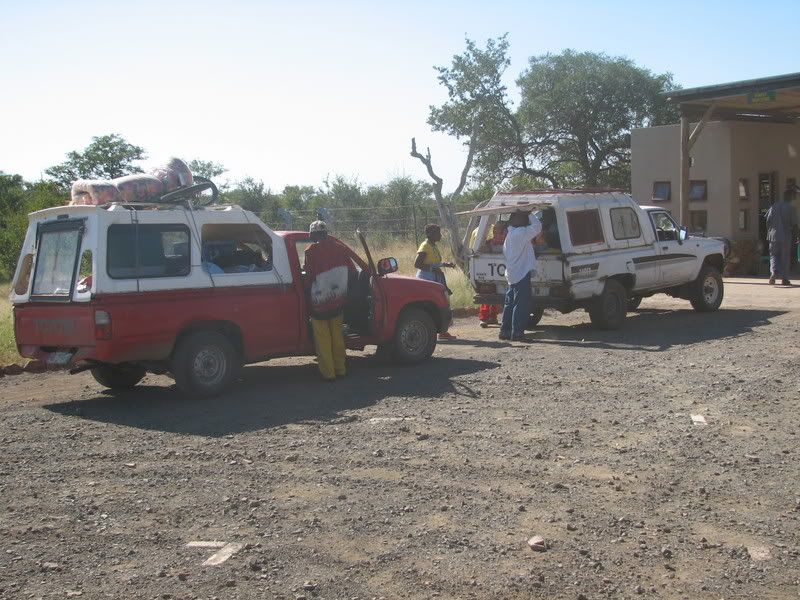 After leaving Giriyondo we found that the road we should take was closed so we had to make a detour, wonder how these rangers coped before GPS's?
This was a nice slow drive today with lots of lovely get out points,
We stopped and walked up a koppie to admire the surroundings, I went back for the camera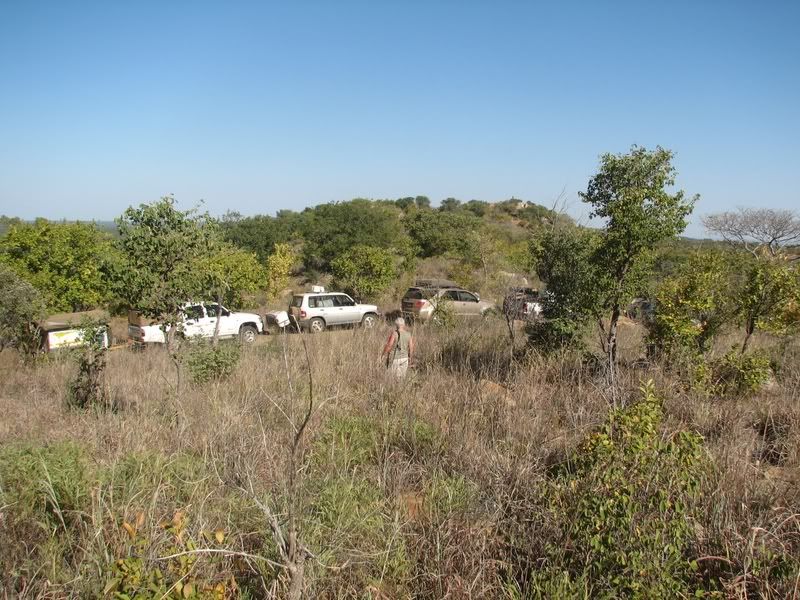 but unfortunately by the time I was on my way back, having stopped to look at this grasshopper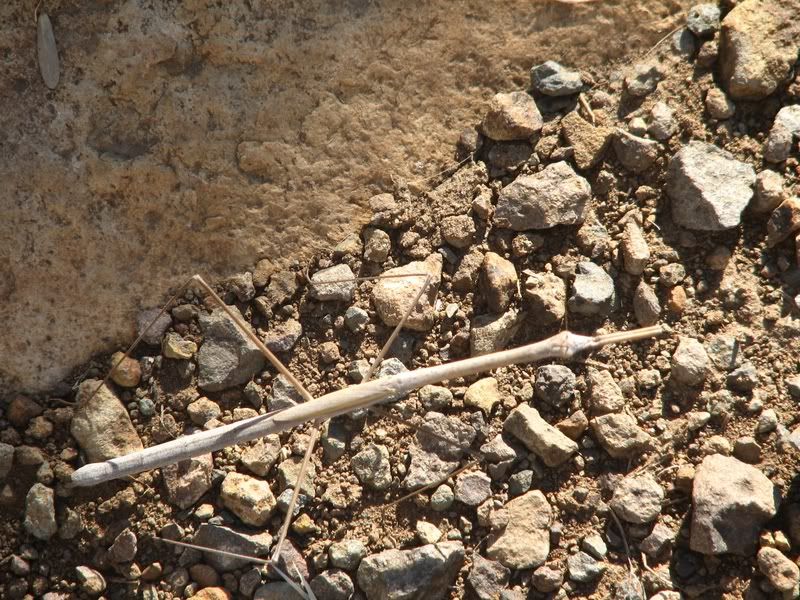 everyone else was down again and ready to move, so no pic
I thought it was a stick insect till it jumped about a metre high and Jaco told us it was a grasshopper.
These rangers amaze me with their knowledge
We are now in Mopani bushveld, and it is Jaco's favourite area, he just had to hug a Mopani tree
He explained the tree's values to us and told us that Mopani has 12% protein which is about 5% more than some other trees, he was so enthusiastic that he certainly changed my ideas about it.
We arrive at Shilowa, another haven in the bush, about 3pm, great to arrive earlier than the previous days, set up camp and sit around relaxing and chatting.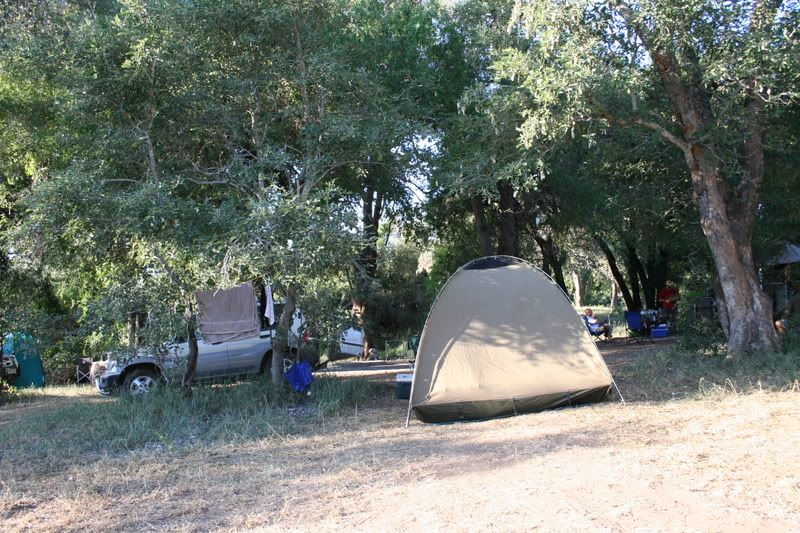 We light the braai, listen to the silence and admire the night sky, there are just so many more stars when there is no light polution, this really is heaven on earth, seems a shame we have to sleep when we are enjoying all this so much with like-minded people but the fresh air knocks us all out and everyone turns in by 8.30.
---
Distinguished Virtual Ranger

Posts: 1507
Joined: Sun Dec 05, 2004 7:01 am
Location: Marloth Park, South Africa
Contact:
Day 4
Sadly our last full day on the trail, we are calling at Shingwedzi for showers and other essentials (beer and ice
)so we quickly pack up and are on the road again.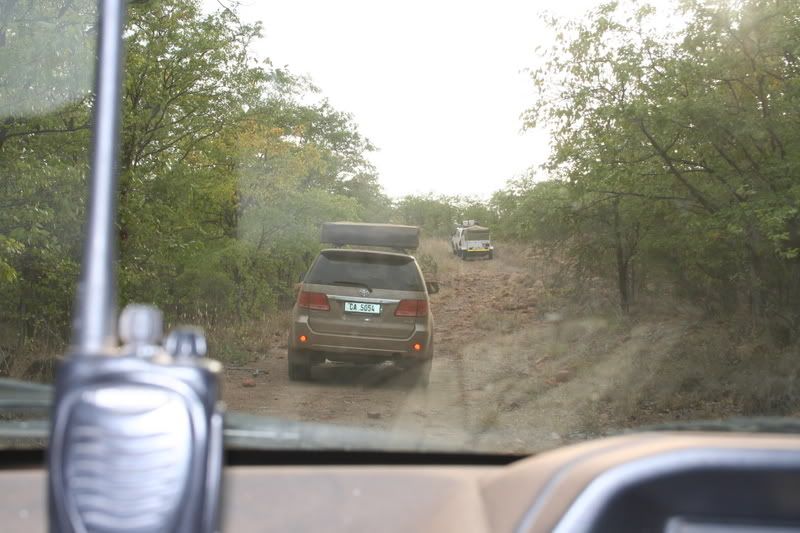 We follow the fenceline, cross the Tropic of Capricorn and stop at this huge Baobab on the Mozambique side.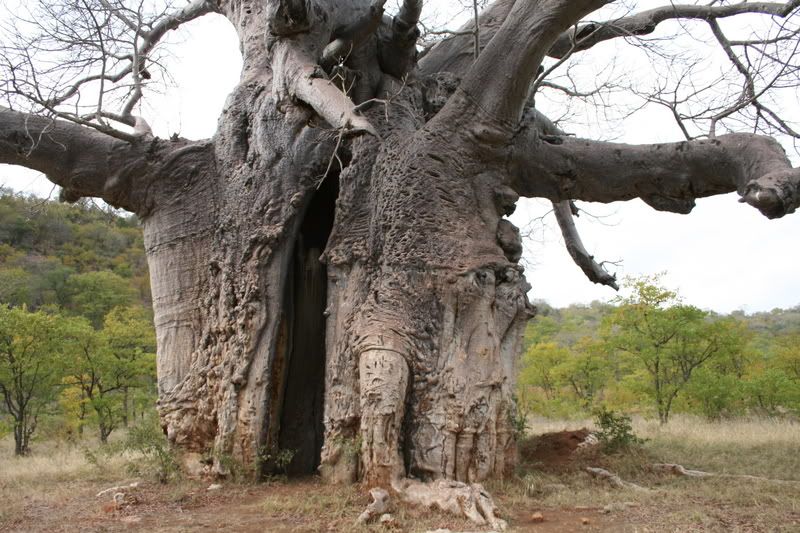 Jaco picked up and broke open a baobab fruit from a tree from the SA side and we tasted it, cream of tartar, our tummies were making very funny noises for hours after
We also found this stick insect (not a grasshopper this time)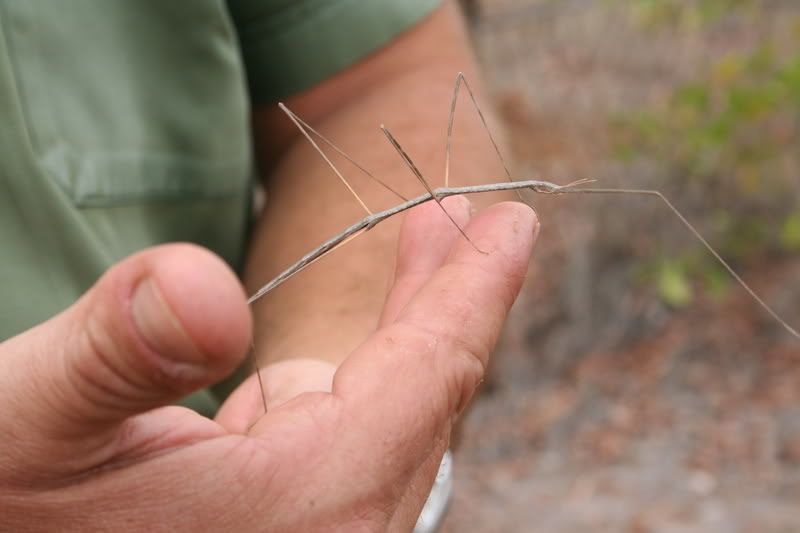 We came across this dead klipspringer in the road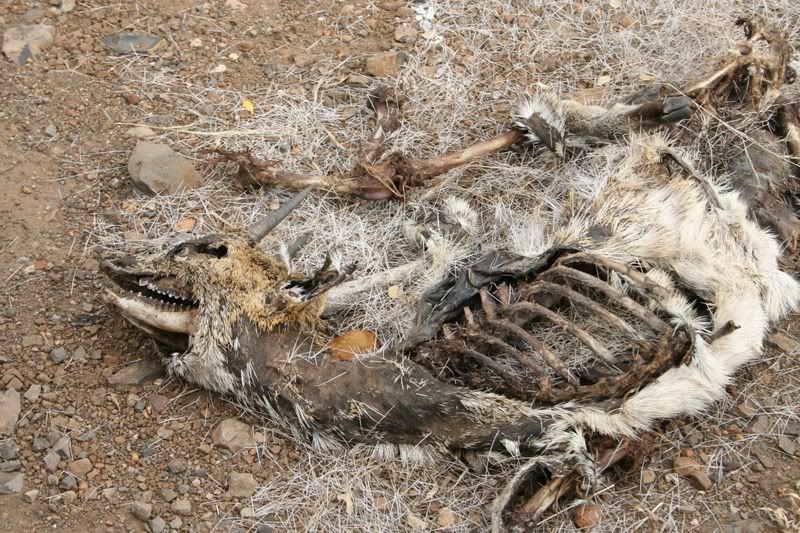 and a very tiny but alive tortoise which we gave right of way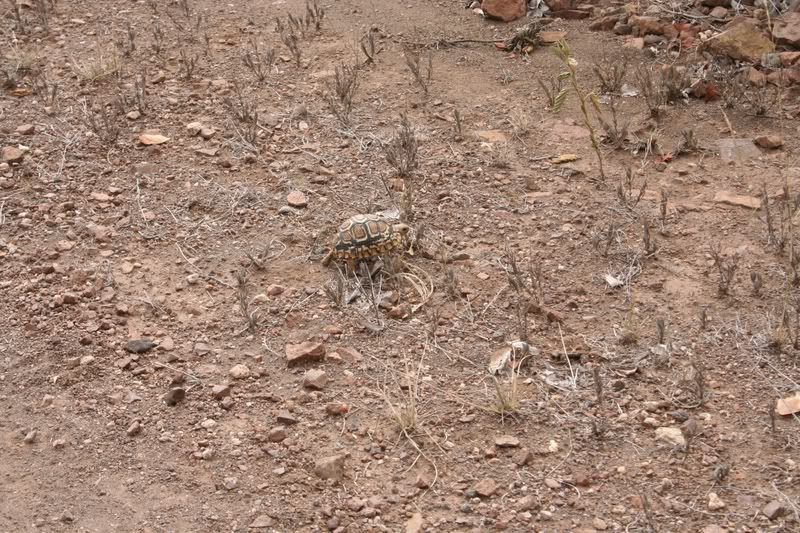 We stopped a while at this lovely spot on the Shingwedzi river where a turtle was sunning itself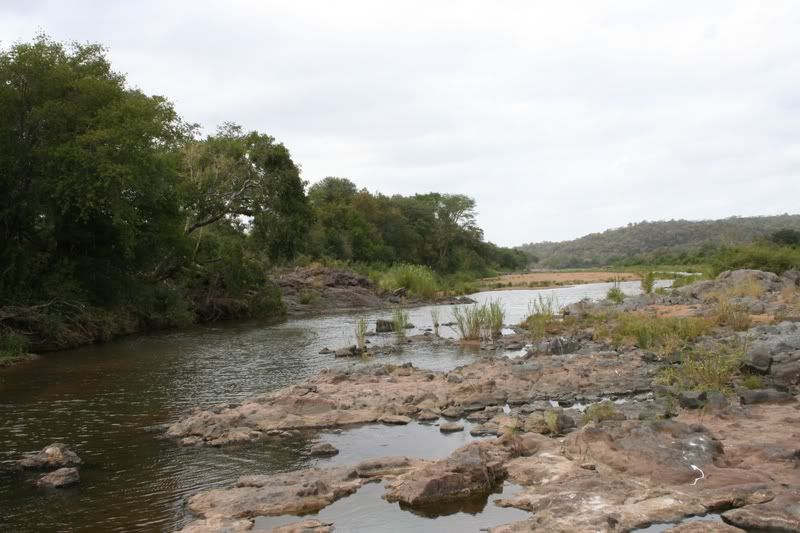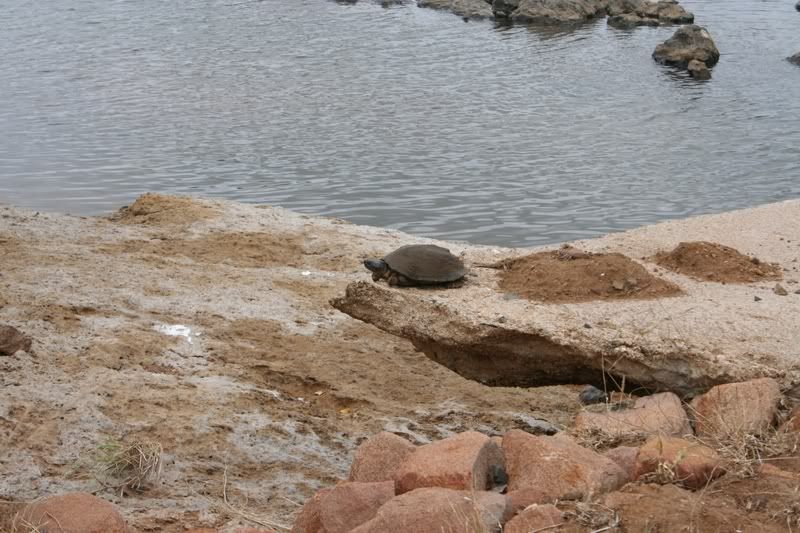 As we carried on we spooked this ellie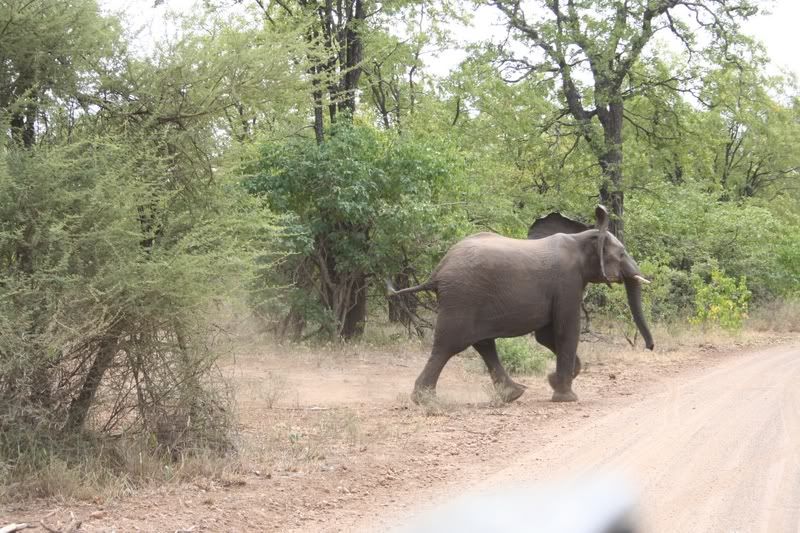 We now joined the S50 tourist road and agreed to meet up at Shingwedzi after showers etc at 12. (Ladies, the ablutions have power points here)
Off we go again heading to Langtoon Dam and our overnight camp, Shingomeni.
A nice slow drive as it isn't too far.
Some of our convoy had enjoyed a few drinks at Shingwedzi and we had to make a stop
this is our relieved ranger and an ellie who suddenly appeared from nowhere so everyone quickly got back in their vehicles.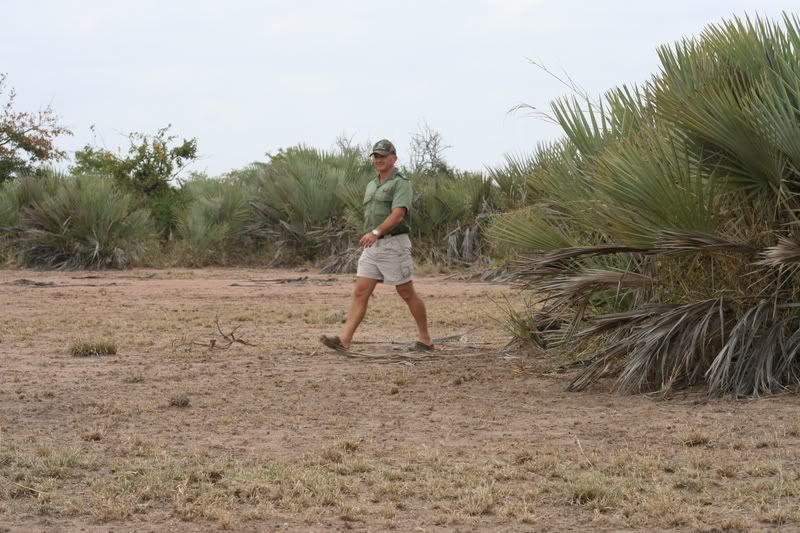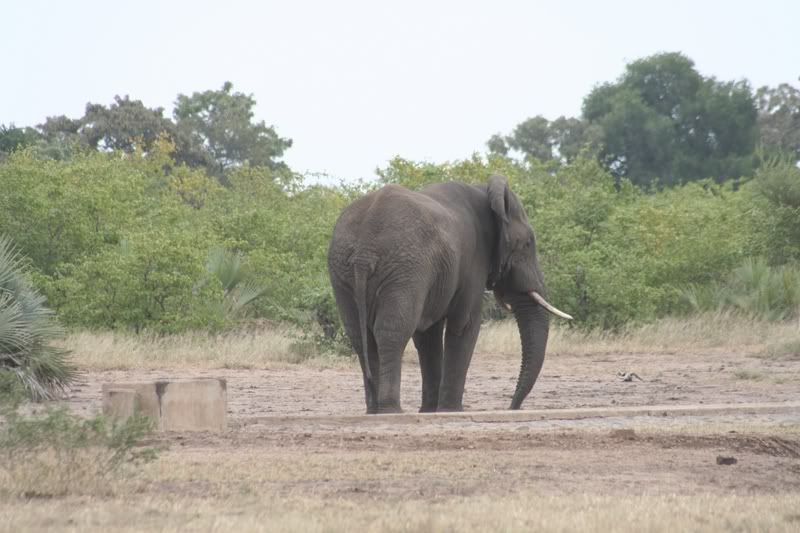 We soon come to Langtoon dam, a huge dam with lots of animals – zebras, impala, kudu, ostriches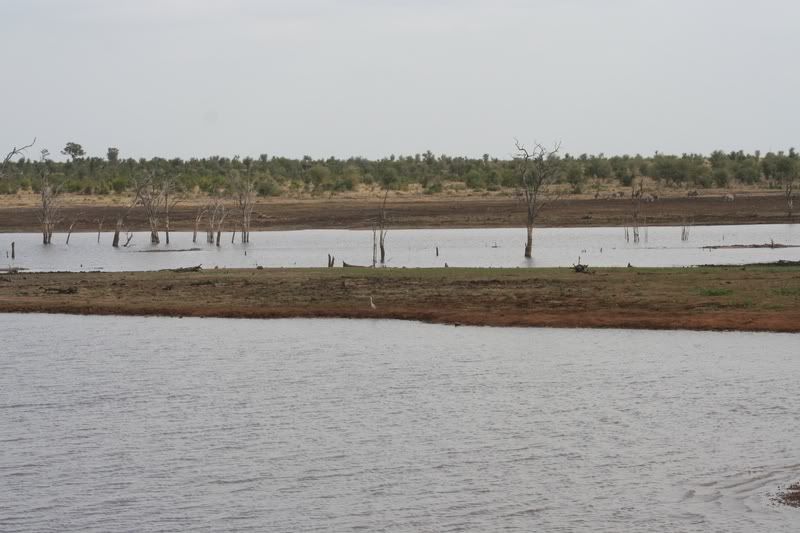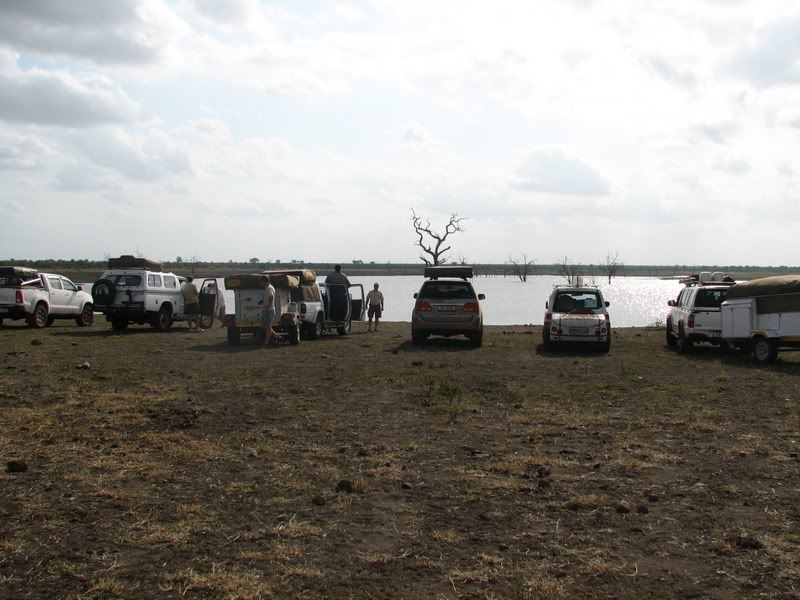 We chill out here for a while then make our way to the campsite about 10kms away.
Jaco invites everyone to go back to the dam for sundowners. We decide to stay behind and light the braai and another couple (first-timers to Kruger) decide to stay with us.
We are at our tent having sundowners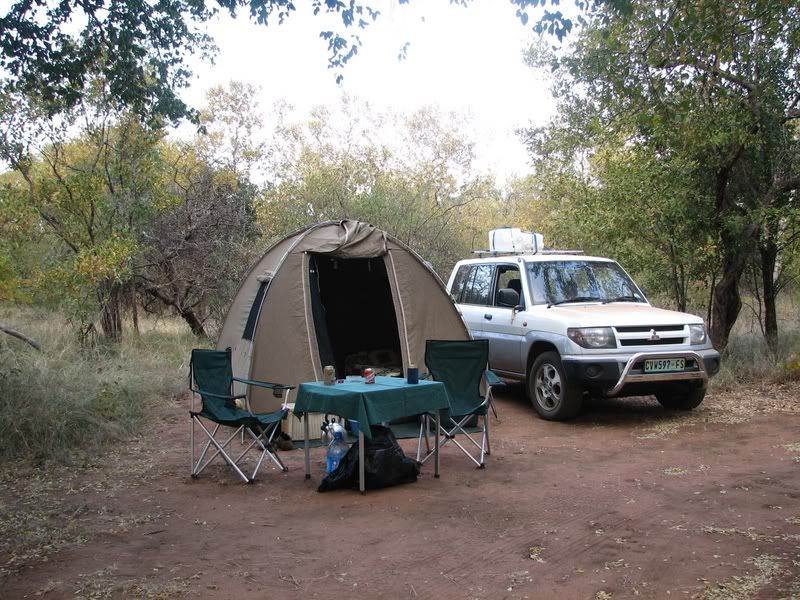 when we hear the impalas rutting, my SO says "Oops, someone is going to be frightened now" and within a few seconds we see two lights coming towards our tent
We explained that it was only the impalas but I don't think they were convinced so we lit the fire and the four of us sat round it till the rest returned.
They saw a huge herd of buffs at the dam
We then all braaied, drank, chatted and had a lovely last evening together.
---
Distinguished Virtual Ranger

Posts: 1507
Joined: Sun Dec 05, 2004 7:01 am
Location: Marloth Park, South Africa
Contact:
Day 5
The trail ends today and we are soon on our way to Crookes Corner.
We see a box in a tree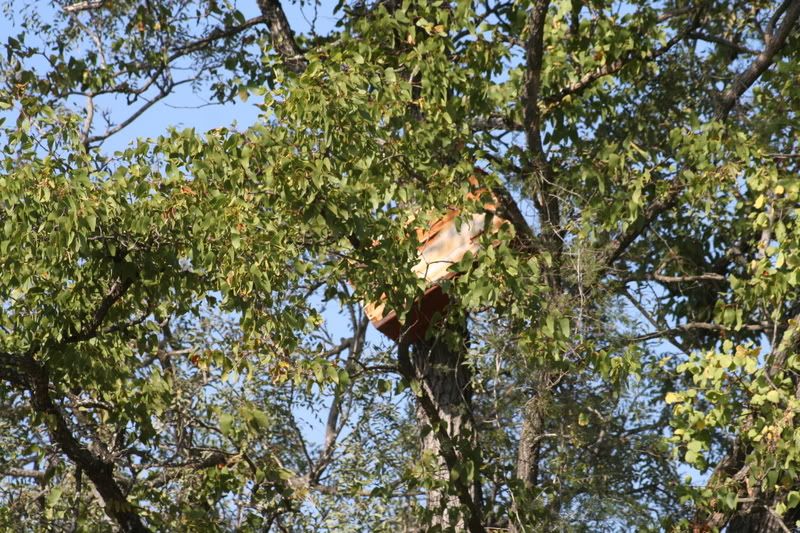 Jaco explains that research is being done by students and this is an insect box.
A little further on he stops and walks down the convoy to show us these tiny double-banded sandgrouse chicks, he assured me that mum wouldn't mind him touching them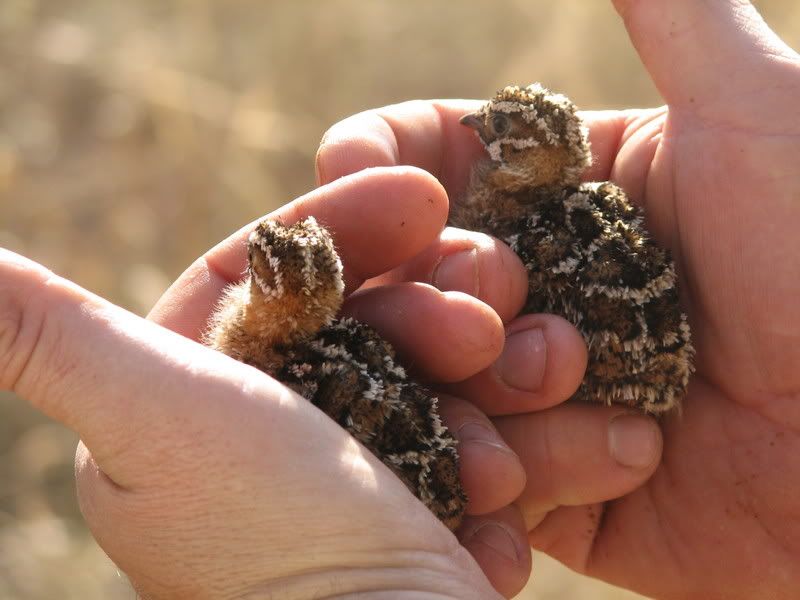 As we drive we see how the bush suddenly changes to Ironwood forest: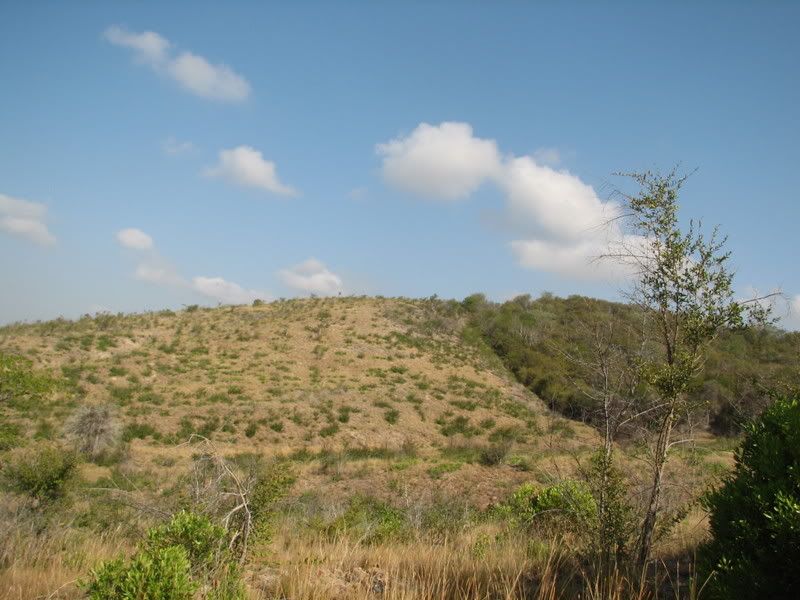 and on the edge of the forest we see crested guineafowl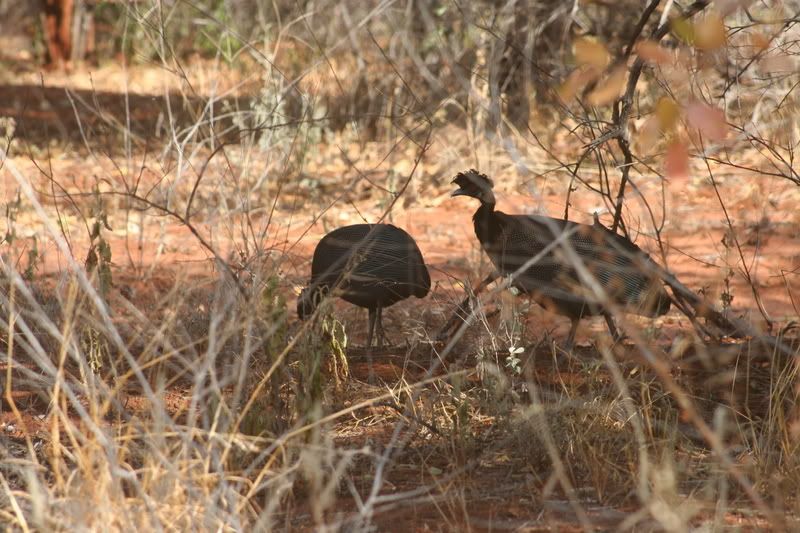 We can now see the Cabora Bassa power lines which take electricity from Mozambique to Joburg, we had two electricians on board so a big discussion took place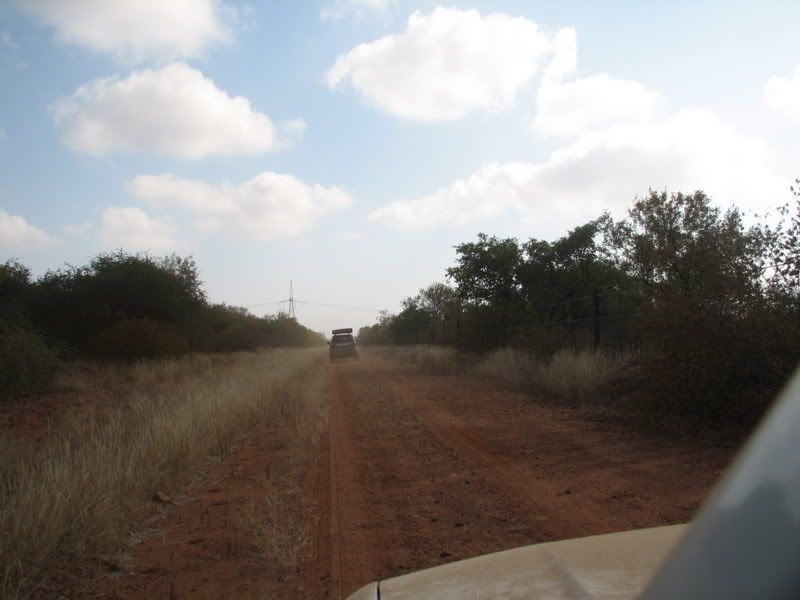 There is a hole in the fence made by illegal immigrants and a we find a fresh footprint, immigrants follow the powerline road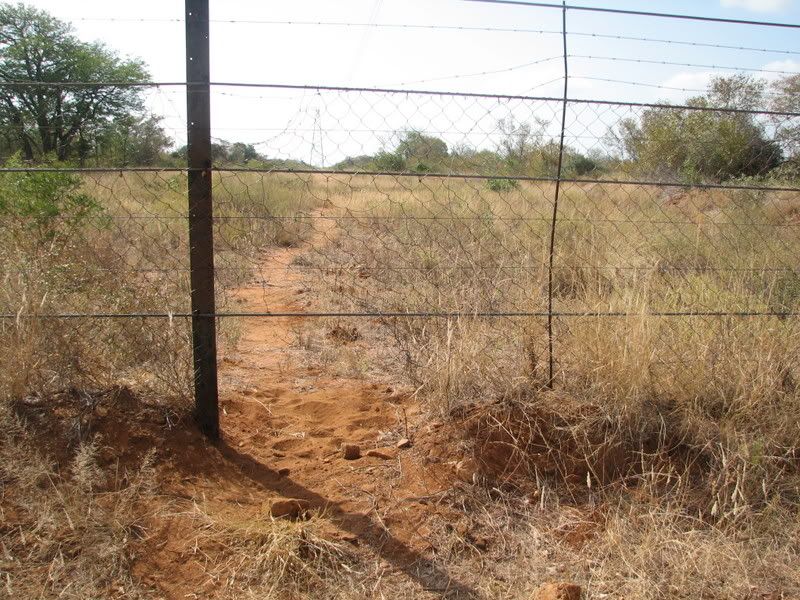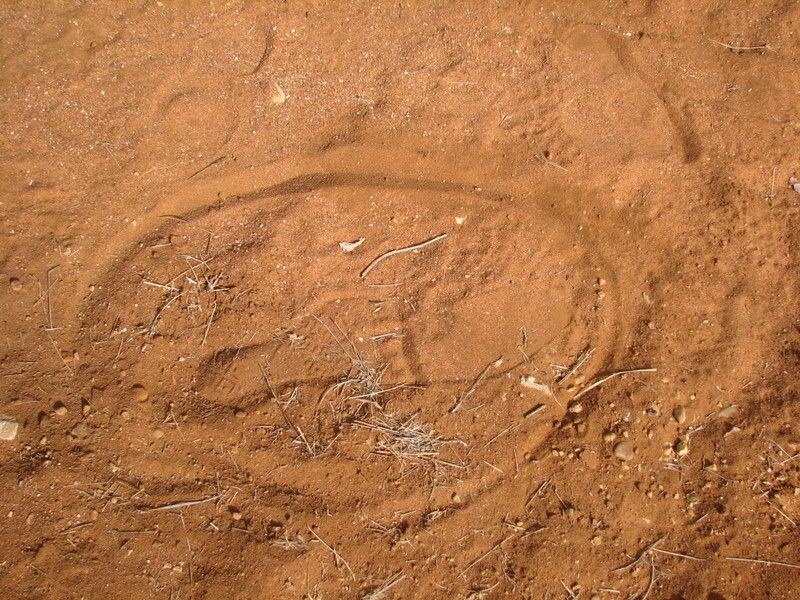 We are now driving though the Ironwood forest and there are old trees lying on the ground, this is a very hard wood and these are the remnants of the wood used to refurbish Punda Maria camp many years ago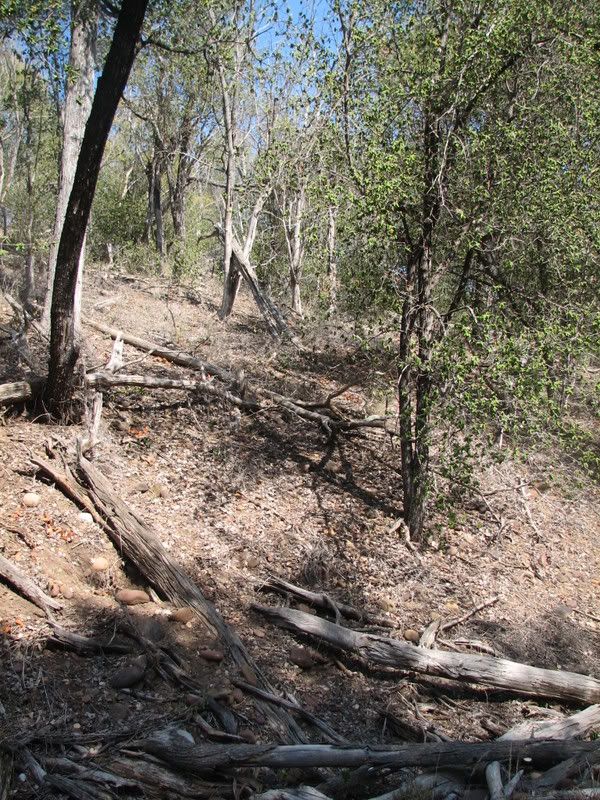 We pass the old mine station near Pafuri gate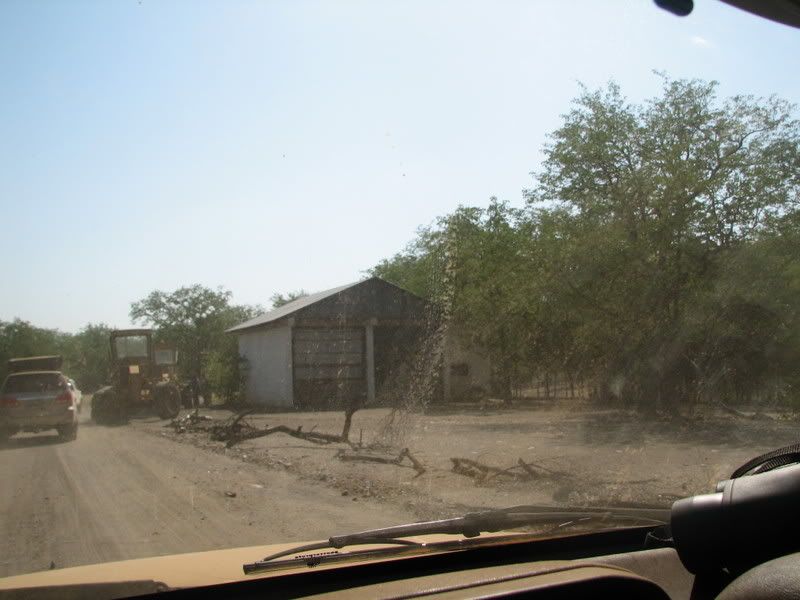 and join the tourist road near Crookes Corner.
We are allowed to get out at Crookes Corner and we say goodbye to our ranger and new friends and exchange hugs and email addys.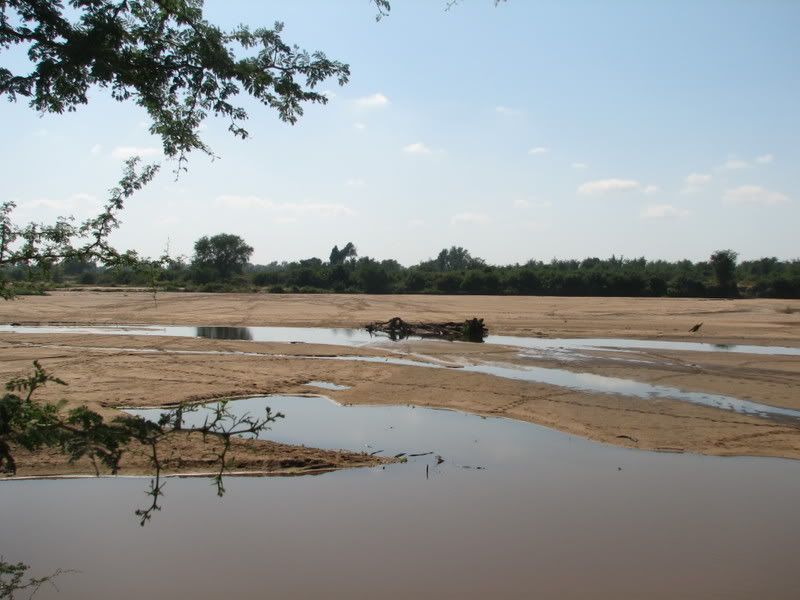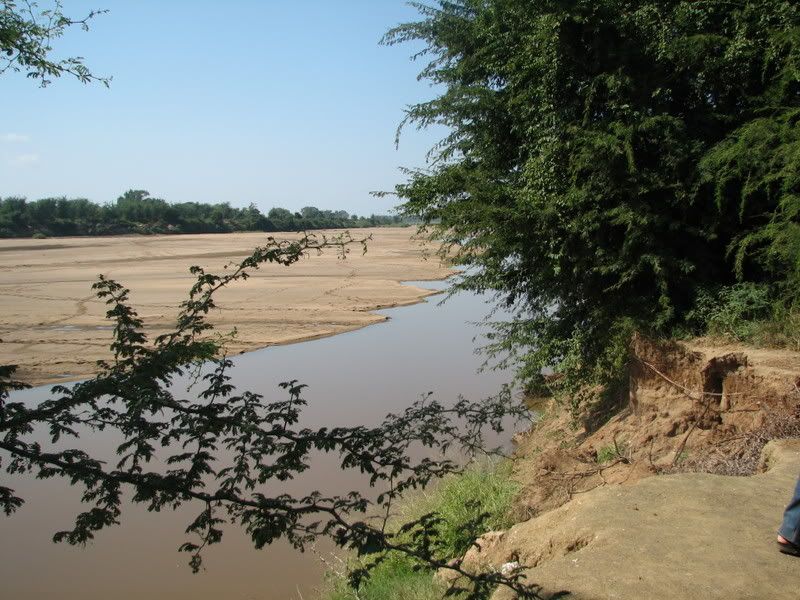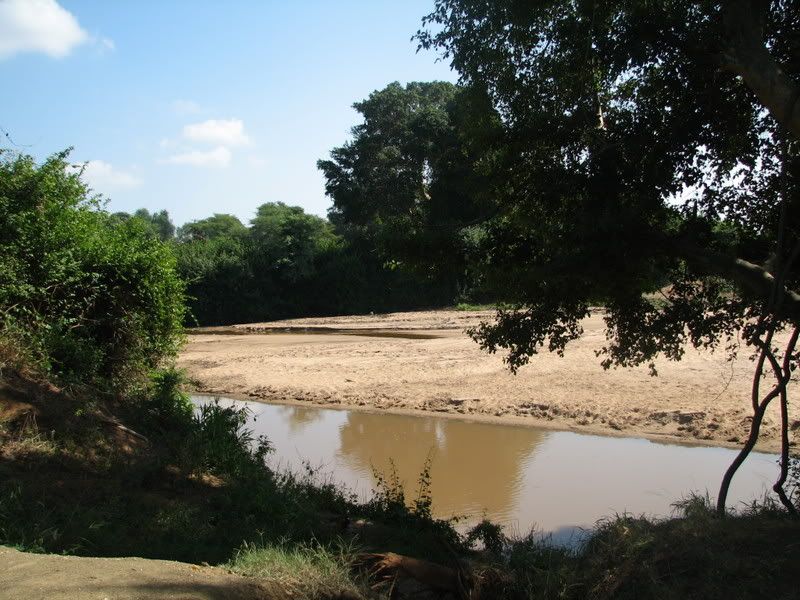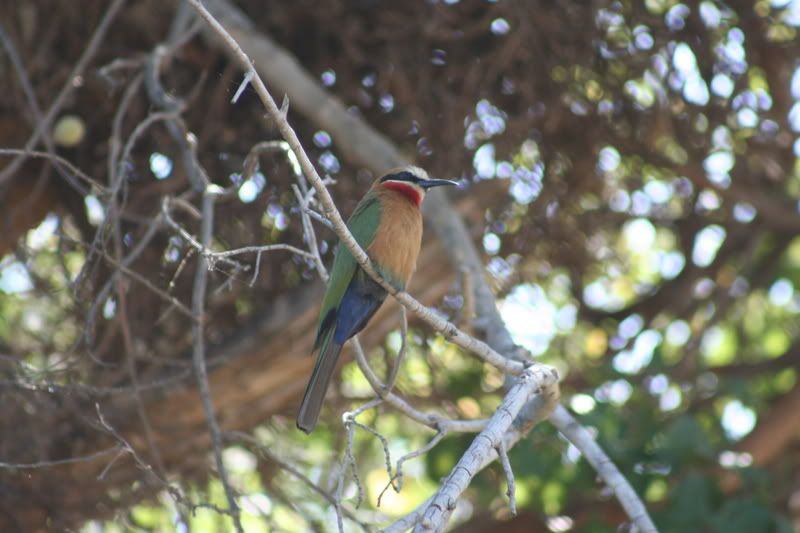 We are so glad we don't have to leave the park now and look forward to our three nights in safari tent #2 at Punda, on our way there we see these nyala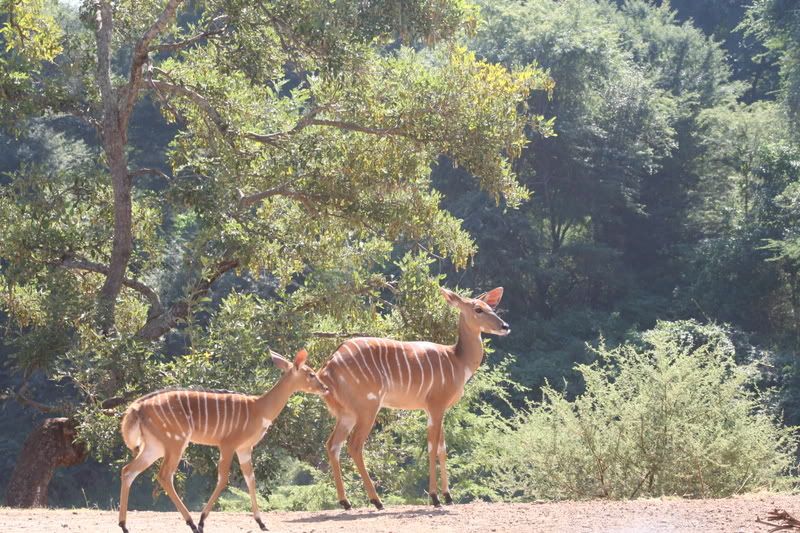 And near Klopperfontein dam a roan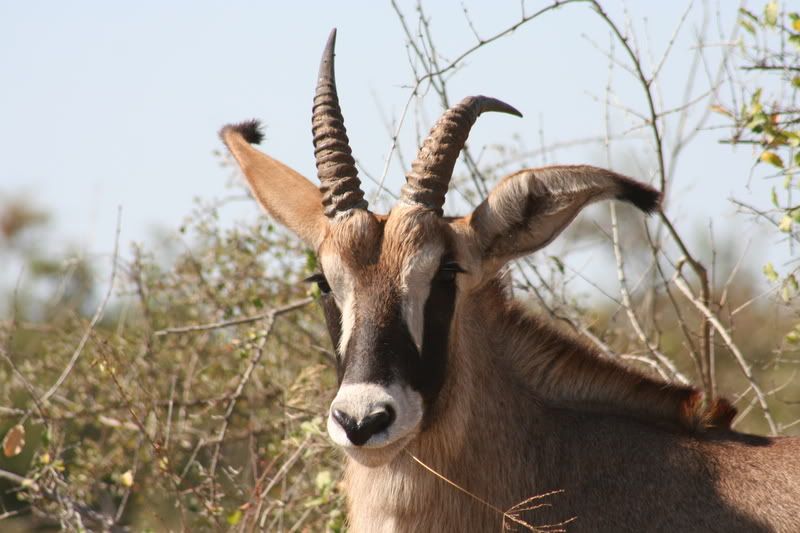 Wow what an fantastic way to end our adventure!
---
Distinguished Virtual Ranger

Posts: 1507
Joined: Sun Dec 05, 2004 7:01 am
Location: Marloth Park, South Africa
Contact:
Thanks for the kind words
Punda was just a perfect finish to the trip, apart from doing the Mahonie loop many times (we love that road) we just chilled out in camp.
A family of genets visited the rocks in front of safari-tent #2 each evening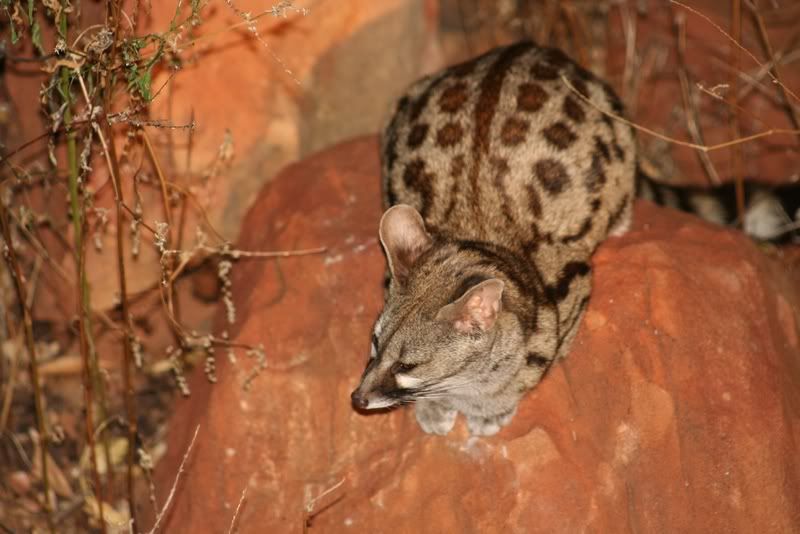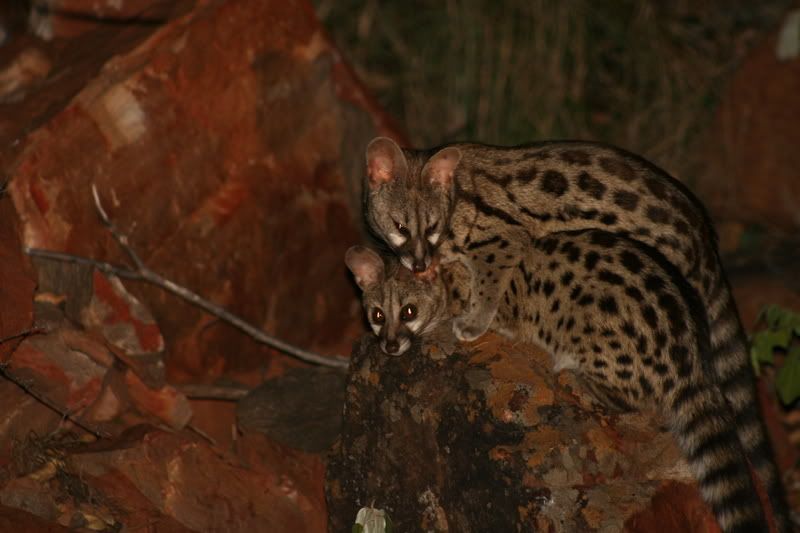 Pardus take your daughter with, you would both love it and a Rav will handle it no problem
---
---
Honorary Virtual Ranger

Posts: 14519
Joined: Fri Jan 14, 2005 5:42 pm
Location: Red sand, why do I keep thinking of red sand?
I agree! And that roan.... Did W@H see this report yet? Or did he jump in the car to see it too?
Not posting much here anymore, but the photo's you can follow
here
There is plenty there.
Feel free to use any of these additional letters to correct the spelling of words found in the above post: a-e-t-n-d-i-o-s-m-l-u-y-h-c
---
---