Junior Virtual Ranger

Posts: 261
Joined: Wed Apr 05, 2006 6:59 am
Hi
I am of to Kruger for seven glorious days, hope to be there when the gates open.
Cameras with extra memory cards packed.
Paul, I will contact you when I arrive at Punda.
Speak to again when I am back.
---
Junior Virtual Ranger

Posts: 261
Joined: Wed Apr 05, 2006 6:59 am
Hallo every body I am back.

Originally we would only spend 7 days in the park over the long week end, but ended up staying there for 11 days.

We had interesting experiences whilst being in the park. Will try and do my report over the week end. I will touch on signs in the road and veld, rare sightings and pics for the gallery of shame at Crooks Corner. Might even through in one or two queses.

Back at work to day and only herd the noise of earth moving equipment, generators, grinders ext. and really wished that I could turn the clock back to only hear the songs of birds and the calls of animals.
---
Junior Virtual Ranger

Posts: 261
Joined: Wed Apr 05, 2006 6:59 am
We arrived at Phalaborwa gate at 05H50 and entered the park at 06H05. Cameras, video camera and books ready with great expectations for our trip. As we drove of from the gate Kittie and I speculated witch animal will we saw first. Both said it would properly be an Impala. Impala ram it was. About one kilometre from the gate against all expectations we saw the fellow below. He walked next to the road. Wow what a start! He did not give me an opportunity to stop and and to take a photograph.I had to take the photos whilst driving next to him.
We drove down to Sable dam and from there on the H14 to the H 1-6 past Mopani to Shingwedzi. The rest of the day we saw the normal. We stayed at Hut B39, one of the newly renovated huts. What a surprise when we walked into the hut. You immediately get the impression that the hut is very big and comfortable, which it is. The ablution is divided into tree sections. Hand basin, shower and toilet and there is enough room to move around. Well done Shingwedzi, the hut is neatly worked off and you have done an excellent job.
The next day we followed the S50 to Nyawutsi bird hide. Not a very satisfactory drive.It looks like it has rain only in certain areas. Some areas the veld will see the winter trough. I have seen Shingwetzi area years ago with no grass and the Mopanie trees looking like little umbrellas as the impala's ate the leaves as far as they could reach.
At Nyawutzi bird hide I have just removed the picnic bag from behind my seat, closed the door and placed it on the bonnet of the vehicle. I heard a sound as if somebody sneezed behind me. I looked around and there was this fellow standing behind me,in the road leading to the hide. He was about 15 meters away from me.
He looked at me and I looked at him and said ooh sh.t. What do you do now? I realised that the wind was blowing from him in my direction and that he was not certain what is happening and that he has not recognised me as a human being. I very casually took my picnic bag got back into car. At the same time very scared that if I make any sudden moves that he will charge. He was blocking the road and I would only be able to drive into the veld if he does charge. As I got in the vehicle I started taking pictures. I don't know why I always start taking photographs when I am in a situation like this. After a while, which felt like an eternity, he turned around and disappeared into the La la palm trees next to the hide.
After about 5 minutes I decided that it was save to go to the hide. As we were inside the hide another vehicle stopped at the hide, as the couple entered the hide the Ellie reappeared from the La la palms. A breeding heard was at the water hole in front of the hide as the wind changed the smelt us. Boy o boy what a commotion. With a hell of a noise they ran off to the left side of the hide. There we were trapped inside the hide. El lies to the left and right of the hide. We stayed if the hide for about two and a half hours before they left. What an experience scared and adrenaline pumping at the same time. I wonder which spelling of the bird hide name is correct?
This one?
Or this One?
Who has noticed that there are two name boards with total different spelling at the entrance?
Later when I told skopsie and his family about the incident, his brother in law told us that years ago, to guys were trapped high in a tree with a couple of Ellie's underneath the tree. One decided that he was going to urinate one the allies, which he did. The Ellie's went mad trying to seek out the human beings, destroying the bush around the tree, trying to locate the humans.
It never ceases to amaze me to see people driving down the road with out taking the time to examine the signs on the road as well as in the veld. When one leave the camps early mornings, as the gates open a vast amount of information can be gathered about animals that crossed the road or walked on the gravel roads by looking at the droppings and spoors on the gravel road. You then know what type of animal spend the night in the vicinity, as well as which kind of animal can be seen.
Who left us here?
On the S56 I have seen a number of these trees next to the road.
What is the name of the tree?
At Babala picnic spot we overheard a very interesting conversation between a little girl and boy. The boy said when we get back to the camp I am definitely going to swim. The little girl put her hands on her hips and very firmly said " Hou jou self in, ek gaan eers shop." Directly translated; Keep your self in, I am going to shop first. One cannot help to wonder if she saw her mother speaking in the same manner to her father. It seems to me that the Angles are taught how to spend money when they are very young.
Happy mothers day to all the sweet angles.
Last edited by
Pieter Steyn
on Sat May 12, 2007 9:03 pm, edited 1 time in total.
---
Junior Virtual Ranger

Posts: 261
Joined: Wed Apr 05, 2006 6:59 am
Hi

Bert
We often spent long periods of time at hides as we are keen birders. That specific morning the call of nature was strong and both females in the hide complained bitterly. Then of course a hide does not really give you protection against an angry ellie.

Madach

It is a Njala tree. It is really a beautifully tree and provide a lot of shade. Which I had one in my garden.
---
Junior Virtual Ranger

Posts: 261
Joined: Wed Apr 05, 2006 6:59 am
Hi
That afternoon when we drove back to Shingwetzi we stopped on the bridge over the Singwetzi River, as we have seen Leopard, lions and cheetah lying on the riverbed. The river is dry and there are only water pools. At one of the water pools we have noticed an Ellie. I drove down the dirt road to have a look at the Ellie. To my surprise I noticed it was Mashagadzi.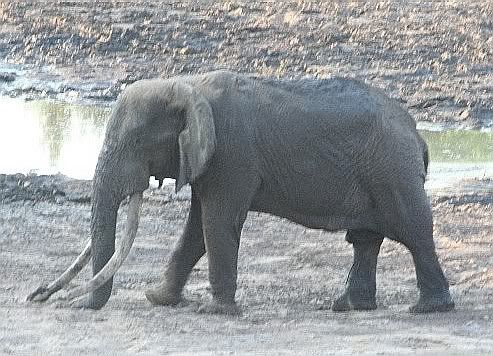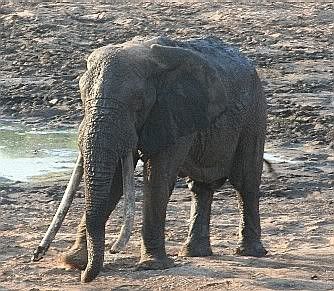 He did not looked to be in a very good condition even though it is said that he is a young Ellie. Whilst he was in the water pool he only washed behind his left ear, sprayed mud behind the ear and left side of his body and then washed it off again. It kept on for two hours before he left the water pool. On the dry riverbed it looked as if he supported his head with his tusks on the dry sand and slept. I watched him trough my binoculars for a long time and it really looked as if he was very tiered as he slept for long periods, shift his body weight and slept on. Eventually we have to leave, as it was almost time for the gates to close. We saw him again the next day, again in the riverbed but this time closer to the camp. He still looked as if he might be sick.
Is it possible that bar Duke that he has the biggest or longest tusks?
On the third day as we drove up to Punda I started to tell my S.O that I don't want to go home. Eventually she agreed and needless to say we stayed for eleven days and not seven days as originally planned.
That evening we met skopsie and his family and made arrangements to have dinner with them the next evening.
Everybody that came into the camp said that they have seen Lions about 1.3 kilometres from the camp gate. By then it was to late for us to drive out to see weather we could find them
Early the next morning we found them lying next to the road. Afterwards we drove to Klopper fotein where we saw an African Harrier-Hawk raiding bird nests. We decide to drive to Elandskuil as we have seen Tsessebe there the previous day. Just before Elandskuil we saw impala with a bigger antelope with them. I drove past them and my S.O said she is sure that there might be Tsessebe amongst the impala. I reversed back to the area where we saw the impalas. It was only then that I noticed that it is a Roan. You can imagine the excitement in the vehicle as the last time that we have seen Roan in the Park was 20 years ago.
It looked as if he was taking over the leadership of the impalas as he chased the biggest ram around.
When ever the roan started grassing the impala's would move away from as if trying to get rid of him. As soon as the roan realised that he is alone he would run to the impala's, chase one of them around and join them again. It reminded me of small boys trying to get rid of there little sister, hiding from here.
On our way to Pafuri we found these unfortunate little one's on the road. Clearly an indication that people do not look was they drive.
Snake
Giant Lizard
Pafuri picnic spot was absolute over crowed when we arrive there we had to park in the road leading to the parking area.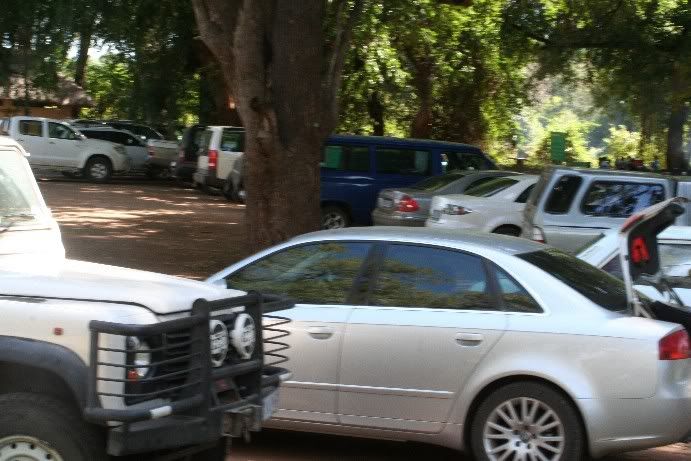 Parking erea Pafuri
Poor Frank was running around to help every body. Some people verbally abused him because he was to slow for their likening; for getting that they are not the only people wanting his attention, other wanted him to wash there dirty equipment and dishes. There was defiantly to many people to be helped by only one person. The park should provide more people at the picnic spot on public holidays and weekends, as one person cannot help a 100 plus people. I asked Frank how is it that you are still smiling after people swear at you because you don't help them immediately, he smiled and pulled his shoulders up and ran off to help other people. His wife and little boy of about three years without drawing attention tried to help him. I think he need a medallion for staying cool and calm and take the abuse in a stride as he tried his best to help every body.
We also visited Crooks Corner, it was an absolute thriller with all the people getting out of there vehicles, posing for photo's, sitting on their camp chairs in front of their vehicle and a child that slipped and fell down the embankment.
More about it in the next report.
We spend an unforgettable evening with skopsie and his family. We thoroughly enjoyed their company. Thank you skopsie, pleas convey our gratitude to your S.O, brother and sister with their S.O's
---
Junior Virtual Ranger

Posts: 261
Joined: Wed Apr 05, 2006 6:59 am
Crooks Corner
What happen to people when they visit Crooks Corner? Is it the beauty of Crooks Corner that attracts them? Is it a lookout point where you are now allowed to get out of your vehicle? I don't know, before the vehicle comes to a stand still the passengers are already of the vehicle and standing on the river embankment over looking the Limpopo and Lovuvhu rivers.
Is it a new picnic spot where you are allowed to sit on your camping chairs with a drink in your hand in front of your vehicle?
And then discuss the people crossing the border with out a passport.
Is it a new lookout point for birders?
Or is it a new photo studio where you pose for pictures with nature as a background?
The little white hair girl fell down the embankment and her father got hold of her cloths just as her head disappeared. The were a lot of crocks lying on the dry river sand. What would have happened if he did not manage to get hold of her cloths?
At one stage there were more than 30 people outside their vehicles. Is management fighting a loosing battle here? Might it not be better to change the area as an area where you are allowed to leave your vehicle?
There was lots of bird's drinking water. All of a sudden one disappeared in the water. One moment it was there and the next gone. I asked my S.O did you see it? She answered there is a small croc and that he is catching the birds. She was watching him for a while.
All of these people were outside there vehicles and not 2 km away we saw the Pafuri lions on our way to Crooks Corner.
Whilst all these people were outside their vehicles, a blue Corsa diesel bakkie arrived at Crooks Corner. The bakkie had the Kudu head on both doors. I told my S.0 now there is problems. You should have seen the guilty expressions on their faces
As the bakkie stop. The driver looked at the people and to my surprise he turned the vehicle around and drove off with out saying a word. Now, sir can you tell me why you drove of with out addressing the people outside their vehicles? I know whom you are and will surely take this up with the Park Management.
Am I now sounding like the little boy who loved to eat pumpkin with a tee spoon. He would eat it whilst his mom is cooking it, while she is dishing it in at the table. His mom got fed up with it and one day said, the devil will come and fetch you to night. That evening there was a really bad thunderstorm. The electricity was cut off. She got worried about what she said to him earlier the day and went to his room. To her shock he was not in his bed. She walked around in the house and eventually found him in the kitchen. The fridge door was open and he was again eating left over pumpkin with a tee spoon. Every now and then after a flush of lightning that lit up the kitchen he would say, all off this noise just because of a little pumpkin.
Where did Crooks Corner get its name from? Was it that the people used to play cowboys and crooks there? Did the crooks win the fight and therefore the name?
We visited Pafuri picnic spot on a number of days and thanks to Frank as well as Edward at pundu we managed to add new birds to our telly. We went out with Edward on a morning drive, my S.O and I were the only people on the vehicle and Edward kindly changed the morning drive into a morning bird drive. We really enjoyed the trip.
Both Frank and Edward had gone for a training course on birds. Both of them display the bird guide badges with pride on their chests. Well done to both of you.
---
Junior Virtual Ranger

Posts: 261
Joined: Wed Apr 05, 2006 6:59 am
Steyns trip northern part of kruger 4
Much has been said about the beauty of Kruger. In autumn the landscape changes from beautiful green to yellow, orange and brown. Some of the baobab trees have lost there leaves others are displaying their golden cloud of yellow leaves. With the magnificent shiny green leaves of the Mahogany trees, looks like that you can use them for a Xrasmas tree so beautiful and shiny is there leaves. My S.O absolutely love Baobab trees especially when they are covered with flowers. The contrast between the flowers and shiny brown bark is spectacular.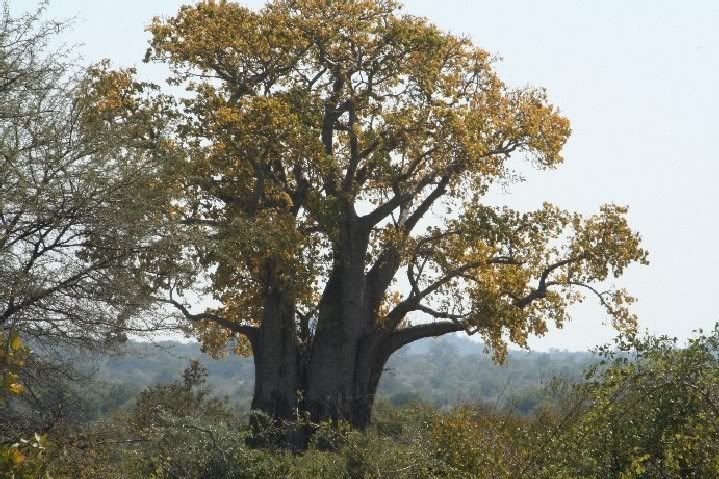 Further south the kierieklapper (russet bush willow) and vaderlandswilge (river bush willow) displaying their seeds in astonishing brown/reddish coular. Dancing in the wind and draw the eye immediately. From a distance it looks as if there are flickering flames in the tree. I have heard some people calling it the flame tree. Even though the flame tree is a complete different tree.
It looks as if in the northern parts of Kruger it has rained only in certain areas. The condition of the veldt various from fair to poor. The grass has turned to a very dark gray to almost black witch is an indication that it has no feeding value. Some area though is in excellent condition.
It was disappointing to note that the area at Pafuri that we knew as the fever tree forest has basically been destroyed. It might have been the 2000 floods, bad veldt fires as well as ellies.
African green-pigeon feeding in the tree.
This tree's bark has been striped from the bottom of the tree to the top of one of the upper branches. The ellie who did it only ate part of the bark and left the rest on the ground. I suspect that the tree's days are counted. With our next visit there it might be dead.
As far as I am concerned the northern regions are the most beautiful part of Kruger.
Near Punda we have seen a Sharps grysbok
At Elandskuil we saw Liechtenstein's as well as Tsessebe.
Liechtenstein
Near Klopperfontein we saw a Klipspringer in the veldt with no rocks or koppies (small protruding layer of rock) near it. Could be that it was a young animal looking for its own territory. I was to late to take a photo.
Around each corner we saw butterfly's displaying their beautiful colored wings. In an endless flight seeking nectar.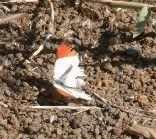 Smoky Orange Tip. It was the only little one that sits still long enough to take a photo off.
I have now sheared a bit of the northern magic with you. A bit of my hart went out with it, so that you could share in it. However I am a bit selfish and scared that the northern area might attract as many people as the southern areas.
In the next delivery I will tell you of our experiences in the central area of Kruger.
---
Junior Virtual Ranger

Posts: 261
Joined: Wed Apr 05, 2006 6:59 am
During this trip we stayed in bungalows and or huts. They were all clean and neat. However when you stay in one of them you are far away from nature. You cannot hear the same night sounds as when you are camping. Each and every night when I woke up for any reason, I went out to listen to the night sounds and once I was lucky enough to hear the raw of a lion. On two other occasions I heard the call of a giant eagle owl and scops owl.
I am also of the opinion that the showers were installed to suit Capricorns. Whenever I have a shower I have to bend double to wash my hair. Do you know how your back and neck feels after this?
At all the camps I drove trough the camping area. To my astonishment a lot of campers had insect killer gadget hanging in front of their tents and caravan tents, indiscriminately killing all insects. Why not hang it inside the tent or caravan tent were it might be needed. These gadgets are left on during the night.
We had two unusual sightings in the central parts.
About 3.4 kilometres from Nwanetsi picnic area we saw Njalas. According to the distribution of animals in " Field Guide to the Mammals of the Kruger National Park, by Heike Schutze" they do not appear
In that area. They were standing behind trees and we could not take a clear picture.
Near Satara we have also seen a Levaillant's Cuckoo. Is it possible that the bird decided to stay behind for the winter?
At Girivana dam we saw three elephant of witch one's left ear was bended (broken) to the front.
The cheeky little fellow tried his luck with the two bigger elephants by tiring to push them around. Each time he tried he came short. Eventually tried to push one around inside The dam. By now the biggest of the tree moved away to the right behind us. With our experience with the ellie at the bird hide still fresh in our memories I kept a constant eye on him. It looked as if the fellow with the bended ear pluked his moer, charged out of the dam trumpeting and attacked the veld as well as small trees. He was so angry that he stormed a medium sized tree and pushed it over in a second. With all this noise a forth elephant joint the one standing behind the vehicle to the right. They started pushing one another around. The one with the bended ear stormed back into the water and challenged the other one that was still standing in the water. By now I drove away from the two behind me but still curious to see what is happening?
My S.O recorded the entire incident on video. When you look at the tape your hair raises with the noise that the ellie with the bended ear made. We had to leave, as it was almost time for the camp gate to close. As it was the gate was closed just as we entered the camp. With the gate attended showing his watch to us shaking his head.
On the sweni road we saw two young lions lying next to the road. A red City Golf stopped and a passenger opened the back door got halfway out of the car tooled a photo as the car drove away. The lions have not yet lost all of their baby spots. I estimate that they are about 18 months old.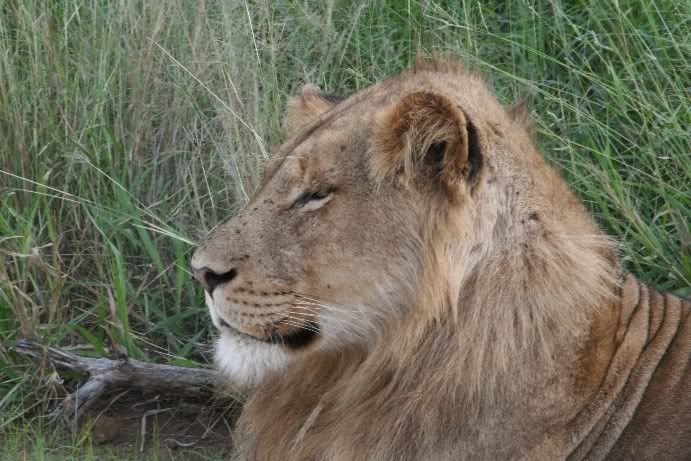 Just see how big his claws are.
At the picnic spot we found the occupants of the City Gold sun bathing in they're under clothes. Both sexes. Wow what a site. White undi and pink skin. Hands open catching the sun rays.
On our way back on the S36 we saw a leopard that caught an impala. As more and more vehicles stopped the leopard crawled away and left the impala underneath a knob thorn tree. We waited for a period of time but there were to many cars and eventually left.
One morning I made a gat of my self, stopped next to a buffalo thorn tree in Satara. With the intention of getting warm water from the communal kitchen. I did not bend low enough and got caught up in the trees thorns. There I was stacked with thorns in my ear and cloths. My S.0 did not bother to help me. She sat in the car double bended holding her stomach laughing her head off. They're by disturbing all the campers with no respect to those still asleep at 05H45 in the morning. I was not impressed at all. As I battled to free my self from the thorns, I silently promised her I will get you back Baby. And then when I was free she pretended to be very concerned about my bleeding ear. I would never have laughed and would have freed her from the thorns with tender loving care. But not an Angle, ooh noo, they would rather laugh.
One afternoon we watched an Impala ram collecting Impala ewe, chasing all the other rams away and at the same time collecting more ewe,s. After the breeding season he would probably be very thin and on top of that loose his territory.
I have named this photo white socks.
Just a couple of pictures of animals that we saw on the day that we left the park.
secretary bird
Ground horn bill
Bateleur eagle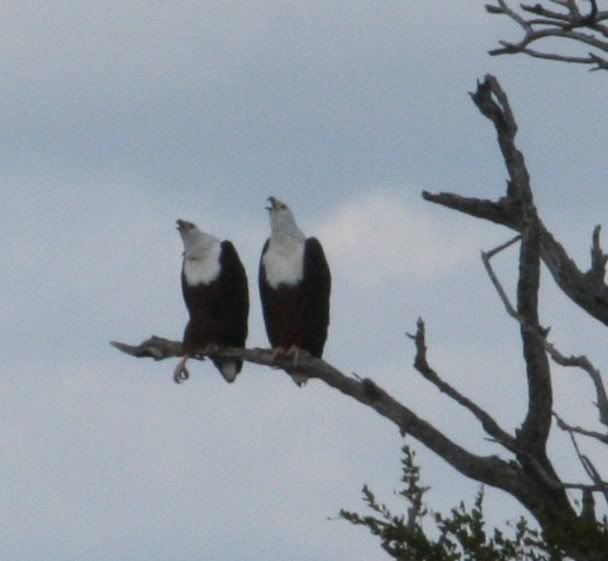 Two fish eagles sitting next to one another calling in harmony.
At Kumana Dam we saw this elephant.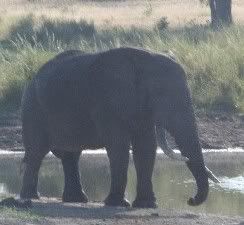 Can he be one of the merging tusksters ?
As at the day we entered the park the second last sighting was that of a leopard on the dam wall of Gezanfombi dam.
With this we leave you until our next trip to Ghalagadi
---
---
Who is online
Users browsing this forum: No registered users and 6 guests