W@H's sms wrote:Hi. Back in camp. Saw 50+ breeding herd of ellies. Extremely close! M saw her hyaena & we had excellent sightings on S100. Going on Sunset drive tonight. Last night they saw on SD, genet5, serval, AWC, jackall, cape clawless otter, etc. I think they talking BS..."
Deebs, I think you posted an earlier installment of W@H's report? Where? Can't find it...!
---
Jose wrote:

Deebs, I think you posted an earlier installment of W@H's report? Where? Can't find it...!
Jose, I just posted in the cam thread that W@H was watching the cam from Satara yesterday. - our whole town has been 'offline' today so thanks for posting that.
W@H and Hyena saw AWC on their sunset drive this evening.
I have wished them a stunning day of great sightings for tomorrow!
- Dalene
---
Honorary Virtual Ranger

Posts: 14519
Joined: Fri Jan 14, 2005 5:42 pm
Location: Red sand, why do I keep thinking of red sand?
Cape clawless otter.... That is still on my list....
From the webcam sightings:
MATTHYS wrote:Hi W@H !

That you ?
Not posting much here anymore, but the photo's you can follow
here
There is plenty there.
Feel free to use any of these additional letters to correct the spelling of words found in the above post: a-e-t-n-d-i-o-s-m-l-u-y-h-c
---
Distinguished Virtual Ranger

Posts: 1372
Joined: Thu Dec 09, 2004 6:51 am
Location: In a very busy place
Well .. I'm back .. and before I get hammered by certain angels for a trip report .. I thought I should start with my 1st post before attending to any other matters.
Foxy .. I wish I was on that Sunset drive .. That was the night before ours .. and after the .. well let's not go there .. I still don't believe a word that they say they saw all that ..
Anyway .. let's get started ..
We entered at Orpen Gate at about 10h00.. The construction on the new entrance gate seems to be going and I noticed that after the contstruction the fence on the right hand side is gone joining the Private Reserves with KNP and the Left side seems to be going down soon ...
Entering was a breeze and we were on our way .. First thing I noticed was the contrast in the veld .. Dry but wet .. there must have been some rains before we got there (and quite a lot by the looks of it) as there were small temporary waterholes all along the road ... However, when you get to the more permanent sources of water you can see that it's not gonna make it to August .. I'm a bit concerned about the animals during the winter months .. but know they will find ways to get water ..
The contrast in water levels at Nsemani dam compared to last year about the same time is shocking .. Anyway .. so the sightings started with some Warthogs and Blue Wildebeest and a some Woolly-necked Storks .. Saw some more common game before going to Satara .. Had a nice photo opportunity for this little guy ..
PS: At this stage I would like to apologise for pic quality. Photo's were taken on Film Camera and scanned by Photoshop on CD ..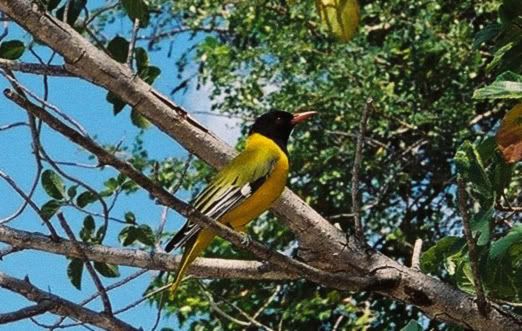 BTW .. I think that after 3 times of moving the Satara Gate I prefer the previous entrance .. the gates are up but I don't think the Wooden gates are opperational .. if so .. they look like they were put up in 5 seconds ...
Then I searched and searched and searched some more for the Scops Owl in front of Reception .. and I finally found ... Nothing ... yet again .. the little bugger has eluded me .. However later that evening while we were braaing, I was delighted to find a little Pearl-Spotted Owl in the tree right infront of our bungalow .. and he sang his (prrrrrrrrp) for us the whole evening .. (as well as a few late night party doves .. don't know what they were doing up that time of the evening) ..
And so our first day ended .. concerned that we had not found any ellies ..
NO TO HOTEL DEVELOPMENT IN KRUGER
---
Distinguished Virtual Ranger

Posts: 1372
Joined: Thu Dec 09, 2004 6:51 am
Location: In a very busy place
Day 2 started early and we were all ready, set and go for the S100 ... Breakfast was packed .. gear was ready and all were in good spirits ... Quick greeting everyone at the gate while waiting for it to open ..
BTW .. Did I forget to mention the Giant-Eagle Owl we saw yesterday before gate close? So-solly-silly-me
Gate Open .. AND THEIR OFF! With the White Kombi taking the lead .. and as if there was no other road in the Park .. the cars turn left .. everyone on the S100 ... Hating traffic and such we waited for everyone to go and enjoy and leisurely drive ...
Satara was in a good mood that day and greeted us with this sunrise ..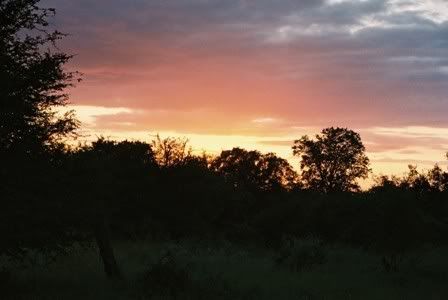 After watching some baboons play and a Bushbuck going down for a drink we cam upon this group ... clearly some animals have their priorities wrong .. Or they found some Amarula that Gwen probably left on the S100 ...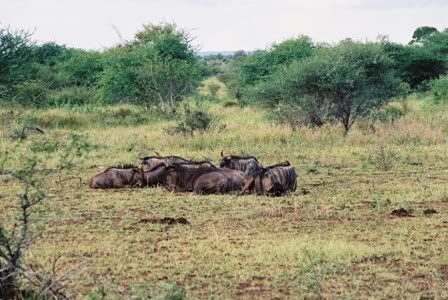 There seemed to be 3 still going strong as they chased each other around and around and around the car ... The Impalas were not impressed with the antics of the Blue Wildebeest and just watched them with a look like "What are you thinking?"
After some more excellent viewing on the S100 (which included Little Bee-Eater, Steenbuck (which btw if you did not know, will bury it's dung or leave it's droppings between Impala dung to avoid attracting attention. They have life partners but will remain seperate to also avoid attracting attention), Zebra, Giraffe, warthog etc.
Arrived at N'wanetsi and enjoyed a delightful thing called a "Skottel Brekkie" .. hmmmm ... Skottel brekkie ...
Then off to Sweni Hide .. which now is probably my favourite hide ... Birds to many to say included Black Crake, Jacana, Grey Heron, Brown-hooded Kingfisher (at least I think that's the name) and many more .. crocs and hippos (with a baby hippo entertaining us trying to get on a mother's back.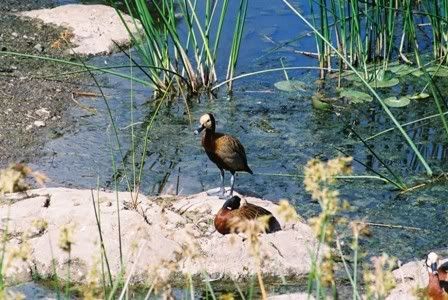 Then it was back towards camp on the H6 .. and then next moment we found ourselves in a 50+ breeding herd of ellies .. And then the magic started ... expecting to be bullied away from them .. they were relaxed as a WTM drinking a Castle on his back porch can get .. and passed them within 3 meters .. Not once was there a head shake or anything .. Baby ellies were galore and we enjoyed their company for quite a while.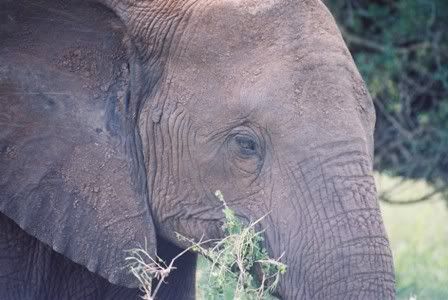 After that .. Hyaena came upon a Hyaena den .. and clearly the two were getting along .. one posing for the video cam and the other gladly taking video footage .. Which meant I was kicked away and could not take my photo
But after watching the video footage .. It was worth it ...
As we approached camp we found 2 Saddlebilled storks and little further on a Bateleur eating something when a youngster suddenly flew up and scared the living daylights out of the older one ..
Back in camp I again searched and searched and searched some more for the Scops and left for the bungalow like a DinkyBird who was told she would need to eat some steaks ..
We then left for the Sunset Drive and well .. As you will notice no photo's and that was not due to a lack of trying .. But will not go further into that .. Not even the African Wildcat we saw could lighten my spirit after that drive ..
Fortunately the braai that got going and then the symphony of lion roars helped brighten my mood that night and by bed time I was ready to move on to the next day's adventure.
NO TO HOTEL DEVELOPMENT IN KRUGER
---
Distinguished Virtual Ranger

Posts: 1372
Joined: Thu Dec 09, 2004 6:51 am
Location: In a very busy place
I felt that this day .. day 3 was gonna be a good day .. the drive from Satara to Letaba and the prospect of a Game Pie at Olifants got me going ...
Well not for long that is .. when the flask I carried suddenly started pouring boiling water on my hand like a Beer Drunk man who has not gone to the loo yet .. Unable to react immediately (due to carrying camera equipment in the other hand) .. I had to put it down and remove the flask as fast as humanly possible in a state of panick and pain .. The rest of the day the hand would spend in a wet cloth with ice before I could finally get a camp with the necessary medication (burn salf, bandage and a bottle of Mr. RickyLouw) .. Then all was good and well .. I can report that the hand is fully functional and beside some scaring now should heal to look as good as new ..
Well back to the trip .. As I mentioned I felt today was gonna be a good day .. and after 2 hours of driving we came upon "general game" again .. Eish! Too much "general game" in my very humble opinion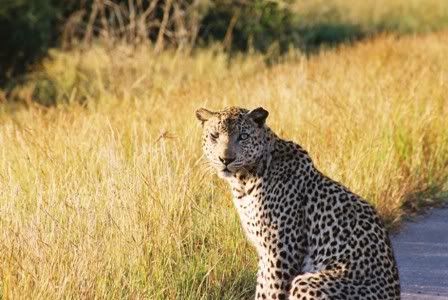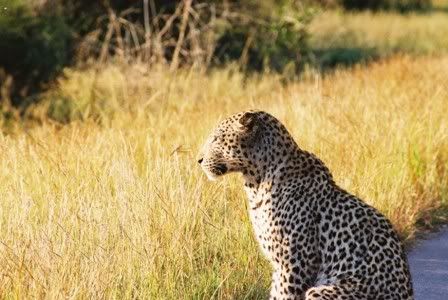 Cars were all around her and we were surprised at how relaxed she was .. I expected to see her move off any second and also expected a few oke's to be klapped when they drove right pass her with less then 1 meter seperating them .. She just sat there ... watched the sunrise and licked her paws ..
At one stage she came very close to my father-in-laws double cab and for a moment it looked like she was gonna jump on the back .. then decided to continue past us .. so close that my 300mm lense could not get a decent shot or focus on her ..
After about 40 mins we decided to leave and said our g'byes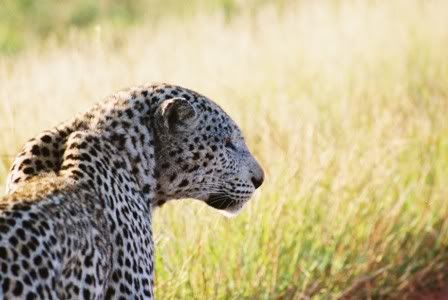 Time for that Game Pie at Olifants .. but 1st we saw some Steenbuck again .. (May I point out at this moment that we saw quite a lot of them) .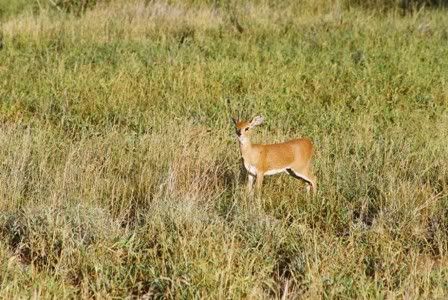 And before getting to Olifants we were delighted to find 3 Kori Bustards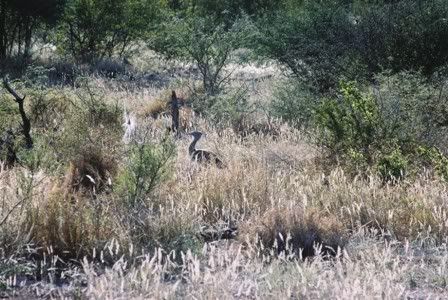 To my dismay when we arrived at olifants it became clear to me that the day of the Kruger Park Game Pie has come to an end ..
Life is not fair ...
The drive to Letaba proved an uneventful part of the trip with Waterbuck sighting here and there .. (it could be the pain of my hand made me miss several sightings thou) .. Entered at Letaba and after getting the medication booked into bungalow 63 and 64 ... What a view .. what a site .. where's the beer .. Great bungalow nr 64 ...
After a scuffle with the vervets .. Trying to steal my "Ouma Beskuit", and showing them who is boss we went on our afternoon drive. Coming back to camp I had a "lifer" and saw a Black Back Jackal .. Hard on the breaks and quick in reverse, Hyaena and myself were lucky to see him trot off into the bushes .. Yeah yeah yeah .. Where was my camera .. Next time ..
The night ended with some amarula on ice, a good braai and hosing myself when 2 plastered italian musketeers did not realise there were steps going down to the fence .. Ahh .. life could not get better ...
NO TO HOTEL DEVELOPMENT IN KRUGER
---
Distinguished Virtual Ranger

Posts: 1372
Joined: Thu Dec 09, 2004 6:51 am
Location: In a very busy place
So day 4 is upon us .. and packing the breakfast again .. on our way to Mopani ...
The day started off with a nice sighting of a pair of Steenbuck ... the 1st we've seen on this trip ..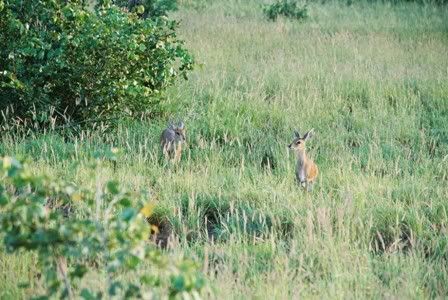 Today was gonna be more of a Bird then an animal day .. Based on my previous trips to and through Mopani I was not expecting much .. and I was right ... Mopani was thick with bushes which made spotting very difficult ...
We had 2 nice sightings today .. One was of 4 Ground-Hornbills (the 1st of many more to come during the rest of the day) ..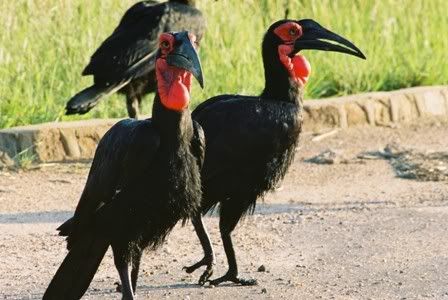 And then we saw these 2 the first of 5 we would see in the next 2 days ..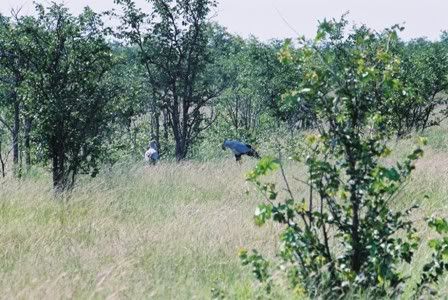 Stopped at Mooiplaas for our "Skottel Brekkie" .. hmmmmm ... skottel brekkie and after having our fill (amongst the begging of the Grey Hornbills) .. we left .. leaving the Hornbills "with a disgusted look and drool hanging from their beaks" ...
We stopped over at Shipandani Hide for a quick look and then to Pioneer Hide (Water level is very high here so don't expect to see much) ..
After a quick stop at Mopani we headed back to Letaba .. were we saw the same 2 Secretary Birds and bit further on another 2 ...
Back at Camp we went to visit the Elephant Museum and I was again amazed and yet sad when I saw these magnificent animals of yesteryear ... Mandleve was really impressive and we soaked up every inch of information and awe in the museum ..
Planning to purchase the Tusker Booklet .. I noticed another book they were selling in the shop .. Great Tuskers of Africa ...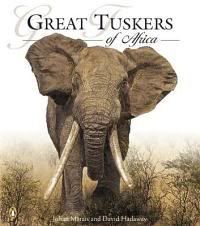 this book was the best book I've bought in a long time .. You can read up more about it here in this topic :
Great Tuskers Of Africa
That night we went on the night drive .. saw AWC and Hyaena .. Last night in the Park and I soaked up as much as I could of that evening ...
NO TO HOTEL DEVELOPMENT IN KRUGER
---
Distinguished Virtual Ranger

Posts: 1372
Joined: Thu Dec 09, 2004 6:51 am
Location: In a very busy place
Final day .. and it was spend on the Phalaborwa road .. I hate this road .. and today it was made worse with the traffic of the long weekend .. 4x4 with Boats, trailors, quad bikes, trucks .. traffic traffic traffic .. all going to Mozambique or to drop of supplies .. It felt like I was back in JHB on a monday morning rush hour ...
The road has never delivered for me and this time was no exception .. was it not for the huge herd of bufallo we saw.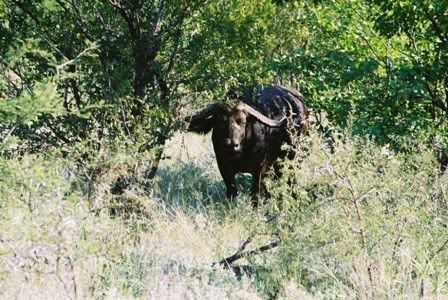 And the 1 Secretary Bird then we would have seen nothing ..
When we got to the Gate it was chaos .. cars lined up to enter, building going on and even the extra help they organised at the gate could not cope with the influx of vehicle. I'm sure that the gate's quota was reached very quickly and I almost felt relieved to get out of the Park ...
And so our trip ended .. DA END.
NO TO HOTEL DEVELOPMENT IN KRUGER
---
Distinguished Virtual Ranger

Posts: 1372
Joined: Thu Dec 09, 2004 6:51 am
Location: In a very busy place
Thanks all ...
Nope .. I did not see any lions (which concerns me as I've always seen lions on every trip thus far, and this year I've been twice and twice I did not see them
) .. But we did hear them towards Bobbejaans Krans in Satara and accross the Letaba river in the evening at Letaba.
Maybe my jinx will be gone in 3 weeks when I go again .. As for the leopard Ollie, you are 110% correct ... People were driving past him about 1 meter away .. 1 guy even hooted (but I think he pressed it by mistake) .. People were surrounding him ... If the rest of them did what we did they would have had a better view instead of josseling for position. We just switched off the car and looked .. The crowd must have been to bad for him coz he then walked straight to our car .. just passed us and sat just behind our vehicle. Obviously anyone who tried to come closer and bully me out of the way just got a look and they realised it was futile to try and get me to move .. He then went back through the crowd (yes he was pacing up and down often) and that is when me and the in-laws in the other car decided to leave him in peace. Don't know about the other cars but 2 less vehicles was all we could do to help.
@ DB .. You had some "magic mushrooms" again?
Trees .. who would have thought of that
As for the trip report .. Once I'm on a roll there's not stopping me ... (Sorry
)
NO TO HOTEL DEVELOPMENT IN KRUGER
---
Distinguished Virtual Ranger

Posts: 1372
Joined: Thu Dec 09, 2004 6:51 am
Location: In a very busy place
WeeBirdy wrote:Hope your hand's doing better! Was it your Amarula-drinking hand?
Fortunately not .. but that is why I love inventors .. both your hands can be out of action and you can still drink (straws .. what an amazing invention) .. and if you don't have that at hand .. you can always order a well trained angel around
NO TO HOTEL DEVELOPMENT IN KRUGER
---
---
Who is online
Users browsing this forum: Robbert and 3 guests