Posts: 10
Joined: Tue Jul 12, 2005 2:29 pm
Location: Cape Town, South Africa
Sunday night my partner and I returned from 4 days of birding based in Punda Maria and what a great time we had. Having arrived early we had a couple days of 'private' birding before the birding weekend started and despite the very limited line of sight from our rented Corolla (which made us really appreciate our old and (t)rusty bakkie), managed to get our trip list up to only one short a hundred by the time we met our fellow weekend birders. At that time we were already quite happy with the trip so far, but had no idea yet about how great an experience the Saturday would turn out to be!
Included in the 99 species were great views of a Bateleur in the grass in front of the Punda Maria bird hide and amongst others a Village Indigobird and a Cardinal Woodpecker in the trees in the camp.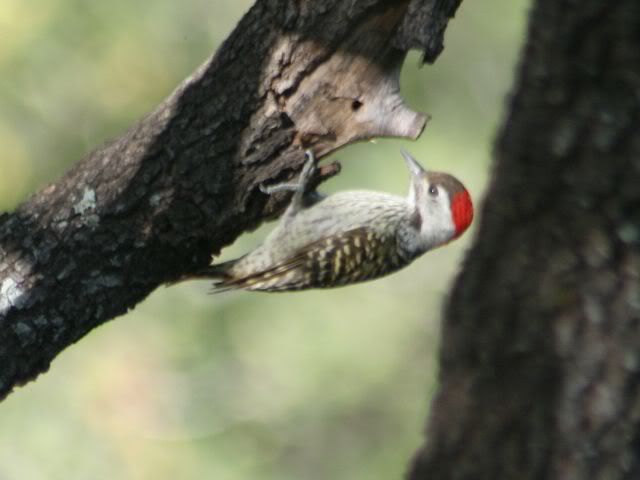 Cardinal Woodpecker
On the road during the days we managed to see (amongst many others) Eurasian Hobby, African Goshawk, Wattled Starling, Common Scimitarbill, Steppe Eagle, White-crowned Lapwing, African Openbill, Marabou Stork, Eurasian Hobby, Southern Ground Hornbill, and Mosque Swallow. And we finally got to SEE a Red-chested Cuckoo (at the Pafuri pick-nick spot). After hearing it's call in so many places and so often it was great to finally be able to add it to our life lists!
Red-chested Cuckoo
White-faced ducks at Klopperfontein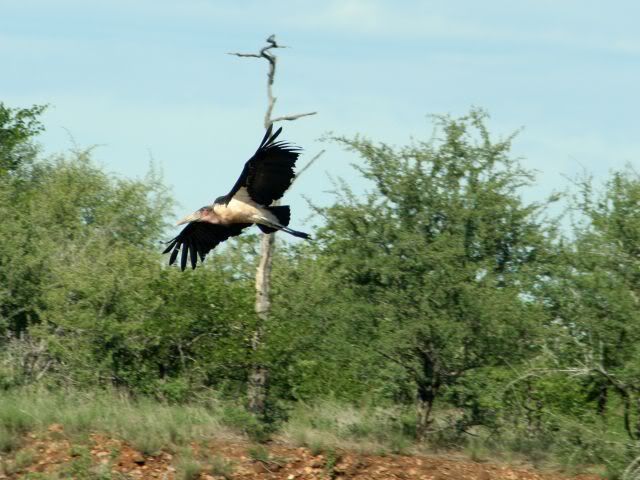 Marabou Stork
In addition to all these feathered sightings we 'bumped' into a pack of wild dogs, several herds of elephant (one blocking the road, almost making us late for the night drive...), nyala, buffalo and much more.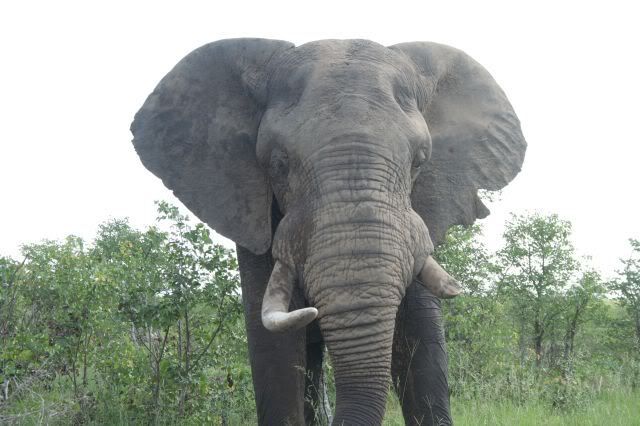 The Thursday evening drive, expertly led by Mathuel, iced the day's cake with Fiery-necked and Square-tailed Nightjars and a great lion sighting. A male lion was following a lioness, possibly for some nuptial action. Unfortunately we did not get to see the Pennant-winged nightjar though, but unbeknownst to us at that time we would get another chance to search for it. After the welcome speeches and dinner on Friday it was off to bed as we were to leave camp at 0300 sharp!
On Saturday morning (…) we met up with our vehicular companions whose general expertise (especially Tertius Gous's) would prove to be a great help in spotting and identifying 'new-for-us' birds. The drive started with to separate Small Buttonquail sightings, and after enjoying the dawn chorus from the Luvuvhu bridge we arrived at Pafuri pick-nick spot with another cuckoo (an immature Diederick's) on our life lists.
After some pick-nick spot birding netted amongst others a Striped Kingfisher to (only my partner's as I did not see it) list we switched vehicles and left with Dr. Ian Whyte of Kruger elephant fame as our guide. Under his guidance and with the added benefit of some very experienced birders in our vehicle we were in for what must be one of the greatest days of birding we've had so far. The highlights included Mottled Spinetail (again not me as I was on the wrong side of the vehicle, @$#!@!), Lemon-breasted Canary, Narina Trogon and Brubru, but the most special sighting must have been the bird that we spotted in the extreme NE part of Kruger, where the North-South fence meets the Limpopo river. While at first thinking it might be a Yellow-bellied greenbul, a closer look and confirmation by both Ian and Tertius, ID'ed it as a Golden Weaver! A very rare sighting for Kruger according to Ian. On the way back we then unfortunately dipped on Arnott's Chat, despite hard calling work by Ian. When he finally had to admit there were no chats today, we were more than consoled by a White-breasted Cuckooshrike sighting!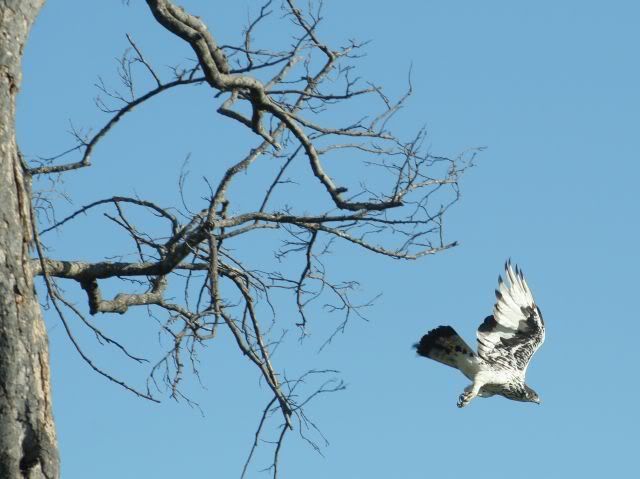 African Hawk-Eagle
White-fronted Bee-eater
Hooded Vulture
Near Klopperfontein we found an elephant with a deformed trunk.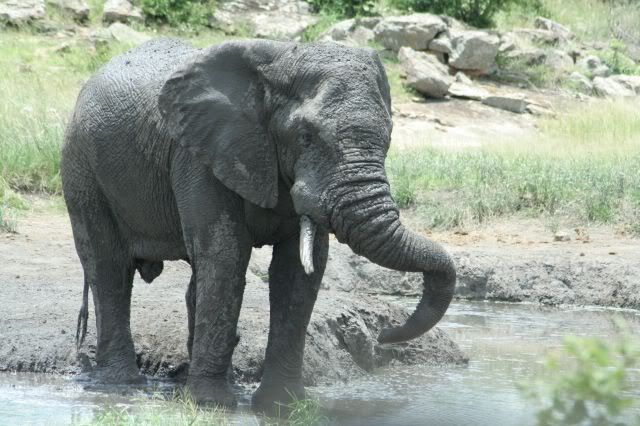 Back at camp we relaxed a bit, quite chuffed about adding another 34 birds to our trip list and some very special ones at that, but this turned out not to be the end of the day's successes. One more was in store!
As there had been some confusion over the afternoon/evening drive, those that had not been aware of them were given the chance to go out after dinner. And of course, despite it being after 2200 and having had a long day we joined Don English and 8 other birders. After about half an hour, just as Don was going to turn left, some eyes were spotted in one of the vehicle's spotlights. A quick jerk to the right on the steering wheel led us closer to a ….. Pennant-winged nightjar!!! It had only one pennant (?) left as the one on it's right wing had already been shed. When it flew off we got to see its elegant flight as well. In high spirits we turned back to our original course and, would you believe it, spotted another Pennant-winged. This one's single pennant was on the other wing, clearly making it a different individual. What a perfect end to a magnificent day.
So, on Sunday morning we left the park, adding four more birds to our life list on the short way out, and bringing our trip total to 139, including 41 we had not seen before!
Many thanks to the Honorary Rangers, our guides and all others who helped make this possible! It's been a weekend we will not easily forget!!!
"It's a dangerous business ... going out your door ...
You step out onto the road, and if you don't keep your feet, there's no knowing where you might be swept off to."
Bilbo Baggins

Addo: Oct 15-19
---
Legendary Virtual Ranger

Posts: 2545
Joined: Wed Sep 06, 2006 3:33 pm
Location: Jam Street
Ranger Piet, thanks for a great trip report. I am packing my bags at this moment to leave for our HR birding excursion at Shingwedzi that takes place this weekend. Your trip report got me so excited I first have to post a reply.

That Piet-my-vrou pix is a gem. I have been in the same boat (hearing and never seeing its feathery fanny) for such a long time. I can only imagine your reaction at finally seeing it AND getting a great photo opportunity to boot!

You guys obviously had a birding ball!
728 Latest lifers: Hartlaub's babbler, Coppery-tailed coucal, Red-billed spurfowl, White-browed coucal, Scharlow's turaco, Copper sunbird, Long-toed lapwing, Eastern bronze-naped pigeon, Malagasy pond heron, Soft-plumaged petrel, Orange-winged pytilia.
---
Hi Ranger Piet

Great report and photo's.
Thank you.
I'm fortunate to have been one of the Honorary Rangers at Punda, and it's always great when someone who makes an effort to travel from almost the most southerly point of the country to almost the most northerly, gets rewarded as you have.
Thanks once again for supporting us and our fundraising efforts.

All the Best
Wiggie.
---
Junior Virtual Ranger

Posts: 26
Joined: Wed Jan 17, 2007 10:57 pm
Location: Johannesburg
I want to start this post with a huge thank you to the people who made it possible for me to attend the Kruger Park Birding Week-end at Punda Maria. Thank you Johann du Preez, Jakkalsbessie & Bosnimf , Francois Dreyer and Tertius Gous. I met up with Johann early, but not to early, the morning of the 25th January from where we headed to Jakkalsbessie. Bosnimf came to pick us up and the journey started north. A long awaited (two weeks
trip was a reality and everyone was discussing the possibilities of the week-end. This report exlcudes the 25th as we spend it mostly on the way to Louis Trichard (Machado) and the 28th, the day we left the park as we only spend half an hour the morning to the gate. The action starts in Louis Trichard at Khaya Guesthouse.
26th January 2007
The morning started earlier than Bosnimf preferred and we were on the road just after 05:00 am. Not bad starting a birding morning with the call of a Spotted Eagle Owl. The first part of the morning was spend on the road to the Pafuri gate where we planned to enter Kruger National Park. Early morning didn't add anything spectacular to our list, as the road was in good condition and we moved along without any problems. We were welcomed into the park by calling Red-crested Korhaan, Rattling Cisticola and Grey Hornbills. Not far into the park a huge Baobab tree gave shelter to a host of Red-billed Buffalo Weaver and Red-headed Weaver. Once again a Stierling's Wren-warbler proved to be too elusive, and I for one will have to wait a little longer before I can add it to my life list. A new member to my SA list, and the first of many for the trip, was brightly coloured Broad-billed Roller.
Shortly after this we crossed the bridge that formed the boundary of the Kruger Birding Week-end Punda Maria area and the birding started in all earnest. One of the first to be added to the list was a most obliging pair of Greater Spotted Eagle, a much better view for me than the one flying across the road a few months ago. This set the tone for the week-end and from here on the excitement and our list kept on growing. The number of species on the bridge gave us a small taste of what was waiting for us during the dawn chorus the next morning. Red-faced Cisticola, Wood Sandpiper, Green-backed Heron, Lesser Masked Weaver were just a few birds that kept us entertained.
From here we headed towards Pafuri campsite where we enjoyed a lovely breakfast. Breakfast with a calling Gorgeous Bush Shrike and a Bearded Scrub-Robin is always a treat, and this one was no different. Not far from where we were having breakfast a young Large Spotted Genet was calling for its parents to no avail. It seemed oblivious to all the photos being taken of it and went to sleep out in the open. After breakfast we slowly made our way to Crook's Corner. On the way we added African Openbill, Goliath Heron, Woolly-necked Stork and Lemon-breasted Canaries to our list. The latter another species that has been avoiding me for some time.
It was time that we headed back to Punda Maria for the meeting of the teams at 17:00. The birding didn't stop which was supplemented by a few Elephant along the way. Klopperfontein dam proved to be the gem everyone keeps on talking about. At the dam we added a host of species to our trip list; Three-banded plover, Yellow-billed Duck, Comb Duck, Red-billed Teal, African Jacana and many more. Well content we left Klopperfontein heading towards Punda. Still it wasn't the end as we stunning sightings of Grey-headed Parrots and a Eurasian Golden Oriole. The latter being a first without me realizing it at the time. I simply couldn't remember if I have seen the Eurasian or African Golden Oriole before.
We ended the day with our trip list on 199, another 2 lifers for me and our Kruger Park Birding Week-end list on 124.
27th January 2007
THE early morning start!! Up at 02:20, that is correct, that is twenty minutes past two in the morning. Up and ready to go at 03:00. A 02:50 start to the day's birding was bound to deliver at least a few owls, nightjars and other interesting nocturnal species. Not to be. No Pennant-winged Nightjar, no Three-banded Coursers, hardly any owls. Bosnimf spotted a Southern White-faced Scops-owl which almost everyone else missed as it flew up as we drove past. We did however found a Rufous-cheeked Nightjar, a Spotted Thick-knee, a Spotted Eagle Owl and we had cracking views of a Small Buttonquail. The next sighting was not of the feathered kind, but a pride of lion. All three vehicles had good views of the felines and after a short while we were rolling again towards the bridge and the dawn chorus.
The dawn chorus was nothing short of brilliant. Water Thick-knee, Giant Kingfisher, Pied Wagtail, African Green Pigeon, Bearded Woodpecker, Grey-rumped Swallow (my first lifer for the day), Yellow-breasted Apalis and a juvenile Diderick's Cuckoo (which caused many people to have a serious second look and debate the id for some time) were some of the highlights on the bridge. We left the dawn chorus with our list of the day on a very healthy 67 species. Next stop, breakfast! We once again headed towards Pafuri picnic sight for a much needed breakfast. Our guide Jerry did himself proud when he spotted a Lizzard Buzzard which everyone else missed. Other special sightings for the morning included good views of Brown-headed Parrots, Southern Carmine Bee-eaters and one of the highlights for me of the day, a Verreaux's Eagle-Owl in a stunning setting of big trees and beautiful light.
The Pafuri yielded more of the same but we did manage to add once again add Gorgeous Bush-Shrike together with Bearded Scrub-Robin, Marsh Warbler, Spectacled Weaver and White-backed Vulture to the day list. After we finished breakfast we changed guides and we were privilege to be teamed up with Dr Ian White. First order of business, find a spinetail! Not long after we left the picnic sight spinetail's were spotted overhead, Bohms Spinetail! After everybody strained their necks to catch a glimpse we headed off towards Crook's Corner and surrounds to search for the Racket-tailed Rollers. En route a sudden stop started a search for the Narina Trogon that gave Ian a very fleeting glimpse. After a few minutes Bosnimf spotted one of the birds and we were treated to good views of the female and a flying male. The morning kept on getting better! The next surprise waited for us at Crook's Corner. Hooded Vulture, Blue-cheeked Bee-eater, Common Greenshank, White-fronted Plover were added to the list and then, a Golden Weaver!! A first for Ian in Kruger National Park! According to him this was the "rarest" bird we encountered on the day for Kruger National Park. Although not the first record of this species for Kruger, there aren't a lot of other records of this species in the park. After no small amount of effort to find the Racket-tailed Roller without success we decided to slowly make our way back to Punda Maria
The rest of the morning was spend doing general bushveld birding and the list kept on growing like a patient cricket innings. On the way we added one of the first eagles of the day in the form of a Lesser Spotted Eagle! Not complaining we continued on. Once again Klopperfontein dam was teeming with life. Here we added Common Moorhen, Long-tailed Paradise Whydah and Double-banded Sandgrouse together with the species seen the day before to the day list. Getting closer to Punda Ian tried in vain to call up an Arnott's Chat. We stopped a total of 14 times on a stretch of road, play the tape, but no answer, which made us conclude the there Ar-no Chats in the area. The stopping however was not in vain as Tertius spotted a White-breasted Cuckooshrike on the last stop. With Ian leading everyone got brilliant sightings of this beautiful little bird. The highlight of the day for me!
We arrived back at Punda at 14:30. That is almost 12 hours of solid birding, what a pleasure! Some decided to have a rest before 18:00 for our scheduled sunset drive. Tertius, Johann, Francois and I decided to do the Flycatcher trail in Punda Maria. We were rewarded with brilliant sightings of an Eastern Nicator, a lifer for Johann and Francois, and Martial Eagle amongst others. Afterwards we headed towards the hide at the edge of the camping site. This proved to be very productive as we added Cinnamon-breasted and Golden-breasted Bunting, Bronze Manikin, Red-headed Weaver and Retz's Helmetshrike to the days list. The latter being yet another lifer for me.
We met up with Ian at 18:00 and headed out in the hope of finding Pennant-winged Nightjar. Another highlight of the day was finding a tree full of Grey-headed Parrots in perfect light. We watched these stunning little creatures for a little while before we moved on. Another quick stop and everyone was searching for a Southern Hyliota which Ian saw flying from tree to tree. We failed to find it but were treated to a stunning chorus of Fiery-necked Nightjars all around us. With time running out, we started to make our way back to Punda, unfortunately no Pennant-winged Nightjars. To cap a stunning day an adult Civet crossed the road in front of us not far from Punda.
We ended the day with a list of 171 species, our Kruger Bird Week-end list on 208, our trip list pushing 250 and I added another 6 lifers to my list.
From here I travelled with Tertius and Francois back to Pretoria. My trip concluded with a list of 300, 10 lifers (total up to 660), 170 added to my yearlist which brings the total for my year to 331 and 14 added to my South African list.
Enjoy the rest of the day, happy birding and I hope you get the chance to visit KNP soon. Chase the Green Sandpiper @ Klopperfontein dam.
Kind regards
Hanno
---
Thanks for compiling the report Hanno. I think we should make a rule that you must write the reports for all the next Kruger Birding weekends you attend with us
Tertius and I re-checked or electronic list against my note book and I missed one page so our trip ended on 326 birds, 200 in Kruger for the 2 days and still "just" 44 lifers for me.
You are far quicker with your year list than me but this trip and a couple of local trips should see me very close to 400 for the year thus far.
---
---
Who is online
Users browsing this forum: No registered users and 5 guests