Legendary Virtual Ranger

Posts: 5002
Joined: Thu Dec 02, 2004 10:27 am
Location: Chasing down the rarities
Wildtuinman's trip to Skukuza
Tue Mar 01, 2005 8:27 am
WTM
I will sms one of the moderators from Sunday the 6th of March to report all the interesting sightings from the Kruger National Park. Watch this space...
Sun Mar 06, 2005 9:25 am
GP
Wildtuinman just reported in for the first time.
First sighting - Buffaloes at Mtshawu Dam.
Sun Mar 06, 2005 2:59 pm
GP
Wildtuinman is frying in the heat, but remedied that with a good swim and some Castles! Seen Rhino!
Mar 06, 2005 8:44 pm
GP
Wildtuinman just reported on his Night Drive:
2 Lions - male/female
3 Spotted Eagle Owls
Hippo on the road
Rhino
Buffalo
Baboons
Mon Mar 07, 2005 9:25 am
GP
Now I'm seriously jealous! WTM has just reported in:
SABLE at Napi Rocks!
4 Hyenas next to the car
Some Kudu!
Mon Mar 07, 2005 9:34 am
GP
Well, I'm speechless! WTM has just come accross a Honeybadger 5kms from Skukuza!
Mon Mar 07, 2005 9:21 pm
GP
WTM reported a quiet day after the honeybadger. Did some trainspotting with KNP Spokesman this evening!
Tue Mar 08, 2005 12:33 pm
GP
OK, so I told WTM you're driving me nuts! He says it's extremely warm - 38 degrees. @W@H He's drinking castles with ice! Quiet on the game viewing front - as I said a "normal" day. @ all muskateers - Angels, I'm saying this reluctantly - he says LITS don't exist, have been looking in all the trees, NOTHING. He'll be going on a night drive tonight and a morning walk tomorrow. He'll let us know the moment he sees anything special!
Tue Mar 08, 2005 12:50 pm
GP
He says he's got no other choice - thickly overgrown after the good rains. Saw fresh leopard spoor when he played gholf yesterday.
Wed Mar 09, 2005 2:02 pm
GP
Spoke to WTM about 2hrs ago, nothing special seen again. He's on his way back, will be online again tomorrow!
Thu Mar 10, 2005 8:21 am
WTM
Seen between P-kop and Numbi gate.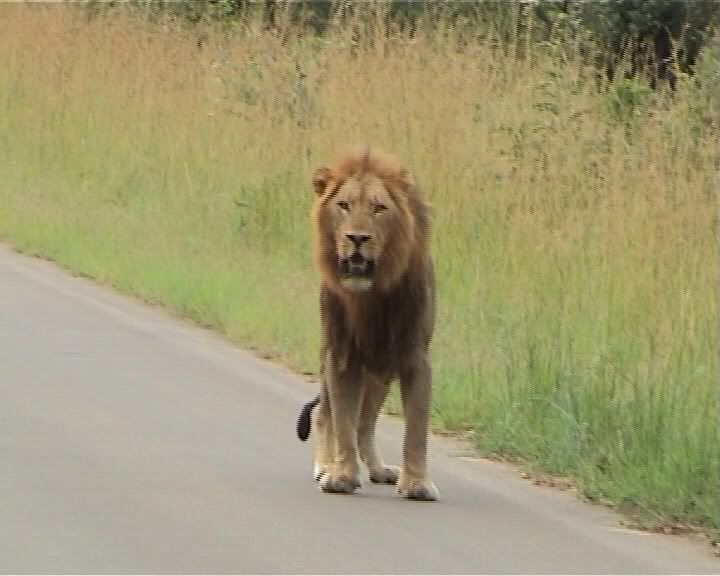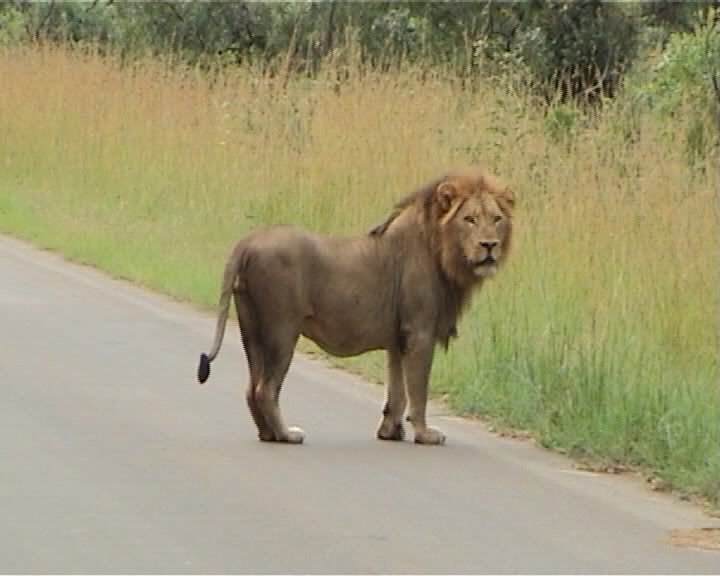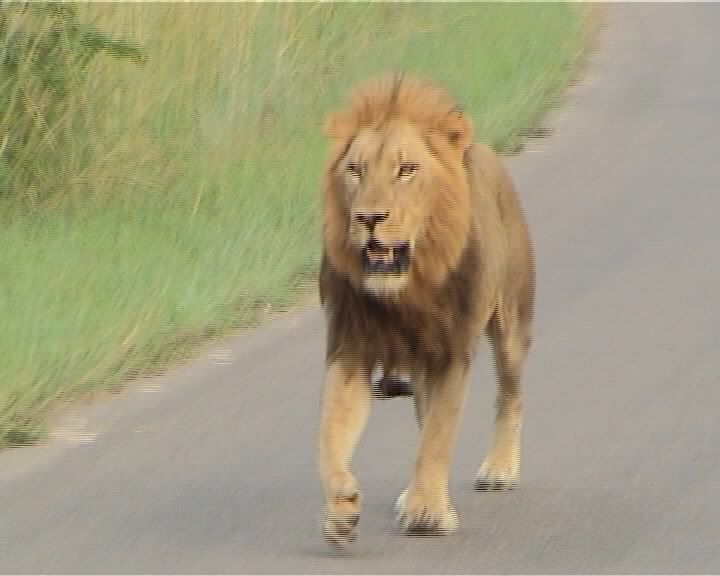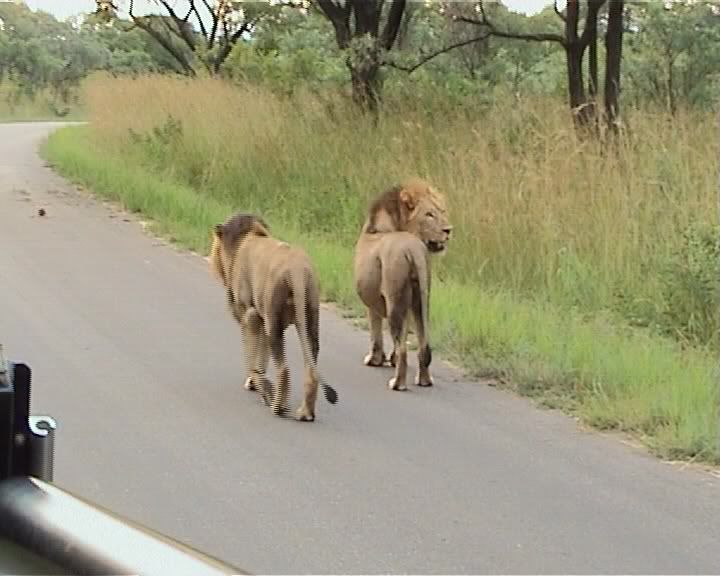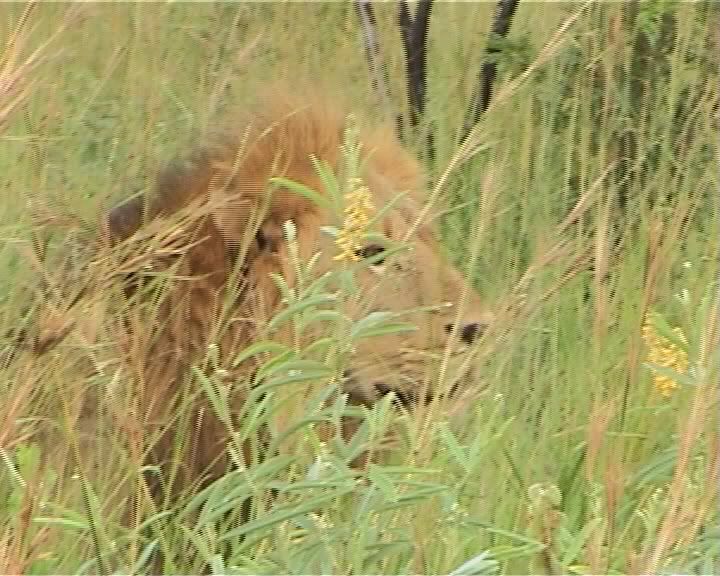 675
Latest Lifer(s): Burchell's Courser, Cory's Shearwater, Wilson's Storm-Petrel, European Storm-Petrel, Great Winged Petrel, Grey Waxbill, Cape Rock-jumper
Follow me as I bird on Twitter
@wildtuinman
---
Senior Virtual Ranger

Posts: 311
Joined: Wed Jan 12, 2005 12:55 pm
Location: Neither here nor there.
DVZ'S FIRST SIGHTINGS IN THE PARK!!
Sat Mar 12, 2005 12:07 pm
Bwana
Dvz has just entered Croc Bridge gate and welcoming them soon after were Ellies, peeeeeggggsss, zebra and wildebeest!
Sat Mar 12, 2005 1:44 pm
Bwana
DVZ reports : Giraffe, Kudu, and an old Kudu carcass, plus a dung beetle with a dung ball!
Sat Mar 12, 2005 7:22 pm
Bwana
DVZ says she has had no luck with LITS but has seen Vervets in trees!!!
Sun Mar 13, 2005 12:58 pm
GP
Pac, I heard from her early this morning. Very quiet for them. Actually asked if there was anything on the webcam worth watching!
Sun Mar 13, 2005 3:51 pm
Bwana
DVZ Has reported a quiet day with a couple of ellies, giraffe end a lion kill - guraffe!
Sun Mar 13, 2005 8:23 pm
GP
Latest report from DvZ's nightdrive!
Elephant, Rhino, Buffalo, Lion
Not bad for a Sunday evening!
Mon Mar 14, 2005 6:43 pm
MEG
Sounds like she's having some interesting sightings. It'll be interesting to see her photo's of the giraffe kill (and sad). I wonder how she's enjoying her new lens!
Mon Mar 14, 2005 7:27 pm
GP
Just heard from DvZ. They've just left the park. Had some good sightings, will post pics.
Meg, I asked her your question. She reports trouble with aperture, but none with the lens. Only problem there was lush vegetation making it difficult to use the lens.
Sat Mar 19, 2005 4:44 pm
Bwana
Spoke to DVZ yesterday, and she told me to say Hi to everyone. She said they enjoyed it in the park but the bush was very,very thick! She said that a few people had commented on how green and overgrown it was - even for this time of the year. The Highway was so overgrown that it was almost impossible to see the river
Anyway she said she will upload some photo's for us this coming week.
Signing off for DVZ
Sun Mar 20, 2005 4:33 pm
DVZ
Hi all fellow forum members.
Just got back an hour or so ago. Exhausted after being on road for 23 hours (drove throught the night.)
Promise I will scan the pics in the morning and post them for you all to see.
Need some sleeeeeeeeeeeeeeeeeppppp now.
Mon Mar 21, 2005 1:24 pm
DVZ
Hi All
I will post a detailed report on our sightings in due time.
Meanwhilst enjoy the photo's below.
More to follow shortly once I have uploaded them.
http://www.flickr.com/photos/71232407@N00/sets/174306/
Second link to more photo's (please excuse the duplications - PC is giving me ahard time)
http://www.dvanzyl.blogspot.com/
Mon Mar 21, 2005 1:45 pm
BERT
Like the male lion. Wish i will see it so close and active.
let alone be in the position to take a shot
Wasn't it busy with cars
Like the silhoutte of the aasgier on the branch
Mon Mar 21, 2005 1:56 pm
DVZ
Yip, very busy with cars. We were just lucky that a guy pulled out that was in front of us and gave us a perfect view right in front of the kill.
Amazing stuff
Mon Mar 21, 2005 1:58 pm
DVZ
Meg wrote:
Lovely stuff DVZ! Looks like the lens is pretty contrasty. How did you find the length, I see you got some lovely closeups!
Don't forget to add them to the KNP group pool
Lens was great, I think the photographer behind the camera needs more expierence.
Length was great, pics were taken and varying lenghts. Very good for close-ups.
Mon Mar 21, 2005 3:20 pm
DVZ
bwana wrote:
Lovely photo's DVZ. What film were you using - the greens are very rich. Love the lion photo's and the vulture silhouette. Glad to have you back!
bwana
Hi
I think the lion pics were Fuji 100 film. As I said earlier, it could be the photographer behind the camera. I was working on apeture settings and could have got them wrong.
It could also be incorrectly printed, as I used a local print shop outside the park.
Wed Mar 23, 2005 7:48 am
DVZ IN REPLY TO WTM'S PICS OF THE LIONS
We saw a similar (if not the same) two male lions between BnD & Pretoriuskop on our our night drive.
Not sure if they would be the same as I am unfimiliar with teritory, etc.
The two we saw were still very youn males and very thin due to hunger.
Wed Mar 23, 2005 7:58 am
WTM
The 2 I saw between Pretoriuskop and Numbi gate are fairly well into their prime. I doubt whether they are the same ones you saw DVZ, where exactly did you spot yours?
They were accompanied by a single female. I reckon them to be 2 brothers and that they were having a dispute over who is more dominant and should therefore get the chance to mate with the female.
To get to the thin part. Lions don't eat when mating, they loose alot of their condition as a result of this.
Wed Mar 23, 2005 9:39 am
DVZ
We spotted ours on a night drive between Berg-en-Dal and Afsaal on the tar road.
The ranger could not tell us much about them, as he was new to KNP.
From what I could see, they were two young guys (probably loners). They said that these two are often seen near malelane gate.
They did not have any female's with them. Also word was that they had not made a killing for a while.
Pics I took did not come out.
Thu Mar 24, 2005 3:26 pm
DVZ'S PERSONAL REPORT BACK
HI All
Rather late than never. I nearly forgot about this duty, buty fortunately fellow forum members have been nagging me for this.
So here goes. I am going to do this in day format. Please note that I am not an expert in animal / bird names.
Overall
Agreeing with Acekam, bush was very thick and lush in southern parts. Very difficult to spot animals. If they were not on road or just on the side, you would not see them. Could not even see Sabie river between Skukuza and lower Sabie (only tall grass, thick bush and loads of reeds.
Day 1: (Sat 12 March)
Slept over in Machadadorp Friday night. Plans were to leave after breakfast, stop at Nelspruit for food, then enter at Malelane to sleep at Berg-en-Dal. Bought stuff on Friday and decided to skip Nelspruit. Decided to leave extra early and have breakfast in Komatipoort.
Entered Croc Bridge at about 11am.
First greeting was blue wildebeest running over road. Thereafter impala, zebra's, peegs. Drove to dam near croc bridge (can't remember name now). Saw hippo's and some type of bird on dead log (something with openbeak in name).
Proceeded to hippo pools, no animals along there and the ranger was also not there to accompany us down to river.
Followed bottom road along croc river towards Malelane gate. Sightings were far and few between. A couple of ellies (youngsters). A lone giraffe so well camoflaged we nearly missed him. Oh, I nearly forgot about the dung beetle with his ball crossing the road and the lizzard that husband missed whilst driving.
Got to BnD about 3pm. Unpacked and refreshed for about an hour. Went to waterhole just outside camp. Sat there for about 30min. No sightings what so ever.
Back at camp we went down to dam and had a conversation with a couple on the days sightings. They reported a microbus along side the road with a ranger vehicle helping them. Apprently they drove over a python, who had decided to climb into their engine. The ranger was trying to find this snake and get it out. They said they did not stay to see the end result.
Took a walk along the rhino trail before it got dark. Saw a ??fish eagle?? (brown body and white head) at the dam by BnD.
Had a lekker braai and guys had beers whilst I had an amarula on the ladies. Lovely family bungalow (no. 1). Was not that impressed with dam at BnD. Does not seem as if animals actually come to drink there as the walls seem to be too steep there.
Day 2: (Sun 13 March)
Decided to make a day trip out of this and see as much of southern part of the park as possible.
Up at 4am to have coffe and rusks. Out the gates by 5:30am to see if we could spot LIT or LOG..... No luck, not even a rhino.
Made our way to afsaal for coffee, but stopped at Renosterpan first (i think). No sightings as yet, lots of fresh dung, urine and disturbed grass from animals walking to waterhole, but no animals.
Stopped at afsaal for coffee and other refreshments. Heard about the lion kill (giraffe) there. Further along a couple of ellies and of courst loads of impala. Stopped at lion kill, but too many cars, could not see anything.
Proceeded to Skukuza for refreshments. Then on to Nkulu for skottle brekkie. There the vervet monkeys were after our food. Fortunately the guy there kept chasing them away for us. Breakfast / bruch was at about 11:30. Very nice. This is where he told us the croc story.
Onwards we travelled and decided not to go as far as lower sabie due to time constraints and a night drive we were to do that night. We travelled along the tar road from Nkulu towards lower sabie. As mentioned earlier, could not see much of river due to thick bush and reeds.
Sad incident is that husband was travelling along with another vehcile very close behind. Saw black long object in road and thought it was a branch from ellie. As he was right by it, it moved (being a snake). No chance to break, thus tried to swerve......... What can I say, the snake did not survive. We actually heard this thing explode. I think I would also explode if hit by a 17inch 4x4 tyre. We did not stop to look at damage done to snake.
Further along more ellies and a near leopard sighting, but it had already moved into bush and with loads of cars, what was the chance of him / her coming out of hiding.
Travelled gravel road back towards renosterkoppies (sorry don't have map book with me to give you road names). Not much sightings along here.
Back at tar road between BnD & Skukuza, decided to visit lion kill site again. This is where we were fortunate enough to get prime site to take the pics.
Returned back to BnD after that for night drive. Saw some giraffe on the way back.
Night drive was very quite, although we saw 3 of big five with in first 30 min of drive and lion last. Saw ellie first. Then two rhino sightings with in meteres of each other (first was a lone one then a group of 3 or 4.) Also saw buffalo at second rhino sighting. At sunset we saw a kudu and the vultures (siloutte picture)
Nothing after that untill last stretch where we saw the two male lions. Lastly saw the owl just outside camp.
Day 3: (Mon 14 March)
Slept late and only check out of cam at about 8am. Drove to afsaal for breakfast. Did the S114 towards afsaal. Saw very few animals but quite a number of birds. Here we saw the blackbrested korhaan. We also saw a very small bird with its chick trying to cross the road. Nearly squashed them both, they were so small. Mother got such a fright she fled into the grass leaving her baby behind. Baby was frozen in middle of road. The one pic on one of my sites. It stood there for about 5 mins before moving. Also saw a rabbit that was also frozen in road. We drove right up to it and it did not budge.
Saw a bunch of baboons paying in road. Also saw a family of mongoose crossing tar road. Stopped and let them cross.
Had breakfast at Afsaal. Thereafter spotted more ellies on the way to lion kill. Saw a heard of buffalo that had crossed tar road early morning (or shall I say evidence of them crossing). We saw about 4-5 of the last stragglers on the side of the road.
Lion kill site was quite and they had dragged the carcass behind a tree.
Thereafter headed for Phabeni gate along the dirt road along Sabie river. Not much sightings here either.
Left park at about 13:30 on Monday afternoon.
END
Hope that everyone is sattisfied with the report. Sorry for the lengthy detail, but I type it as I remember it.
Regards
DvZ
All your snakes are belong to us.
---
Distinguished Virtual Ranger

Posts: 1697
Joined: Sat Jan 29, 2005 12:52 pm
Location: My business...
Laine's trip to Shingwedzi

Thu Mar 17, 2005 8:41 am
GP
Laine and family have just arrived - left later than planned! Now we wait.

Thu Mar 17, 2005 9:15 am
GP
10 min inside - greeted by 3 giraffe!

Thu Mar 17, 2005 6:03 pm
GP
Update from Laine. Seen all the usual stuff with waterbuck and lots of ellies the most important ones. Nice Fish Eagle sighting.

Angels - she's having an Amarula on us!

Thu Mar 17, 2005 6:06 pm
FREDA
Great stuff, Laine, keep those reports coming. I'm having a cold castle with you.
Remind which camp they are at please, whichever I'll be green with envy.

Thu Mar 17, 2005 6:10 pm
GP
Shingwedzi!

Sat Mar 19, 2005 8:09 am
GP
As I thought, Laine's having trouble picking up a signal in the Shingwedzi area - got a message through just now. Sightings so far:

African Wildcat
Big Male Lion
Honey badger
Elephants
Buffalo
Jackal

She'll try again tomorrow!

Mon Mar 21, 2005 7:46 am
GP
Laine got another message through this morning.They were watching the badger when the cat stepped onto the road in broad daylight not 20m from each other!

Sightings after the last ones:

Lioness in riverbed
Got charged by a buffalo
Dead buffalo in a riverbed, looked like he fell. Lots of vultures around including lappetfaced. No predators but the hyenas were going mad. Sounds like this was the riverbed in front of the restaurant!

AND she invited 2 people to join the forum!

Mon Apr 04, 2005 9:03 am
LAINE'S REPORT BACK

Hello everybody!!!!!!

Ok, so we had a great trip and the highlight was definitly the wildcat... it was a very curious lil gal and she stayed around so i got a good 5 minutes of video footage... all the years i have been i have only seen one other sighting and it darted across the road..... the honeybadger was a run across the road affair and we lost sight of him quite quickly so while i was looking up at the road i saw the wildcat...

the male lion was gorg!!! he was a youngun but HUGE!! he just lay in the road and slept...(we were the only car around) and even when we were right up close he just opened his eyes and glared at us and then went back to sleep... he was so close i could have reached out and touched him!!!

there were a lot of leopard sightings around shingwedzi including a family who apparently were at the lookout point at redrocks and one came waltzing down the road while they were out of the car!! unfortunatly no lits or logs for me!!

got charged by a rather annoyed buffalo male and realized that there was a "willing" female on the otherside of the road that we didnt see... they then went on to... *blush*... u know!! (got that on the videocam as well... when i showed friends and family when we got home..i got asked if this was an PG rating or not?? lol)

the dead buff in the riverbed was about 200m outside the gate... on the main road side of shingwedzi... it looks like he slipped down the hill and broke something... a helluva lot of vultures and on the third day we stopped counting at 180!!! but funny enough no scavengers we could see...though at night the hyena were going hysterical....

also saw a magnificent martial eagle right next to the road...my hubby was quite excited as this was his first sighting of the large eagle....

also on the bird sightings we saw a gymnogene eating what looked like a large lizard in the road...

the lioness in the riverbed was just past kanniedood dam....

i cannot get over how many ellies we saw!!! and the destruction of the mopani is quite obvious.... however on that note we saw a lovely breeding herd with two very small babies....with trunks they JUST couldnt control....

otherwise a great trip and just to let u all know...booked and ready for my next trip in November!!!
Last edited by
Guinea Pig
on Mon Nov 21, 2005 8:41 pm, edited 3 times in total.
---
Distinguished Virtual Ranger

Posts: 1697
Joined: Sat Jan 29, 2005 12:52 pm
Location: My business...
ACEKAM'S TRIP!
Sun Mar 20, 2005 8:22 pm
GP
They arrived this afternoon at Skukuza. Same complaint as DvZ - bush very lush. Sightings for today:

Kudu
Nyala
Baboons
Common Duiker
Red Duiker
Waterbuck
Giraffe
Impi's
Bush Snake
Zebra

Thoroughly enjoying themselves. Sends his regards to everyone!

Sun Mar 20, 2005 10:29 pm
Bwana
Not bad going for a first day sightings list! It seems the park had good rain this year. I know its being selfish, but I hope it dries out a bit in winter for when I am there!

Mon Mar 21, 2005 8:10 am
GP
Sightings on an early morning drive on 21/03/05:

Elephant
VBL (Bery brief leopard! Seen for about 3secs)
Vervets
Hippo
White backed vulture
European Bee eater
Giraffe
Baboons

Mon Mar 21, 2005 1:51 pm
Bert
Hi Acekam,

I enjoy the listing of birds
Might be the last european bird eater
I believe the are migraters and should be on its way to
europa
Or do some birds keep sticking around all year

Mon Mar 21, 2005 4:39 pm
GP
Interesting if you compare Acekam's latest with that of Madach/spouse. Here goes:

Complaining that Big Game seems to be on a Yellow Ribbon strike.
Good birding - Martial Eagle, Saddle-billed stork, Ostrich, Goliath Heron, Fish Eagle
Took them 24hrs to spot the first Blue Wildebeest!
Peeeegs, Klipspringer, Mongoose, Another snake, Ellies, Waterbuck, Kudu, Giraffe, Zebra

Going on a sunset drive from Orpen.

Mon Mar 21, 2005 9:29 pm
GP
Nightdrive:

Buffalo
Genet
Springhare
Bushbabies

No yellow ribbons spotted yet.

Tue Mar 22, 2005 11:53 am
GP
Sightings on morning drive:

Black Backed Jackal
2 Lionesses (rear view )
Steenbok
Crocodile
Tortoise
Tusker (Can't remember his name! Typical male )
Carmine Bee Eaters
Marabous
All the usual suspects (whatever that may be! )

Wed Mar 23, 2005 8:34 am
GP
Exciting update from Acekam!

They are on the S114 (That would be the Renosterkoppies Road South of Skukuza) sitting next to an elephant carcass. Lots of vultures and a lion has been feeding on the carcass but not there at the moment!

Wed Mar 23, 2005 9:14 am
MIKEV
Excellent
Any further details of which section or "kilometers from" of the S114 cos' I'm going from Numbi to Skukuza tommorrow - PLEASE
This should be worth a detour as an an ellie could last a while what.

Wed Mar 23, 2005 10:09 am
DQ
Guinea Pig wrote:
They are on the S114 (That would be the Renosterkoppies Road South of Skukuza) sitting next to an elephant carcass. Lots of vultures and a lion has been feeding on the carcass but not there at the moment!

SMS has gone to Madach, he is not really in the area, but close enough. Handy, sending people to sightings from half a world away

Wed Mar 23, 2005 11:07 am
GP
Got you the location of the carcass:

On the S114 on the 2km stretch between the S121 and S25. That puts it very close to Malelane Gate.

Currently watching 2 male lions feeding on the carcass!

Wed Mar 23, 2005 11:29 am
MIKEV
Thanks for the report GP .
Overniting in Nelspruit and will enter Malelane instead of Numbi 5h30 tommorrow.

Wed Mar 23, 2005 11:20 pm
ACEKAM
Hi All. Just back from a brief (3 day) but extremely enjoyable trip to the park. Thanks GP for posting the updates. Will provide report back tomorrow.

Thu Mar 24, 2005 10:41 am
ACEKAM
It had been over 2 years since my previous visit to Kruger, so let me try to put my thoughts together in some logical fashion.

General
Thoroughly relaxing and enjoyable visit. Bush was very thick down south, much better up at Orpen/Satara. Nothing to enter my personal top ten sightings of all time, but more than enough to keep me coming back for more.

Big 8
Leopard - crossed road about 20 meters in front of car on Salitje Road. Very brief sighting.
Lion - 2 female lionesses walking away into the bush on Orpen-Satara road, merely a tick, not a memorable sighting. Then 2 male lions at an elephant carcass on S114 close to Bergies. Close to road, but in thick bush, so couldn't really get any photos.
Buffalo - plenty
Elephant - plenty, but all lone males. Highlight was sighting of a large tusker who only had one tusk - photos being developed.
Rhino, cheetah, wild dog, hyena - zilch (no, really, not even a hyena)

Birding
I'm a sub-amateur birder, so forgive me if some of this list is a bit "comon", but the ones which I think are worth a mention are, in order of appearance : whitebacked vulture, European bee-eater, fish eagle, ostrich, Goliath heron, black stork, ground hornbill, saddle-billed stork, martial eagle, marabou stork, kori bustard, carmine bee-eaters, Wahlberg's eagle, giant kingfisher, whiteheaded vulture. Highlight for me was definitely the carmine bee-eaters, which I had only seen once before.

Other game
To repeat what I had reported back through GP: baboon, kudu, impala, red duiker, grey duiker, zebra, spotted bush snake, giraffe, waterbuck, vervets, hippo, warthog, klipspringer, banded mongoose, brown mongoose, wildebeest, springhare, scrub hare, small spotted genet, bushbaby, black-backed jackal, steenbok, tortoise, crocodile, puff adder.

Recommendation for Forummers
Try to do an activity (drive/walk) at Orpen that is being taken by Benjy. He took us on our night drive and made it into a wonderful experience. He was brought up in the park (father was section ranger at Croc Bridge) and this guy has an infectious enthusiasm, clearly loves his job and was a minefield of information, all told in a humorous but very informative way.

YRs Spotted
None - but I did spread the gospel to those who asked about it.

Most peaceful moment
Morning coffee and rusks with (unseen) lions roaring from the riverbed at Girivana waterhole.

Viewpoint highlight
I had forgotten how unexpectedly breathtaking the view is from Mlondozi picnic spot.

Thanks again to GP for posting the updates and to those who tuned in. It will unfortunately probably be another couple of years until my next visit, but hope to experience the park through live updates from other forum members until then.

Happy to answer any specific questions arising from the visit or the sightings - will post some info on the ellie carcass on a separate thread. All in all, it was just great to be back in the park.

Cheers
Acekam
Last edited by
Guinea Pig
on Mon Nov 21, 2005 8:11 pm, edited 1 time in total.
---
Hi all

Was away at a game farm by Mica for the long weekend. Went into the park on 26/03 for the day.
We entered Orpen early and drove down towards Talamati, saw a herd of elephant drinking at a pool of water. Saw nice herd of zebra and giraffe. Had breakfast at Satara and headed up towards Letab, saw a lone buffalo about 10km north of Satara and some more elephant later on. General game species seen were giraffe, zebra, wildebeest, impala, steenbok, duiker, waterbuck. Bateluer, immature martial eagle, eurasian roller (still here)...... Was a very hot day, but looking forward to April trip which will be longer....
Just an update from the park.....
Craig
Planning next KNP trip!
---
BIGBOB'S TRIP
Mon Apr 04, 2005 10:21 am
BIGBOB

Hi All Forumites
I spent the 19/03/2005 to 25/03/2005(Good Friday). We had our caravan at Maroela and travelled the area quite extensively. The tar road to Satara was rewarding and we saw Lion with a Buffalo kill near Satara. Generally the game numbers were quite disappointing and we surmised that there must be quite a bit of water around. The bush was very thick in places and this resulted in us travelling a lot slower than is the norm. We heard the Lion almost every night which was a pleasure to listen to.
As the Easter weekend neared so the Park began to fill and the Game boards were very interesting as there were some great sightings but as previously stated (thick Bush) must have been special to a limited few.
Our trip from Maroela to Croc bridge took us past Tshokwane and one person had sat and watch Cheetah for almost an hour just North of Tshokwane.
On to Lower Sabie and we sat and watched some Ellies on the road which made us a bit nervous as there was a youngster around (not great at reversing with a caravan in tow).
Lower Sabie was packed with people and it was interesting to see what the people were buying at the Curio shop.
On to Croc Bridge and this was very rewarding saw 4 of the BIG 5 (no leopard), we managed to get an extra night at Croc Bridge and we enjoyed seeing a Lioness with cubs on the bridge, the following morning we were rewarded with a well conditioned Male Lion.

In closing I had my Yellow Ribbon well displayed and did not see another in the 7 days I was there.

To those going up soon ENJOY and I envy you.

Best wishes

Mon Apr 04, 2005 8:09 pm
DB

Thanks for the report BB - was the lioness with the cubs on the bridge that crosses the Crocodile River? That is not far off from the gate into the Park then and surely they could easily just walk out of the Park?

Tue Apr 05, 2005 10:06 am
BIGBOB

Hi Dinkybird
The Lioness and cubs were at the 1st brdge after going through the camp on the road to Lower Sabie. It would seem after chatting to a few people that they had been there for 3/4 days and would seem that they had a den nearby.

Tue Apr 05, 2005 10:17 am
DB

Thanks BB - we are going that way next month so I will keep an eye open for them....I know she will probably have moved them, but worth having a good look around!

We are also keen caravaners - but have never stayed at Maroela. Just drove through there once last year. You obviously prefer it to Satara? I just like the open aspect of Satara. If I remember the stands at Maroela weren't that level or am I imagining that?

Tue Apr 05, 2005 10:27 am
BIGBOB

I've never stayed at Satara, 1) being no shade 2) never seem to get accomodation there.
Letaba has always been my favourite until I stayed in Maroela Dec 2003. The stands are fairly level and did not seem to have a problem levelling the Van. Just look to see where the water flows when it rains.
Almost every site is on the fence so you do enjoy more privacy.

Tue Apr 05, 2005 10:34 am
DB

Well if you prefer it to Letaba - that is saying something! We love Letaba too....
Thanks for the info. Lets face it (opening a whole debate here again I suppose) one can't beat caravaning in the KNP!

Tue Apr 05, 2005 10:59 am
DB

Agreed - never actually tried it, but my boys always camp in tents and I am often tempted to try it as it is very far for us to tow the caravan to the KNP. We do keep it as basic as we can. So lets say you can't beat camping in the KNP!!

Tue Apr 05, 2005 11:22 am
GP

I get withdrawal symptoms if we don't go to Satara at least once a year! That place is magic - I don't care about the shade or the dust or the wind. Come evening - it's forgotten! Having a giraffe watching us unpack 10m from the fence - it's forgotten! Now I'm admitting something I've kept quiet about - scatter a bit of bird seed and see what happens - it's forgotten.
I think it's maybe because when we first went in 2000 we were only inside for 2 nights. Our first experience with Skukuza was horrid, as we arrived too late and got a spot in the middle of the camp next to the footpath. Didn't even manage to see the Hyenas at the fence! We spent the 2nd night at Satara, also arrived too late for a fence spot, but we were metres away from the neighbours. After arriving there we were talking to caravanners next to the fence and we told them about hearing the hyena stories but not seeing them. Just after 8 they sent a kid over to call us, but didn't say why. I was staring into the veld, when Pieter nudged me. Seeing my first wild hyena just as close as my dogs nearly made clean underwear necessary! But that was it - I'm addicted to Satara!
---
---
Who is online
Users browsing this forum: romanera and 5 guests