I hope I get this right!
GPS location for this picture is S22.18765 E029.20165 - about 20 Km North of Satara on the road to Olifants.
Here are pictures of a common wild fig (Ficus Thonningii) (Please correct me here if I am wrong) growing on the stump of a dead leadwood tree.
Notice also the dead trunk of a leadwood on the right of this picture.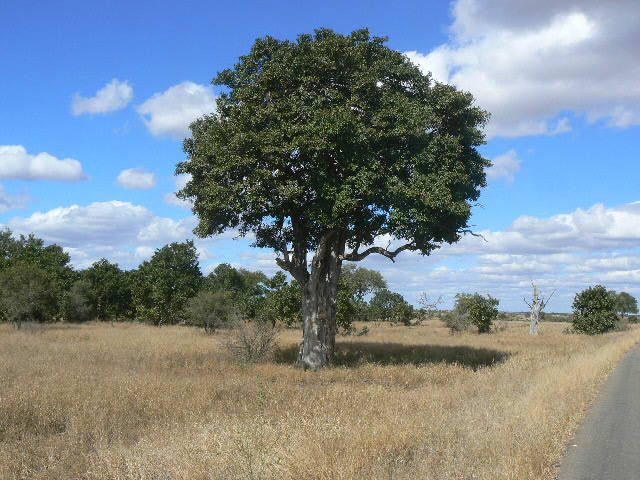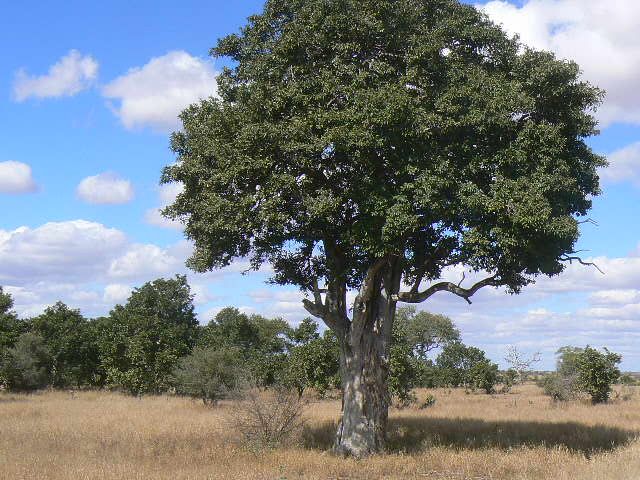 The bark of the ficus is quite worn suggesting that this is an old ficus. I have watched it for the last 15 years or so.
Another ficus started to grow on the other stump.
I wish I was as rich as the family thinks I am and as clever as I think I am
---
Incredible stuff and great snaps .
Amazing how you have been watching it for so long!
I wish I knew my trees better but some of it is pretty tough stuff to sometimes
In Pretoriuskop there is a tree very near to the pool and I wish I could remember all the details but the bird drops a seed into the crook of this specific tree and very slowly it grows and eventually chokes the host tree.
A very specific situation and as far as I was aware, pretty unique.
Wish I could remember the names and the whole story but maybe someone else can shed light on it.
This seems remarkably similar so maybe not so unique after all ------
---
Madalla , welcome to the forum
This is so interesting , and very very observant of you . Well done
Sincerely hope you will continue to show us more interesting observations
.
Tread softly , and let your departure not be spoiled by the damage of your arrival
Next :
3 - 6 Sept 2013 - Punda.
7 - 10 Sept 2013 -Shingwedzi .
11 - 13 Sept 2013 - Balule .
14 - 17 Sept 2013 - Satara .
---
Most likely Ficus petersii, Peters Fig, if you follow the Mpumalanga tree book (whose scientific editor was John Burrows, our local tame world expert on figs.
Stranglers are not that rare among figs.
If anybody wants to see one up close and personal, the one I show people is on the old main walk in Durban Botanical Garden, just north of the gate into the property of the Kwazulu-Natal Herbarium (where I work).
Here a Natal Fig is strangling a flame tree -- can't say I've seen them that often on leadwoods, though.
The birds love that strangler's fruits, and deposit the seeds liberally around the area.
As a result all of us at the Herbarium are only too aware that this one can be a strangler or a rock-splitter, depending on where the seeds fall -- we're for ever removing seedlings from walls and gutters!
If we didn't, the place would look like Angkor Wat before restoration, in no time flat.
Time flies like an arrow, fruit flies like a banana. (Groucho Marx)
---
Moderator

Posts: 10709
Joined: Tue Mar 22, 2005 6:31 pm
Location: Ballito, KZN North Coast, South Africa
I saw this Euphobia growing out of a tree on the S3 river road in Kruger recently.
Large
---
Elsa I saw the Euphorbia. There are also a plant that looks to me like a wild orchid growing on some trees along that road.

But I have seen this phenomenon on many trees all over Kruger.
People just do not notice it.
I wish I was as rich as the family thinks I am and as clever as I think I am
---
Senior Virtual Ranger

Posts: 1378
Joined: Wed Apr 18, 2012 4:17 pm
Location: Durban
Madalla, there is a palm tree that is turning into a fig tree in Old Fort Road in the little traffic island in the intersection of Old Fort Road and Old Fort Place. I first noticed it about 7 years ago. There is not much to be seen of the palm tree now, just one or two dead fronds sticking out of the foliage of the fig.
---
Stampajane,
The problem with a ficus is that it has a very agresive root system.
By the time it is a beautiful tree its roots will have lifted the curb and possibly the tar. Time to dig it out!

Pity though.
Last edited by
Madalla
on Wed Nov 13, 2013 2:13 pm, edited 2 times in total.
I wish I was as rich as the family thinks I am and as clever as I think I am
---
This ficus started growing some 6 meters up from the ground and after some years the roots reached the ground.
Look at the photo of the young tree that is now about five years old.
How does it survive up there with no ground or water?
I wish I was as rich as the family thinks I am and as clever as I think I am
---
---
Who is online
Users browsing this forum: No registered users and 2 guests