What a unusual monkey - but won't stay white too long playing in the mud
Welcome splinter
Life is not measured by the number of breaths we take, but by the moments that take our breath away
---
Wow.. great sighting. Thats the reason we go to Kruger, to look for something unusual.


Thanks for sharing.
---
Is it not an Albino? Nice spot non the less!!
---
One of the very cutest!
13041140412 230
by
jansp
, on Flickr
---
Posts: 37
Joined: Mon Aug 27, 2012 7:39 pm
So cute, this little family was worried because their other baby had gotten trapped in a cage in the Berg en Dal camp, you can see the concern in their faces as they comfort each other.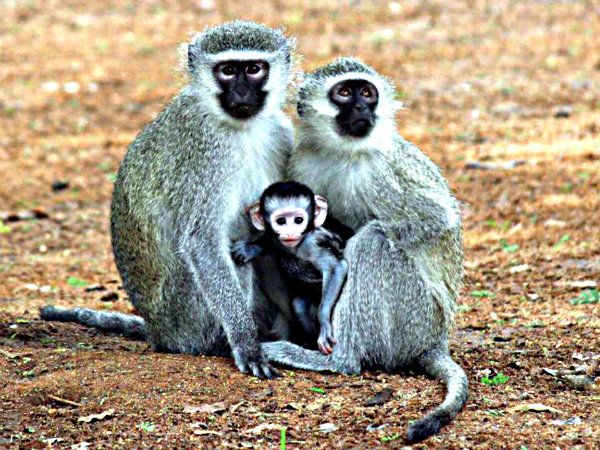 ---
Posts: 37
Joined: Mon Aug 27, 2012 7:39 pm
So sweet in picture but a few seconds after I got this pic my 4 year old son and I were viciously attracted by a male.
We were camping at Berg en Dal and vervets were raiding camps, we had nothing of interest out but the tree above us was in fruit and I snapped the pic from about 10m above me in the tree and after snapping a few shots we were quietly trying to exit the camp as they were getting to close for comfort when a huge male charged out the bush and grabbed my sons arm, I grabbed my son and threw him over my shoulder and backed away screaming wildly (in fear not cause I was trying to scare him off, I was genuinely terrified) and he just kept coming for me, I turned tail and ran with him chasing me into the next camp where the neighbour came out and chased him off.
Never been so scared in my life....He grabbed the back of my calf and scratched me open but thankfully I got no bites, I have no doubt though that had I not grabbed my son and left we could have been seriously injured.

Sweet can turn ugly in seconds.
---
---
---
Who is online
Users browsing this forum: No registered users and 2 guests