Junior Virtual Ranger

Posts: 263
Joined: Tue Aug 06, 2013 6:29 am
Location: Benoni, East Rand
Hello all
So I was driving along the Rabelais Loop early one morning last week and this guy was sitting right next to the road. Actually sitting there with a pal who had his back to me.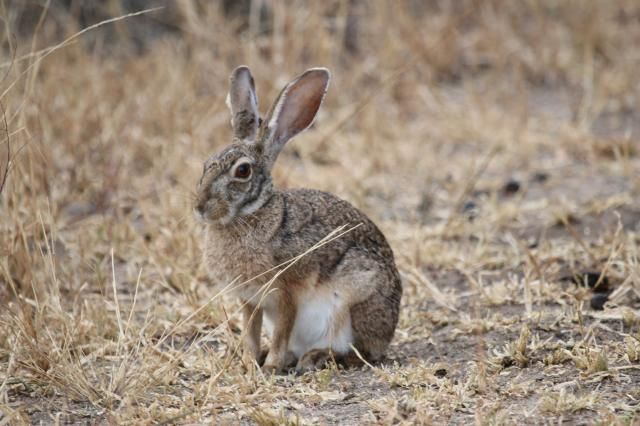 Sorry about the quality of the photograph but I'm still trying to get the hang of this photography thing hey. From what I've been able to find out, my guess is it's a Scrub Hare. Any knowledgables agree or care to set me straight please?
Cheers - Ed
---
Forum Assistant

FAC Member (2015)
Posts: 3354
Joined: Fri Sep 08, 2006 6:06 am
Location: Boons NW
moobox
I am not a knowledgable but I would go with Cape Hare - having the white underbelly
but let's see what others think
Rose
Golden Rule
of any
SANPark
-
DO NOT
feed or put food out for
ANY
species whatsoever!
Some great voting going on
Don't Miss Out
---
Posts: 262
Joined: Tue Apr 16, 2013 11:00 pm
Location: Cape Town
my first impression is also Cape hare
---
Posts: 262
Joined: Tue Apr 16, 2013 11:00 pm
Location: Cape Town
Cape Hare found in most of SA except Natal and Far North west.
Also in Asia and Europe
---
---
Who is online
Users browsing this forum: No registered users and 1 guest