Virtual Ranger

Posts: 1848
Joined: Fri May 12, 2006 4:10 pm
Location: SA
Contact:
Banded Mongoose
Mungos Mungo
Mass: M: 1-2kg. F: 1-2kg.
Life span: About 12 years.
Predators: Main predators are snakes and birds of prey.
Spoor: Front and hind paws measure 3cm.
Calls: Contact calls include twitters. Alarm calls include chatters and chirps.
Description
They have 12 transverse bands on the back, the stiff, long fur being grey-brown. The tail tip and paws are black.
Behaviour
Dirunal species which forms packs of 5-40 members with about 3-4 breeding pairs and their offspring. They mark territories with cheek gland secretions, whitish anal gland secretions and with communal dung and urine middens.
Reproduction
Breed all year. Females in the pack tend to synchronise breeding. 1-5 cubs are born after a gestation period of 60 days, weighing 60g each. They are born in a shelter. They are blind at birth and barely furred, eyes opening at 8-10 days. At 6 weeks, adult colouration is attained.
Diet
Carnivorous. Feed mainly on insects. Also taking rodents, lizards, snakes, toads, spiders, scorpions, eggs, fruit, centipides and birds. Water independant.
Habitat
Woodland savanna and with adequate cover.
Source : A field guide to the mammals of the Kruger National Park by Hieke Schutze.
Back to Letaba in April, July and September
Birding Weekend 2014 - Satara 3
Exploring Letaba - '13-'14
Letaba Ladies, 3rd Edition
- '14 - '15
---
---
Virtual Ranger

Posts: 1260
Joined: Thu Mar 02, 2006 12:11 pm
Location: Back on earth.....
Contact:
Saw these gorgeous creatures at Marakele this weekend. VERY entertaining beauties
Kruger Selfdrive under review: click
HERE
to join the discussion and influence the future of Kruger's selfdrive options
Contribute to a viable solution and participate in the discussion!
---
Junior Virtual Ranger

Posts: 201
Joined: Thu Jun 05, 2008 2:00 pm
Location: Nelsparta
Contact:
I have had the honour of raising two babies last year December at the wildlife rehabilitation centre I volunteer at. They are quite interesting animals with the chrips and "mongoose talk".

I can tell you for the orphaned mongooses they became wild on their own and their instincts well intact. We had to place an injured Long Crested Eagle in a holding cage in the same room as our mongoose cage. The mongooses could not see the eagle (as its cage was covered to minimize stress) but they knew it was there and was in hiding all the time it was there. Also to see how well develop their instincts are was to give them a chicken egg to see if they know how to break it open and the bigger ones knew (they roll it with their front paws backwards to a hard surface like a rock and then "throw" it so that it breaks open) and of course the little ones kept an close eye on it.

The last time I saw a family of Banned Mongooses was up at the Phalaborwa gate area when I was last in Kruger.
"People who have nothing to say, speak the loudest." - John Rzeznik
---
Forum Assistant

Posts: 15842
Joined: Tue Oct 06, 2009 5:03 pm
Location: Upington SA
We had a sighting of three banded mongooses on our resent trip to Kgalagadi. It was late one afternoon up between Grootkolk and Union End.

According to the Kgalagadi Info Guide it is a very rare sighting.

I would like to know when was the last time someone had a sighting and where.
You only live once, but if you do it right, once is enough - Mae West
---
---
Forum Assistant

FAC Member (2017)
FAC Member (2016)
Posts: 5003
Joined: Fri Sep 08, 2006 6:06 am
Location: Boons NW
Here we go
So tiny and so stressed and desperate for mum to fetch it which she did the moment we walked away
---
Can anyone help us out with this at all please. Initially when we were there we were told they are Black Footed Cats since I have checked them online when getting back I'm not sure. They were a long way off and spotted at a water source at the eastern end of the S100 at the beginning of April.
Looking at the pictures now the stripes look a little like banded Mongoose but these were huge animals compared to a Mongoose.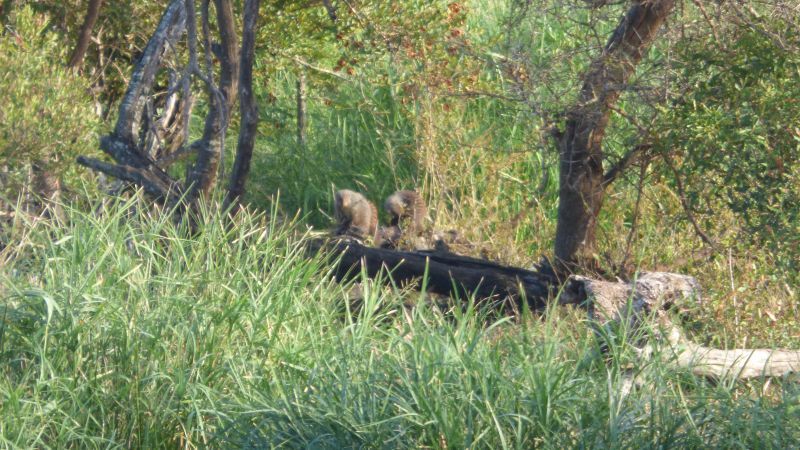 KNP - Sept 2013 - 5 Days
KNP - Sept 2014 - 7 Days
KNP - April 2015 - 7 Days
KNP - October 2015 - 10 Days
KNP - May 2016 - 10 Days
---
Distinguished Virtual Ranger

Posts: 12563
Joined: Tue Dec 23, 2008 5:22 am
Location: Midway between the infinite and the infinitesimal!
Banded mongooses. They are often larger than expected (many people think mongooses are rat-sized, which some are), but their bandings and mongoose faces are unmistakable.
---
---
RosemaryH wrote::thumbs_up: Nice shots Gerhardd.

Interesting little critters to watch
Thanks Rose,
Yea, a lot of time we only want to look for the big predators and then we forget too look for the small ones.
---
Love watching these animals, we had about 4 or 5 we followed for about 10-15 minutes near Skukuza in October. They we ere very nervous of us to begin with but over time came used to us being there, I was surprised but just how big and sharp there claws were as I hadn't seen them before.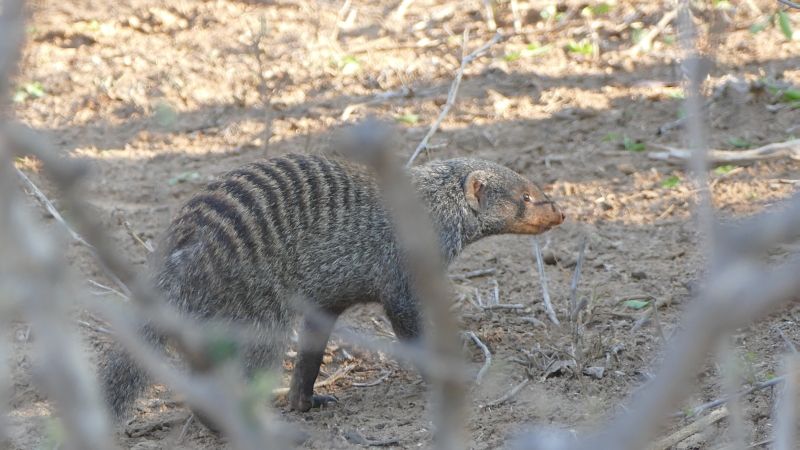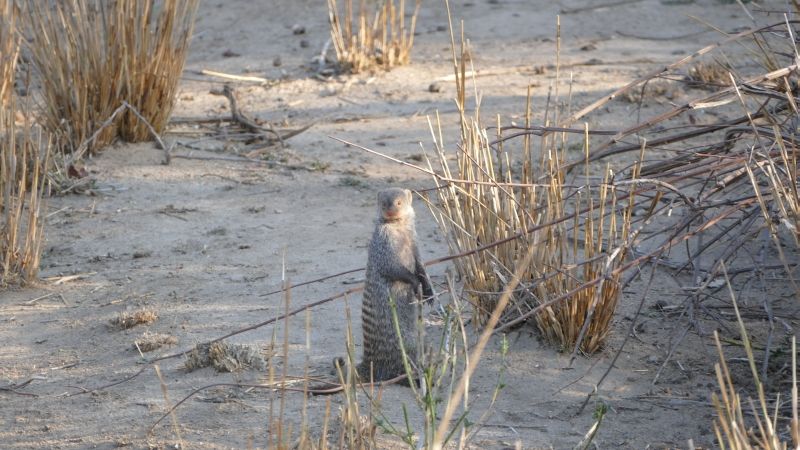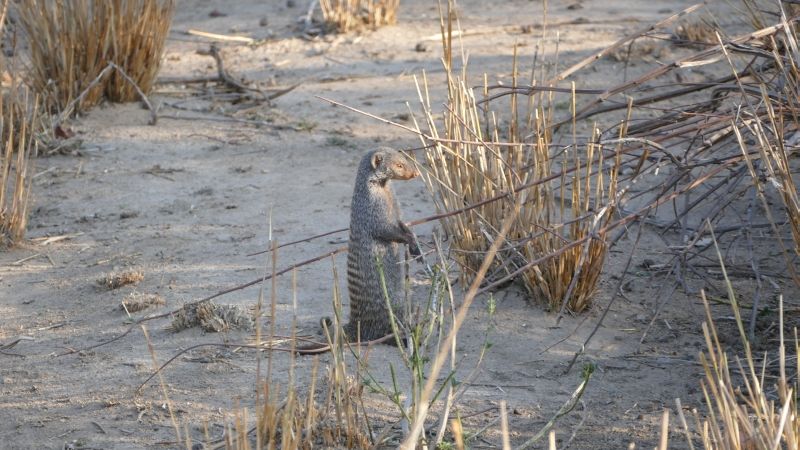 Big Claws.
KNP - Sept 2013 - 5 Days
KNP - Sept 2014 - 7 Days
KNP - April 2015 - 7 Days
KNP - October 2015 - 10 Days
KNP - May 2016 - 10 Days
---
---
Who is online
Users browsing this forum: No registered users and 2 guests