Virtual Ranger

Posts: 604
Joined: Fri Dec 30, 2005 10:33 am
MOUNTAIN REEDBUCK
(Redunca Fulvorufula)
Ger:
Bergriedbock.
Fre:
Redunca de montagne.
Afr:
Rooirietbok.
Xho, Zul:
Inxala.
Mass:
19-38 kg.
Shoulder Height:
0,6-0,8 m.
Tail length:
25 cm.
ID Pointers:
- Grey-fawn upperparts.
- White underparts.
- Bushy tail.
- Forward-hooked horns.
Lifespan:
+/- 10 yrs.
Main predators:
1. Lion.
2. Leopard.
3. Caracal.
4. Wild Dog.
5. Spotted Hyaena.
6. Cheetah.
Other predators:
1. Crocodile.
2. Large snakes.
Young also fall prey to:
1. Serval
2. Jackals
3. Eagles
DESCRIPTION:
- Soft & wooly coat.
- Grey-fawn upperparts.
- White underparts.
- Head & neck has reddish/ yellowish tinge.
- White underneath bushy tail.
Scent glands:
Beneath ears & inguinal.
Senses:
Very good sight, hearing & smell.
Horns:
Only rams have horns which are straight with forward curved tips & are heavily ridged with smooth tips. Length: 15-38 cm.
DISTRIBUTION IN KNP:
Berg-en-dal / Pretoriuskop areas.
BEHAVIOUR:
Diurnal & nocturnal. Cows & calves form nursery herds of 2-6, but herds of 15 or more may be seen. Average home range: 0,3-0,75 km2 & overlaps several ram territories. Ram territories: 0,3 km2. At 9-12 months, young rams join bachelor herds.
Calls:
Loud, shrill nasal whistle.
Alarm signals:
- Alert posture.
- Stamping.
- Freezing.
- Skulking.
- Style trotting & stotting.
- Raising bushy tail.
Aggression:
- Horn threats.
- Head tossing & nodding.
- Ground horning.
- Mock/real charges.
- Butting & chasing.
REPRODUCTION:
Single lamb of 3kg is born after a gestation of 7,5-8 months. Breeding in summer.
FOOD:
Grasses.
HABITAT:
Dry, grass covered, rocky mountainious slopes within proximity to water.
Sources used:
- Field Guide to the mammals of the Kruger National Park by Heike Schutze.
- Field Guide to the larger mammals of Africa by Chris & Tilde Swart.
---
Virtual Ranger

Posts: 604
Joined: Fri Dec 30, 2005 10:33 am
Found in the following SANParks:
- Addo Elephant National Park.
- Karoo National Park.
- Golden Gate National Park.
- Mountain Zebra National Park.
- Kruger National Park.
Has anyone had a sighting of them or a photo would be great?
---
Virtual Ranger

Posts: 604
Joined: Fri Dec 30, 2005 10:33 am
Yes, they are found in KNP, mostly in the Malelane Mountains but they occasionally wonder off in the Pretoriuskop areas.
---
---
Virtual Ranger

Posts: 604
Joined: Fri Dec 30, 2005 10:33 am
Hi Guys,

It is actually very easy to distinguish a Mountain Reedbuck from a Common Reedbuck. Mountain Reedbuck are actually very small (slightly bigger than a Steenbok) the females have highly characteristic white shades of hair on their coats. Males coats are more yellowish. As for the Common Reedbuck they are about Impala size & are more yellow with patches of white all over their bodies.
---
Senior Virtual Ranger

Posts: 311
Joined: Wed Jan 12, 2005 12:55 pm
Location: Neither here nor there.
A Mountain Reedbuck weighs exactly the same as a South African Springbuck, approximately 25 - 35kg on the hoof and is as tall and as long - much, much bigger than a steenbok. DQ's pics: look at the 2nd pic, the snout firstly is totally different to that of a Reedbuck, secondly the white tummy of a Mountain Reedbuck is very noticable, on males and females, thirdly the way the buck is running in the first pic, head down is the way a Duiker moves.
Here is a very bad picture captured from a movie showing some Mountain Reedbuck, check the colour variation between the neck and the body - which is a light grey:
All your snakes are belong to us.
---
Common Reedbuck=Southern Reedbuck. Same Antelope!
There are about 400 in the park and are actually quite often seen around Muntshe so don't be surprised that you saw them there Nico!
Mountain Reedbuck are a lot rarer and are only seen around BnD and the Malelane Mountain Bushveld.
KNP December 2009 (hopefully).
---
Junior Virtual Ranger

Posts: 511
Joined: Sun Mar 05, 2006 4:34 pm
MarkWildDog wrote:WOW! DQ that sighting really needs to be recorded because in most of my field guides they said that Mountain Reedbuck were only found in the Berg-en-dal/ Pretoriuskop areas.
I, too, have seen Mountain Reedbuck when walking in the Lebombos, so they definitely do occur there.
Johan
---
Posts: 167
Joined: Mon Jul 11, 2005 9:02 pm
Location: Germany (Bühl) - but dreaming of Africa!
back in `98 the last animal we saw before driving out of KNP was a mountain reedbuck...
must have been close to malelane gate (or was it numbi?)
but i´m quite sure we drove out of the park at malelane
Jochen

KNP-trip No. 8: 2014!
30 November: Pretoriuskop
1-2 December: Lower Sabie
3-4 December: Satara
5-6 December: Balule
7-8 December: Letaba
9-10 December: Tamboti

1993, 1995, 1998, 2005, 2007, 2009 and 2013. Next trip coming up!
---
Posts: 145
Joined: Wed Nov 19, 2008 9:36 pm
Location: Rustenburg
Hi all
There is a mountain here in the estate that we are staying at. Last year one afternoon we saw 2 antelopes half way up the mountain. We got the binoculars and realized it were mountain reedbucks but we were not 100% sure of it because it was so far from our house.
This morning me and my brother (aka Zapman) took on the mountain in search of our reedbucks. After an hour of intense climbing, we saw them but they ran off immediately. But we followed them and after some patience and sneaking we had a quick glimpse of them before they took the road again. And they had a young one with them!!!
Now we know that there are definitely 3 Mountain Reedbucks here in our neighborhood. What a great thought!!!
And as usual, I took my camera with...
This was only the second time I saw them in almost a year and half's time!! They are indeed very shy!!
---
Junior Virtual Ranger

Posts: 1267
Joined: Fri Apr 11, 2008 2:43 pm
Location: Sungulwane Hills Game Lodge, Hluhluwe
Wow you are so lucky SamoesaWoestyn
Sustainability is not something we do in addition to..........., it is about the manner in which we do everything
---
Virtual Ranger

Posts: 1260
Joined: Thu Mar 02, 2006 12:11 pm
Location: Back on earth.....
Contact: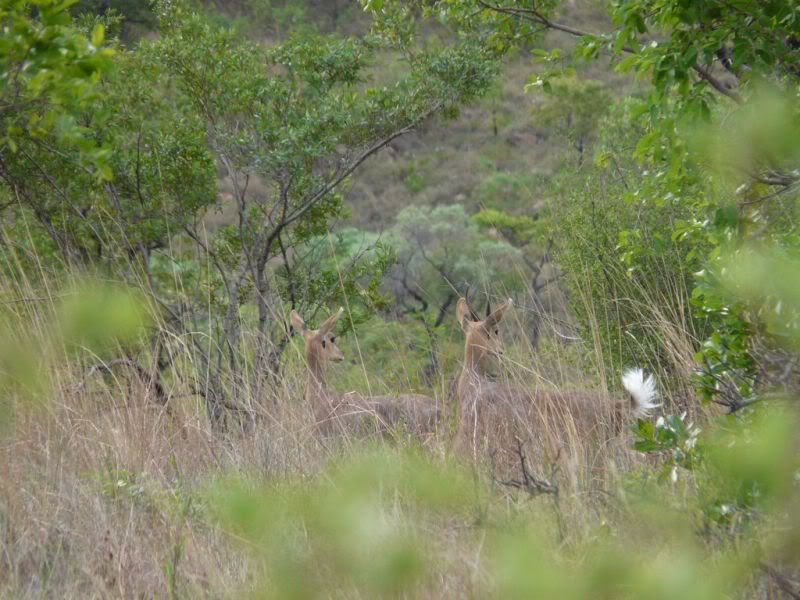 I was quite excited when I saw these 2 along a 4x4 route in Marakele on last Saturday!! (24 Oct 2009)
They were MATING
but I still had to switch on the camera etc, but still was lucky enough to get a few shots before the dissappeared into the bushes...
Was really lucky, and also a new species to me
Kruger Selfdrive under review: click
HERE
to join the discussion and influence the future of Kruger's selfdrive options
Contribute to a viable solution and participate in the discussion!
---
---
Who is online
Users browsing this forum: No registered users and 1 guest