Junior Virtual Ranger

Posts: 93
Joined: Sat Sep 11, 2010 8:42 pm
Location: Body:Pretoria ; Soul:Kruger
Very informative, thanks Gmlsmit. Interesting to note the habitat change that obviously must have taken place since that record sable bull was shot at Tshokwane in 1898. You don't find any sable in that area anymore, except for the small population to the west of Tshokwane south of Hlanguleni picnic-area.
13 Dec 2012 Pretoriuskop
14-15 Dec 2012 Lower Sabie
16 Dec 2012 Tamboti
17-18 Dec 2012 Satara
19-22 Dec 2012 Shingwedzi
23 Dec 2012 Punda Maria
---
I would like to add the herd of Sable in the Orpen-Talamati area.
I have seen Sable as far East as the S36 and closer to Talamati.
At the time I did not take note of the numbers unfortunately.
January 2016
Orpen | Tamboti

May 2016
Mopani | Shingwedzi

July 2016
Bataleur | Shingwedzi | Punda Maria
---
Posts: 144
Joined: Wed Nov 19, 2008 9:36 pm
Location: Rustenburg
During our recent trip in March 2013, we came across a herd of 9 Sables on the H1-2.
---
Posts: 144
Joined: Wed Nov 19, 2008 9:36 pm
Location: Rustenburg
Found these two Sable bulls on the S36 during December 2011
---
Great pictures Samoesa!
Zapman
#StopRhinoPoachingSA
Visiting Kruger:
21 December 2013: Crocodile Bridge
22-24 December 2013: Tamboti
25-27 December 2013: Bateleur
VISIT RARE ANTELOPE SIGHTINGS
---
Posts: 144
Joined: Wed Nov 19, 2008 9:36 pm
Location: Rustenburg
In November 2011 we saw two Sable Bulls on the S145…
---
Thanks for the photos, we seem to share a feeling about the Hippotragus species.
I participate because I care -
CUSTOS NATURAE
No to Hotels in and commercialization of our National Parks.
No to Legalized Rhino and Lion trade.
Done 151 visits to National Parks.
What a wonderful privilege.
---
Hi everyone! We are going to Kruger and our first night will be in Pretoriuskop. Which routes around Pretoriuskop are the best for Sable Antelope?
---
Hi Hamman

Very elusive this majestic antelope. Have never seen them in Pretoriuskop area although they are there.
Faye loop is where they hang out.


You should have a look at the special sightings book at reception to get an indication on where they were last seen.

Good luck!
---
Distinguished Virtual Ranger

Posts: 11603
Joined: Tue Dec 23, 2008 5:22 am
Location: Midway between the infinite and the infinitesimal!
I have seen them on the Fayi Loop, the tar road towards Numbi Gate, and the Voortrekker Road towards Ship Mountain. In other words, just drive around.
Good luck Hamman.
---
About 8km out from Pretoriuskop along the H1-1 on the 28th May.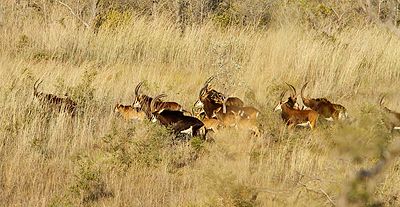 ---
---
Who is online
Users browsing this forum: No registered users and 1 guest