hi,
It would be unusual for an elephant to charge a vehicle with intent to injure, unless it had been previously provoked or is defending a calf, or is itself injured, or worst still an elephant with a sore head - a male in musth. None of these would be simply chewing leaves.....
In general a number of charges are "mock" (threat) charges, that is, the elephant is pretending to charge but is actually trying to see if you're aggressive or better still non-threatening.
This is normally preceded by what are known as 'displacement activities' like a widely swinging trunk or a leg being twitched. The head might go up, shake from side to side, the ears are wide open, and trumpeting occurs to say ' you don't want to get me angry do you?'
However if the elephant's ears are pinned back flat, the head comes down it is likely that the charge is real and will often be accompanied by its trunk curled inward so that the tusks are available for damaging the percieved threat.
So this is one calm animal - we might not have been as we're reversing down this one track road (S56 on our way to Shingwedzi ) for 1 Km to keep our distance-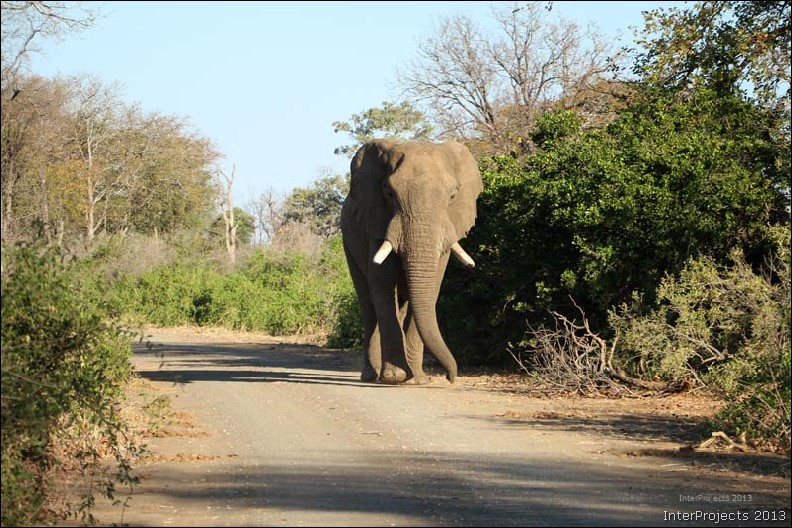 Remember elephants, like most animals, don't want to start a fight - they might lose !
Keep inside the vehicle outline (they see them every day), don't make any/much noise, listen to the ranger/guide and you might get some amazing sights, sounds and experiences like nowhere else...
---
Junior Virtual Ranger

Award: Newcomer of the Year (2015)
Posts: 879
Joined: Wed May 06, 2015 7:37 am
Location: Underneath a jackalberry tree
Sometimes when I look at a lion and it stares right into my soul, I really do feel like a lamb chop... but I suspect its a primitive warning signal thats in all of us to remind us of the time when we were the prey.
---
I think the vehicle is as safe as the driver makes it. Vehicles don't put you in situations, people do.
---
Hi all!
I'm going with my family to Kruger for 5 nights as part of our South African trip.
Inside Kruger, my main targets are: 1. Wild Dogs, 2. Serval, 3. Sable Antelope (but I will also be searching for these in Mokala).
Aside from the Sable which is not easy in Kruger, I think Serval is only really encountered on night drives, and I heard Satara is a good camp for that.
I was thinking of splitting my nights like this:
2 nights Satara
1 night Olifants
or
Mopani (which one?)
2 nights Skukuza or Pretoriuskop.
I know Skukuza and Pretoriouskop are the best basecamps for trying to find the wild dogs (right?)
As far as night drives, which one is better Skukuza or Pretoriuskop? Olifants or Monapi? Or should I completely skip Olifants/Mopani and stay instead in Lower Sabie or Crocodile Bridge for a night?
I appreciate any input, but please do not advise me on places to see lions, hyenas, leopards, cheetahs and other "big game" because I've seen plenty of them and I'm really wanting to concentrate on the stuff I haven't seen yet
Thanks in advance!!
---
From recent personal experience:

We found Wild Dog near Berg-en-Dal (May of 2015), Mopani (November 2015) and between Orpen and Satara (on the H7, November 2015). The Cerval issue is not that clear, we recently found Cerval on a night ride near Punda Maria, as well as between Olifants and Balule (November 2015). (On the other hand we have also seen Cerval near Berg-en-Dal, near Phalaborwa, near Lower Sabie.....)
Personally I have only encountered Sable near Pretoriuskop in recent years.
Searching for a Cape Eagle Owl....
---
Distinguished Virtual Ranger

Posts: 13573
Joined: Wed Aug 31, 2005 12:28 am
Location: Pretoria, RSA
Hi

Good luck on your planning!

Firstly let's start by stating the obvious. There are no guarantees and any of these animals can be seen in any place or not be seen in a place where they are supposed to be common.

In my experience you have a better change of seeing the animals in the following areas:

Wild dog - Crocodile Bridge, Berg-en-Dal, Pretoriuskop, Skukuza.

Sable - Berg-en-Dal, Pretoriuskop, Skukuza to Tshokwane road.

Serval - Tshokwane, Lower Sabie.

Satara is a popular area for game viewing, but not generally speaking for seeing Wild Dog and Sable.

Given your preferences I would suggest the following. Choose one camp from A and one from B. a) Berg-en-Dal, Pretoriuskop. b) Lower Sabie, Skukuza, Crocodile Bridge.

I would not stay less than two nights in any given camp. So do not do more than three camps during your five nights.

I love Mopani and Olifants is quite spectacular. These areas are however not ideal for the animals you are interested in. At the moment there are only two wild dog packs in the North of the park above the Olifants river.

Good news: You are virtually guaranteed to see roan, sable and gemsbok in Mokala.
Imberbe = Combretum imberbe = Leadwood = Hardekool = The spirit of the Wildernis!

Want to know more about the SANParks Honorary Rangers? Visit www.sanparksvolunteers.org
One positive deed is worth more than a thousand critical words.
---
From personal experience,
The Lower Sabie/Croc Bridge road
and Satara/Orpen Roads
are good for dogs.

If I was searching (well I have in the past, but not seen them) , the Timbavati area (areas west of Satara and north of Orpen)is supposed to be good for Sable

Serval - not seen them myself, but have read reports of sightings all over Kruger.

Re your itenerary:
Satara to Mopani is doable in 1 day, but is a long drive.
Olifants is nice, especially if you can get a river view unit.

Mopani down to the South is a very long drive.

My usual plan for say six nights is
1 night Skukuza (easy access from Jhb)
2 nights Satara (sometimes Olifants instead)
2 nights Lower Sabie
1 night Skukuza
---
Hi Tomeslice
My 5cents worth.
Enjoy KRUGER no matter the reason, season, where ever and whenever.
Kruger is legendary yet somewhat sneaky when dealing out sightings to its visitors.
For instance in our last visit we stayed in Olifants, went for a swim at Letaba and drove all the way to Mopani to rate the camp for future visits. Not expecting anything much other than eliphants, buffaloes and the Mopani tree but we we're treated with spending time with a pack of wild dogs.
Unexpectedly, not even holding thumbs.
Then on a 'wild dog search vacation' we stayed in Berg-en-dal and were treated seeing them almost daily just outside the camp. And one day we decided to go leopard spotting towards Pretoriuskop and just after Jock of the bushveld's birth place H2-2 a stately Sable bull casually walked across the road………..
Serval I've seen twice on the S25 close to Crocodile Bridge. During the day
I agree with Imberbe, try to stay more than 3 nights per camp
I would suggest Berg-end-dal for 3 nights. And 3 nights Lower Sabie. Travel between Berg-en-dal to Pretoriuskop for wild dogs and sable. Travel between Berg-en-dal and Crocodile Bridge for wild dogs and Serval and then from between Lower Sabie and Crocodile Bridge there is another wild dog pack and from Lower Sabie travel to Nhlanguleni Picnic Spot via the S34 to maybe see more sable.
I will admit, there was a time when I was concerned as to where we go in the park to see something specific. Disappointment was rife. Now I go with the flow whilst Kruger deliver its surprises.
---
Senior Virtual Ranger

Posts: 3489
Joined: Fri Sep 05, 2014 3:15 pm
Location: Strand, Cape Town
Hi Tomeslice,
I agree with both Imberbe's comment of nothing is guaranteed and RemiE's comment of to go with the flow. Kruger has a way of delivering the unexpected!!
We have just returned from a 3 week trip to Kruger and stayed at Tamboti, between Orpen Gate and Satara and had wild dog sightings on the H7 main road on 3 mornings of the 7 that we stayed in that camp. On the same road during our 2014/2015 trip we saw this same pack on 2 occasions. They number around 35 dogs and are seen either as a full pack or smaller groups.
We had a surprise sighting of about 7 Sable on the Red Rocks Road near Shingwedzi before Christmas 2015 and then again last week, 6/1/16 on the Skukuza - Tschokwane road, as mentioned by Imberbe. We reckon there were about 10 of them.
We had another sighting of Sable on the banks of the Sabie River between Skukuza and Lower Sabie on the 2/1/16. Could be the same herd.
Serval I cannot help you with.....
Dec 16 - Letaba, Shingwedzi, Olifants, Tamboti, Biyamiti, Berg n Dal
Current:
The Different Faces of Cape Point
CURRENT TR:
23 DAYS WITH TESSA & DAVE - FROM HEAD TO TAIL DEC 2015
---
Junior Virtual Ranger

Posts: 572
Joined: Sat Oct 07, 2006 8:24 pm
Location: Somerset West
Hi,
With the recent drought we saw 10 sable at P/Kop, and a group of about 30 (!) was regularly seen at the high level bridge crossing the Sabie river on the north side -- about 3 km east of the H-112 on the Salitjie rd (S30).

Wild dogs are very predictable...
Phabeni gate has a small pack seen regularly at the S1/S3 crossing and on S3
Skukuza has a pack seen often in smaller groups of up to 13 dogs on H-11/S1/S65down to H3 etc.
Berg/Dal same up to Afsaal etc
C/Bridge same...
SECRET -- follow them on roads... Check on SIGHTINGS BOARD for Yesterday/Today and extrapolate their movements by 5-10 km overnight... If they are seen in middle of day... they sleep till 1hr before sunset when it is hot -- wait for action when they wake up.
Check LATEST SIGHTINGS too.

RESULT -- saw 100 plus dogs Dec. 2014 and 50 plus in Dec. 2015 (2weeks each trip)... Could easily have seen many more but chose to see other animals...
Good luck.
I turn 60 in March and hope to see a few more dogs then...
God bless,
Friedrich von Hörsten

Ps. Big pack of dogs around Balule at Xmas too
Ps. Servals near Mlondozi dam in daylight...
``God, I can push the grass apart and lay my finger on your heart'' -- E. St V Millay
---
Posts: 16
Joined: Sat Oct 10, 2015 8:46 pm
Location: CT, USA
Hi folks, my reservations have finally been squared away by the park so now I can concentrate on activities. I want to book sunset drives in each camp we will be staying in and when I look I see there's at least two for each camp. Designated V1 and V2, etc with a three letter nomenclature after each (ie EMD, SSD). Are they the same drive? Is it just a matter of two different vehicles? Will both vehicles go out on the same evening even if there's only enough bookings to fill one vehicle (so if V1 shows 15 spots available ad V2 shows no bookings yet, I can book the V2 for my family of four and potentially have the entire drive to ourselves if no one else books that vehicle for that evening)?

Thanks for the help.
---
Legendary Virtual Ranger

Posts: 7128
Joined: Sat Oct 06, 2007 7:05 am
Location: In the bush again
OK..... EMD = Early Morning Drive; SSD = SunSet Drive. V1 and V2 would mean vehicle 1 and vehicle 2. The first will be a 21-seater and only if that is full will the 2nd be booked. Depending on the camp that will be another 21-seater or a 10-seater. If there are few bookings then V1 might even be a 10-seater.

You can only guarantee a vehicle to yourself if you book and pay for a full 10-seater and make sure at booking you state that is what you want.
Smiling is contagious. Start an epidemic today!
Have you read the entrance permit? Do you KNOW the Conditions of Entry?
Completed over 7 years in Kruger in my caravan.
If I was normal I wouldn't be me!
---
---
Return to "KNP Activities & Sightings"
Who is online
Users browsing this forum: No registered users and 1 guest