hi,
It would be unusual for an elephant to charge a vehicle with intent to injure, unless it had been previously provoked or is defending a calf, or is itself injured, or worst still an elephant with a sore head - a male in musth. None of these would be simply chewing leaves.....
In general a number of charges are "mock" (threat) charges, that is, the elephant is pretending to charge but is actually trying to see if you're aggressive or better still non-threatening.
This is normally preceded by what are known as 'displacement activities' like a widely swinging trunk or a leg being twitched. The head might go up, shake from side to side, the ears are wide open, and trumpeting occurs to say ' you don't want to get me angry do you?'
However if the elephant's ears are pinned back flat, the head comes down it is likely that the charge is real and will often be accompanied by its trunk curled inward so that the tusks are available for damaging the percieved threat.
So this is one calm animal - we might not have been as we're reversing down this one track road (S56 on our way to Shingwedzi ) for 1 Km to keep our distance-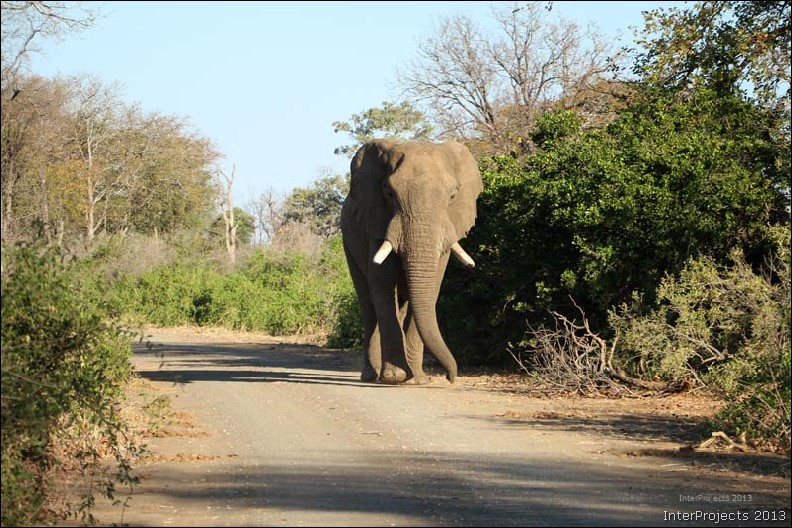 Remember elephants, like most animals, don't want to start a fight - they might lose !
Keep inside the vehicle outline (they see them every day), don't make any/much noise, listen to the ranger/guide and you might get some amazing sights, sounds and experiences like nowhere else...
---
Junior Virtual Ranger

Award: Newcomer of the Year (2015)
Posts: 601
Joined: Wed May 06, 2015 7:37 am
Location: Pretoria
Sometimes when I look at a lion and it stares right into my soul, I really do feel like a lamb chop... but I suspect its a primitive warning signal thats in all of us to remind us of the time when we were the prey.
---
I think the vehicle is as safe as the driver makes it. Vehicles don't put you in situations, people do.
---
---
Return to "KNP Activities & Sightings"
Who is online
Users browsing this forum: No registered users and 2 guests