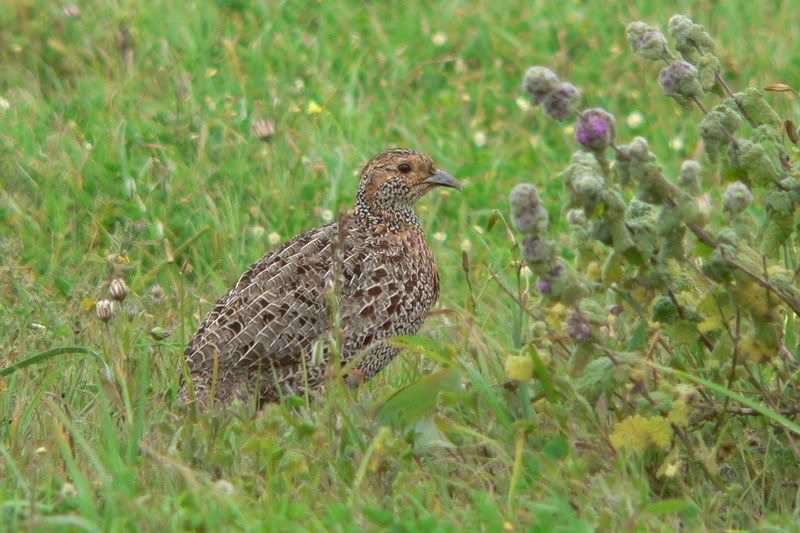 This bird was photograped in the Postberg section of the West Coast National Park in 2005
---
Moderator

Posts: 47964
Joined: Thu Dec 30, 2004 5:54 pm
Location: Where everything is on the correct side again!
Oct 2008. This pair kept us entertained outside our cabin in Golden Gate - the Highlands Mountain Retreat camp. They had a chick with them.
---
Virtual Ranger

Posts: 821
Joined: Mon May 19, 2008 11:17 pm
Location: Noordheuwel, Krugersdorp.SA
Seen quite a few at Suikerbosrand.
www.whereeaglesrest.co.za
STIFFNECK
"I'll rise up like the Eagle & I will soar with You because Your Spirit leads me on ~ by the Power of Your Love"
---
Distinguished Virtual Ranger

Posts: 1923
Joined: Sat Jan 29, 2005 12:52 pm
Location: My business...
One partner of The Highlands Mountain Retreat resident pair. We saw them all over the Blesbok Loop though.
On a quest to visit 9 new National Parks in October.
---
Legendary Virtual Ranger

Posts: 5529
Joined: Thu Dec 02, 2004 10:27 am
Location: Chasing down the rarities
One of Laine's photos from this morning's visit to Suikerbosrand.
668
Latest Lifer(s): Buff-spotted Flufftail, Tree Pipit, Dimorphic Egret, Lesser Jacana, Citrine Wagtail, Black-tailed Godwit
Follow me as I bird on Twitter
@wildtuinman
---
---
Return to "Birding in Southern Africa"
Who is online
Users browsing this forum: naomi c and 1 guest