Time for the answers to challenge #60. Turn out was a little disappointing with onle 10 participants. We had two participants scoring 5/5 and none scoring 0/5. The average score is 3.2/5, so good going there guys, keep it up.
#1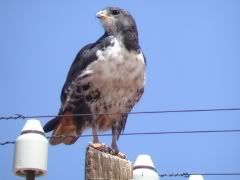 Larger view
Jackal Buzzard
. The most common (in fact, only) misidentification here was
Augur Buzzard
, and understandably so given the white breast. However, this is the pale form of Jackal Buzzard which is encountered in the northern Cape and Namibia with a fair degree of regularity. The fact that the bird has any rufous colouration on the breast combined with the black markings on the feathers of the belly rules out Augur Buzzard. If the locality was known it would have been a no-brainer of course as there is very little region of overlap between these two species. As a matter of interest, in previous years Augur Buzzard was considered to be
conspecific
to the Jackal Buzzard, meaning that they were considered to be merely different races of one species.
#2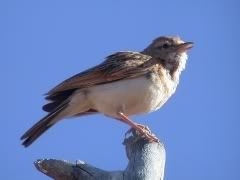 Larger view
Fawn-coloured Lark
. Most participants had this one correct. The most common misID came in the form of
Rufous-naped Lark
. The fact that this particular individual is one of the paler races (probably sarwensis) from the western parts of the subregion actually makes it easier to seperate from Rufous-naped Lark thanks to having almost no markings underneath whatsoever. Rufous-naped Lark will always show some streaking on the breast. If the bird was of the darker eastern races, the white marking under the eye (which is visible in this bird but not very obvious) would have been more pronounced, ruling out a few other species of Lark including Rufous-naped. This bird has a conical bill but not nearly as heavy as that of Rufous-naped Lark.
Notice the horizontal stance of the bird, a habit fairly unique to Fawn-coloured Lark and often useful for ID as well. Most other larks, and certainly Rufous-naped, has a much more upright posture.
#3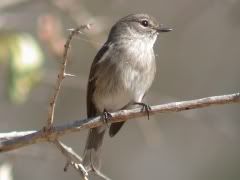 Larger view
African Dusky Flycatcher
. This bird turned out to be the most difficult one it seems and was identified correctly by only 4 participants although everyone did identify it as a flycatcher. The diffusely streaked underparts points towards Dusky. On
Spotted Flycatcher
the underparts would have been more clearly streaked and no eye-ring would have been visible.
Pale Flycatcher
has no streaking whatsoever and shows black or very dark lores. The base of the bill being a shade or two lighter than the rest of the bill also points to Dusky Flycatcher although this feature is of very little use in the field.
#4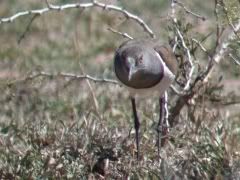 Larger view
Senegal Lapwing
. Most participants had this one correct and the only candidate for confusion was the
Black-winged Lapwing
. This bird shows the smaller white forehead and sharp black margin to the grey bib well. Black-winged Lapwing would have shown a red eye-ring, much larger white patch on the forehead and the black margin surrounding the grey bib would have been a bit broader and blended more diffusely with the grey bib.
#5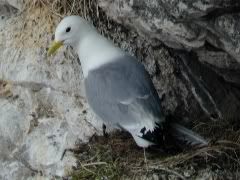 Larger view
Black-legged Kittiwake
. Even though this species is extremely rare in southern Africa most participants had no trouble identifying it (giving me confidence that you'd be ready to spot it when you do see it around here and you can notify me immediately so I can come and share in the joy
)
The only misidentification was of the even rarer
Herring Gull
(but again, if you see one, call me), which is a much bulkier bird with especially a much bulkier bill. Herring Gull would have shown a light eye with red orbital ring and a typical heavy gull-like bill with a red spot on the lower mandible towards the tip.
Some participants noted that the bird was breeding and deduced that the picture could not have been taken in southern Africa. Quite correct. The picture was taken on a little island off the coast of Ireland where there is a breeding colony (and incidentally a breeding colony of Herring Gull as well).