Hi , have just returned from a memorable week , camping at Malelane.
Had the most wonderfull sightings in the south and I got another 2 extra on my list.
Tigerfishes at LS bridge and a Caracal on the Biyamiti rd.
The Tigers were slowly swimming up and down next to the bridge, water was like a mirror, see pic.
Believe it or not we had 9 sightings of Leopard in 6 days
, 3 sightings of wilddog,2 x
black
rhino
, 4 x Lion.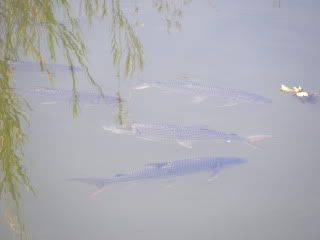 ps. Hilton Paris was right, there are Tigers in the Kruger