I can't claim to have been to ALL of the SANParks so I suppose I can't say which one offers the BEST stargazing. However, I'd have a very difficult time imagining any of the parks in South Africa offering better night sky views than the
Richtersveld Transfrontier Park
. In fact, I think the night skies could be the most important attraction to RTP.
Here are two timed exposure pics I took in the park. No special lenses or anything, just the plain old Canon 350D camera with the kit lens but pitch black night with plenty plenty plenty stars (didn't I mention they were plenty?).
First picture taken at Kokerboomkloof. One of the most magical places you are likely to ever find yourself in. The point of view is towards the south and, as the photo clearly shows, incorporates the south celestial pole. What I particularly like about this picture is that both the large and small magellanic clouds are visible (above and below to the left of the Quiver tree). These are dwarf galaxies which are well outside of our own galaxy and two of the few extra-galactical bodies visible to the naked eye.
Respectively, they are 170,000 and 210,000 light years from us which is VAST. I mean really really far. In 1987 a supernova occurred in the large magellanic cloud which was the closest observed supernova since Oct 9 1604 and visible to the naked eye. The staggering fact is that the star exploded some 170,000 years ago (10,000 years earlier than the oldest known fossils of humans on earth) but the light of the event reached us only in 1987.
I was just a teeny kid at the time but would have loved to see it as it might well be the only naked eye supernova in our lifetimes seeing as the previous one was 380 years before this one so who knows, we may have to wait another 380 years for the next one.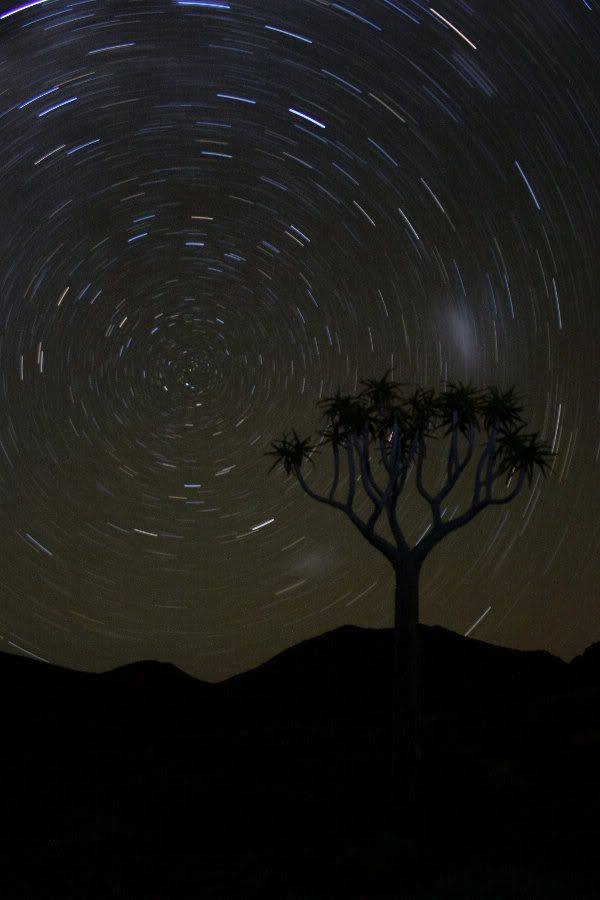 Second picture taken at Richtersberg, on the bank of the Orange River. This one is pointing in a north-easterly direction showing stars as they appear from behind the horizon and climb up into the sky.