Whimbrel,
Numenius phaeopus
Physical characteristics:
The Whimbrel is a large shorebird (length – 42 cm, wingspan – 76 to 88 cm, weight – 300 to 500 g) with a strikingly long, decurved bill, pinkish at the base, long neck and medium length bluish-grey legs. It is streaked and buff overall with small light and dark spots. Its crown is dark with a distinct light stripe in the middle. The pale face is marked with a dark eye-stripe. The neck and breast is streaked brown and the belly and under-tail coverts are white. Sexes are similar in plumage, but the female is larger with longer bill. Summer and winter plumage remains unchanged.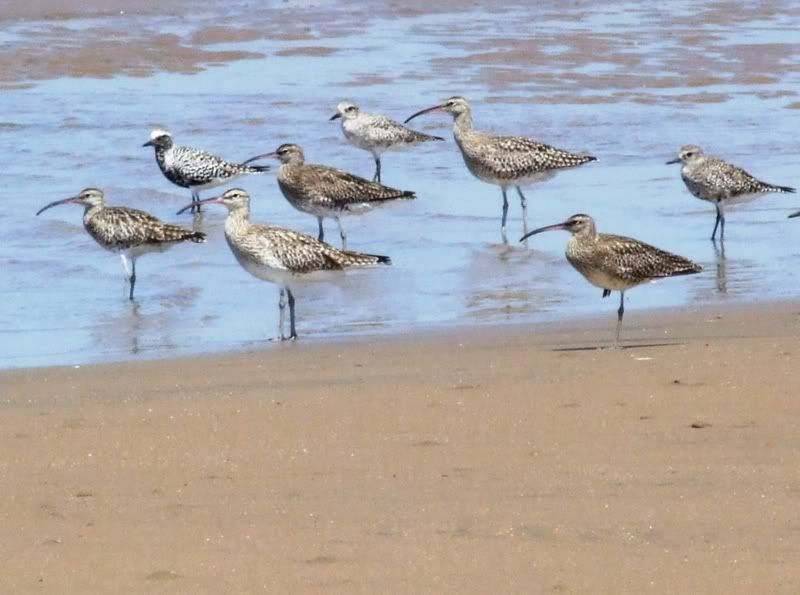 Distribution and habitat:
This wader is the one of the most widespread of the curlews, breeding across much of sub-arctic North America, Europe and Asia as far south as Scotland. They migrate in large flocks during the northern winter to the coasts of Africa. They feature at coastal beaches, mudflats, and coastal salt meadows. They may also be found inland, both around wetlands as well as short dry grassland, farmland, golf courses, parks. Their peak arrival in South Africa is August to October and they remain until April, although a small number may be found throughout the year.
Behaviour:
It is fairly gregarious outside the breeding season. They migrate with other shorebirds, and often act as a sentinel species. Very wary, Whimbrels are often the first to alert the other birds to danger. They prefer to roost on exposed shoals, tops of mangrove trees or in shallowly flooded clearings in mangroves which face the open sea.
Diet:
It uses its long, down-curved bill to probe deep in the sand of beaches at the tideline with other waders for aquatic invertebrates, crustaceans, worms and molluscs but also feeds on vegetable matter and insects. The curve of the Whimbrel's bill nicely matches the shape of crab burrows. The bird reaches into the burrow, extracts the crab, washes it if it is muddy, and sometimes breaks off the claws and legs before swallowing it. Indigestible parts are excreted in faecal pellets.
Hunting technique:
Whimbrels probe deeply and move as they feed, generally alone or in small, spread out parties. They may also pick off food found on the surface. They can take large prey but tear it to pieces before eating it. Whimbrels forage on both mud and sandy surfaces, but avoid very soft mud. They are only found in coastal areas and do not forage inland.
Status:
Adult Whimbrels have few natural predators. Few succumb to predation during migration, probably because they are very vigilant. Human impact is the biggest threat. Whimbrels are affected by habitat loss of nesting sites and refuelling staging posts along the migration route, destruction of coastal wetlands along its winter range and pollution of shorelines. Numbers declined sharply during 19th century, because of hunting for sport and food. The greatest current threat to the species is loss of coastal wetland habitat and environmental contamination.