#30 of 2012 had the least number of participants since we started the new batch last year.
Overall the challenge returned an average score of 71.6%, one of the tougher tests.
We had 11 'mites taking part, the lowest total since we started this new series of challenges.
The results are as follows:
Three 'mites scored 5;
four 'mites scored 7;
four 'mites scored (near) 9;
nobody got all the answers right.
Thanks again to those 'mites who so diligently add explanatory notes with their IDs.
#1 – Black harrier.
[11]
. No problems here.
#2 – Verreaux's Eagle Owl
[11]
. Easy!
#3 – Brown Snake-Eagle, sub-adult.
[9]
. The only "confusing" species was black-chested snake-eagle. The undertail of our challenge bird is too dark for it to be a BCSE
#4 – Bateleur
[11]
. You 'mites nailed this one!
#4b – Southern Pale Chanting Goshawk, sub-adult
[2]
. By far the toughest ID to make. [/b][/color]
davejenny
explains his choice:
I initially thought of a Greater Kestrel and Bateleur, but once I enlarged the photograph I could see red legs and a reddish cere.... this pointed towards a Chanting Goshawk, or a Gabar Goshawk. The brown on the chest suggested a sub-adult PCG. (The Raptor Guide by Oberprieler/Cillie helped me out here).
#5 – Malachite Sunbird
[11]
. A gift!
#6 – Pearl-breasted Swallow
[8]
. If you recognized the bird as a swallow, you got the ID. One 'mite thought it was a house martin… they have white feet.
TWISTS#1 – There are possibly tens of thousands of feather mite species in existence, most of which can be divided into four types of bird-living mites. Which are these four groups of mites?
I apologise for setting the question in unclear terms. Some of you 'mites really went to town trying to find answers when all I needed was reference to the mite types. The four types are: Down mites, Vane mites, Quill mites and Skin mites. Many of you sent in the Latin specie names and I tried to give credit where I could. As far as I could figure out the fancy answer would be
Analgoidea, Freyanoidea, Pterolichoidea and Dermanyssoidea
. The tree below illustrates which species families make up the four groups of mites.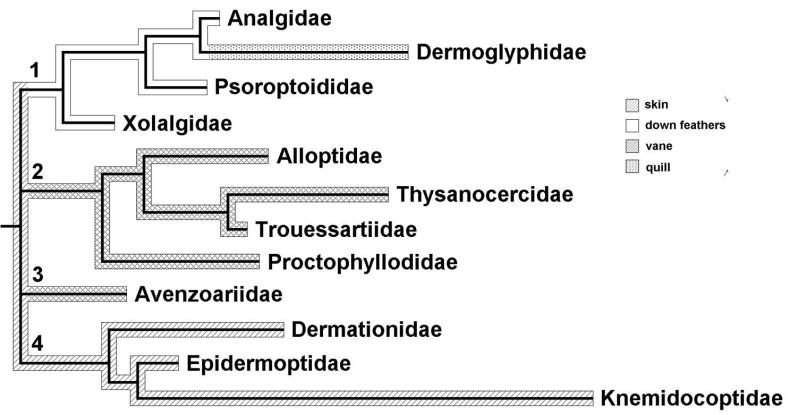 #2 – Mites are permanent parasites living exclusively on birds, causing them all kinds of stress by feeding on various substances produced by the bird. Some bird observations are suggesting that birds can alleviate the infestation of mites by a natural remedy. What bird behavior constitutes such a remedy?
The answer I looked for was a bird behavior called "Anting"
hilda
posted a wonderful essay:
Anting is perhaps some of the strangest behaviour indulged in by birds. Anting occurs in two different forms and for the sake of this essay it does not always involve ants.
Most anting, however, does involve ants and over 250 different species of birds have been recorded displaying this behaviour at one time or another. Anting occurs either as active anting, in which the bird picks an ant up and applies it to its plumage, or passive anting. Normally, the ant during active anting will be stroked along the feathers, usually the flight feathers. Starlings (Sternus vulgaris) actively seek out Formicine ants which suggests that the ants' ability to spray formic acid is an important consideration. It has been observed by many people that during anting the birds appear to get exceedingly excited. After the ant has been applied to the feathers it is either discarded or eaten. Other active anting birds are Babblers, Tanagers and Weavers.

Passive anting involves the bird finding an ants' nest and lying down among the ants. This process often likened to bathing in ants is not as well studied as active anting. Birds which are passive anters include the European Jay, Crows and Waxbills.

Because life loves diversity, Blackbirds, Redwings and other thrushes exercise a flexible strategy, being either passive or active anters as the occasion or some unknown need takes them. Strangest of all perhaps is the Grey Thrush of Japan which is a passive anter which goes throughout the actions of an active anter, but without any ants in its bill.

Finally, birds have also been observed to indulge in anting behaviour using objects that are not ants such as mothballs and apple peel.

What actually happens during anting is easy to observe and record, especially as many birds will display anting activity in captivity if offered ants. A more difficult question to answer is why. In truth nobody seems really sure what birds get out of anting. People have theorised that the ants help rid the birds of pests like feather mites and louse flies, other theories suggest that the anting is just a way of getting the ant to discharge its store of formic acid before eating it. The trouble with this idea is that it doesn't explain passive anting. Scientific evidence supporting the pest control theory is hard to find. However, it is known that ants are only eaten after they have discharged all of their acid. It is not unreasonable to assume that active anting as we see it today evolved from a detoxifying action to make ants edible but gave the added benefit of pest control to some extent. Nature often likes to perform several roles with one action and though scientists like to understand the order of importance and/or the order of origination of an action this is not always easy to achieve.

Perhaps related to anting, but even more bizarre is 'smoke bathing'. Birds such as Rooks have been observed standing on smoking chimneys with their wings spread open in a similar posture to some birds when anting. Birds have also been seen to use smoking cigarette butts for anting. On other occasions both houses and trees have been set alight by birds taking live cigarettes back to their nests. No-one really knows why.
Anting as a mite remedy has been researched scientifically. A Russian parasitologist, Dr. V. B. Dubinin documented a 35% mortality in feather mites from an anting bird as opposed to just 1% mortality of mites collected from a non-anting bird. That was the evidence that I based my question on. Later I found reference to a more recent (unpublished) study that could not replicate these results from the Russian scientist, actually finding no increase in mortality rates amongst mites exposed to anting. So, we are actually back to square one… not knowing why anting is practiced by birds!
Several other bird behaviours have been anecdotally linked to self-treatment of feather mites, but none have been scientifically proven so.
hilda
also mentions:
Bird mites have piercing mouthparts that enable them to take blood meals from their bird hosts. Although the mites will inadvertently bite people, they cannot reproduce without their bird hosts.
If conditions are right, bird mites can cause people an uncomfortable time until they are controlled through medical/chemical intervention or the reproductive cycle of the mite fails naturally…