Up early after beating off the ant on steroids to be greeted by my son cooking us flapjacks for breakfast. Oh,man, life is good. Here is a picture of the flapjacks. I was so excited over getting them that I overexposed the photo horribly. Eating these with strawberry jam may not be the healthiest breakfast but with the company of family chatting away over what to do that day it makes for a wonderful breakfast.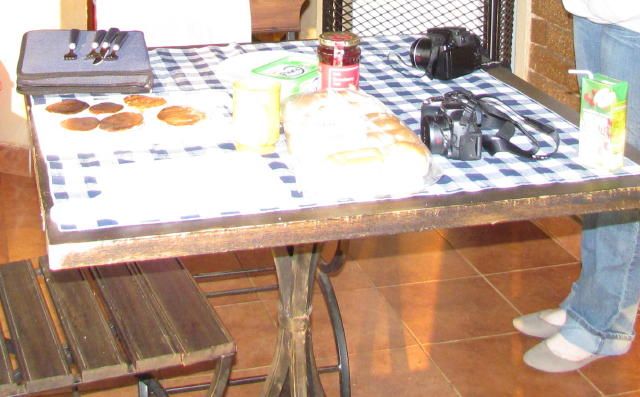 North of CB we found this white Impala ram. I noted that the horns were whiteish and the eyes were red so I think it was a genuine albino rather than leucism. That night at Lower Sabie we met numerous people who had seen it.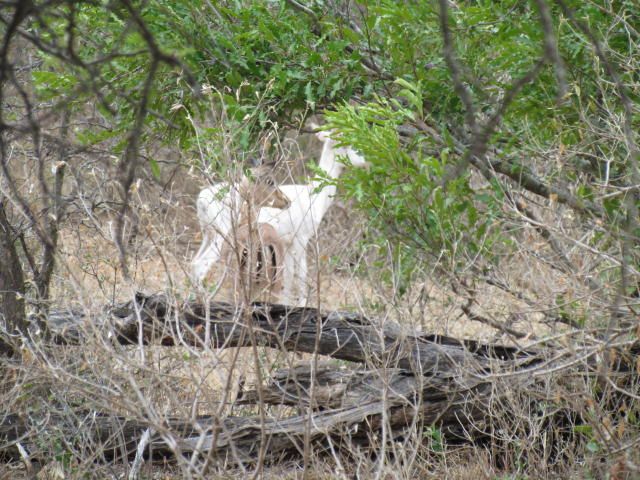 We met someone who lives the Kruger life at the right pace: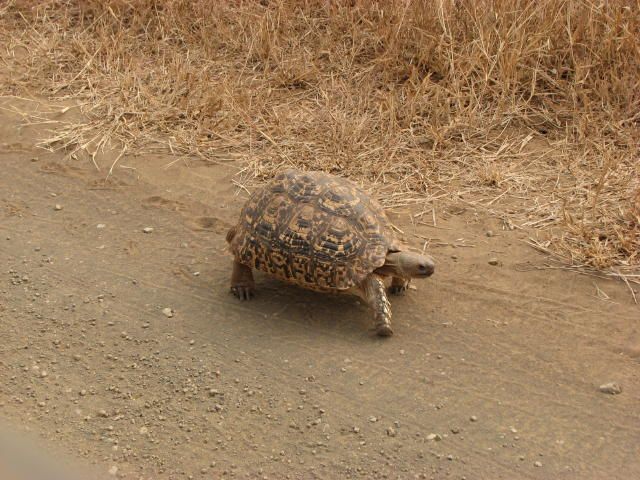 We headed for our last two nights in Kruger at Lower Sabie. I hate the busy roads and Sunset Dam reminds me of Cape Town station at rush hour, only with less politeness. But once inside the camp, peace descends. I did my usual trick of going birding in the camp at sunset. It is a very very slow stroll, stopping to talk to people who I have never met before, chatting to staff who walk past, looking at things i.e. standing staring and not thinking. Sometimes I stands and think and sometimes I just stands. Doing this one gets some pretty good sightings.
Here is a Mousebird, one of a flock that chattered incessantly about me: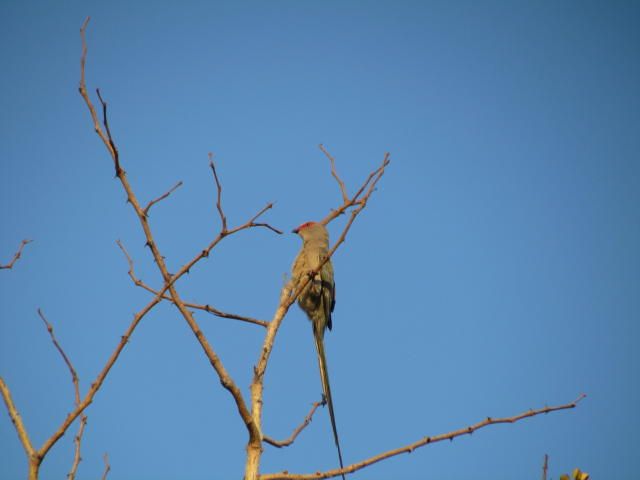 I got ready for a too-puddly too-puddly trio but these three Barbets were more interested in ignoring one another than entertaining me.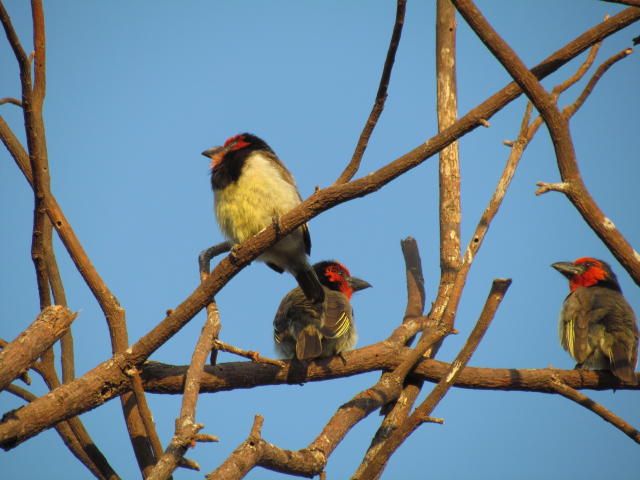 Before I come to the highlight of the day I am going to put in an advert for food again. So many of the forumites have admitted to the clearly practical braaing of lots extra to use as food the next day so here is a photo of what I regard as a good Kruger breakfast taken at Babalala: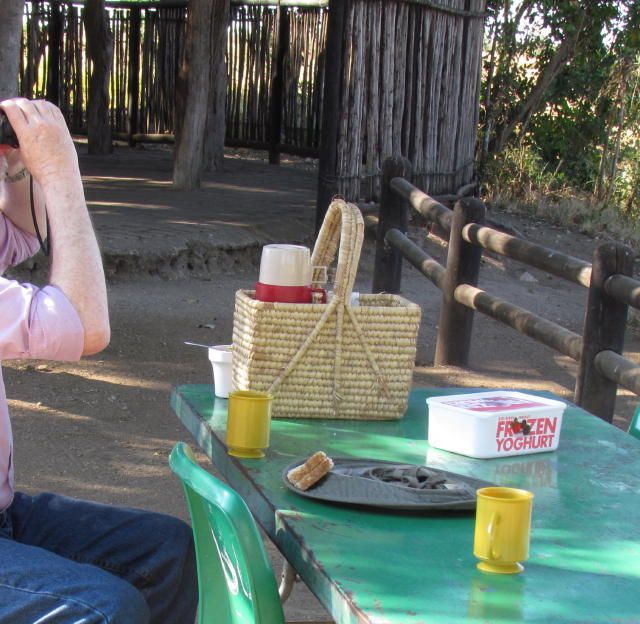 Note the flask basket with flask, cup of coffee, old ice cream container to hold sandwiches (doesn't matter if it gets lost), pair of binoculars, a hat, and from the previous night's braai a half-eaten toasted sandwich, and half-eaten because it has been hurriedly put on the brim of the hat for a bird sighting (a Bateleur flying overhead).
Back to Lower Sabie. My SO was getting supper ready and I sat down at the table to eat some biltong when shge whispered urgently "Raptor on grass." Not 10m from our hut this juvenile Little Sparrowhawk (can any bird fundis confirm this? It was a tiny bird). I couldn't work out what it was eating, and only when I got home was I able to work out it was a bat.
Here are three photos of it. I had to pump up the ISO to 1600, something my camera doesn't like but I was determined to get his on camera. Remember that it was very nearly dark when I took these photos.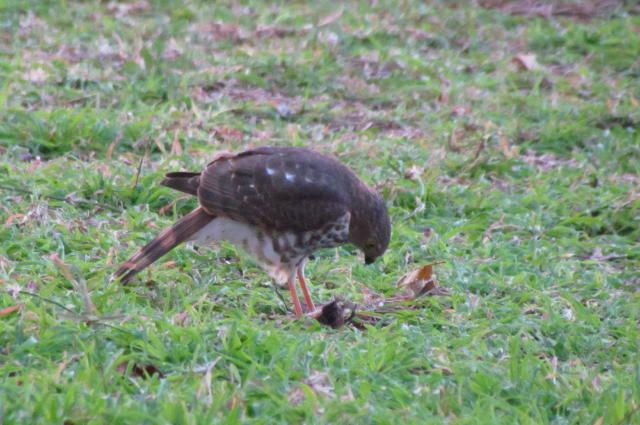 It mantled its prey when I came a bit closer: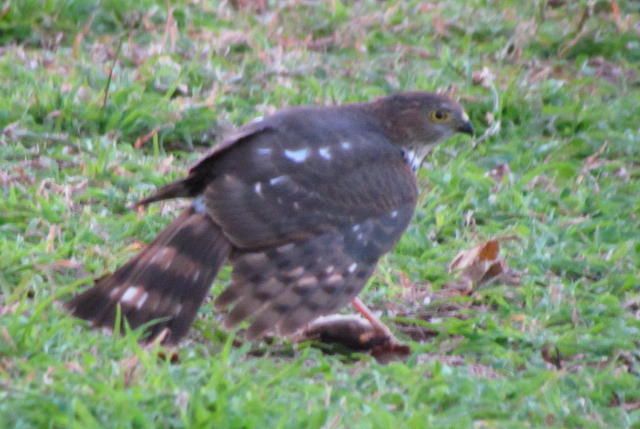 Then it flew into a tree at the fence and finished off its prey: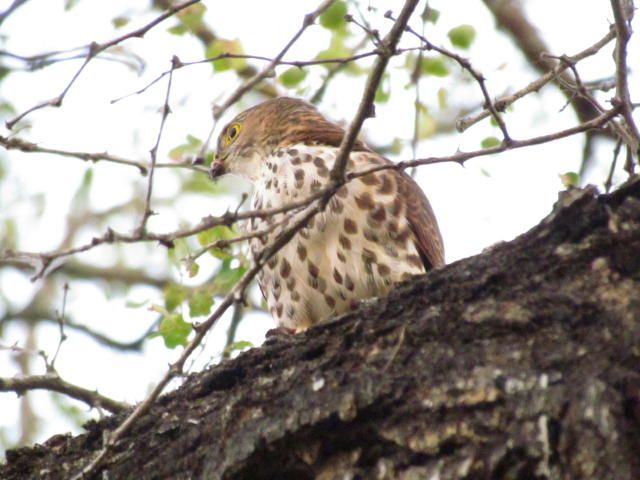 What a great day this was. The Sparrowhawk made a perfect end to a day of peace for the soul. We braaied that night and I held my SOs hand and said to her: "We're very lucky." I wasn't talking about the sightings we had. I was talking about what we have in life. Earlier in this report I stated how I said "I am happy". Now I say also, "We are lucky." But luck has not really much to do with it. Like so many ordinary people in Kruger we have worked hard to earn enough to go to visit Kruger, and when we are there we realise that we are blessed in our country to have such beauty, and such people as I met. I ignore those silly sausages who try to make time in Kruger go faster so that they may see more animals, and speed and hang out vehicles. They will not find a happy holiday, only frustration.
I say the best way to experience Kruger is through one's own control of happiness. Try for Ubuntu. Let Kruger bring inner peace -it is always there. You just have to let it in. Let it in by sitting quietly at a waterhole, listening to the night noises at a bench on the fence, sharing a story and cup of coffee with a neighbour, someone you have never met before. It is about restoring one's body and mind to happiness, not just about seeing things.
But reality always steps in. I was on by serene bird-patrol walk in camp. I was near the petrol station when I head an almighty bang that nearly caused me to drop the camera. I looked for the cause. There it was - two chagrined workers looking at the football they had pumped up too much. They were left with a very flat football. All part of Kruger. That will teach me to become philosphical.
Keep well all
Pete