As Meandering Mouse says, time to visit the zoo. On the way there we came across this vulture in the dawn who clearly sized me up and when I looked through my binoculars at him, he was not only sizing me up but also clearly licking his chops at the anticipation at eating what was left of me. How did he know I was soon to get out the car surrounded by roaring lions? Look at him - the epitome af a hungry, ever-patient vulture: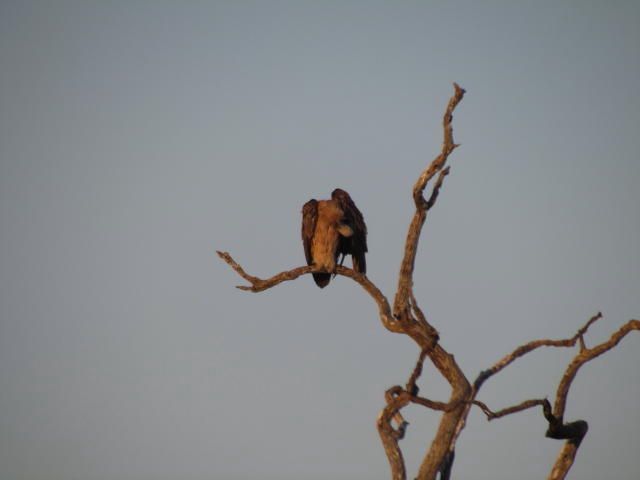 Please allow a proud father to digress slightly. It seems absurd for us to travel from Olifants to Crocodile Bridge, but awaiting me there was a first in my life. Both my sons were introduced to Kruger caravanning at a very young age. Both fell in love with it. My younger son loved it and a woman so much, that he took her all the way to Shingwedzi to propose to her. He was accepted, married her and now two years later for the first time in my life my SO and I were to be joined by my married son and daughter-in-law in Kruger. I am unashamedly sentimental and was all misty-eyed. I reckon all fathers (and mothers) will know what I mean. This was a very important milestone visit to CB for me and my SO of 32 years (not age - years married).
On the road we saw the usual suspects and enjoyed the animals. Just after Skukuza I saw a traffic jam 150m up ahead. Zoo time, Meandering Mouse. Zoo-time, big time. Hooting time, flaring temper time, grumpy time.
I said to my SO, "No way. I am stopping here and letting them disperse." I stopped at the side of the road, switched off and waited. Now I decided (
and I would love to know if anyone else does this
) that I had enough lion photos and instead of taking photos I would just drink in the memories. I took NO photos of the 10 lion that left the traffic jam and sauntered up to OUR car, so close that one sniffed the back tyre. Their eyes were glued to Impala down the road. What a sighting, what a memory. This was the closest we have ever been to lion and we had the best seats by far, (or close if one prefers), and NO traffic jam who all followed the lions past us jostling, red-faced, grim and plain silly. Let me not be a hypoctie. I love lion sightings and will never never have enough of them, but not at the cost of being unhappy at the sighting. But while the traffic jam saw them, we got the best interaction. SO and I were on an absolute high. The cubs were beautiful and the lionesses huge and lithe and dangerous and hunting. I have no photos, but indelible memories.
Off we went. We decided to forgo a loo break at Lower Sabie - both of us wanted to get to our new family offshoot. We were exactly two kilometres past Lower Sabie when we found anohter traffic jam. More lions. I counted four, including a big male who was walking up and down, roaring. They were about 75m from the road, but I am acutely aware of how fast a lion can cover 100m. We were happily watching when I decided to take a photo anyway but was disturbed by a chap who pulled up alongside and said: "Do you know your left back tyre is flat?"
Right - this I have read about often in the forum and read all the advice about what to do. Now let me give you the real skinny on what happens. Your mind goes blank and you wonder: What now?
By now the lions were not to be seen but could be heard roaring. We waited a while in the hope that they would go away, but when you want lions to stay they go, and when you want them to go, they stay. And they stayed. I had a can of the instant tyre fix inflation and sealant in the boot of the car. I asked someone to pull up close behind me. I jumped out, got it out of the boot, and screwed the attachment onto the tyre. I think Iam a fairly calm person, known for not panicking totally at any crisis, but I was so nervous I put the thing on cross thread. When I pressed the plunger white rubberised foam shot all over the Lower Sabie road, the car and me. Failure was total and humiliating as there was quite an interested audience. Then my SO got out the emergency help number but no one answered. She then phoned reception at Lower Sabie.
And now hats off to SANParks staff. The lady at reception said, "I'll send someone". Within 15 minutes 5 men arrived on a bakkie. They first asked where the lions were, then got out, appraised the situation and started giving orders. Open all doors, they said. Open the boot, said Enos, the chief. They emptied everything in the boot onto the back seat, got out the spare, jacked up the car, fitted the tyre, replaced all tools and said: "All fixed. You can go." Now here's what is amazing. It took six minutes for them to do that. Formula One can take lessons from them. WELL DONE TO ALL INVOLVED.
Here is the team at work. Note that no one is recognisable as this would break forum policy. Look for the white foam. That chap in the checked shirt is me sweating bricks.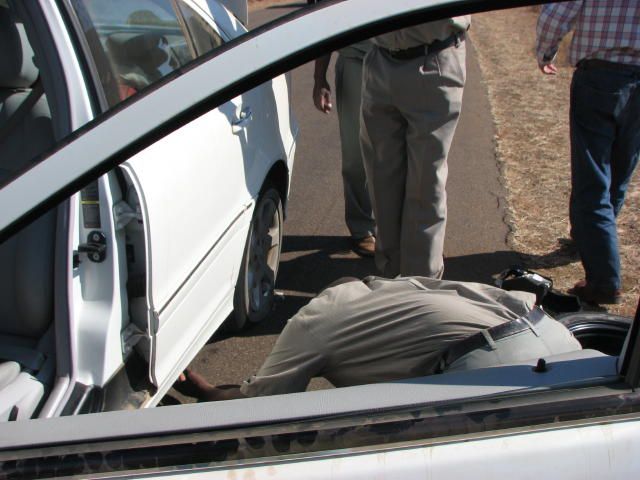 I tipped them well, as rescuing people like us is not really their job - they work for housekeeping. I returned three days later to Lower Sabie and was able to thank the receptionist personally, get her name and that of the rescue team led by Enos, and soon I will be writing a letter to SANParks management to say all the doomsayers talk rubbish - service delivery is alive and well in Lower Sabie.
Here is a photo of the tyre and the screw that caused the problem.
Where on earth did I pick it up? It must have been between Tshokwane (tea-break) and Lower Sabie (Lion traffic jam), but if you look at the excessive wear on the shoulder of the tyre I reckon it was closer to Tshokwane. Accidents like this keep life interesting, just not at the time. But now when macho men speak of
What To Do when Surrounded by Lions
I know the answer - ask your SO to phone Lower Sabie reception.
Also lots and lots of people offered to help. Many were really really keen to help and I was really touched by the concern of so many. Whole families were prepared to take on the lions.
I must add that the five chaps who arrived to change the tyre were very careful to observe safety procedures when dealing with the whole matter. One had a sense of humour and imitated a lion roaring sotto voce. We all jumped much to his amusement, and ours.
Now you see why earlier I said the cell phones were life-savers. On to Crocodile Bridge where my son and daughter-in-law met us. The first thing I heard was a haunting call, so I followed it. This was the result. A bad photo but a good sighting of a Grey headed shrike: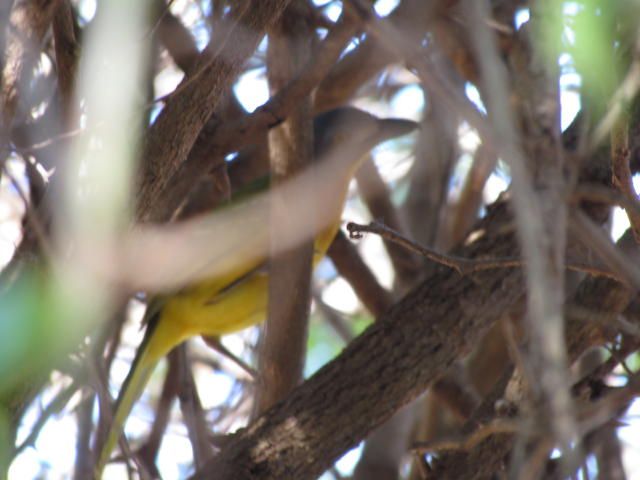 Reception made sure we were in huts side by side - well done, CB. Waiting for us at our huts was this fellow: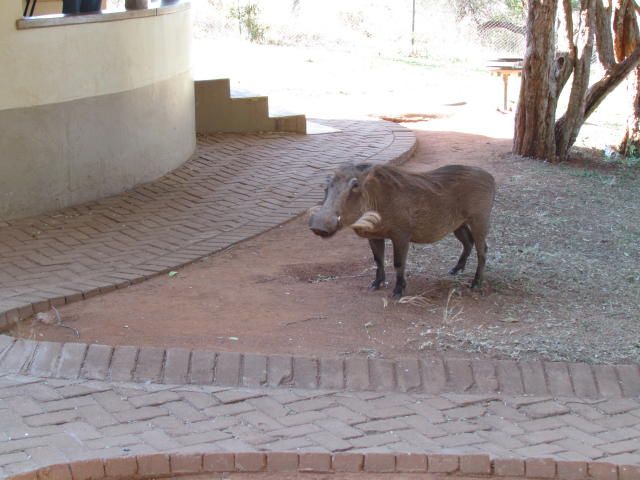 We took a trip to Hippo Pools to find this Bee-eater posing pleasantly: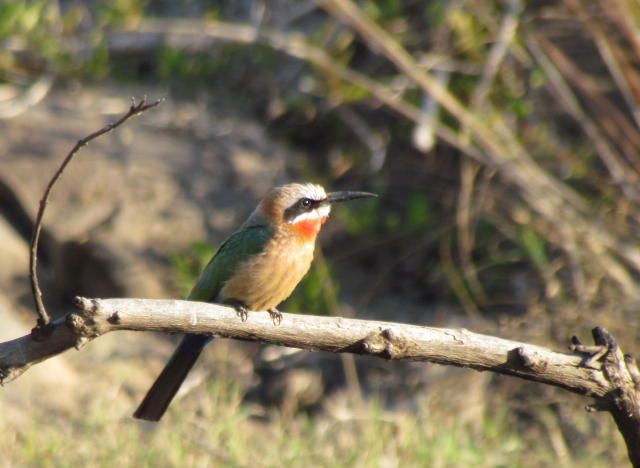 We returned to camp to find monkey business on the go in the late evening. These chaps thought that my windscreen wiper blades would provide a tasty meal. I tried to shoo them off but lost as they became
very
aggressive. I noted that the monkeys in CB are by far the most aggressive I have ever met in my life
anywhere
.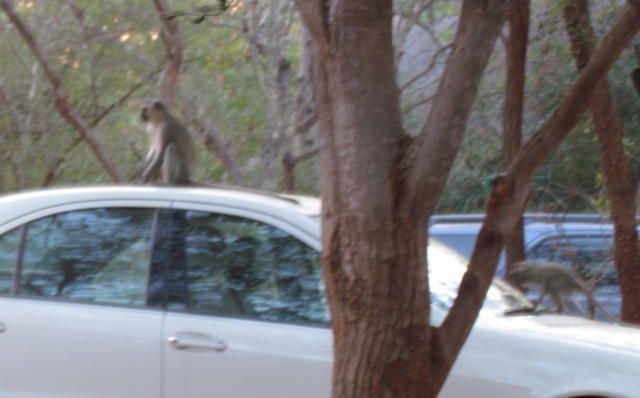 I did not lose the blades but my car was covered in muddy monkey paw prints. Score: Monkey 4, Pete 0.
But the evening went perfectly. While braaing wtht my son a ghost appreared at the fence feeding happily. By torch light I got this elephant feeding: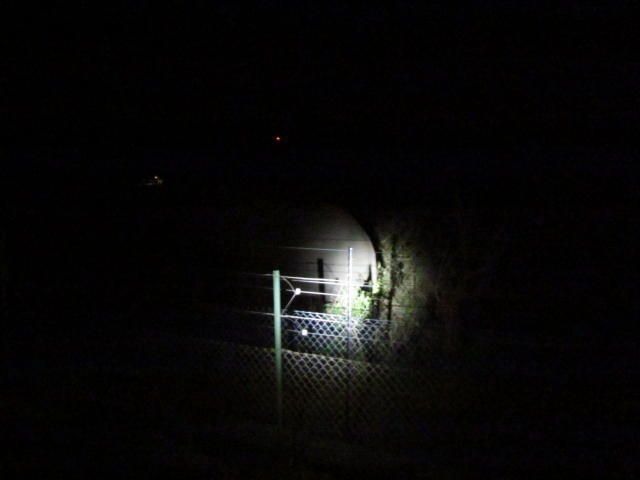 If anyone wonders I deliberately only lit his bum, I had no wish to spook him. Watching him made up for that flat tyre.
This instalment is already long so this time I will not include food, but watch this space. The next day brought two firsts for me: a raptor chase and bushbabies. But more of that tomorrow. Let's end with a shot of a kingfisher taken in the quiet of the evening light:
A big thank you to all. A big thank you to those who have been writing comments. I cannot tell you how much I appreciate them. Actually I
can
tell you how much I appreciate them - an enormous amount: they keep me writing.
Keep well
Pete