Friday 24 Feb
My last full day in the park …
I'd seen a leopard, I'd had umpteen rhino, buffalo and elephant sightings, I'd seen hyena, I'd had a wonderful cheetah sighting, I'd seen lots of other special sightings as well, but no lion this trip …
Actually, I tell a lie … I can't remember what day it was but I was on the S28 and had just got to the junction with the road to Ntandanyathi Hide when I saw about 10 cars pulled over to the side of the road. I looked but all I could see was lots of tall grass! I asked these people in one of the cars what they could see. They told me there was a big male lion in the grass. Well I looked and I looked. They kept saying to me "Can you see him?" and I kept replying (feeling really stupid!) "No!" I could see what I thought was a large rock in the grass but even that was difficult to see with the thick grass. Next thing "the rock" yawned … that was my only lion sighting! I didn't even take a photo and could just not be bothered to hang around trying to keep calm with all the cars around driving into the bush trying to get a better view.
Anyway, I decided I'd head north … I was out of the gate at 5:30 and figured I'd drive up to Satara … surely I'd see some lions today.
I got to Sunset Dam. There were a few hippos around, a couple of yellow billed storks, and Mr Fish Eagle perched on "his" tree.
About 500 metres up from Sunset Dam and what was there on the road to greet me ... ???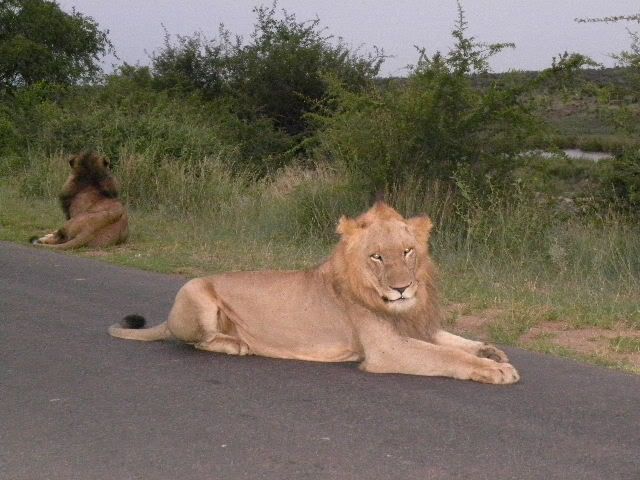 Within seconds, Big Boy decided it was time to get off the warm tar and make his way into the bush to hide from all the other Kruger Park visitors …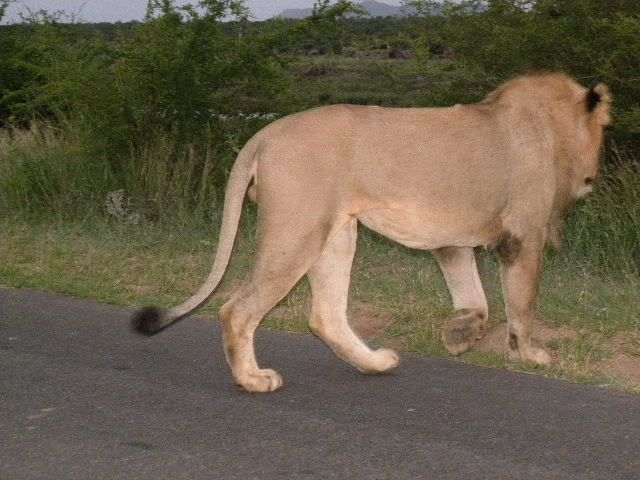 I slowly pulled up to the other chap and snapped …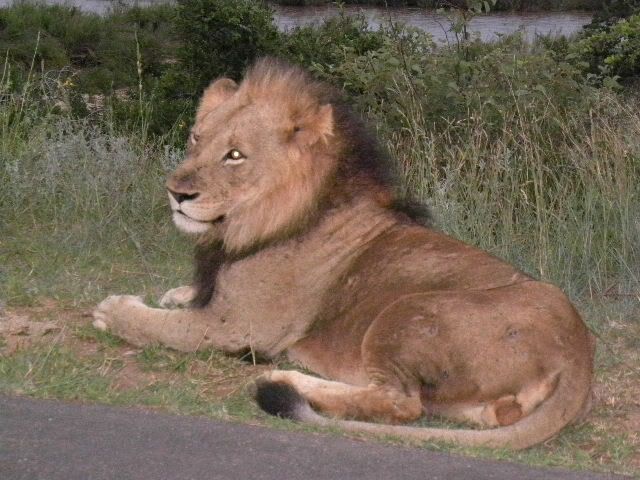 But then he too decided he wasn't up for posing for photos so early in the morning and also got up to go and hide …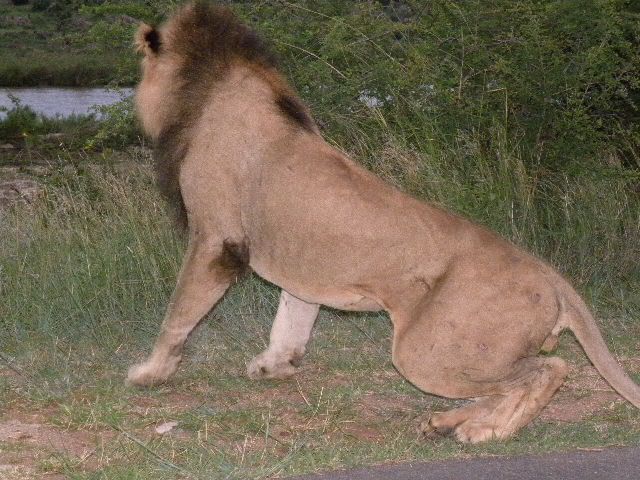 He he he … so much for having to drive up to Satara … not even 2kms from Lower Sabie and those big boys were just sitting there waiting for me!
A little further up and I came across one of the Kruger Park lawnmowers …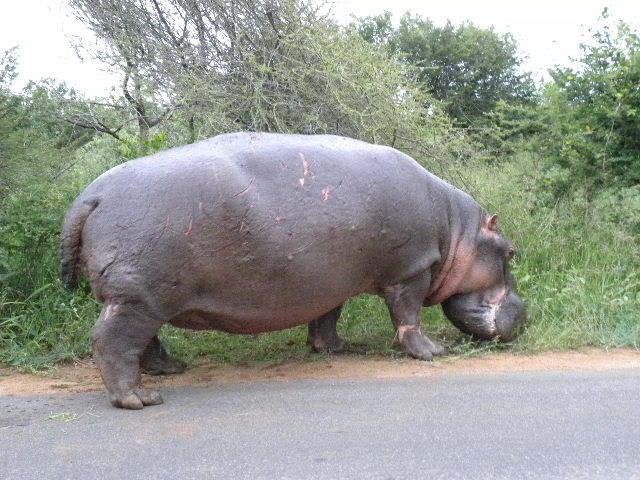 Look at those teeth …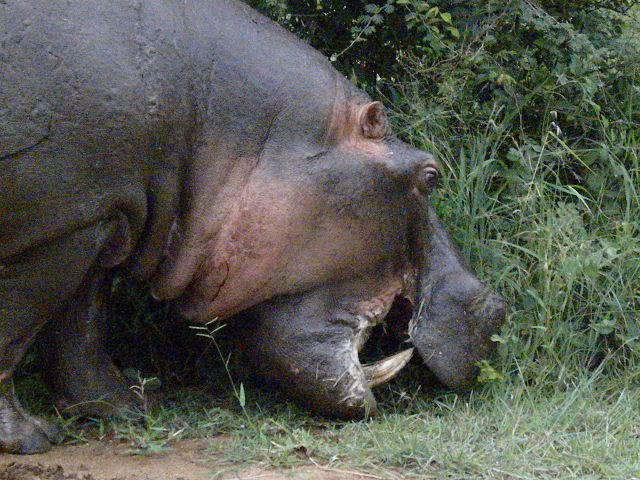 He looked as if he'd been through the wars …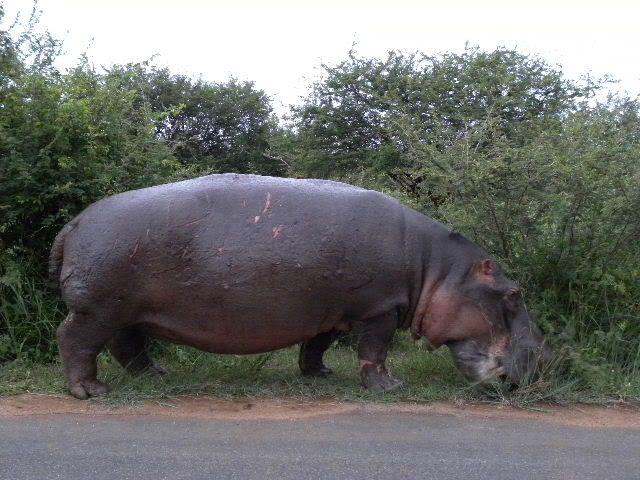 The oxpeckers were enjoying all the open scars on his back and I tried to take a couple of photos but they are all blurry … (the photos would be quite disgusting anyway).
A little further on and you could see where some of his hippo friends had also been out of the water and had crossed the road …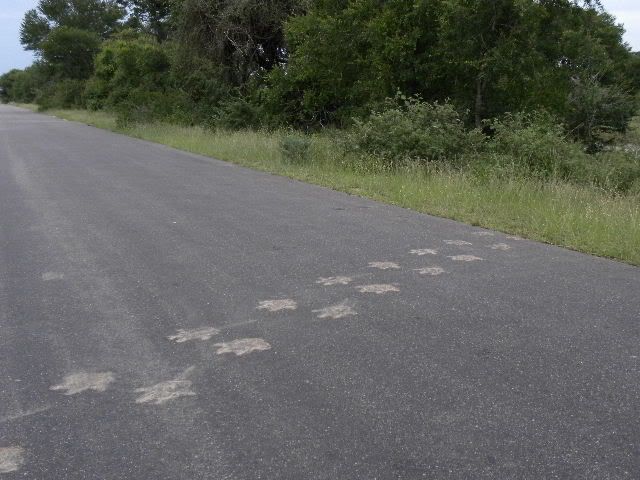 Daft photo, but I even enjoying seeing prints on the road like that or spoor in the mud or sand!
I took the S21 where I came across a couple of bold bokkies who crossed the road right in front of me …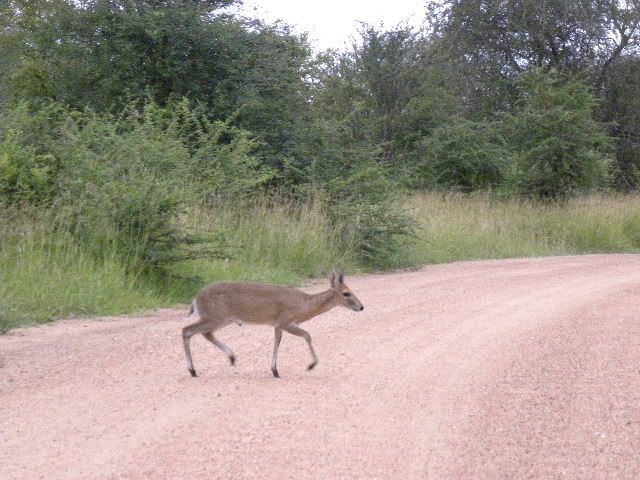 I just love the inquisitive way that kudus look at you …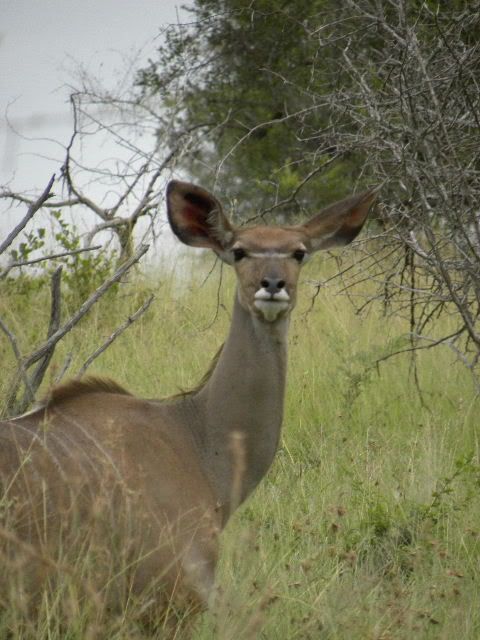 A little further on and Mr Hornbill had caught brekkie …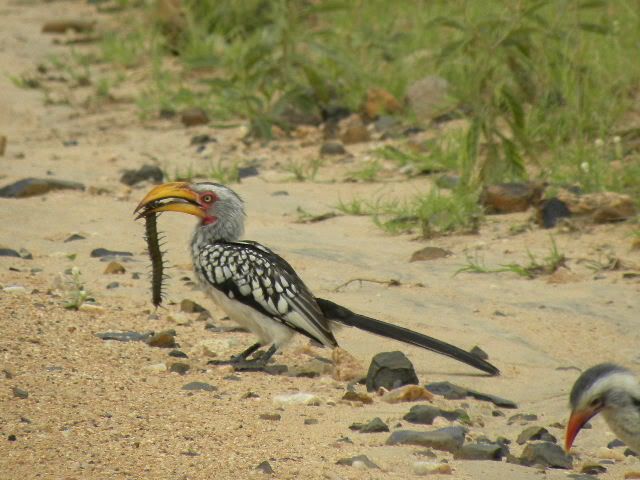 A young hornbill appeared to see what was going on.
Not wanting to share his breakfast, Mr Hornbill tipped his head back and down went his brekkie!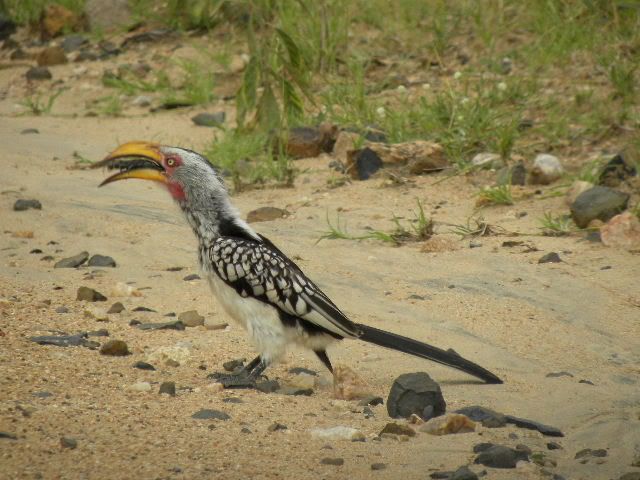 (Gives me the shivers looking at those photos!)