Herewith the answers to challenge #26.
There were 11 entries with an average score of 7.0. The highest score was 8.5.
#1
Shikra- very few problems here. Red eyes were the give-away to separate it from other smaller sparrowhawks and goshawks
#2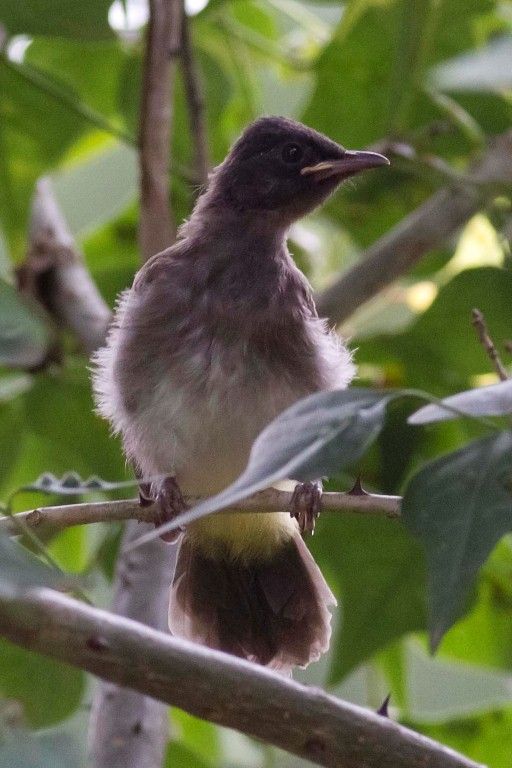 Dark capped bulbul-No problems here. The downy feathers and obvious gape around the bill indicate that it is a juvenile…you should have heard the parents "vloeking" at me when I tried to photograph their baby.
#3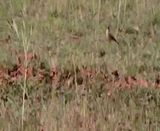 Buffy Pipit – I did my best here to give a clear example of all the characteristics of this species. To start, you have get as far as to suggest that it is a pipit. All of you got this right. Second, the plain back will separate pipits into two ID groups, most species have mottled/ scaled feathers on the back, whereas plain backed and buffy pipit have a plain back. Most of you got this. This is where the trouble starts, separating these two species. Lower mandible colour is not reliable as an ID feature, but is usually yellow in PBP, and pink in BP. Other more cryptic features are that buffy pipit tends to appear chest heavy and plain backed more belly heavy… but you have to see a lot of them to make this distinction. Buffy also tends to stand more upright (as shown in the picture), and has a flatter fore crown. From these clues, buffy becomes a better option. But without looking at an accurate library of pictures of these species, most of these features are cryptic to new birders. But here comes the clincher: the behaviour of the two species is very different. I did my best to video this bird, (my apologies for the short video and long upload times if you have a slow connection). There are two obvious features shown. Buffy has a very energetic walk, almost like a sewing machine, with body held horizontally, a lot like a wagtail. It normally wags its tail often, and the wagging is extensive, almost a full body wag, with the tail extending above the horizontal (as depicted in Faansies book). The plain backed pipit has a more "normal" walk, and the tail wag is less extensive, more of a downward push.
I hope this video helps for future field work, where there is "no way in hell" you can see mandible colour from 30m away!
#4
Southern Black flycatcher –no problems here.
#5
Swift tern- This one turned out harder than expected. Most of you guys went into shock at the sight of a seabird. Many of you got as far as the terns. "PNF suggested - Northern end of south-bound Antartic Terns!" . Ngululu and Panthera Leo nailed this one. The clue was the plain yellow bill (just visible). (My apologies I think this one was a bit too cryptic
)
#6
Karoo Prinia – photo was taken on a cold day on the garden route. Most guessed either Karoo or Drakensberg with one Namaqua warbler. What confused most of you were the puffed out feathers to keep warm (thermoregulation), and the effect that this has on the colour. Generally, most markings and colours are less distinct when puffed out, and return when the bird warms up and the feathers flatten down. Also there appears to be some variation of this species along the garden route with individuals being a bit more rufous… maybe we can split this species again and create the "garden route prinia"
#7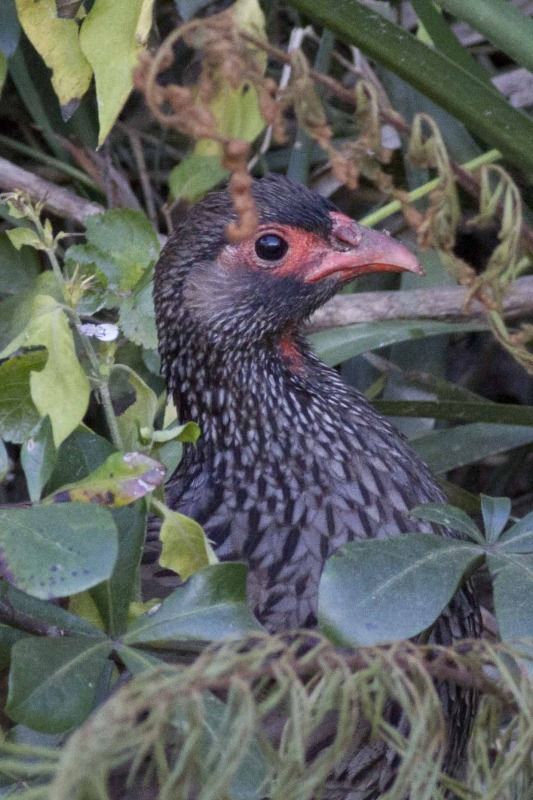 Red-necked spurfowl – No problems here with the local KFC
#8
Juvenile Burchell's Coucal- no problems here.
Quiz questions:
#9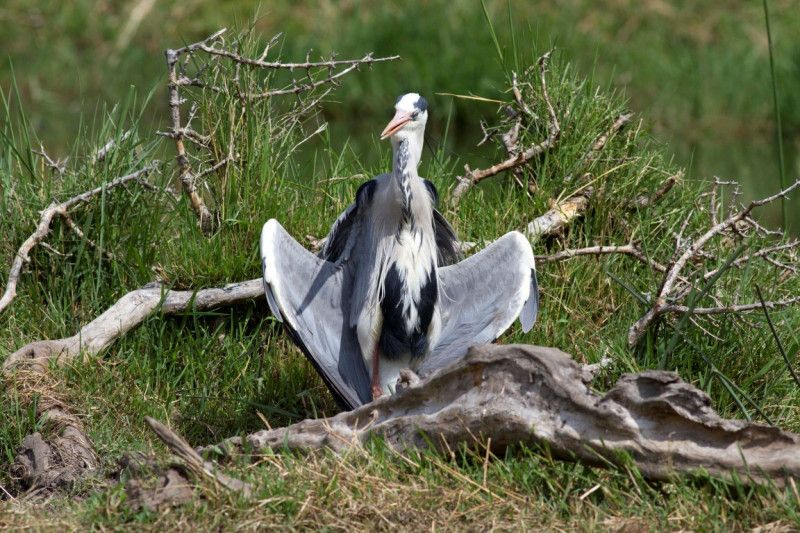 Which of these two explanations for sunbathing behaviour in this heron is incorrect?
There is a lot of speculation as to why birds sunbathe, and often different species will do it for different reasons. There is also a lot of rubbish written about it too, especially in the popular media. I used this question more as a means of stimulating thought about the way we interpret behaviour. Most of the time we are biased by extrapolating what we feel, to birds or animals, and also, we are sometimes biased by data from countries with different species and climates.
The incorrect answers were d and e. Explained as follows:
In South Africa, most birds sun themselves when it is very hot, not when it is cold. What they aim to achieve is an almost "super heating" of their body, where they sometimes have to pant in order to cool themselves internally from the heat they are collecting. The question, is why do they do this? They are obviously not trying to keep warm… its hot enough. Also feathers are a great insulator, especially when they fluff them out. Think of it, vultures can tolerate temperatures way below zero, and yet they love to sunbathe when it's boiling hot. This would eliminate options d. (Well done Shafira
). Option e. was to get you all to smile a bit
a. Drive out heat sensitive mites and parasites.
This is very feasible, as most mites will try to run from the intense heat generated by the bird, often to the extremities of the feathers, where they can be preened off more easily.
b. To straighten out and harden the feathers to improve flight.
Feathers are made of keratin like substance. Think of your nails when you get out the bath, they go all soft, and they go hard when they dry out. The heating up of feathers hardens them up, especially after a moult.
c. Warm up the preening oils so that they distribute evenly.
Think of butter in a pan, the hotter the pan the faster is spreads across the surface. Most preening oils respond in a similar way, and spread better when hot.
d. Thermoregulation
As explained above, they are birds, not crocodiles. As warm blooded creatures, insulation is very effective to keep warm. In this case the heron was photographed in Kruger in summer, so no chance of it being too cold and needing the heat to keep warm. Granted, some temperate species may need to sun themselves for this.
e. It looks real sexy to other birds when you sunbathe.
NO, well maybe, I guess if I was a bird I'd find out for sure
f. Synthesis of vitamin D
Birds also need direct sunlight for synthesis of this NB vitamin
#10
What is wrong with this tawny eagle?
D. was correct, this eagle had just caught and eaten a hare. The bulge is from the crop (1st stomach) which distends to store the extra food prior to digestion. This can be seen on most raptors after a meal. Nothing like a lekker bunny chow
a. It has a sebaceous cyst caused by an ingrown feather
b. A cancerous growth on its chest
c. It has pumped its chest with air so that its song will carry further
d. It has eaten too much
e. Insect bite
f. Wound from a territorial fighting
Read more about:
1.
Shikra
2.
Dark-capped Bulbul
3.
Buffy Pipit
4.
Southern Black Flycatcher
5.
Swift Tern
6.
Karoo Prinia
7.
Red-necked Spurfowl
8.
Burchell's Coucal