This is the results of challenge #17 of 2012. This challenge was the "easiest" ever and returned an average score of 86.4%
The results are as follows:
We had 17 'mites participating.
One 'mite scored 5
four scored 7
eight scored 8
four got all IDs correct.
#1 – Brubru
[17]
. No problems here.
#2 – Dark-capped bulbul
[15]
. Only two 'mites got snookered by the pollen face mask…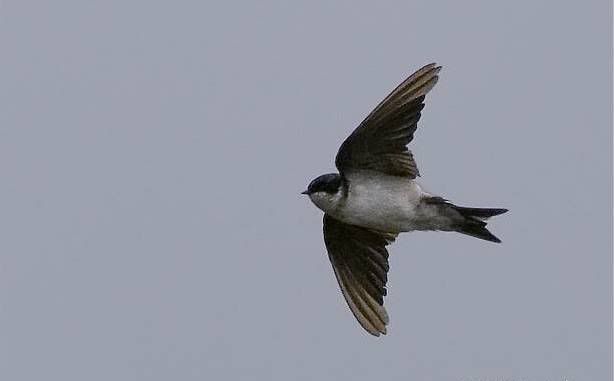 #3 – Common house martin
[4]
. By far the toughest challenge bird – thanks to
Johann du Preez
for permission to use it. The wing structure is wrong for a swift, leaving martins and swallows to choose from. The all-dark underwing rules out the swallows, except for grey-rumped. The fork in the tail is much too shallow for GR swallow and with a shot from below its
black feet
will show up well. That really leaves sand martin and common house martin as the only two martins with a V-notch in the tail. Again, the sand martin's black feet will show better, and the band across the throat widens into the shoulder, not so for our bird. It is a young common house martin, at this age it shows more brown than blue on top. At all ages the house martin's feet are covered in white feathers.
#4 – Karoo Scrub-robin
[16]
. No trouble here…
#5 – White-crowned Lapwing
[16]
. Same here
#6 – Racket-Tailed Roller
[17]
. Everyone got this and the next bird right
#7 – Three-Banded Courser
[17]
.
#8 – Blacksmith lapwing chick.
[11]
got the fluffy right.
Roan
remarked:
The background where the photograph was taken seems to be a lawn.
This is a crucial clue…
davejenny
recons Roberts' description helped him onto the right ID, but says:
"Beat About The Bush – Birds" , has a photograph of Blacksmith Lapwing chicks on page 237 which clinched it for me.
#9 – Black-headed Oriole
[17]
fooled no-one…