Day 6: Skukuza and surrounds
Once more unto the breach, dear friends, once more! Day 6 had arrived, our last full day on the roadtrip, and we were determined to make it count! That bloody boomslang we saw yesterday made a serious dent with regards to my street-cred during the night, so I was eager to shift everyone's focus onto bigger things.
(Woke up middle of the night with the tent open, and saw a small green snake poking his head into the tent....proceeded to make unmanly noises, waking up my wife....who first slapped me, then identified the "snake" as the little material string attached to the zip of the tent...bastard!)
My reputation as a camel-man (OK I'm the only one who believes that I reserve that reputation) in tatters, the coffee run started. We never got the Maroela-loop yesterday thanks to the leopard....so we decided to give it a try. (In truth, as navigator-supreme I decided, but don't you think for a minute you get the credit on a good drive, no, whereas after a quiet drive they are like a pack of Hyenas on my back)
Now I don't want to start sounding like a broken record, nor did I have any intention of calling my first trip report "Leopard spotting in the Kruger".....but I'm beginning to think that maybe I should have. My camel-man reputation might have been dead and buried since my female-like-shriek last night, but its ashes gave birth to something even better.........."Arise Sir Leopard (San Panthera), Middle child of Hennie and Ina, He of admirable perseverance and unquestionable skill in locating any panther like being in the Kruger"!!
On the Maroela-loop on a quiet Thursday morning in January I knighted myself as we came upon leopard number 3 on the roadtrip. Busy with his early morning walk in the middle of the road, he staked down his claim for the vodka-ceremony at 6:11. Now, (this really is the last time) when comparing this leopard sighting with the previous days one...well.......again there was really no comparison. This spot was no Chocolate-Vodka-Fondue...no sir....this was Willy Wonka's river featuring unlimited (limited edition) Russian Bear! Watched the bad-ass for a while until it got sick of the road, and disappeared into the bushes again.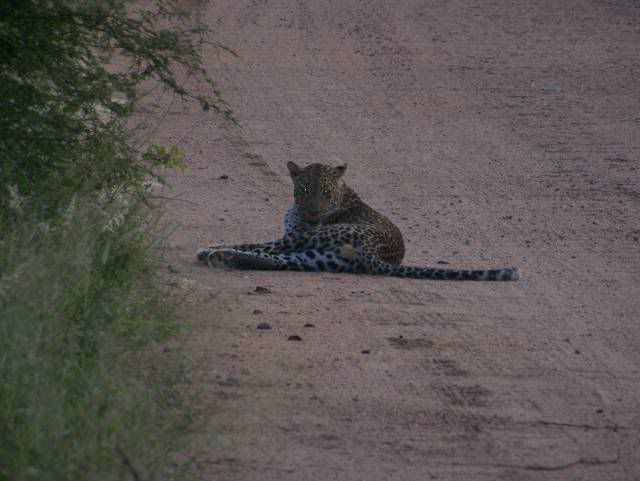 Tired of leopards, we returned to Skukuza to plan the daily long drive. We were supposed to stay in Lower Sabie on the last night, but laziness coupled with the lure of the Train-Restaurant made us change our booking. So we decided to at least visit the Lower Sabie region. Took the S30 to Mlondozi for a killer brunch/lunch, visited Lower Sabie then headed back to Skukuza. While it was a quiet trip in terms of wildlife, imagine Pajero, four persons with just the hint of a satisfied grin on their cheeks, windows down while "Born Free" playing.....much like the Jetta ad.
As free as the wind blows, as free as the grass grows (you have to sign it) we headed south from Mlondozi, Everyone content with life. Made a quick ice-cream op the deck at Lower-Sabie stop...then headed back to Skukuza for a quick nap before the afternoon drive.
Decided to try the area south of the camp....unofficially the last three days have been dedicated to breaking the "blasphemous curse of the Cheetah" or "blasfema maldición de los guepardos"...but by now we were beginning to accept defeat in this quest....so we just drove in search of anything really.....anything turned out to be a pack of around 20 Wild dogs sleeping / playing / chilling next to road!
Now Wild Dogs sightings in this group are so rare, that no-one even bothered calling it a curse..... (Like my childhood dream of hooking up with Jennifer Love-Hewitt.....there is no point in calling it a curse if you don't have a reasonable shot at slaying it) 30km away from Skukuza, 17:40....damn! Wish it was earlier, but we managed to stay for 30 minutes or so, before we had to turn back to make the gate. If got nothing to compare this sighting against...when following the apples with apples motto, I only have one apple.....so the best I could do is say it was the biggest ripest sweetest apple your grandma ever had!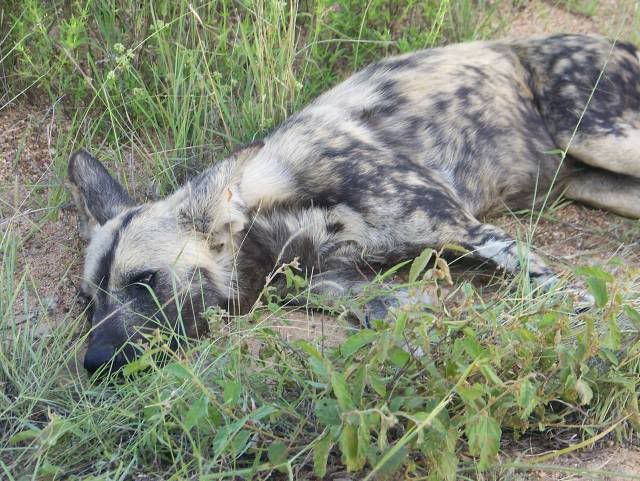 Back at camp we went to the river for the usual ritualistic behaviour of smoking a fine shop-bought cigarette with a coffee at sunset. We almost looked like those angels on the beach in City of Angels, gazing at the sun, just more tired and dirtier and in no way resembling any similarities in anything.
We went to the Train restaurant (what a place) for a great burger, a few gins and the final best-spot ceremony. Titanic vs LOTR: Return of the King as two heavyweights shared the spoils, with some leopard-obsessed group members unable to see the magic of the Wild Dogs. The Bush Babies even got an honourable mention tonight...but had to settle for 2nd princess.
Our last full day (although we were intent on stretching the final one out) came to an end with a final coffee/cigarette combo (During the week this combo sentence got too long for everyone to repeat 13 times a day, so it was just renamed "a number 3") and we planned our final day on the Roadtrip.....We still had to say a sad farewell-ceremony to attend the next day.