While having a look in the diary of the last KTF - Trip, I was reminded on a very special day in the park:
I started at Nossob at 5.20 a.m. The days before were a glorious mess because of the fact that all four tyres of the car were badly punctured by acacia thorns. The only intact tyre was a buy from the workshop of Nossob Camp – luckily they had a small 155R13 for my rented City Golf. There was nearly no profile on it, but I had to be happy about it!
Certainly the friendly guys at the filling stations did their best to repair things – a difficult job, but well done under difficult circumstances. They were not sure about the spare wheel – they found more punctures (eight!) than repair patches were available in the whole camp…
Well, for the first time after 16 years I was not too sad when I had to leave a National Park. Frankly spoken, I was bad tempered, really bad. Imagine a puffadder disturbed from her midday nap.
At the gate I found five other cars heading south. Our convoy stopped after some 500 meters; three male lions where lying a the edge of the road. It took me some time to pass the other cars. Four scandinavian tourists in a stinking landrover shook their heads about that funny guy who didn´t care for big cats. But now there was nothing beween me and the workshop in Upington only 260 more kms to go.
Close to the southern dune road I saw somethin slender right on the middle of the road: Two fighting Cape Cobras.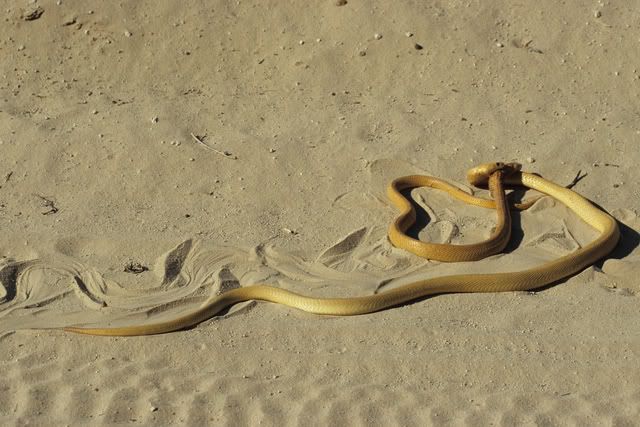 Obviously one of the snakes was already injured. But no attempt to escape was successful;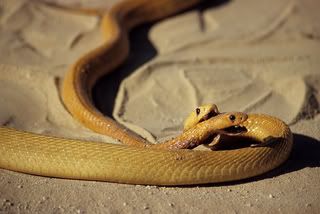 The other cobra took a strong bite on the head of her victim and tossed her on the side embankment of the road. The movements of the battered snake became more and more weaker.
Finally she was dragged into a bush.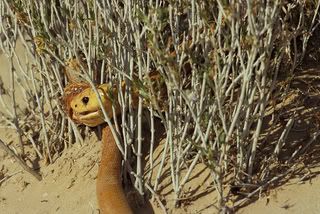 The most impressive thing was the absence of noise in this duel apart from the movement of two slender bodies in the sand....