First off: Thank you so very much for your kind permission to use your excellent photographs in the last two challenges,
Steve Garvie
.
This is the results of challenge #19 of 2012. This challenge was jointly the "toughest onet ever", returning an average score of 56.4%
We had 20 'mites taking part.
The results are as follows:
One 'mite each score 2 and 3;
Four scored 5;
Two 'mites scored 6;
two 'mites scored 7;
two 'mites scored 8;
four scored 9;
three scored 10;
and the best score was 11.
Thanks again to those 'mites who so diligently add explanatory notes with their IDs.
#1 – Common cuckoo.
[12]
Nobody confused this bird with anything else other than African Cuckoo. Judging the extent of the yellow / black on the bill is a subjective exercise and should be undertaken where possible using photographs to make the comparison. The image below is of an AC… note the difference in the extent of yellow / black on the bill. Our challenge bird is clearly a common cuckoo.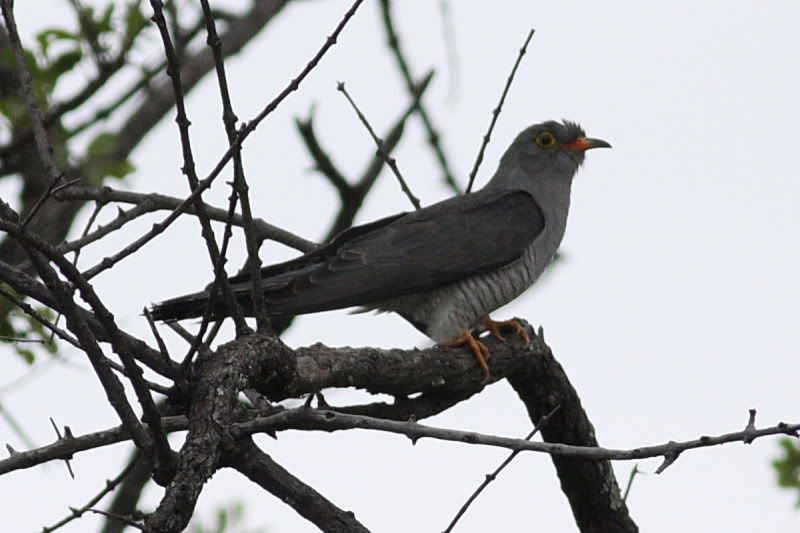 #2 – Yellow-throated sandgrouse, female.
[17]
. The few 'mites who had this one wrong thought "Namaqua"
#3 – Tropical boubou
[3]
. This was a very tough bird to ID. Fiscal flycatcher, common fiscal, Southern Hyliota, Black-headed apalis and Jacobin cuckoo were some of the other thoughts… If you got the boubou-bit right, the extent of white / pink was again a subjective undertaking. A hint of pink is enough to make the call "Tropical".
#4 – Common whitethroat
[15]
. Most 'mites had this one right.
#5 – Plain-backed pipit
[12]
. Your pipit ID skills are coming along smartly!
All except one 'mite got the pipit family.
pantera leo
suggests that
the back of the bird is plain and not streaked; the back is also quite dark in appearance. The base of the bill is yellow and the bird appears to carry more weight in the belly region.
#6 – Gabar goshawk, melanistic
[19]
. No trouble here…
#7 – Olive thrush. Although only
[2]
'mites got this answer right, the other answers were mostly "Karoo" which was the most likely bird according to the ID features one can see in this photograph.
mel123
thought
the lack of black nostril (this is definitely yellow) indicates that it might be a Karoo thrush, but the orange flanks as opposed to grey points to Olive. Lack of malar stripe eliminates Kurrichane. The eye-ring is more Karoo, since it is definitely paler/orangey instead of brownish. So bill and eye look like Karoo, flanks look like Olive. However, the flanks apparently vary quite a lot regionally in terms of the amount of grey, so I'll go with Karoo on this one. The throat area with less heavy streaking supports this.
Her confusion was much mirrored by other equally confused 'mites.
The challenge photograph was taken of an olive thrush on edge of Montane forest in Mount Kenya NP, Kenya. When I saw the striking confusion that is contained in this bird, I just had to share… Nowhere in Southern Africa are you likely to run into a similar issue.
My apologies for not giving more information. It was specifically done to get everyone
reading up
about these
thrushes
.
Bonus points:
Quite a few 'mites battled to understand the questions which all had to do with the birds in the challenge. I thought they would realize this and be guided back if they made ID mistakes. Not so…
BQ#1 – Which of these birds are brood parasites: Common cuckoo
[12]
. Obviously if you made an ID error in the beginning, this answer would also be wrong.
BQ#2 – Which of these birds are its host: Common whitethroat
[5]
. More than 100 host species have been recorded as host for the common cuckoo, but only a handful are regularly used as host. The common white-throat is parasitised only occasionally.
BQ#3 – Which of these birds lay the strongest egg? Yellow-throated Sandgrouse.
[8]
.
adrianp
writes
In general, the larger the egg, the thicker the shell. Eggs measure 42-43 x 27,5-33,3, weighing roughly 25g; (39,6 x 31,1 in Gabar Goshawk).
That is true and in this case the sandgrouse won against strong competition from the cuckoo that has a reputation for having a tough egg, often measured to be 220% stronger than another (host) egg of similar size.
In spite of cuckoos being so much larger than their hosts, they mimic the host egg in both size and colour. A non-parasitic cuckoo of similar size would have an egg with 10g mass. The common cuckoo lays eggs that weigh as little as 3.0 g. However, the size difference was just too much for the cuckoo egg to win.
BQ#4 – Why is the stronger egg needed?
[8]
.
In a sandgrouse there is evidence that their eggs are slightly stronger than other eggs of the same size. This feature is due to the heavily marked egg (camouflage) being strengthened in the marking process that actually happens during laying! It is required to survive the harsh nesting environment – a scrape on the ground.
In spite of the cuckoo coming second in the egg arms race, I agree with
adrianp
that the cuckoo egg required further reading, just for fun!
adrianp
writes: [i] I did some further reading. In the specific case of the whitethroat host, which is not the usual host of the cuckoo, the whitethroat is less able to puncture the egg to remove it, and being unable to break and remove the egg, will eventually accept it. This is not true for the great reed warbler, which is the normal cuckoo host, and is able to puncture and remove non-matching cuckoo eggs from the nest, so puncture resistance is not a proven reason in a normal situation. So, I agree with some researchers, that the reason for a stronger egg in cuckoos is to expand its host range to other species. This is not limited to other proposed advantages of stronger eggs, e.g. If you need to shoot them out in a hurry to avoid being mobbed. If they land on the other eggs and break them like dropping bombs (great spotted cuckoo eggs can destroy magpie eggs in this way). Or if in utter frustration of the host trying to remove the foreign egg, the host lands up destroying half its own brood in the process, and makes an omelette with its own eggs.
BQ#5 – Which of these birds can eat toxic caterpillars?
[16]
.All cuckoos are capable of eating hairy or spiny caterpillars that are toxic to other birds. They are even capable of periodically shedding the inner lining of their stomachs to which these spines adhere.
BQ#6 – Which of these birds is closest related to a warbler? The whitethroat
[13]
is a warbler!
I'm still not sure about this format… I sense lots of effort but the feeling of achievement is lacking. When that happens I must examine my part in this team performance… after all, the idea is for promoting growth of birders. I now have to be very careful in reporting the results; for the quality of the information shared will be the determining success-factor. Don't be "gentle" with me if you disagree about the new format and the toughness factor…