Southern Carmine Bee-eater (Merops nubicoides)
These two was photographed on the S100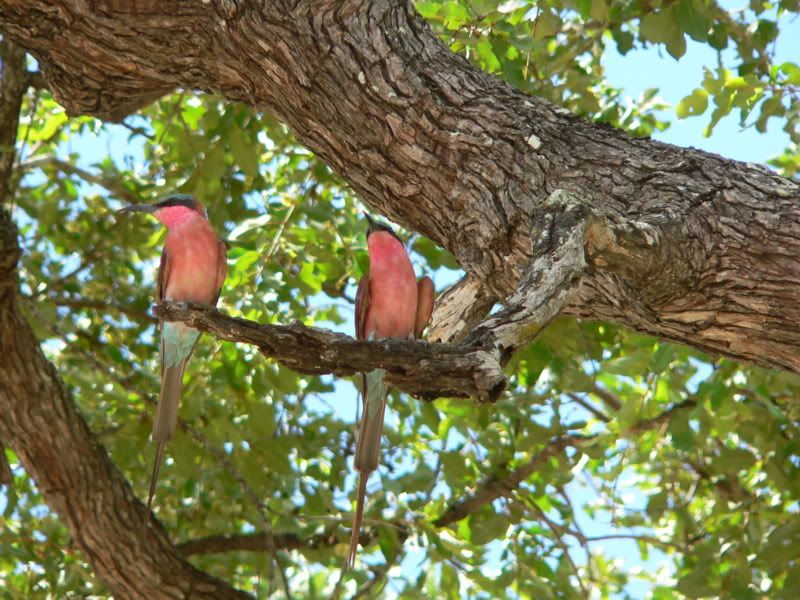 Other names:
Afrikaans: Rooiborsbyvreter
French: Guêpier carmin
German: Scharlachspint
Dutch: Karmijnrode bijeneter
Dressed in carmine-pink, with turquoise cap and vent, this is one of Africa's most striking birds. Colonies of up to a thousand breed in embankments along the Zambezi River and its tributaries, then disperse south or north. In addition to bees, grasshoppers and dragonflies are among the favoured prey items. In northern Botswana, the Southern Carmine Bee-eater has been seen to ride on the back of Kori Bustards which inadvertently flush insect prey. Flocks are attracted to bush fires, where fleeing insects are snapped up in the smoke.
Size & Weight
26-36cm and ± 61g
Identification
This Bee-eater is unmistakable, most of the bird is a red colour, crown and undertail covert are blue
Distribution
They are found in Northern South Africa, Zimbabwe, Mozambique, Northern Botswana and North Eastern Namibia
Status
Locally common resident
Habitat
In the Lowveld area especially in the major river systems and floodplains
Habits
These birds are highly gregarious. They hunt insects from a perch over a river or from a telephone line
Food
Large flying insects
Breeding
When: August to November
Nest : A burrow in the side of a mud bank
Clutch : 2-5 Eggs
Incubation : Unrecorded