Mocking Cliff-chat (Thamnolaea cinnamomeiventris)
Described by:
Lafresnaye (1836)
Alternate common name(s):
Bambara Cliff-chat, Abyssinian Cliff-chat, Ethiopian Cliff-chat, Common Cliff-chat, Cliff Chat, White-crowned Cliff-chat, Crowned Cliff-chat
Old scientific name(s):
Myrmecocichla cinnamomeiventris
My first record of this bird was at a resort very close to
Mapungubwe Game Reserve
. I know that DvZ mentioned seeing this bird at Shimuwini before and Johann has seen it at Mopani. Richardharris and WTM also named Mopani and Olifantscamp as good places to see the bird. There are also photo records of this bird from Marakele on this website of both a
male
and a
female
. Any other reliable sites in any of the SANParks were people can look for this bird? And how common would you say they are in Kruger. Must admit I've never seen them in Kruger before.
I think that the specie name
cinnamomeiventris
is a very good description of the bird indicating – cinnamon coloured ventral side (stomach)
Identification
Male : Mainly glossy black, except for bright rufous rump and belly, and white patch on the wing.
Female : Slaty black head, back, wings and tail, deep chestnut where male is bright rufous, no white patch on wing.
Weight & Size
48 g
20-23 cm
Call
Fine rich song
Distribution
Found in the western parts of Mozambique, Zimbabwe and the eastern parts of South Africa
Status
Common Resident
Habitat
Well wooded rocky gorges and boulder strewn hillsides
Habits
Usually in small groups
Runs quickly over the ground, rocks or thick branches, sometimes with tail raised
Forages by dropping to ground from perch, or searching branches for fruit
Food
Insects and fruit
Breeding
August to December
Nest : A bowl in a hollow on a foundation of coarse plant material
Clutch : 2-4 Eggs
Incubation : Unrecorded
Photos
Male bird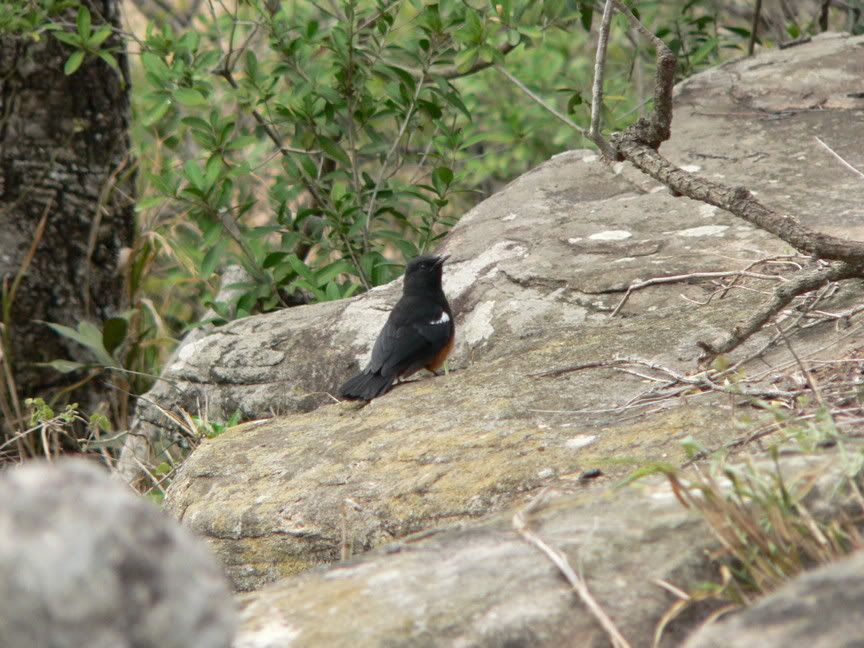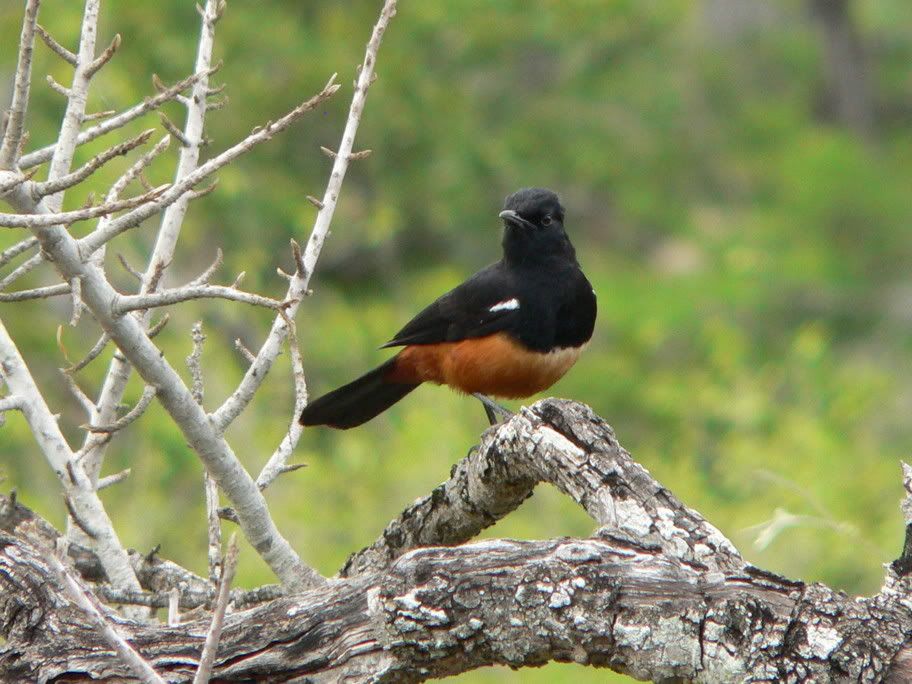 Female bird (not a very clear photos)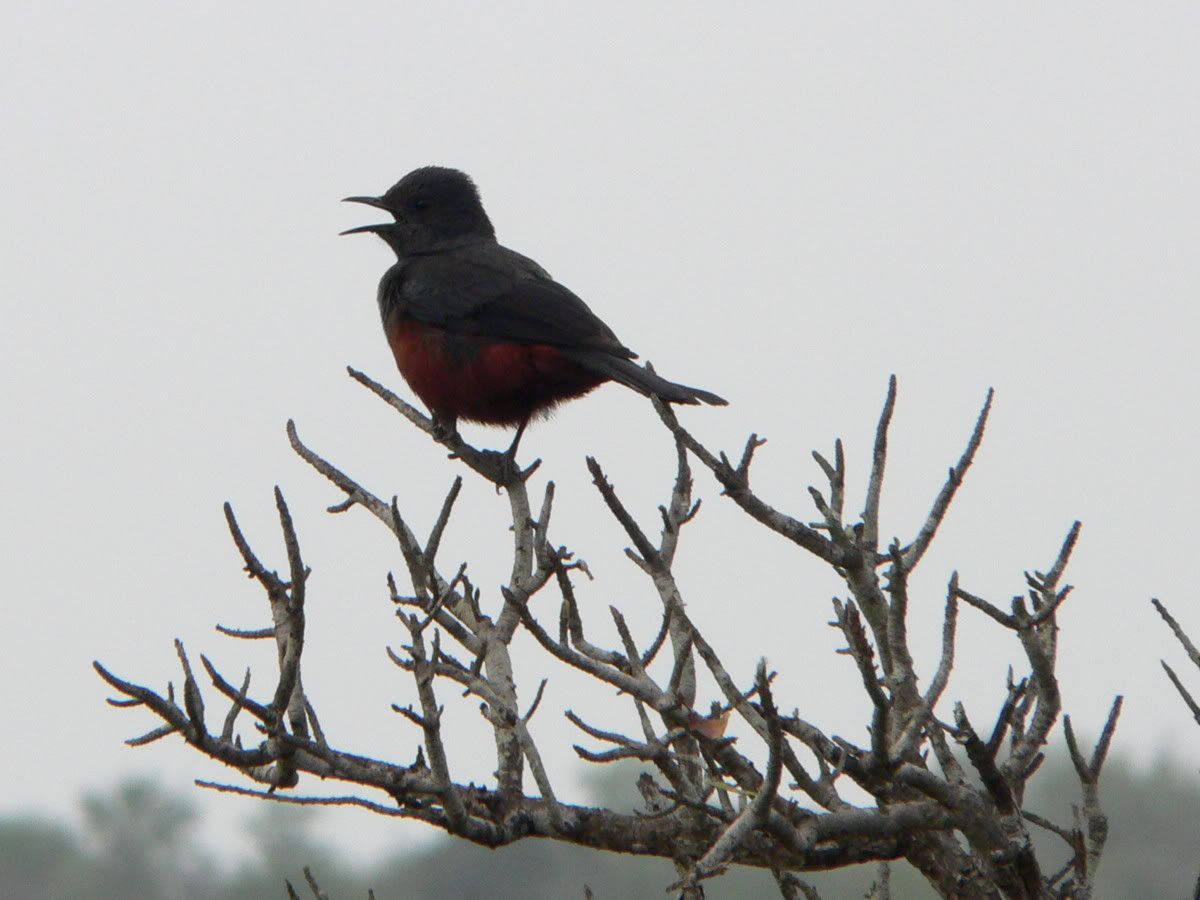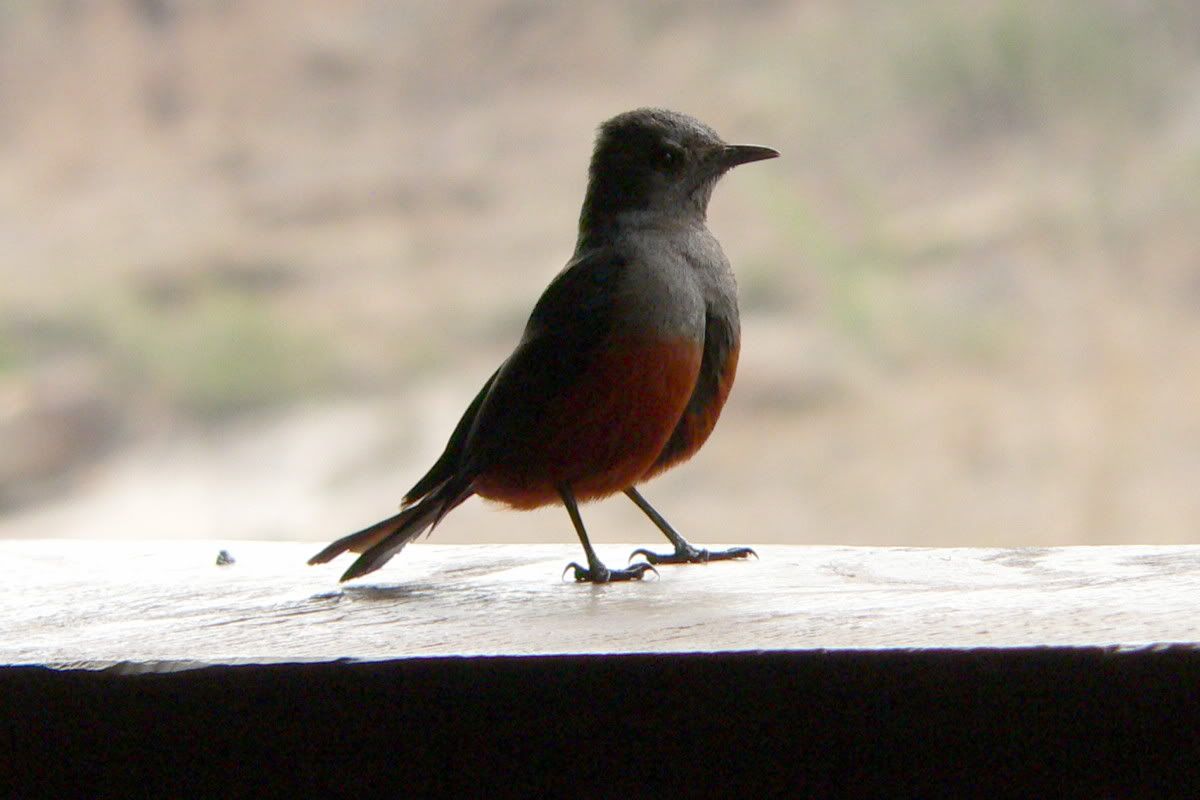 The type of habitat the birds above was found in