African Rail,
Rallus caerulescens
Physical characteristics:
The African Rail is a distinctive bird with a long, slightly decurved bill, legs and feet dull-red, blood-red eyes, a white chin, blue-grey foreneck and breast, black-and-white barred flanks and undertail and dark chestnut upper parts.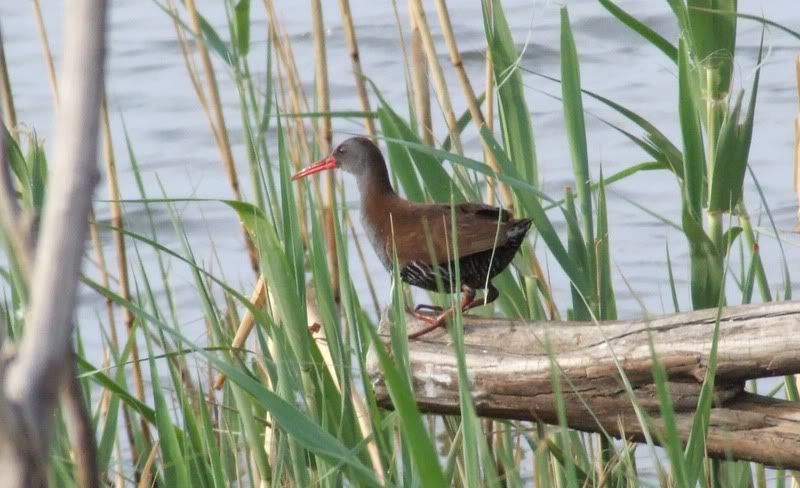 Distribution and habitat:
Wide-spread in the "wetter" parts of Africa, so too in Southern Africa. The AR is a resident bird with movement in response to environmental conditions. It keeps to reed beds and dense growth in perennial swamps and marshes.
Behaviour:
Usually found in pairs, sometimes alone. It is active throughout the day, occasionally calls after dark. Bold when in dense vegetation, allowing observers a close approach. Stands upright when alarmed, freezes. AR can swim well. Flies low with dangling legs.
Territorial disputes are regularly seen when two birds face each other in an upright stance and attack by jumping and pecking at each other. Normally the African Rail does not defend territory against other breeding bird species.
Diet:
AR forages in shallow water at the edges of reed beds for earthworms, spiders, insects, crabs, small frogs and fish. Also eats plant matter, including seeds. Sometimes scavenges.
Hunting technique:
Probes deeply into mud and grass tufts, immersing head and neck to catch prey.
Breeding and nesting:
Monogamous, territorial and solitary nester. The nest consists of a shallow saucer constructed with available leaves and stems, well-hidden inside sedge tufts. Seems to nest throughout the year. Lays 2 – 6 eggs at daily intervals. Both parents share incubation duties that lasts 20 days. Sometimes relays after failure.