Challenge #3/July 2012
Good afternoon Ducklings, with this cold weather the challenge and answers are going quite slow but here we go. We had 6 participants for this weeks challenge of which 2 scored 10/10, 2 scored 9/10, 1 scored 8/10 and 1 got 6/10.
Herewith the answers and explanations:
1. Emerald-spotted Wood-Dove
Green spots on wings reflect in direct sun, also an all dark bill.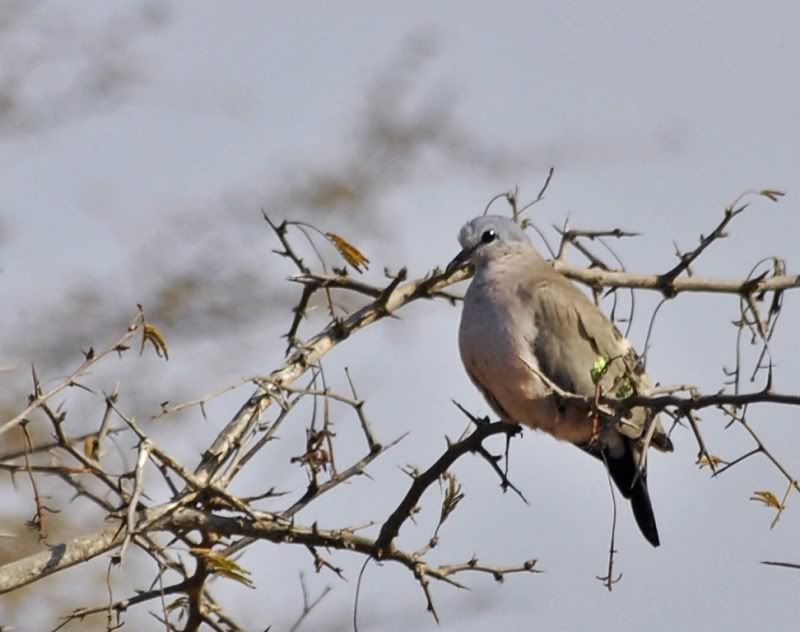 2. Southern White-faced Owl
Overall grey appearance with black streaks and a white facial disk. Normally the eyes present orange but the angle and the early morning sun might be playing tricks with the camera. Some did opt for Spotted Eagle-Owl but the size in relation to the leaves and fruit of the Bushwillow is off.
3. Yellow-billed Stork
Large, mostly white bird with long yellow bill.
4. Bearded Scrub-Robin
Rufous markings on the breast and flanks combined with bald black and white head markings and a "broken" wing-panel.
5. White-headed Vulture
Perhaps a bit deceiving seeing as this bird is still an Immature so the head has brown not white feathers/down, but the head is not bare and red as would be seen in Lappet-faced Vulture.
6. Red-billed Oxpecker
All red bill with a conspicuous yellow eye-ring.
7. Lilac-breasted Roller
Lilac throat and breast with blue belly.
8. Lesser Masked-Weaver
Face mask almost non-existing due to the fact that the bird is in non-breeding plumage. To identify to species level one would take into account the dark horn-coloured bill combined with the blueish-grey legs. The birds also have a pale eye.
9. African Barred Owlet
Barring on the head, throat and upper-breast with tear-drop shaped blotches on the belly.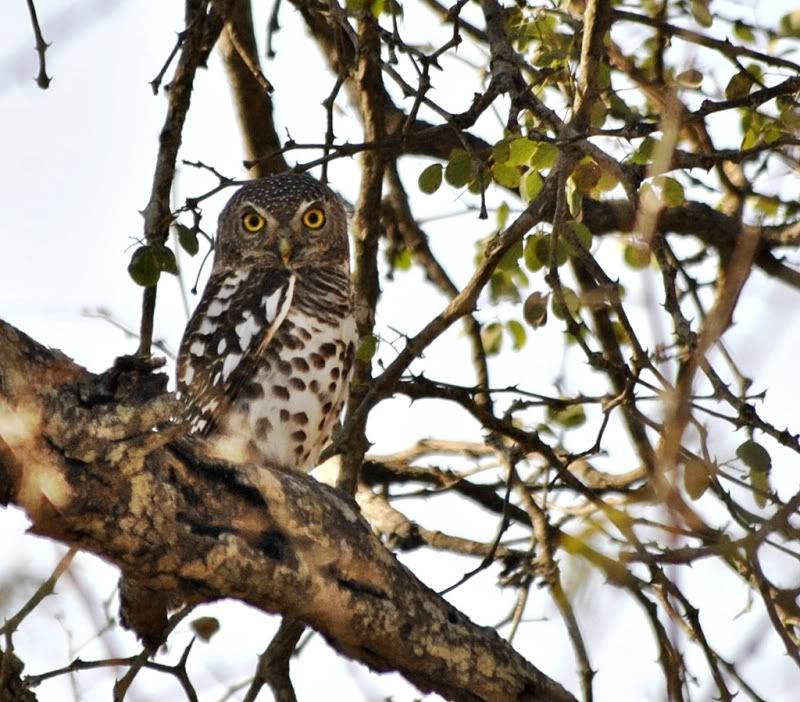 10. Yellow-breasted Apalis
Combination of the yellow breast and red eye is diagnostic.