Hi There,
Came across this springbok with two calves near Monro in the Kgalagadi, Oct 2012, apparently a fairly rare occurrence?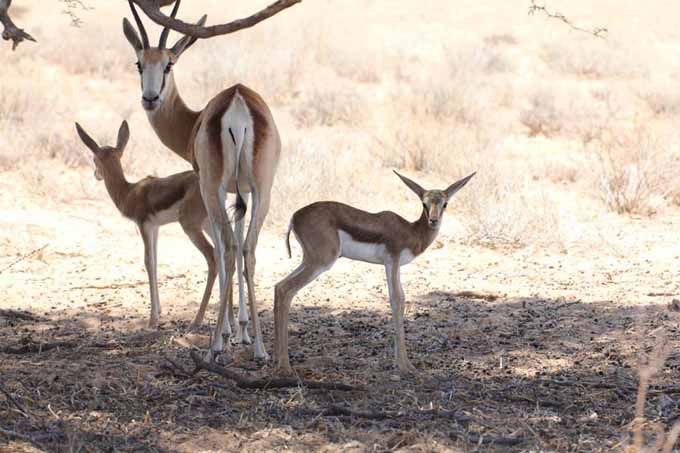 Mike
---
Legendary Virtual Ranger

Posts: 9602
Joined: Sat Feb 18, 2006 10:36 pm
Location: Lausanne (Switzerland)
I've got approximately the same, end of September... and I was not sure if they are twins
It is only with the heart that one can see rightly, what is essential is invisible to the eye
Le Petit Prince
planing KTP janv/fev.2016
---
Twins or not - they are very cute
---
Legendary Virtual Ranger

Posts: 8321
Joined: Thu Jan 20, 2011 8:58 am
Location: Far South in South Africa.
Mikegoose, she looks like a proud Mom
"Lose yourself in Nature and find Peace!" (Ralph Waldo Emerson)
UNITE AGAINST POACHING...What we protect,
do not let poachers take it away!
Extinction is forever and survival is up to---every last one of us!
---
Junior Virtual Ranger

Posts: 1141
Joined: Fri Nov 19, 2010 5:11 pm
Location: 45 mins from Punda Maria
Contact:
Mikegoose.
You must be really lucky to come across that. I have never seen Springbok in thw WILD. Because I have only visited one National Park my whole life which happens to be Kruger.
---
Morning all, just got back from KTP - had an amazing time with wonderful sightings. We sat near urikaruus
for an hour and a half watching 3 springbok give birth. Will post pic as some as I have them sorted.

Eventually we counted groups of 5-9 babies together a day or 2 later. However, the leopard and cheetahs feasted well and we saw the same leopard with 3 different kills (these new born babies) in 3 consecutive days. This not to mention the cheetah in the same area.
Travel Reports:
Through the eyes of a couple: KTP won
!Xaus Lodge: A brief story.
---
---
Who is online
Users browsing this forum: No registered users and 2 guests