We saw these two about 3k's N of Houmoed on Wed 20th June. When we came back to TR after spending some time at Nossob we were told by a few people that there had been a leopard on a kill in a tree right next to the road the whole of the previous day but that it had gone by the time we arrived that Tuesday afternoon. Needless to say we were rather dissapointed but hey, its the Kalahari and we know that timing is everything ...
We decided to do the Leeudril 4x4 trail after our morning drive on Wednesday ( I drove it and it was BRILLIANT ) and we headed north towards Auchterlonie for tea - needless to say we never got there ... Elf spotted a few spots in a tree ... we stopped ..... and she came down and we spent about 45 min with her all to ourselves before the next car arrived ...
Cagn ...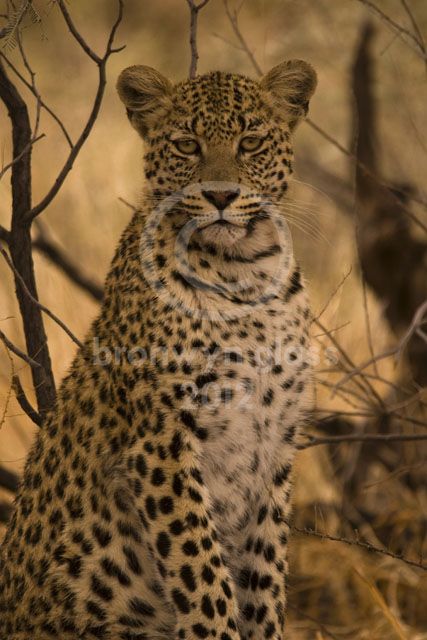 and while we were watching her I suddenly looked up and there about 50m away in the road in front of us was ...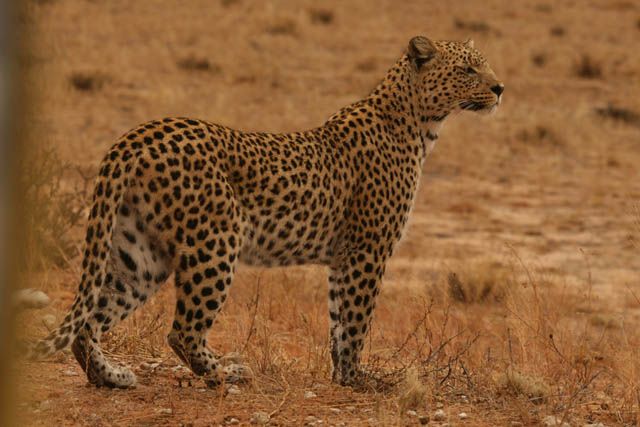 Cagn's mother - the Auchterlonie female
We only managed to get a few shots before she wandered off across the riverbed. Sorry about the side of the car in the shot - too many photographers in the same car !!!
We originally thought she was smaller than Cagn but in retrospect Cagn might have just looked bigger seeing as she was about 5 metres away from us and her mom wasn't . The light was pretty bad at times - we had 3 days of rain and this was one of them ....
Fabulous fabulous ... ( oh yes, and on the morning drive we had 3 cheetahs and after the leopards, 2 different lion sightings - 1 + 7 ) LOVE THE KGALAGADI