OK, I know some of you will think I needed my head examined going to Kruger over the Easter weekend but we all learn from mistakes …
I admit, the long weekend itself was busy and I can't remember the number of times I lost my temper on the roads when cars would flash headlights or "beep" me, then overtake and look at me as if I was doing 50kms on the outside lane of the N1.
But I was in Kruger … need I say any more!
I left Pretoria on the morning of Wednesday 04 April and was in Malelane by late-morning. I decided that instead of going in at Malelane Gate I'd continue in and go in at Crocodile Bridge, make my way up to Lower Sabie, check-in, then go out on a late afternoon drive.
Going over the bridge entering the park there were the usual hippos, crocs, and Egyptian Geese in the river, as well as a pied kingfisher.
I went into the Reception at Croc Bridge to check in but was told that I could go straight to the gate and check in there … it seems to be different rules at every gate. Anyway, I was checked in at the gate, given my Entry Permit, and back in the park again!
It's strange … it seems that I'm always so selective when I first get in to the park … my sightings list reads "impala, wildebeest, zebra, warties, grey heron, hippos, tree squirrel, wooly necked storks, and vervets" before there is evidence of a sighting!
I'm not sure if it is cause I'm being selective … maybe it's just I'm so preoccupied with the sightings and taking it all in …???
Anyway, after seeing the animals that I listed above I saw an ellie and took a photo!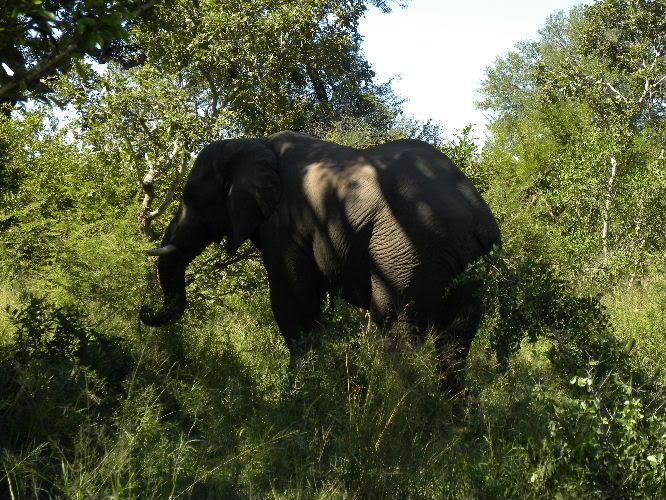 It was a hot day and sightings were few and far between.
A little further up the H4-2 a pair of beautiful birds that were flitting about in the trees. The colours of their yellow bodies, red beaks, and black head and wings was really striking. They looked like huge weaver birds. They moved so fast and the foliage was thick … this is the best photo I got …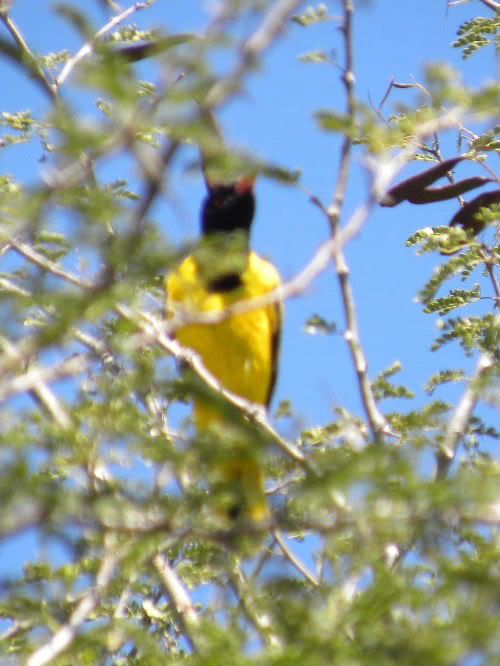 I think it might be a Black-Headed Oriole???? Stiffnecks?????
Further up when the bush opened up I could see Mr Fish Eagle sitting on his usual perch overlooking the Sabie River …
I got to Lower Sabie, checked in, went along to my home for the next 10 nights and unpacked. Time for a cold Savanna ; I sat in the shade of a tree where I spotted this little guy …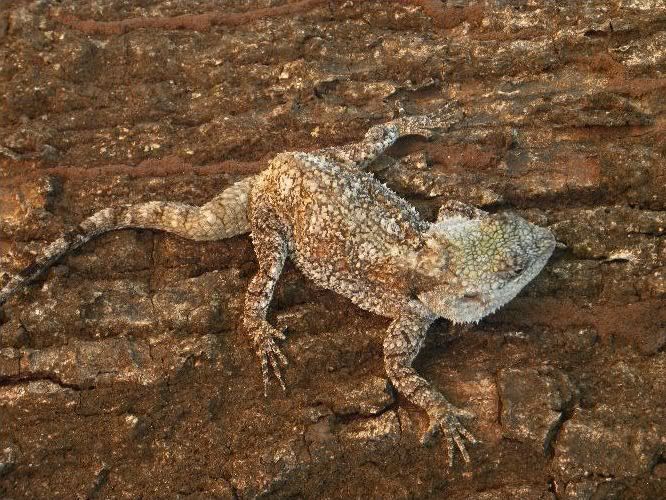 At about 4pm I decided I'd go and see what was happening in the park.