One of my favourite things about Marakele, besides the fact that it's situated in the heart of the majestic Waterberg mountain range is that the camps are unfenced. Well, at Bontle Camping Site there's a token line of knee-high poles demarcating the camping area beyond which humans may not step. However, the animals don't recognise these stumps as any kind of barrier so they come wandering in, especially at night. On stepping out each morning, one has to tread very carefully for fear of landing in a fresh crop of dung or disturbing a lizard in its burrow.
Returning from a game drive on our first afternoon, we were surprised to find a large male rhino chomping away on the grass right in the camp. Apparently he'd been roaming around for two hours or so. We were presented with the perfect picture of peace: campers lounging in their chairs watching the sunset, glasses in hand, and the gentle grey giant weaving his way between them.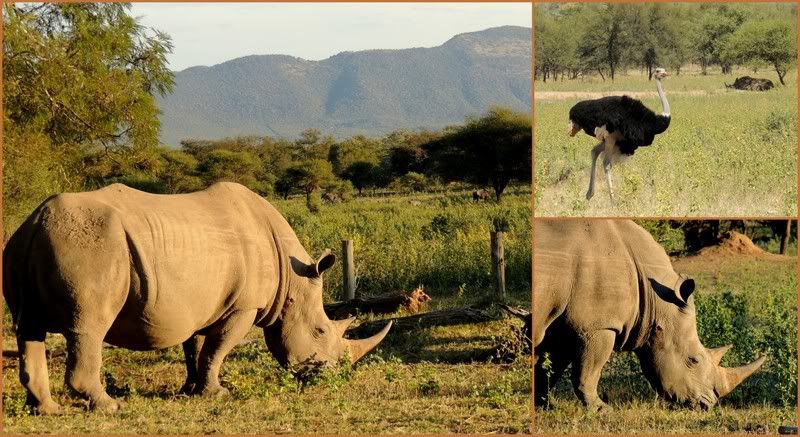 That was until some silly tourists decided they wanted a close-up pic of themselves and the rhino. As mom, dad and teenage daughter took turns posing they slowly inched their way closer and closer to the grazing body. Suddenly, he decided they'd overstepped their mark. With a derisive snort and a stamp of his foot, he charged. Dust flew into the air and the tourists fled for cover behind the nearest tree. Luckily for them, it was a mock charge only! Hope they learnt their lesson.
Sadly, it looked as though our resident rhino had been in the wars as he had a wound on his neck. He seemed to be approaching his senior years and was most likely ousted by a younger, more virile bull. Perhaps he viewed the camp as his retirement hang-out.
Ostriches are quite at home in the camp too. We watched one lady peck her way from site to site, fluttering those long eyelashes, looking for forgotten tidbits on the ground. On our previous visit she'd trailed a brood of hungry chicks but by now they'd all grown up and left home.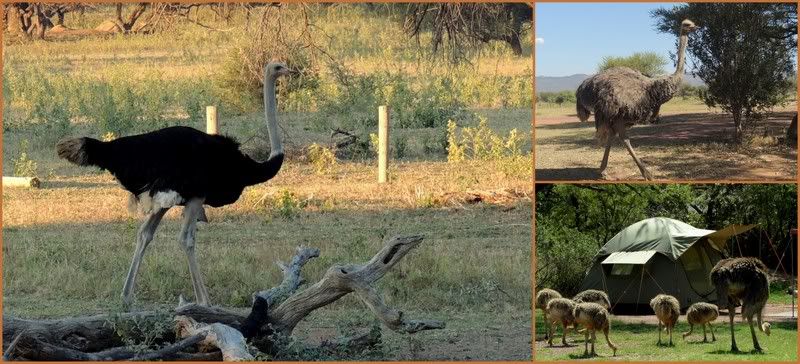 A couple of noisy guinea fowl arrived each morning to check the braai grids for leftovers.
And hornbills screeched and hopped about after them.
We enjoyed spending a relaxing day in camp, waiting for the game to make their way to the waterhole just a hundred or so metres beyond the poles. Why go chasing them around the Kwaggasvlakte when they will happily come to you?
Even better is the endless entertainment provided as they splash about.
Being the rutting season, the male impalas were in fiercely competitive mode, chasing one another round the arena at the waterhole. Occasionally, there'd be the clashing of horns as bodies writhed and twisted in serious combat. Raucous grunting noises rumbled late into the night. That couldn't believe that these normally placid animals now sounded like ferocious beasts.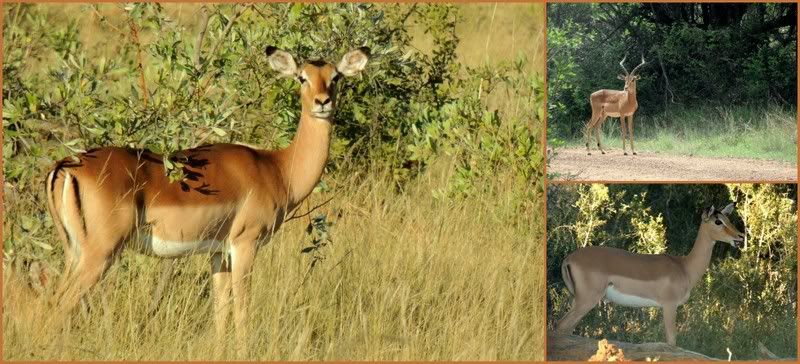 Wildebeest ambled down for a drink in rows, never seeming to rush. With no predators on this side of the park, they had nothing to feel threatened by. Zebra, some heavily pregnant and others proudly showing off their young, streamed in too.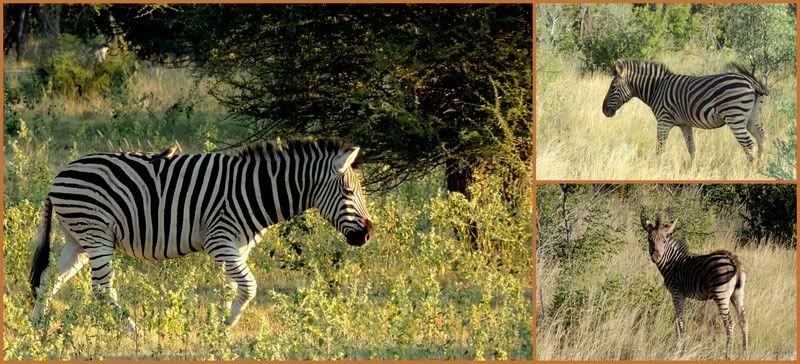 And, I was in warthog heaven. Pumbaas, big and small, were everywhere. One just had to follow their aerials through the grass as they trotted to the water. They seem to breed especially well here as all moms had large families. We counted one with nine healthy and mischievous piglets!
To be continued . . .