Saturday 14 April
I was up, packed, and at the gate ready to leave 5 minutes before the gate opened! Hyenas were whooping and lions were roaring – it's so difficult to tell exactly where the noise is coming from though …
I decided I'd leave from Malelane Gate and would get there via the S21.
A quick stop at Sunset Dam and I put hippo, grey heron, and a Giant Kingfisher on to my sightings list for the day. Further on and I added impala, white back vultures and bushbuck.
At the natural pond on the S21 ellies appeared out of the bush for an early morning drink …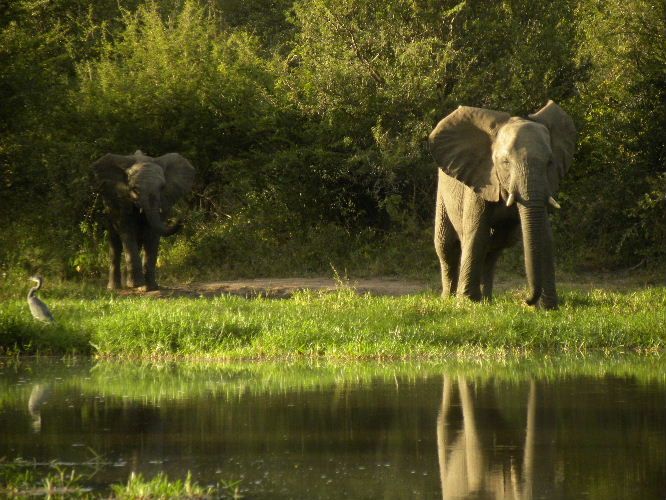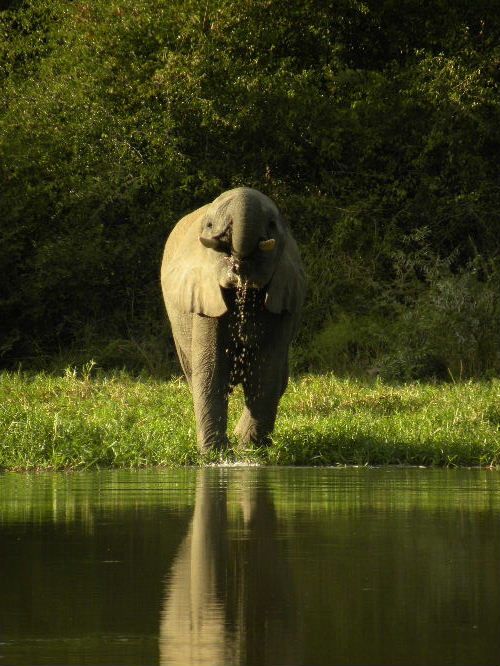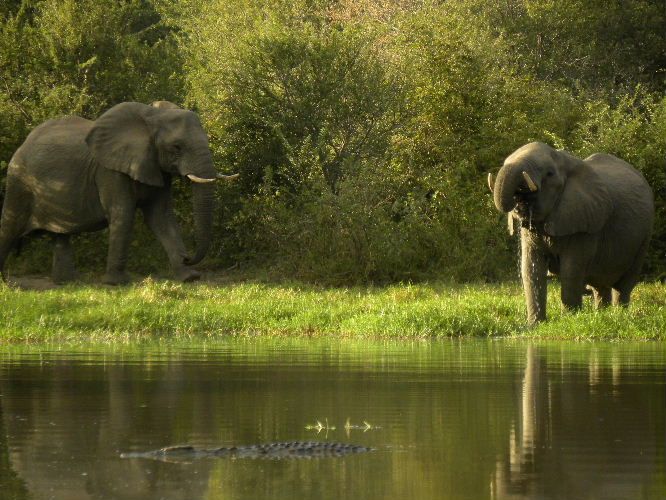 Further on and a single buffalo crossed the road in front of me …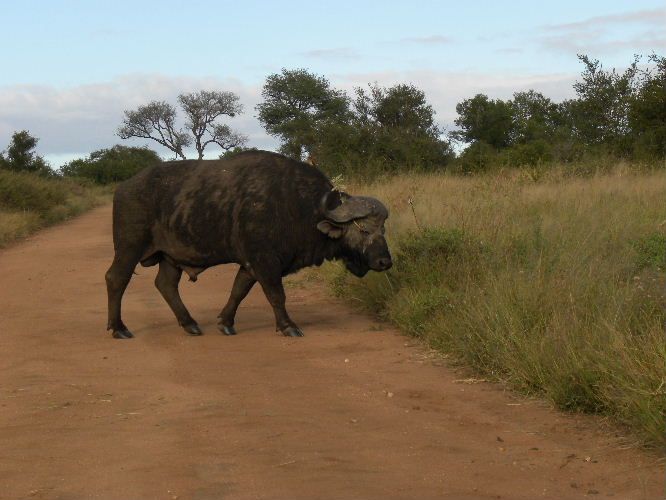 Other buffalo should note the new fashion accessory for summer 2012 … a piece of grass placed strategically behind the right horn!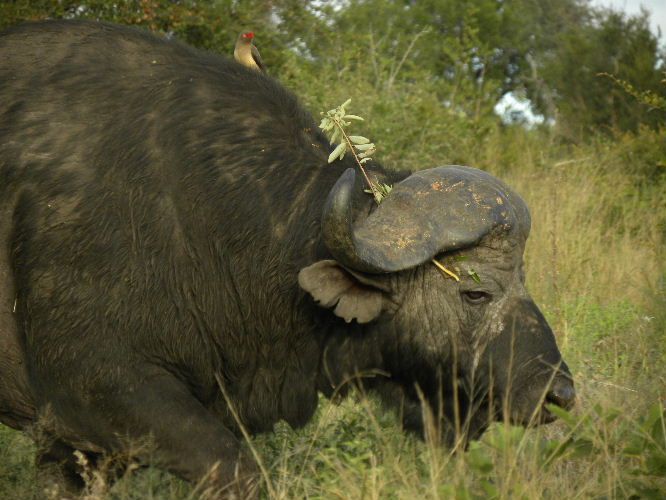 A jacobin's cuckoo …
and a klipspringer enjoying the morning sun …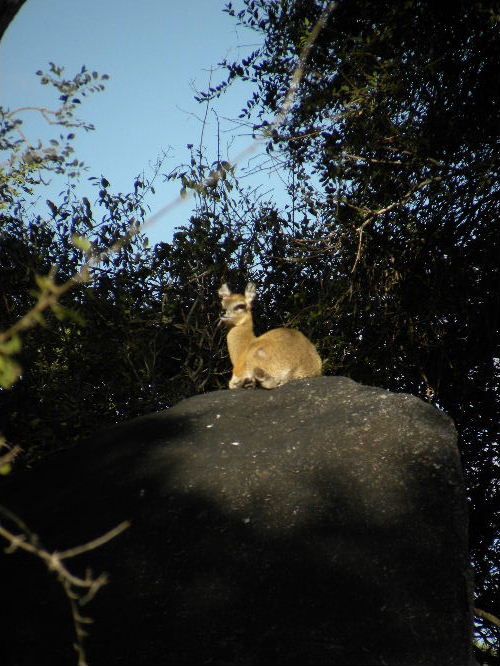 At the end of the S21 I turned south on the S114 but when I got to Biyamiti Weir found that it was still closed.
Mr Croc was enjoying the peace and quiet, as was the Goliath Heron and the hippos…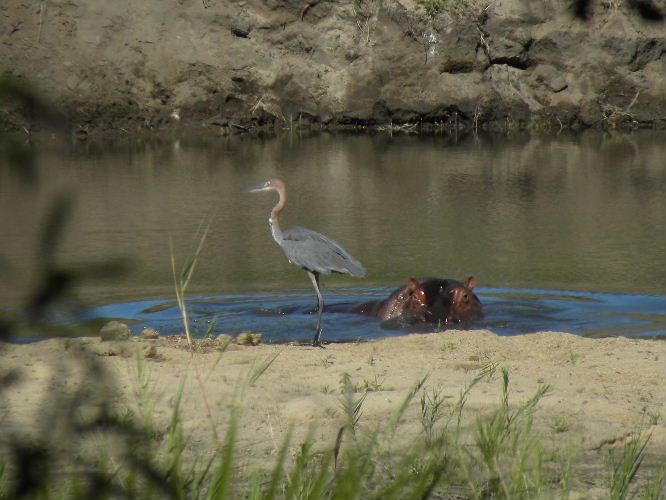 I drove along the S23 which runs along the Biyamiti river - lots of general game was about – impala, kudu, waterbuck, giraffe, zebra, etc. Then, around the corner, not what I wanted to see …
I reversed quite a way and waited patiently till the ellies decided to make their way into the bush …
At the junction with the S113 and the H3, 4 ground hornbill …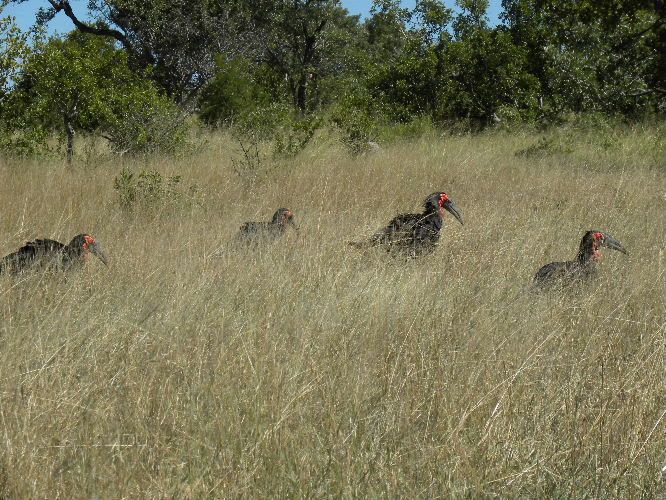 I pulled into Afsaal briefly and parked up right next to Dikdikkie and her friend who were also leaving the park. We had a brief chat then sadly continued on our way out of the park.
It had been a brilliant holiday, despite the crowds over Easter. I hadn't eaten any chocolate Easter Eggs, but what a lot of SPOTS I'd had!
It hadn't rained ONCE the entire time I was in the park and I couldn't help think that I could have camped after all (remember, I DON'T DO camping in the rain!). My next trip was booked for June and as I'd been enjoying the accommodation at Lower Sabie so much, I was booked to stay there again. BUT I MISSED CAMPING!!!
Once back in Pretoria, I was on the phone to SanParks to see if I could change my June booking … stay tuned for "
Wendy Goes Camping Again
"!!!