Now let's get back to Biyamiti. Last time we left the sleeping doggies on the S110 tar road to Berg-en-Dal. We spent about 1,5 hours with them, so no time left to go to Lower Sabie as planned. Up to Berg-en-Dal instead!
In camp we found this lovely lizzard posing for a pic in the morning sun:
A young croc was swimming in the dam...
... and a little further up in the dam - hippos were lazing in the sun:
After an ice-cream, we left back again towards Biyamiti. The doggies were STILL in the same spot - but all now peacefully asleep. How lucky we were to still see them in action!
Back in Biyamiti camp - we heard the familiar sound of a bird's pecking... and by following the sound we discovered another new woodpecker on our birding list - the Cardinal Woodpecker (Kardinaalspeg):
On the recommendation of some of the forumites (alleycat
), we decided to go on a sunset drive at Biyamiti. And tonight, our last night - was the night. We went with the very nice and informative guide, Elliot, and we had him all to ourselves - it was only SO and I on the drive.
First he took us South on the S25 - where we saw our first Black Storks (Grootswartooievaars) - I've seen them on so many TR's - but seeing as we mostly visit KNP in winter - we've never had the privelage to see them!
Not the best photo - but proof we saw them:
He drove us right up to the bridge that is closed due to flood damage. Man - is that bridge badly damaged!
The only ones that can still live there and cross the road - these White-fronted Bee-eaters (Rooikeelbyvreters):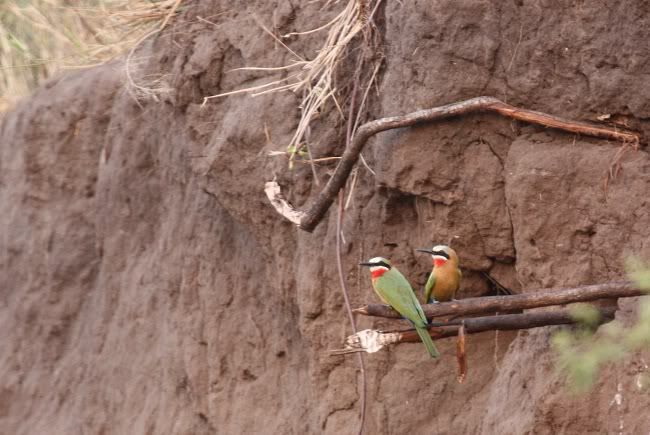 We then drove back on the S25 in the direction of Malelane gate. The road was very quiet. There were hardly any other animals on the road. Now those of you that know me and cheetah2111 will know that half of the joy we get out of a game drive is actually to watch and listen to the other people on the drive. You get such interesting people, such interesting comments...
Now tonight it was just SO and I - no other people to observe. Luckily, fate sent us some human entertainment outside of our vehicle that evening. We were on the S25, driving towards Malelane area and we were probably a good 30 minutes away from Biyamiti camp. It was 10 minutes before gate-closing time, when a Combi full of passengers passed us - heading in the direction of Biyamiti. "They're gonna be late for the gate!" we commented, and laughed. About 15 minutes later, we had still not spotted anything, so Elliot decided to turn around and head back. It was after gate closing time by now. After about 5 minutes, we saw a vehicle approaching us. Elliot found it strange - he is the only one supposed to be out in this area this time of night. We approached the vehicle slowly and Elliot waved them down to stop. It was that same Combi that had turned around and was now driving slowly in the direction of Malelane!
The driver greeted Elliot in a friendly fashion, and Elliot immediately questioned him on where he was going to, and why he was still on the road. He explained in a European accent (?German) that they were camping at Berg-en-Dal and were just driving around a bit. The guy had NO idea that you were suppose to be back at camp at a certain time...
Elliot was not impressed. He urged him to get to Berg-en-Dal ASAP - where he WILL meet trouble!
After they left, he contacted the regional ranger for Berg-en-Dal area and informed him of the people - they probably still had 1,5 hours to go before they would get to Berg-en-Dal!
The ranger thanked him and said he would wait for them at the H3/S114 intersection. Can you believe that! With poachers being a major problem in KNP - one cannot really accept mistakes like these...
Anyway - that was our human entertainment for the evening!
Animal-entertainment was very scarce...
At least we saw a little puffader on the S25:
We then turned back on the S139/Biyamiti Road. We drove passed the camp and on. Still quiet.
We were about 2 - 2,5 hours into the drive and it became time to turn back to camp, when all of a sudden Elliot stopped - "Leopard - right next to the road!!!" What a beauty! A huge male leopard was lying right next to the road. The famous Biyamti Leopard - we had finally seen him!
He did not appreciate the lights, but at least he got up slowly and moved into the bushes - allowing us a last few glimpses of it...
Wow - Elliot was so happy that he could finally show us somehting nice. We would've been happy anyway - but now our evening was made!
We drove back to camp, chatting to Elliot about his life as a guide, his training - all very interesting. We slept well that evening. Tomorrow we will leave with happy hearts!