Friday Morning
How could you stoep so low ...
An alarm goes off next to the bed to signal a new day at Sabi Park!
!!
This is usually the dark time before the morning where I prefer a steamy shower and the waft of coffee beans drifting past my nostrils! The difference between coffee or no coffee is the difference between being jolly and grumpy in the morning!
I stepped into the bathroom to have a shower so I can sommer be fresh for another day in Kruger! I turn the hot tap on so that it can warm up so long while I whip off my kit and start brushing my teeth. My toothbrush hung lifelessly in my mouth however when I turned around to observe a distinct lack of steam being emitted from the shower!
I took the plunge to stand under the drops of ice daggers for as short and amount of time as possible! Came rushing out in a huff and a puff less than ready for the day only to see the Heksie is all ready with camera in hand wanting to go!
Coffee?
Well off we were. I don't think witches need any sleep at all! This witch was in her Kruger purple best and as bright as a daisy!
My brain was coffeeless and slow! Every now and then I would vaguely glance in the direction of the moving lips and nod and grunt giving my best attempt of giving the illusion that I'm keeping up! Soon enough the drive from Sabie Park to Paul Kruger was complete and we were entering the Park!!!
I put on my camera on my lap and stare intently out of my passenger window! I zone in to what the Heksie is saying for a fleeting moment ..."I've seen leopard before just here" says the Heksie. I stick my nose ti the window and focus hard on trying to find a leopard for TODAY
I also decide to take a pic or two of the sunrise on the H11!
The Golden Glow stretching across the sky as the rays of the peak out above the tall trees!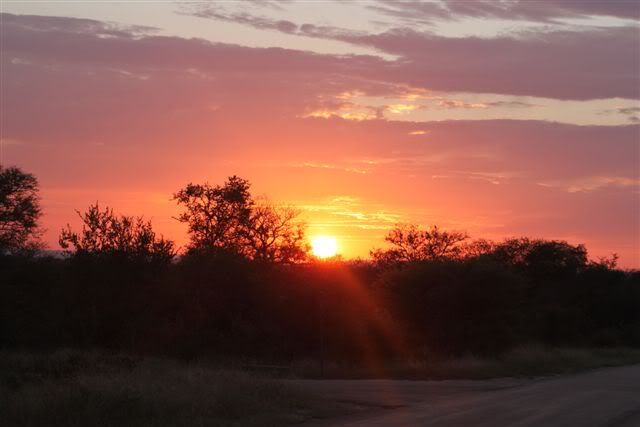 By the time we reached Skukuza was well and truly up! This brought new energy to my bones! As if I am run on solar energy
The first animal of the morning light was a vlakkie for tannie V!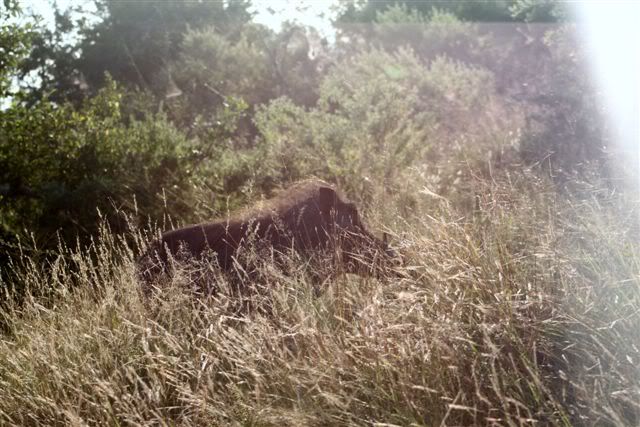 Aunty Val's European Roller also came to sing us a song for the morning!
It soon became apparent that the Heksie was heading Southwards down the H3. "are you searching for EJ the brave?" I joked with her
All sorts of aMiNals were popping out keeping me very busy! I have an animal list to tick off and as soon as there is a sighting Heksie is quick to remind me … have you written that down parra??
The next sighting which she nagged me about was these
Southern Ground Hornbills!
They had something odd in their mouths. It looked similar to a huge piece of billtong! I wonder if they migrated down from Shingwedzi?
We were blessed with Miss Graceful next!! She loves to strip to tips of the long grass for its nutrients!
Next thing a big 4x4 pulled up next to us and started chatting to us!
She pulled up next to Heksie and just started chatting about a gun she had to deliver! She also felt she didn't need to introduce herself or ask any names
In a jiffy she was off again! And Heksie just sat still almost stunned!
H: Who was that?
C: your hero. The Marula and cricket ball lobber. EJ the brave
H: How could you stoep so low, EJ?
C: I'll write that down parra!
We laughed about the experience all the way down to Afsaal!
Where we had a squeaky experience